Family: Commelinaceae
Synonym: Commelina paludosa, Commelina polygama. Commelina vulgaris, Commelina coreana.     
Common Name: Day Flower, Asiatic dayflower,
Local Name: Chura (छुरा)
Chura is an erect or decumbent herb, may be annual or perennial depending upon habitat where it grows. Plant is annual if dry spell extends for long duration and is perennial when the dry period is not too long. It succeed well in moist, swampy and even waterlogged places, along roadsides, gardens, forest edges, grassland, cultivated beds in sunny or lightly shaded areas. It is usually a noxious weed in maize field in Western Himalayas. Plant has a wide occurrence up to an altitude of 1800 meter in Western Himalaya.
All the parts of Chura are edible. Its young leaves, flowers and tender shoots can be eaten raw. These are finely chopped and added to salad. Ariel tops and fibrous starchy roots of this plant are steamed and eaten as a leafy vegetable saag by mixing with other available greens of rainy season. The leaves and starchy roots are considered a famine food in India. Whole plant is harvested from the wild for local use as a food, medicine and source of a dye.
Chura Plant: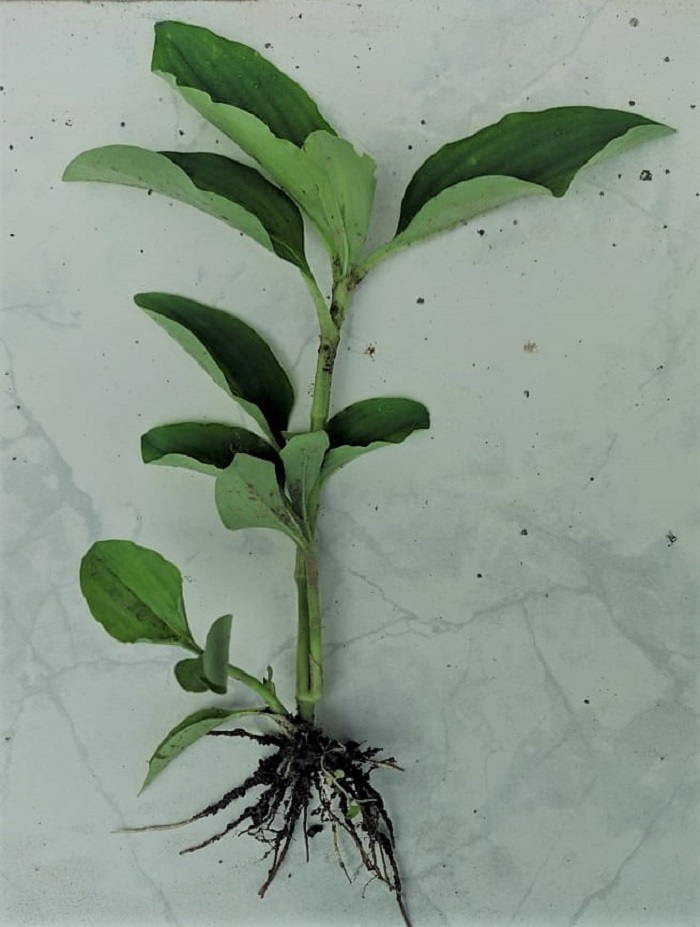 Plant is annual or perennial, procumbent and ascending herbs upto 25 – 70cm long.
Stems fleshy, up to 1.5 m long, mat-forming, arises from a fibrous rootstock
rooting at the nodes.
Leaves spirally arranged, simple, veins parallel; petiole short; basal sheath closed.
Inflorescence axillary or terminal, composed of a scorpioid cyme with 2 racemes (cincinni), upper raceme with male or sterile flowers, lower raceme bisexual, cincinni more or less enclosed by a funnel-shaped, folded, keeled bract (spathe), green.
Flowers ephemerous, zygomorphic; sepals 3, free, unequal, the lower one hooded; petals 3, free, the upper 2 clawed, the lower reduced, blue; fertile stamens 3, anterior, often dimorphic, anthers hastate, staminodes 2-–3, posterior, anthers X-shaped, all filaments glabrous; ovary superior, 3-loculed, ovules 1-2 per locule.
Fruit normally a dry, dehiscent capsule, with few seeds.
Seed with mealy endosperm, hilum linear.
Chura edible plant parts can be best harvested during rainy season.
Edible Uses:
Leaves, flowers and young shoots of chura are edible both raw as a salad or cooked as a leafy vegetable. Plant is known to have a sweet taste with a mucilaginous texture, so cooked as a potherb with other available herbs.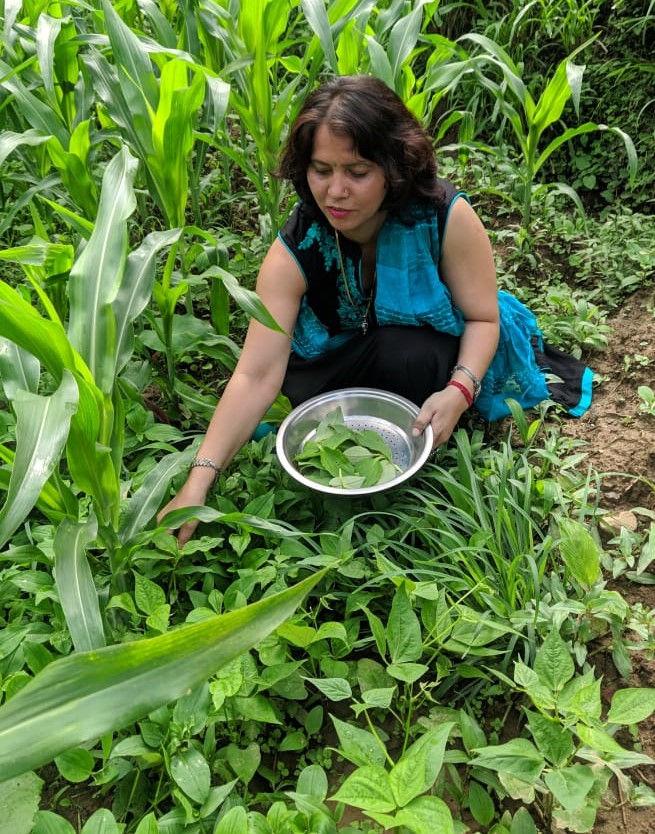 Vegetable saag
Chopped soot top of chura and other potherb of rainy season (Celosia argentea, Euphorbia hirta, Euphorbia heterophylla, Portulacca oleracea, Solanum nigrum), 1 kg; chopped medium sized potatoes,3-4 mustard oil, 3-4 table spoons; coriander powder, 1 table spoon; fenugreek powder, ½ table spoon; cumin seed, 1 tea spoon; turmeric powder, 1 table spoon; red chillies, 2-3; chopped medium sized onions 2-4; garlic, 4-5 cloves; ginger paste ½ table spoon, chopped tomato, 2-3; and salt, according to taste.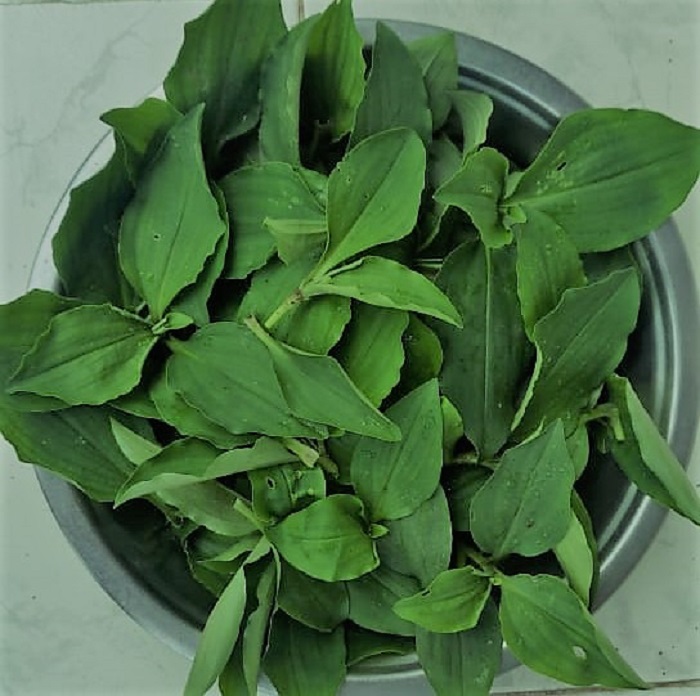 Method:
Steam chopped leaves and mesh manually. Put oil in a pan and sauté chopped leaves, stem or inflorescence with spices listed above in sequence with potatoes. Cook for 15 to 20 minutes and serve with chappatis.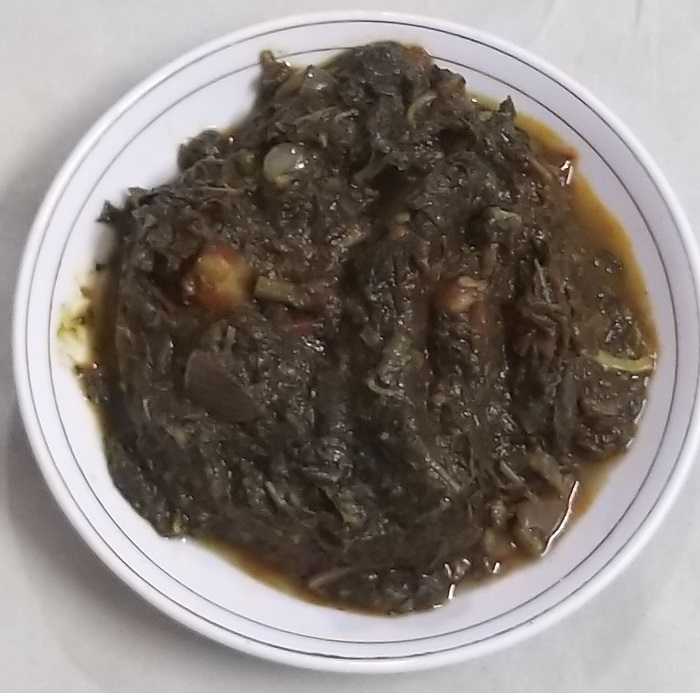 Seek advice from a professional before using this plant medicinally.
Medicinal Uses:
The aerial parts of chura are very mucilaginous, therefore used for poulticing wounds and skin infections such as boils and ulcers. Fresh juice from the plants is taken for diarrhea.
Other Uses:
Plant is used as a fodder and is considered a good fodder for cattle because it provides an important part of the daily water requirements, although the fodder quality is considered poor. Large blue colored petals of this plant are a good source of dye.