Family: Caryophyllaceae
Synonyms:  Conosilene conica, Cucubalus conoideus, Conosilene  conoldea
Common name:  Bladder Campion, Maidens tears. weed silene, large sand catchfly
Local Name: Takli (तकली), Dhudu Chana, Jangli Chana.
Takli is annual herbaceous plant of Western Himalaya known for its attractive pink flowers. Itis commonly seen growing along roadside, grassy slopes and cultivated land. It is found upto an elevation of 2300 m in Western Himalayas. Takli grows best in well- drained moist, light loamy, sunny habitat. Takli is easily propagated by seeds and it is a native plant of Eurasia,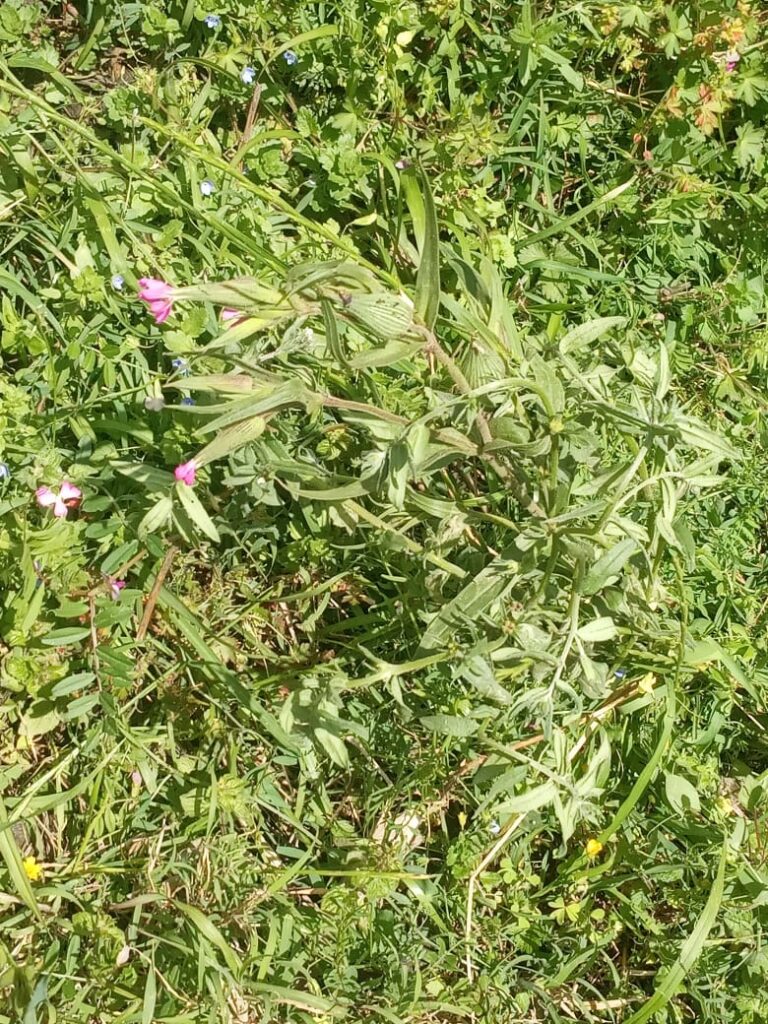 All the parts of takli, root, shoot, leaves and seed are useful for local people. Young leaves and tender shoots of takli are edible and eaten raw as a salad or cooked to a leafy vegetable saag.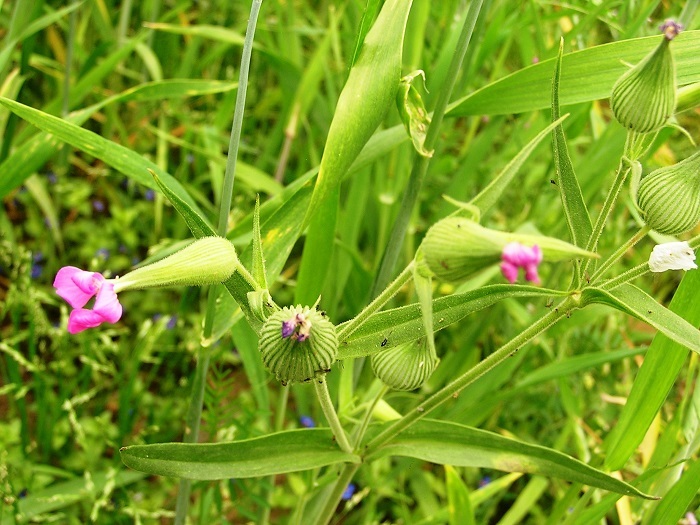 Simmered roots of takli are utilized as a soap substitute for washing clothes. Ground seeds and leaf paste is helpful to cure pimples A paste is prepared by grinding seeds and young leaves which is applied to cure pimples.
Takli is harvested from wild or cultivated field as a source of food, fodder, medicine and material for local personal use. It is supposed to increase milk yield of milch cattle.
Takli Plant :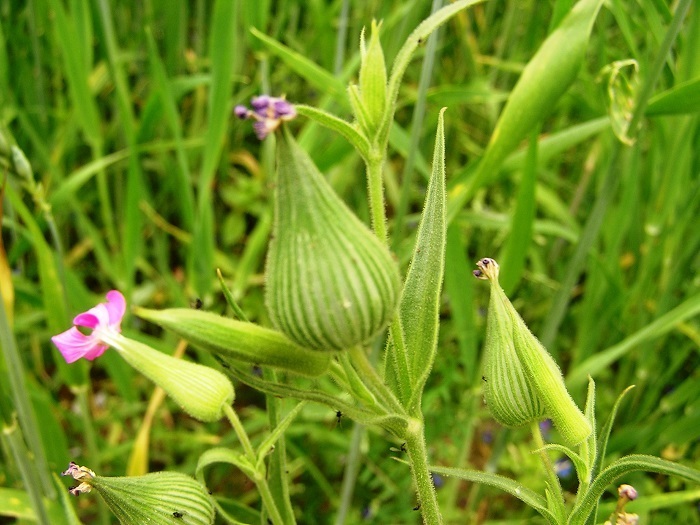 Plant is annual herb, up to 40 cm tall.
Stems erect, branched or simple, densely glandular-pubescent.
Leaves 25-140 x 2-12 mm, linear-lanceolate, base clasping at the nodes, sessile, glandular-pubescent. Bracts similar to leaves, but smaller in size.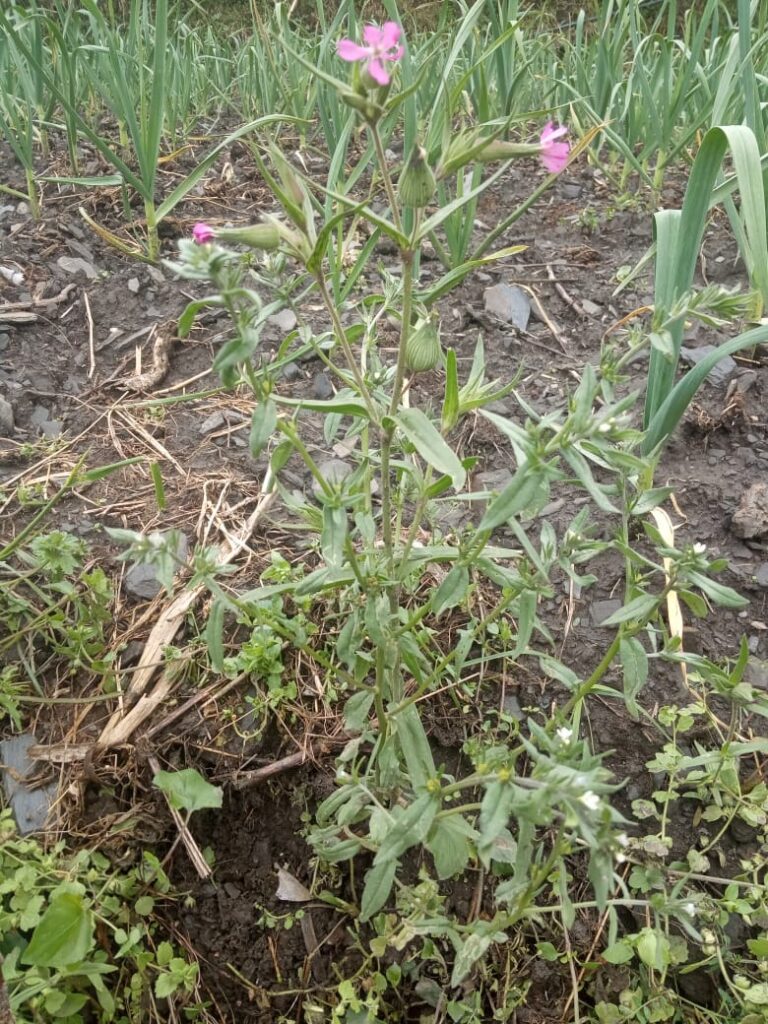 Inflorescence geniculate, with 3-5 pink flowers in lax dichasia. Pedicels densely glandular-pubescent. Calyx 21-25 mm, acute; teeth lanceolate, 30-nerved, not anatomizing. Petals pink to reddish, limb 8-9 mm, emarginate or entire, claw 15-16 mm. Coronal scales oblong. Carpophore c. 1 mm, glabrous.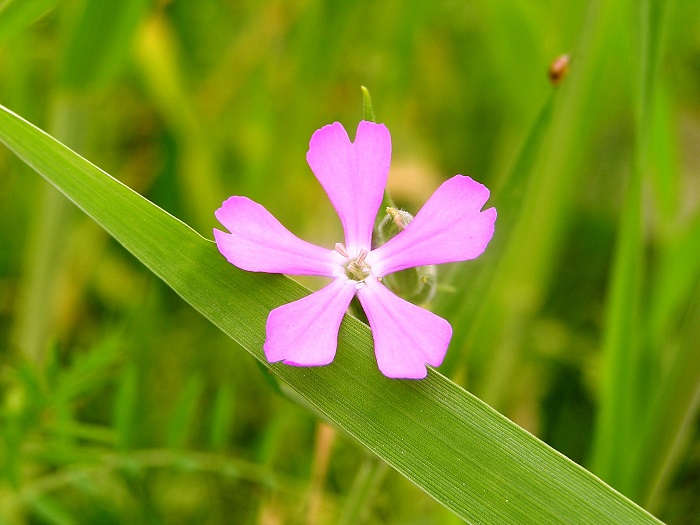 Fruit capsule 11-18 mm, conical, with narrow neck, included in the calyx.
Seeds c. 1.1 mm long, kidney shaped, minutely echinulate.
Takli can provide edible leaves from late winter to spring season
Edible Uses:
Takli young leaves and tender shoots are usually collected from cultivated beds specially of wheat field, where it is considered as a weed. These are collected along with leaves of other wild pot herbs like Vicia sativa (Roadi), Vicia hirsuta (Choti Roadi), Lathyrus aphaca (Sudu) etc. and cooked as a saag. Finely chopped leaves can be used as salad. Only young leaves and tender terminals should be collected for cooking as mature one may be bitter in taste. To avoid bitter flavor in saag plant parts are usually harvested before flowering begins and should be either blanched or mixed with other potherbs.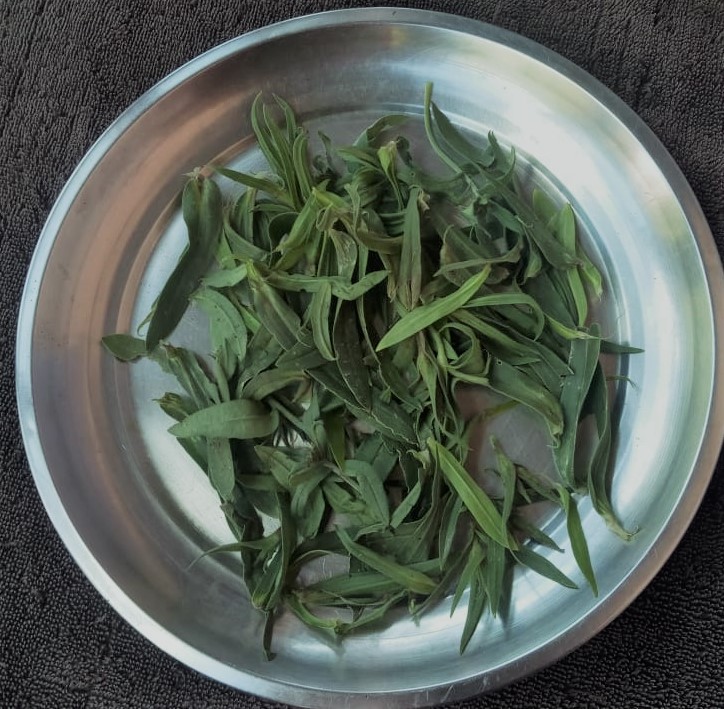 Chopped leaves and tender shoot tips of takli and other potherbs, 1 kg; mustard oil, 2 table spoons; coriander powder 1 table spoon; fenugreek powder, ½ table spoon; cumin seed ¼ table spoon; turmeric powder, 1/4 table spoon; red chillies, 2-3; chopped onions 2-4; garlic, 4-5 cloves; ginger paste ½ table spoon and salt according to taste.
Method:
Boil chopped leaves they become soft. Then mesh manually or in a mixer. Then sauté with hot mustard oil and the spices listed before in sequence. This sauted saag is then ready and can be served as such or can be mixed with 2 or 3 chopped onion or boiled potato and cooked for another 5 to 10 minutes before serving.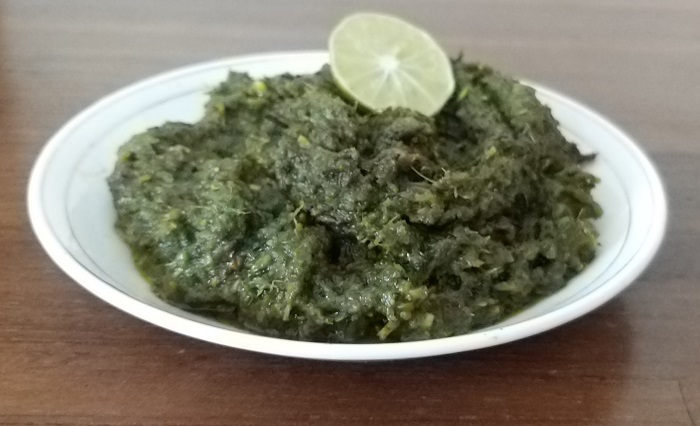 Seek advice from a professional before using this plant medicinally.
Medicinal Uses:
A paste is prepared by grinding seeds and young leaves of takli, which cure pimples1. This paste is also helpful for backache. The juice of the plant is used in the treatment of ophthalmia1. Pondweed plant along with Vicia hirsuta is useful in the treatment of diabetes2.
Other Uses:
Takli root was used by local people as a soap substitute for washing clothes etc. The soap is obtained by simmering the root in hot water. The plant is said to be emollient and is used in baths or as a fumigant1.
References:
1.Chopra. R. N., Nayar. S. L. and Chopra. I. C (1986): Indian medicinal plants. Council of scientific and industrial research. New Delhi.
2. Sood S.k. & Thakur Smriti (2004): Ethnobotany of Rewalsar Himalayas, ISBN:81-85622-10-8. Deep Publication