Family: Rosaceae
Synonym: Persica vulgaris,Amygdalus persica.
Common name: Peach, Flowering Peach, Ornamental Peach, Common Peach
Local Name: Aaru, (आरू), Aadu, Phuniyee aaru.
Aaru is deciduous fast-growing tree of Western Himalayas found upto an altitude of 2500 m. It is seen growing in woodland, sunny edges of hills and dappled shady areas, Aaru is also cultivated in large scale for its edible fruits in garden, orchard and around home yards. Fruits of the wild aaru are small in size and not as pleasent in taste as cultivated one but they are more organic and are richer in nutrients than the cultivated forms. Aaru prefers well-drained soil and grows best in moist soil.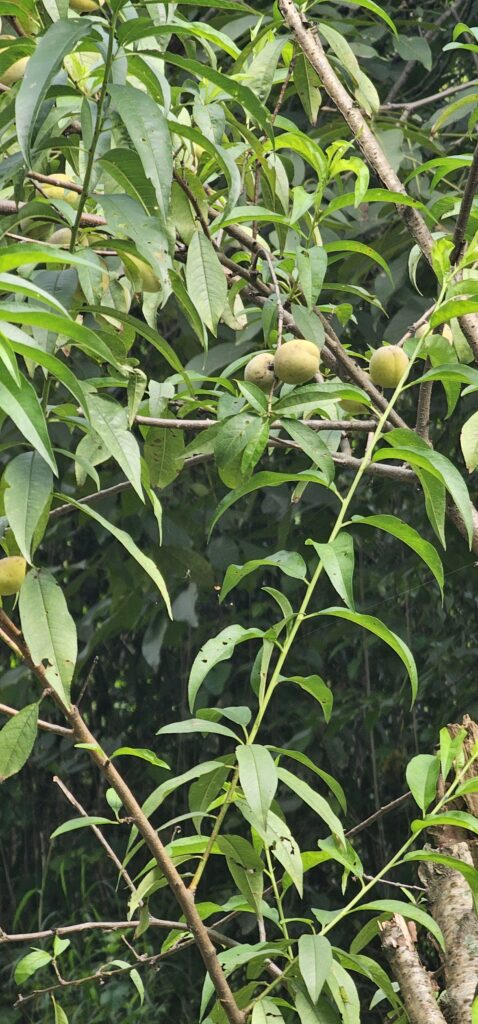 Flowers, fruits and oil of aaru, all are edible. Fruits are eaten raw when ripe, cooked into vegetable and are also pickled. Flowers are also edible both as raw and cooked. They are used to prepare KACHROO (Chilla of gram flour and flowers). but they need to be eaten in small amount. Their large consumption may cause diarrhea. Raw flowers are used as a garnishing agent to various dishes and salads. Seed oil of aaru can also be used for cooking.
Aaru plant:
Aaru is large shrubs or small trees.
Leaves simple, lanceolate or oblong- lanceolate, finely serrate, with petiolar and marginal glands.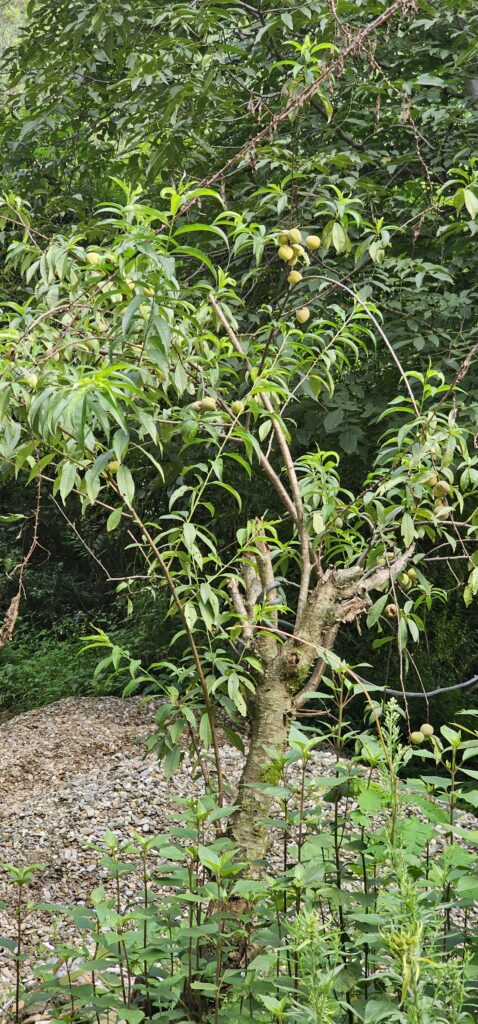 Flowers pink, showy appearing before or with the leaves. Calyx –tube campanulate, woolly.
Fruits variable in size and shape, pubescent, yellow or red- spotted. Stones hard, deeply furrowed.
Commonly cultivated in orchards and home gardens,
Edible plant parts of aaru can be harvested from spring season to end of rainy season. As edible parts are reproductive parts of plant so sustainable harvesting need to be promoted like rotational collection and leaving some flowers and fruits for regeneration on parent plant,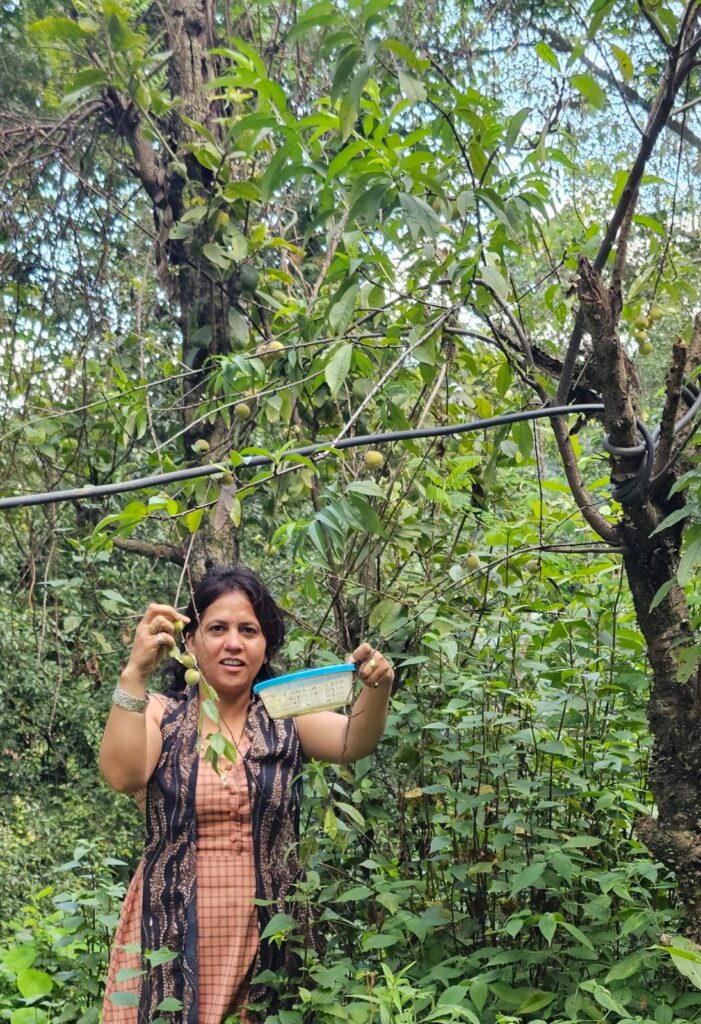 Edible Uses:
Raw aaru fruits are cooked as a vegetable and also pickled. Wild trees in the Himalayas yield about 36.5kg of fruit a year.
Aaru ki Badiyan (Vegetable):
Ingredients:
Raw aaru fruits, 1 kg; gram pulse, ½ kg, colocation stem of medium size,5-6; mustard oil, 3-4 table spoons; coriander powder, 1 table spoon; fenugreek powder, ½ table spoon; cumin seed, 1 tea spoon; turmeric powder, 1 table spoon; red chillies, 2-3; chopped medium sized onions 2-4; garlic, 4-5 cloves; ginger paste ½ table spoon, chopped tomato, 1-2; and salt, according to taste.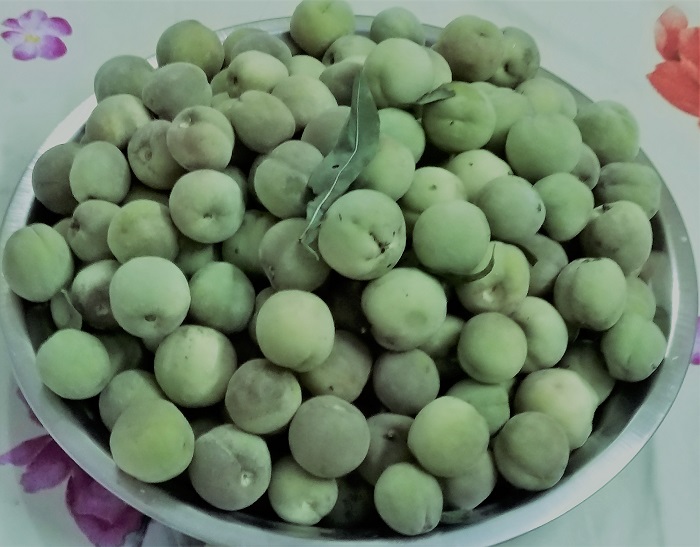 Method:
Put aaru fruits in boiling water for some time 5to 8 minutes Soak gram pulse overnight to remove covering of the grains, ground with boiled fruits to make fine paste. Add salt and spices to taste and make a fine paste. Take some stems of colocasia and cover them with paste one by one. Put it in sun to half dry. Now, cut the stems along with paste into small pieces carefully and again put the pieces called badiyan in sun to dry completely. Dried badiyan can be stored for future use in an air tight container.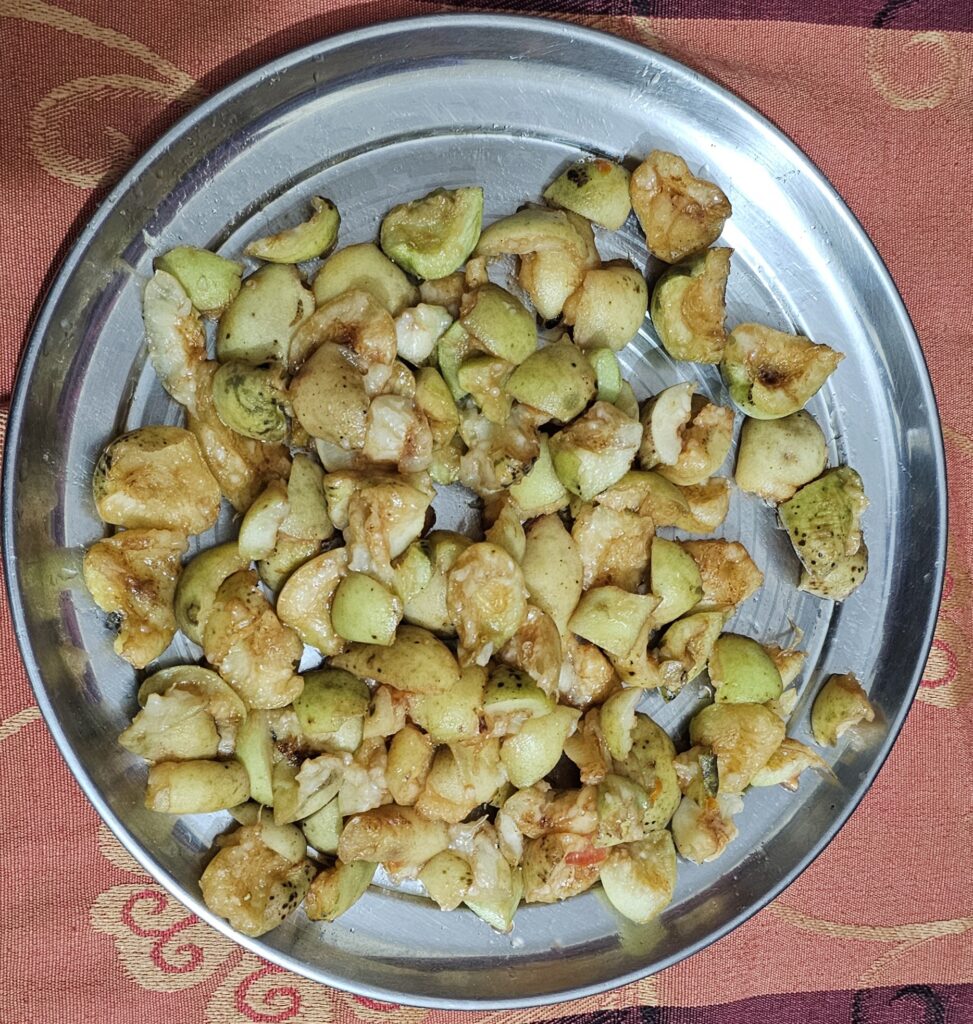 For preparing the vegetable put mustered oil in a pan and shallow fry badiyan. Saute fried badiyan along with spices and potatoes, cook for 20-25 minutes and then serve with chapatis or rice after garnishing with coriander leaves and garam masala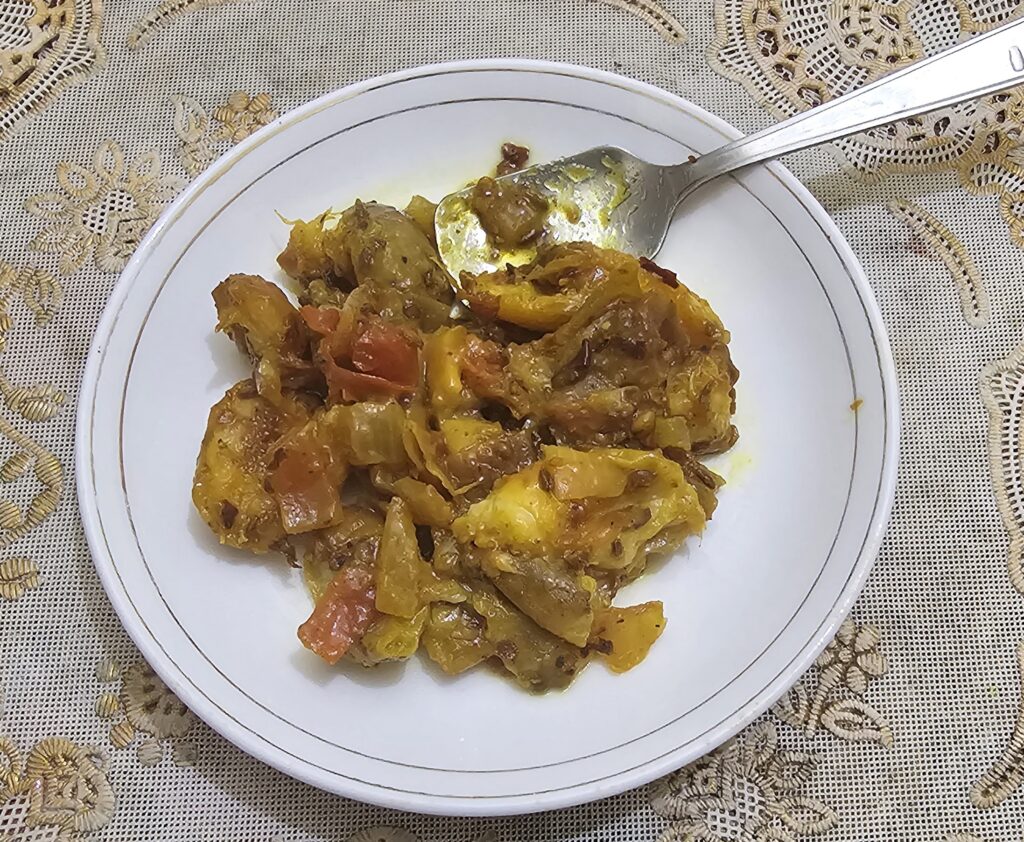 Aaru Pickle:
Ingredients:
Raw aaru fruits, 1 kg; mustard oil, 7-8 table spoons; coriander powder, ½ table spoon; fenugreek powder,1/4 table spoon; cumin seed, 1 table spoon turmeric powder, 1 table spoon; red chillies, 10-12. mustard seeds, 1 table spoon, salt acc.to taste.
Method:
Dip aaru unripe fruits in boiling water for ten minutes. Completely dry fruits in full sunlight for full day. Put mustered oil in a pan and saute sun dried fruits with spices. One table spoon mustard seeds are then added to make them sour.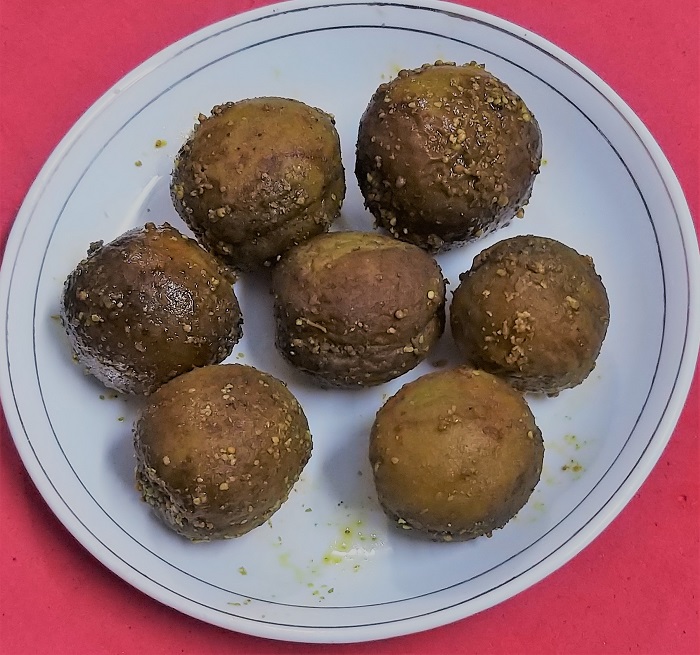 Nutrient value of fruit (Dry weight):
Protein: 5.5g; Fat: 1.4g; Carbohydrate: 90g; Fibre: 10g; Ash: 4g; Minerals – Calcium: 60mg; Phosphorus: 135mg; Iron: 6.5mg; Magnesium: 0mg; Sodium: 30mg; Potassium: 1800mg; Zinc: 0mg;Vitamins – A: 3000mg; Thiamine (B1): 0.15mg; Riboflavin (B2): 0.25mg; Niacin: 4.7mg; B6: 0mg; C: 70mg; Calories,350 per 100g2.
The fruit of the wild form contains about 5.2% sugars, 2% protein, 1.6% ash. Vitamin C content is 2.3mg per 100g 1. The seed contains up to 45% oil2.
Seek advice from a professional before using this plant medicinally
Medicinal Uses:
A pinch of dried flowers taken as snuff to cure headache. Infusion of leaves and root given for cold, inflamed respiratory tract and body massages4. The leaves are astringent, demulcent, diuretic, expectorant, febrifuge, laxative, parasiticide and mildly sedative3. Aaru is also known as an antiemetic, antiscorbutic, ascaricide, demulcent, diuretic, purgative, stomachic. It is ffective against eczema, headache, scabies and whooping cough. A gum from the stems is alterative, astringent, demulcent and sedative. The flowers are diuretic, sedative and vermifuge They are used internally in the treatment of constipation and oedema 1.2,3. The seed is antiasthmatic, antitussive, emollient, haemolytic, laxative and sedative3. Used internally in the treatment of constipation in the elderly, coughs, asthma and menstrual disorders. Bark is used internally in the treatment of gastritis, whooping cough, coughs and bronchitis3. The root bark is used in the treatment of dropsy and jaundice3.The seed contains 'laetrile', a substance that has also been called vitamin B173.This has been claimed to have a positive effect in the treatment of cancer, but there does not at present seem to be much evidence to support this[K]. The pure substance is almost harmless, but on hydrolysis it yields hydrocyanic acid, a very rapidly acting poison, it should thus be treated with caution3. In small amounts this exceedingly poisonous compound stimulates respiration, improves digestion and gives a sense of well-being3.
Other Uses:
A semi-drying oil obtained from the seed is used as a substitute for almond oil in skin creams3. Gum obtained from aaru stem is used as an adhesive and for chewing.

References:
1.Parmar. C. and Kaushal. M.K. (1982) Wild Fruits of the Sub-Himalayan Region. Kalyani Publishers. New Delhi.
2.Duke. J. A. and Ayensu. E. S. (1985); Medicinal Plants of China reference Publications, Inc. ISBN 0-917256-20
3.Bown. D. (1995): Encyclopaedia of Herbs and their Uses. Dorling Kindersley, London. ISBN,0-7513-020-31.
4.Sood SK, Thakur S. (2004): Ethnobotany of Rewalsar Himalaya. Deep Publications; 2004.