Family: Menispermaceae
Synonyms: Tinospora verrucose, Cocculus cordifolius, Menispermum cordifolium Common Name(s): Amrita, Duyutige, Gado, Gal o, Giloe, Giloya, Guduchi, Gulancha, Heartleaf moonseed, Teppatige, Tinofend Guduchi, Giloy
Local Name: Gulje (गुलजे)
Gulje is a large, deciduous, perennial climbing shrub of western Himalaya with a weak and fleshy stem. It twins as a vine around other plants like hedges and small or tall trees for support. Gulje is commonly seen growing in partial moist but well drained places in dry deciduous forests, villages and along roadside and pathways. It is capable of growing to the tops of tall trees for support and sends down long, thread-like aerial roots, they get rooted to the soil when touch the ground. Gulje is distributed throughout the warmer parts of Western Himalayas up to an altitude of 1,400 meters.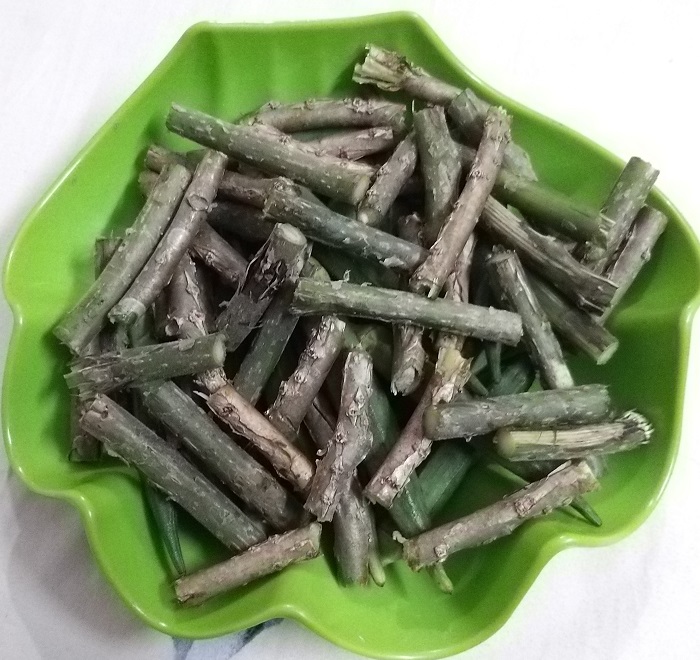 All the parts of gulje viz leaf, stem and aerial roots are edible and useful for local people. Local sweet dishes HALWA and SIRRA are prepared from extract of stem and aerial roots of gulje. SIRRA is considered medicinal and local people believed that it should be eaten once in a year for good health. Leaves of gulje are also used as a tonic tea. Stem and roots are given to milch cattle for enhancing milk yield.
People harvest gulje for their local use of food,fodder, medicine and material from wild habitat. They drink gulje stem decoction in morning hours to prevent and cure diabetes,arthritis and high blood pressure.
Gulje Plant:
Plant is a large, deciduous extensively spreading climbing perennial shrub, 15 m tall with several elongated twining branches and ariel roots.
Leaves simple, alternate, exstipulate, long petioles up to 15cm long, roundish, pulvinate, both at the base and apex with the basal one longer and twisted partially and half way around. Lamina broadly ovate or ovate cordate, 10-20 cm long or 8- 15 cm broad, 7 nerved and deeply cordate at base, membranous, pubescent above, whitish tomentose with a prominent reticulum beneath.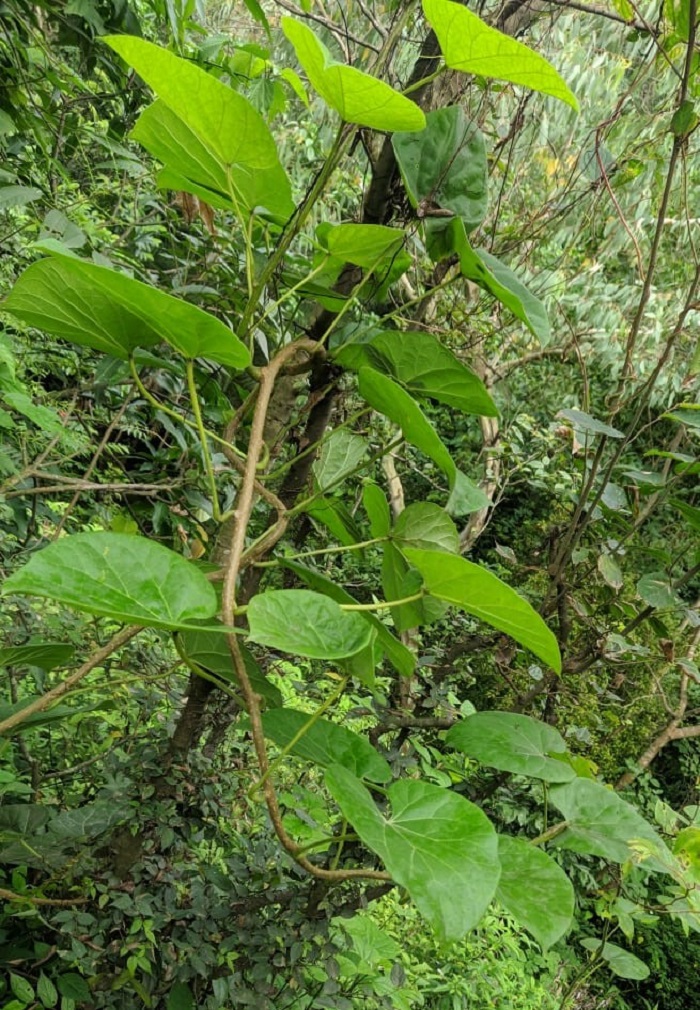 Flowers unisexual, small on separate plants and appearing when plant is leafless, greenish yellow on axillary and terminal racemes. Male flowers clustered, female usually solitary. Sepals 6, free in two series of three each, the outer ones are smaller than the inner. Petals 6 free smaller than sepals, obovate and membranous.
Fruits aggregate of 1-3, ovoid smooth drupelets on thick stalk with sub terminal style scars, red,scarlet or orange coloured.
Seeds curved or half-moon shape, endospermic, cotyledons flattened, leaflike, radicle short.
Edible Uses:
Leaves of gulje are used as a tonic tea. For preparing gulje flour its branches and ariel roots are dipped inside water, this makes their skin soft. Now they are easily unskinned, crumbled, dried and powdered into flour. This flour is to prepare HALWA ( a local sweet dish) alone or along with sooji (somalina) Sooji is mixed to avoid natural bitter taste of gulje flour. HALWA of gulje flour is considered medicinal and recommended to eat 3-4 times in a year. Flour sometime also mixed with wheat flour for its medicinal value to treat arthritis and diabetes.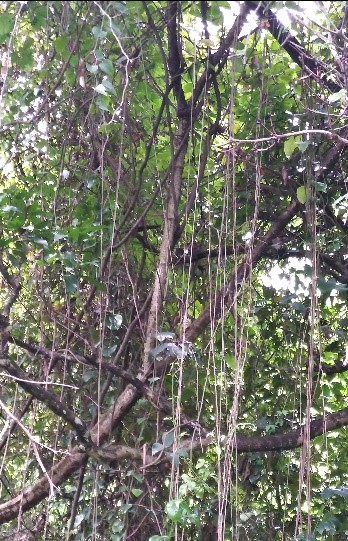 Another traditional dish SIRRA is also prepared from starch extracted from stem and branches.For this crumble stem and root of gulje then boil in water and squeezed to separate starch extract from fiber. Starch extracted is sieved with a cotton cloth and this cloth is tied properly to separate extra water. Starch extract is now allowed to ferment at least for 5 to 7 days. Only precaution required is to change water every day at least 2 times to avoid foil smell of fermentation. This fermented paste is dried as such in full sunlight or one can make small sized tablets and then dry in sunlight.. Sun dried tablets are now ready for preparing SIRRA.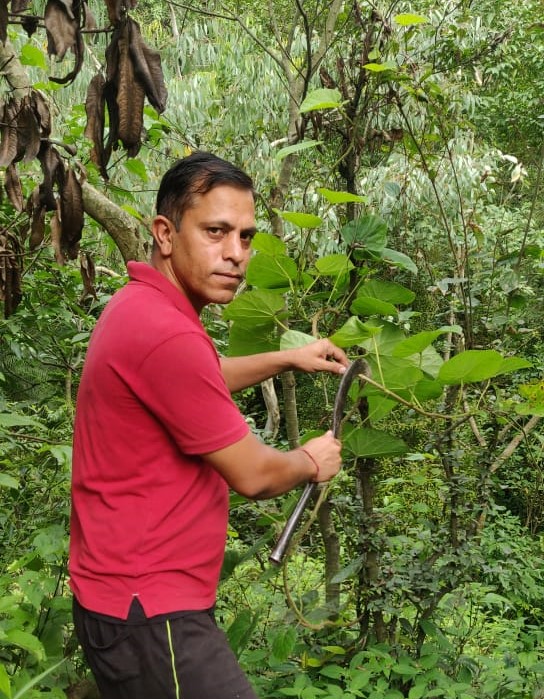 Gulje Ka HALWA:
Ingredient:
Gulje flour, 200 g; sooji,50 g, vegetable oil or clarified butter,250g; sugar, 200; dry coconut powder,50g; raisins and other grated dry fruits,25g.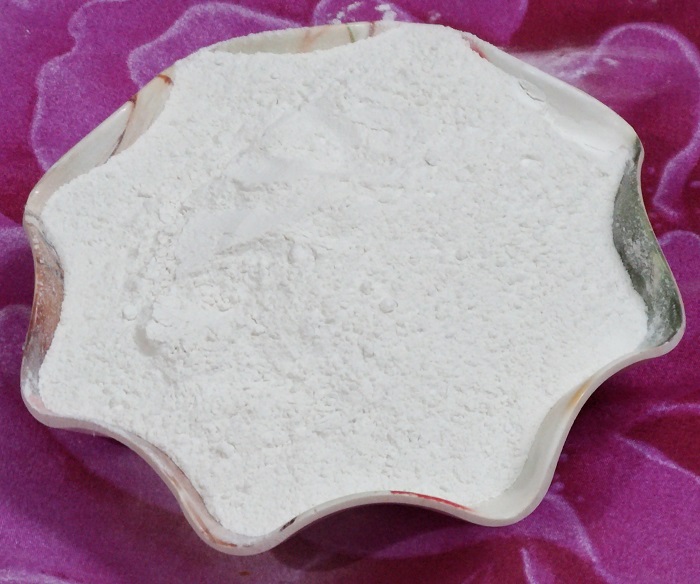 Method:
Put 250 g ghee (clarified butter) in a pan and roast gulje flour and sooji well. Add to it water three times more of roasted flour, keep on stirring it and add sugar,cook till water absorb and then add coconut powder and grated dry fruits, Now gulje Halwa is ready to serve.
Sirra:
Ingredient:
Gulje sirra, !/2 kg; vegetable oil or clarified butter,250g; sugar, 250 g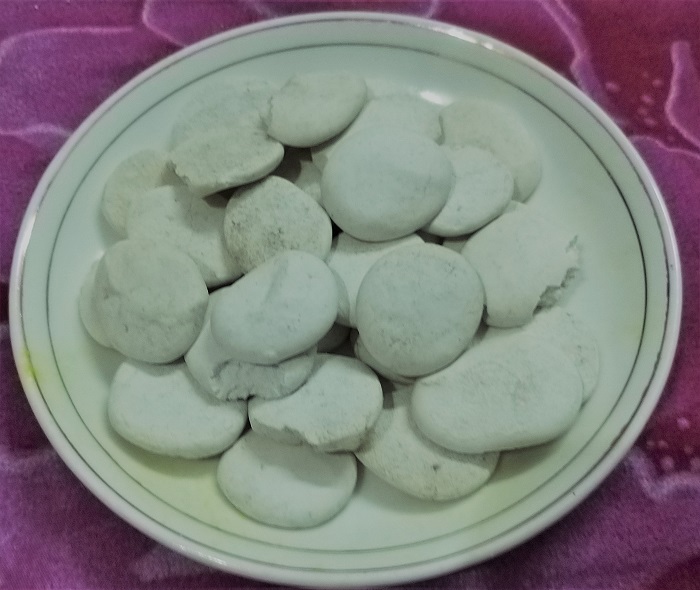 Method:
Make paste of sirra and sugar with 3-4 glasses of water and keep it for 10 to 15 minutes so that sugar get mixed with sirra properly. Put oil or clarified butter in a non-stick pan and add to it this paste of sirra and sugar. Cook for 15-20 minutes by thoroughly stirring . Now sirra is ready to serve.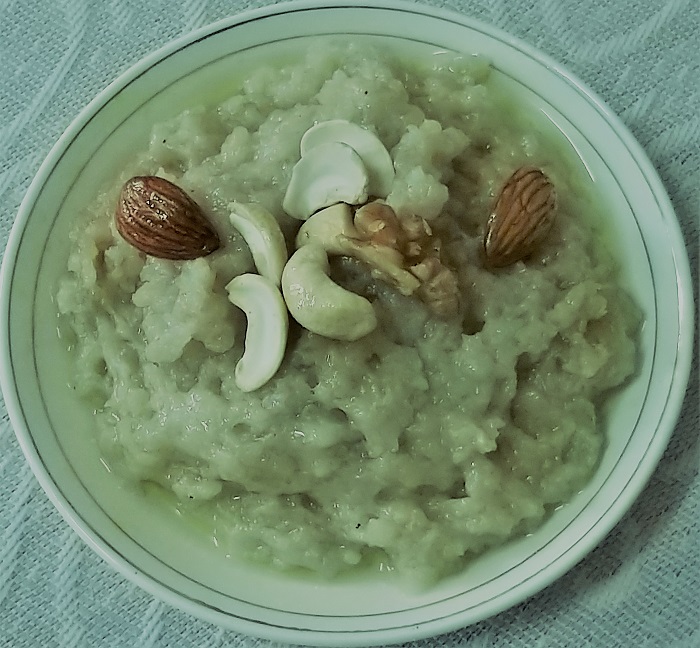 Medicinal
The stem, root and whole plant are alterative, antidote, aphrodisiac, diuretic, febrifuge and tonic 1,2. The starch obtained from the stem and root of the plant is nutrient and is useful in the treatment of diarrhoea and dysentery.The fresh plant is more effective than the dried.
The plant is also commonly used in a variety of other complaints including rheumatism, urinary disease, general debility, bronchitis and infertility. It is useful in vitiated conditions of vata, burning sensation, hyperdipsia, helminthiasis, dyspepsia, flatulence, stomachalgia, intermittent fevers, chronic fevers, inflammations, gout, vomitting, cardiac debility, skin diseases, leprosy, erysipelas, anaemia, cough, asthma, general debility, jaundice, seminal weakness, uropathy and splenopathy. Stem: Bitter, astringent, sweet, thermogenic, anodyne, anthelmintic, alterant, antiperoidic, antispasmodic, anti-inflammatory, antipyretic, antiemetic, digestive, carminative, appetise, stomachic, constipating, cardiotonic, depurative, heamatinic, expectorant, aphrodisiac, rejuvenating, galacto-purifier and tonic 2,3.


Other Uses:
The aerial roots of gulje are used as a tying material for tying bundles of fuel and fodder in villages. Stem and roots are used as a fodder and usually preferred for milch animals as supposed to increasing milk production.
Source of Income:
SIRRA is prepared and sold by members of various Self Help Groups at the cost of 800 Rs per 1 kg. So by preparing and selling gulje SIRRA people can enhance their income also.
Various other by products of gullje are also available in the market as :
1.SBL Tinospora Cordifolia Dilution also known as Tinospora cord, helps in ailments such as dengue, where it enhances the count of blood platelets. It also increases white blood cell and is an immuno stimulant. With properties such as hepatoprotective, it is good for the liver, and also has antioxidant properties, that removes the potentially damaging oxidizing agents. It also helps in treating fever, backache, joint pain and headache as it reduces the lipoproteins that are responsible for cholesterol accumulation in the blood. Also, in case of vomiting of bile juices, this medicine helps in regulating the acid levels of the body.
2. TINOSPORA CORDIFOLIA MT
It contains alkaloids including berberine, choline, tembetarine, magnoflorine and tinosporin, diterpenoid lactones, glycosides, steroids, sesquiterpenoid, aliphatic compound, and other bitter substances.
A homoeopathic tincture is made from the stem. It is covered by Homoeopathic Pharmacopoeia of India.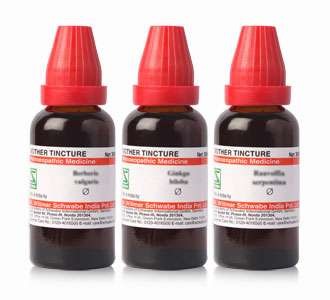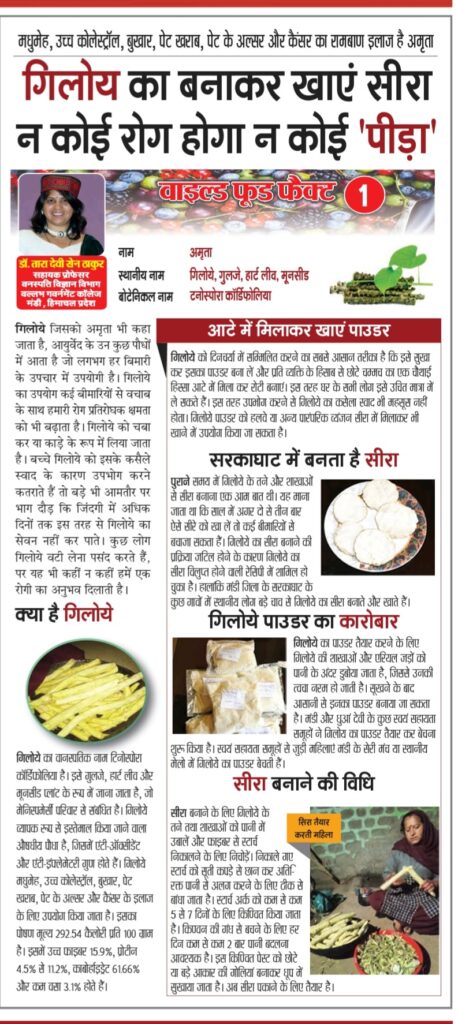 References:
1.Gamble. J. S. (1972); A Manual of Indian Timbers. Bishen Singh Mahendra Pal Singh.
2.Kapoor. L. D. (2001): Handbook of Ayurvedic Medicinal Plants.CRC Press, Florida. ISBN0-8493-2929-9
3.Tropical Plants Database, Ken Fern. tropical.theferns.info. 2019-07-05. <tropical.theferns.info/viewtropical.php?id=Tinospora+cordifolia>