Family: Lauraceae
Synonym: Cinnamomum albiflorum, Cinnamomum veitchii, Cinnamomum reinwardtii, Cinnamomum
Common Name: Indian Cassia
Local Name: Meetha patta (मीठा पत्ता), Tej patta
Meetha patta is a small, evergreen trees or large shrubs of Western Himalayas. It is seen growing in full sun or partial shady habitat on hills, roadside, mountain slopes and other well drained places. Plant generally prefers a fertile, sandy, moisture-retentive but freely draining soil. When young it can grow well in shade, but older ones usually seen growing best in full sun. Meetha patta is native to India and found upto an altitude of 2,400 metre in Western Himalayas.
The leaves of meetha patta are used as a popular spice in several local dishes. Leaves and bark both known to have aromatic, astringent and stimulant properties, so widely used as a spice and medicine throughout Western Himalayas since ancient times.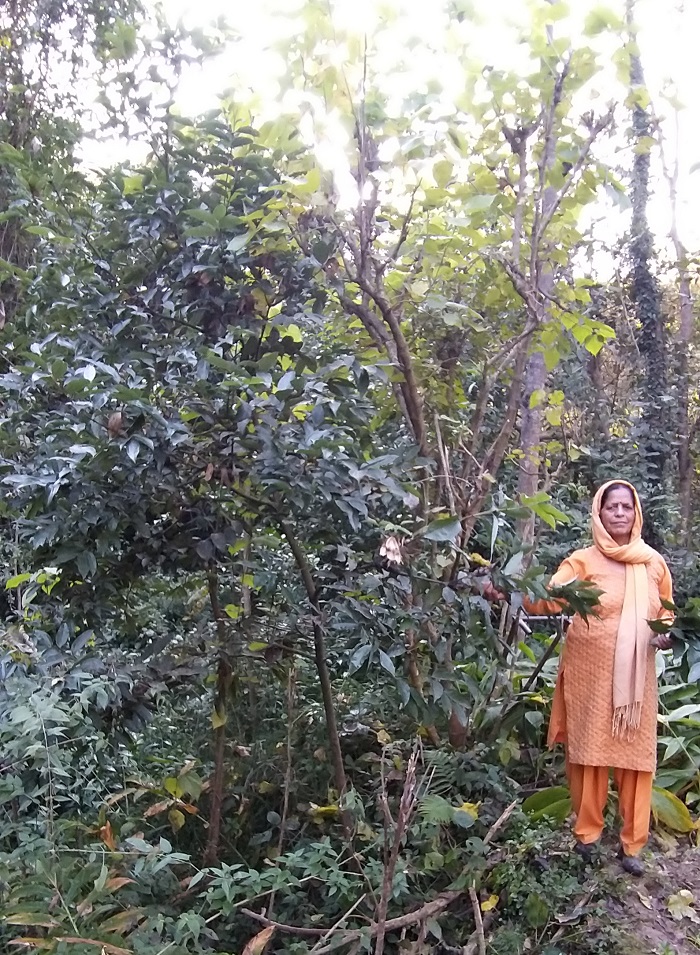 Local people harvest leaves and bark of this plant from wild habitat as a source of food (spice) and medicine. They usually prefer leaves of meetha patta in tea. Leaves can be used fresh or dried for latter uses. Meetha patta have high medicinal value and is an important ingredient of the spices. Local people used to drink meetha patta tea to get relief from cold, cough, abdominal gas, pain, nausea, diabetes etc.
According to them taking leaves as a spice or tea is good for the digestive system and heart. It is also helpful to cure respiratory infections. Dried leaves are sold by members of self-help groups, so plant is also a easy source of earning for children and women.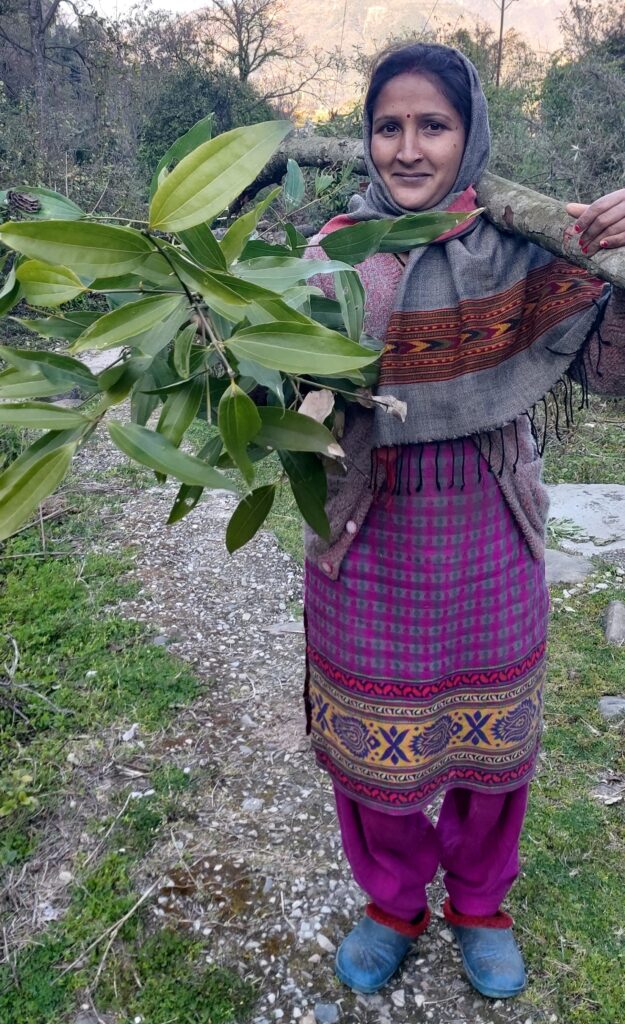 Meetha patta Plant:
Small, evergreen trees or large shrubs.
Leaves glabrous, opposite or nearly so, leathery, short- stalked, 7-15 to 4-7 cm, ovate- lanceolate, acuminate, entire, 3-nerved from the base.
Flowers white, often unisexual, in axillary and terminal panicles about as long as the leaves. Perianth 7 mm long, 6-parted; lobes oblong. Fertile stamens 9. Ovary hairy, with slender style.
Drupes ovoid, black, to 1 cm long, supported at the base by perianth.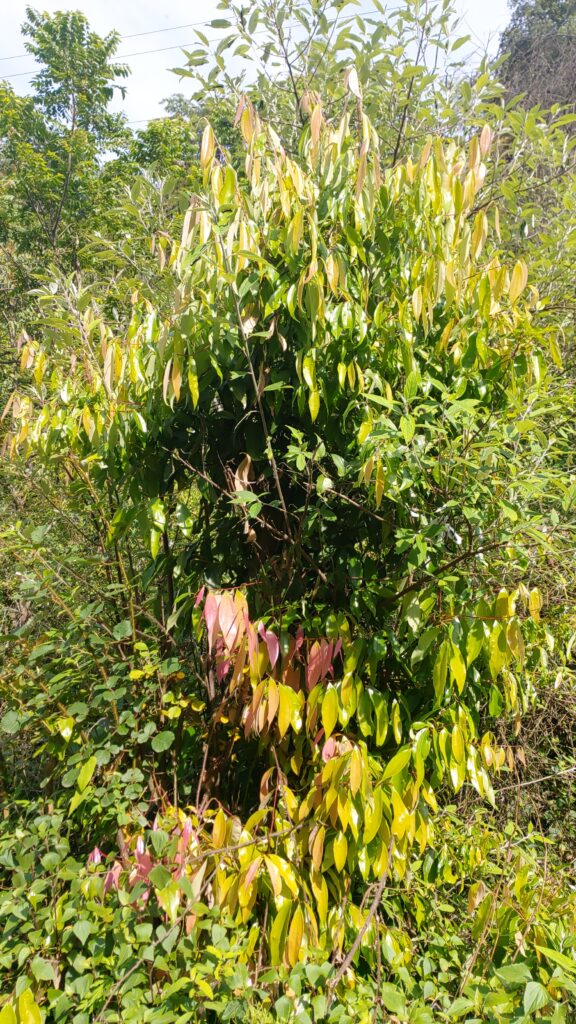 Edible leaves and bark of Meetha patta can be harvested round the year, but their demand is increasing day by day and the species is overexploited. Therefore, there is a need for sustainable harvesting and growing of this plant in largescale with participation of local people and forest department. This will fulfil the increasing demand of Meetha patta on one hand and conserve the species on the other.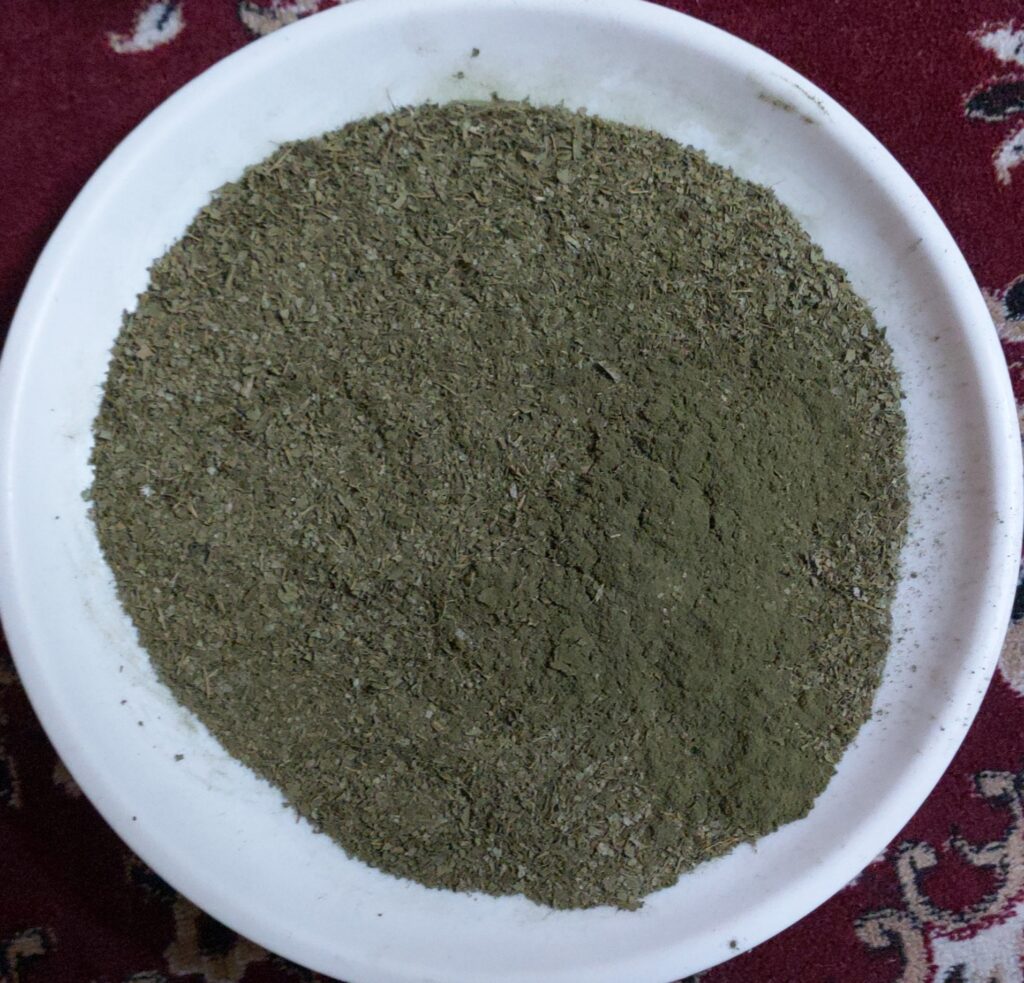 Edible Uses:
The bark and leaves of meetha patta are used for cooking. These are used as a spice like the true cinnamon (Cinnamomum verum), and bark is commonly added to the bark of Cinnamomum verum as an adulterant. The aromatic leaves are used fresh or dried and used in tea and as a flavoring agent in many dishes. these are also known as tejpatta.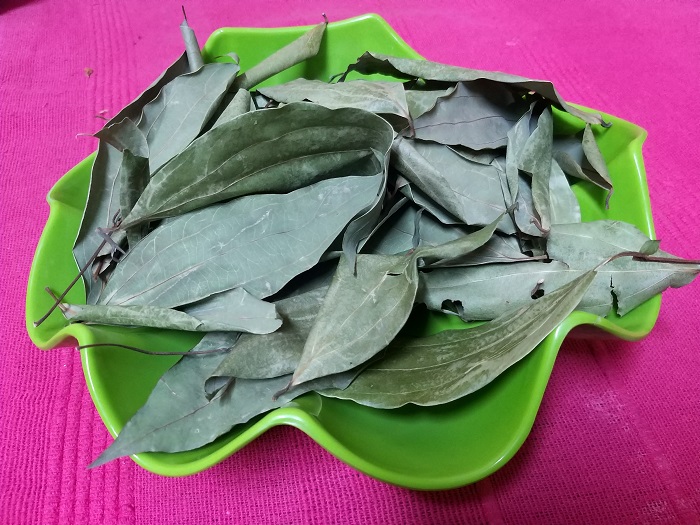 Meetha patta Tea (Masala Tea):
It is one of the most popular hot beverages in Western Himalayas and is a widely accepted social drink for all types of meetings and gatherings. Tea can be prepared with milk or milk powder and other various types of tea powders. The key ingredients for Masala tea from milk tea are cardamom, cinnamon, clove and leaves of Tulsi or mint.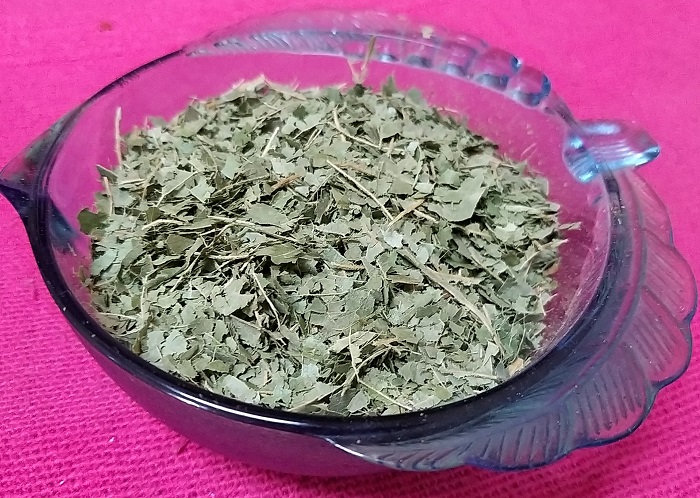 Ingredient:
Milk, 2 cups; ginger piece,1/2″; cardamom,1; clove,1; tea powder (chai patti), 2 teaspoons; water, 1/4 cup; sugar, 3 teaspoons. meetha patta / bark powder,1/4 teaspoon; Tulsi or mint leaves, 4.
Method:
Boil water in a saucepan, crush cardamom, ginger and clove using mortar and pestle or grinder to a medium coarse powder. Add crushed powder, meetha patta powder, tulsi or mint leaves, sugar and tea powder to this boiling water and boil it for 3-4 minutes on medium flame. Add milk to it and boil over medium flame for 6-7 minutes or until bubble starts to rise. strain tea in cups.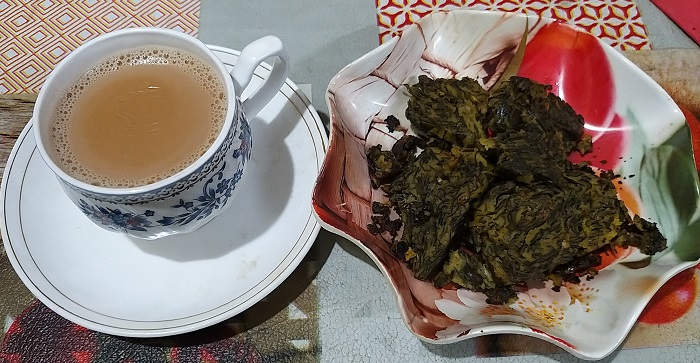 Nutrient value:
100 gram of Meetha Patta leaves contains 43 mg of Iron, 8.167 mg of Manganese, 1.74 mg of Vitamin B6, 834 mg of Calcium, 26.3 g of Total dietary Fiber, 74.97 g of Carbohydrate, 46.5 mg of Vitamin C, 0.416 mg of Copper,180 µg of Vitamin B9 and 3.7 mg of Zinc7.
Seek advice from a professional before using this plant medicinally.
Medicinal Uses:
Local people use decoction of meetha patta leaves to get relief from headache. They also apply meetha patta leaf paste over forehead for this purpose. Leaf paste is also used to get rid off body lice and strengthening of hairs. They consider leaf extract intake effective against nose bleeding and cough.
The essential oil of the leaves called tejpat oil is medicinally used as carminative, anti-flatulent, diuretic, and in cardiac disorders 1. "Ayurveda" describes the use of leaves of tejpatra in the treatment of ailments such as anorexia, bladder disorders, dryness of mouth, coryza, diarrhoea, nausea and spermatorhea 2, It has hypoglycaemic and hypolipidemic properties 3.
Chemical Constituents:
Cinnamic aldehyde, linalool, eugenol, eugenol acetate, beta- caryophyllene, benzaldehyde, camphor, cadinene, alpha- terpineol, alphs and beta- pinene, p-cymene, limonene, geaniol, ocimene, gamma terpinene, beta-phellandrene, benzyl cinnamate, benzyl acetate 4.
Other Uses:
Local people believes that smoke released due to burning of meetha patta leaves will help to get rid of mosquitoes and they used to burn flame of leaves for this purpose. The leaves are also used in the perfume industry for their fragrance. Leaf extract is an ingredient of many commercial cosmetic preparations. Tejpat has been used as a natural food preservative for pineapple juice 5.It is employed in the flavoring industry where it is used in meat and fast food seasonings, sauces and pickles, baked goods, confectionery, cola-type drinks, tobacco flavors and pharmaceutical preparations 6.
Source of Income: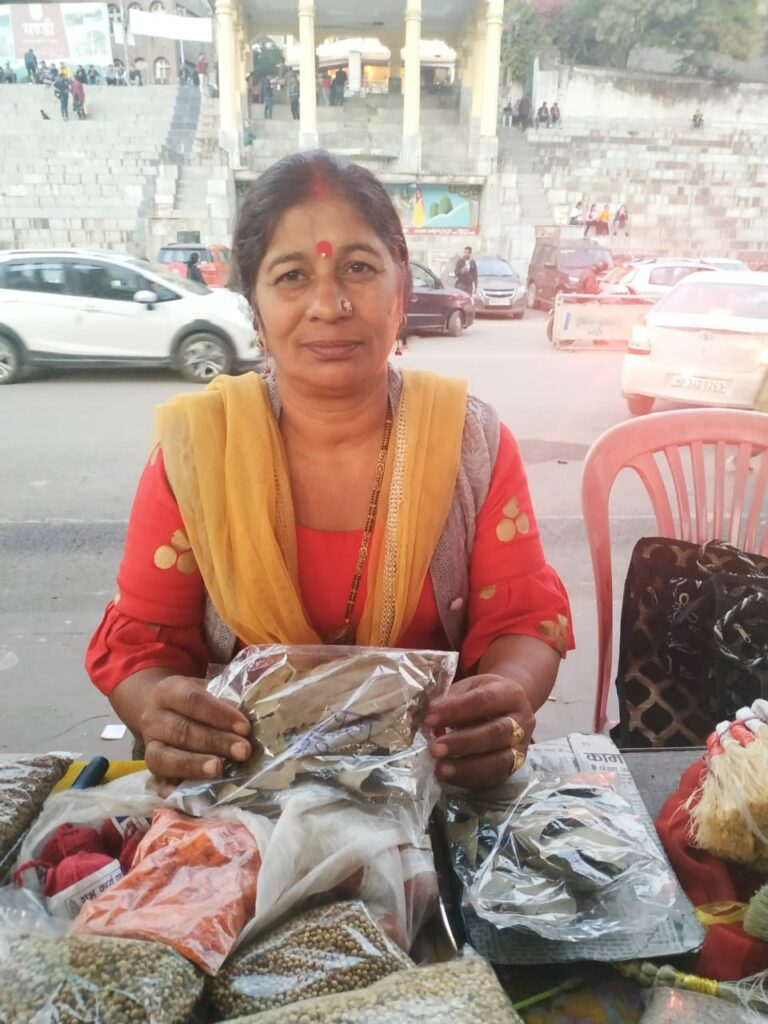 Dried leaves of meetha patta are sold by members of self-help groups at Seri munch of Mandi town in Himachal Pradesh. They make small packing of 50 g dried leaves and sell it at the cost of Rs 30 to 50 per packet. This plant is an easy source of income generation for poor women.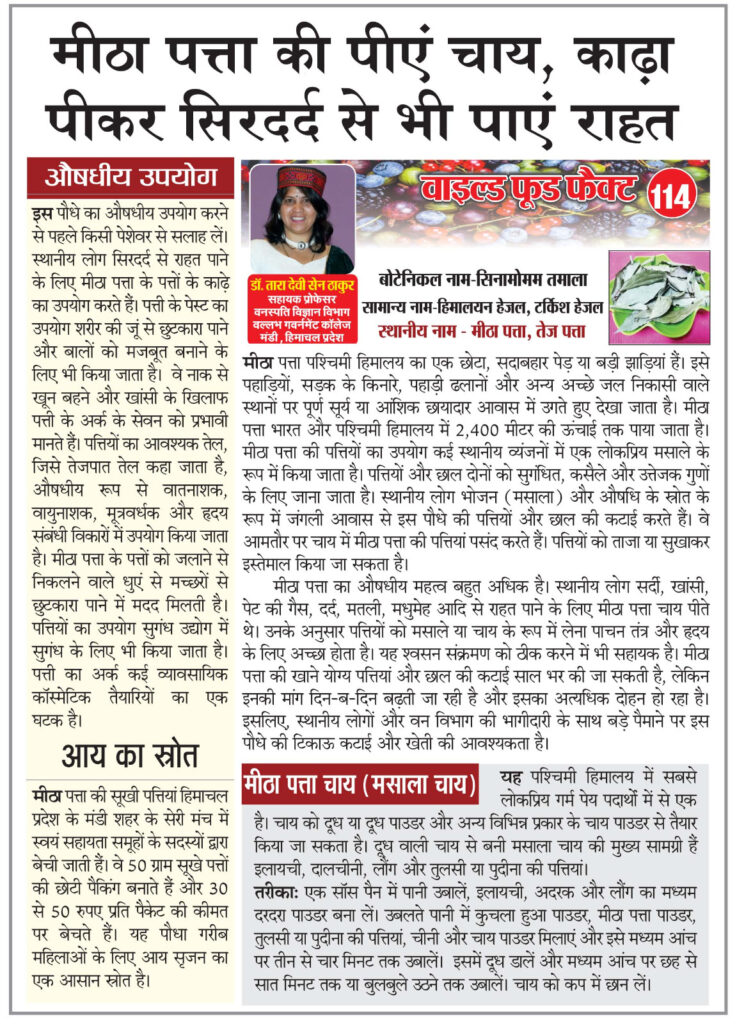 References:
1. Showkat, R.M., Mohammed, A., Kapoor, R.(2004): Chemical composition of essential oil of Cinnamomum tamala Nees and Eberm.leaves. Flavour and Fragrance Journal,19:112–114
2. Kapoor, L.D. (2000): CRC Handbook of Ayur-vedic Medicinal Plants CRC Press, Inc. BocaRaton, Florida; pp. 117.
3. Kar, A., Choudhar, B.K., Bandyopadhyay, N.G.(2003): Title Comparative evaluation of hypoglycaemic activity of some Indian medi-cinal plants in alloxan diabetic rats. Journal of Ethnopharmacology,84(1): 105–108
4. Purohit SS, Sharma AK, Prajapati ND, Kumar T. A handbook of medicinal plants: a complete source book. Edition. 2009;2:352-3.
5. Kapoor, I.P.S., Singh, B., Singh, G. (2008): Es-sential oil and oleoresins of Cinnamomum tamala (tejpat) as natural food preservatives for pineapple fruit juice. Journal of Food Processing & Preservation.32(5): 719–728(10).
6. FAO. (1995): Food and Agriculture Organization of the United Nations. Chapter 2 –Cinnamo-mum oils (including Cinnamon and Cassia)."Flavours and fragances of plant origin" Non-Wood Forest Products 1 FAO – Food and Agriculture Organization of the United Na-tions M-37, ISBN 92-5-103648-9, (c) FAO.
7.https://www.healthbenefitstimes.com/indian-bay-leaf.