Family: Fabaceae
Synonyms: Indigofera arborea, Indigofera pulchella, Indigofera elliptica, Indigofera violacea , Indigofera byansghatensis Indigofera leptostachya, Indigofera gibsonii.
Common Name: Cassia Indigo
Local Name: Kathi (काथी)
Kathi is an erect hairy or glabrous shrub of Western Himalaya bearing bright pink flowers from spring season to early summer. It is commonly seen growing on open slopes, dry areas along roadsides up to an altitude of 1500 m. Kathi requires a light to medium well-drained soil and a sunny position for best growth.
  In full bloom kathi is a great attraction for visitors. Landscape architects often suggest it to be used for landscaping. But still its cultivation has not been started for this purpose.  Only sample plants can be seen in botanical collections.
   It is the flowers of kathi which are used as food. Besides food, kathi flowers are also used in traditional medicine. Local people use decoction of bark, flowers and leaves to cure leucorrhoea and stomach ailments.
Tender branches are used as toothbrush. Kathi is harvested from wild habitat as a source of food, fuel, fodder and medicine. Kathi being a member of family Fabaceae is also able to fix atmospheric nitrogen.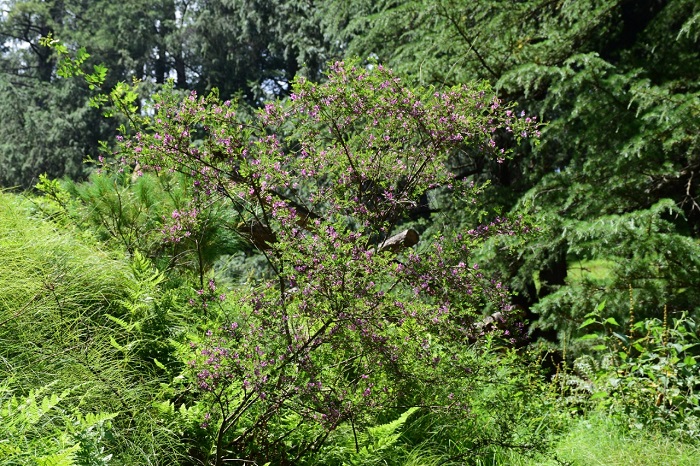 Kathi plant:
Thinly hairy or glabrous, erect, deciduous shrubs, 1-2.5 m tall.
Leaves compound imparipinnate, 5-15 cm long; leaflets 11-19, opposite, ovate or oblong- ovate, 2-2.5 cm long.
Inflorescence is a 5-17 cm long raceme, covered with sterile scales at the base.
Flowers 8-12 mm long, purple to light purple. Bracts lanceolate gradually narrowed to a long point. shaped like pea flowers. Vexillum is 1.2-1.8 cm long.
Pods glabrous, 2.5- 4 cm long, 8-12 seeded.
Kathi can best provide edible flowers from late spring to summer end. For ensuring sustainable harvesting flowers should be collected from different habitat on rotational basis.
Edible Uses:
Only flowers of kathi are eaten. These are made into Kachru, it is a local preparation usually eaten as a snack and rayata. Flowers are also pickled to preserve in off season,These can be cooked as under:
Kathi Kachru:
Ingredients:
Fresh flowers, 1kg; besan (black gram flour) or corn flour, 1/2 kg; fresh coriander leaves (chopped), 1 cup amount; caraway, 1/2 table spoon; green chilies, 2-3; turmeric powder, ½ table spoon; chopped medium sized onions, 2-3 and salt according to taste.
Method:
Make a paste of flower petals, besan or corn flour and spices. Heat some oil on a flat heating pan. Put some paste over a pan and make it flat by pressing with fingers. Cook for 15 to 20 minutes. Kachru will be ready to serve. Repeat this process for rest of the paste.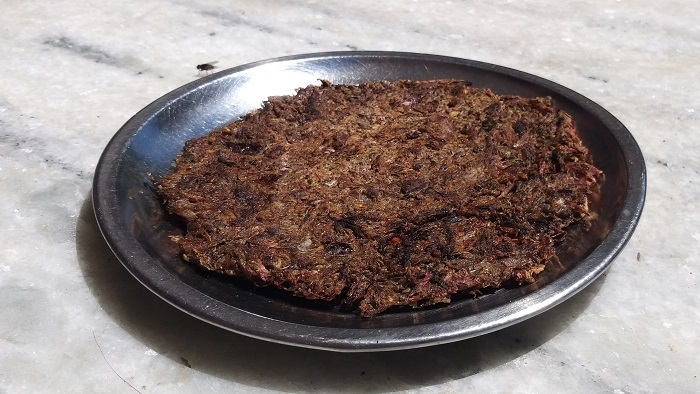 Rayata:
Ingredients:
1/2 kg kathi fresh flower, 1 Kg curd, 1 cup fresh coriander leaves (chopped), 3-5 green chillies, a pinch of black pepper powder, 1 table spoon rai powder, 2-3 medium sized chopped onions and salt according to taste.
Method:
Boil and squeeze kathi flowers then add to curd with ingredients listed above for preparing rayata or give a shallow fry to these boiled flowers in hot oil with onion and other spices listed above, before adding to curd. Garnish recipe with coriander, Mentha piperta, Oxalis corniculata and Rumex hastata leaves Now rayata is ready to serve.
Preparing Pickle:
Pickle is also prepared from kathi flowers. For preparing pickle, flowers are boiled and dried in sun before sauting in hot mustered oil and spices like fenugreek seed powder, turmeric powder, red chilies powder and salt acc.to taste. One to three table spoon mustard seed powder is added to make pickle sour. Pickle is ready to eat after 25-30 days.
Seek professional advice before treating this plant medicinally.
Medicinal:
Kathi roots are medicinal, their decoction is used to cure coughs 1. Roots are also dried, ground into a powder and applied externally in the chest as a remedy of chest pains1.Decoction of bark flowers and leaves efficacious in leucorrhoea and stomach ailments 2.
Other uses:
Young branches of kathi are used as toothbrush for cleaning teeth by local people of Western Himalayas. They also harvest it as source of fodder and fuel.Kathi twigs are strong and durable. So these are used extensively for making baskets and similar containers locally.
Kathi a Fabaceae family member is reported to have symbiotic relationship with certain types of soil bacteria. These bacteria form nodules on the roots and fix atmospheric nitrogen. Some of this nitrogen is utilized by the growing plant but some can also be used by other plants growing nearby.
References:
Chopra, R. N., Nayar, S. L., & Chopra, I. C. (1956). Glossary of Indian medicinal plants (Vol. 1, pp. 138-139). New Delhi: Council of Scientific & Industrial Research.
Sood SK, Thakur S. (2004): Ethnobotany of Rewalsar Himalaya. Deep Publications.