Family: Rosaceae
Synonyms: Malus pashia, Sorbus variolosa, Pyrus crenata ,Pyrus kumaoni ,Pyrus nepalensis ,Pyrus variolosa ,
Common Name: Indian Wild Pear
Local Name:  Kainth (कैन्थ), shegal
Kainth is a small deciduous tree commonly seen growing along roadsides, streams, in scrub forests and wastelands, up to an altitude of 2000 m in Western Himalaya. It succeeds best in a well-drained habitat with full sun.
Kainth is a multipurpose tree for the local people. They harvest it from wild habitat as source of food, fodder, fuel, medicine, wood and material. Kainth fruits are edible and eaten both raw and cooked. These are also dried to ensure their availability in off season. Dried fruits are used in various sweet dishes and baked items.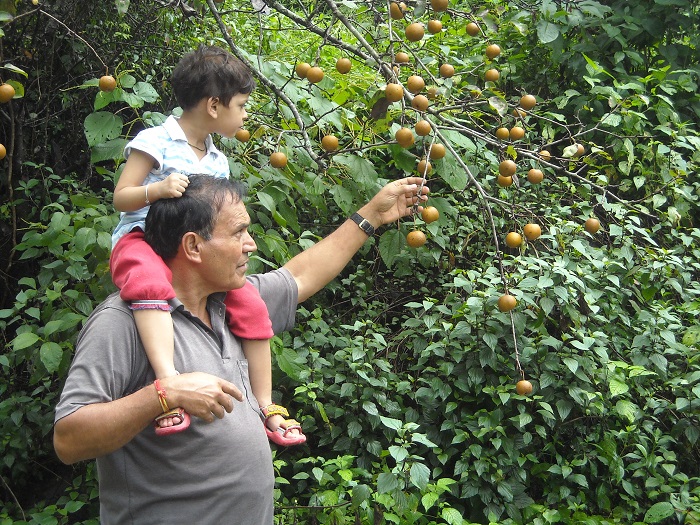 The fruit is usually bletted 1, but even then it is not sweet 2. These are tasty when fully ripe, even when dried  3.Birds specially sparrows  collect unripe kainth fruits and place inside stored heap of dried grass  for ripening, local people when use this  dried grass as fodder collect and enjoy these delicious, sweet ripen kainth fruits.
Tender shoot terminals, young leaves and flowers of kainth are edible and cooked into vegetables, A delicious local traditional dish 'kachru' is also made from flowers along with basen other greens and spices. It is generally eaten as a snack with chutney or tomato ketchup. Kainth flowers are bitter in taste so its good to add other greens also.
Kainth wood is considered durable and locally used to make furniture and other household items like mortar, agricultural tools and walking- sticks etc.
Kainth Plant:
Plant is small deciduous trees upto 12 m tall.
Leaves are simple, very variable in size and shape, generally 5-10 cm long, ovate or ovate – lanceolate, long- acuminate, crenate, glabrous, shining, tomentose or woolly when young; petioles up to 4 cm long.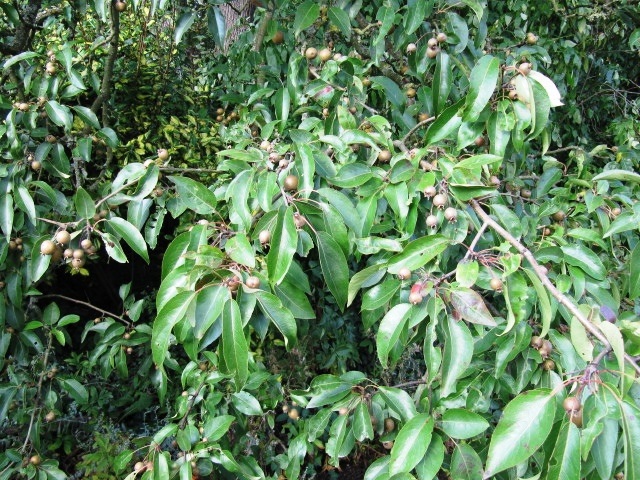 Flowers are white fragrant, in simple corymbs. Calyx tomentose.
Fruits are globose, 1.2-2.5 cm diameter, rough with raised white dots.
Kainth can best provide edible flowers and fruits from spring to summer season of the year, As reproductive plant parts of Kainth are mainly harvested for food, so sustainable harvesting should be encouraged for successful regeneration of this wild food plant and for ensuring sustainable development,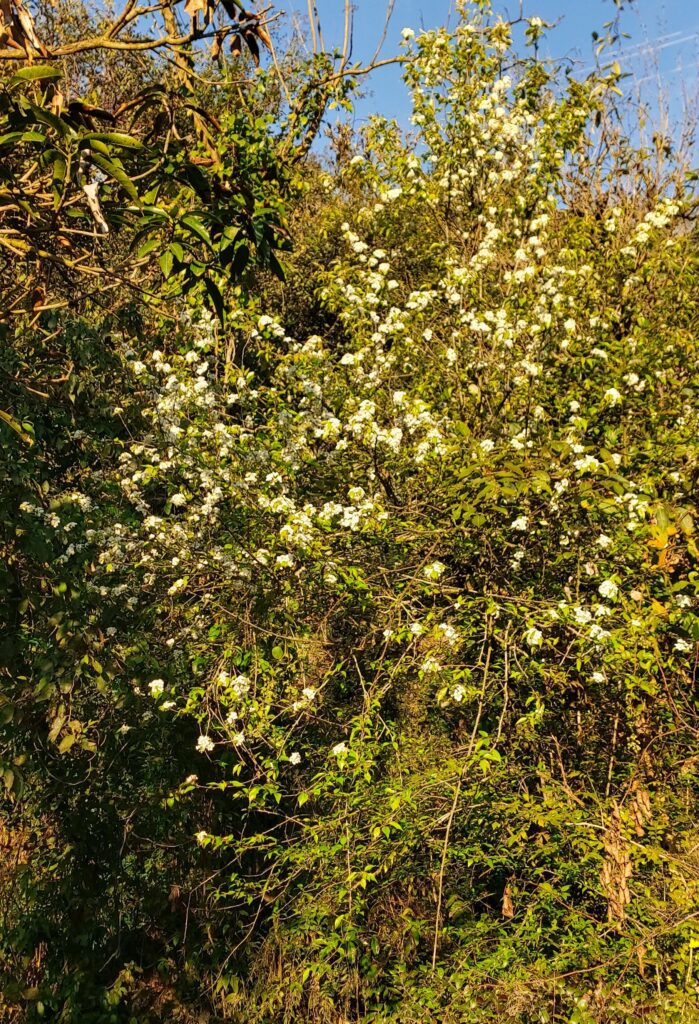 Edible uses:
Fully ripe fruits of kainth are edible both raw or cooked. When fresh these are used to prepare puddings, desserts etc. Dried kainth fruits are used as other dry fruits in various sweet dishes. These are also used to prepare baked food items. Fresh flowers cooked into 'rayata' and along with tender shoot terminals and young leaves cooked as 'kachru'. Flowers, leaves and shoot tip are also cooked as vegetable.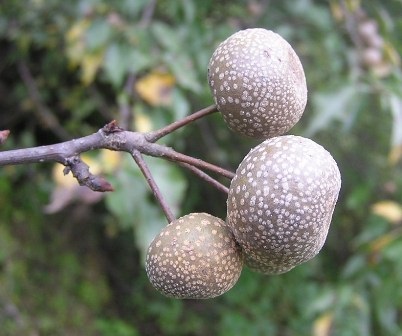 Vegetable:
Leaves, young shoots and flowers are cooked with potato. as vegetable.
Ingredients:
Chopped leave, young shoots and flowers, 1 kg; chopped medium sized potatoes,3-4 mustard oil, 3-4 table spoons; coriander powder, 1 table spoon; fenugreek powder, ½ table spoon; cumin seed, 1 tea spoon; turmeric powder, 1 table spoon; red chilies, 2-3; chopped medium sized onions 2-4; garlic, 4-5 cloves; ginger paste ½ table spoon, chopped tomato, 2-3; and salt, according to taste.
Method:
Put oil in a pan and sauté chopped leaves, shoot and flowerswith spices listed above in sequence with potatoes. Cook for 15 to 20 minutes and serve with chapatis.
Kachru:
Ingredients:
 Chopped tender shoot tip, young leaves and fresh flowers of Kainth, 1kg; besan (black gram flour) or corn flour, 1/2 kg; fresh coriander leaves (chopped), 1 cup amount; caraway, 1/2 table spoon; green chilies, 2-3; turmeric powder, ½ table spoon; chopped medium sized onions, 2-3 and salt according to taste.
Method:
Make a paste of plant parts, besan or corn flour and spices. Heat some oil on a flat heating pan. Put some paste over a pan and make it flat by pressing with fingers. Cook for 15 to 20 minutes. Kachru will be ready to serve. Repeat this process for rest of the paste.
Rayata:
Ingredients:
1/2 kg Kainth fresh flower, 1 Kg curd, 1 cup fresh coriander leaves (chopped), 3-5 green chilies, a pinch of black pepper powder, 1 table spoon rai powder, 2-3 medium sized chopped onions and salt according to taste.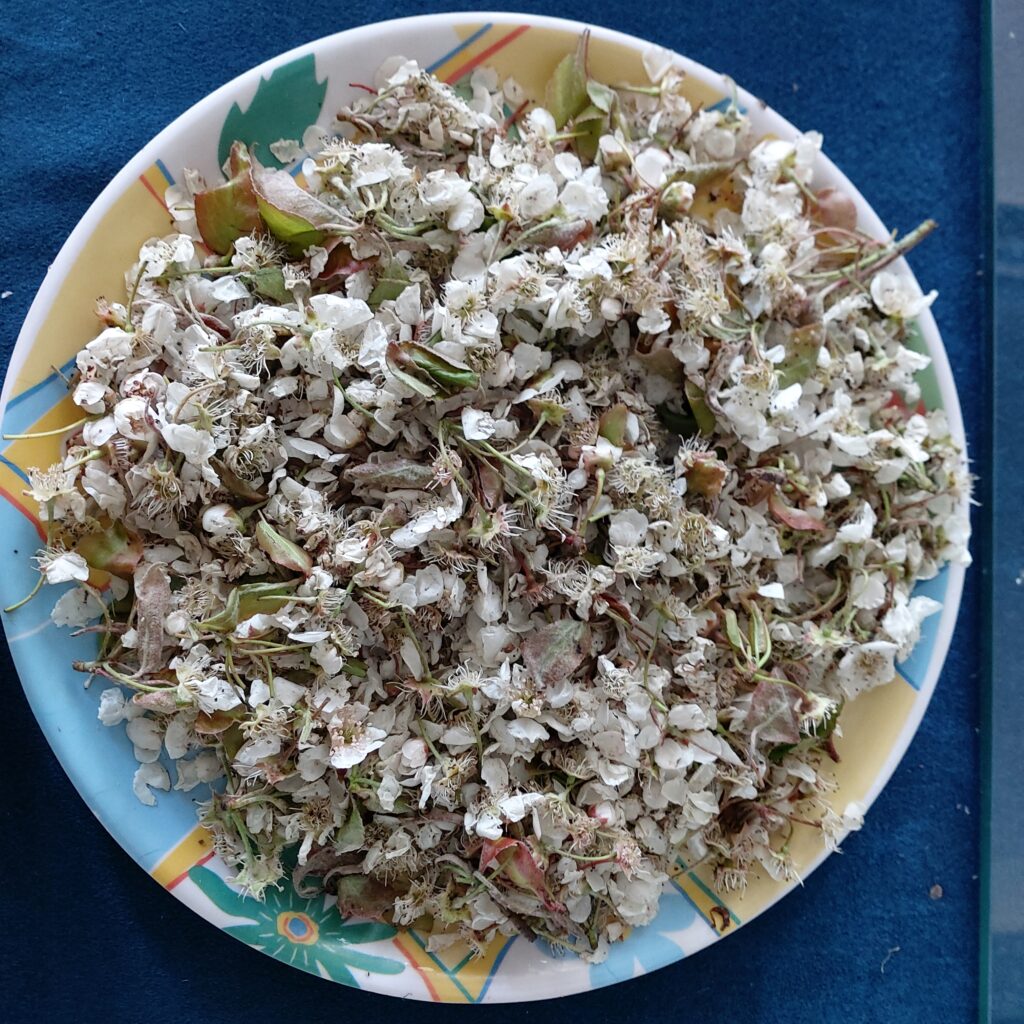 Method:
Boil for 2-4 minutes and squeeze Kainth flowers then add to curd with ingredients listed above for preparing rayata or give a shallow fry to these boiled flowers in hot oil with onion and other spices listed above, before adding to curd. Garnish recipe with coriander, Mentha piperta, Oxalis corniculata and Rumex hastata leaves Now rayata is ready to serve. It is little bitter in taste but one can eat to harness flowers medicinal properties.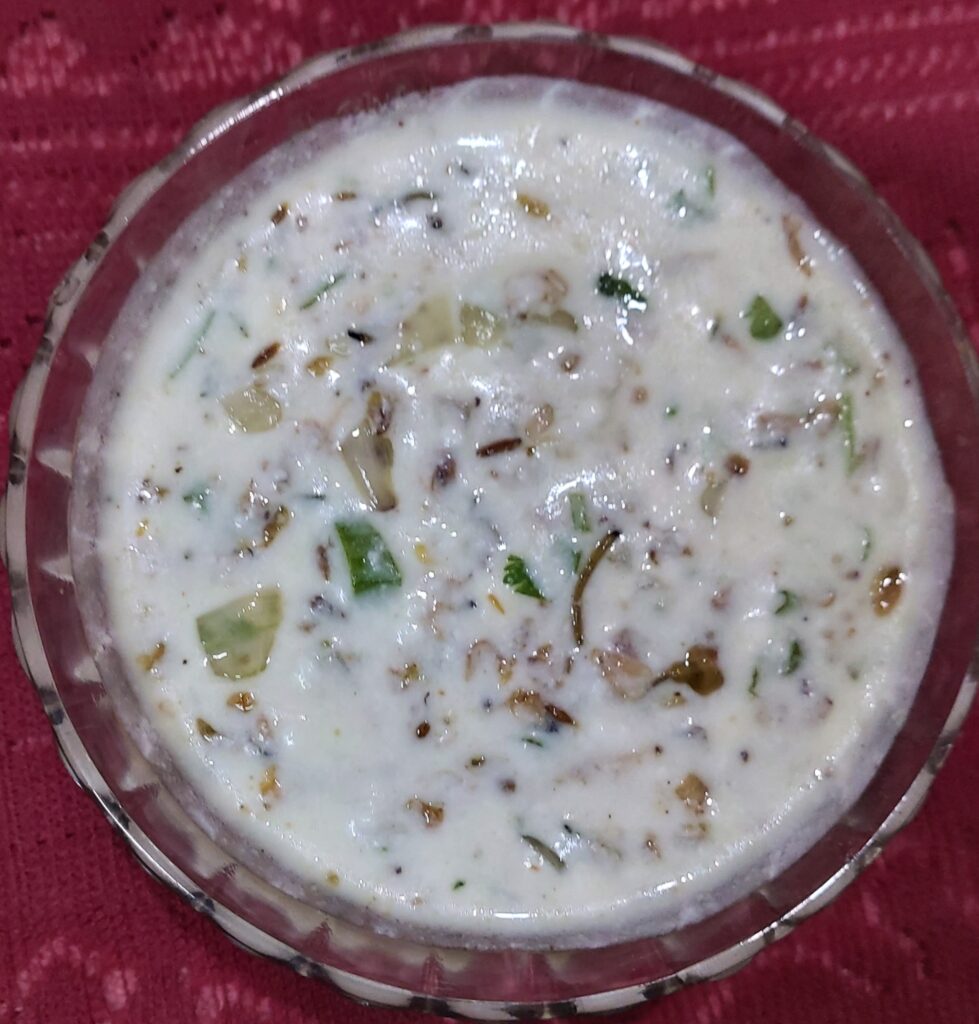 Food Value:
The fruit contains about 6.8% sugars, 3.7% protein, 1% ash, 0.4% pectin. Vitamin C is very low, about 1.2mg per 100 g 3.
Seek professional advice before treating this plant medicinally.
Medicinal Uses:
Fruits edible. Powdered bark and leaves (1:2) in combination with a pinch of black pepper act as blood purifier and improve circulation, and also of rheumatic pains, 1 teaspoon two times a day till relief 4. Considered useful for eye complaints 5. The juice of the ripe fruit is used in the treatment of diarrhea 6. The leaf extract is used as a tonic for hair loss and woods are used as a major fuel source in the central Himalayan region, and consumed as tea beverages by many monpa community of twang, Arunachal Pradesh (India)7 . Twigs of the tree are used in tooth ache problems by the indigenous people of Jammu Kashmir and Laddhak divisions of India 8 . Pyrus pashia fruits is used for the treatment of dehydration, GI disorder, fever, headache, hysteria and epilepsy 9 . Edible flowers is used in Cardiovascular disease and certain cancers, these properties is attributed by the presence of phenolic compounds 10. .
Other Uses:
Plant is used as fodder. Dried plant parts and branches left after cattle feed are used as fuel. Wood is used as to prepare household items, furniture and walking stick etc. This plant is often used as a rootstock for grafting the cultivated pear 3.Plant can be grown as ornamental tree and live fence to demarcate boundaries, exclude livestock and for exploiting wide range of multiple uses.
References:
Facciola. S. (990); Cornucopia – A Source Book of Edible Plants. Kampong Publications.ISBN;0-9628087-0-9.
A Manual of Indian Timbers. Bishen Singh Mahendra Pal Singh, publication
Parmar. C. and Kaushal. M.K. (1982) Wild Fruits of the Sub-Himalayan Region. Kalyani Publishers. New Delhi.
Sood SK, Thakur S. (2004): Ethnobotany of Rewalsar Himalaya. Deep Publications.
Ambasta, S. S. (1986). The useful plants of India (p. 650). CSIR, New Delhi, India: Publications & Information Directorate.
Plants and People of Nepal. Publication; Timber Press. Oregon.ISBN; 0-88192-527-6
Tsering J, Gogoi BJ, Tag Hui. Ethnobotany and Phytochemical Analysis of Pyrus pashia leaves. International Journal of Pharmaceutical Sciences and Research. 2012; 3(8):2721-2725.
Sharma P, Hemalatha S, Prasad SK. Quality control Standardization of Wild Himalayan Pear: Pyrus pashia. Pharmacognosy Journal. 2016; 8(4):352-360.
Rasineni GK, Siddavattam D, Reddy AR. Journal of medicinal plants research. 2008; 2(10):285 -291.
Janbaz KH, Saqib F, Hawaz J. Scientific basis for used of Pyrus pashia Buch-Ham ex d.don fruit in GI, Respiratory and Cardiovascular ailments. Journal Pone. 2015; 10(3).