Family: Rubiaceae
Synonyms: Aparine hispida, Aparine vulgaris, Asperula aparine, Asterophyllum aparine, Crucianella purpurea, Galion aparinum,Galium aculeatissimum,Galium adhaerens, Galium aparine, Galium asperum, Galium australe, Galium borbonicum, Galium charoides, Galium chilense.Galium chonosense, Galium hispidum, Galium horridum, Galium intermedium, Galium lappaceum, Galium larecajense, Galium parviflorum, Galium pseudoaparine, Galium segetum, Galium tenerrimum, Galium uliginosum, Galium uncinatum, Rubia aparine.
Common Name: Goosegrass
Local Name: Kuri (कुरी), Dhanpatri.
Kuri is a annual branched herb found trailing and climbing around support. It is commonly seen growing in wastelands, crop fields, around hedges and in meadows, up to an altitude of 3000 m in Western Himalaya. Kuri succeed in most of soils having full sun to heavy shade and easily propagated by seeds.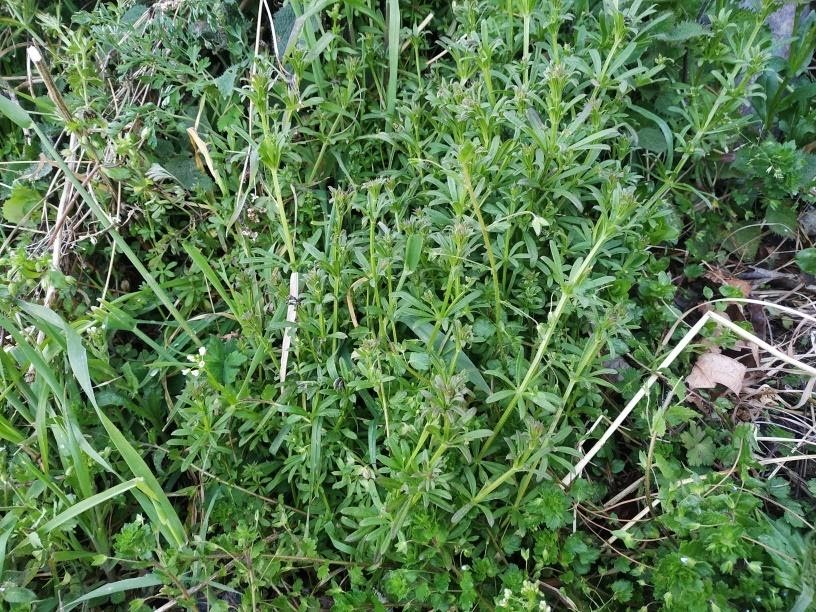 Tender shoot tips and young leaves of kuri are edible and used as potherb with other greens. Young leaves are also used in making tea. Young leaves should be collected for cooking as mature one may be toxic. Leaves are also a good addition to soup,' kachru' and 'chutneys'.
Dried and roasted kuri seeds are good substitute of coffee. These seeds are known as poor men coffee. Local people consider kuri a blood cleanser helpful for tightening the skin and reducing sign of aging, so its seeds are used to make Laddu along with roasted rice and dridh (Sida rhombifolia) seeds. These laddu are eaten in winters and specially given to woman after child birth.
Kuri is harvested from wild as a source of food, fodder, medicine and source of material.
Kuri Plant:
Plant is trailing, climbing, branched, annual herbs1.20 meters tall.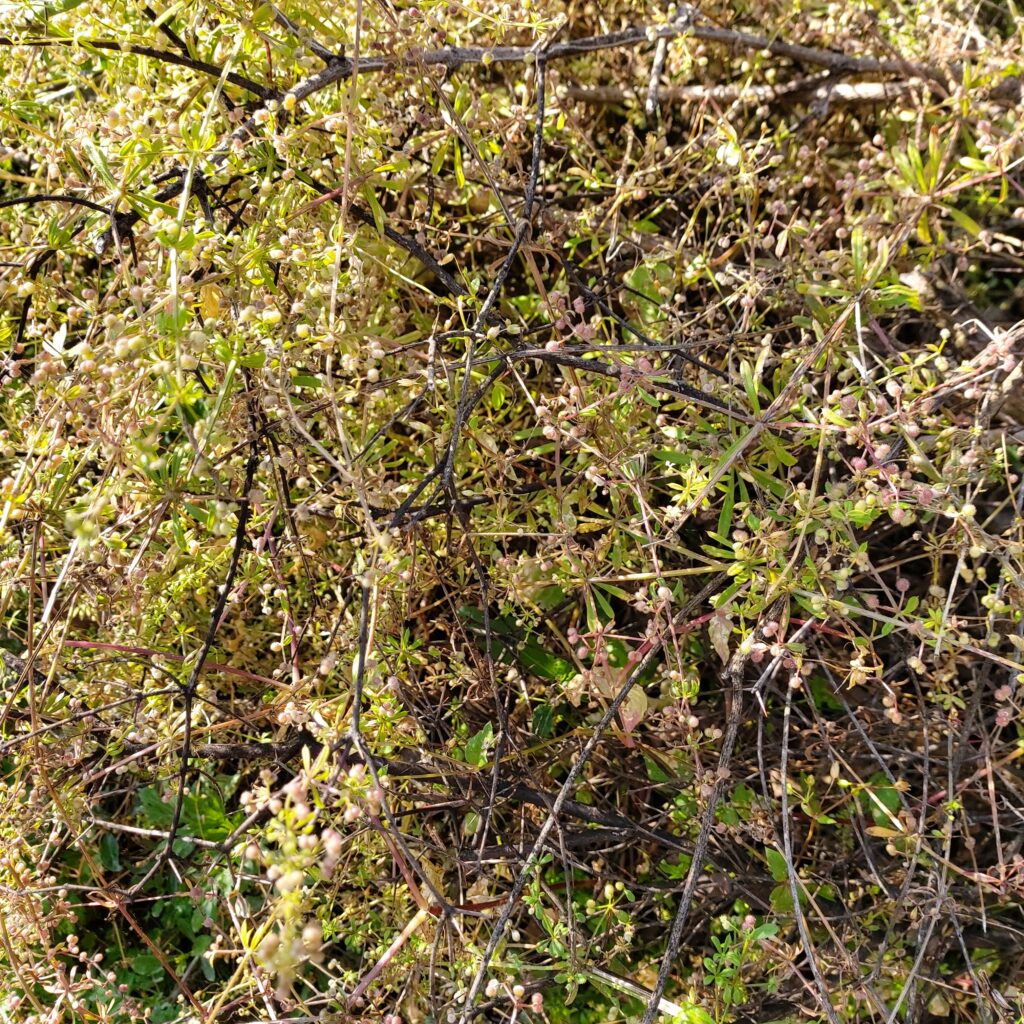 Stems 4- angular, prickly along the angles.
Leaves are sessile, in whorls of 6-8, linear or narrowly- oblong, mucronate, glabrous except the prickly midrib and margins.
Flowers are minute, greenish- white, in axillary or terminal few – flowered cymes, combined into large, leafy panicles. Corolla small, rotate.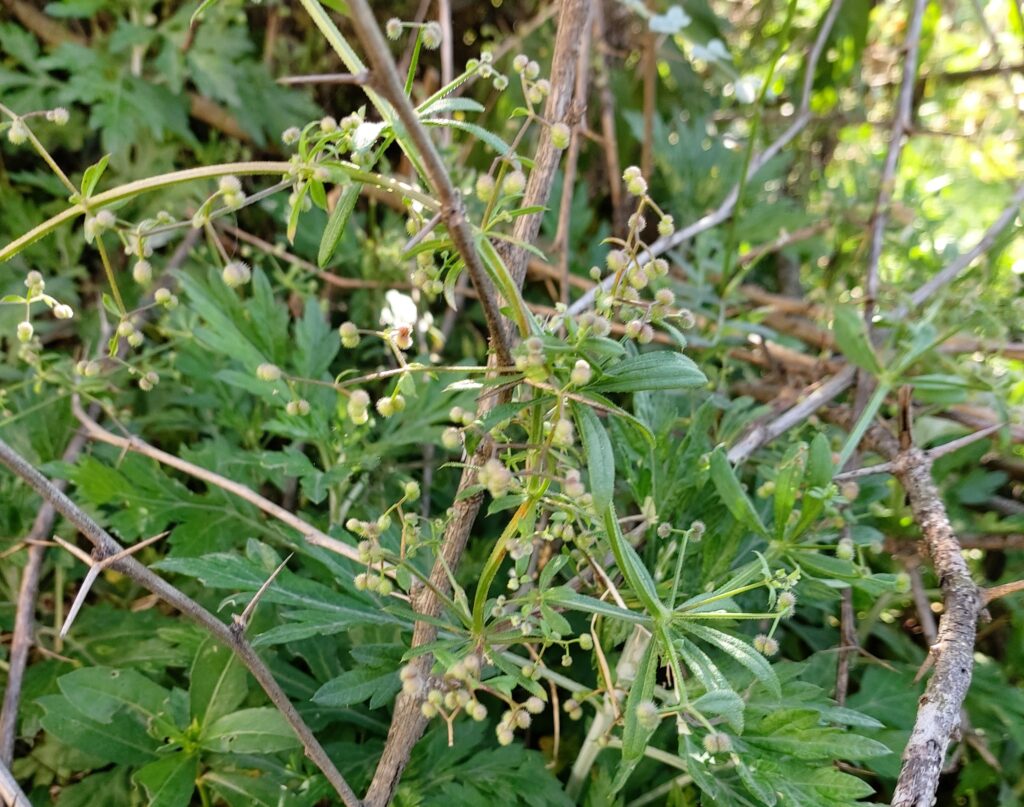 Fruits are globose, didymous, deeply clothed with spreading, hooked bristles.
Edible kuri leaves are best harvested from late winter to spring season, while seeds are collected from early summer to autumn season of year. Seed should be collected from different habitat for sustainable development.
Edible Uses:
Leaves and seeds of kuri are edible and eaten cooked. Young leaves are mixed with other greens and cooked into leafy vegetable saag. Leaf infusion is taken as tea and young leaves are added to soups 'kachru' and 'chutney' to harness their rich medicinal value. Seeds are dried and roasted to be used as coffee substitute.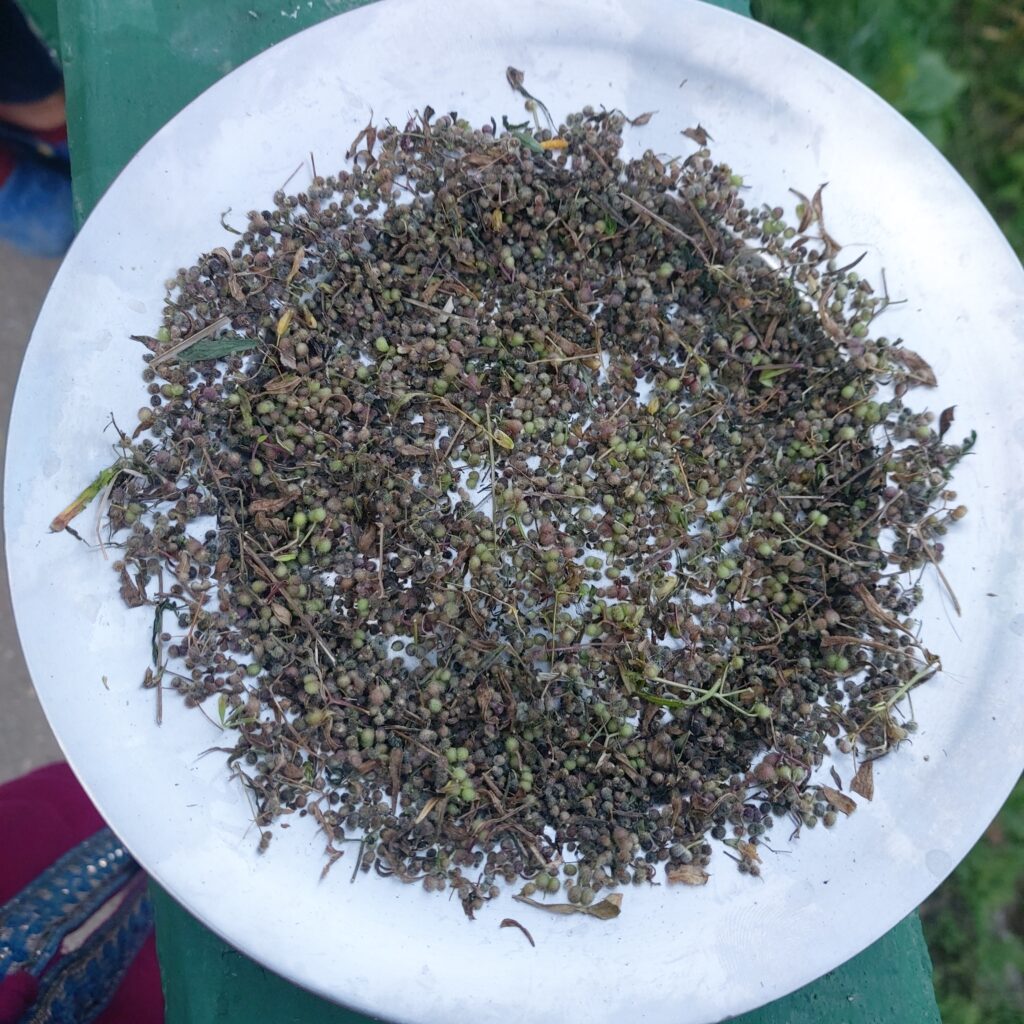 Kuri vegetable:
Tender leaves of kuri and other greens, 1 kg; mustard oil, 2 table spoons; coriander powder 1 table spoon; fenugreek powder, ½ table spoon; cumin seed ¼ table spoon; turmeric powder, 1/4 table spoon; red chilies, 2-3; chopped potato, 2-4; chopped onions 2-4; garlic, 4-5 cloves; ginger paste ½ table spoon and salt according to taste.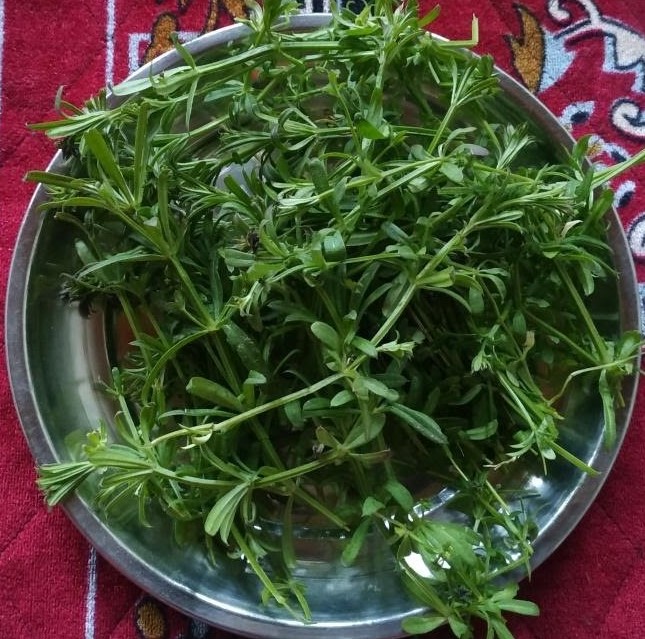 Method:
Boil chopped leaves till these are soft and let them cool down. Now mesh these manually or in a mixer grinder. In hot mustard oil saute meshed leaves along with spices listed above in a sequence. Cook for 5-8 minutes and serve.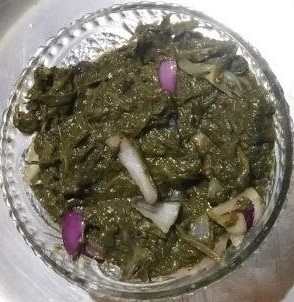 Kuri chutney:
Fresh kuri leaves, 150 g; fresh mint (poodina), curry leaves, coriander leaves, 200 gm; anardana, 100 gm; red chillies, 5-8; medium sized chopped onions, 1-2; sugar.1 tea spoon and salt, according to taste.
Method:
For preparing chutney, grind all the ingredients in a mixer except salt. Take out this mixture in a bowl and add salt and sugar according to taste. Now chutney is ready to serve.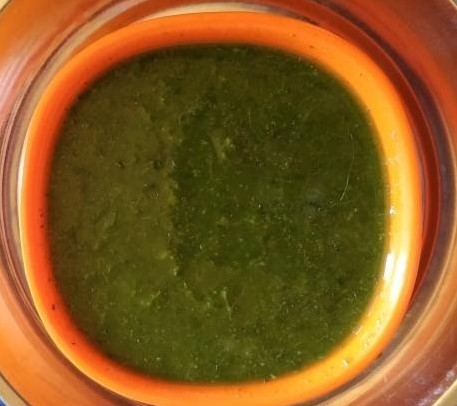 Kachru:
For preparing a kachru, ingredients required are ½ kg fresh leaves of kuri, curry leaves, mint leaves, rose petals and other greens, 1/2 kg besan (black gram powder) or corn flour. 1 cup amount fresh coriander leaves,1/2 table spoon ajwain, 3-5 green chillies, ½ table spoon turmeric powder, 2-3 chopped onions and salt according to taste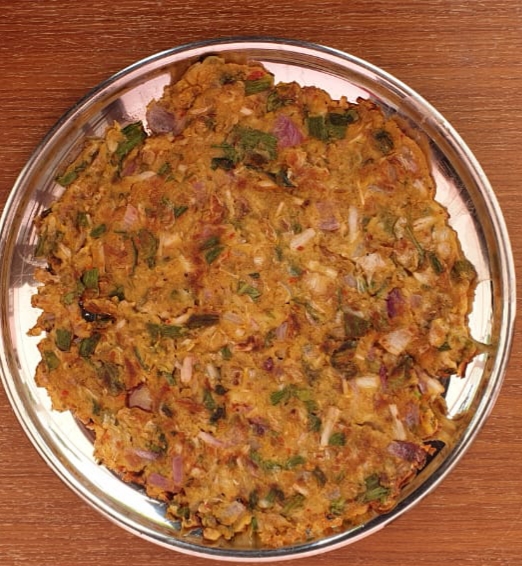 Method:
Make a paste of leaves, besan or corn flour and spices. Heat some oil on a flat heating pan. Put this paste over a pan and cook for 15 to 20 minutes then kachru will be ready to serve.
Kuri Tea:
Ingredients:
Dried or fresh leaves of kuri, 5-15 g; Sugar/honey. 1-2 table spoon, Water, 2 cup amount.
Method:
Boil kuri leaves in water for 3 to 5 min. Add to it sugar/honey and stir well. Strain and serve hot.
Coffee:
Ingredients:
Dried roasted seeds of kuri, 5-15 g; Sugar/honey. 1-2 table spoon, milk, 1 cup amount; Water, 2 cup amount.
Method:
Ground roasted seeds of kufri. Boil this ground powder in a saucepan. Stir it constantly and stain in a cup. Brew for 3 minutes. Add milk and sugar according to taste and serve.
Laddu:
Ingredients:
Kuri dried seeds, 100-200 g; dridh deeds (Sida rhombifolia), 100 g: mawa, 250 g; rice, 250 g; sugar, 100-200 g; edible gum, 2 table spoon; raisins from seedless grapes, 2 table spoons; grated dry coconut and other dry fruits acc, to taste, 500 g.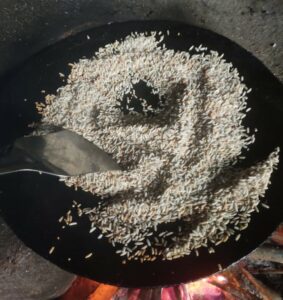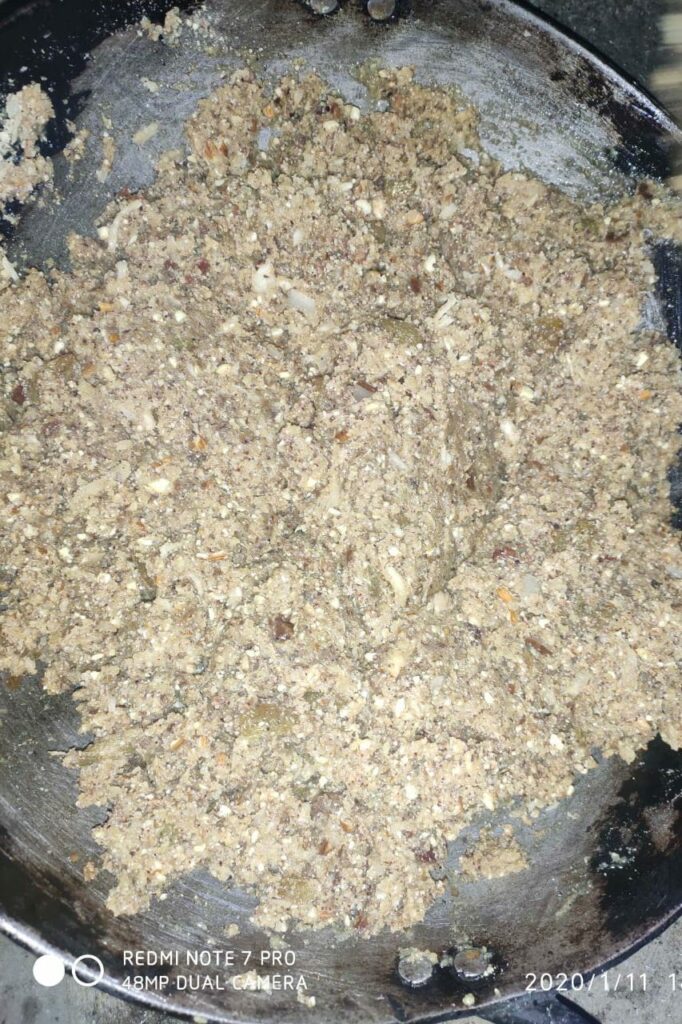 Method:
Roast rice, kuri and dridh (Sida rhombifolia) seeds on a hot pan. Now grind roasted seeds in metate (mealing stone) with grinding stone. Mix this ground mixture well along with grated dry fruits and raisin. Now in hot fry pan cook it with mawa, sugar and edible gum for 5 to 10 minutes. Let it be cool down and make small balls from this cooked mixture. Now laddu are ready to serve. These are eaten in winter.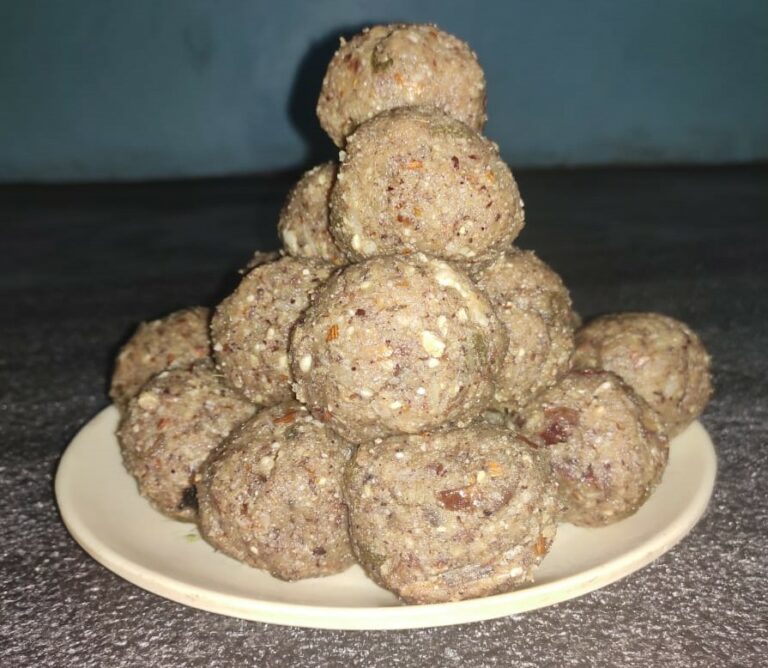 Seek professional advice before treating this plant medicinally.
Medicinal Uses:
Locally it is considered a blood cleanser, good for tightening the skin and reducing sign of aging. Kuri is supposed to be helpful in clearing infections and inflammation of the genitourinary system. Herb is dried and pulverized for use in cough and urinary disorders; 1-3 g twice a day for 5-7 days 1. So, far it is known in India as an aperient, diuretic, refrigerant and antiscorbutic, and as a substitute for coffee 2. As a valuable diuretic, cleavers is often taken for skin diseases such as seborrhoea, eczema and psoriasis; for swollen lymph glands; and as a general detoxifying agent in serious illness such as cancer 3. The plant is commonly prepared in the form of an infusion, but for conditions such as cancer, it is best taken as juice, which is strongly diuretic3. The juice and the infusion are also taken for kidney stones and other urinary problems3.
Chemical constituents:
Kufri contains iridoids, polyphenolic acid, anthraquinones, alkenes, flavonoids and tannin, asperuloside is a mild laxative3.
Biological Activity:
Ext. of the plant lowers pressure up to 50% 4.
Other Uses:
Locally plant is used as a fodder.A red dye is obtained from a decoction of the root 5. The stems are placed in a layer 8cm or thicker and then used as a sieve for filtering liquids 5.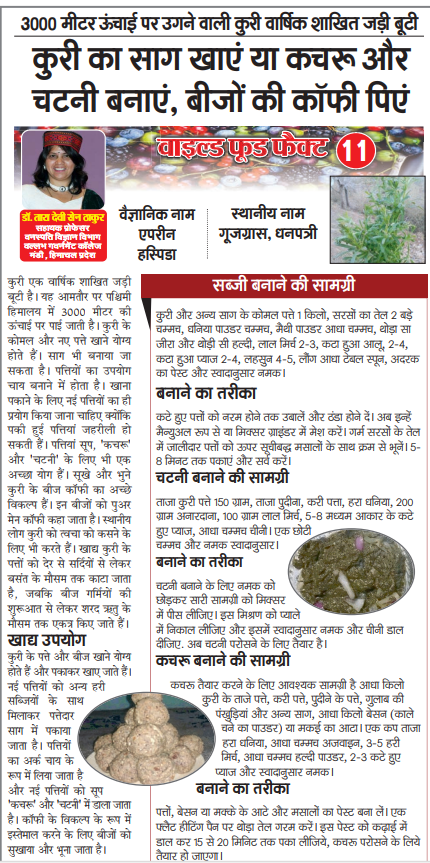 References:
Sood SK and Thakur S. (2004): Ethnobotany of Rewalsar Himalaya. Deep Publications.
Ambasta, S. S. (1986). The useful plants of India (p. 650). CSIR, New Delhi, India: Publications & Information Directorate.
Purohit SS, Sharma AK, Prajapati ND, Kumar T. (2009); A handbook of medicinal plants: a complete source book. 2:352-3.
Anonymous, 1956. The wealth of India – Raw Materials, Vols. 1-11. CSIR, New Delhi.
Grieve, M. (1984). Tansy. A Modern Herbal. Penguin Books Ltd, Middlesex, Great Britain, 789-790.