Family: Lamiaceae
Common Name: White dead nettle, blind nettle, dumb nettle, deaf nettle, bee nettle
Local Name: Ruksha(रूक्षा)
Ruksha is a hairy perennial herb found growing in fields, hedgerows, woodland edges, clearings and moist waste places. It is very common in damp places along waysides upto an altitude of 1800- 3000 m in Western Himalaya. Ruksha is a very easily growing plant propagated by seeds. It can be seen growing in most soils, but usually prefers well drained sunny to partial shady habitat.
Young leaves, flowers and stems of ruksha are edible and eaten both raw or cooked. As raw these edible parts form good addition to salads and rayata. Ruksha young leaves are cooked like spinach or as a potherb along with other available greens of the season. An herbal tea is made from leaves and flowers to harness its medicinal values. Leaves can be dried for this purpose for later use also. Leaves are mixed with basen and spices to make kachru or sosru alocal traditional dish eaten as snack with tea or chutney. Leaves and flowers can also be mixed with meshed boiled potato and spices to make paste for stuffing paranthas.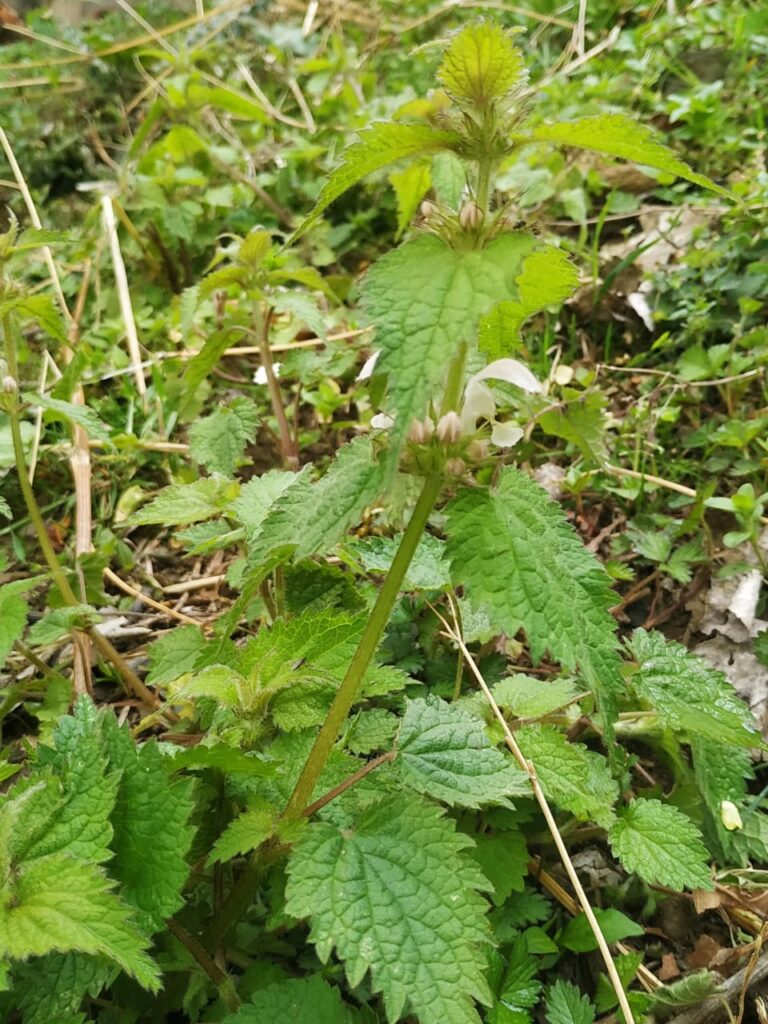 Local people considered ruksha very effective to treat gemological disorder. Apical plant parts are collected as a fodder along with other greens for domestic animals specially milch cattle. Creeping rootstock of ruksha make it a good groundcover in woodland edges.
Inhabitant of Western Himalaya harvest ruksha as source of food, fodder and medicine from wild habitat for local personal use.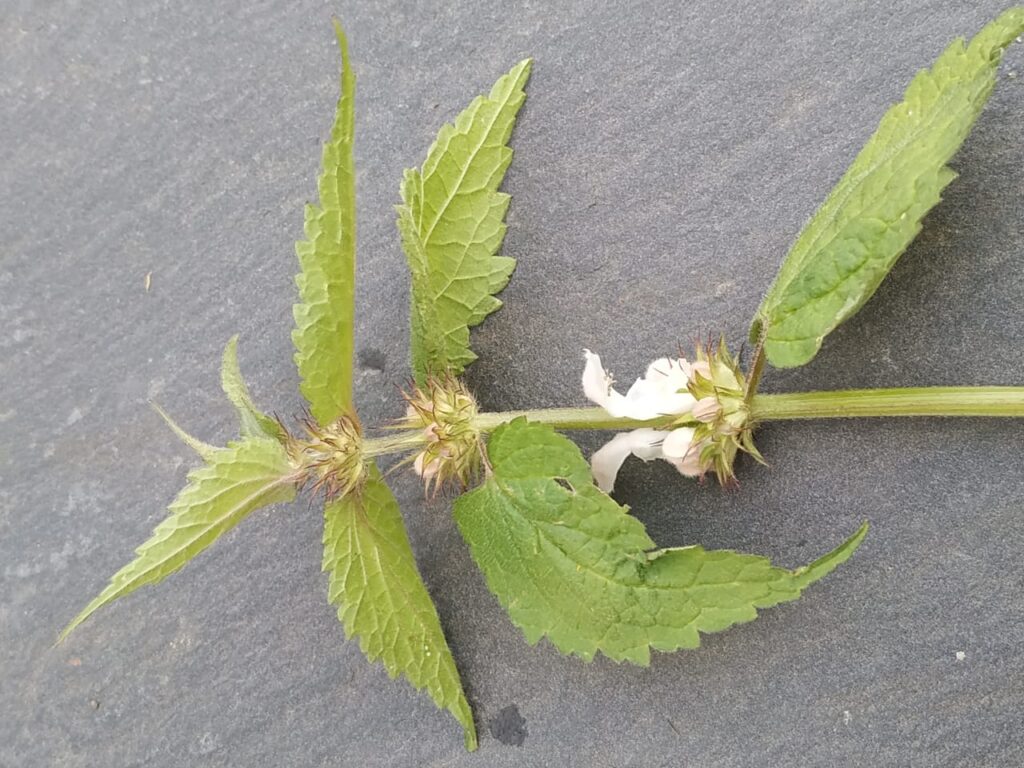 Ruksha Plant:
Plant is robust, hairy, perennial, herbs.
Stems ascending, 15-45 cm long, with creeping rootstock.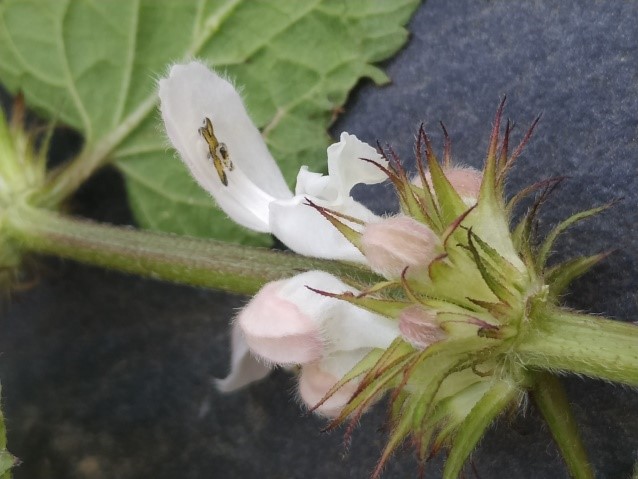 Leaves are ovate, cordate, 2.5-7.5 cm long, acuminate, coarsely toothed, petiolate.
Flowers 1.8- 2.5 cm long, white or pale- pink, in axillary whorls. Calyx- teeth spreading, longer than the tube. Corolla 1.8- 2.5 cm long; tube curved, 2- lipped upper lip hairy; lower lip bilobed. Stamens 4.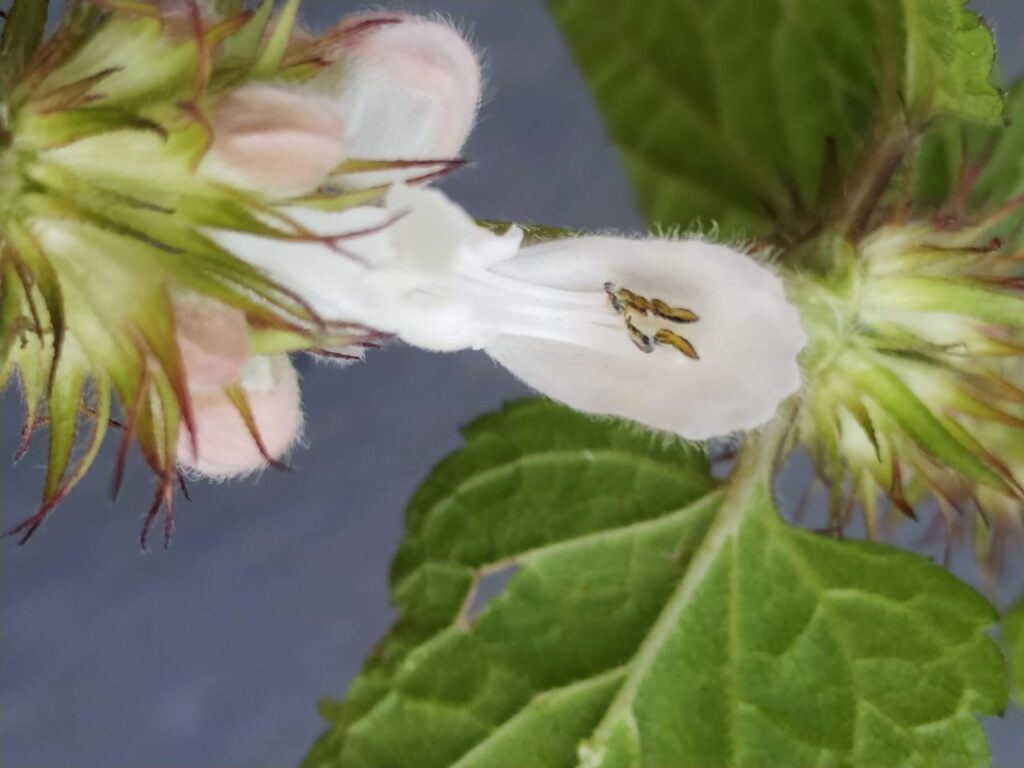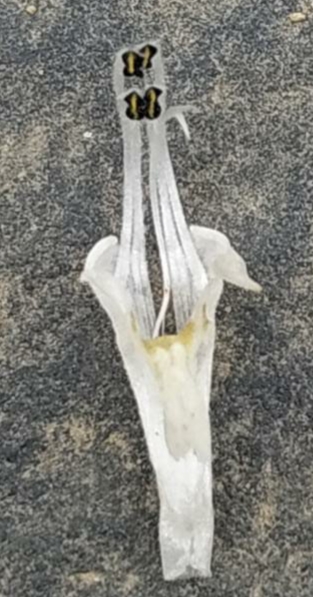 Nutlets obovoid, trigonous, tubercled, black.
Edible plant parts of this plant can be harvested from late spring to summer season of the year.
Edible Uses:
Apical plant parts of ruksha are eaten both raw or cooked. These are added to salad, rayata and cooked as kachru and parantha. Plant is mostly cooked as a leafy vegetable saag.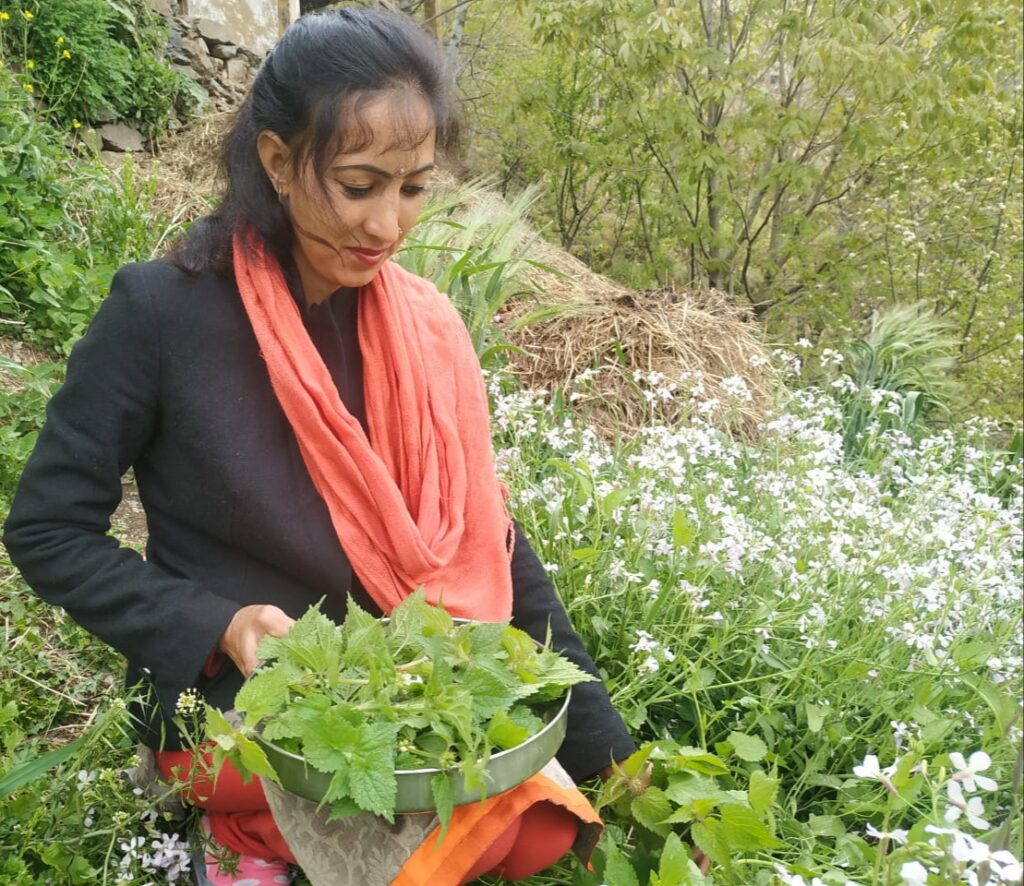 Vegetable:
Ingredients:
Young leaves, flowers of ruksha and other greens, 1 kg; mustard oil, 3-4 table spoons; coriander powder, 1 table spoon; fenugreek powder, ½ table spoon; cumin seed, 1 tea spoon; turmeric powder, 1 table spoon; red chilies, 2-3; chopped medium sized onions 2-4; garlic, 4-5 cloves; ginger paste ½ table spoon; boiled potatoes and salt, according to taste.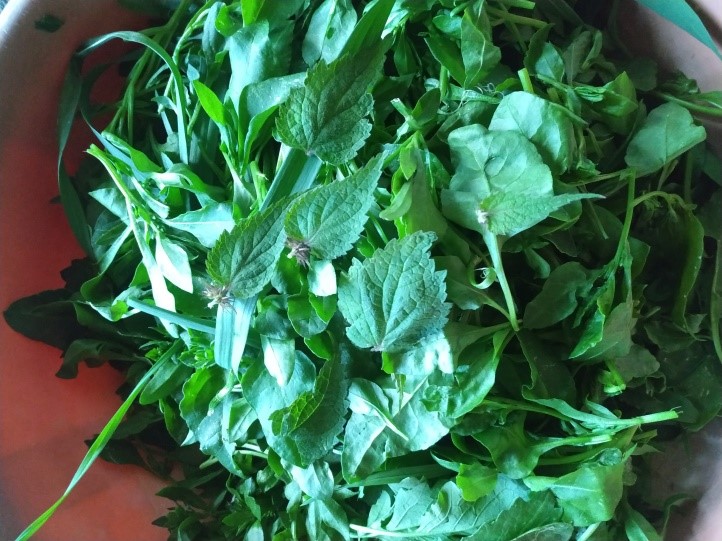 Method:
Boil ruksha leaves and other available greens till they are soft. Then mesh manually or in a mixer. Then sauté with hot mustard oil and the spices listed before in sequence. This sauted saag is then ready and can be served as such or can be mixed with 2 or 3 chopped onions or boiled potatoes and cooked for another 5 to 10 minutes before serving.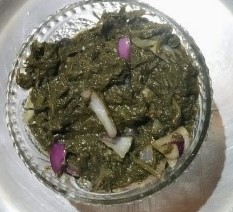 Parantha:
Ingredients:
Finelychopped leaves, 250 g; boiled medium sized potato/ fig fruits; 4-5, Oil or ghee. 8-10 table spoon; wheat flour, 4 cup amount; chopped medium sized onion, 2-3, red or green chilies, 3-4, black pepper, ¼ tea spoon, black salt according to taste.
Method:
Mesh boiled potato/ fruits like fig. Add to it chopped leaves and spices listed above. Mix well to make Fine paste. Now parantha dough is prepared by mixing wheat flour and water. Knead dough till it is soft, let it rest for sometime. Make small round balls of dough, stuff paste inside balls and roll to thin layered flat breads, now in hot tawa smear some oil and place flatbread over it. Cook both sides by applying oil. Now parantha is ready to serve. Serve it hot with chutney /tomato ketchup/ pickle/butter or curd according to choice.
Kachru:
For preparing a kachru, ingredients required are 1kg fresh leaves ofruksha, 1/2 kg besan (black gram powder) or corn flour. 1 cup amount fresh coriander leaves,1/2 table spoon ajwain, 3-5 green chilies, ½ table spoon turmeric powder, 2-3 chopped onions and salt according to taste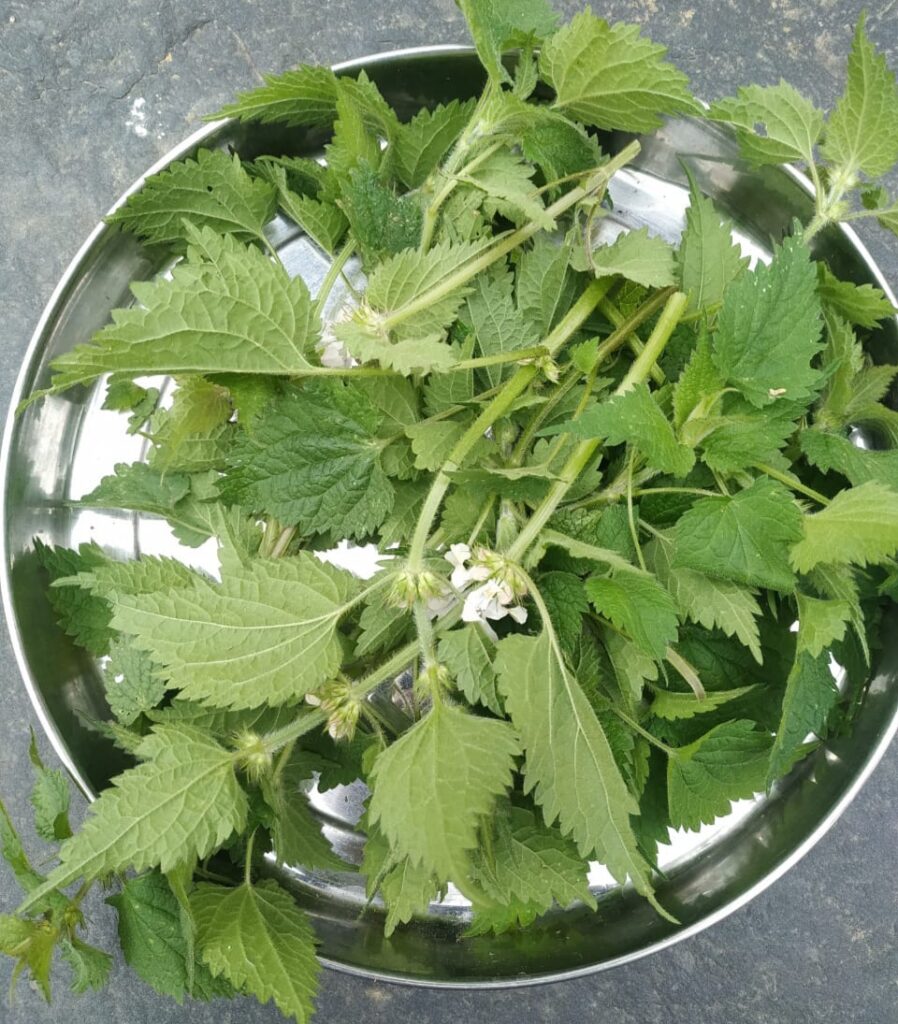 Method:
Make a paste of leaves, besan or corn flour and spices. Heat some oil on a flat heating pan. Put this paste over a pan and cook for 15 to 20 minutes then kachru will be ready to serve.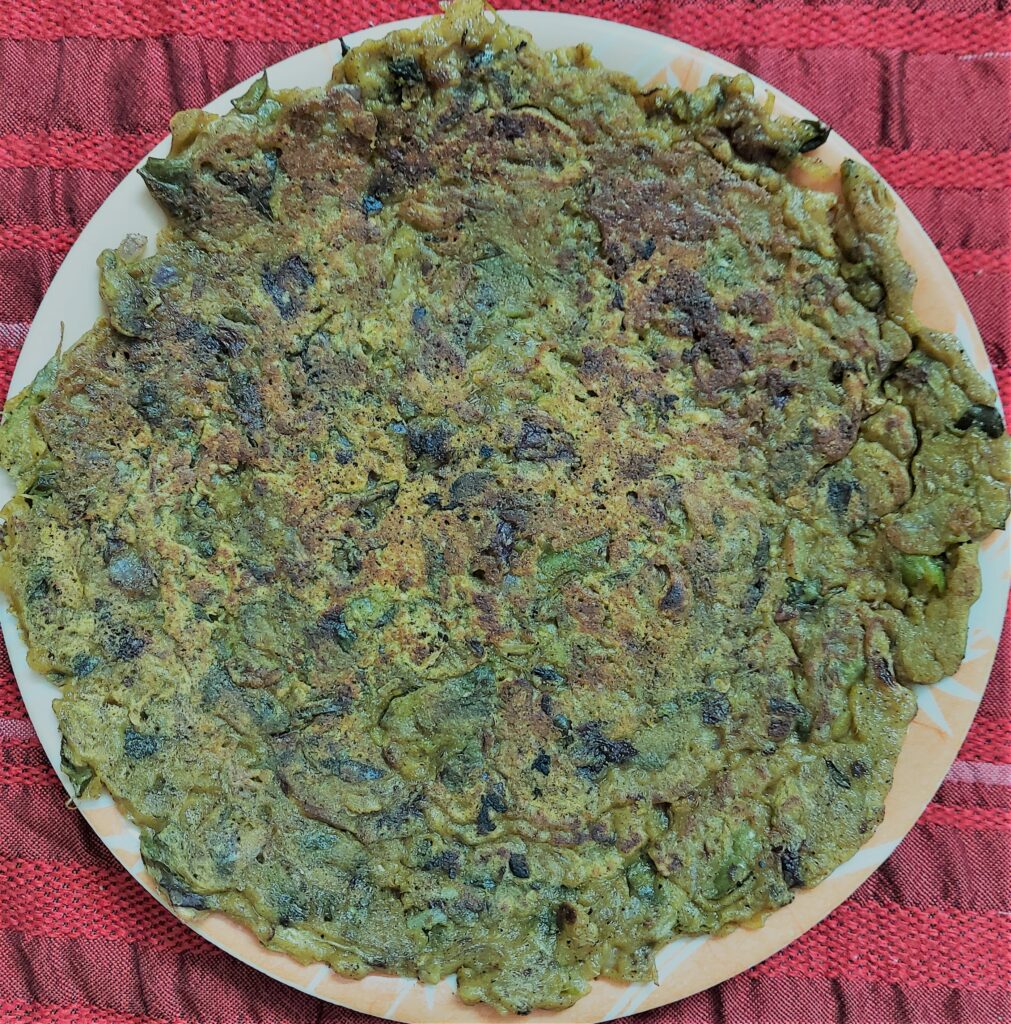 'Rayata':
Ingredients:
Flowers, green pods and finely chopped leaves of ruksha,1/2kg; curd, 1kg; Chopped medium sized onion, 3-4, red or green chilies, 3-4, black pepper, ¼ tea spoon, black salt according to taste.
Method:
Take curd in a bowl. Add to all above in sequence. Mix well and serve.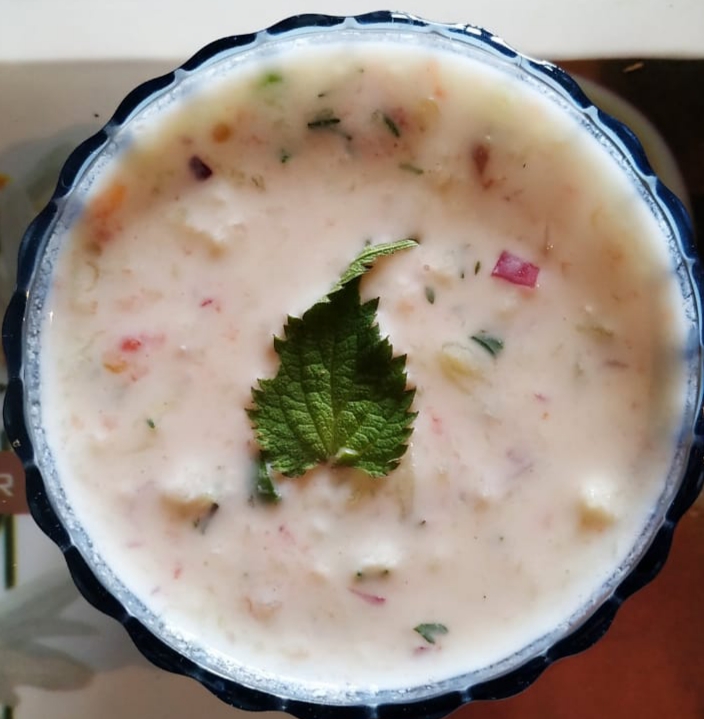 Tea:
Ingredients:
Dried or fresh leaves of ruksha, 5-15 g; Sugar/honey. 1-2 table spoon, Water, 2 cup amount.
Method:
Boil ruksha leaves in water for 3 to 5 min. Add to it sugar/honey and stir well. Strain and serve hot.
Nutritive Value:
100 g of fresh rukshaleaves contain about 6.5 g of protein, 76 mg of vitamin C and an incredible 644 vitamin A retinol,76 mg calcium, 34 mg phosphorus, 411 mg potassium, 23 mg magnesium and 3.4 mg iron 1.
Seek professional advice before treating this plant medicinally.
Medicinal Uses:
White deadnettle is astringent and demulcent 2. It is chiefly used as a uterine tonic, to arrest, intermenstrual bleeding and to reduce excessive menstrual flow2. It is also a traditional treatment for abnormal vaginal discharge2. The herb is sometimes taken to relieve painful periods2. Its astringency helps diarrhea, and used externally, it can relieve hemorrhoids and varicose veins2.
Chemical constituents:
White deadnettle Contains a saponin, flavones, mucilage and tannins2.
Other Uses:
Rukshais used as a fodder for milch cattle along with other greens. It has a creeping rootstock and makes a good groundcover plant for woodland edges.
References:
Grieve, M. M. (1998) A Modern Herbal. 3rd edition. London: Tiger Books International, PLC.
Purohit SS, Sharma AK, Prajapati ND, Kumar T. (2009); A handbook of medicinal plants: a complete source book. 2:352-3.