Family:   Zingiberaceae
Synonyms:  Gandasulium sieboldii, Gandasulium spicatum, Hedychium acuminatum, Hedychium album, Hedychium flavescens, Hedychium sieboldii, Hedychium tavoyanum, Hedychium trilobum.
Common Name:  Kapoor Kachri, Ginger lily, Spiked Ginger Lily.
Local Name:  Shoyee (शौए), sati, Banadark.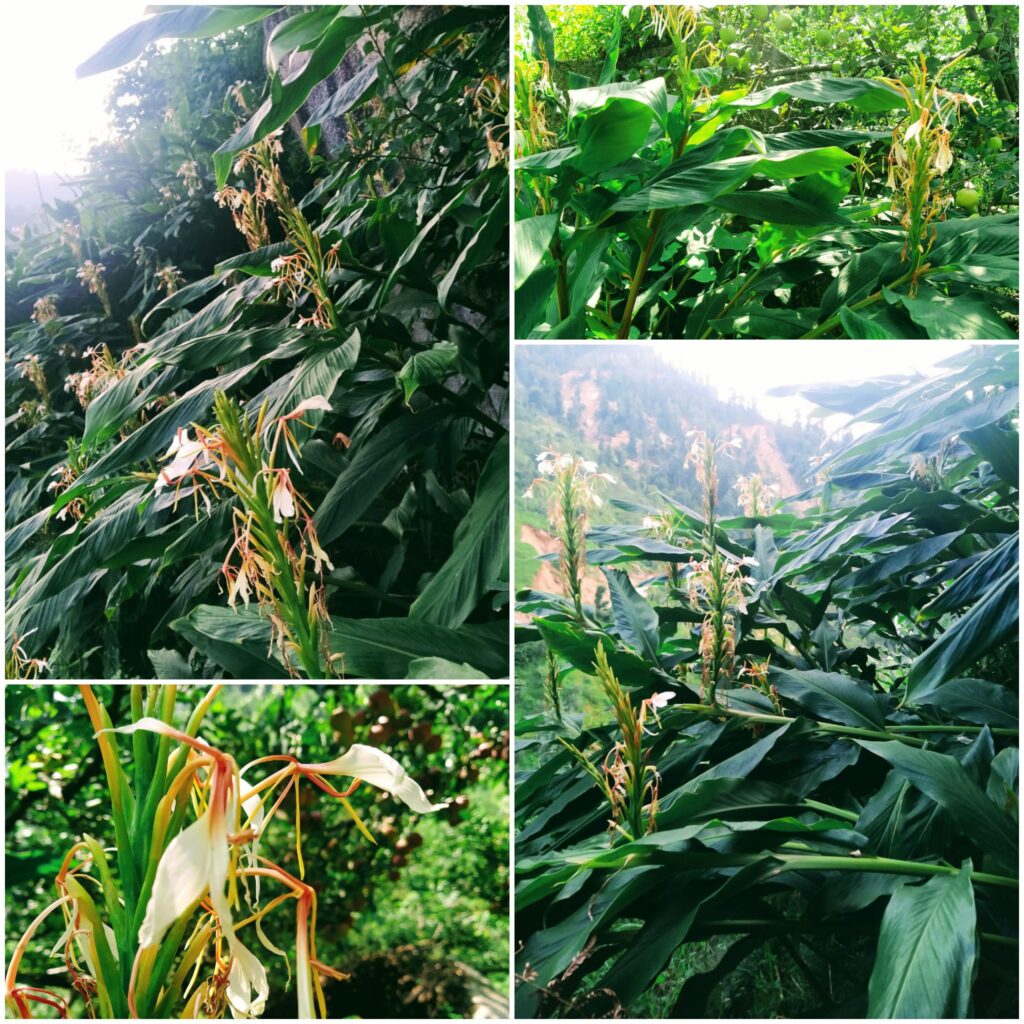 Shoyee is a perennial leafy herb growing up to 1.5 meters tall. It is frequent along damp- shady grassy slopes, khuds, nallahs, and moist areas in waysides and shrubberies. Shoyee is found growing up to an altitude of 1200-3000 m in Western Himalaya.
It can propagate easily with rootstock and seeds. Plant grows best in moist sunny habitat. Roots, flowers and fruits of this plant are edible and eaten cooked. Rhizome is generally used as spice in various food preparation and can be pickled or taken in tea for harnessing its rich medicinal value. It is also used in preparation of Chyawanprash, which is recognized as a tonic and food supplement 1.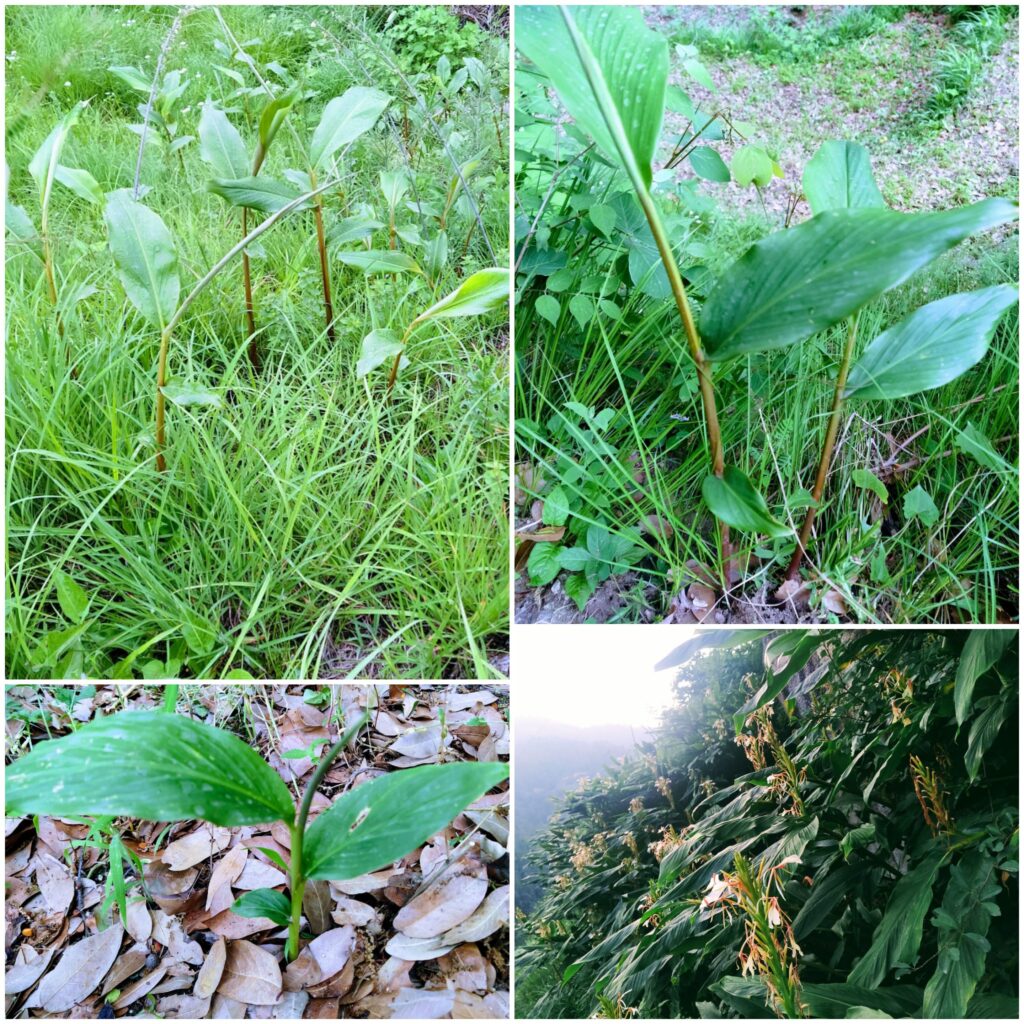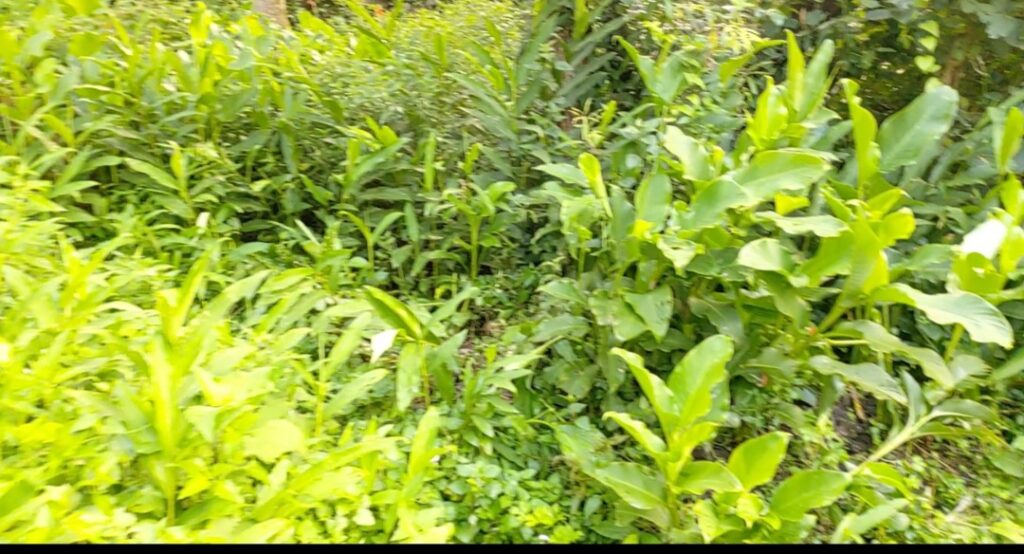 Flowers are aromatic and used as a flavoring agent in cooked food items. These are used to make a traditional dish kachru along with basen and spices. Kachru is taken as evening snack with tea. chutney or tomato ketch-up. Essential oil is reported from the Shoyee have been claimed to possess anti-microbial and antioxidant activity 2,3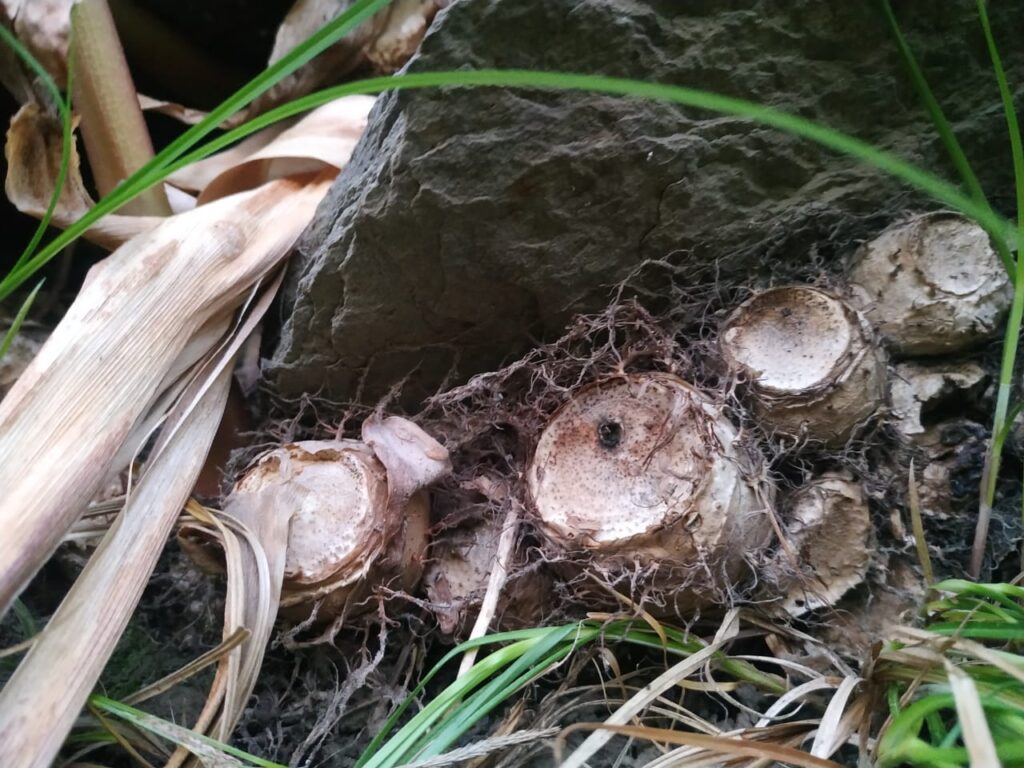 Shoyee rhizome are utilized commercially to extract high quality essential oil (Kapoor- Katcheri oil) used in medicines and perfumes industry. Dried leaves are used to make traditional mat by local people of this region.
Shoyee is harvested from wild by the local people of Western Himalaya as a source of food, medicine and material for local personal and commercial use.
Shoyee Plant:
Plant is robust, perennial leafy herbs, up to 1.5 m tall.
Rootstock is tuberous.
Leaves are 30-60 cm long, broadly lanceolate, ending in a tail- like tip.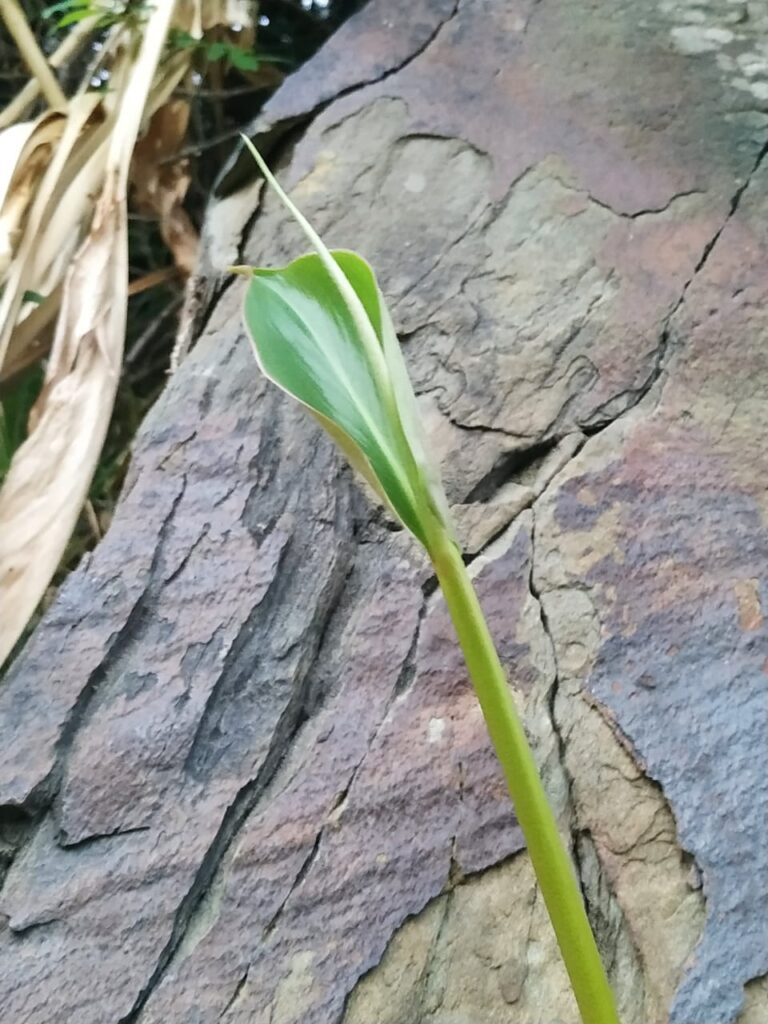 Flowers are fragrant, white, with an orange- red base, in dense, terminal spikes 15- 25 cm long; bracts green, oblong, obtuse, 1- flowered. Calyx ovate, obtuse, membranous, 3- lobed, shorter than bracts. Corolla tube 5-6.5 cm long, much longer than calyx; petals white, linear, spreading, lip white with two elliptic lobes with an orange base.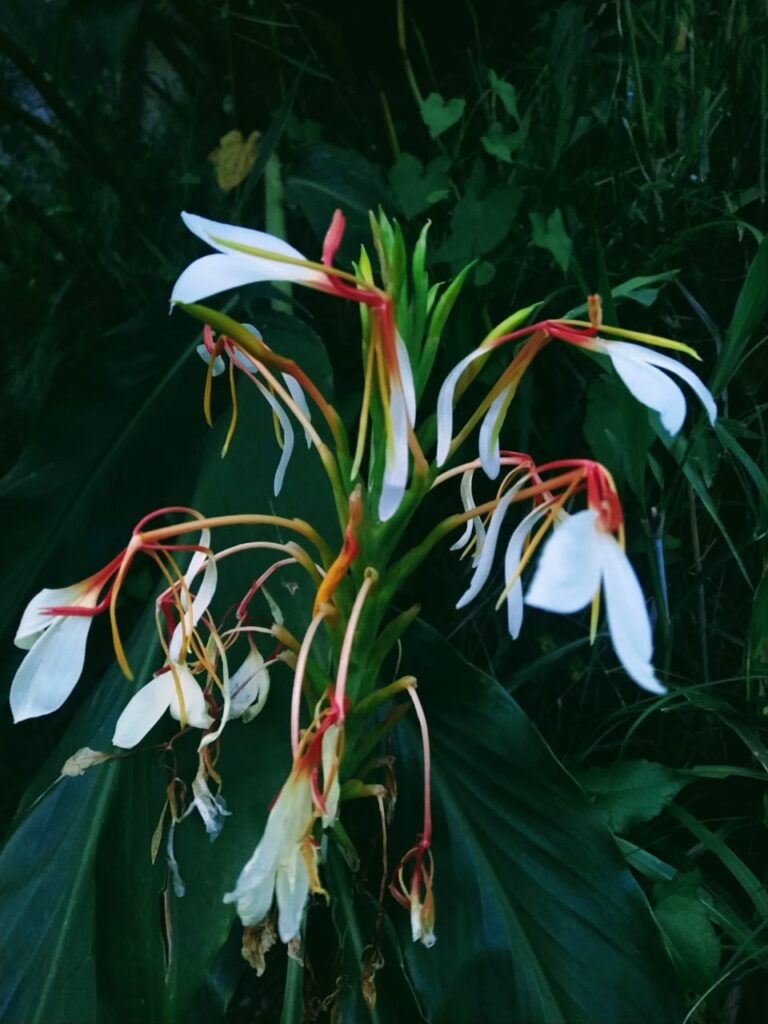 Fruit is capsule. Capsules are globular, 3- valved, with an orange- red lining.
Seeds are numerous, black, enclosed in a red aril.
Edible flowers and fruits can be harvested from summer end to autumn end. Rhizome is best to harvest after flowering and fruiting is over from pre- winter to spring season of the year. Edible plant parts should be collected by rotating habitat to ensure sustainable development.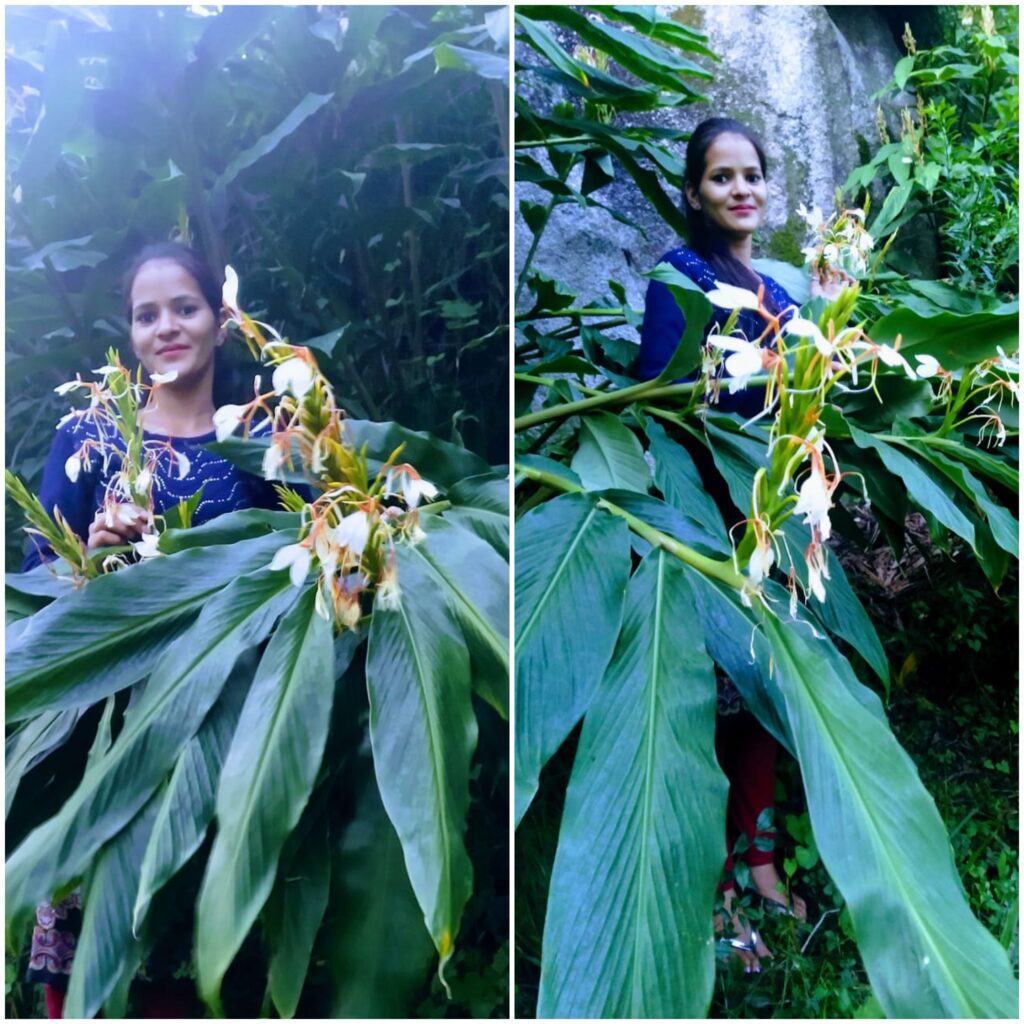 Edible Uses:
Rhizome, flowers, flower buds and fruits of shoyee are edible and eaten cooked. Flower buds are used to make vegetable. Flowers are cooked into kachru and occasionally used as flavoring agent in various food preparation. Rhizome are boiled and eaten with black salt. These can be pickled, and used as a spice in tea and other food preparations as follow:
Recipe for kachru making
Kachru or sosaru:
Kachru is a traditional dish of Western Himalaya cooked like chilla with spices and basen or corn flour. It is served as a evening snack with tea/ chutney or tomato ketch-up.
Ingredients:
For preparing a kachru, ingredients required are 1/2kg shoyee flower petals, 259 g besan (black gram powder) or corn flour. 1 cup amount fresh coriander leaves,1/2 table spoon ajwain, 3-5 green chilies, ½ table spoon turmeric powder, 2-3 chopped onions and salt according to taste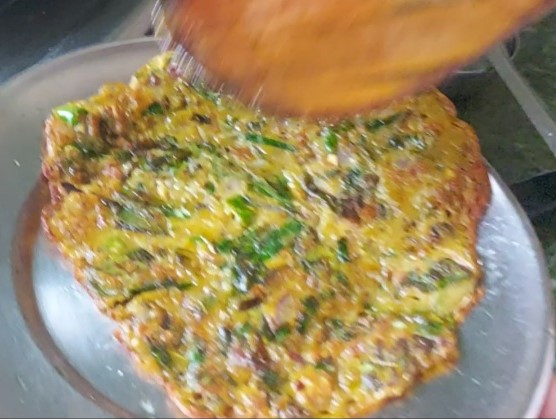 Method:
Make a paste of flower petals, besan or corn flour and spices. Heat some oil on a flat heating pan. Put this paste over a pan and cook for 15 to 20 minutes then kachru will be ready to serve.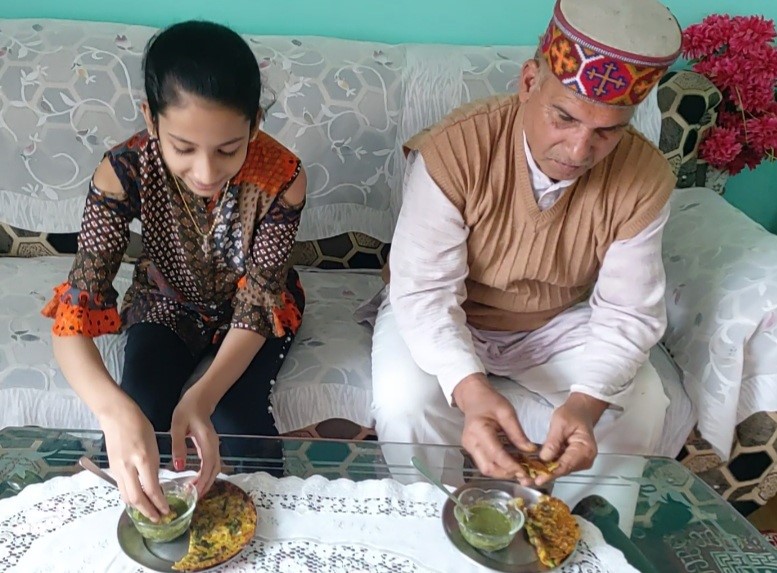 Pickle:
Shoyee rhizome are pickled to ensure their availability round the year.
Ingredients:
Shoyee rhizome, 200g; lemon juice, 200 g; salt, 1 tea spoon, black salt, 1 tea spoon; black pepper,1/4 tea spoon; turmeric powder,1/2 tea spoon. asafoetida (hing), pinch off.
Method:
Peel off Shoyee rhizome and dice into very thin slices. Keep in full sunlight for 1 hour. Now in a mixing bowl mix slices well with spices listed above and lemon juice for making pickle. Store pickle in a ceramic jar and place in full sunlight for 3-5 days. Pickle will be ready to eat after 3-5 days. If you want to preserve it for longer time than add some more lemon juice and make sure that shoyee slices remain plunged with lemon juice.
Recipe for pickle making.
Tea (Masala Tea):
Recipe
It is one of the most popular hot beverages in Western Himalayas and is a widely accepted social drink for all types of meetings and gatherings. Tea can be prepared with milk or milk powder and other various types of tea powders. The key ingredients for Masala tea from milk tea are cardamom, cinnamon,Shoyee rhizome and leaves of Tulsi or mint.
Ingredient:
Milk, 2 cups; Shoyee rhizome piece,1/2″; cardamom,1; clove,1; tea powder (chai patti), 2 teaspoons; water, 1/4 cup; sugar, 3 teaspoons. Cinnamon leave/ bark powder,1/4 teaspoon; Tulsi or mint leaves4,
Method:
Boil water in a saucepan, crush cardamom, Shoyee rhizome and clove using mortar and pestle or grinder to a medium coarse powder, add to this boiling water crushed powder, tulsi or mint leaves, sugar and tea powder in it and boil it for 3-4 minutes on medium flame. Add milk to it and boil it over medium flame for 6-7 minutes or until bubble starts to rise. strain tea in cups.
Seek professional advice before treating this plant medicinally.
Medicinal uses:
Owing to their strong fragrance and medicinal properties, the essential oils are used as antiseptic, antimicrobial, analgesic, sedative, anti-inflammatory 12
Powered rootstock cures liver disorders; 1 teaspoon twice daily for 5-7 days. Poultice of their paste applied for relief from painful joints 4.
Rootstock stomachic, carminative, expectorant, febrifuge and tonic, used in Ayurveda against bowl complaints, vomiting, fever, diarrhea, bronchitis and rheumatic swellings 5. Cure nausea, vomiting. bronchial asthma. diminished appetite, hiccups. Local inflammation, the rootstock is useful in local inflammatory nausea, asthma, bronchitis, hiccups and in pain. It has been described as useful, especially as an anti-asthmatic agent 6.The antioxidant, antimicrobial, antidiabetic, anthelmintic, antiasthmatic (Cure asthma), hepatoprotective, antiemetic (cure vomiting & nausea), antidiarrheal, analgesic (cure pain), expectorant (cure cough), anti-inflammatory, emmenagogue (stimulate menstrual flow), antifungal, hypoglycemic (cure sugar), insect repellent, hypotensive (low blood pressure), and pediculicidal(Help to get rid of human head lice) activates have also been reported in plant 13 .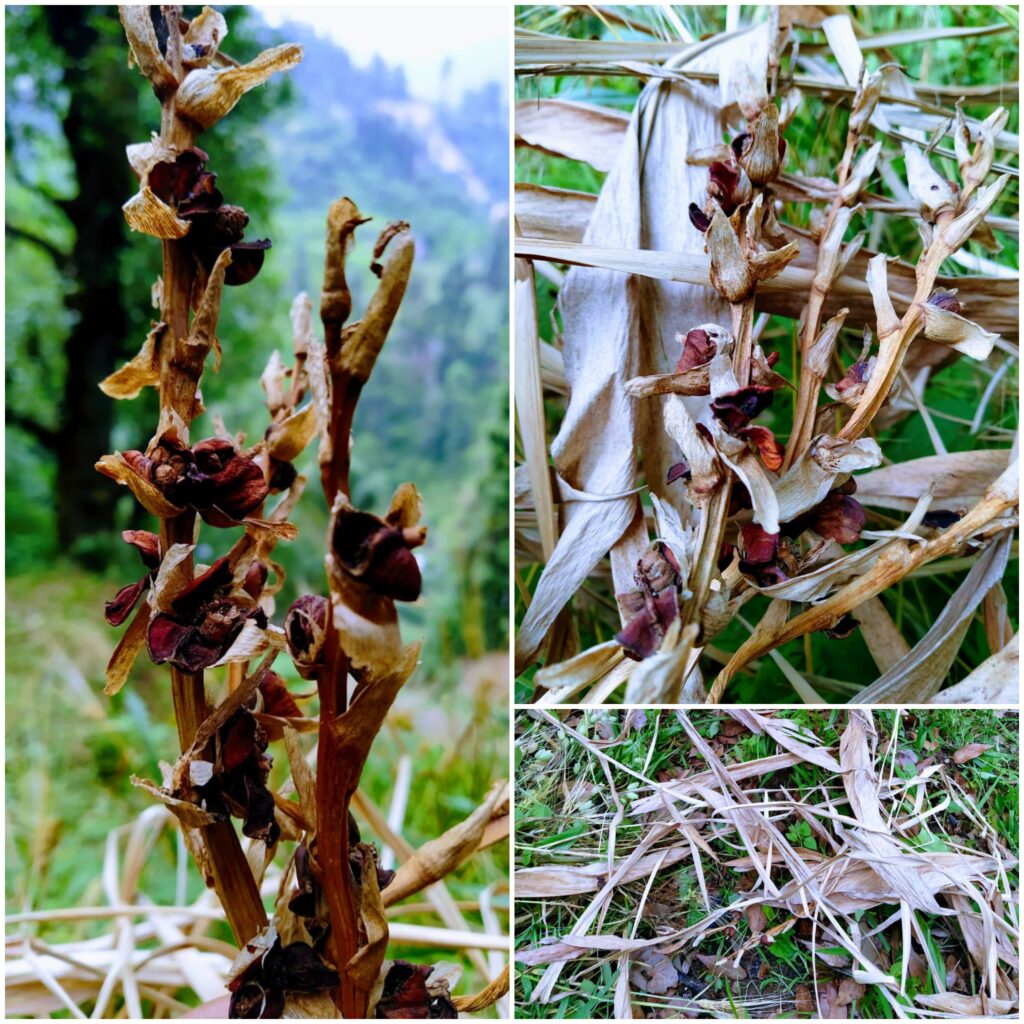 Uses in literature:
The rhizomes of shoyee demonstrate potential antioxidant activity 7
Chemical constituents:
The dried rhizome of the plant contains essential oil, starch, resins, organic acid and a glycoside; albumen and saccharine are also present. The essential oil has ethyl ester or P- methoxy cinnamic acid, d- sabirene cineole, sesquiterpenes and pentadecane methyl paracumarine acetate. It contains Beta- sitosterol 6.
Other Uses:
Shoyee can be grown as an ornamental plant for its beautiful, butterfly shaped, aromatic white flowers.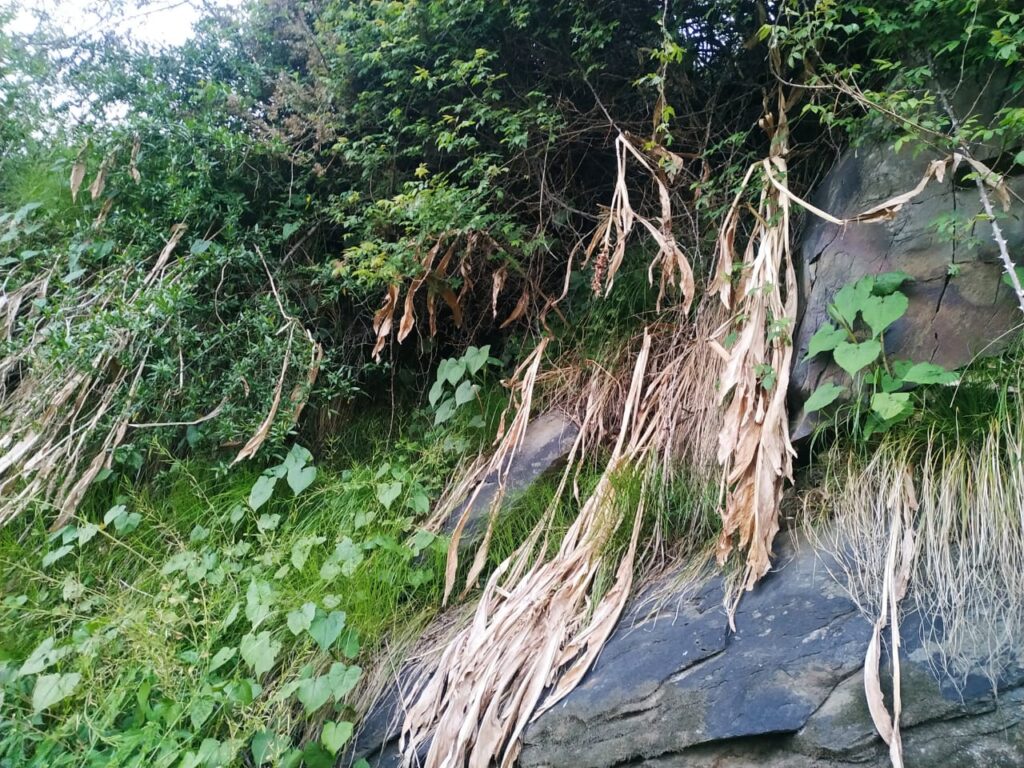 Dried Shoyee Leaves are used to make traditional foot mat in hills of Western Himalaya, but this practice is on sharp decline and these foot mats are replaced by modern machine-made foot mats.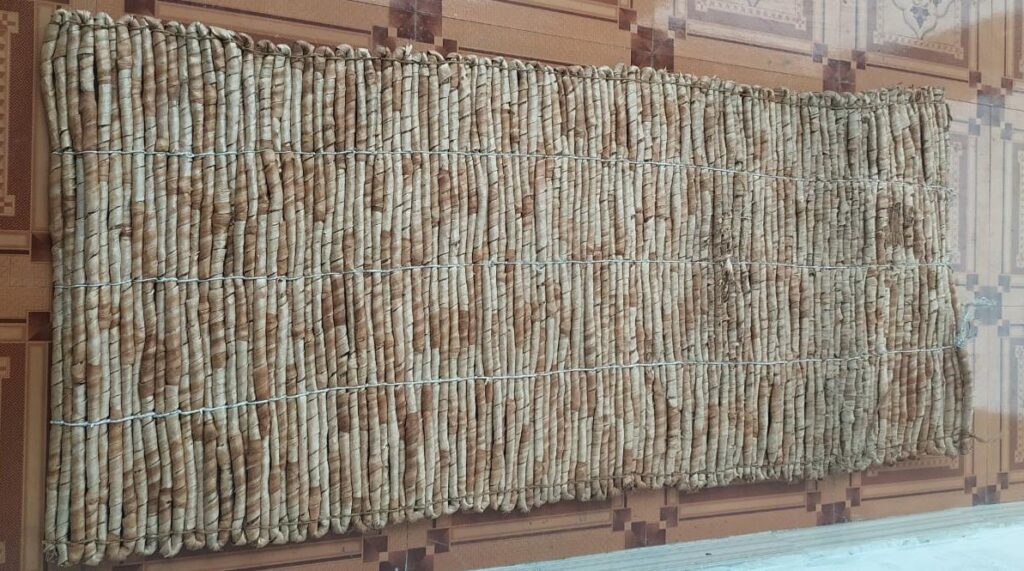 Clipped rhizome pieces of shoyee are mixed with green fodder and fed to milch cattle to enhance lactation. The rootstock yields 4% essential oil 8. Used in perfumery 9 . This oil, which has a scent somewhat like hyacinths, is so powerful that a single drop will render clothes highly perfumed for a considerable period10. The dried root is burnt as an incense10. An extract of the roots is used as an ingredient in commercial cosmetic preparations as a skin conditioner 11.
Some market product of Shoyee:
Kapoor- Katcheri oil
Description & Extraction
Hedychium spicatum is a smallish hardy ginger that grows to around 1 m, with green leaves and large orange and white flowers. It is also known as Spiked Ginger Lily, Sandharlika (Hindi), Kapur kachri (Hindi), and Takhellei (Manipuri). Kapor Kachri oil is extracted by steam distillation.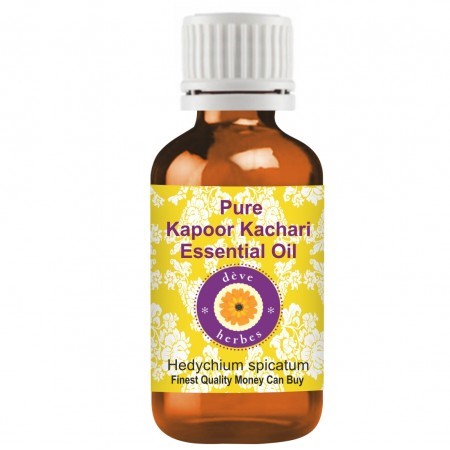 2. Yuvika Kapoor Kachri
100gm 297
200gm 382
400gm 594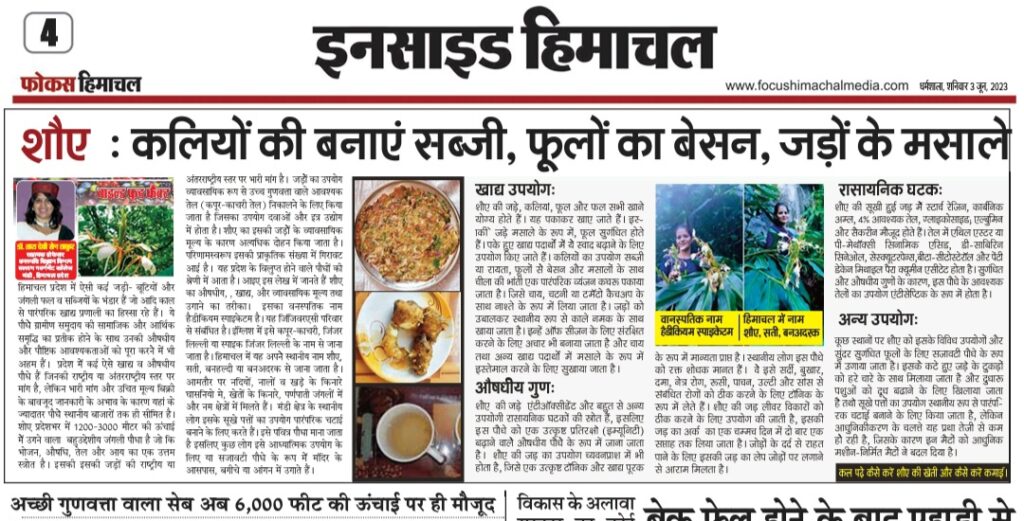 References:
Govindarajan, R., Singh, D.P., Rawat, A.K.S., 2007. High-performance liquid chromatographic method for the quantification of phenolics in 'Chyavanprash' a potent ayurvedic drug. Journal of Pharmaceutical and Biomedical Analysis 43, 527–532.
Bisht, G.S., Awasthi, A.K., Dhole, T.N., 2006. Antimicrobial activity of Hedychium spicatum. Fitoterapia 77, 240–242
Joshi, S., Chanotiya, C.S., Agarwal, G., Prakesh, O., Pant, A.K., Methela, C.S., 2008. Terpenoide compositions and antioxidant and antimicrobial properties of the rhizome essential oil of different Hedychium species. Chemistry and Biodiversity 5, 299–309.
Sood SK, Thakur S. (2004): Ethnobotany of Rewalsar Himalaya. Deep Publications.
Singh PB. (2018). Flora of Mandi district. Himachal Pradesh: North West Himalaya.
Purohit SS, Sharma AK, Prajapati ND, Kumar T. (2009); A handbook of medicinal plants: a complete source book. 2:352-3.
Rawat, S., Bhatt, I. D., & Rawal, R. S. (2011). Total phenolic compounds and antioxidant potential of Hedychium spicatum Buch. Ham. ex D. Don in west Himalaya, India. Journal of Food Composition and Analysis, 24(4-5), 574-579.
Chopra, R. N., Nayar, S. L., & Chopra, I. C. (1986). Glossary of
Indian medicinal plants (including the supplement), Council Sci. Ind.
Res., New Delhi, India.
Uphof. J. C. Th. (1959). Dictionary of Economic Plants. Weinheim.
Genders, R. (1977). Scented flora of the world. St. Martin's Press.
http://ec.europa.eu/growth/tools-databases/cosing/.
Rawat, S., Jugran, A. K., Bhatt, I. D., & Rawal, R. S. (2018). Hedychium spicatum: a systematic review on traditional uses, phytochemistry, pharmacology and future prospectus. Journal of Pharmacy and Pharmacology, 70(6), 687-712.
Prakash, O., Chandra, M., Punetha, H., Pant, A. K., & Rawat, D. S. (2016). Spiked Ginger Lily (Hedychium spp.) Oils. In Essential Oils in Food Preservation, Flavor and Safety (pp. 737-750). Academic Press.
.