Family: Asteraceae
Synonyms: Achillea albida, Achillea alpicola, Achillea ambigua, Achillea ambigua, Achillea anethifolia,Achillea angustissima, Achillea Arenicola,  Achillea bicolor, Achillea borealis, Achillea californica, Achillea ceretanica, Achillea compacta, Achillea coronopifolia, Achillea crassifolia, Achillea cristata. Achillea cuspidate, Achillea dentifera, Achillea eradiate, Achillea fusca, Achillea gigantea, Achillea gracilis, Achillea haenkeana, Achillea intermedia, Achillea lanata, Achillea lanulosa, Achillea laxiflora, Achillea laxiflora, Achillea magna, Achillea magna, Achillea magna, Achillea marginata, Achillea megacephala, Achillea monticola, Achillea nabelekii, Achillea occidentalis, Achillea ochroleuca, Achillea ossica, Achillea pacifica, Achillea palmeri,Achillea pecten-veneris,  Achillea pratensis, Achillea pseudo-tanacetifolia, Achillea puberula, Achillea pumila, Achillea rosea, Achillea setacea, Achillea sordida, Achillea stricta, Achillea subalpine, Achillea subhirsuta, Achillea submillefolium, Achillea sudetica, Achillea sylvatica, Achillea tanacetifolia, Achillea tenuifolia, Achillea tenuis, Achillea tomentosa, Achillea virgate, Achillios millefoliatus, Alitubus millefolium, Alitubus tomentosus, Chamaemelum millefolium, Chamaemelum tanacetifolium, Chamaemelum tomentosum.
Common Name: Yarrow.
Local Name: Losar (लोसर), Gandan. 
Losar is a herbaceous perennial plant of Western Himalaya found growing up to an altitude of 1800-3500 m. It is a rhizomatous, spreading, upright to mat-forming herb which propagate by seeds and spread quickly like a mat by roots, thus form an excellent ground cover in garden, lawn and orchards. It is commonly seen growing wild on moist slopes. meadows, lawns, along roadsides & pathways, in fields and waste land.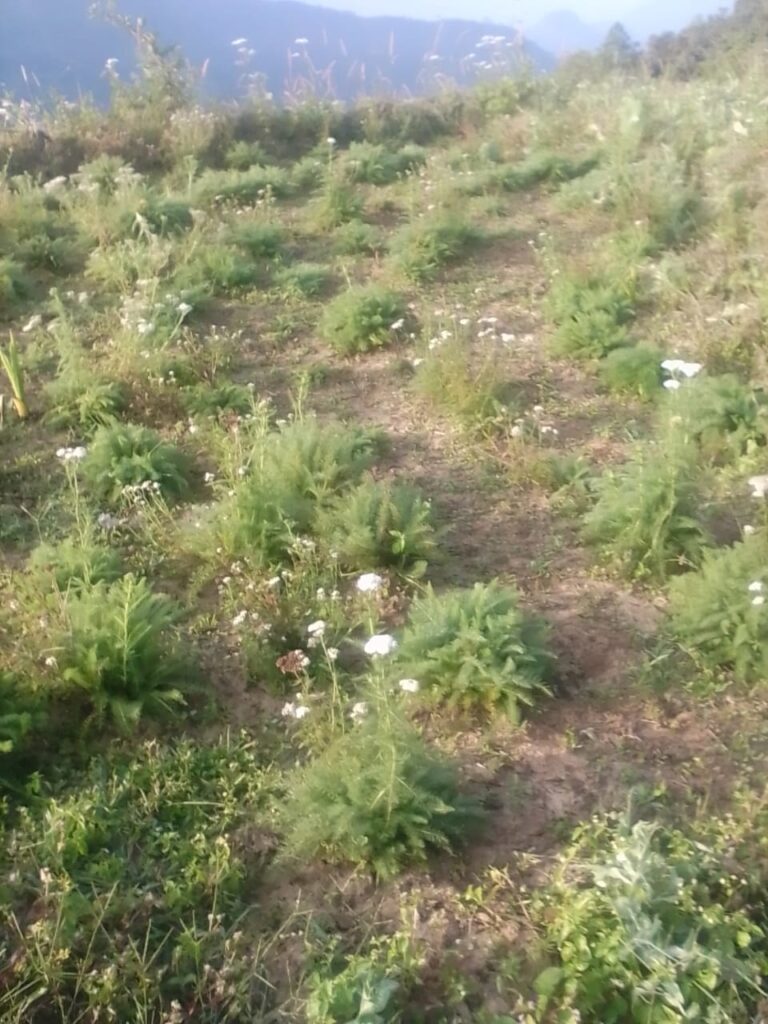 Losar can tolerate extreme low temperature and perennate by rhizome in unfavorable period. Its above ground green parts tend to fall off in areas where snow fall stays for more than two weeks and appear again in late winters to pre-spring season of the year. Sometime losar shows luxuriant growth and considered as a weed to be removed by local inhabitants. It succeeds best in well drained sunny habitat. Its aromatic, fern-like, deeply-dissected, attractive green foliage and dense white flowers bloom makes losar a best plant to grow in lawns, gardens & orchards.
Losar act as a good companion plant by improving the soil fertility and health of nearby growing plant. It is known to enhances essential oil content of nearby plants and making them more resistant to insect predations 1,2,3,4. A good bee plant, it is an important nectar source for many insects 5.
Young leaves and flowers of losar are edible. Leaves can be consumed both raw or cooked. Leaves are bitter in flavor yet can be an excellent addition to mixed salads. They are best used when young. An herbal tea is prepared from leaves and flowers to harness its rich medicinal value. Plant is also be dried for this purpose for later use specially in areas prone to snowfall. Although losar is a very nutritious and medicinal plant having a long history of herbal use but should not be taken in large amount. According to reports extended use of this plant, either medicinally or in the diet, can cause allergic skin rashes or lead to photosensitivity in some people 6,7.
Losar is harvested from wild habitat as a source of food, medicine and material for local personal use. Sometime people cultivate this plant for commercial use also.
Acc to flora of Mandi HP India; Achillea millefolium is a polymorphic species and exhibits a great deal of variation in the size of the leaves, nature of leaf segments, colour of flowers and the indumentum 8.
Losar Plant:
Plant is erect, leafy, perennial herbs.
Stem grooved, 15- 60 cm high.
Radical leaves petioled, upper sessile, oblong – lanceolate, 5- 15 cm long, 3- pinnatiscent, segments linear- subulate, acute to acuminate.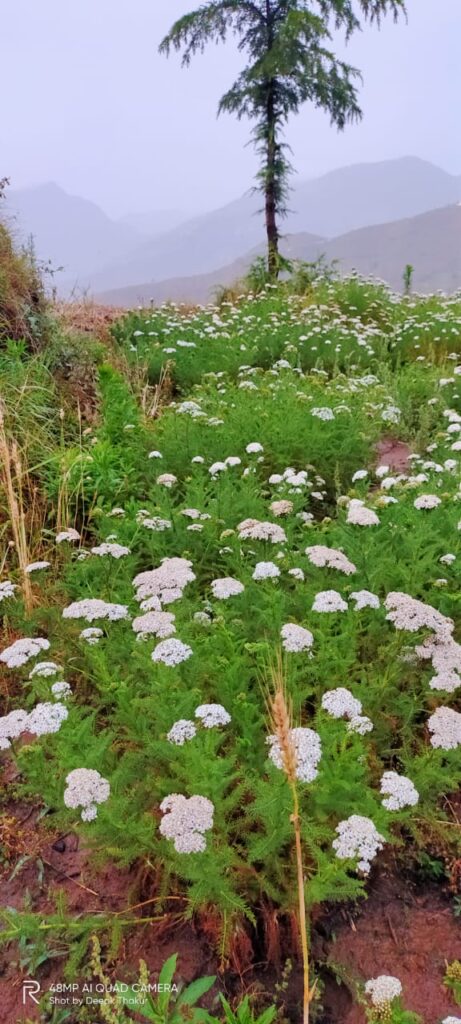 Heads radiate, 5-6 mm across, crowded in compound corymbs. Involucre bracts few- seriate, glabrous to sparsely pubescent. Ray florets female: legumes white, 3- lobed. Disc florets yellow, tubular, 2- 3 mm long; limb 5- lobed. Achenes oblong, flattened. Ca 3 mm long, shining. Pappus absent.
Losar edible leaves can be collected round the year in low altitude but ariel plant parts fall off due to extreme winter in high altitude. Leaves are best collected when these are young generally before flowering begins (Flowering/ fruiting May- October). For medicinal purpose plant is best harvested when in flower, it can also be dried for later use. Edible flowers can be collected from summer to rainy season of the year. While collecting flowers sustainable harvesting need to be done by rotating habitat or keeping some flowers on parent plant.
Edible Uses:
Young leaves and flowers of losar are edible and eaten in small amount as a food supplement in any food preparation according to one's preference. Here in Western Himalaya leaves are used in combination with other available green of any season to prepare a leafy vegetable saag. In villages older women used to make saagby using 50-70 different types of herb, but due to modernization and urbanization this practice is on sharp decline and young generation is almost ignorant about huge plant wealth in their surroundings. Leaves and flowers are considered medicinal and can be used as a tonic. In small amount these can be cooked in parantha, kachru, pakoras, Omelette etc. An herbal tea is also prepared from fresh or dried flowers and leaves.
Vegetable/ Saag:
Ingredients:
Young leaves of losar & other wild potherbs, 1 kg; mustard oil, 2 table spoons; coriander powder 1 table spoon; fenugreek powder, ½ table spoon; cumin seed ¼ table spoon; turmeric powder, 1/4 table spoon; red chilies, 2-3; chopped onions 2-4; garlic, 4-5 cloves; ginger paste ½ table spoon and salt according to taste.
Method:
For making saag boil leaves till these are soft. Then mesh manually or in a mixer. Now sauté in hot mustard oil with the spices listed before in sequence. This sauted saag is now ready and can be served as such or can be mixed with 2 or 3 chopped onion and cooked for another 5 to 10 minutes before serving.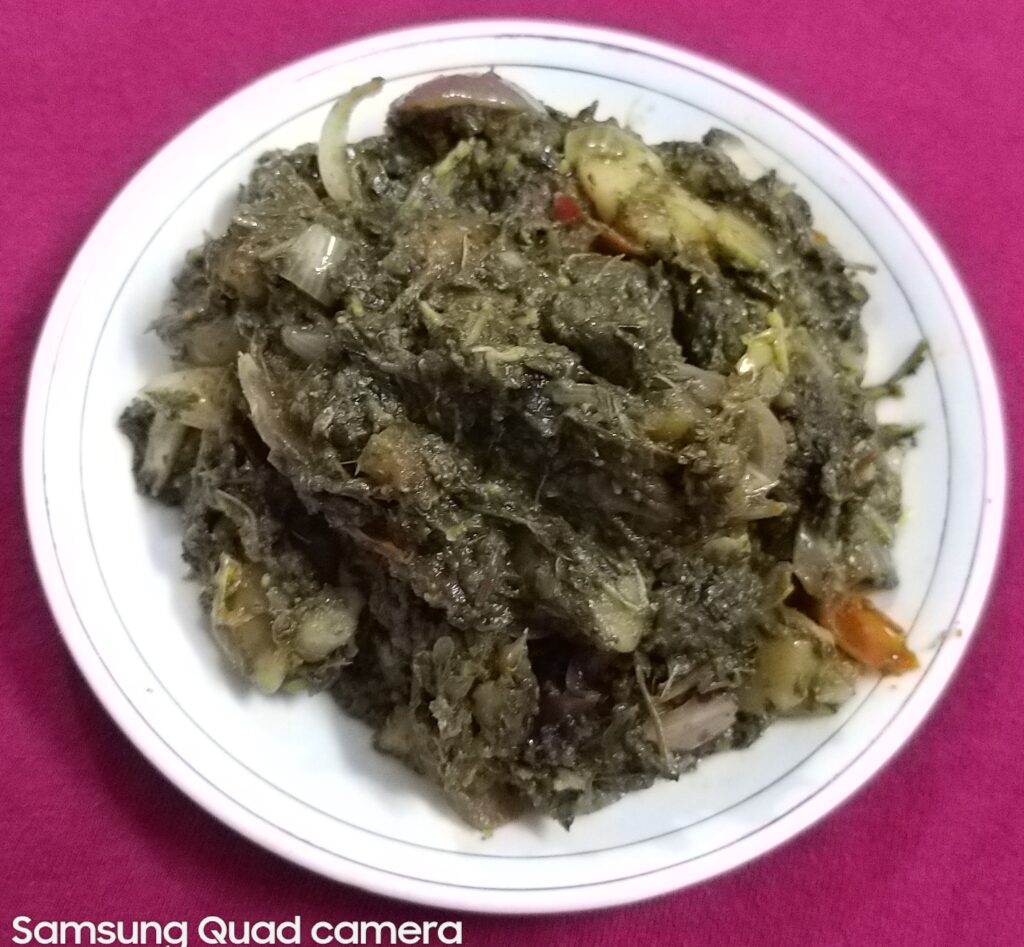 Kachru or sosaru:
Kachru is a traditional dish of Western Himalaya cooked like chilla with spices and basen or corn flour. It is served as a evening snack with tea/ chutney/tomato ketch-up.
Ingredients:
For preparing a kachru, ingredients required are 250 g fresh leaves & flowers, 1/2 kg besan (black gram powder) or corn flour. 1 cup amount fresh coriander leaves,1/2 table spoon ajwain, 3-5 green chillies, ½ table spoon turmeric powder, 2-3 chopped onions and salt according to taste
Method:
Make a paste of leaves & flowers, besan or corn flour and spices. Heat some oil on a flat heating pan. Put this paste over a pan and cook for 15 to 20 minutes then kachru will be ready to serve.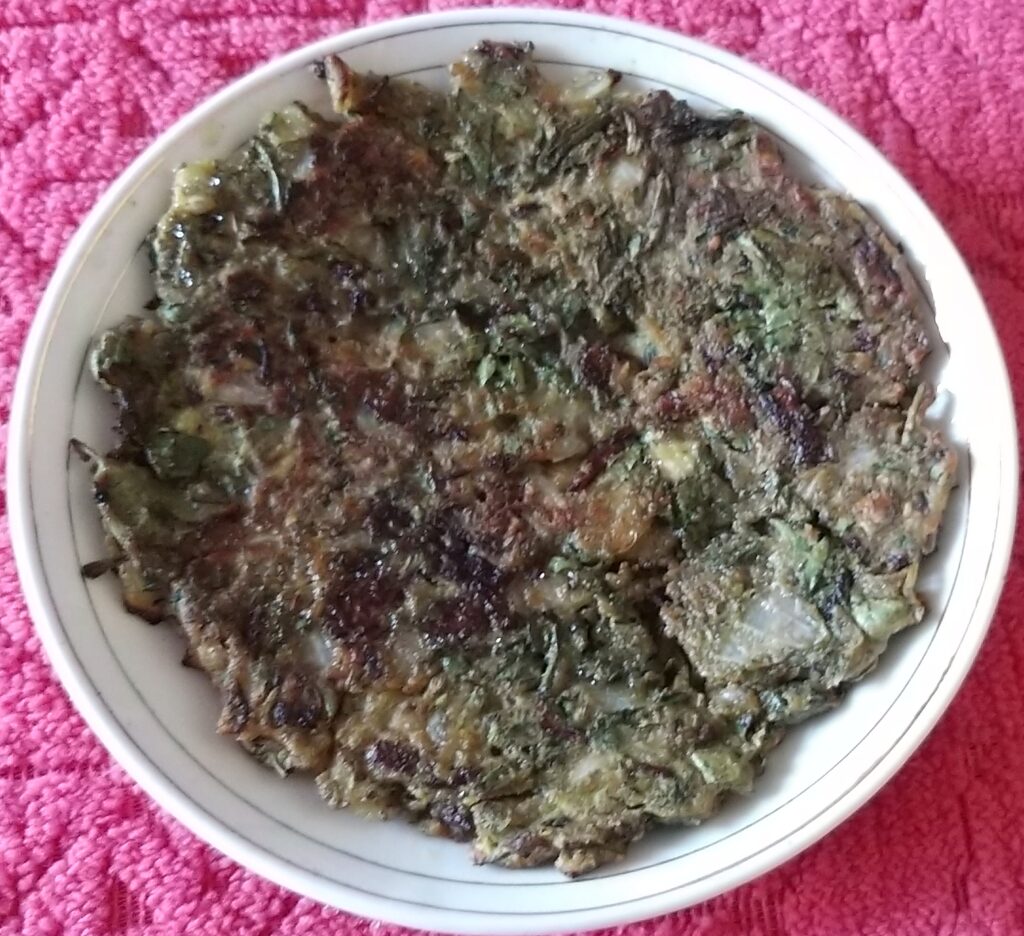 Losar Herbal Tea:
Ingredients:
losar leaves & flowers (dry or fresh), 10-15 g; water, 2 cup amount; sugar/honey, 2 table spoons; lemon juice, 2 tea spoons.
Method:
Bubble leaves and flowers in water. Add sugar to it and simmer in low flame for 10 minutes. Strain into tea cups. Add lemon juice to each and serve hot.
Seek professional advice before treating this plant medicinaly.
Medicinal Uses:
Local people chew the leaves or roots of losar to relieves toothache for immediate effect. Losar is also used in homoeopathic medicines as a carminative, tonic, stimulant and diuretic 8.9. A decoction of the leaves and flowers heads is employed as a carminative, tonic and aromatic stimulant 8.9. It expels kidney stones and is useful in fever, nasal congestion and stomach diseases 8. is used in the treatment of a very wide range of disorders but is particularly valuable for treating wounds, stopping the flow of blood, treating colds, fevers, kidney diseases, menstrual pain etc.7, 10.11.12.
Chemical constituents:
The herb contains an alkaloid, achilleine, aerial parts of the flowering herb, on distillation yield a yellowish green or dark blue essential oil, known as OIL OF MILFOIL; the herb contains; salicylic acid, beta – sitosterol and its acetate, inositol, dulcitol, mannitol, betaine, choline, trigonelline, betonicine and stachydrine. The presence of folic acid, rutin and ascorbic acid in abundance has also been reported in the leaves 9.
Other Uses:
Locally dried leaves of thus plant are kept in winter clothes to keep away insect & fleas. Leaves are also burn to smoke specially in rainy season to ward of mosquitoes, fleas & insects.The fragrant seeds have been used to impart a pleasant smell indoors 12. The leaves contain from 0.6 to 0.85% essential oil 13. The leaves have been used as a cosmetic cleanser for greasy skin 14. The plant is a possible source of hypoallergenic rubber for human contact 15. Yellow and green dyes are obtained from the flowers 16.
Source of income:
Losar dried plant are sold commercially for medicinal purpose.Local people collect plant from wild habitat and sometime cultivate it commercially for this purpose.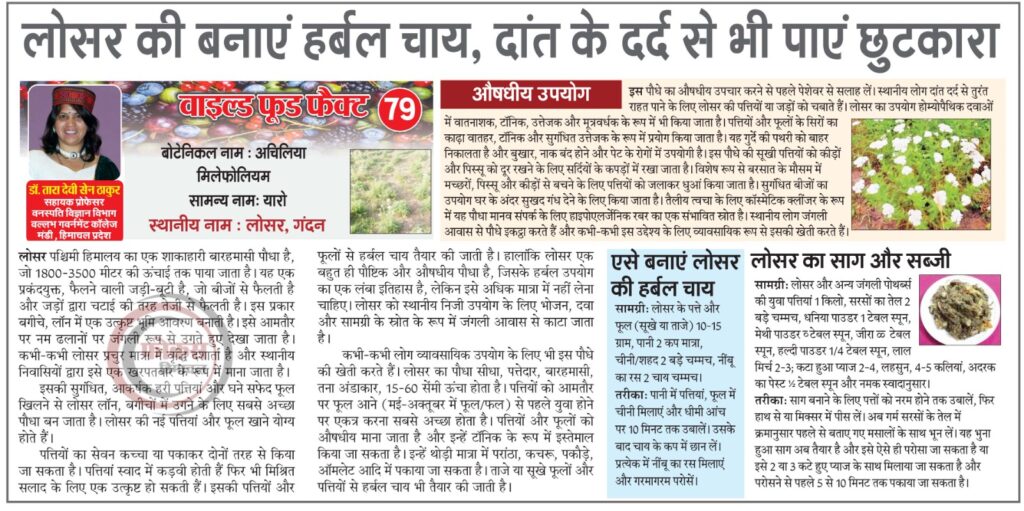 References:
1. Holtom, J. A., & Hylton, W. H. (Eds.). (1979). The Complete Guide to Herbs: How to Grow and Use Nature's Miracle Plants. Rodale Press.
2. Philbrick H. and Gregg R. B.). (1979). Companion Plants.
3. Riotte. L. (1978). Companion Planting for Successful Gardening. Garden Way, Vermont, USA.
4. De. Bray. L. The Wild Garden
5. Baines. C. Making a Wildlife Garden.
6. Lust. J. (1983). The Herb Book. Bantam books.
7. Bown, D. (1995). The Royal Horticultural Society encyclopedia of herbs & their uses. Dorling Kindersley Limited.
8. Singh PB. (2018). Flora of Mandi district. Himachal Pradesh: North West Himalaya.\
9. Purohit SS, Sharma AK, Prajapati ND, Kumar T. (2009); A handbook of medicinal plants: a complete source book. 2:352-3.
10. Duke, J. A., & Ayensu, E. S. (1985). Medicinal plants of China (Vol. 2). Reference Publications.
11. Chevallier, A. (1996). The encyclopedia of medicinal plants (No. C/581.63403 C4).
12. Moerman, D. E. (1998). Native american ethnobotany. Timber press.
13. Chopra, R. N., Nayar, S. L., & Chopra, I. C. (1986). Glossary of Indian medicinal plants (including the supplement), Council Sci. Ind. Res., New Delhi, India.
14. Stuart, M. (1979). The encyclopedia of herbs and herbalism. Crescent.
15. http://www.nnfcc.co.uk/crops/pd.cfm.
16. Grae, I. (1974). NATURE'S COLORS, DYES FROM.