Family: Moraceae
Synonyms: Artocarpus lakoocha, Artocarpus ficifolius
Common Name: Lakoocha, Monkey Jack
Local Name: Dheu (ढेऊ), Lakuch (लकूच), Lakooch, (लकूची) Lakoochi, badahara, (बढ़ल) Barhal, Dahu, Dahua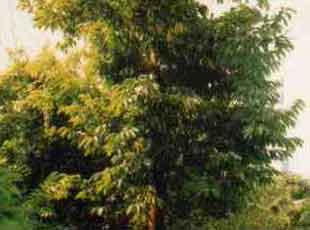 Dheu is a small to large deciduous tree of Western Himalaya with a dense, spreading crown. It is not very frequent in hills but can grow up to an altitude of 1300 m in forest, hills and along roadsides and pathways. Dheu grows best in well drained moist soil and is frequently seen growing wild in plains. It is propagated through seeds, but its seeds are known to have very short viability, so should be sown as soon as they ripe. It is native of the Indian subcontinent and SE Asia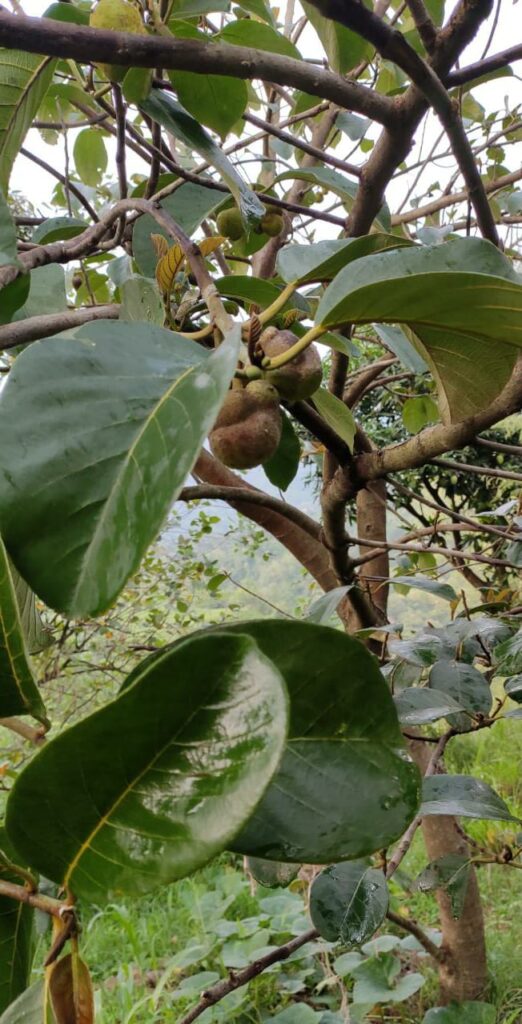 Dheu is valued mainly for its edible fruits, which are often gathered from the wild, and are occasionally eaten raw when ripe. Raw unripe are mostly pickled and made into curries or chutney or sauce. The male flower spike is also pickled sometimes.
Dheu is a multipurpose tree of Western Himalaya and generally harvested from wild for local use of food, fodder, fuel, medicine and material. The canopy of dheu provides huge shade and make environment cooler for humans, plants and animals. Sometimes plant is cultivated for its multifarious uses near to habitation, especially as an ornamental, food, fodder and shade tree. Dheu leaves are considered best fodder and believed to enhance milk yield in milch cattle.
Dheu fruits are also sold in local market, thus these are an easy source of earning for local people.
Dheu Plant:
Dheu is deciduous tree with a dense, spreading crown; 10-18 m tall.
Branchlets, 3-6 mm thick, densely covered with stiff pale brown to yellow velvety hairs.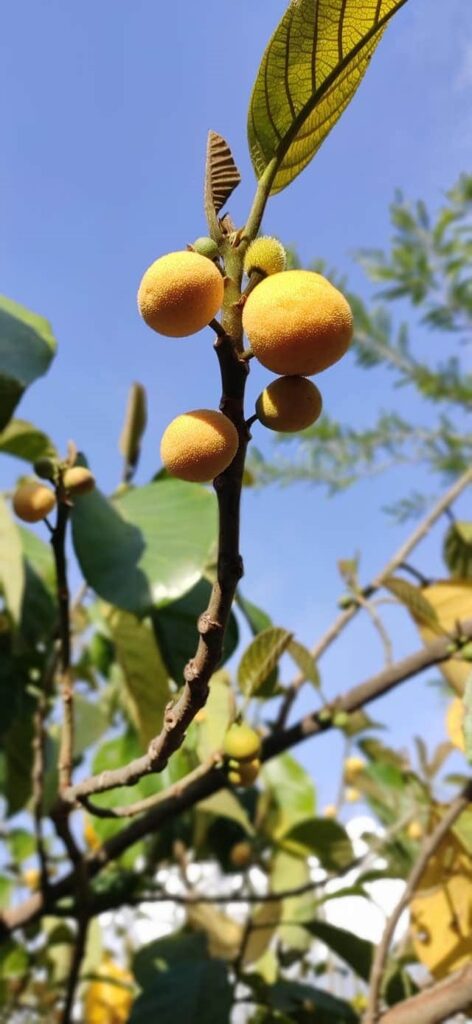 Stipules ovate-lance shaped, 4-5 cm long. Elliptic leaves, on 2-3 cm long stalks, are densely covered with yellow bristles.
Leaves large, 25-30 cm long, 15-20 cm wide, sometimes pinnately lobed, base wedge-shaped, tip blunt. Leaf margin is entire or with small teeth.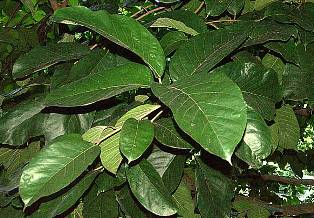 Flowers tiny, yellowish, fused into a round flower body.
The fruits are nearly round or irregular, 2 to 5 inches wide, velvety, dull-yellow tinged with pink, with sweet sour pulp.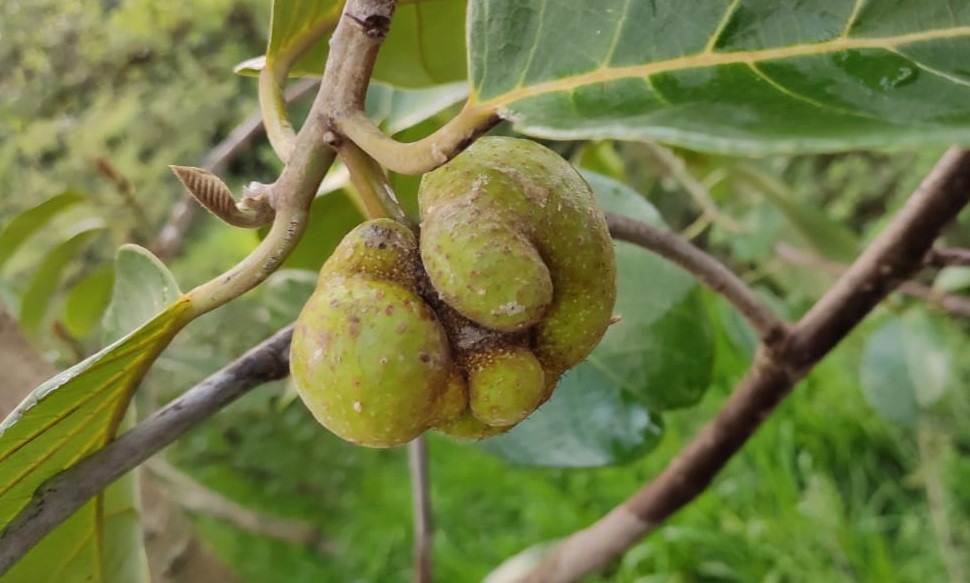 Dheu best provide edible fruits and inflorescence from summers to autumn season of the year.
Edible Uses:
Different parts of dheu like fruits and male flowers are eaten raw, boiled, steamed or roasted and pickled to ensure their availability round the year. The fruit has a pleasant sub-acid flavor, so occasionally these are eaten raw, most common preparation locally are curries, sauce, pickle and chutneys. Sometime boiled meshed fruits are used as a stuffing agent in paranthas, kachuris etc. Recipes of a few are as follow: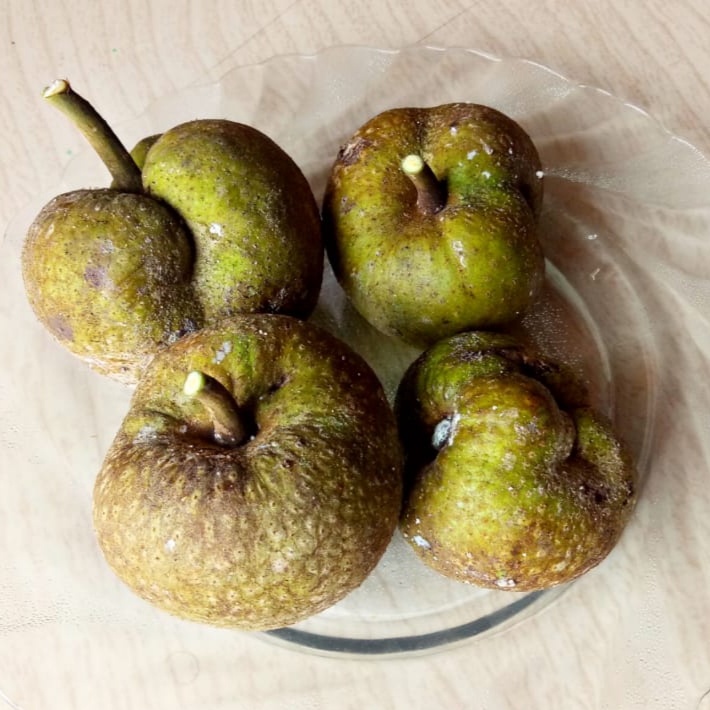 Vegetable or vegetable curry:
Ingredients:
Cut dheu fruits into two or four pieces,1 kg; mustard oil, 3-4 table spoons; coriander powder, ½ table spoon; fenugreek powder,1 tea spoon; cumin seed, 1 table spoon; turmeric powder, 1 table spoon; medium sized red chilies, 2-4; medium sized chopped onion, 1; chopped garlic cloves, 4-5; tomato puree half cup; salt, according to taste.
Method:
Boil raw fruits till they become soft. Let them cool. Then mesh fruits with hand and sauté in hot oil by adding spices mentioned before in the same sequence. Cook for 5 to 10 minutes and then the vegetable is ready to serve. It is usually served with chapattis.
Fruits can also be prepared like vegetable curry. For this meshed fruit are sauted with spices in hot mustard oil. Add curd or butter milk after mixing with 2 table spoon of basen (black gram flour). Cook for 10-15 minutes and add garam masala. Garnish with chopped coriander leaves and serve with rice or chappati.
Parantha is a morning breakfast prepared served with curd/butter/pickle/chutney etc. It can be cooked with any greens/boiled potatoes/cheese or some wild boiled fruits like dheu or fig spp. Here is recipe for dheu parantha
Ingredients:
Boiled dheu fruits; 250g; finelychopped mint and curry leaves, 200 g; Oil or ghee. 8-10 table spoon; wheat flour, 4 cup amount; chopped medium sized onion, 2-3, red or green chilies, 3-4, black pepper, ¼ tea spoon, black salt according to taste.
Method:
Mesh boiled dheu fruits. Add to it chopped leaves mint and curry leaves and spices listed above. Mix well to make Fine paste. Now parantha dough is prepared by mixing wheat flour and water. Knead dough till it is soft, let it rest for some time. Make small round balls of dough, stuff paste inside balls and roll to thin layered flat breads, now in hot tawa smear some oil and place flatbread over it. Cook both sides by applying oil. Now parantha is ready to serve. Serve it hot with chutney/ tomato ketchup/ pickle / butter/ curd according to choice.
Kachuri:
Ingredient:
Fruits, 1 kg; wheat flour, 7-8 cup amount; yeast, 5-10 g; mustard oil, 1/2 liter; fenugreek powder, 1/2 table spoon; cumin seed, 1 tea spoon; turmeric powder, 1-3 table spoon; red chilies; 10-15; grated ginger , 250 g; , Chopped green coriander, tirmir (Zanthoxylum armatum), mint (Mentha piperita) and curry (Murraya koeingii) leaves, 2-3 cup amount and salt according to taste.
Method:
For preparing kachuri prepare dough of wheat, flour along with yeast. Allow it to rest for 3-4 hour. Boil fruits till these are soft and mesh manually. Add spices and greens listed above and mix well to make a fine paste. Roll dough already made into small disc or round breadspread and stuff it with paste. Give a deep fry to the stuffed disc in hot mustered oil and take them out. Repeat this for whole dough and paste, now kachuri is ready to serve. Serve hot with chutney/rayata/pickle/ desi ghee.
Preparing Pickle:
Ingredients:
Chopped dheu unripe fruits or inflorescence, 1 kg; mustard oil, 7-9 table spoons; fenugreek powder, 2 table spoons; cumin seed, 2 table spoons; turmeric powder, 1; table spoon. red chillies, 8-12. mustard (rai) powder, 4 table spoon/ 1 cup amount citrus juice and salt, according to taste.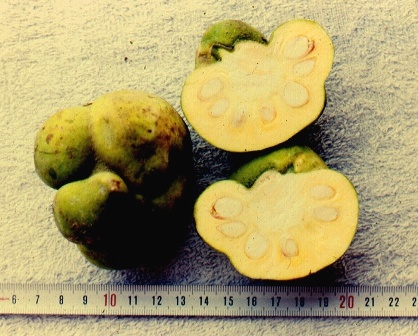 Method:
For preparing pickle, raw fruits or inflorescence are boiled and dried in sun before sauting in hot mustered oil with spices like fenugreek seed powder, turmeric powder, red chillies powder and salt acc.to taste. One to three table spoon mustard seeds or one cup amount citrus juice is then added to make pickle sour. Pickle is ready to eat after 25-30 days.
Sauce:
Ingredients:
Dheu ripe fruits,1/2 kg; tomato, 6-8; mustard oil, 7-9 table spoons; fenugreek powder, 1 tea spoon; cumin seed, 1 tea spoons; black pepper, ¼ tea spoon; some greens like mint leaves, coriander leaves or curry leaves acc to choice, 50 g; turmeric powder, 1; table spoon. red chillies and salt, according to taste.
Method:
Boil ripe dheu fruits till they are soft. Pinch these to remove its pulp and segregate seeds from pulp. Now grind boiled fruits and green with tomato in a mixer to make fine slurry and in hot mustard oil saute this slurry with spices listed above. Now sauce is ready to serve. It can be served with parantha, kachuri, pakoras, Kachru, patrodu (Local traditional dishes of Western Himalaya)or anysnacks. Sauce prepared like this can be used for a week.if placed in cold storage without any addition of preservative.
Nutritional Value of dheu fruit:
Energy, 73 kcal; Moisture, 90g; Protein, 2g; Fat, 1g; Minerals, 1g; Fibers, 3g; Calcium, 67mg; Phosphorous, 25mg 1. Dheu fruits can be used as food supplement to combat malnutrition and reduces the risk of several diseases. Mass campaign can be done among the people to enhance the awareness regarding the nutrient values of this fruit for consumption as well as healthy life2.
Medicinal Uses:
Externally powered bark is applied to sores the draw out purulent matter; a paste of the bark found beneficial by local application in boils and small pimples 3. Seeds are purgative3.The root is astringent and is also used as a purgative 4. The macerated bark is used as a poultice for treating skin ailments. The bark is used to treat headache4.
Chemical constituents:
Wood contain galangin, artocarpin, cycloartocarpin, norcycloartocarpin, norartocarpin and resoucinol. Bark yields beta- sitisterol, cycloartenol, cycloartenone, alpha- amyrin and lupeol acetate. The heartwood contains artocarpin, norartocarpin, norcycloartocarpin, cycloartocarpin and oxyresveratol 3.
Other Uses:
Locally dheu is used as a fodder, fuel and timber in Western Himalaya. Sometime this plant is grown as an ornamental multipurpose tree near to inhabitation for its edible fruit, fodder, shade and wood. Local people believe that plant as a fodder increase the milk yield in milch cattle.  Acc. to a repot (Dorthe Joker,2003) the leaves of A. lakoocha contain about 16% crude protein and one mature tree produces 60-200 kg fresh feedstuff in a year 5. A sticky latex is present in all parts of the tree and has many uses 4.  Timber and wood from this tree 6. A fibre obtained from the inner bark is used for cordage 6. A yellow colouring matter is obtained from the wood and roots 8. It is used for dyeing textiles 6 . The yellow wood is durable, hard and suitable for polishing 7. It is resistant to termites and used to made furniture, boats and cabinets 8,9. The canopy shaped tree of dheu provides huge shade and create the environment cooler for humans, plants and animals. The tree can be used for protection and occasionally it grown as an ornamental bonsai plant. The tree is an important component of traditional agroforestry systems, being integrated into mixed cropping systems with other crops 4.10.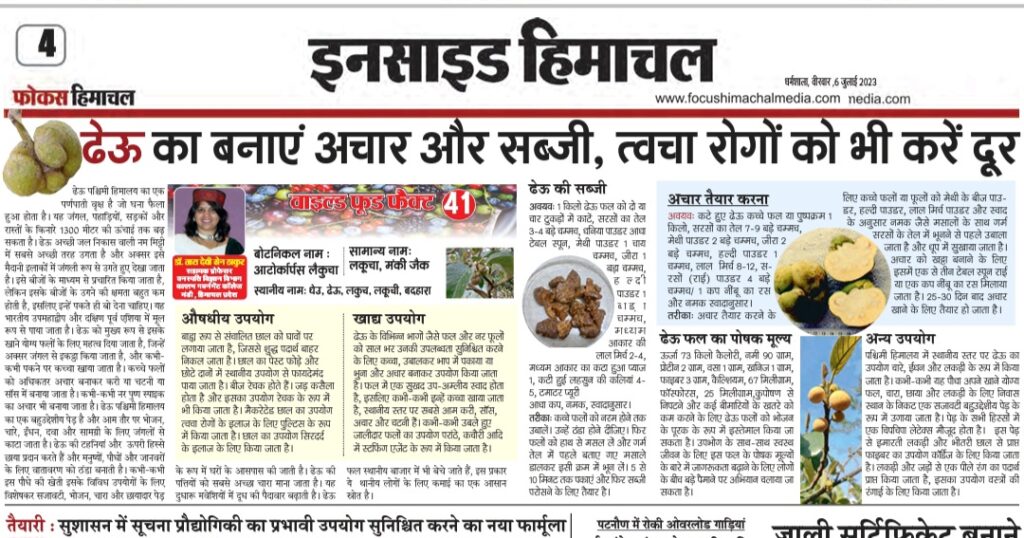 References:
http://www.fruitsinfo.com/lakoocha-fruit.php
Hossain, M. F., Islam, M. A., Akhtar, S., & Numan, S. M. (2016): Nutritional value and medicinal uses of Monkey Jack fruit (Artocarpus lakoocha). International Research Journal of Biological Sciences, 5(1), 60-63
Purohit SS, Sharma AK, Prajapati ND, Kumar T. (2009); A handbook of medicinal plants: a complete source book. 2:352-3.
http://www.worldagroforestry.org/
Dorthe Joker, (2003): DFSC and Bharat Adhikari TISC, Artocarpus lakoocha Roxb. No.73. Seed Leaflet.
http://mansfeld.ipk-gatersleben.de/pls/htmldb_pgrc/f?p=185:3:4292127278597336
Uphof. J. C. Th. (1959). Dictionary of Economic Plants. Weinheim).
Manandhar, N. P. (2002). Plants and people of Nepal. Timber press.
Orwa C., Mutua A., Kindt R., Jamnadass R. and Anthony S. (2009). Agroforestry Database: A tree reference and selection guide version 4.0.
Tomar A., Srivastava A. and Dubey K, (2015); Need of Conservation Approach of Underutilized Fruits: A Potential of Local Resource, Uttar Pradesh Biodiversity Board, International Day for Biological DiversityBiodiversity for Sustainable Development.