Family: Lamiaceae
Synonyms: Agnus-castus incisa, Agnus-castus negundo, Verbena cannabifolia, Vitex agnus-castus negundo, Vitex agnus-castus negundoides, Vitex arborea, Vitex cannabifolia, Vitex chinensis, Vitex elmeri, Vitex gracilis, Vitex incisa, Vitex laciniate, Vitex leucoxylon, Vitex microphylla, Vitex simplicifolia, Vitex sinuate, Vitex spicata.
Common Name: Huang Ping
Local Name: Bana (बणा), Banae, Surae. Nirgundi
Bana is a branched shrub or a small tree of Western Himalaya commonly seen growing in hedges, roadsides, field boundaries and wastelands, up to an altitude of 1500 m. It is an easily grown plant and prefers a light well-drained habitat in sunny position. Bana can be furtherpropagated through seeds and cuttings.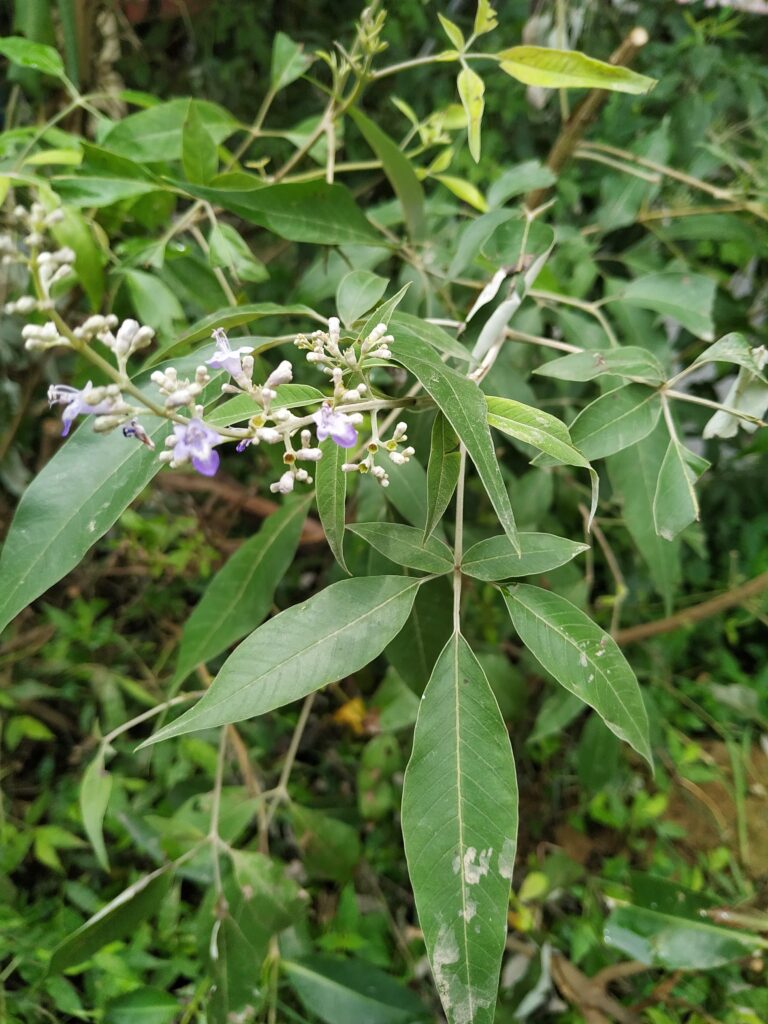 Leaves, roots and fruits of bana are used in AYUSH medicines as an expectorant, febrifuge, tonic and vermifuge1. Leaves are commonly used to cure rheumatism, arthritis, wounds, fever and enlargement of spleen 1. Locally the leaf paste is applied to painful joints and branches are used as a toothbrush. Traditionally bana is considered an important medicinal plant and there is a very famous saying among local people that 'jaethi bana basuti bare taethi manu kiyan mare' means where bana (Vitex negundo), basuti (Adhatoda vasica) and bare (Acorus calamus) grows in abundance hardly anyone die because of any disease.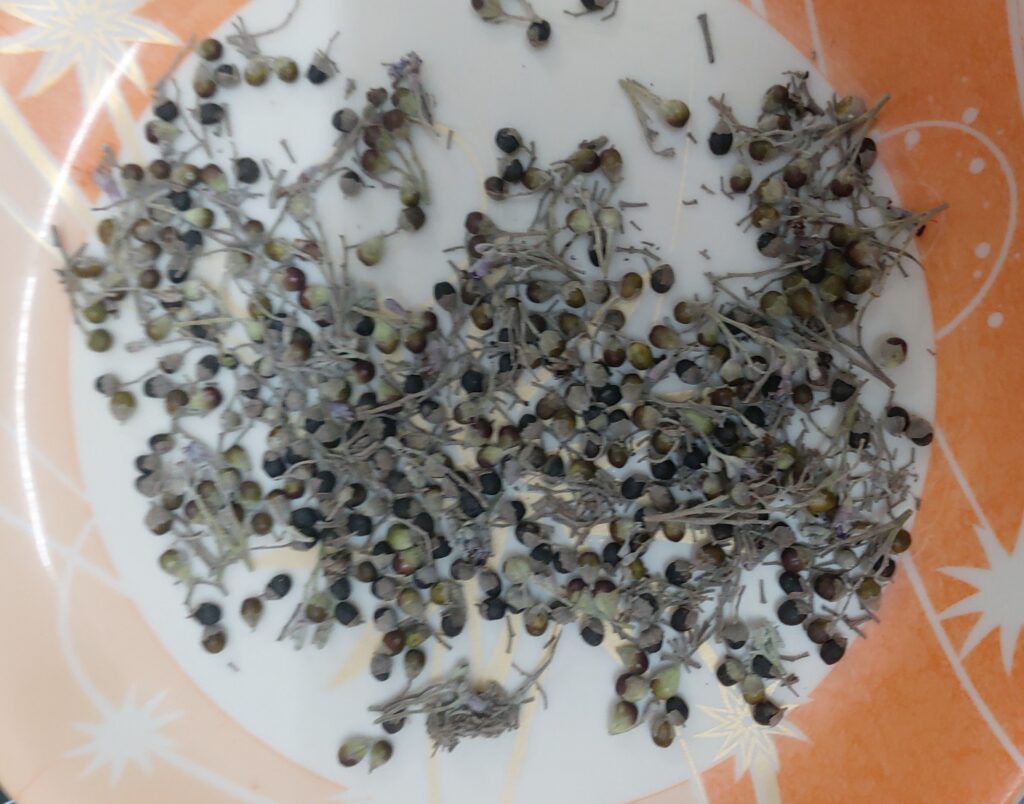 Bana seed are edible and occasionally used as a condiment in place of pepper. Thoroughly washed and dried seeds are also ground into a powder and used as a flour traditionally but this practice is not very common at present. It is only practiced to harness rich medicinal value of this plant. In past too bana seed flour is used as a famine food and used only when all else fails. An herbal tea is also made from the roots and leaves of bana. Bana seed flour and tender leaves in addition to other greens can be used in parantha, pakoras and kachru making as a food supplement.
Bana is considered as a multipurpose plant and harvested from wild as a source of food, fuel, medicine and material for local personal uses. Locally it is believed that if this plant is grown near to habitation it keeps away evil spirits. Sometimes bana twigs are also used in basket making. It is also grown as a hedge to demarcate boundaries and as an ornamental plant near to habitation for its multifarious uses.
Bana Plant:
Large shrubs or small trees, to 4 m high.
Branches are quadrangular, white- tomentose.
Leaves opposite, long stalked, digitally 3-5 – foliolate; leaflets petiolute, lanceolate, 2.5- 12 cm long, acuminate, entire or crenate, subglabrous above, white- tomentose beneath; petolule of terminal leaflets long.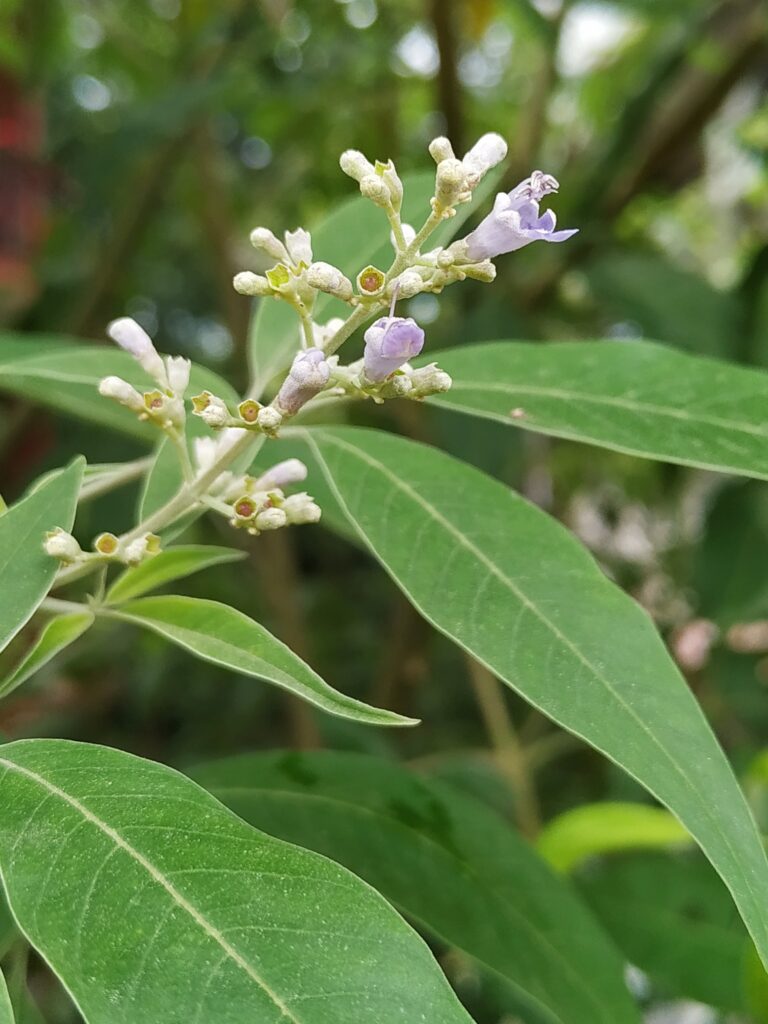 Flowers ca 8 mm long, lavender to blue, in branched clusters, arranged in large, terminal panicles. Calyx bell- shaped, white- woolly, 5- toothed.
Corolla hairy outside, obscurely 2- lipped, with 5 short, unequal lobes, the lowest much larger. Stamens in unequal pairs, protruding. Style exserted.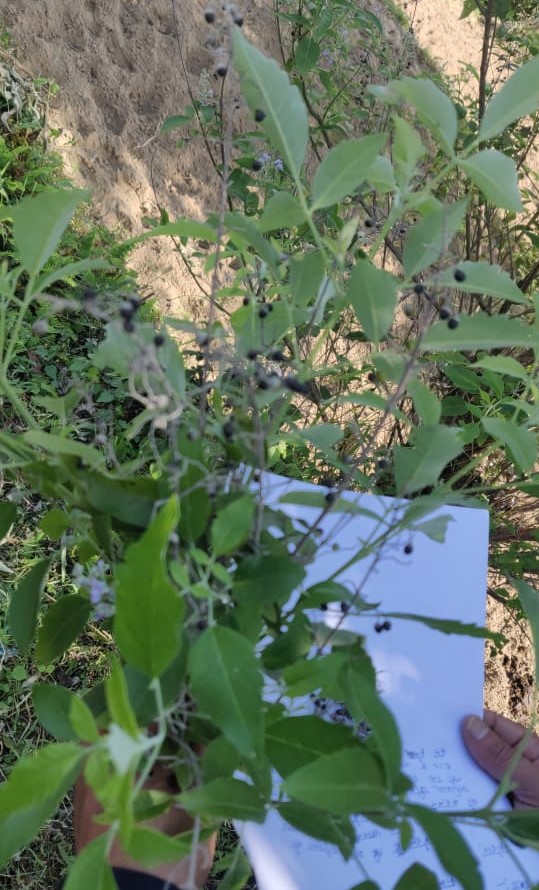 Drupes 3- 4 mm across, globose, black when ripe.
Bana leaves and roots can be collected round the year while edible seeds can be harvested in autumn season. Leaves in very small amount is an excellent addition to a number of food items to harness rich medicinal values bana plant
Edible Uses: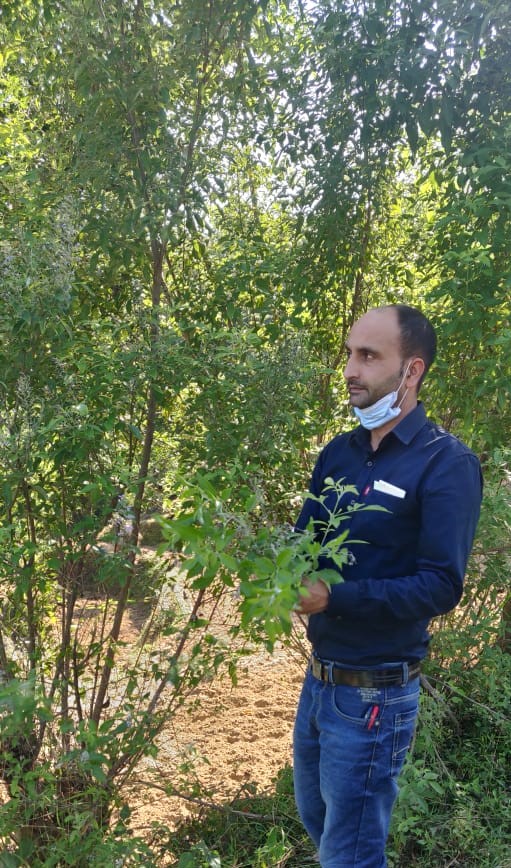 Bana tender leaves and ground seed as a powder or flour are used as food supplement to harness rich medicinal value of this plant in the form of parantha, pakoras ankachru. Recipe of these traditional dishes is given below.
Pakoras:
Ingredients:
Fresh bana tender leaves ,100 g; besan (black gram flour) or corn flour and bana seed flour,1/2 kg; mustard oil, 10-12 table spoon; 1 cup fresh coriander plus curry and mint leaves (chopped),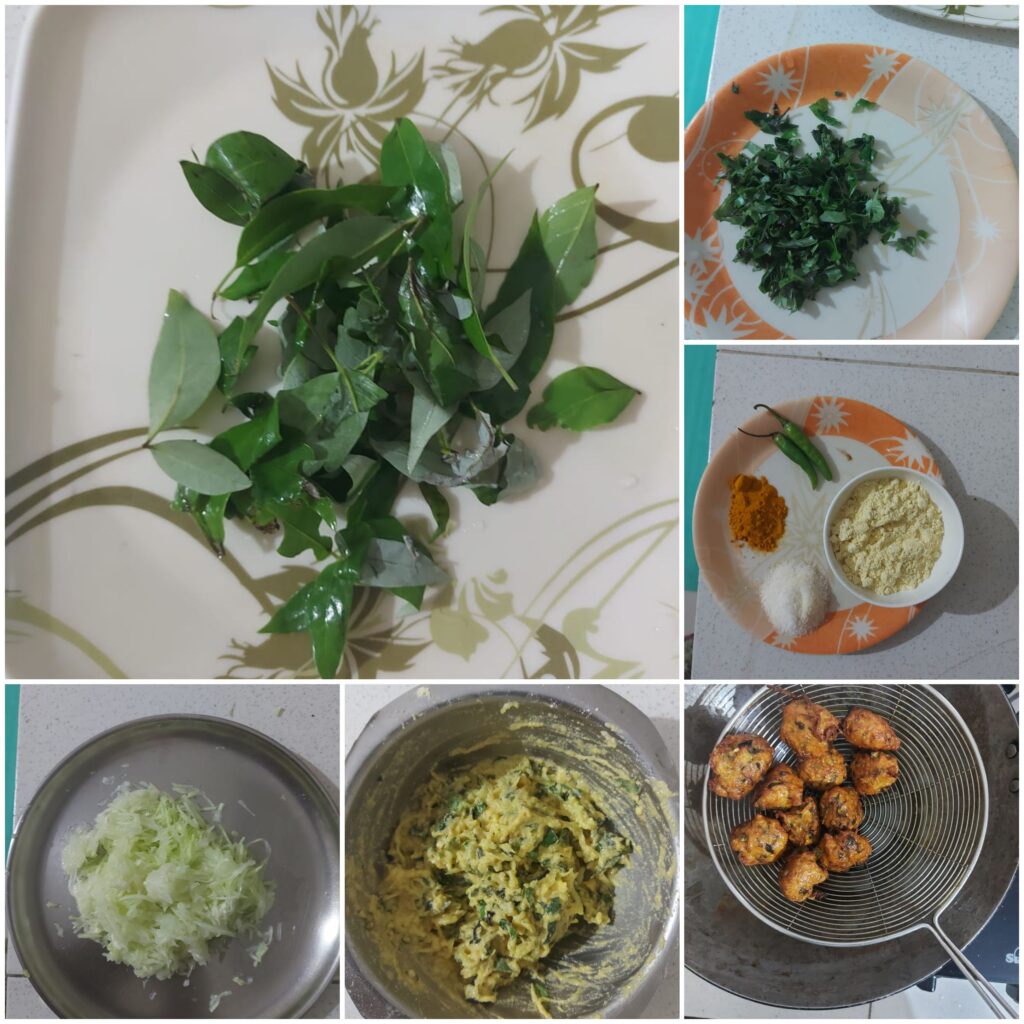 5-6 green chilies, ½ table spoon turmeric powder, 2-3 medium sized chopped onions, 2-3 medium sized finely chopped potato and salt according to taste.
Method:
Make a paste of leaves, chopped potatoes, basen, bana seed flourand spices listed above. Mix well and make small ball of this paste. Put mustard oil in a fry pan and give these balls a deep fry.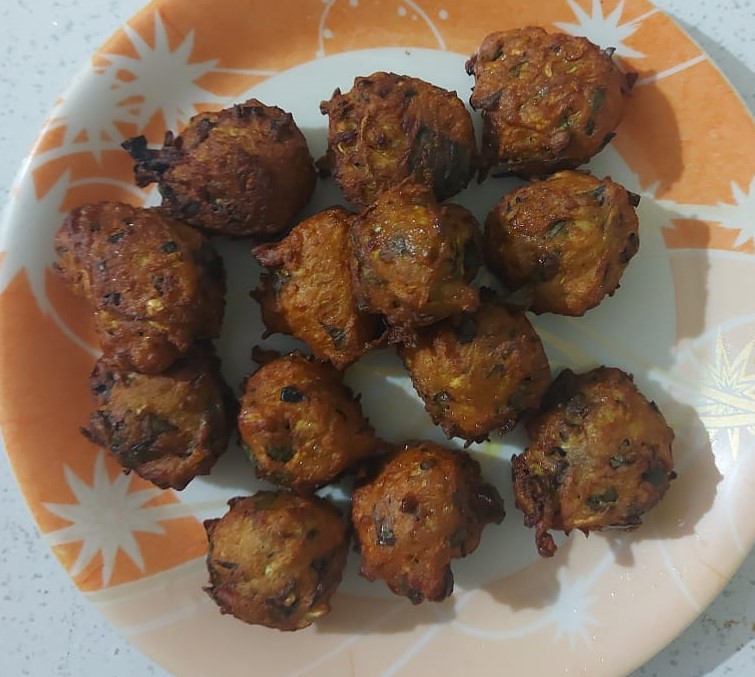 Repeat this process till whole paste is over. Pakoras are now ready to serve. Serve these hot with chutney or tomato-ketchup.
Kachru or sosaru:
Kachru is a traditional dish of Western Himalaya cooked as chilla with spices and basen or corn flour. It is served as a evening snack with tea/ chutney/tomato ketch-up.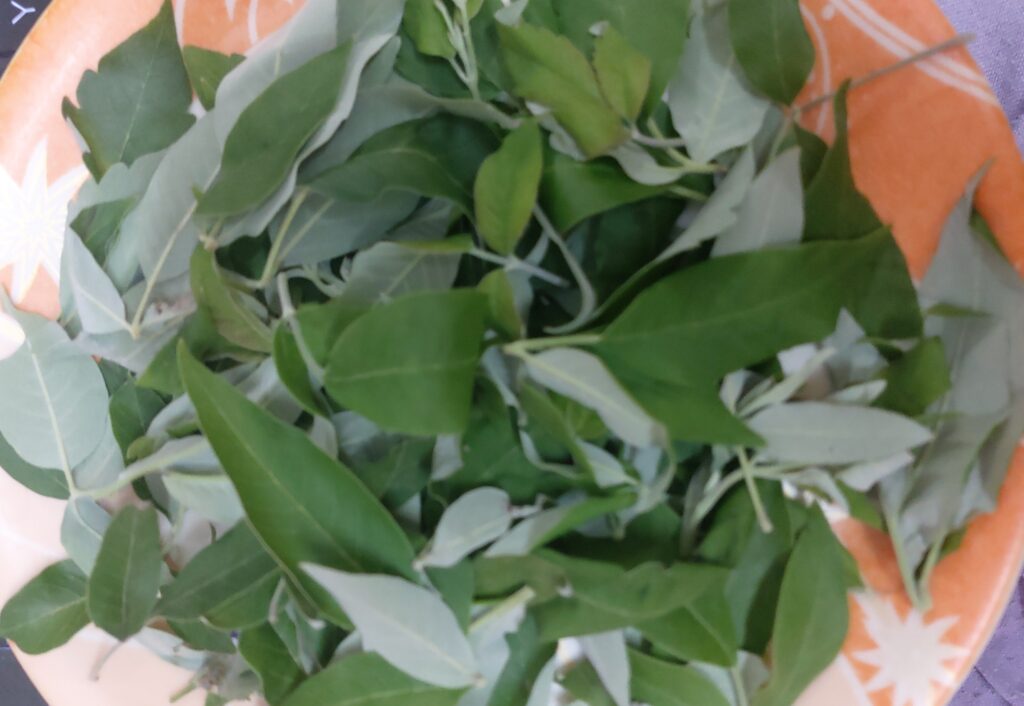 Ingredients:
For preparing a kachru, ingredients required are 100g fresh bana leaves, 1/2 kg besan (black gram powder) or corn flour and bana seed flour. 1 cup amount fresh coriander leaves,1/2 table spoon ajwain, 3-5 green chillies, ½ table spoon turmeric powder, 2-3 chopped onions and salt according to taste
Method:
Make a paste of leaves, besan or corn flour, bana seed flour and spices. Heat some oil on a flat heating pan. Put this paste over a pan and cook for 15 to 20 minutes then kachru will be ready to serve.
Herbal bana Tea:
Ingredients:
Bana leaves, 8-10; water, 2 cup amount; sugar, 2 table spoons; lemon juice, 2 tea spoons.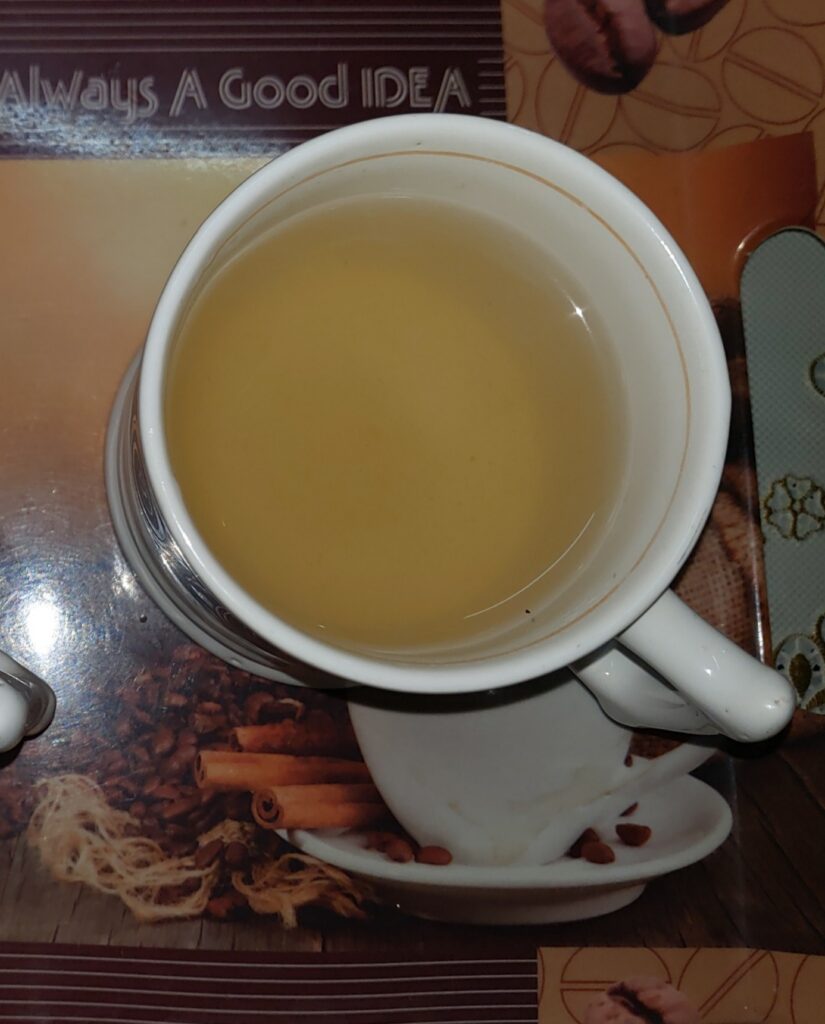 Method:
Dice leaves and boil with water. Add sugar to it and simmer in low flame for 10 minutes. Strain into tea cups. Add lemon juice to each and serve hot.
Seek professional advice before treating this plant medicinally.
Locally plant is used as toothbrush to cure toothache. Leaves are commonly used to cure rheumatism, arthritis, wounds, fever and enlargement of spleen 1 Leaf paste is used in treatment of painful joints, their poultice along with aerial tops of Atremisia japonica applied to rheumatic joint, and for spines 2. Decoction of flowers good for liver disorders; 2 tablespoons thrice a day for 15- 20 days2. Leaves, roots and fruits of bana are used in AYUSH medicines as an expectorant, febrifuge, tonic and vermifuge1.Also known to be used in India as an abortifacient, astringent, cephalic, discutient, diuretic, expectorant, insect repellent, sterilizer, stomachic, tonic and vermifuge, and for anasarca, blisters, boils, bone fracture, body ache, catarrh, cold, colic, cough, diarrhoea, dropsy, dysentery, eczema, epilepsy, eye complaints, fever, foetid discharges, gonorrheal epididymitis, gout, gum trouble, headache, itching, leprosy mental disorders paralysis, piles, pneumonia, postnatal care, reduce, sex desire, rheumatism, scabies, skin diseases, sores, spleen enlargement, swelling, syphilis, testis disorders, toothache, ulcers, veterinary ailments and wounds 3,4,5,6,7.
Chemical Constituents:
Several bioactive compounds have been extracted from leaves, seeds, roots in form of volatile oils, flavonoids, lignans, iridoids, terpenes, and steroids 7.
Other Uses:
Smoke of bana leaves repels insects. Branches are used in basket making and dried stem is used as a firewood. Twigs of bana are used locally used for keeping evil spirit away, so plant is also grown near to habitation to keep evil spirit away, as a hedge and an ornamental plant.
References:
Singh PB. (2018). Flora of Mandi district. Himachal Pradesh: North West Himalaya.
Sood SK, Thakur S. (2004): Ethnobotany of Rewalsar Himalaya. Deep Publications.
Chatterjee, A., & Pakrashi, S. C. (1997). The Treaties on Indian medicinal plants, volume-3. National Institute of Science Communication (CSIR), New Delhi, 16.
Chopra, R. N., Nayar, S. L., & Chopra, I. C. (1956). Glossary of Indian medicinal plants (Vol. 1, pp. 138-139). New Delhi: Council of Scientific & Industrial Research.
Jain, S. K. (1991). Dictionary of Indian folk medicine and ethnobotany. Deep publications.
Kirtikar KR, Basu BD. (1935); Indian Medicinal Plants, Vol. 1-4. Lalit Mohan Basu, Allahabad.
Purohit SS, Sharma AK, Prajapati ND, Kumar T. (2009); A handbook of medicinal plants: a complete source book. 2:352-3.