Family: Brassicaceae
Synonyms: Brassica eruca, Brassica erucoides, Brassica erucoides, Brassica lativalvis,Brassica pinnatifida, Brassica turgida, Brassica uechtritziana, Brassica vesicaria, Crucifera eruca,Eruca aurea, Eruca cappadocica, Eruca deserti, Eruca drepanensis, Eruca eruca, Eruca foetida, Eruca glabrescens Eruca grandiflora, Eruca lanceolata,Eruca latirostris, Eruca longirostris, Eruca longistyla Eruca oleracea, Eruca orthosepala, Eruca permixta, Eruca pinnatifida, Eruca ruchetta , Eruca sativa, Eruca stenocarpa, Eruca sylvestris, Eruca vesicaria sativa, Euzomum hispidum, Euzomum sativum, Euzomum vesicarium, Raphanus eruca, Raphanus vesicarius, Sinapis eruca, Sinapis eruca, Sinapis exotica,Velleruca longistyla, Velleruca vesicaria.
Common Name: Rocket, Arugula, Eruca, Garden Rocket, Gharghir, Mediterranean Salad Rocket Salad, Roquette, Ruchtetta. Rucola, Rucoli, Rugula, Rugulas, Salad Rocket
Local Name:Taarameera.
Taarameera is a fast-growing, erect, herbaceous annual, commonly found growing upto an altitude of 3000m in Western Himalayas. It is seen growing in wastelands, roadsides, waste ground, stony hills, tracksides and often met with as an escape plant near to habitation and field boundaries.
Taarameera is commonly known as rocket salad or arugula due to its edible young leaves and flowers which are excellent addition to salad in many parts of the world. It is rich in vitamin A, 47% and vitamin C, 25% content 1 . So, has become fairly well known as a rich flavoured addition to salads in many parts of world..Other parts of this plant like seedlings, green pods and green or dried seeds can also be eaten fresh or cooked for their tart, bitter and peppery flavor.Unlike many Western countries, locals of Western Himalayas are not in habit of taking plants with acrid flavour like Taraxacum officinale, Soncus asper and Moringa oelifera as food or food supplementin their diet , so many medicinal and nutritionally rich herbs are usually considered as weed to be removed here. And locals of Himachal Pradesh more use it as a medicinal plant as compare to food plant and very few people in this region of Western Himalaya might be knowing that inspite of bitter in taste it can be an excellent addition to salad or other traditional dishes. It can be eaten fresh in salads and can also be used as a food supplement in a variety of traditional dishes like kachru, chutney, pakoras,parantha, poha,sambar, masala oats, soup and as a leafy vegetable saag to dilute bitterness in plant.
Taarameera is a source of food, medicines, essential and fixed oils.taarameera is harvested from wild for local personal use and occasionally cultivated in some parts of Himachal Pradesh for its green and dried seed which are given to livestock especially milch cattle as a tonics to increase lactation and reduces flatulence, pains and aches. It grows best in full sun to part shade and moist, rich soil.
Taarameera Plant:
Plant is an erect, herbaceous annual upto 30-100cm tall.
Stems simple and hispid below, branched and glabrous upwards.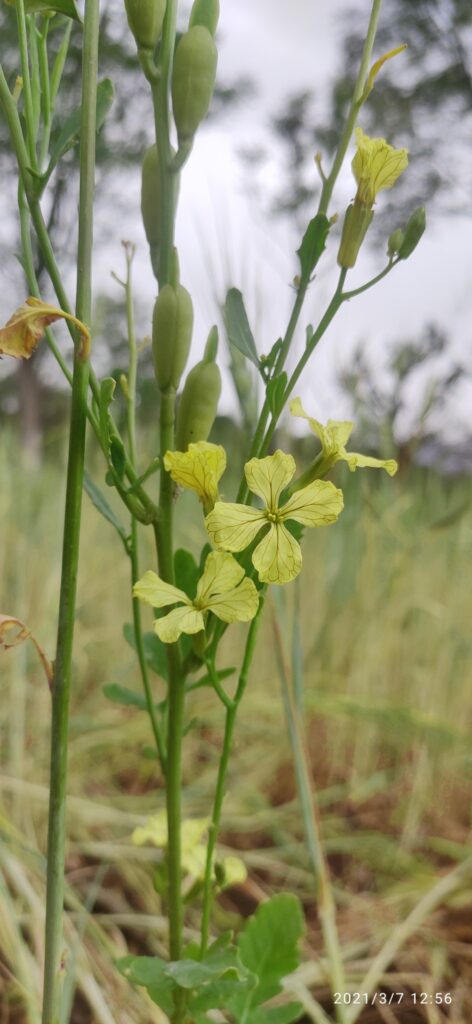 Leaves are lyrate-pinnatifid; lower sub-rosulate, petioled; upper ones sessile.
Flowers are yellow, turning to white after anthesis. Sepals are oblong, often pale- violet in colour. Petals are obovate, long clawed, pink veined.
Fruits are ovate- oblong to oblong- elliptic and compressed.
Taarameera edible leaves can be collected from pre-winter to starting spring, Flowers and seed pod or seed can be collected from spring end to summer end.. Awareness is needed among locals for sustainable harvesting and utilization of taarameera in their day to day life as a food supplement.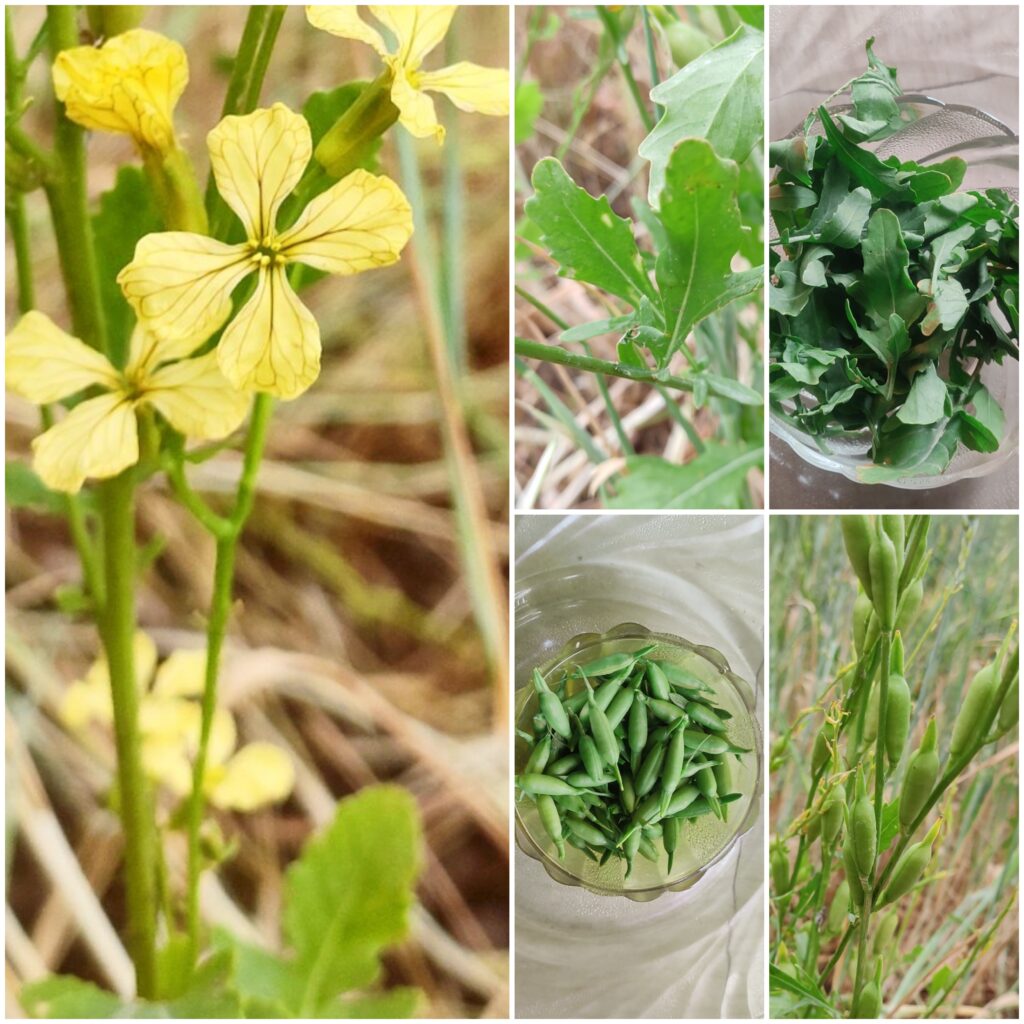 Edible Uses:
Seeds, flowers and young leaves of taarameera are edible. Young leaves and flowers are eaten raw in salad. They make a nice garnish on the salad bowl though the flavour is too strong for many. Older leaves are acrid in taste, so better to eat cooked. Plant is with a distinct strongly spicy flavour for some and its taste is best from well grown plants for them . A few leaves & flower petals added to a salad are acceptable in tastes.Older leaves, green seed pods and seeds are too hot to eat on their own, so to neutralize acrid flavour these can be cooked in various tradition dishes with spices like pakoras, kachru, soups,poha,masala oats, parantha etc and taken along with chutney. The seeds yield semidrying oil, which is edible if stored for 6 months and contains 32% fat and 27% protein 2,3,4,5,6,7.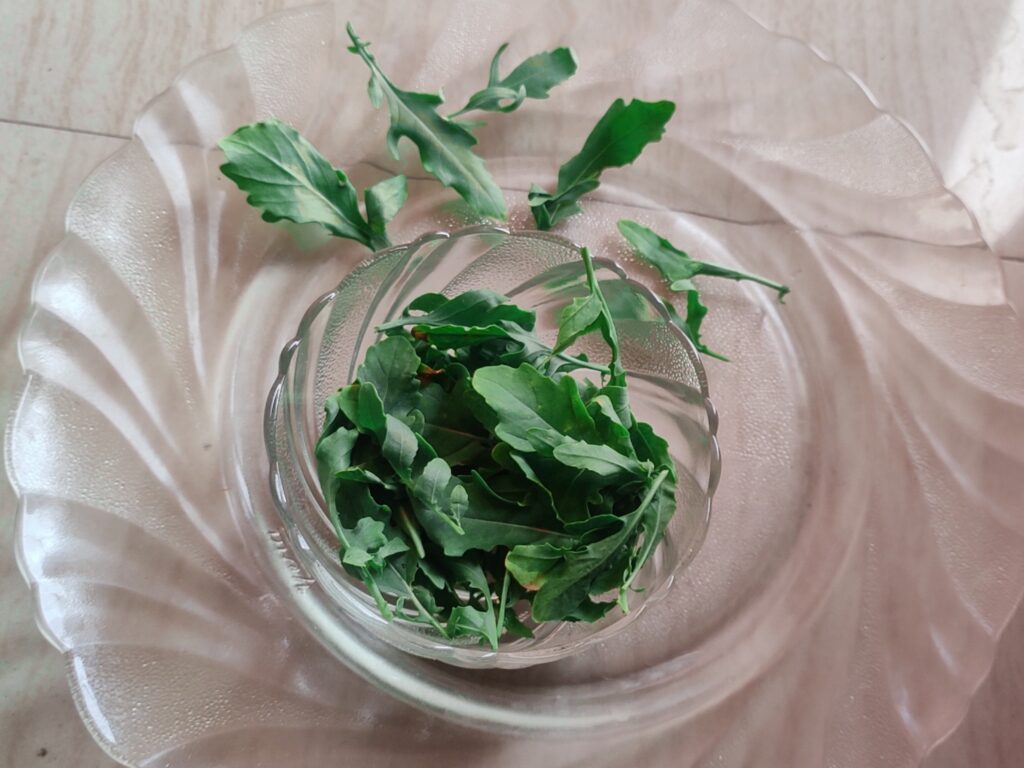 'Rayata':
Ingredients:
Flowers, and finely chopped leaves of taarameera , 250 g; curd, 1/2kg; Chopped medium sized onion, 3-4, red or green chilies, 3-4, black pepper, ¼ tea spoon, black salt according to taste.
Method:
Take curd in a bowl. Add to all above in sequence. Mix well and serve.
Soup:
Ingredients:
Locally available vegetable (chopped) of spring & summers, leaves, green pods and seeds of taarameera ,1/2 kg; mint leaves,10-15 (chopped); corn flour, 1 spoon; black pepper powder,1/4 tea spoon, lemon juice, 2 table spoon and salt acc.to taste.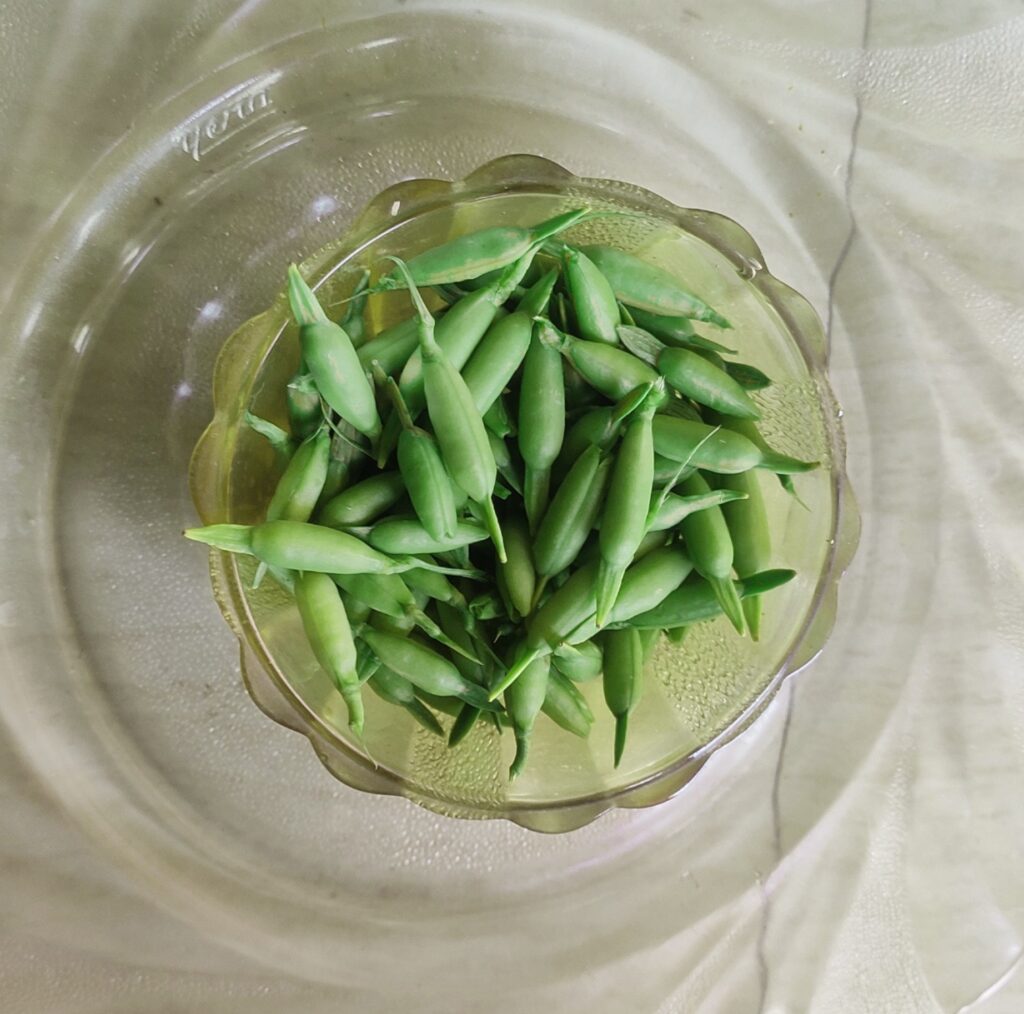 Method:
Boil leaves, green pods, seeds of taarameera and vegetable in one litre water till they are soft, mesh these manually and sieve the extract in a container. Add to it mint leaves, corn flour, black pepper, lemon juice, and salt, then boil for 5-10 minutes. Now soup is ready to serve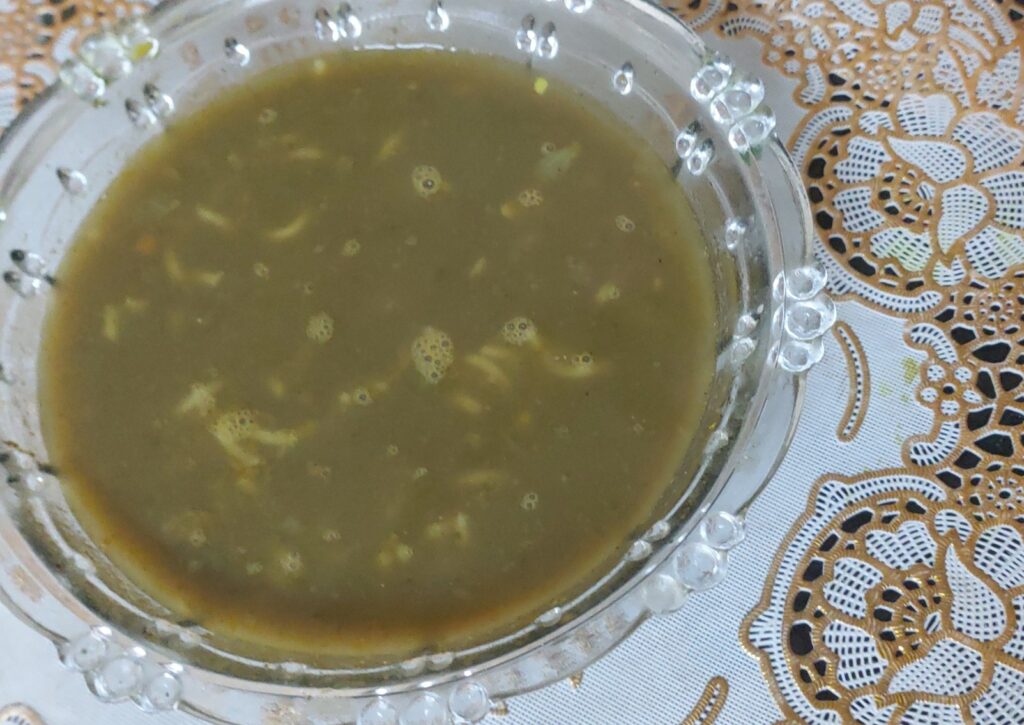 Saag:
Ingredients:
Young plant of taarameera, and other wild potherbs, 1 kg; mustard oil, 2 table spoons; coriander powder 1 table spoon; fenugreek powder, ½ table spoon; cumin seed ¼ table spoon; turmeric powder, 1/4 table spoon; red chilies, 2-3; chopped onions 2-4; garlic, 4-5 cloves; ginger paste ½ table spoon and salt according to taste.
Method:
Boil chopped plant parts they become soft. Then mesh manually or in a mixer. Then sauté with hot mustard oil and the spices listed before in sequence. This sauted saag is then ready and can be served as such or can be mixed with 2 or 3 chopped onion and cooked for another 5 to 10 minutes before serving.
Pakoras:
Ingredients:
Fresh leaves and flowers of taarameera ,250 g; besan (black gram flour) or corn flour,1/2 kg ;mustard oil, 10-12 table spoon; 1 cup fresh coriander plus curry and mint leaves (chopped), 5-6 green chilies, ½ table spoon turmeric powder, 2-3 medium sized chopped onions, 2-3 medium sized finely chopped potato and salt according to taste.
Method:
Make a paste of leaves, chopped potatoes, basen and spices listed above. Mix well and and make small ball of this paste. Put mustard oil in a fry pan and give these balls a deep fry.Repeat this process till whole paste is over. Pakoras are now ready to serve. Serve these hot with chutney or tomato-ketchup.
Kachru:
Kachru is prepared by making a paste of young leaves and flower petal with besan or corn flour and mixing it with spices.
Ingredients:
For preparing 1/2 kg flower and leaves kachru ingredients one will need 1/2 kg besan (black gram flour) or corn flour,1 cup fresh coriander leaves (chopped), 3-5 green chillies, ½ table spoon turmeric powder, 2-3 medium sized chopped onions and salt according to taste.
Method:
Make a paste of flowers/leaves, basen and spices listed above. Mix well. Heat some oil on a flat cooking pan and spread paste on it. Heat for 15-20 minutes occasionally turning it to other side and kachru will be ready. Serve hot with tomato sauce or some other ketchup.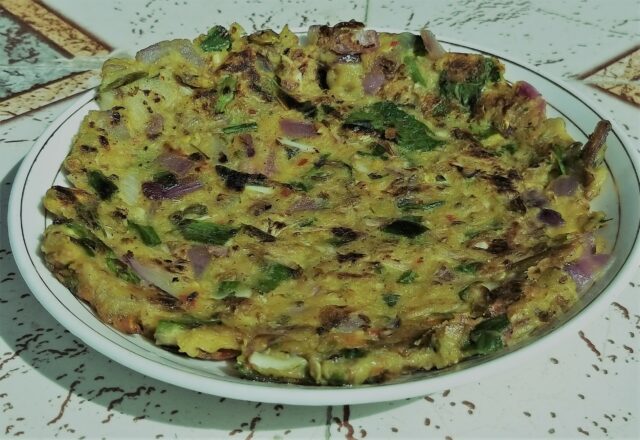 Nutritional value: Total Fats, 0.7g; total carbohydrates, 3.6gm; dietary fibres 1.6gm; sugar, 2g; protein, 2.6g; vitamin A, 47%; vitamin C, 25%; Vitamin B, 6 5%; Na, 27mg; K, 369mg; Ca, 16%; Fe, 8% and Mg, 16% per 100g 1.
Seek professional advice before treating this plant medicinally.
Medicinal Uses:
Used in India as an aphrodisiac, antiscorbutic, diuretics, stimulant, stomachic and vesicant, and also for epilepsy, inflammation, itching, leukoderma, piles, skin eruptions, toothache, vomiting and ulcers. The oil can be used for massage and for soothing the skin 7,8,9,10 .
Chemical constituents– Isorhamnetin and its 3-glucoside(leaves); (4-Methio)-Bu-glucosinolate(glucoerucin) (seeds) and glucoerucin from whole plant have been isolated which induces enzymes that have anticancer activity, Seeds are antibacterial and agglutinated human red cells without specificity to any particular group 8,10.
Other Uses:
Plant is used as fodder it is mainly given to milch cattle as a tonics to increase lactation and reduces flatulence. Oil extracted from seeds is rich in erucic acid, a substitute for rapeseed, used as a lubricant,for soap-making, as an illuminating agent, in massaging, in medicines and in cooking as a salad oil 5, 10.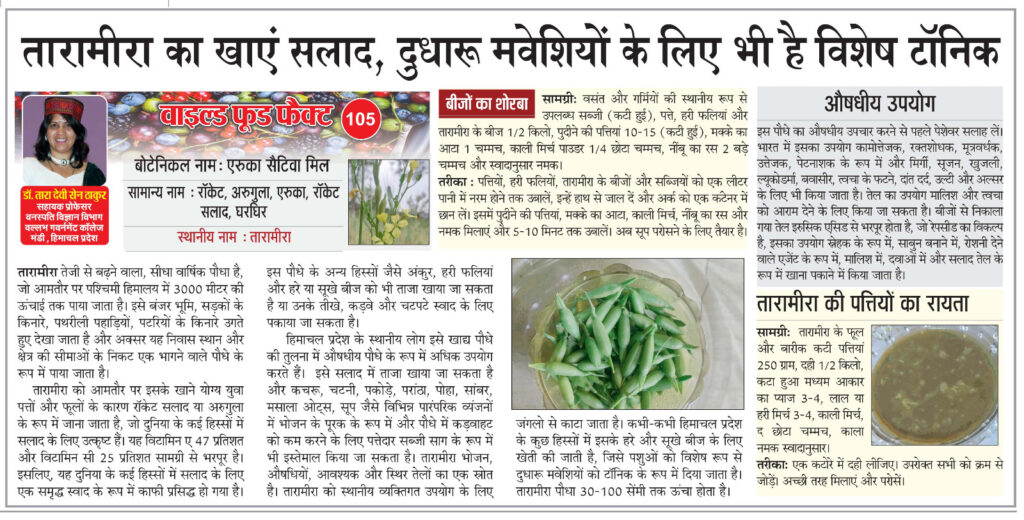 References:
Shah, R., & Board, U. B. (2015). Edible Plants of North West Himalaya (Uttarakhand). Uttarakhand Biodiversity Board.
Al-Rawi A (1964): Wild Plants of Iraq with Their Distribution, Government Press Publications, Baghdad, pp. 21–98.
Hedrick, U. P. (1919). Sturtevants edible plants of the world (No. 581.632/H456). Dover Publications, 1919
Facciola. S. (1990): Cornucopia – A Source Book of Edible Plants. Kampong Publications. ISBN;0-9628087-0-9.
Uphof. J. C. Th (1959); Dictionary of Economic Plants. Weinheim, publication
Komarov, V. L. E. (1936). Flora of the USSR. Flora of the USSR.
Chopra, R. N., Nayar, S. L., & Chopra, I. C. (1956). Glossary of Indian medicinal plants (Vol. 1, pp. 138-139). New Delhi: Council of Scientific & Industrial Research.
Kirtikar & Basu, (1935): Indian Medicinal Plants, Vol. III, Bishan Singh Mahedra Pal Singh, Dehradun