Family: Malvaceae
Common Name: Bur Mallow
Synonym: U. cana, U. palmata.U americana, U. grandiflora U. reticulata, U. trilobata
Local Name: Badi–dredae (बड़ी दरीडे)
Badi-dredae is a herbaceous annual to perennial plant of Western Himalayas commonly seen growing as a weed in fallow fields, wastelands, scrub, forest and roadsides, up to an altitude of 2000m. It is more frequent on moist shady places and easily propogate through seeds. Badi-dredae generally prefers humus rich, medium-textured, well-drained sunny to shady habitat for luxuriant growth.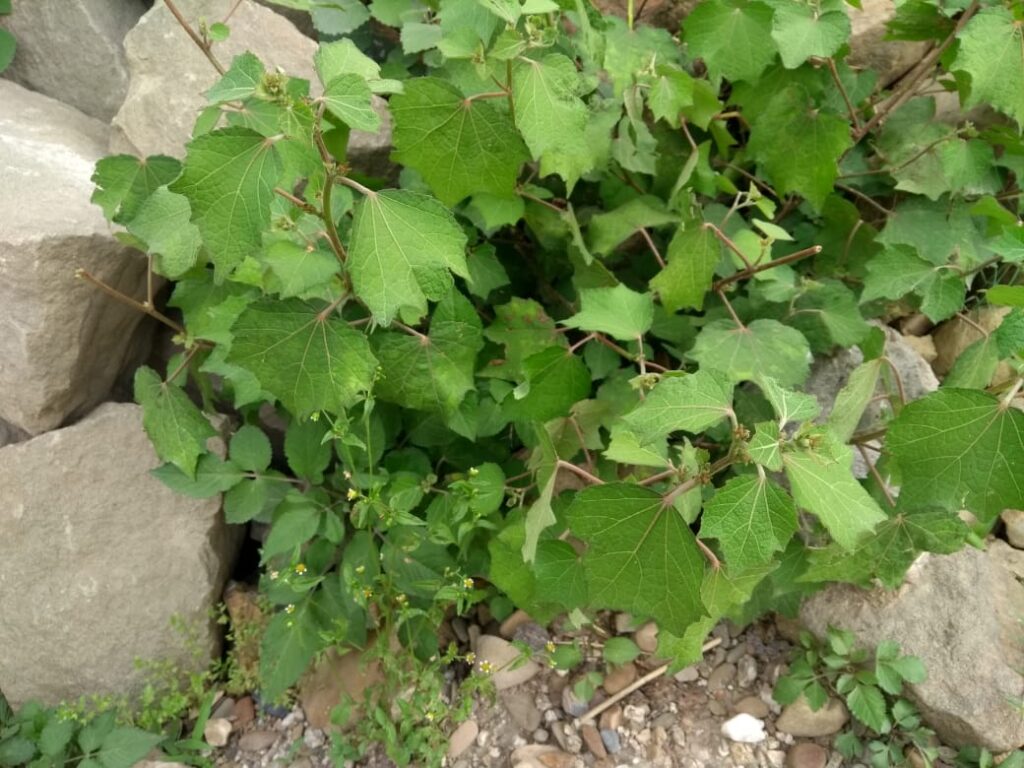 Young leaves and mature seeds of this plant are edible and eaten cooked, Leaves are cooked as leafy vegetable saag usually along with other available greens of summer season. While mature seeds are cooked in oats, kheer, porridges etc. These are also dried and preserved to be used in off season.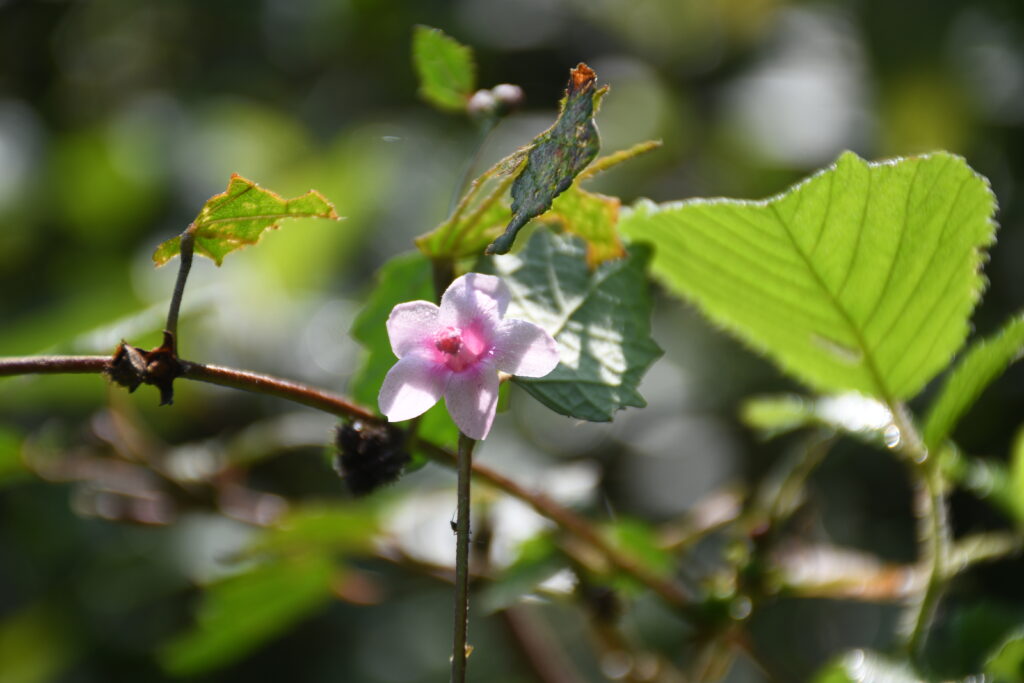 In spite of its luxuriant growth of badi-dredae in most of parts of Western Himalayas, it is a highly ignored plant and considered as a noxious weed to be removed by local people . Only very few knowledge people utilize this plant as food and medicine, so traditional knowledge related to utilization of this plant is on sharp decline and is at the verge of extinction among young generation. As a result medicinally important edible seeds of this plant are of no use for many and usually get wasted at resource level.
Badi-dredae is harvested from wild as a source of food, medicine and material for local personal uses.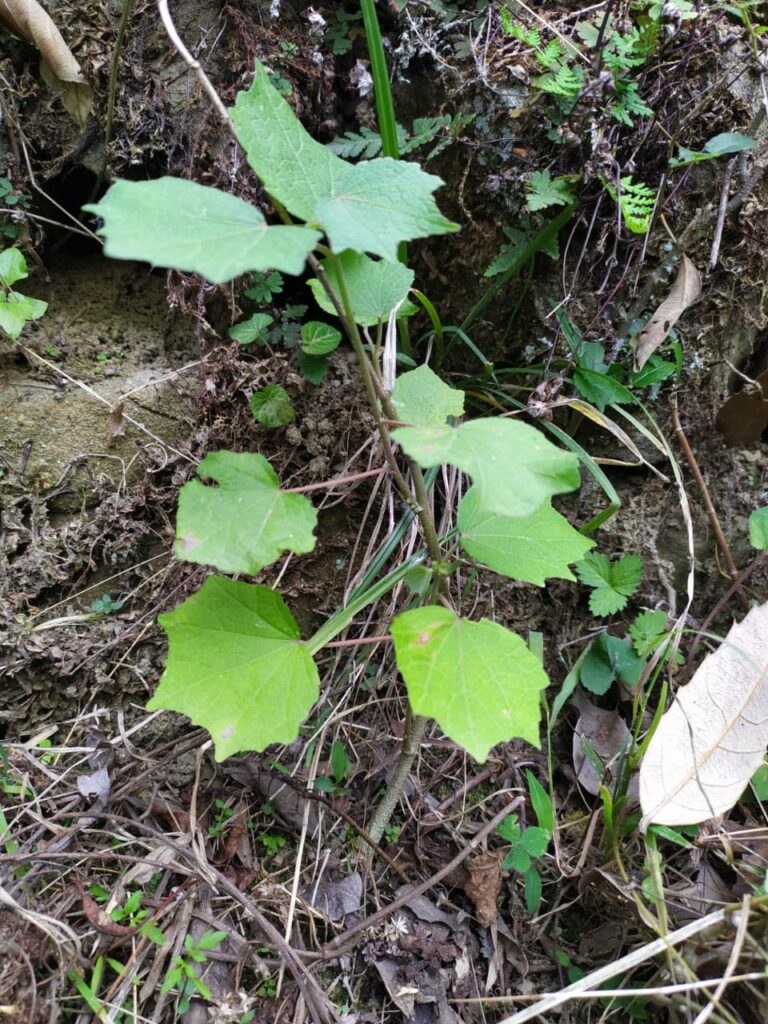 Badi-dredae Plant:
Annual or perennial, tomentose herbs or tender under shrubs, up to 2m tall.
The stems are covered with minute, star-like hairs and often tinged purple.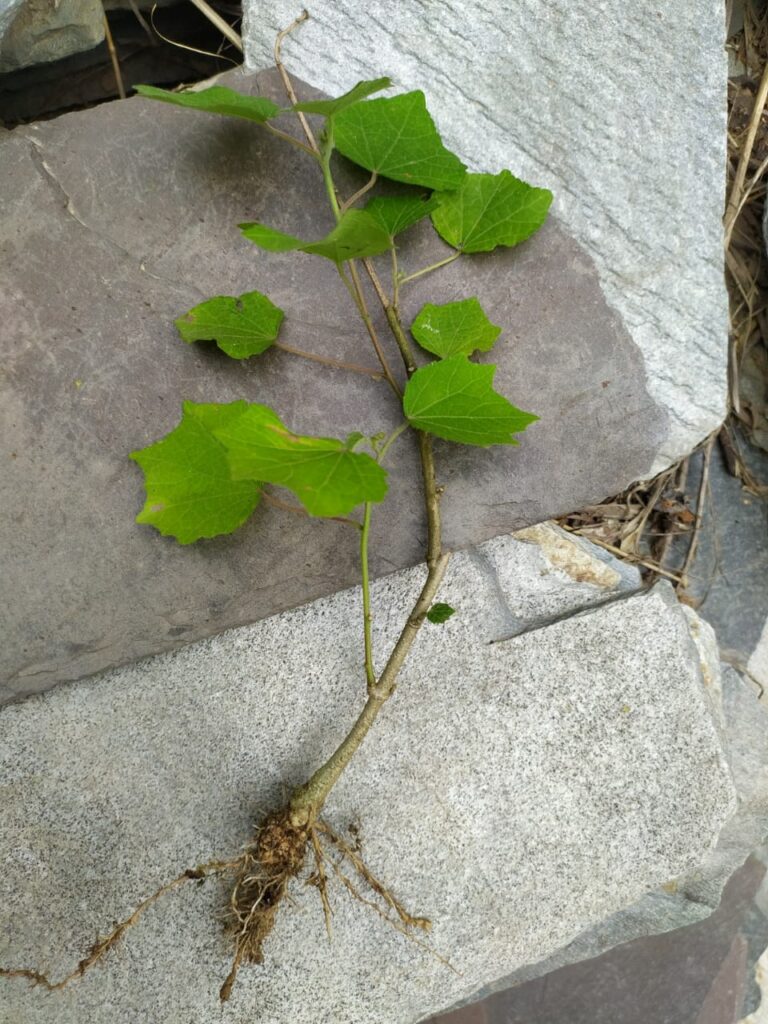 Leaves are variable, rounded or ovate, angled or shallowly5-7 lobed, cordate, tomentose; nerves prominent beneath, 3-glands present at the base of lamina.
Flowers are pink with a dark centre, axillary, solitary or 2-3 in clusters. Epicalyx segments 5, narrowly triangular, ca 5mm long. Calyx equaling the epicalyx, 5-parted. Corolla 2-3cm across; petals 1-1.5 cm along, obovate. Staminal column equaling corolla lobes.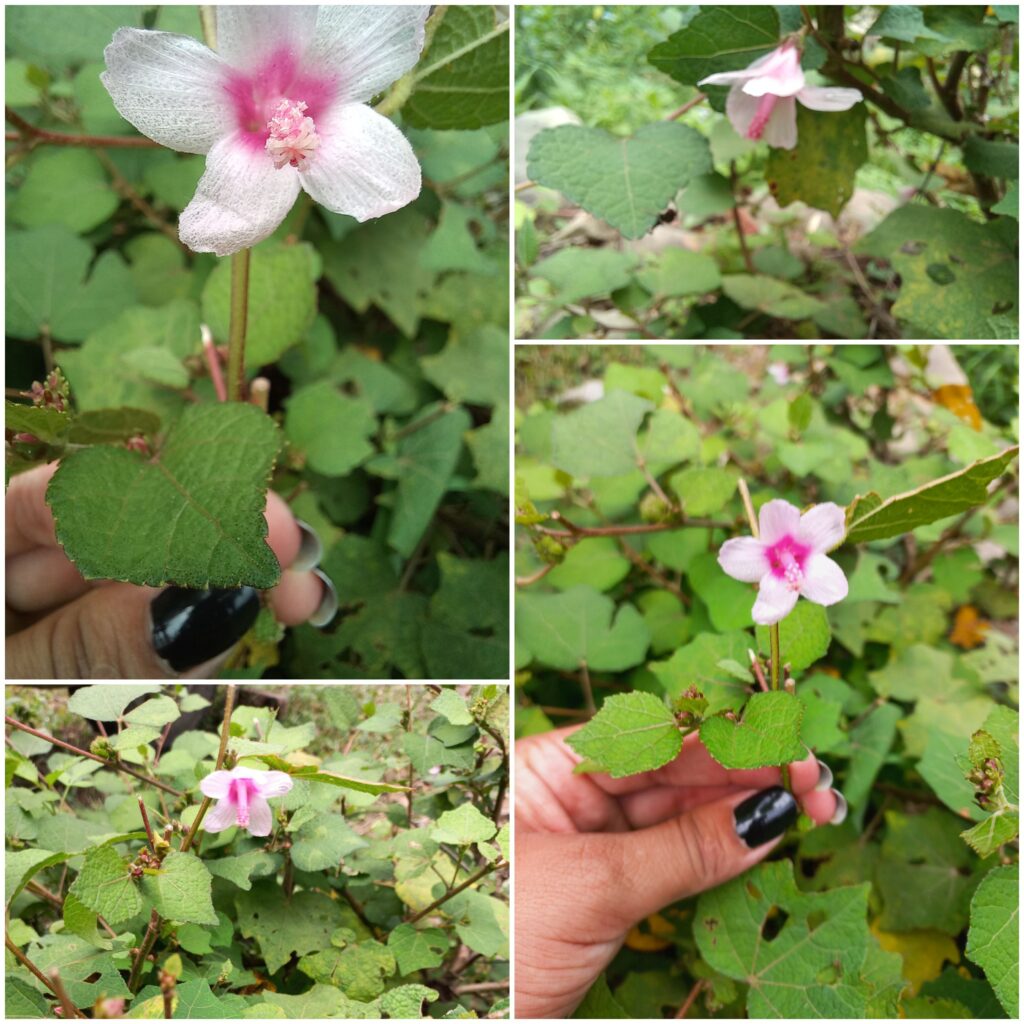 Fruits are globular, 6-8mm across; mericarps stellate pubescent, glochidiate-spiny.
Edible plant parts of by badi- dredae are harvested from summer to autumn season of the year. No doubt plant is a weed in most of habitats in Western Himalayas, but as its seeds are edible which are means of further regeneration. So, they need to be harvested sustainably by habitat rotation or keeping some seeds on parant plant for ensuring sustainable development.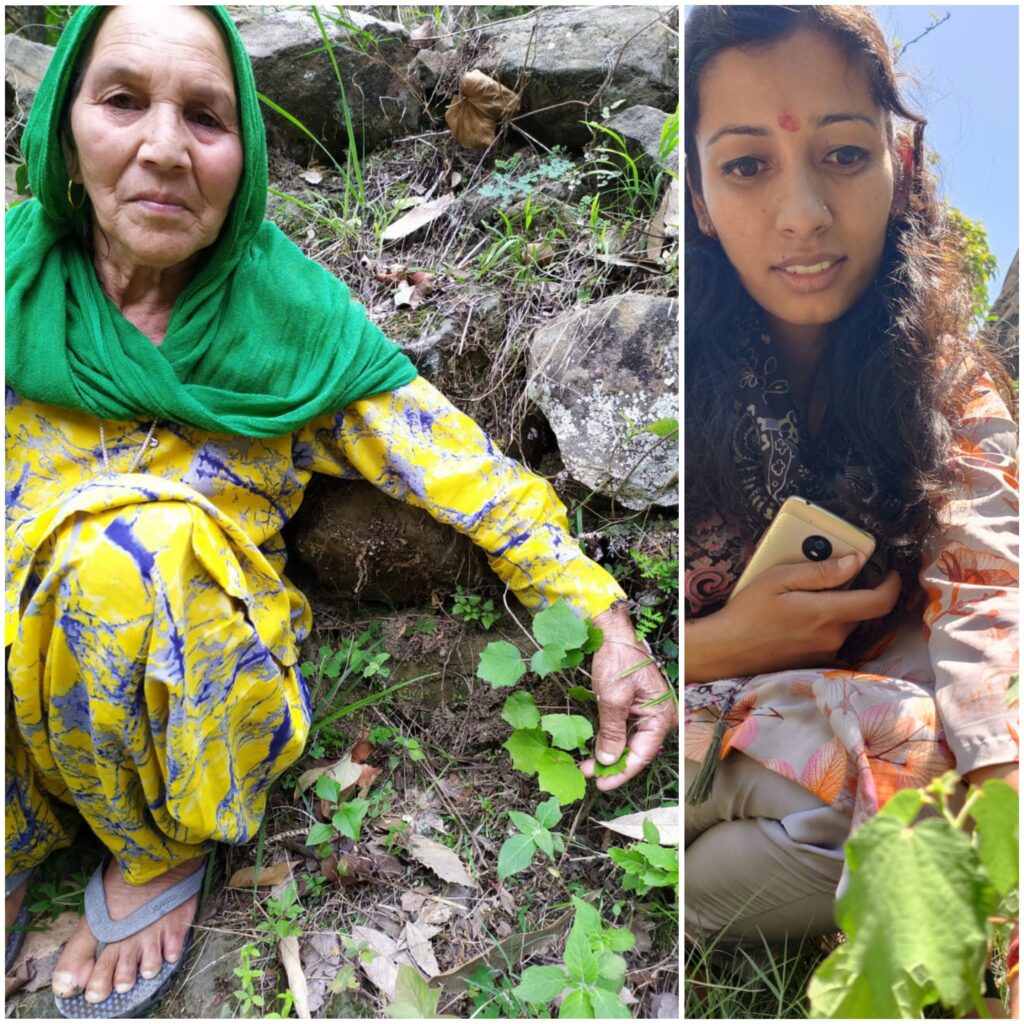 Edible Uses:
Tender leaves and seeds of badi -dredae are edible and eaten cooked. Leaves are used in combination with other available greens of summer season like, Drymaria cordata, Chenopodium album, Amaranthus spp, Rumex spp, Oxalis spp and Centella asiatica etc. Seeds are excellent addition to oats, kheer porridges etc.
Vegetable/ Saag:
Ingredients:
Young leaves and shoot terminals of badi-dredae in combination with other wild potherbs, 1 kg; mustard oil, 2 table spoons; coriander powder 1 table spoon; fenugreek powder, ½ table spoon; cumin seed ¼ table spoon; turmeric powder, 1/4 table spoon; red chilies, 2-3; chopped onions 2-4; garlic, 4-5 cloves; ginger paste ½ table spoon and salt according to taste.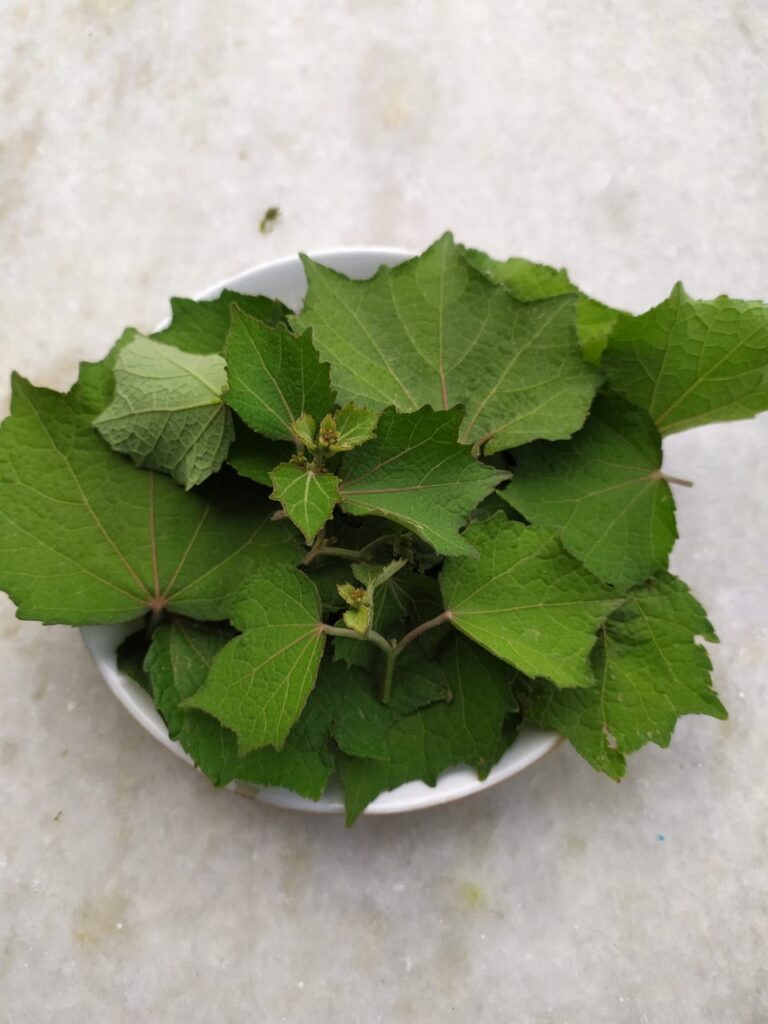 Method:
For making saag boil chopped plant parts till they become soft. Then mesh manually or in a mixer. Then sauté with hot mustard oil and the spices listed before in sequence. This sauted saag is then ready and can be served as such or can be mixed with 2 or 3 chopped onion and cooked for another 5 to 10 minutes before serving.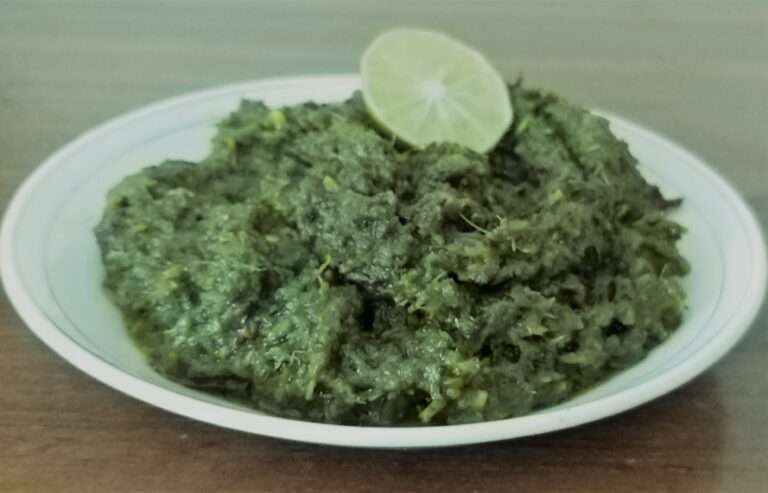 Masala oats:
Masala oats is a quick morning breakfast cooked with oats, spices with or without curd.
Ingredients:
Badi dredae seeds 1/2 cup amount; oats, 3 cup amount; curd/ butter milk, cup amount; olive oil, 2-3 table spoon;3 chopped medium sized onion, 2, red or green chilies, 3-4, ajwain (carom seeds), ¼ tea spoon, turmeric powder, 1/4 table spoon; black pepper, ¼ tea spoon, mint and coriander leaves,1/2 cup amount; salt according to taste.
Method:
Saute seed in hot oil with spices listed above and cook till these are soft. Add equal amount of oats and water. Cook for 2-3 minutes and add curd, ajwain, Cook till oats are soft add black pepper powder and chopped coriander / Cyclospermum leptophyllum leaves for garnishing. Mix well and serve.
Cook oats with butter milk/ curd or water by adding finely chopped greens of badi -dredae, spices and salt according to taste. Cook till oats are soft and then serve after garnishing with chopped coriander leaves.
Porridge:
Ingredients:
Badi dredae seeds 1/2 cup amount; rice, 2 cup amount;ghee/ olive oil, 2-3 table spoon; 2, red or green chilies, 3-4, turmeric powder, 1/4 table spoon; amount; salt according to taste.
Method:
Heat ghee.oil in a pressure cooker and add badi-dredae, cumin seeds,chillies,turmeric o\powder, rice and salt according to taste. Mix well add water 5 cup amount and pressure cook for 2 whistles. Allow the steam to escape and serve hot with curd.ghee.
Food Value:
The raw leaves are reported to contain moisture (81.8%), protein (3.2 g), fat (0.1 g), carbohydrates (12.8 g), fiber (1.8 g), ash (2.1 g), calcium (558 mg), phosphorous (67 mg), and cal (54) per 100 g 1.
seek professional advice before treating this plant medicinally.
Medicinal Uses:
Badi-dredae is a very common plant used in traditional medicine. Its leaves and roots are most commonly employed for this purpose.It possesses promising biological activities like antioxidant, inflammatory, antimicrobial, anticancer, anti-diarrheal, anti-diabetic, anti-hyperlipidemic, neuropharmacological etc 1.
So far badi-dredae is recorded in India for cordage, cough, fever, diarrhoea, dysentery, hyperacidity, hydrophobia, lumbgo and windy colic, and as an expectorant, diuretics and gargle for aphthae and sore throat 2,3,4,5,6,7,8.
The juice of the leaves or roots is used widely to treat bowel complaints, especially colic, stomach-ache, diarrhoea and dysentery, and also to treat gonorrhoea and persistent fever from malaria. A decoction from the leaves and roots is drunk to relieve pains all over the body due to excessive exertion. A decoction of a very old plant, boiled with eggs, is said to induce abortion.A lotion made from the plant is used to treat yaws and headache. The whole plant is macerated and used externally for treating fractures, wounds, mastitis and snake bites.The leaves are diuretic, emollient, refrigerant, styptic, vulnerary. They are used to treat inflammation of the intestines and bladder.The leaves are used externally as a poultice on wounds and skin diseases.The roots are diuretic. An infusion is given to aid difficult childbirth. The roots are used to treat rheumatism and lumbago. A decoction of the root is used to treat colds, dysentery, enteritis, goitre, indigestion, leucorrhoea, malaria, rheumatism and tonsillitis. The twigs are chewed to treat toothache.The bark is used to heal cuts.
The flowers are considered maturative and are taken in decoction as a pectoral and expectorant in dry coughs.An infusion of the flowers is used as a gargle for aphthae and a sore throat.A decoction of the seeds is taken as a vermifuge 9.
Chemical constituents: Chief constituents are mangiferin and quercetin (aerial parts) and stigmasterol and Beta-sitosterol (Whole plant) 10.
Other Uses:
Badi dreade is a weed of summers for many and as explained above very few people use this plant as a food supplement to harness its rich medicinal value. But literature review shows that it is an important source of good quality fibre, paper,soup etc as follow:
A good quality fibre is obtained from the stems 11. Known as 'Aramina fibre', it is fine, lustrous and soft; comparable to jute (Corchorus spp.) 11,12 .
It is up to a metre in length, very tine and white, very strong, and takes dyes readily12 ..
It is used for sacking cordage, coarse fabrics, ropes, hammocks etc[46, 345]. It is said to resist termites and water 11.
It can be used to make a good quality paper 12 .
The seeds are used for making soap[ 9. The charcoal of the whole plant is used for blackening teeth 9 .
References:
1. Babu, S. S., Madhuri, D. B., & Ali, S. L. (2016). A pharmacological review of Urena lobata plant. Asian. J. Pharm. Clin. Res, 9(2), 20-22.
2. Ambasta, S.P(ed.)1986. The useful plants of India. CSIR, New Delhi.
3. Drury, H. 1978. Useful plants of India. Periodical Experts Book agency, Delhi.
4. Kritikar & Basu, 1984. Indian Medicinal Plants. Vol.1-4. Lalit Mohan Basu , Allahabad.
5. Kumar et.al., 1987. Further contribution to the ethnobotany of Meghalaya: Plants used by War Jaintia Hill district. J. Econ. Tax. Bot.11:65-70.
6. Nath & Bordoloi, 1989. Ethnobotanical observation on some medicinal folklore of Tirap district, Arunachal Pradesh. J. Econ. Tax Bot.13:321-325.
7. Sinha, S.C. 1987. Ethnobotany- Medicinal plants. Frontier Bot. 1:123-152.
8. Watt, G.1972. A Dictionary of the Economic Products of India, Vol.1-4. Periodical Experts. Delhi (India).
9.Sood SK, Thakur S. (2004): Ethnobotany of Rewalsar Himalaya. Deep Publications
10. http://proseanet.org/ Plant Resources of Southeast Asia
11. Uphof. J. C. Th. (1959). Dictionary of Economic Plants. Weinheim