Family: Betulaceae
Synonym: C. colurna jacquemontii. C. lacera
Common Name: The Himalayan Hazel, Turkish Hazel.
Local Name: Thngi (थांगी), Bhotia, Badam, Pamakhor, Khabsi, Shirol
Thngi is a medium sized shrub to deciduous tree of Western Himalayas generally found growing in woods, hedgerow and on the slopes of hills from 2200 to 3300 m. It is among the most expensive nut of this region and needs cold and hilly terrain with a few days of sub-zero temperature for optimum growth. Therefore, Himachal Pradesh, Jammu and Kashmir, Silguri, Uttarakhand & North-Eastern states of India make the best choice for luxuriant growth of this plant. In Himachal Pradesh it is seen growing in Chamba, Kinnaur, Kullu, Shimla and Mandi. However potential habitats of Thngi in HP are mostly located in the shady moist habitats of districts Kullu, Chamba, Shimla, Mandi, Kinnaur, Kangra and Lahaul & Spiti 1. It is one of the most consumed and most appreciated nut fruit which is liked and preferred all over the world. Therefore, Thngi nuts are ranked among some world famous nuts of this region like almonds, pine nuts, walnuts. However, in general the Thngi is little known to inhabitants of Indian plans except to the people of high Himalayan regions where it is used mainly by the locals, grazier and the tribes (Pangwal and Bhot) as food, fuel & fodder.
Thngi is an easily grown plant that succeeds well in most soils, but is in general is more productive when grown on soils of moderate fertility. It forms a dense thicket of erect, much-branched stem which renew itself by suckers, from the base. It can also be brought under domestication for its highly nutritious and medicinal seeds. Plants can be raised by sowing seeds which usually takes three to five years of growth to yield fruits. Other means of propagation are budding and grafting.
Thngi is a multipurpose tree for local people due to its multifarious uses as it provides not only fuel, fodder and timber but also yield edible nuts for human as well as wildlife consumption 2. thus are useful for eco-resotration too. Thngi seed makes an excellent nut for raw eating or roasted. These are also used in cakes and some traditional sweets dishes of Western Himalayas like kheer, halwa, sirra etc.The fruits (nuts) are often used with parched rice 3,4,5. The kernels are a rich source of proteins, carbohydrates, vitamins, poly-unsaturated fatty acids and other minerals like iron, calcium and potassium, etc. The research shows that hazelnuts exert strong protective influence against coronary heart problems, some types of cancer and other diseases6 .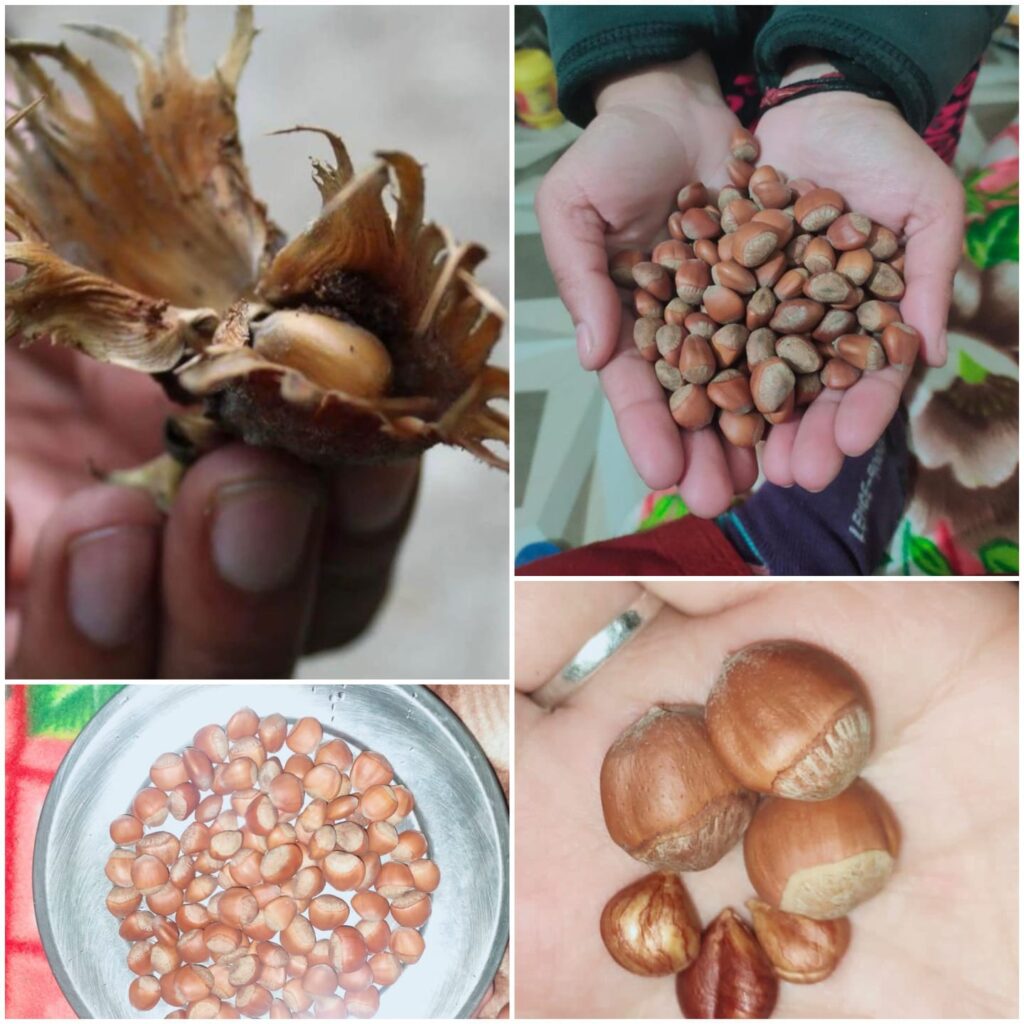 Thngi is self-incompatble tree species found in scattered groups in natural habitat. The species is facing changes in its structure, density and composition in recent years due to global warming, climate change, and anthropogenic pressure7. As it is one of the ecologically and economically important high value multipurpose tree, continued over-exploitation of its fruits and habitat degradation of the species for fodder, fuel, food and medicinal purposes from wild habitat has caused rapid depletion of Thngi from natural habitats8. So it is strongly recommended to domasticated or cultivated for socio-economic upliftment and rural prosperity.
Thngi Plant:
It is a medium sized, deciduous tree.
Bark is dark gray, thin, sometimes ex- foliating upwards.
Leaves are 3-6 inches long, membranous, ovate, acuminate, slightly lobed, doubly serrate, glabrous when mature; lateral nerves are straight, pubescent, each terminating in a large tooth.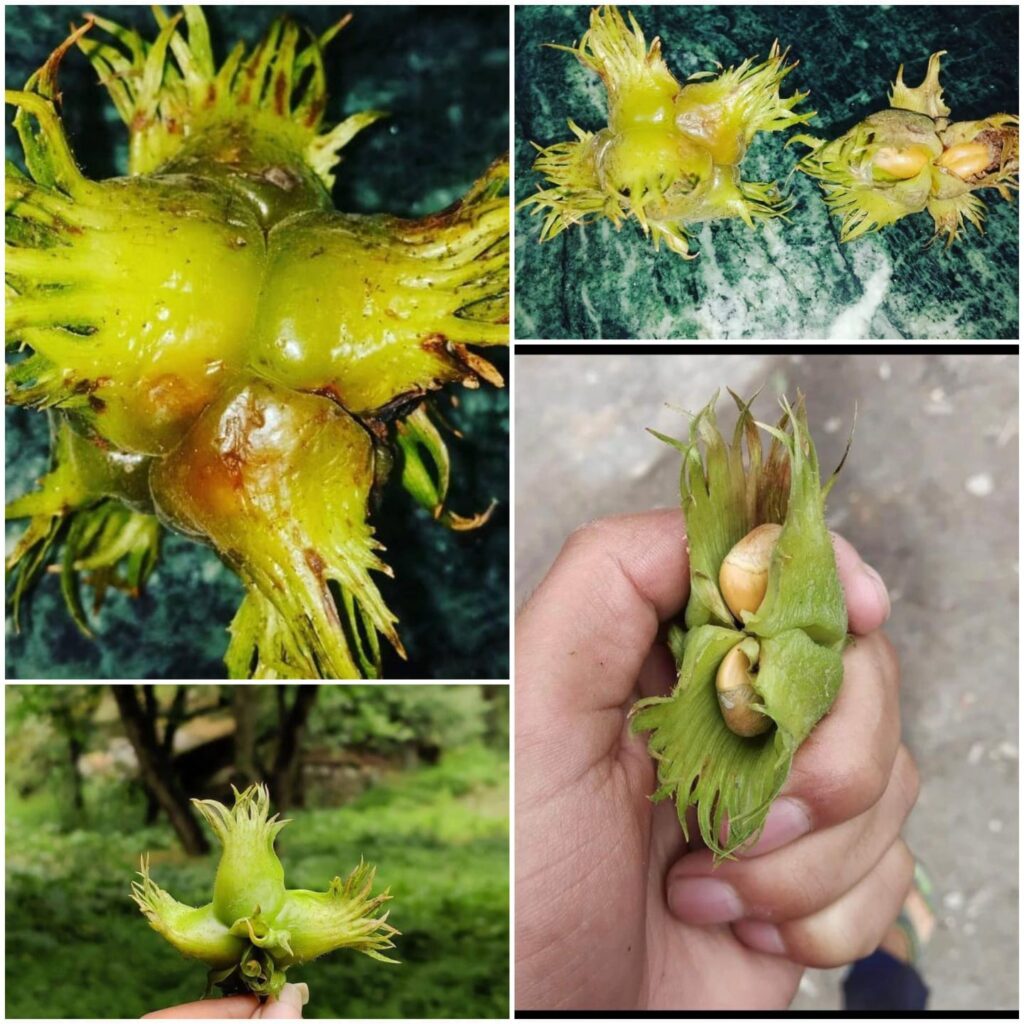 Flowers are monecious; male flowers are one in each bract; female flowers are in pairs, in the upper bracts of spike and perianth is superior.
Nut is one seeded, .5-.7 inches long, globose, compressed, hard, deep brown, and 2-3 together.
Thngi is in flower and fruits from spring to autumn season of the year. Edible seeds can be collected from July to September Seeds being high in commercial value need to be harvested sustainably by habitat rotation or by keeping some fruits on parent plant.
Edible Uses
Thngi seeds are edible and taken as dry fruits. These are usually taken raw or roasted. Seeds make an excellent garnish to salad, cakes and well known traditional dishes of Western Himalayas.Seeds can be used in salad dressings, baking etc.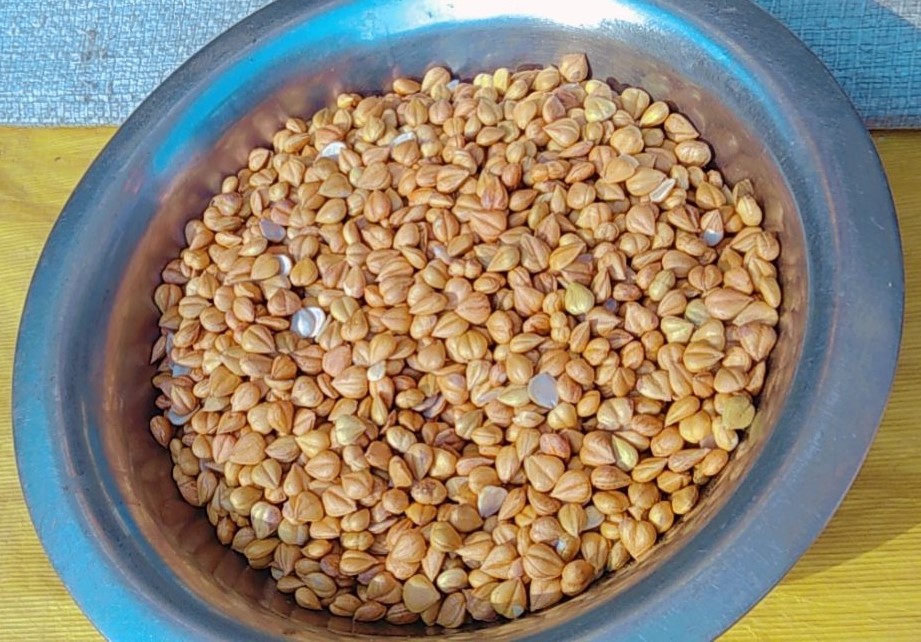 Kheer (Pudding):
Ingredients:
Rice, 250 g; milk, 1 liter; sugar, 250 g; Thngi & other grated dry fruits,100g
Method:
For preparing kheer cook whole rice with sugar in milk till they are soft then garnish the recipe with neoza and other grated dry fruits acc.to taste and serve.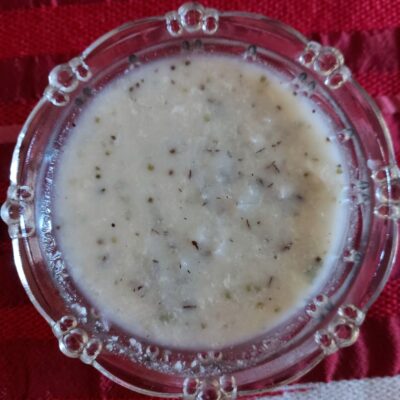 Sirra of giloye (Tinospora cordifolia),& Thngi:
Ingredient:
Powdered root, stem- bark, arial tops of giloye (Tinospora cordifolia ),100 g; Wheat sirra (starch), 100g; vegetable oil or clarified butter,250g; sugar, 250 g Thngi & other grated dry fruits,100g.
Methods:
Make paste of sirra and sugar with 3-4 glasses of water and keep it for 10 to 15 minutes to make a fine paste and sugar get dissolved completely. Put oil or clarified butter in a non-stick pan and add fine paste of sirra and sugar. Cook for 15-20 minutes by thorough stirring. Garnish with Thngi & other grated dry fruits, Now sirra is ready to serve.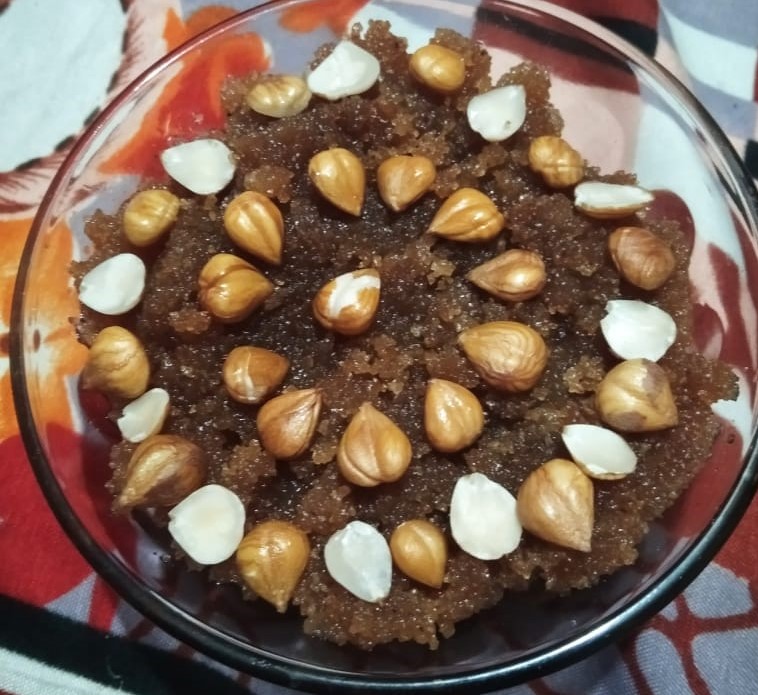 Seek professional advice before treating this p;ant medicinally.
Medicinal uses:
Thngi kernels are rich source of proteins, carbohydrates, vitamins, poly-unsaturated fatty acids & minerals iron, calcium and potassium, etc and exert strong protective influence against coronary heart problems, some types of cancer and other diseases6. The seed oil massage of the species is used for relieving muscular pain 3,4,9.The extract obtained from the buds, flowers, leaves, nuts and bark by isolation and purification technique can moisturize skin, and can be used to mobilize fluid in skin tissue and drain the fluid from such tissues (which can reduce puffy eyes) when applied to the skin 10.
Other Uses:
Thngi is one of the important trees of temperate forest ecosystems. It provides provisioning, regulating and supportive ecosystem services to the human and wildlife 1. For locals it is multipurpose plant and an excellent source of fuel, fodder, medicine and timber. Being associated with oak, fir, spruce, deodar, betula, maple and walnut in natural zone and a keystone species, it also play important role in Eco-restoration . As the species is extensively lopped for fodder and fuel from wild habitat and from last few years its natural populationis in sharp decline, so there is need of both in-situ and ex-situ conservation.
Economic Value:
Thngi seeds are highly nutritious and rich in protein, minerals and comparable with Almond. The seeds collected from the wild habitat are traded in the local and regional markets at the price of 1500 to 2500 Rs/kg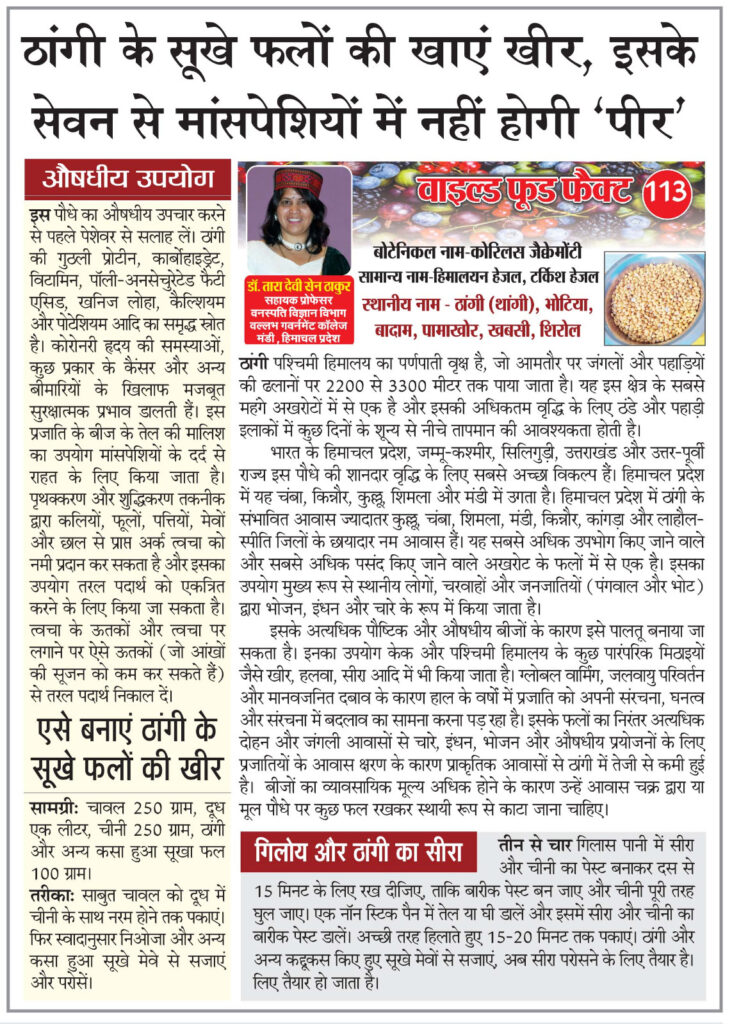 References:
Paul, S., Samant, S. S., Lal, M., & Ram, J. (2019). Population assessment and Habitat Distribution Modelling of high value Corylus jacquemontii for in-situ conservation in the state of Himachal Pradesh, India. Proceedings of the Indian National Science Academy, 85(1), 275-289.
Gupta D, Thakur M, Shamet GS. Phytosociological Attributes of Indian Hazelnut (Corylus colurna L., Syn. C Jacquemontii Decne.): A Wild Edible Nut of Western Himalaya. Eco. Env. & Cons. 2017; 23(4):2188-2192.
Samant S S, Dhar U and Rawal R S (1996) Natural resources use by some natives of Nanda Devi Biosphere Reserve inWest Himalaya In Proceeding of IV International Congress of Ethnobiology 8 40-50
Pangtey Y P S, Samant S S and Rawat G S (1988) Contribution to the flora of Pithoragarh district, Kumaun Himalaya HimalRes Dev 7 24-46
Chauhan P P, Nigam A and Santvan V K (2014) Ethnobotanical survey of trees in Pabbar Valley, Distt. Shimla, Himachal Pradesh Life Sci Leafl 52 24-39
Richardson, D.G. 1997. The health benefits of eating hazelnuts: implications for blood lipid profi les, coronary heart disease and cancer risks. Acta Hortic., 445: 295-300.
Gupta, S., & Sharma, M. (2016). Lean services: a systematic review. International Journal of productivity and performance management.
Srivastava RK, Khanduri VP, Sharma CM. Structure, diversity and regeneration potential of oak dominated conifer mixed forest along an altitudinal gradient in Garhwal Himalaya. Indian Forester. 2005; 131:1537-1553.
Faller J, Gan D, Hines M and Mangos L (2010) Magnolia extract containing compositions. U.S. Patent No. 7,744,932. U.S. Patent and Trademark Office Washington DC
Rani S, Rana J C and Rana P K (2013) Ethnomedicinal plants o Chamba district, Himachal Pradesh, India J Med Plants Res 7 3147-3157.