Family: Rubiaceae
Synonyms: Pavetta alba, Pavetta amabilis, Pavetta assamica,Pavetta bengalensis, Pavetta brunonis, Pavetta cerniflora, Pavetta griffithii, Pavetta neglecta Pavetta obtuse, Pavetta polyneura,Pavetta rothiana, Pavetta thomsonii, Pavetta tomentosglabrescens, Pavetta villosa, Ixora indica,Ixora nunypapata, Ixora paniculata,Ixora pavetta, Ixora roxburghii,Ixora tomentosa glabrescens, Ixora velutina.
Common Name: White Pavetta, Indian Pavetta, Indian Pellet Shrub
Local Name: Gandharb-badhadda (गंधरव- बधाड़ा)
Gandharb-badhadda is a perennial evergreen shrub of Western Himalaya that is commonly seen growing upto an altitude of 1500m. It grows best in well-drained, humus rich sunny habitat, so commonly found growing in hilly slops, field margins, miscellaneous forests and along roads and pathways.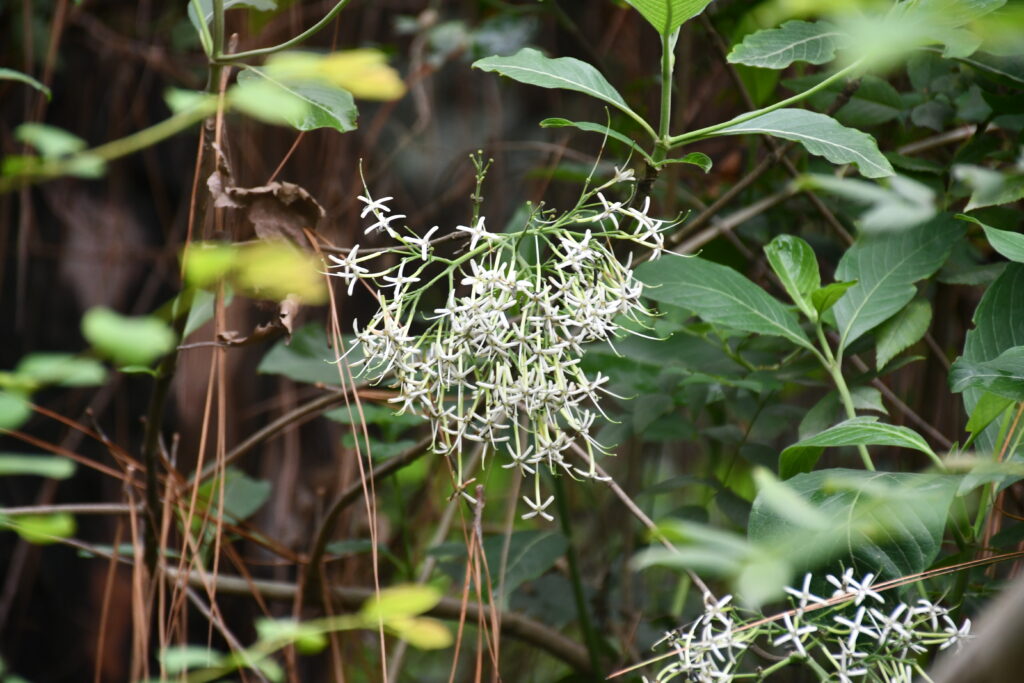 Gandharb-badhadda is in full bloom, in month of June, during this period it makes a remarkable appearance in miscellaneous forests and fetch everyone's attention, so Gandharb-badhadda is a center of attraction for tourists and nature lover visiting to Western Himalayas during summers. Gandharb-badhadda can also be grown as an ornamental plant in gardens and homewares. It can be raised either through seed or cuttings. Cuttings of half-ripe wood should be taken at a node. Air-layering can be done to get better results.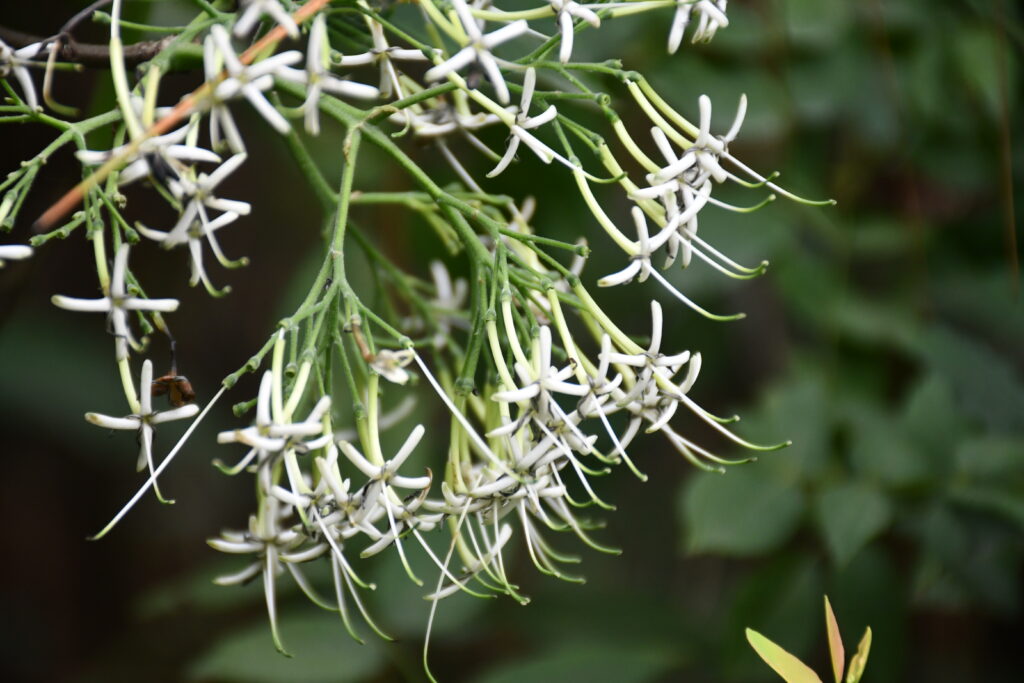 Gandharb-badhadda offers a range of medicinal and other minor traditional uses for local communities like its powdered roots prescribed for jaundice, flowers are used for offering, fruits eaten raw and sometimes it is grown as an ornamental. Its fruits are also used as a condiment when kept in vinegar 1.
Ripe fruits and flowers of Gandharb-badhadda are edible. They can be taken both raw and cooked. Fruits are an excellent addition to desserts, sprouts, rayata etc. While flowers can be cooked in kachru, parantha , pakoras etc.,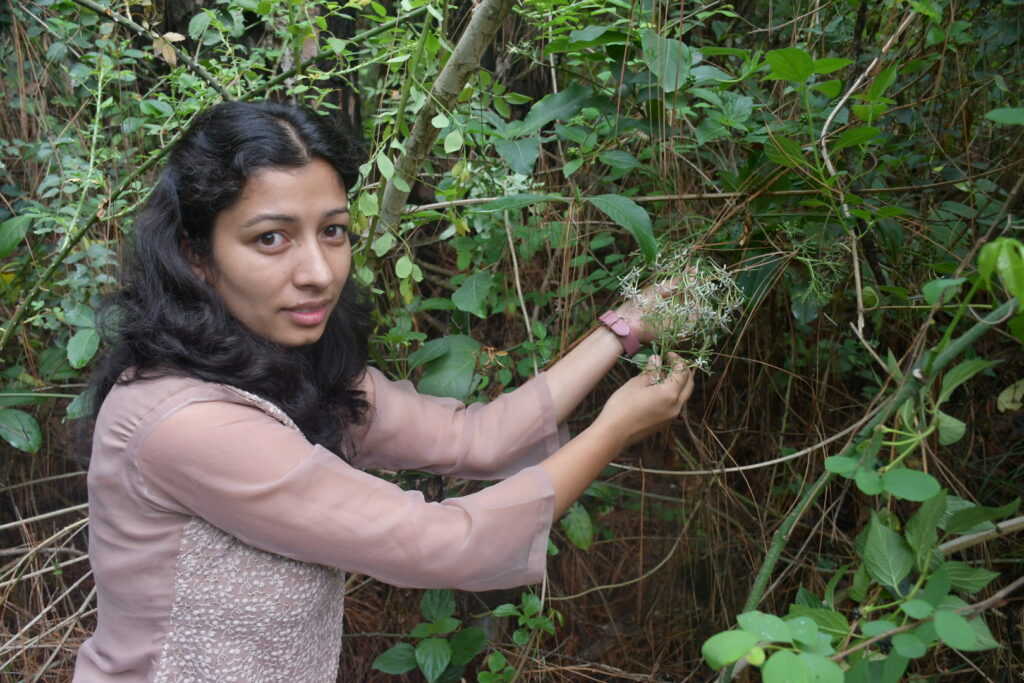 Gandharb-badhadda is harvested from the wild as a source of food and medicine for local personal uses.
Gandharb-badhadda Plant:
Large perennial branched shrub, 2 to 4 meters or more in height
Leaves and inflorescence clothed with short tomentum. Leaves ovate or ovate- oblong, 12-19 cm long; petioles 2.5cm long and pointed at both ends..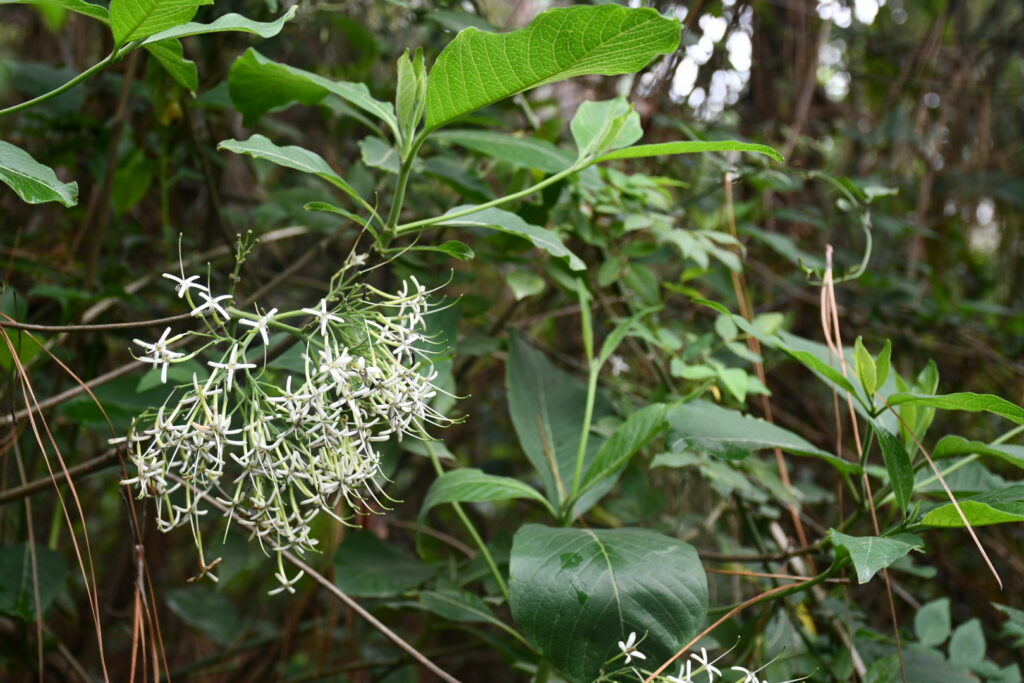 Flowers white, faintly fragrant, in broad, spreading, trichotomous panicles. Corolla ca 2 cm long before opening; lobes 6mm long, spreading.
Fruits globose black, with 2 nutlets.
Gandharb-badhadda is in flowering and fruiting from June to October, Edible plant parts (Flowers & Fruits) need to be sustainably harvested both by rotating habitat and keeping some reproductive plant parts on parent plant to ensure sustainable development.
Edible Uses:
Flowers and ripe fruits of this plant are edible. Fruits are eaten raw when ripe for their sweet taste. These are beautiful additions to sweets, puddings, sprouts, desserts, rayata etc. Flowers are cooked as kachru and can be an addition to parantha, pakoras etc as follow: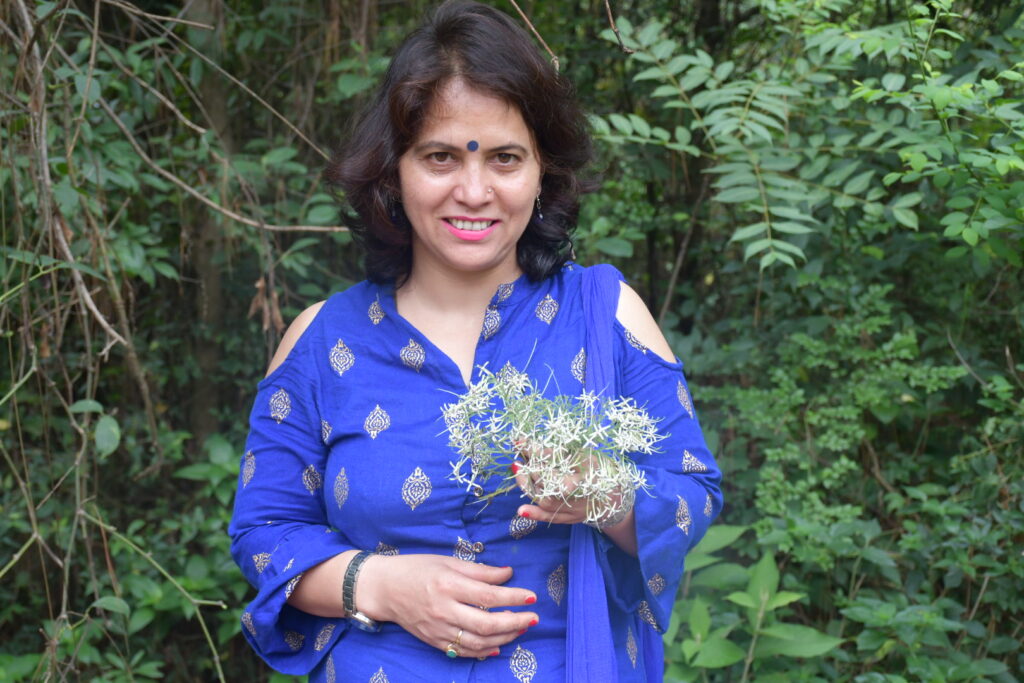 Ingredients:
Ripe fruits of Gandharb-badhadda and other chopped fruits acc. to taste,1/2kg; curd, 1kg; sweetener like honey/ sugar/ condensed milk, 1-3 tea spoon; cardamom powder,1/4 teaspoon; black salt according to taste.
Method:
Take curd in a bowl. Add to it sweetener according to choice and stir well. Add cardamom powder, black salt, ache fruits and other chopped fruits according to preference. Mix well and serve.
Gandharb-badhadha fruit sprouts:
Ingredients:
2 cups of sprouted black gram and moong beans;1 finely chopped small or medium sized onion,1 finely chopped small sized beetroot,1 finely chopped small sized apple; ½ cup amount roasted peanuts;1/2 cup amountGandharb-badhadda ripe fruits; 1 tsp lemon juice or as required; rock salt or black salt as required
Method
Rinse the sprouted black gram and moong beans in water. Use these either raw or steam cooked. Mix all the fruits and ingredients except the salt and lemon juice in a bowl. Season with salt and add a few drops of lemon juice.
Kachru or sosaru:
Kachru is a traditional dish of Western Himalaya cooked as chilla with spices and basen or corn flour. It is served as an evening snack with tea/ chutney/tomato ketch-up.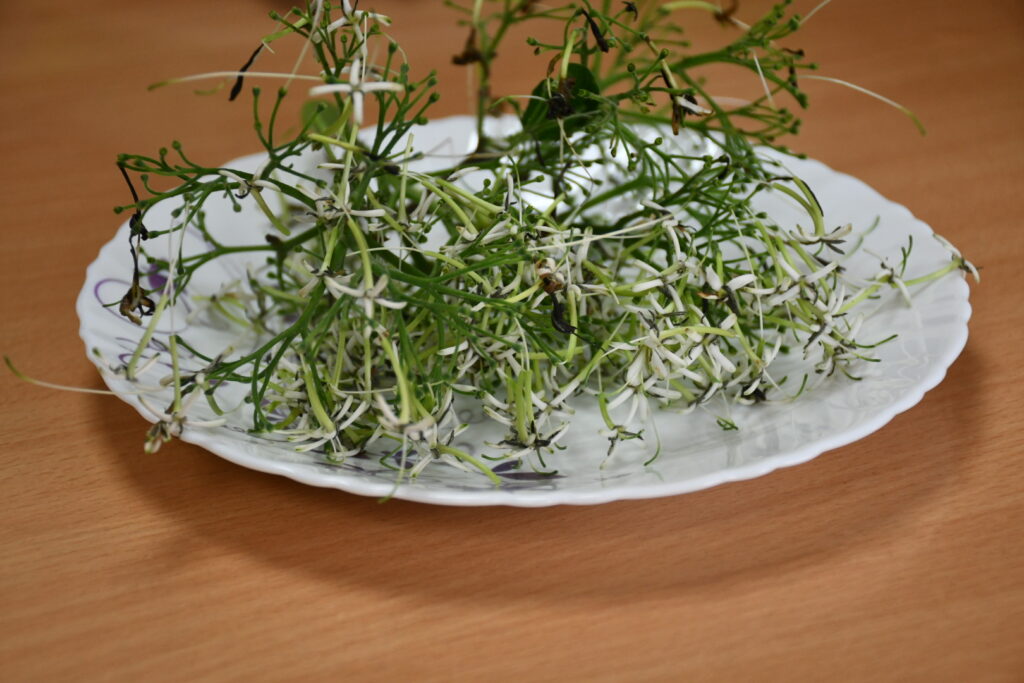 Ingredients:
For preparing a kachru, ingredients required are 300-500 g fresh Gandharb-badhadda, flowers; 200 -300g bean (black gram powder) or corn flour. 1 cup amount fresh coriander leaves,1/2 table spoon ajwain, 3-5 green chillies, ½ table spoon turmeric powder, 2-3 chopped onions and salt according to taste
Method:
Make a paste of flowers, besan or corn flour and spices. Heat some oil on a flat heating pan. Put this paste over a pan and cook for 15 to 20 minutes then kachru will be ready to serve.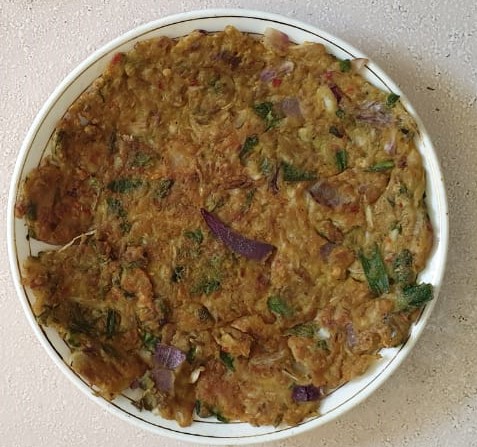 Parantha is a morning breakfast served with curd/butter/pickle/chutney etc. It can be cooked with any greens/boiled potatoes/cheese or some wild boiled fruits like fig spp.
Ingredients:
Gandharb-badhadda fresh flowers, 250 g; boiled medium sized potato/ fig fruits; 4-5, Oil or ghee. 8-10 table spoon; wheat flour, 4 cup amount; chopped medium sized onion, 2-3, red or green chilies, 3-4, black pepper, ¼ tea spoon, black salt according to taste.
Method:
Mesh boiled potato/ fruits. Add to it Gandharb-badhadda fresh flowers land spices listed above. Mix well to make Fine paste. Now parantha dough is prepared by mixing wheat flour and water. Knead dough till it is soft, let it rest for some time. Make small round balls of dough, stuff paste inside balls and roll to thin layered flat breads, Now in hot tawa smear some oil and place flatbread over it. Cook both sides by applying oil. Now parantha is ready to serve. Serve it hot with chutney/ tomato ketchup/ pickle / butter/ curd according to choice.
Seek Professional advice before treating this plant medicinally.
Medicinal uses:
Locally roots of this plant are considered aperient, diuretic, purgative and tonic and powdered one are prescribed for jaundice, 1 teaspoon twice a day for 15 days. Decoction of leaves is useful in relieving the pain of piles. Leaves are a good source of antioxidants such as ß-carotene, vitamin C and phenolic. They are rich in nutrients such as crude protein, carbohydrate, crude fibre, and minerals like Na, K, Ca, S, P, Fe, Mn, Cu and Zn2. Leaves are important ingredients for many Ayurveda formulations.
A decoction of the leaves is drunk during the first days after childbirth as a protective medicine. It is also taken when the birth is delayed and as a treatment for fever1.The leaves are used for poulticing boils1. A cooled decoction of the leaves is applied as a wash to ulcers of the nose and topically to treat haemorrhoidal pains1,, 3. It is prescribed in the treatment of intestinal obstructions, constipation, jaundice, headache, urinary diseases and dropsy1,3. The bark, in decoction, or pulverized, is given to children, to correct visceral obstructions. The decocted leaves are used externally to alleviate the pains caused by haemorrhoids. The root, pulverized and mixed with the ginger and rice-water, is given in dropsy1. The crushed root bark, combined with rice water and ginger, is taken as a diuretic and for the treatment of dropsy1.The root, root bark or stem bark can also be used as a treatment for intestinal obstructions 1.The roots are used for poulticing stubborn itch1 A poultice of the stem bark is applied topically for soothing haemorrhoids1.An infusion of the thinly cut wood is taken as a treatment for rheumatism1.A study of the methanol extract of the plant has shown anti-inflammatory activity comparable to the standard non-steroidal anti-inflammatory drug indomethacin 3This extract has also shown antipyretic activity3.A study of the ethanolic extract of the leaf showed significant dose-dependent inhibition of pain response3.Flavonoids in the plant have demonstrated effective diuretic activity3.N essential oil in the plant yielded 24 compounds – the major constituents Alpha-pinene (25.45%), Alpha-eudesmol (7.06%) and tricyclene (5.74%) 3.Recent studies confirm antioxidant anti-Inflammatory. analgesic:  anti-diabetic, antimicrobial, wound healing, hepato-protective, and diuretic effectiveness of this plant ( 2,3,5,6,7,8,9,10 )_
Chemical constituent: Root-bark yields d-mannitol
Biological activity: Plant is diuretic 10
Other Uses:
Flowers are used for offering. The leaves provide a good green mulch1.
An infusion of the fragrant flowers is used as a cosmetic after bathing1
References:
http://proseanet.org/ Plant Resources of Southeast Asia
Prasad, I. K., & Bisht, G. (2011). Evaluation of Nutritive, Antioxidant and Mineral Composition of. Research Journal of Phytochemistry, 5(1), 54-59.
Mandal, S. C., Mohana Lakshmi, S., Ashok Kumar, C. K., Sur, T. K., & Boominathan, R. (2003). Evaluation of anti‐inflammatory potential of Pavetta indica Linn. leaf extract (family: Rubiaceae) in rats. Phytotherapy Research, 17(7), 817-820.
Golwala, D. K., Patel, L. D., Bothara, S. B., Patel, P. M., Vaidya, S. K., & Raval, M. K. (2009). Analgesic activity of ethanolic leaf extract of Pavetta indica. Int. J. Pharm. Sci. Drug Res.,(1), 119-120.
Natarajan, P., Thangathirupathi, A., Ramarajan, S., Jaya, S., & Bellamkonda Hareesh, G. L. (2013). Preliminary study of antidiabetic activity of methanolic extract of pavetta Indica Linn in diabetic rats. Asian J Pharm Clin Res, 6(1), 131-133.
Gupta, V. K., Kaur, C., Simlai, A., & Roy, A. (2013). Antimicrobial activity of Pavetta indica leaves. Journal of Applied Pharmaceutical Science, 3(4), 078-082.
Sujatha, S., & Prakash, G. (2013). Bioactive screening and antimicrobial activity of flowers from the selected three medicinal plants on chosen microbes. Int. J. Curr. Microbiol. Appl. Sci, 2(5), 211-221.
Valte, V., Singh, M. P., Raleng, I., & RK, L. (2018). Hepatoprotective activity of ethanol extract of Pavetta Indica Linn leaves.
Prasad, S. (2018). Wound healing activity of leaves & roots of Pavetta indica Linn of by using different extracts. International Journal of Pharmaceutical and Biological Archives, 9(2).