Family: Asteraceae
Synonyms: Acmella lanceolate, Amellus carolinianus .Anthemis abyssinica.Anthemis bornmuelleri, Anthemis bourgaei, Anthemis cotuloides, Anthemis galilaea, Anthemis sulphurea, Anthemis viridis, Artemisia viridis, Bellis racemose, Buphthalmum diffusum, Chamaemelum foetidum, Cotula alba, Cotula prostrata. Eclipta adpressa, Eclipta alba, Eclipta angustifolia. Eclipta arabica, Eclipta brachypoda, Eclipta ciliate, Eclipta dentata, Eclipta dichotoma,Eclipta dubia, Eclipta erecta, Eclipta flexuosa, Eclipta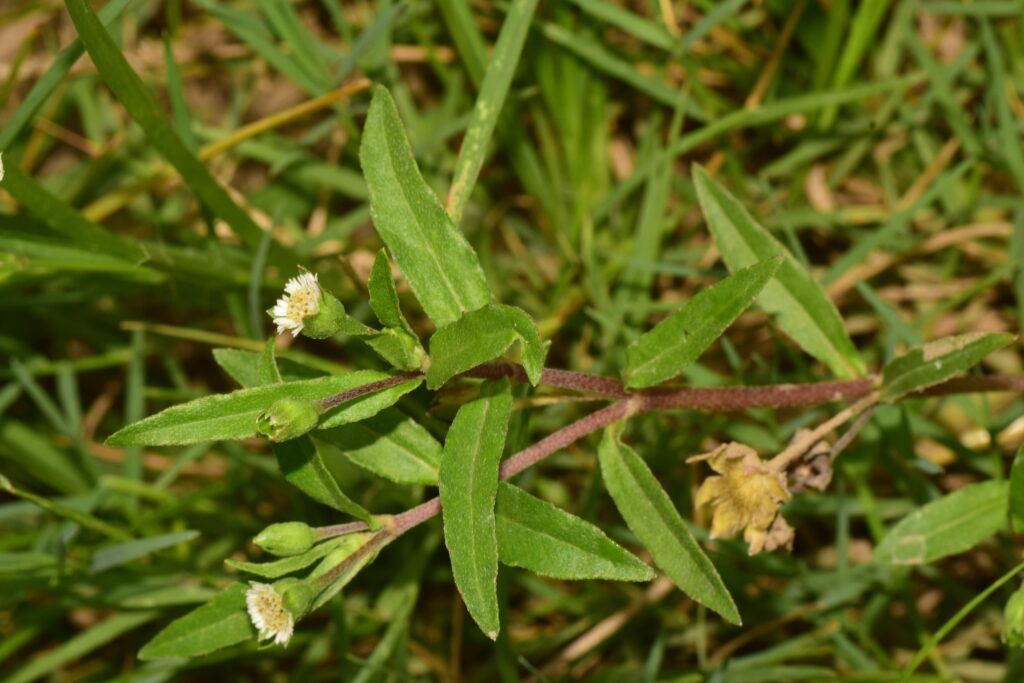 heterophylla, Eclipta hirsuta ,Eclipta linearis, Eclipta longifolia ,Eclipta marginata .Eclipta nutans, Eclipta oederi ,Eclipta palustris,Eclipta parviflora, Eclipta patula , Eclipta philippinensis, Eclipta procumbens , Eclipta punctate, Eclipta simplex , Eclipta spicata, Eclipta strumosa , Eclipta sulcata Raf.Eclipta thermalis,Eclipta tinctorial, Eclipta undulata. Eclipta zippeliana, Ecliptica alba, Eleutheranthera prostrata, Eupatoriophalacron album, Galinsoga oblonga, Galinsoga oblongifolia.Grangea lanceolata.Paleista brachypoda.Polygyne inconspicua Spilanthes pseudo-acmella, Verbesina alba,Verbesina conyzoides, Verbesina prostrata, Verbesina pseudoacmella, Wedelia psammophila, Wilborgia oblongifolia.
Common Name: False daisy, Han Lian Cao
Local Name: Bhringraj (भृंगराज), Bhangra.
Bhringraj is an erect to prostrate, annual- perennial herb of Western Himalaya found growing upto an altitude of 1000 m. It is commonly found growing on marshy grounds, crop fields, ditches, roadsides, in lawns, in poorly drained wet areas; along streams and margins. Bhringraj is fast growing herb easily propagate through seeds and require a damp to wet soil with shady location. Due to its luxuriant growth in cultivated field of rice, sugarcane etc., it is often considered as a weed to be eradicated.
Literally bhringraj means "king of hair,". It is a well-known herb in Ayurveda which is used to treat a variety of diseases like asthma, anaemia, antifertility, cancer, liver complaints, eczema, skin disease 1 and especially used as a hair tonic. Bhringraj is widely used for hair treatment and regeneration, it is famous as a hair-vitalizing herb that has been traditionally used to tackle hair loss and premature greying. Local people of Western Himalaya consider this herb as a sacred plant and use it in death ceremonies.
Bhringraj is more known for its medicinal and spiritual uses. Very few people know about its edible uses and use it as a food supplement, But its use of food supplement need to be popularised among masses on large scale to harness its rich medicinal value.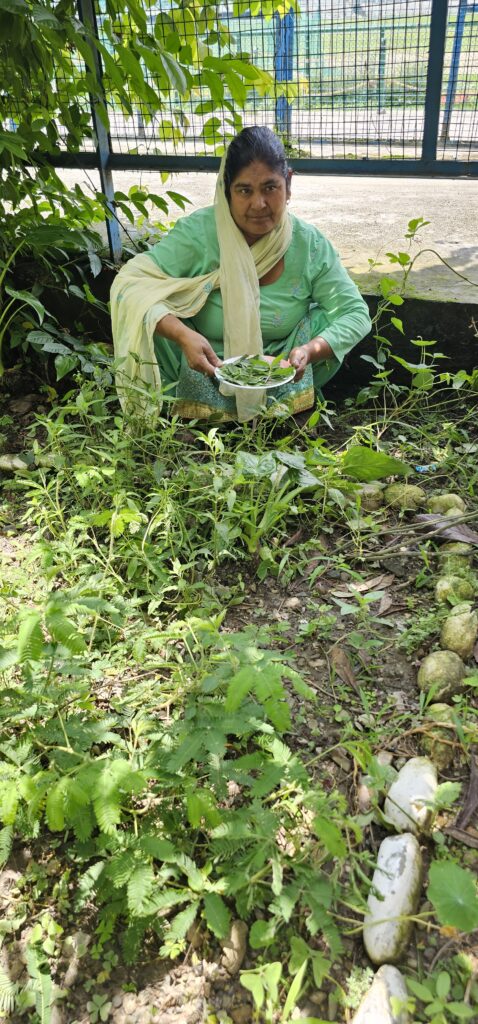 Collecting leaves & tender shoot terminals of bhringraj
Young leaves and tender shoots of bhringraj are cooked into vegetable. It can be an excellent addition to chutney, parantha, poha, oats and soups. Local people dry leaves of bhringra and bhrahmi (Centella asciatica) for latter use. These powdered leaves are used as a tonic along with milk.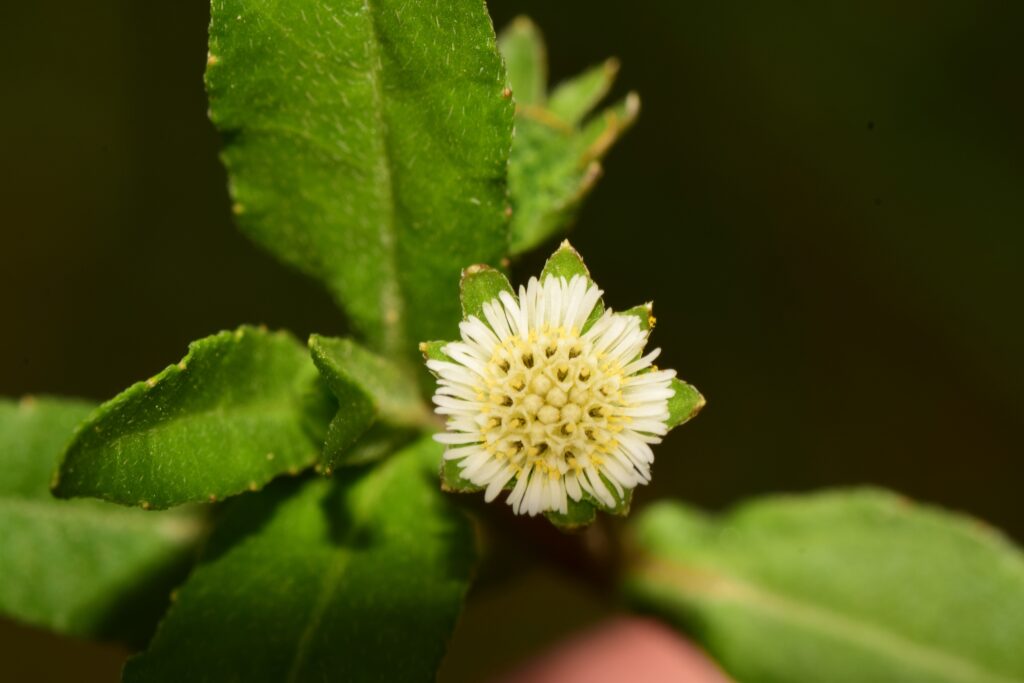 Bhringraj is harvested from wild habitat by the inhabitants of Western Himalaya as a source of food, fodder, medicine and material for their local and commercial use. Plant is sometime also cultivated for this purpose.
Bhringraj Plant:
Plant is prostate, branched, decumbent-ascending or erect, pubescent, branching annual or
sometimes short-lived perennial plant, growing 10 – 80cm tall.
Leaves are variable, opposite, sub- sessile, narrowly lanceolate, elliptic-oblong, toothed or entire, 2.5- 8 to 0.8- 1.5 cm.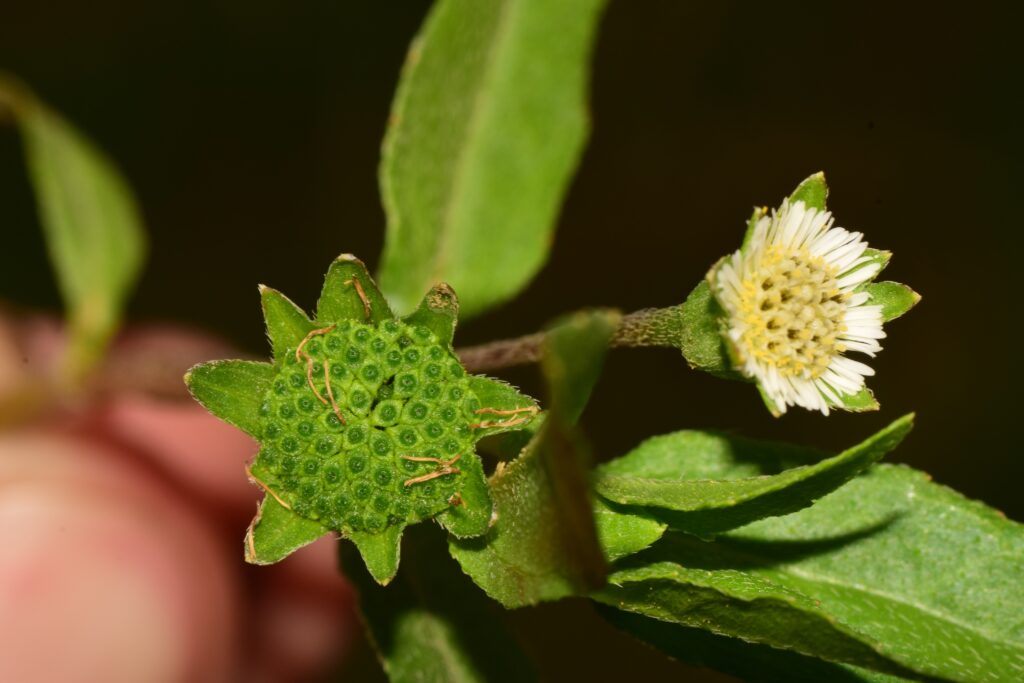 Floral heads white, radiate, terminal or axillary, 1 cm across, on 1-7 cm long, solitary or paired, unequal peduncles. Involucral. bracts 2- seriate, ovate- lanceolate, acute, pubescent, 3-6 mm long. Ray florets in 2-3 series, with 2- dentate, 1-3 mm long ligules; disc florets campanulate, 1-1.5 mm long, 4- lobed. Achenes oblong- turbinate, turbinate, tuberculate, sharply angled.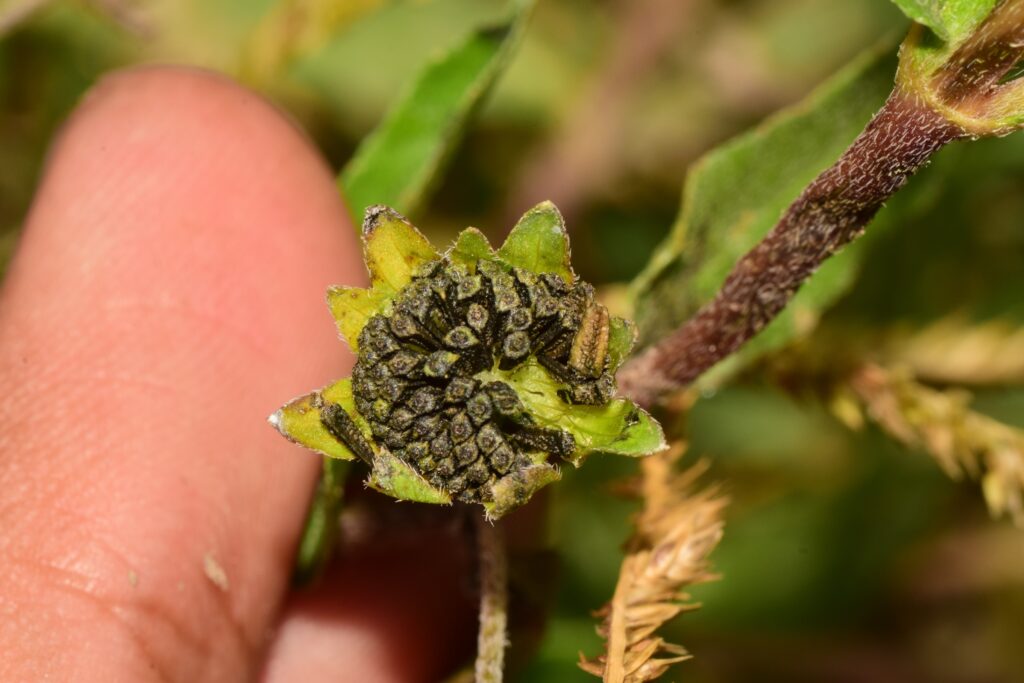 Pappus of thick scales forming a cone on the top of the achene.
Edible bhringraj leaves can be harvested from wild habitat round the year or in rainy season depending upon habitat.
Edible uses:
Young leaves and tender shoot of bhringraj are eaten cooked as a vegetable. These are also used to make chutney, Kachru, parantha etc. Leaves can be an excellent addition to dishes like poha, masala oats and pasta which are mostly preferred dishes nowadays and also liked by everone. .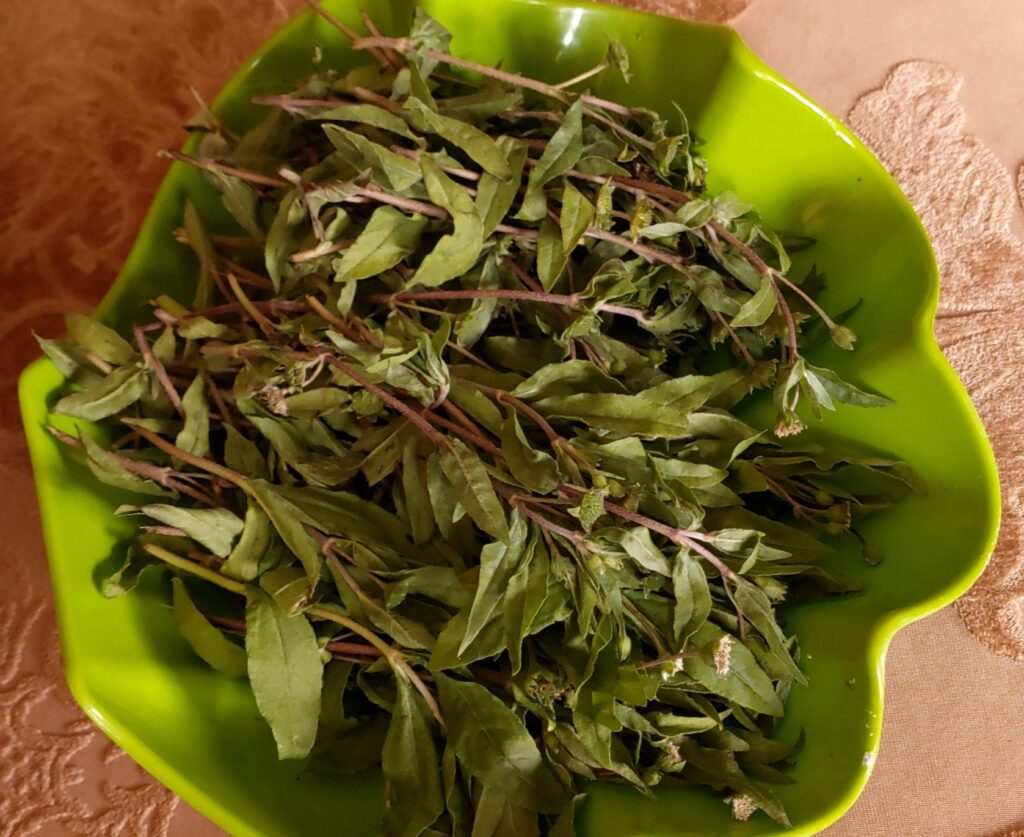 Ingredients:
Young leaves and shoot terminals of bhringraj along with other wild potherbs, 1 kg; mustard oil, 2 table spoons; coriander powder 1 table spoon; fenugreek powder, ½ table spoon; cumin seed ¼ table spoon; turmeric powder, 1/4 table spoon; red chilies, 2-3; chopped onions 2-4; garlic, 4-5 cloves; ginger paste ½ table spoon and salt according to taste.
For making vegetable additional ingredients required are partially boiled medium sized potatoes, 3-4; nutrela/ Soya chunk,
2 cup amount.
Method:
For making saag boil chopped plant parts they become soft. Then mesh manually or in a mixer. Then sauté with hot mustard oil and the spices listed before in sequence. This sauted saag is then ready and can be served as such or can be mixed with 2 or 3 chopped onion and cooked for another 5 to 10 minutes before serving.
For vegetable preparation soak nutrela in water for 5-7 minutes and squeeze. Now saute partially boiled potato in hot mustered oil along with spices listed above in same sequence. Add to it squeezed Nutrela, mix well and cook for 5 minutes. Now add to it separately boiled and ground bhringraj leaves paste. Cook for another 5-8 minutes. Garnish with garam masala and serve with rice or chapatti.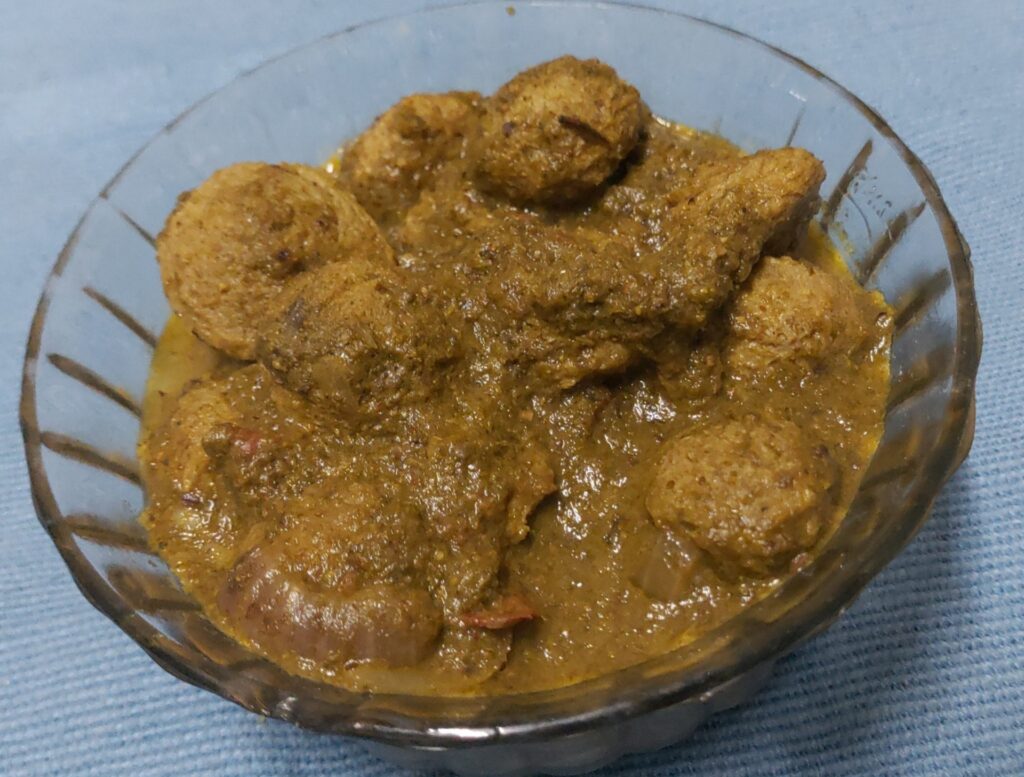 'Chutney':
Ingredients:
To prepare chutney, take 100 gm bhringraj leaves, 100 gm chopped mint leaves, 50 gm anardana or amchoor, 5-6 green chillies, 20 gm coriander leaves/ curry leaves, 2-3 onion, 1table spoon amount ginger.
Method:
Grind well all above ingredients in a mixer grinder and add salt according to taste. Now chutney is ready to serve.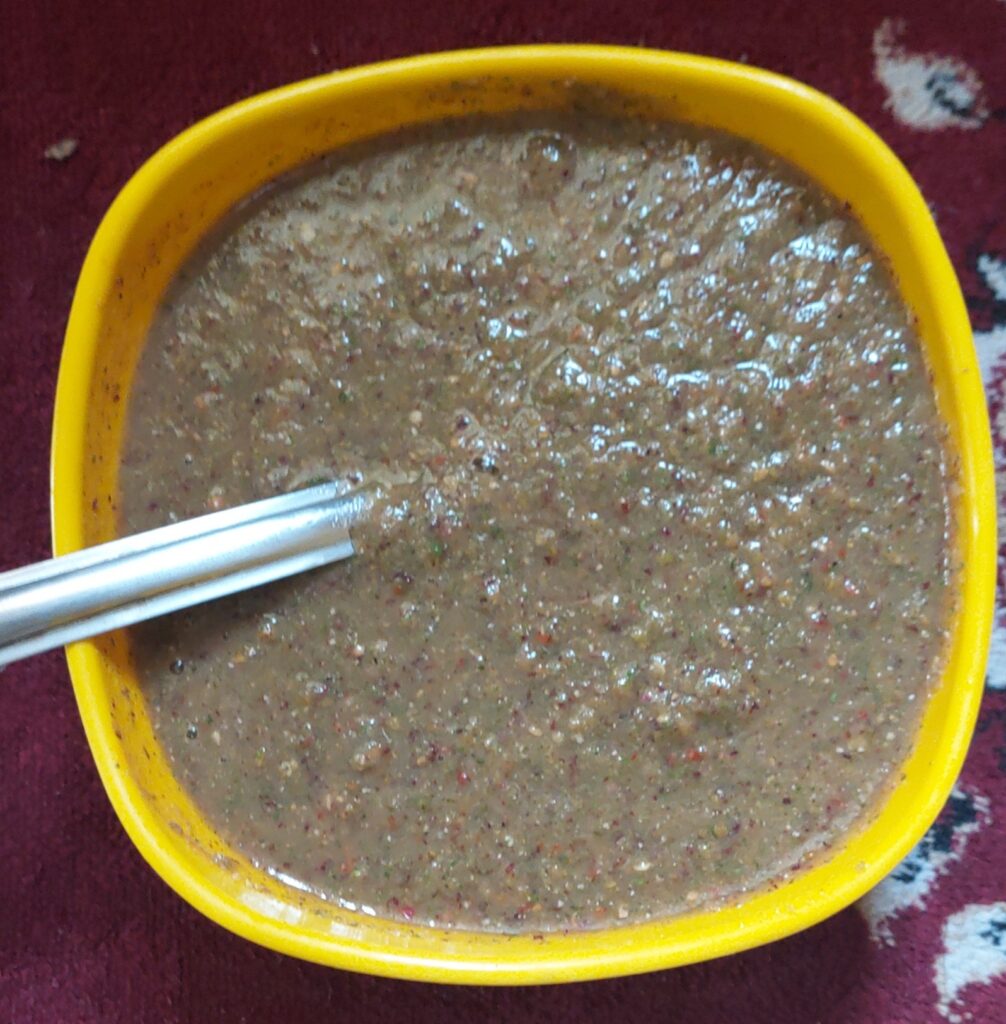 Poha:
Poha is a quick morning breakfast or evening snack prepared from beaten or flat rice flakes, greens. spices, onion, potatoes, peanuts/groundnuts and veggies according to choose.
Ingredients:
Beaten rice flakes, 3 cup amount; finely chopped young leaves, 250 kg; groundnuts,1/2 cup amount; veggies (Peas. carrot etc) , 1 cup amount; boiled potato,1-2; mustard oil, 2 table spoons; coriander powder, 1 table spoon; fenugreek powder, ½ table spoon; cumin seed ¼ table spoon; turmeric powder, 1/4 table spoon; curry leaves,1/2 cup amount; red chilies, 2-3; chopped onions 2-4; garlic, 4-5 cloves; ginger paste ½ table spoon and salt according to taste.
Method:
Take flakes in a strainer, pour water over them and rinse quickly. Drain water completely, rinse once more and set aside to soften. Heat oil in a pan and fry peanuts/groundnuts. Remove these and set aside in a plate. Now sauté spices in hot mustard oil in same pan and add finely chopped leaves of bhringraj, cubed potatoes and veggies according to choice. Sauté for a minute. Cook till these are soft. Add poha mix well and cook on a very low flame until turn hot. Squeeze lemon juice. Garnish poha with roasted groundnuts or peanuts and serve with chutney.
Masala oats:
Masala oats is a quick morning breakfast cooked with oats, spices with or without curd.
Ingredients:
Finelychopped leaves of bhringraj, 250 g; oats, 3 cup amount; curd/ butter milk, 3 cup amount; chopped medium sized onion, 2, red or green chilies, 3-4, ajwain( carom seeds), ¼ tea spoon, turmeric powder, 1/4 table spoon; black pepper, ¼ tea spoon, mint and coriander leaves,1/2 cup amount; salt according to taste.
Method:
Cook oats with butter milk/ curd or water by adding finely chopped bhringraj leaves, spices and salt according to taste. Cook till oats are soft and then serve after garnishing with chopped coriander leaves.
'Parantha:'
Parantha:
Parantha is a morning breakfast prepared served with curd/butter/pickle/chutney etc. It can be cooked with any greens/boiled potatoes/cheese or some wild boiled fruits like fig spp.
Ingredients:
Finelychopped leaves, 250 g; boiled medium sized potato/ fig fruits; 4-5, Oil or ghee. 8-10 table spoon; wheat flour, 4 cup amount; chopped medium sized onion, 2-3, red or green chilies, 3-4, black pepper, ¼ tea spoon, black salt according to taste.
Method:
Mesh boiled potato/ fruits. Add to it chopped leaves and spices listed above. Mix well to make Fine paste. Now parantha dough is prepared by mixing wheat flour and water. Knead dough till it is soft, let it rest for sometime. Make small round balls of dough, stuff paste inside balls and roll to thin layered flat breads, now in hot tawa smear some oil and place flatbread over it. Cook both sides by applying oil. Now parantha is ready to serve. Serve it hot with chutney/ tomato ketchup/ pickle / butter/ curd according to choice.
Kachru or sosaru:
Ingredients:
For preparing a kachru, ingredients required are 1kg fresh leaves, 1/2 kg besan (black gram powder) or corn flour. 1 cup amount fresh coriander leaves,1/2 table spoon ajwain, 3-5 green chillies, ½ table spoon turmeric powder, 2-3 chopped onions and salt according to taste
Method:
Make a paste of leaves, besan or corn flour and spices. Heat some oil on a flat heating pan. Put this paste over a pan and cook for 15 to 20 minutes then kachru will be
Religious Value:
Bhringraj is an important sacred plant for local people. They use this plant in rituals related to death ceremonies.
Seek professional advice before treating this plant medicinally.
Medicinal Uses:
Local people utilize whole plant, roots. leaves, oil and seeds of bhringraj as a traditional medicine. Whole plant is dried and powdered. This powder is mixed with dried brahmi (Centella asiatica) plant powder and taken with milk in morning hour 1 tea spoon daily to enhance memory, immune system and treat various skin disorder and hair treatment program.
Bhringraj is known to be used in the treatment of antifertility, asthma, bronchitis, eye disorders, conjunctivitis, fever, gastric problems, gland swelling, headache, hepatic disorders, itching, jaundice, leukoderma, liver complaints, malaria, dandruff, scorpion- sting, skin diseases, sores, spleen enlargement, swelling, toothache, ulcer wounds and veterinary diseases, and as an antidote, antiseptic, tonic and vegetable. It is natural source of antioxidant and shows antibacterial activity of this plant 2.
Chemical constituents:
Various constituents are Beta- amyrin, wedelolactone, luteolin- 7 gluceoside, phytosterol A, its glucoside and glucoside of a triterpenoid acid (aerial parts); and stigmasterol and alpha- terthienylmethanol; small amount of 2- formyl-terthienyl; wedelolactone, wedelolactone and its 7- O- glucoside (Leaves).
Other Uses:
A black dye is obtained from the plant. A bluish-black dye is obtained from the juice of the leaves. It is used as a hair dye and for tattooing.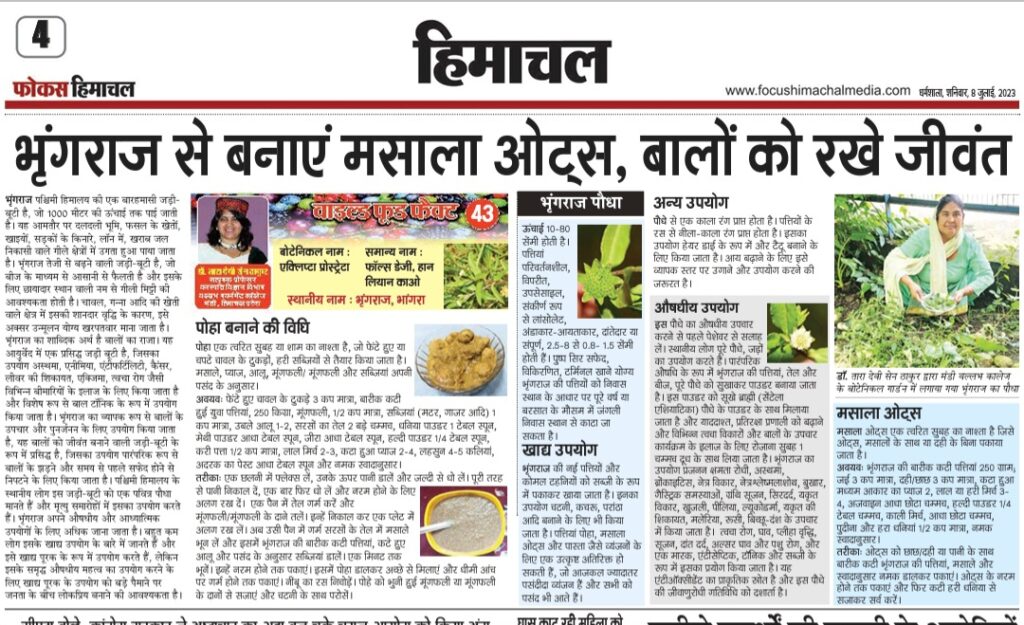 Refinances:
Jain, S. K. (1991). Dictionary of Indian folk medicine and ethnobotany. Deep publications.
Karthikumar S, Vigneswari K, Jegatheesan K (2007) Screening of antibacterial and antioxidant activities of leaves of Eclipta prostrata (L). Sci Res Essays 2(4):101–104
Purohit SS, Sharma AK, Prajapati ND, Kumar T. (2009); A handbook of medicinal plants: a complete source book. 2:352-3.
Bown. D. (1995): Encyclopaedia of Herbs and their Uses. Dorling Kindersley, London. ISBN,0-7513-020-31.