Family: Poaceae
Synonyms: Arundo bambos, Nastus arundinaceu
Common name: Bamboo, spiny bamboo, thorny bamboo.
Local name: Bans (बांस)
Bans can be seen growing all over India. This plant is very common in the moist deciduous forests, along streams and water courses in Western Himalayas upto an altitude of 1250 m . It forms impenetrable thickets, extending over vast areas. Bans generally prefers moist locations. However, it is not very particular about soil and can even grow even on clayee and inund
Bans is a very multipurpose plant and according to old people this is the plant which is used from birth of young ones to death the death of an individual.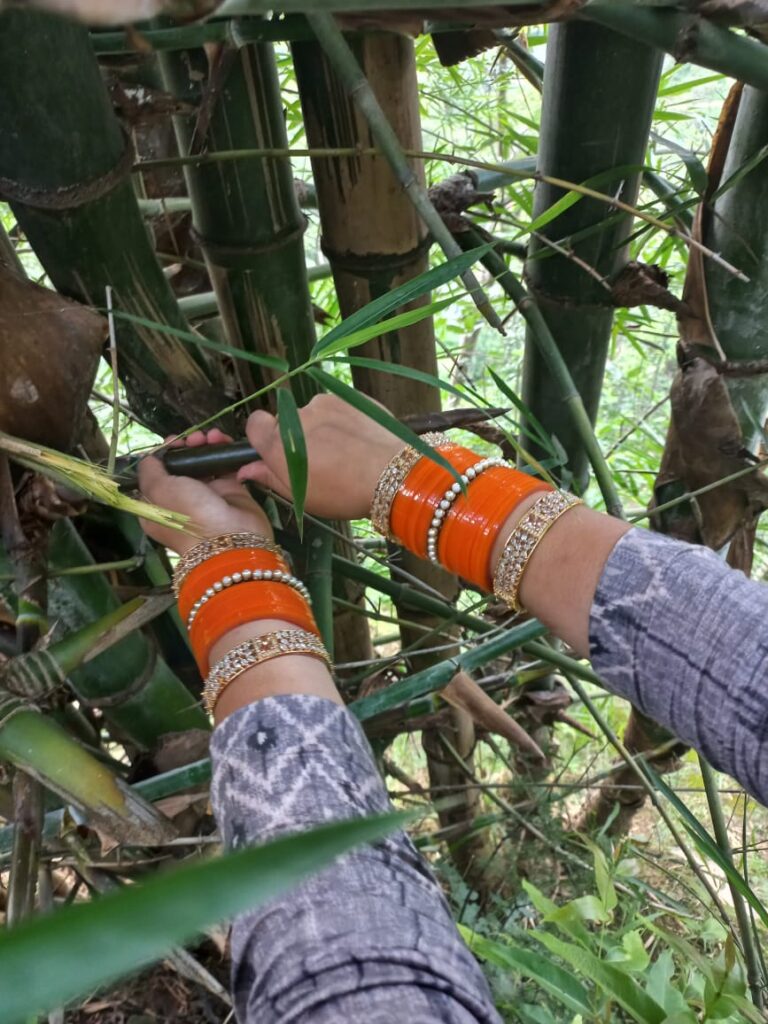 Two parts of this plant viz. tender shoots and seeds, provide food. The tender young shoots are cooked as vegetable. Though they are considerable acrid and are poisonous too because of benzoic acid and cyanogenic glucoside contained by them. But these chemicals get destroyed by cooking. These are also pickled and steeped in oil.
Bans seeds are also cooked and used like rice. But this is only during the time of food scarcity.
Bans Plant:
An arborescent graceful spinous bamboo, 24-30 m high and 15-17 cm in dia; stems green, hollow, purplish green when young, turning golden yellow, with prominent nodes and long internodes, lower ones rooting, often sub-angular, flexuous; rhizomes short, stout and knotty.
Leaves linear or linear-lanceolate, 7-18 x 2-20 mm.
Flowers in large panicles, sometimes occupying the whole culm.
Fruit a caryopsis, oblong, grooved on one side.
Edible uses:
Tender shoots of bans are made into pickle. These are also cooked as vegetable curry.Seeds are also edible. These are cooked like rice in the times of food scarcity.
Vegetable curry:
Ingredients required:
Chopped tender shoots, 1 kg; mustard oil, 5-6 table spoons; coriander powder, 1 table spoon; fenugreek powder,1 tea spoon; cumin seed, 1 table spoon; turmeric powder, 1; table spoon. red chillies, 2-4; medium sized chopped onion, 1; chopped garlic cloves, 4-5; green coriander leaves (chopped), half cup amount; ginger paste, 1/2 table spoon; tomato puree, 2 cup amount.
If vegetable curry is to be prepared then add curd, 3-4 cup amount, besan, 1table spoon; branded garam masala,1 tea spoon;salt, according to taste.
Method: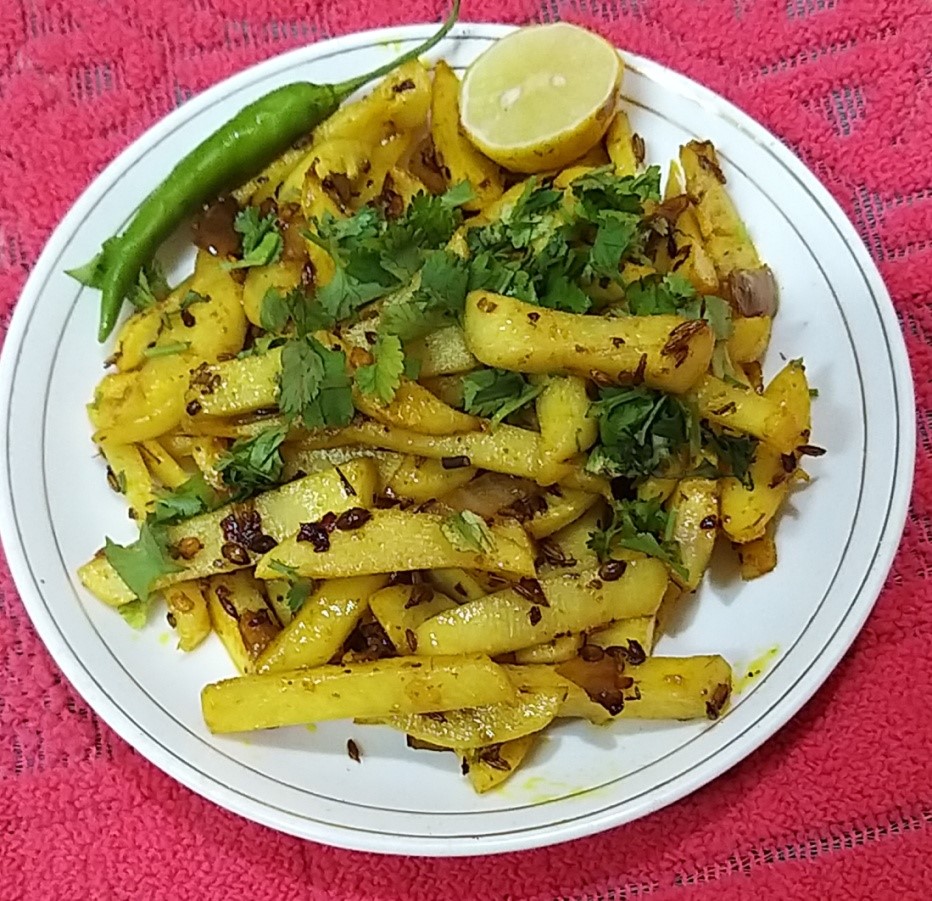 Remove skin of tender shoots then cut these into small pieces of long cuboid shape. Fry these chopped slices for 10 to 15 minutes. Then in hot mustard oil add coriander powder, fenugreek powder, red chillies and cumin seed in sequence, Mix these well and then add paste of onion, garlic, ginger, turmeric powder and tomato puree. Sauté this mixture on slow flame for 5 minutes. Then add fried shoots and mix properly. Cook for another 5 to 10 minutes before serving. For preparing curry, add 3 to 4 cup amount curd mixed with 2 table spoon besan. After adding this curd cook for another 10 to 15 minutes and then add garam masala powder and garnish with chopped green coriander leaves. Now your bans vegetable curryis ready to serve.
For preparing pickle, add roasted seed powder of fenugreek, 2 table spoon; cumin. 2 table spoon and red chillies, 8-10; into fried shoot slices, then add to this turmeric powder, 1 table spoon, mustard (rai ) powder, 4 table spoon and salt, according to taste. Keep this mixture in a ceramic jar for one month. During this period, the bamboo pieces will develop a sour taste and will be ready to eat.
Food Value:
Analysis of tender shoots gave (per 100 grams of edible portion); moisture, 88.8; protein, 3.9; fat, 0.5; carbohydrates, 5.7; and total minerals, 1.1 gram; calcium, 20.0; phosphorus, 65.0; iron 0.1; magnesium, 32.0; sodium, 91.0; copper, 0.19; chlorine, 76.0; thiamine, 0.08; riboflavin, 0.19; niacin, 0.2; vitamin C, 5.0; choline, 8.0; and oxalic acid, 2.0 mg; and energy, 43 kcals 1.
Seek advice from a professional before using this plant medicinally.
Medicinal Uses:
The stem and leaves are sour, acrid, bitter; cooling, laxative; useful in "Kapha", burning sensations, diseases of blood, biliousness, inflammations, wounds, piles. The sprouts are pungent, acrid; laxative; cause burning sensation and increase cough. The seeds are acrid, sweet; fattening, aphrodisiac; useful in biliousness, urinary discharge. The manna is sweet, cooling, acrid, with a flavour; tonic, aphrodisiac; constipating; useful in diseases of blood, tuberculosis, bronchitis, asthma, fevers, leprosy, jaundice, anaemia, burning sensations.
The root is tonic; burnt and applied to ringworm, bleeding gums, joint pains. The leaves are emmenagogue; good as an eye wash; lessen bronchitis, lumbago, piles, biliousness, gonorrhoea, fever.
The leaves are used with black pepper and common salt to check diarrhoea in cattle. A decoction of the leaf-bud is good emmenagogue.
Other Uses:
Bans leaves are lopped for fodder and wood for fuel. Bans wood has a huge range of applications. It is utilized for many purposes e.g. to make scaffolding, rafts, furniture, paper and dozens of other items. Wood is also used in household carpentry, furniture, boxes and ornamental vases etc. Stems are in great demand for manufacture of paper pulp of good quality. A large variety of handicrafts are also made from bans wood.
Bans as a source of income:
Selling bans pickle can be a good source of earning for village women. This pickle easily sells 200-250 rupees a kilo. Similarly money can be earned by selling different household items of day to use from bans wood.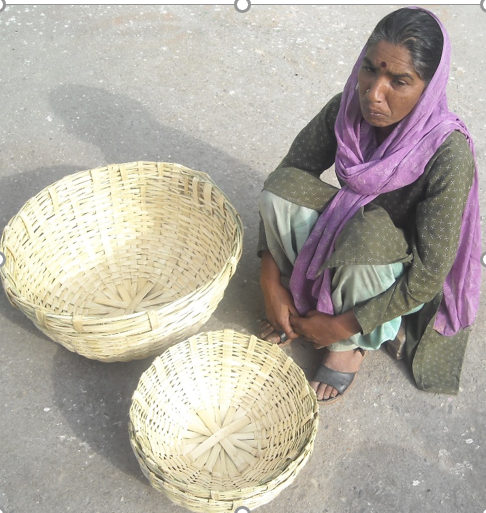 Door to door sale of basket made up of Bans wood
References:
Tripathi YC (1998), Food and nutrition potential of bamboo, MFP News 8(1):10–11.