Family: Euphorbiaceae
Synonyms:Euphorbia pentagona
Local names:Chhoohin (छूहीं ),Danda thor (डंडाथोर), Chu (छूँ)
Chhoohin is normally considered as a worthless plant of waste lands. It is a xerophyte shrub or small tree, which grows upto an elevation of 2000 metres in Western Himalayas. Chhoohin is a very common plant among barren rocky hills where usually very few other plants are seen growing. It is a deciduous, cactus-like, shrub having succulent green segmented branches growing in whorls. Leaves are produced during rainy season and fall soon.So it remains leafless during most part of the year.
The stem and branches seem to be filled with white milky latex. If there is even small injury to the plant, the latex starts falling in drops. This milky latex is very injurious to the eyes. Accidental exposure of eye to this may cause bilateral conjunctivitis with corneal ulcerations and iridocyclitis. So a special care is needed during extraction.
But in spite of all that, there is one very good use of this plant. Its succulent shoots are edible. A very exclusive dish, called mitthaa (मिट्ठा) is prepared from these. For this peeled pieces of shoots are first washed in running water for ten to fifteen minutes. This makes them free from the toxic latex. Then these are cooked. Mitthaa is a sweet curry which is usually eaten with rice. It has a special recipe. In some areas of Himachal Pradesh, mitthaa is the first dish to be served alongwith rice in ceremonial community meals.
Chhoohin plant:
Succulent spiny shrub or small tree, up to 6 m tall; branches 5-7 angled, 5-7 cm thick, angles more or less undulatory winged with paired 3-5 mm long stipular spines on distinct shield, with broad flat faces.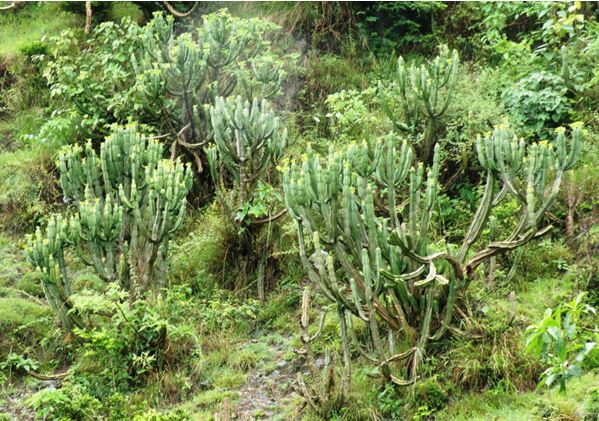 Wild growing plants of chhoohin
Leaves alternate, sessile or sub-sessile, oblanceolate-spatulate, 5-15 cm long.
Cyathia sessile, in threes, yellowish; glands transversely oblong, ochreous. fruit triradiate, smooth, glabrous.
Young chhoohin branches can be harvested round the year.
Edible uses:
As stated earlier, young branches of chhoohin are edible and are cooked. Besides vegetable, a sweet curry called choohin ka mitthaa is also made from this plant. This is an exclusive dish made on special occasions.
For cooking, pieces of chhoohin are taken from relatively younger shoots. The green bark is peeled with a knife to expose the greenish white core. The peeled shoots are then cut into small pieces of desired size. These pieces are then thoroughly washed in running water so that these are completely free from latex. Then these are ready to be cooked in the way you want. Some people keep chopped pieces in water overnight and prepare vegetable in morning hours.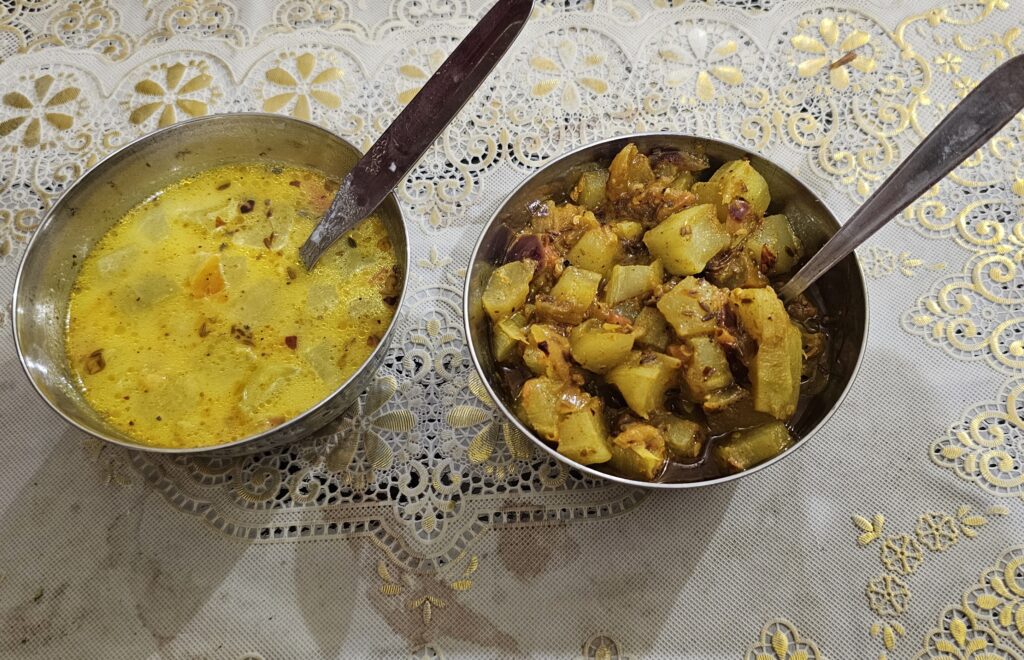 Choohin vegetable and vegetable curry
Choohin ka mitthaa:
Ingredients:
Chopped young branches, 1 kg; Sugar, 1/2kg; cow ghee, 4-5 table spoons; fennel, 2 table spoons; turmeric powder, 1 table spoon; raisins from seedless grapes, 2 table spoons; grated dry coconut.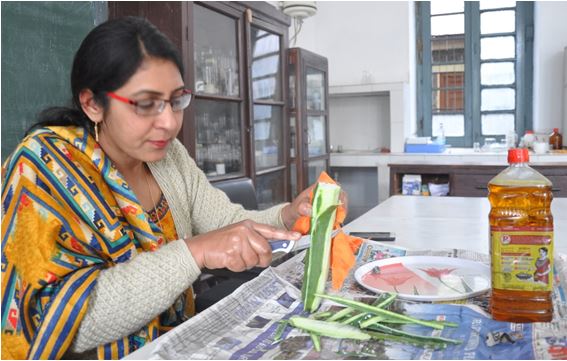 Preparing a chhoohin branch for cooking
Method:
Heat ghee in a pan, add fennel, turmeric powder, chopped stem pieces and sugar in a sequence. Cook till pieces are soft and turn transparent. Add raisins and grated coconut. Mix well and then serve.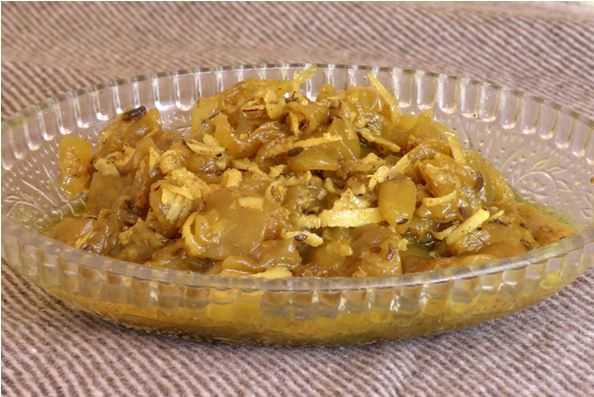 Mitthaa of choohin ready to serve

Choohin ka rayata:
1/2 kg chopped young branches, 1 Kg curd, 1 cup fresh coriander leaves (chopped), 3-5 green chilies, a pinch of black pepper powder, 1 table spoon rai powder, 2-3 medium sized chopped onions and salt according to taste.
Method:
Boil chopped young chhuheen branches and add directly with ingredients listed above into curd or add after shallow firing these boiled pieces in hot oil with onion and other spices listed above. Garnish recipe with coriander, Mentha piperta, Oxalis corniculata and Rumex hastata leaves Now rayata is ready to serve.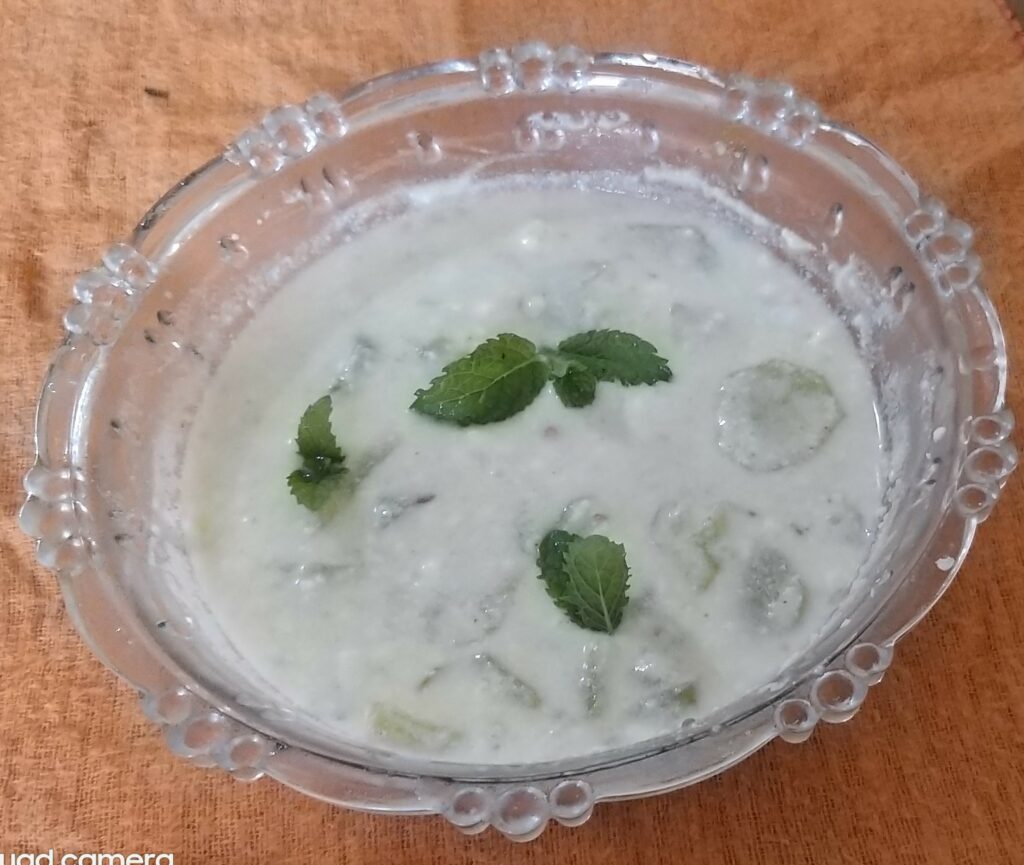 Seek advice from a professional before using this plant medicinally.
Medicinal uses
The acrid milky juice possess cathartic and antihelmintic properties Milky latex is effective against joint pain.In villages people eat recipe ofchhuheen plant for treating piles.

Other uses:
Chhoohin plant is armed with short prickles along its stems. So it is used as a live fence and contour hedges for soil conservation. Dried stems are used as fuelwood and sometimes as a torch. Kohl (kajal) is prepared from latex. It is used for new born and younger children and is believed to be good for enhancing their eyesight. It was belief among old people in villages that this kohl preparation technique is linked with sex determination. Acc. to this belief while preparing kohl for the expected baby of a pregnant women, a image of sex is created on the top of container used to collect kohl. This image tells about the sex of expected baby.