Family: Fabaceae
Synonyms: Medicago denticulate. Medicago hispida
Common name: Bur clover
Local name: Khokhna (खोखना)
Khokhna is native to western and central Asia and countries around the Mediterranean. It has now spread to all parts of the world and has been introduced widely around the world. It is found in particular regions with a Mediterranean climate but is by no means confined to them. Introduction of khokhna has taken place as result of accidental transport of the spiny seed pods.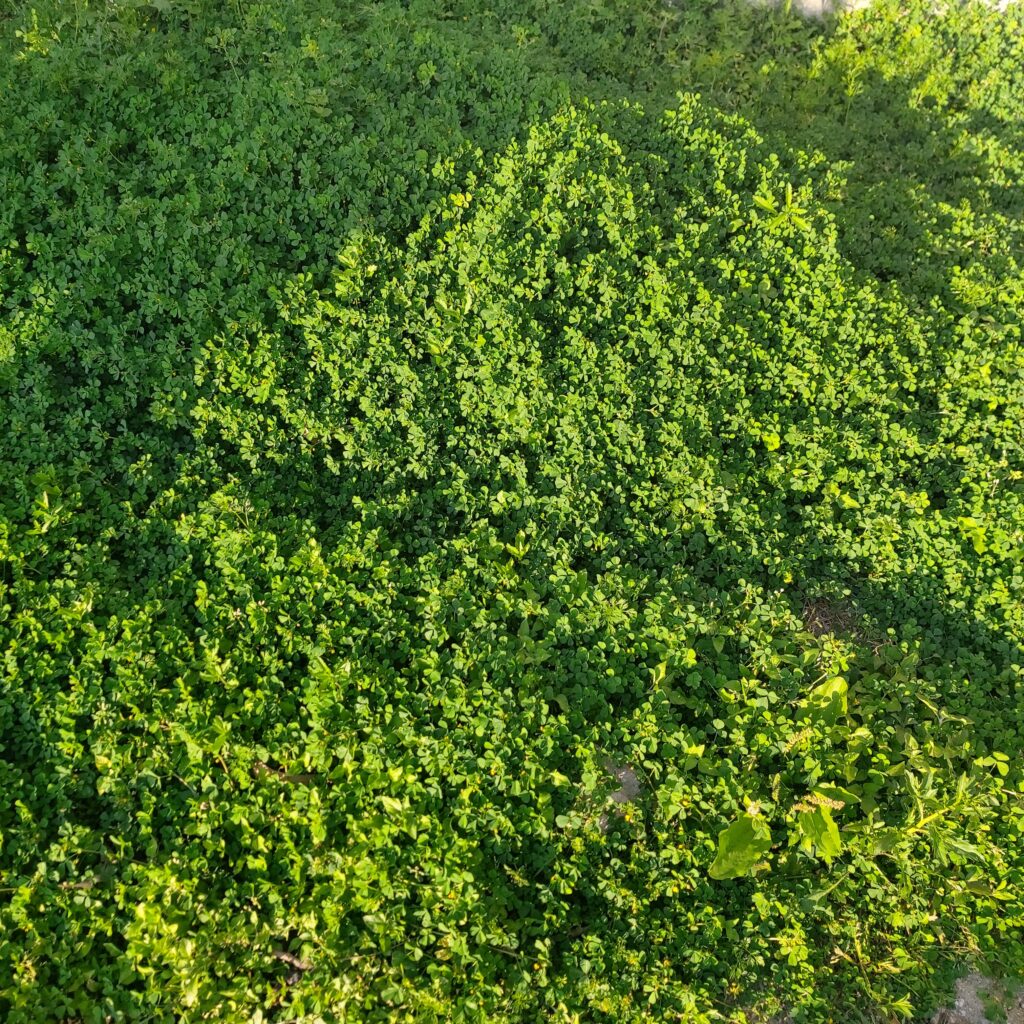 Khokhna has been referred as "bur clover" in English books on plants. In botanical treatises it has been assigned the botanical name, Medicago polymorphia, Medicago denticulate and Medicago hispida too in CSIR's Wealth of India. It is reported to be present all over India. But there seems to be a lot of variation in this plant and it may be that khokhna plants of Western Himalayas region my not exactly be the same as those in other parts of India of outside India.
Khokhna plants start appearing in this area at moist places, roadsides and cultivable fields when winter start ending and summer is about to start. It is a very short lived annual which completes its life cycle in about ten weeks. The leaves are picked by local people and prepared as saag (साग).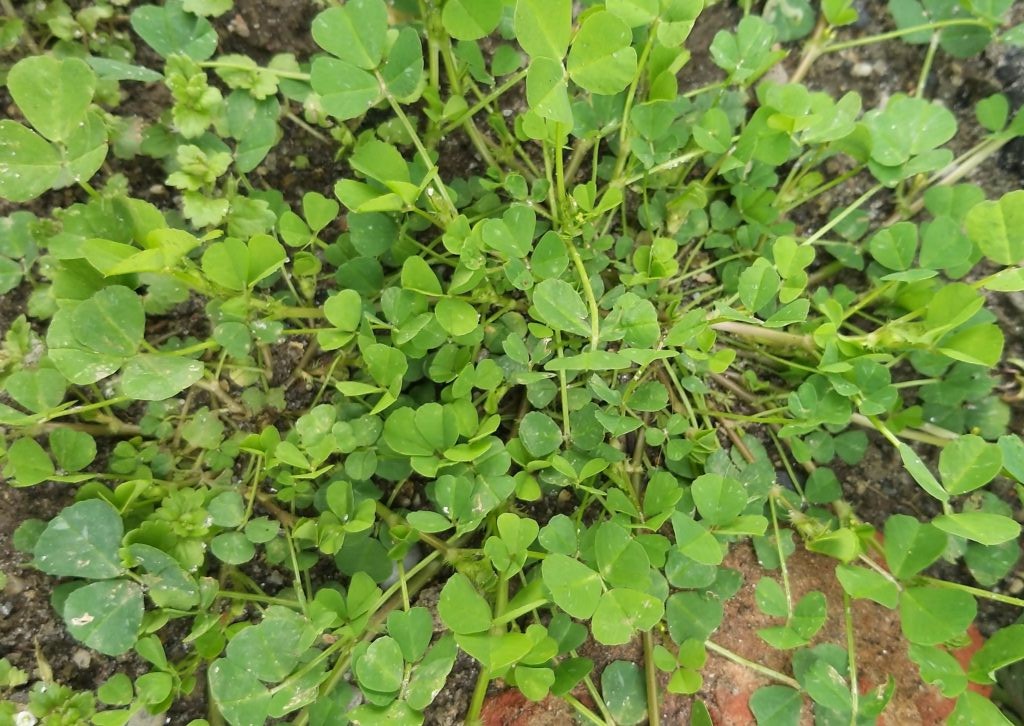 Khokhna saag, however, is not that as tasty as that prepared from other leafy vegetables. Therefore it is not so popular and is prepared just 2-3 times during the season for a change. Still Khokhna is preferred by local as food because it is an excellent source of Vitamin A,C and E.
Khokhna is just consumed locally and not offered for sale.
Khokhna Plant:
An annual herb, 20-90 cm tall with prostrate or ascending stems, branched at base.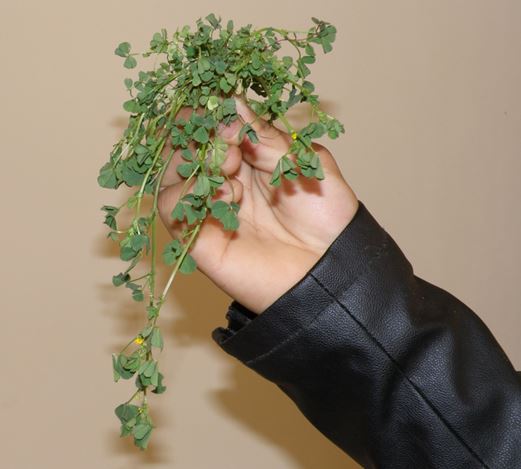 A plant of khokhna
Stipules ovate-oblong, 4-7 mm, base auriculate, margin irregularly laciniate or deeply incised, apex acuminate; petioles long and thin, 1-5 cm; leaflets obovate or triangular-obovate, 7-20 × 5-15 mm, papery, sparsely hairy abaxially, glabrous adaxially, base broadly cuneate, margin shallowly serrate in apical 1/3, apex obtuse, truncate, or emarginate, apiculate.
Flowers (1 or) 2-10 in axillary racemes; peduncles slender, 3-15 mm, usually longer than leaves; pedicel less than 1 mm. Corolla yellow, 3-4 mm; standard obovate, emarginate.

Legume ash-green to greenish brown, discoid, 4-6(-10) mm, tightly coiled in 1.5-2.5(-6) spirals, turning clockwise, radial veins connected near edge on coil face, spines or tubercles 15 in each row.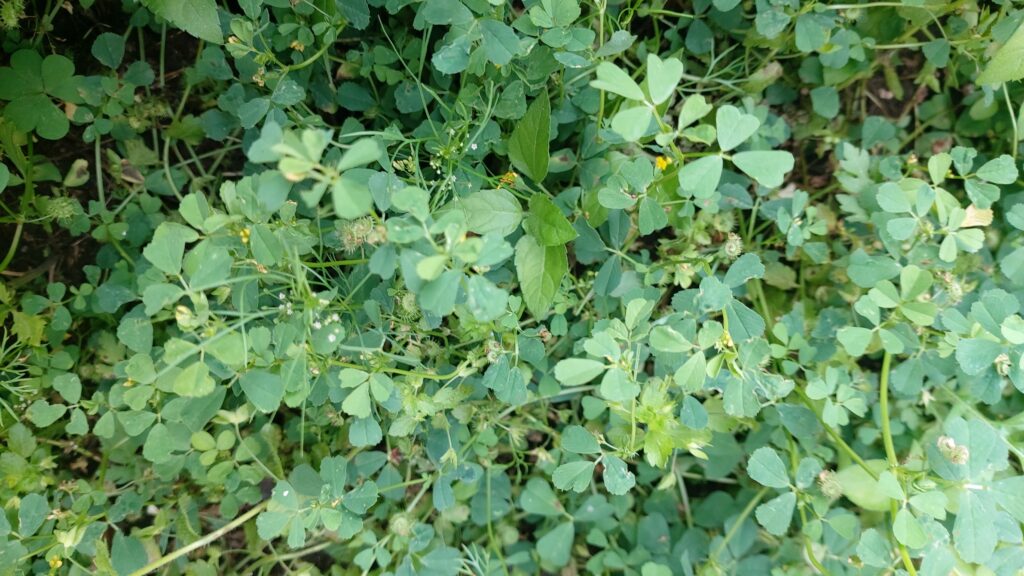 Seed brown, reniform, ca. 2.5 × 1.25 mm, smooth.
Edible uses:
Leaves and tender shoot tips are picked and cooked as saag singly or in combination with potatoes. This can be done in the following way:
Ingredients:
Chopped leaves and tender shoots, 1 kg; mustard oil, 3-4 table spoons; coriander powder 1 table spoon; fenugreek powder, ½ table spoon; cumin seed 1 tea spoon; turmeric powder, 1 table spoon; red chillies, 2-3; medium sized chopped onions 2-4; garlic, 4-5 cloves; ginger paste ½ table spoon; boiled potatoes and salt, according to taste.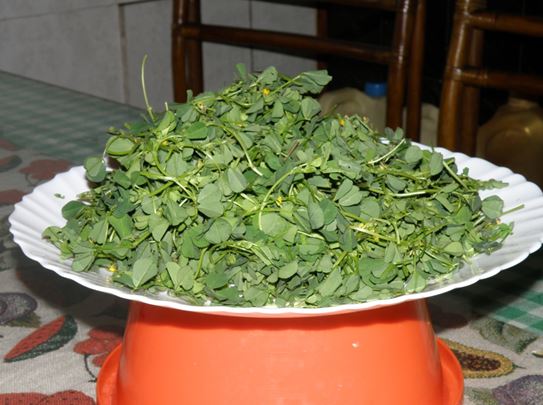 Khokhna leaves and tender shoots collected for cooking
Method:
Boil chopped leaves and tender shoots till they become soft. Then mesh manually or in a mixer and sauté with hot mustard oil and the spices listed before in sequence. This sauted sag is then ready and can be served as such or can be mixed with 2 or 3 chopped onions or boiled potato and cooked for another 5 to 10 minutes before serving.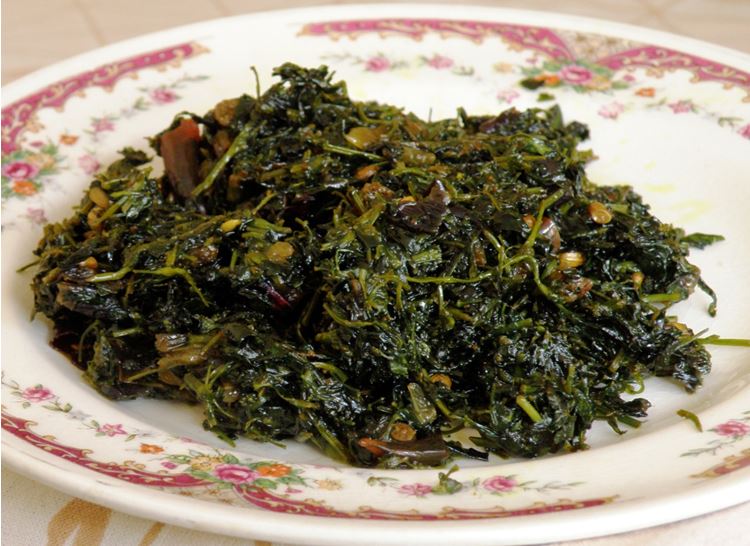 Khokhna saag ready to serve
Vegetable:
Ingredients:
Taryambal (Ficus auriculata) fruits ( mushroom/potato) cut into four pieces,1 kg; khokhana laves , 250-300 g; mustard oil, 3-4 table spoons; coriander powder, ½ table spoon; fenugreek powder,1 tea spoon; cumin seed, 1 table spoon turmeric powder, 1 table spoon; red chilies, 2-4, medium sized chopped onion, 1; chopped garlic cloves, 4-5; tomato puree 3- 4 cup amount; salt, according to taste.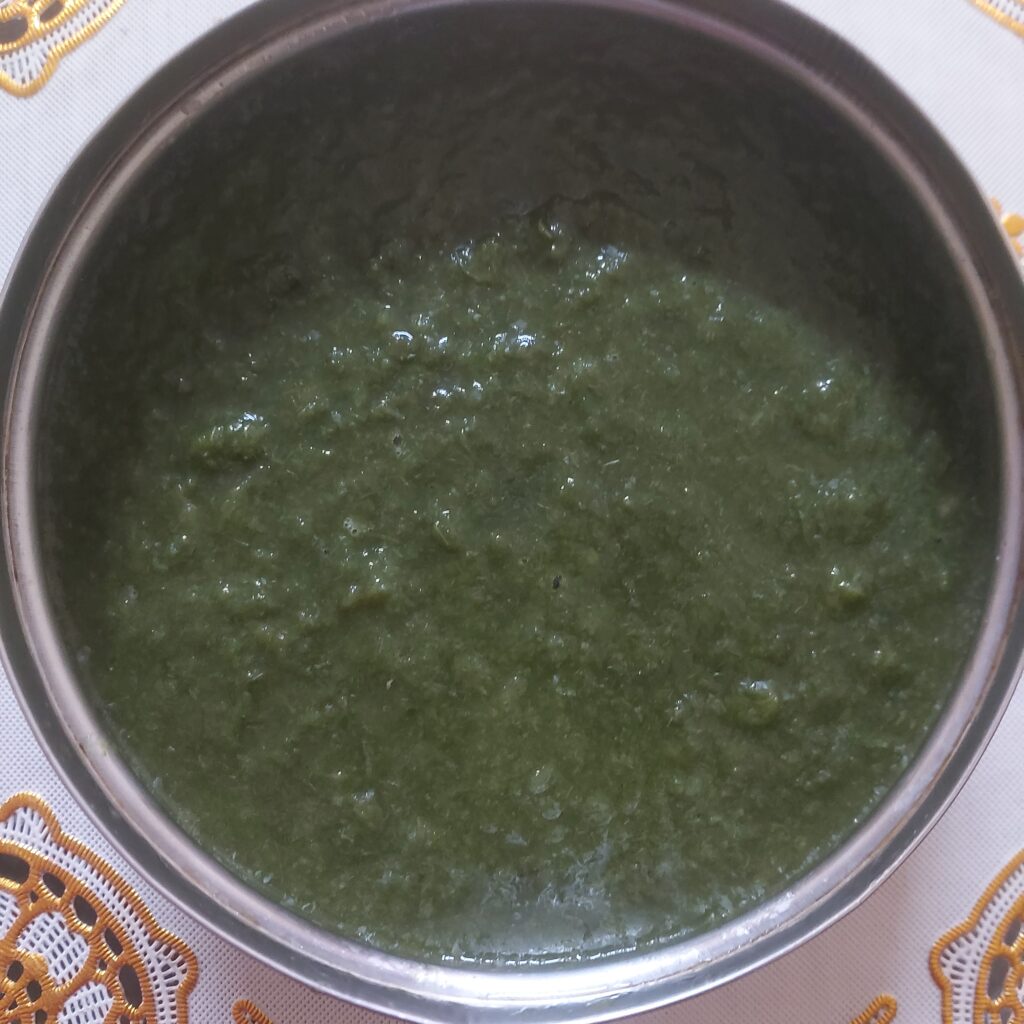 Method:
Boil taryambal fruits and khokhana leaves separately till these become soft and let them cool. Grind boiled leaves in a mixer and sauté boiled taryambal fruits in hot oil by adding spices mentioned above in the same sequence. Cook for 5 minutes and then add ground khokhana leaves. Cook for another 5-10 minutes. Garnish recipe with Garam masala and chopped coriander leaves. Vegetable can be cooked along with mushroom or potato. It can be served with rice or chapatis.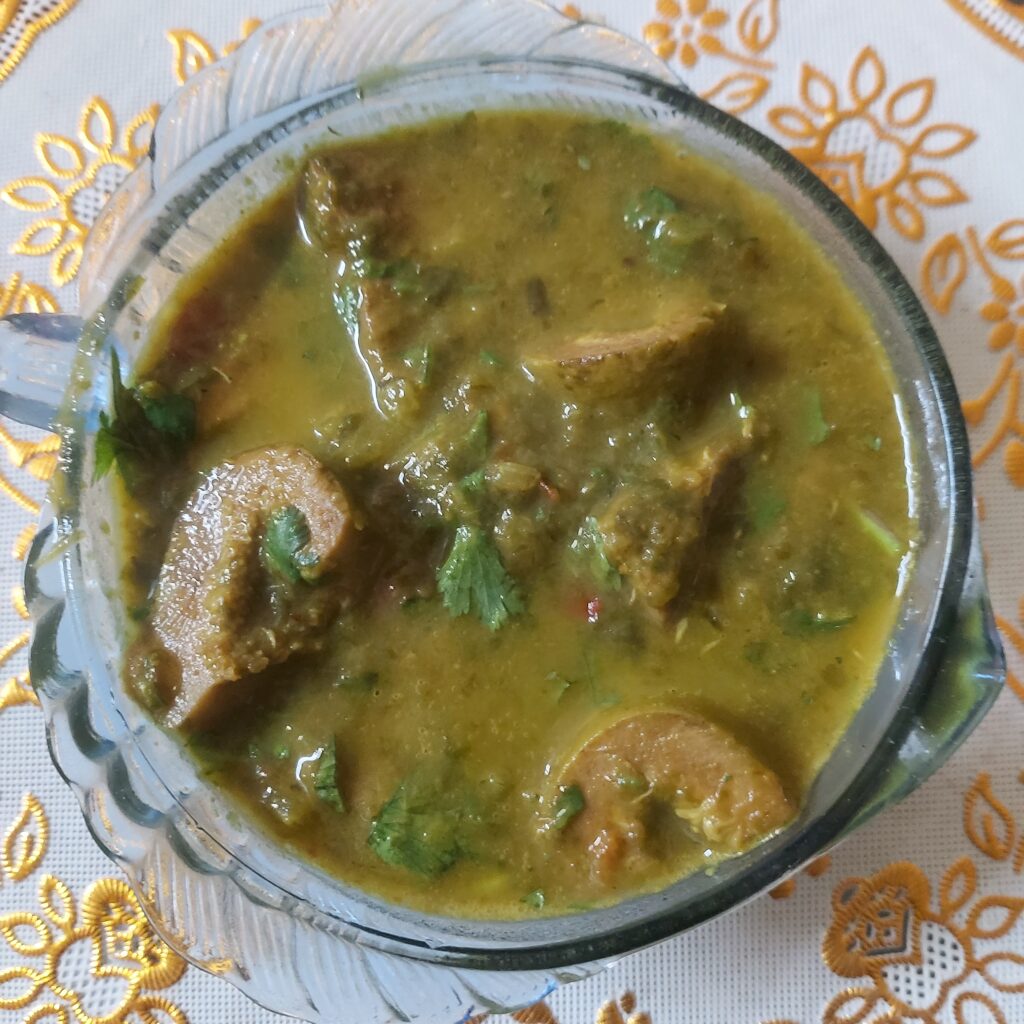 Nutritive value:
Analysis of khokhna plant gave the following average values: dry matter, 20.8; protein, 5.1; fat, 1.7; fiber, 3.9; N-free extract, 7.8; and mineral matter, 2.3%. They are very rich source of Vitamin A,C and E, ascorbic acid containing 850 mg per 100 g of it1 .
Other Uses:
Being a member of family Fabaceae khokhna is capable of fixing atmospheric nitrogen and can be employed as green manure. Plant can also be grown as a cover crop in garden and orchards.
Khokhna is a good soil binder due to profuse growth plant can be grown as a erosion controller. Local people in Western Himalaya exploit this plant as a fodder .
References:
1 Anonymous, (1962), Wealth of India: Raw Materials, Vol VI, CSIR, New Delhi.