Family: Moraceae
Synonyms: F. caricoides F. virgata
Common names: Wild fig, wild Himalayan fig
Local names: Fegra (फेगड़ा), khasra (खसरा), daghla (दाघला).
Fegra trees are of common occurrence throughout the mid hill region upto an elevation of 1550 metres. Besides Himachal Pradesh, this plant also grows in areas having similar climate in the neighbouring states of Uttarakhand and Jammu and Kashmir extending upto the mid-hills of Pakistan.
Fegra trees grow in wild only. One thing very peculiar about Fegra is that its trees are found only in inhabited areas, mostly in fields and village common lands. These are rarely seen in forests.
Ripe fruits of fegra are one of tastiest fruits that grow wild in Himachal Pradesh. In taste, they match the best varieties of cultivated fig. But because of being much smaller in size, and also because of the presence of latex at the pedicel end which unless removed by washing, causing unpleasant irritation in mouth, they could not offer commercial competition to cultivated fig. So these are eaten by local villagers only and never reach market.
The young unripe fruits of fegra, called fegri, are cooked as a vegetable. Local people consider fegri vegetable a seasonal delicacy. So these are in demand during the months of February- March, which is the season for fegri. At that time one can see fegri fruits being sold in the vegetable markets of hill towns.
Fegra plant:
Fegra is a moderate sized tree. Its height varies from 6-10 metres. It sheds its leaves during winter turning completely leafless for a few weeks. It has a dull smooth grey coloured bark which can be stripped off with hand. The new branches are mostly hairy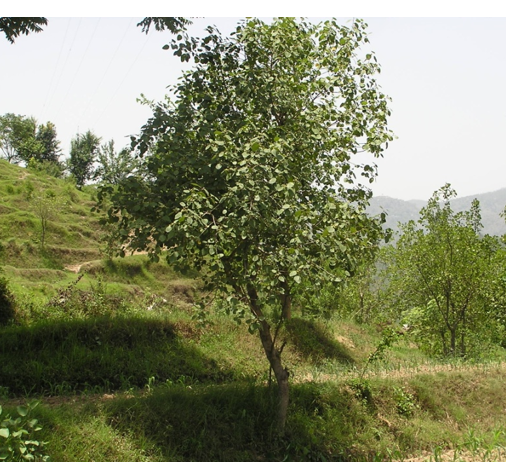 Fegra tree has broad, ovate and membranous leaves measuring 13 cm in length and are a little over 14 cm across. The upper surface of the leaves is dark green and rough. The lower surface of the leaves is light green and hairy.
Flowers are not visible from outside as these are borne on a fleshy receptacle which is curved acquiring a lobular shape. It is this receptacle which grows into a fruit. The individual flowers, however, are tiny and cannot be seen. There are, however, hundreds of flowers of both sexes enclosed in this round receptacle which has a very small opening at its apex. The pollinating insects enter and come out of the fruit via this opening.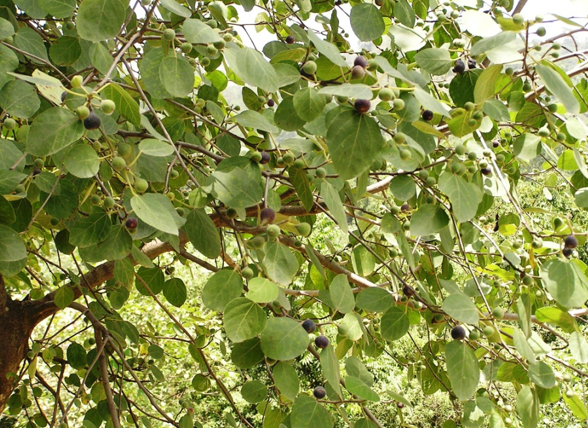 Fruits vary in size from tree to tree and also the proximity of tree from the source of water. However, on an average these are 2.5 cm wide and weighing 6 g each at maturity. The colour of fully ripe fruits is deep purple to black. The fruits juicy and have an excellent taste. The fruits have to be washed in water to make them free from latex that might be sticking to fruits. This latex irritates the tongue.
Edible uses:
The young fruits, soon after their emergence after winter, are picked. They are about 1.5 cm wide at that time. These young immature fruits of fegra are called fegri. These are cooked as vegetable which can be prepared with the following recipe:
Ingredients required:
Fegri fruits, 1 kg; mustard oil, 3-4 table spoons; coriander powder, ½ table spoon; fenugreek powder,1 tea spoon; cumin seed, 1 table spoon turmeric powder, 1 table spoon; red chillies, 2-4, medium sized chopped onion, 1; chopped garlic cloves, 4-5; salt according to taste; anardana (Dried seeds of sour pomegranate) or amchoor (dried mango powder), 1 table spoon.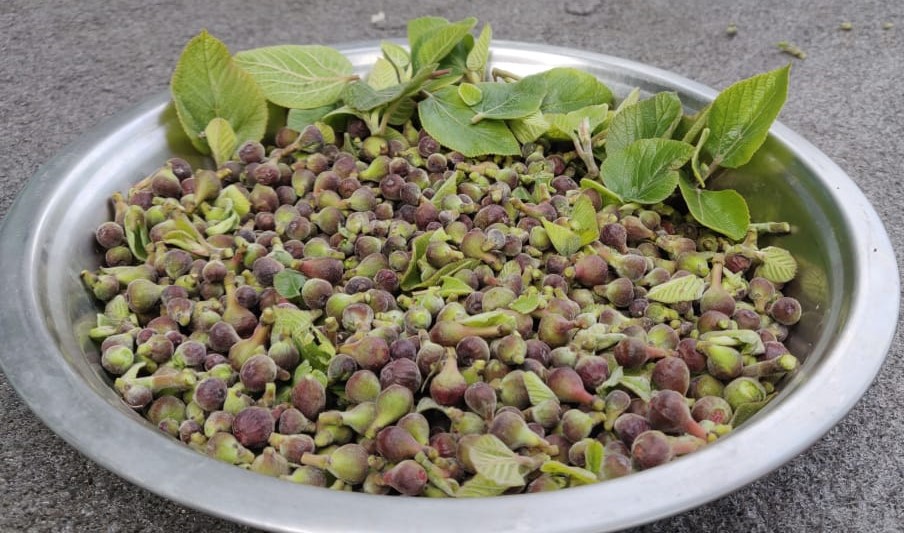 Method:
Fegri is then boiled in water for fifteen minutes. The boiled fruits, which get cooked in this process, are squeezed with hand to drain out excess water. These fruits are then sauted in oil with whole spices listed above in sequence. Some anaardaana (अनारदाना) or amchoor (अमचूर) or curd is also added to make it a bit sour as then it tastes better and served.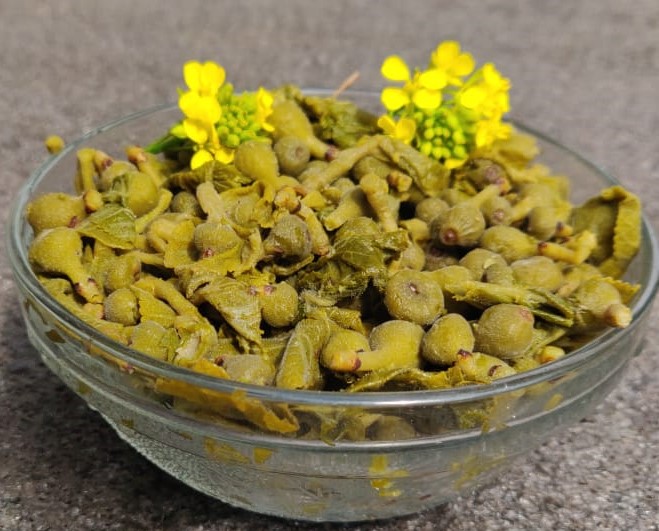 As stated earlier, fegri is considered a seasonal delicacy. Though there is no data available on nutrient content of fegri, but it is believed that eating fegri vegetable is very good for health. It imparts resistance to body against many ailments. Elder people in the villages opine that one must eat fegri vegetable 4-5 times during the season and it will save you from many health problems during the coming months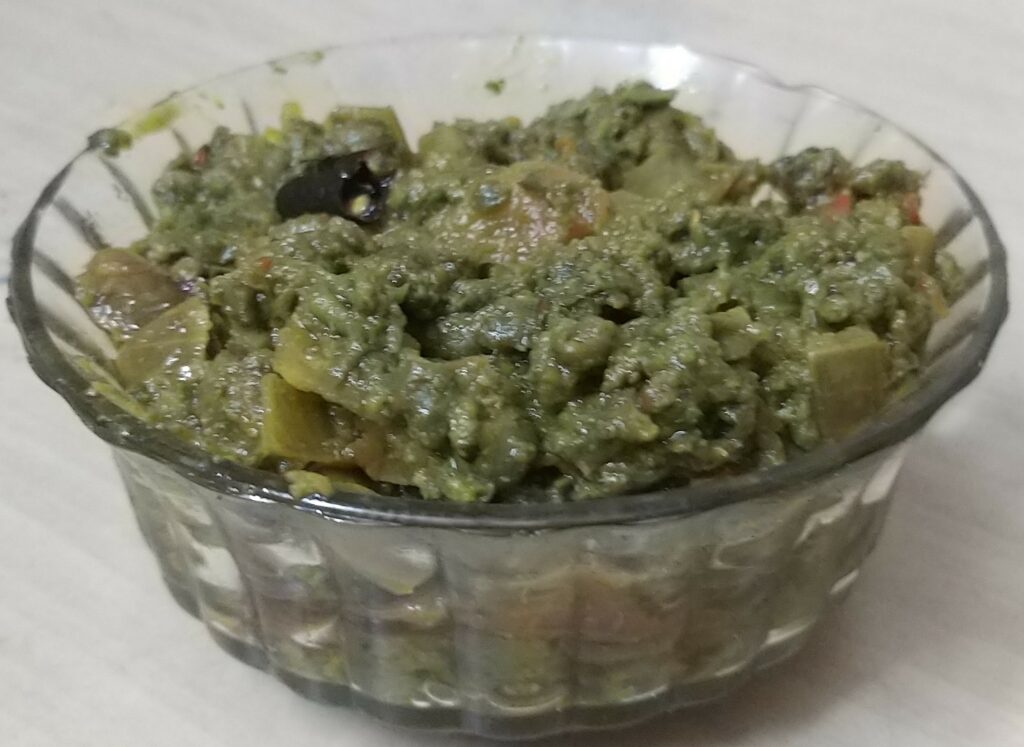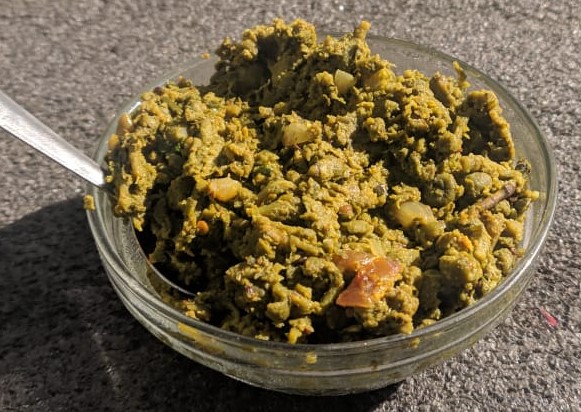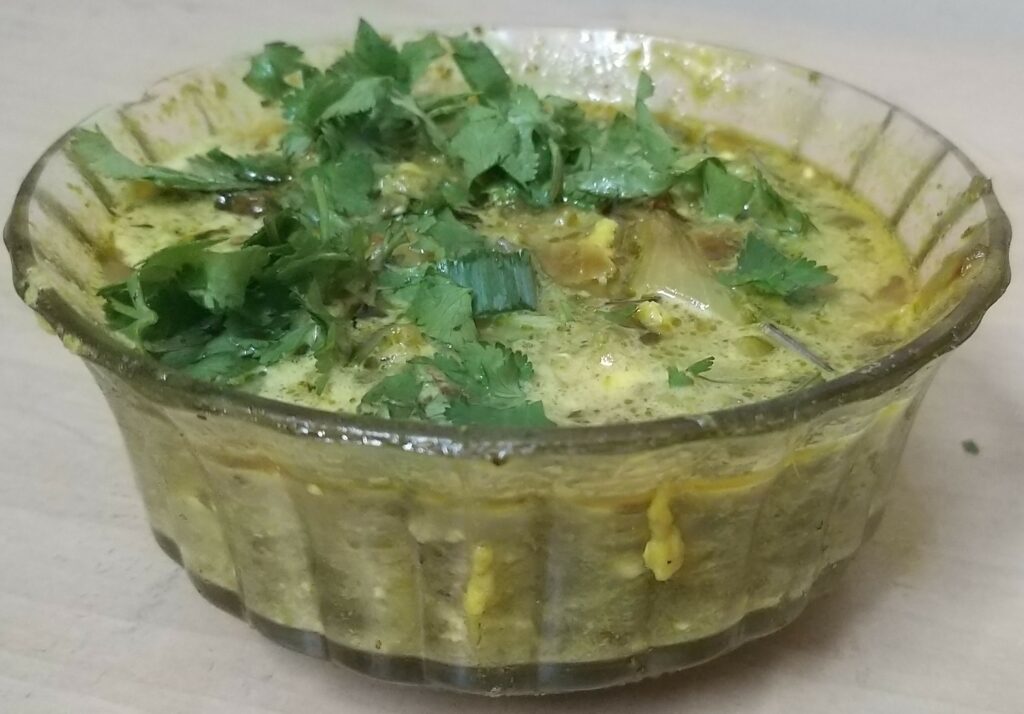 Food Value:
 One hundred grams of fruits,  moisture,80.5% ;  protein,  1.72g ;  total soluble sugar, 12.5 g; pectin,0.21g; vitamin C, 3.35 mg; ash, 0.92g; mineral, 0.01g ;  phosphorus, potassium, calcium, magnesium and iron were found to be 0.034, 0.296, 0.071, 0.076 and 0.004 mg.
Seek advice from a professional before using this plant medicinally.
Medicinal uses:
The fruit act as demulcent and laxative. They are mostly used as diet in case of constipation and in diseases of the lungs and bladder. They are also used as poultices
Fegri as a source of income:
Fegri season lasts for 4-5 weeks. During this period, villagers collect fegri fruits from trees and bring these for sale to towns. These are usually offered for sale in paper bags. A bag containing 200-250 grams of fegree priced twenty rupees which are easily sold.