Family; Linaceae
Synonyms Linum trigynum, Reinwardtia trigyna
Common name: Yellow flax
Local Name: Peenyan(पींयां),Piyoli, Basant
Peenyan is a beautiful winter bloomer of Himalayas.Peenyan is ashruband very common in forests, mountain slopes, thickets often in calcareous habitat ascending to 1800 m.
These beautiful yellow flowers of Peenyan seems to say good bye to to the winter season and welcome to spring season. Peenyan is basically a shade loving plant but it can grow under bright sunlight too. In gardens, it can grow under trees or in mixed garden beds. Plenty of water and a rich soil are required for its luxuriant growth.
Peenyan plant is more famous as a flowering shrub than as a food yielding plant. It bears very beautiful rich flowers during end of winter season and start of spring season. It is also known by several other names of which piyoli and basant are more common in Himachal and the neighbouring states.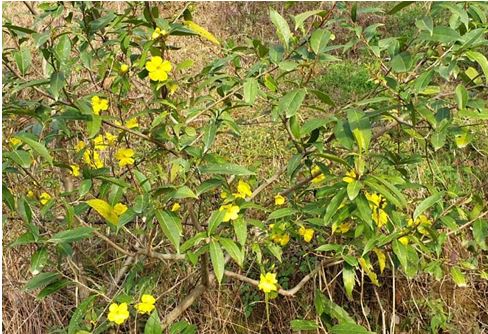 Tufted undershrub, about 1 m tall; branches erect and prostrate; branchlets angled or terete, glabrous.
Leaves simple, alternate, spiral; petioles ca. 2-3 cm long, somewhat sheathing at base; lamina ca. 2.5-12 x 2-3.5 cm, usually elliptic-obovate or narrowly oblong-lanceolate, decurrent into a short petiole at base, acute or rounded and mucronate at apex, glabrous; secondary nerves 5-9 pairs.

Piyan Plant:
Inflorescences in terminal cymes solitary or in axillary ca. 4.5 cm long; flowers ca. 2.5 cm across, yellow, scented; pedicels ca. 2 cm long, sparsely pilose, bracteate and bracteolate; sepals ca. 0.5-1 cm long, ovate to lanceolate, acute, 3-5 parallel veined; petals ca. 1-3.5 cm long, bright gloden yellow, broadly ovate to obovate, abruptly narrowed at base; stamens 5 alternating with 5 staminodes ca. 0.5-3 cm long; filaments dilated and connate at base with 2-3 glands adnate to the base; anthers basifixed; ovary ovoid-triangular; styles 5, free or connate at base; stigmas of long styles larger than those of short ones.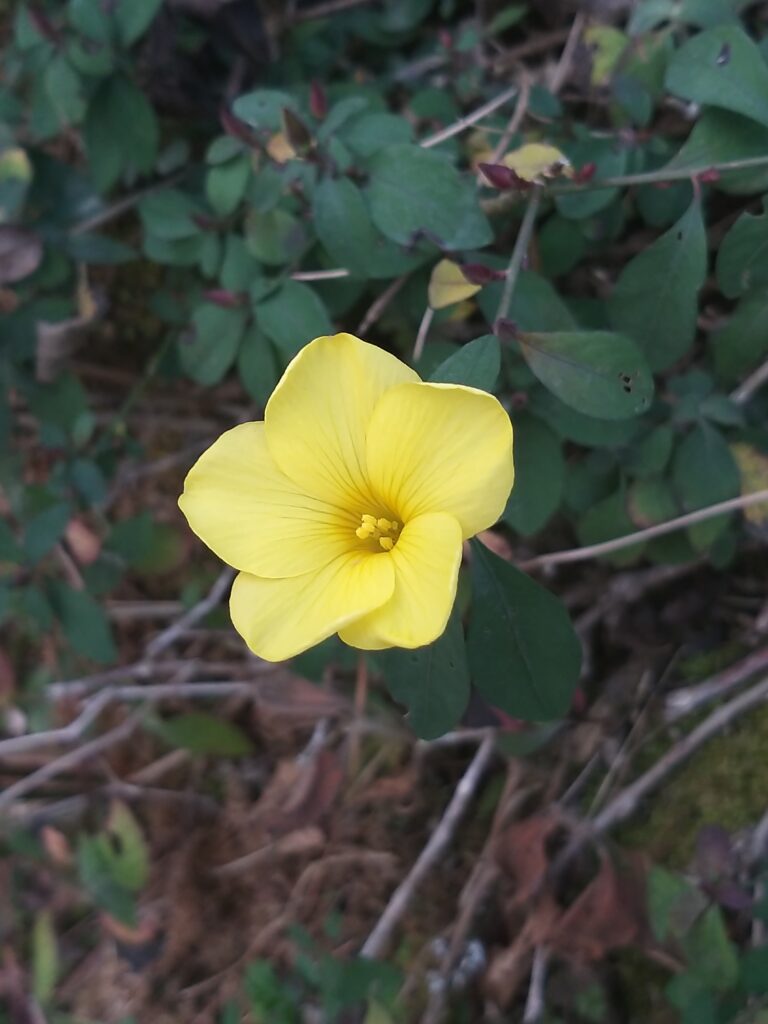 Capsules globose, shorter than sepals, dehiscing into 6-8 cocci.
Seeds one, thin, reniform, compressed.
Piyan flowers can be collected from midwinters to spring season. As flowers are the edible parts so sustainable harvesting should be done for ensuring sustainable development.
Edible Uses:
The yellow flowers of peenyan are eaten. Tasty kachru or bhalle are prepared in villages which are rated as a seasonal delicacy. Here is the recipe for preparing kachru from peenyan flowers.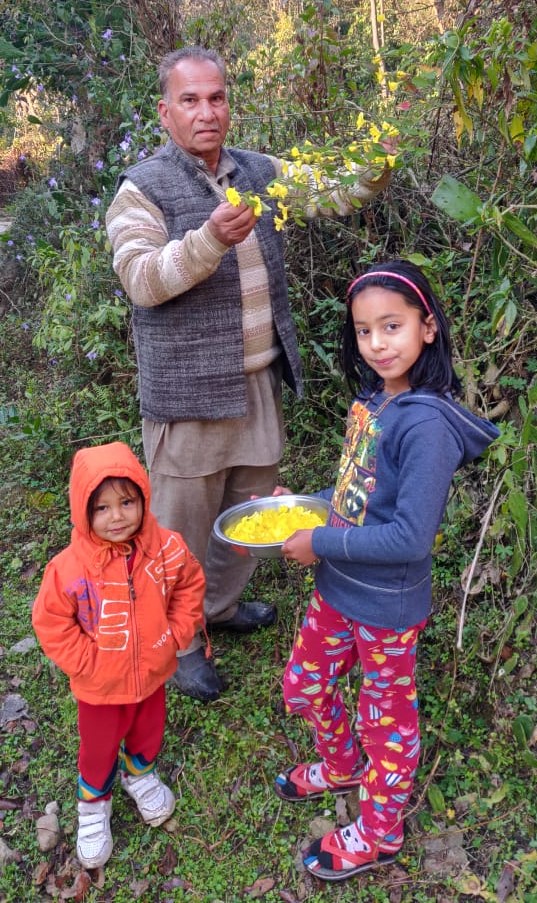 Ingredients:
Fresh flowers, 1kg; besan (black gram flour) or corn flour, 1/2 kg; fresh coriander leaves (chopped), 1 cup amount; 1/2 table spooncaraway seeds, 3-5 green chillies, ½ table spoon turmeric powder, 2-3 chopped medium sized onions and salt according to taste.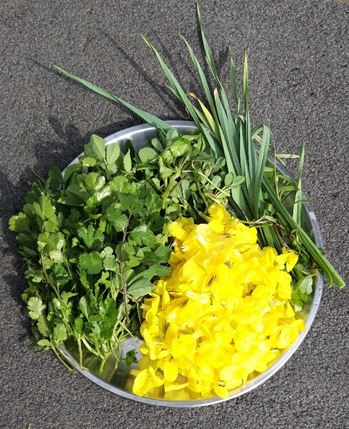 Ingredients for Kachru prepration
Method:
Make a paste of fresh flowers, besan and spices listed above. Heat some oil on a flat heating pan. Put some paste over a pan, spread it like a chappati and cook on its both sides for 15 to 20 minutes. Kachru will then be ready to serve. Repeat this process till whole paste is over,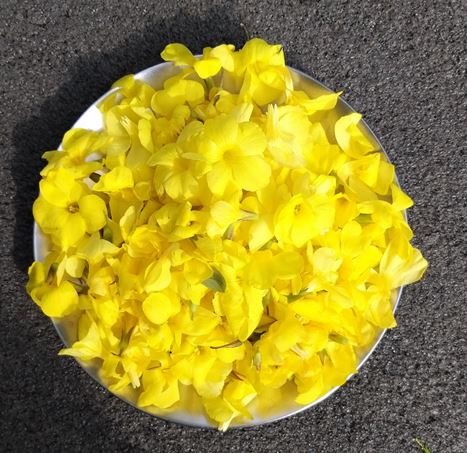 Flowers of peeyan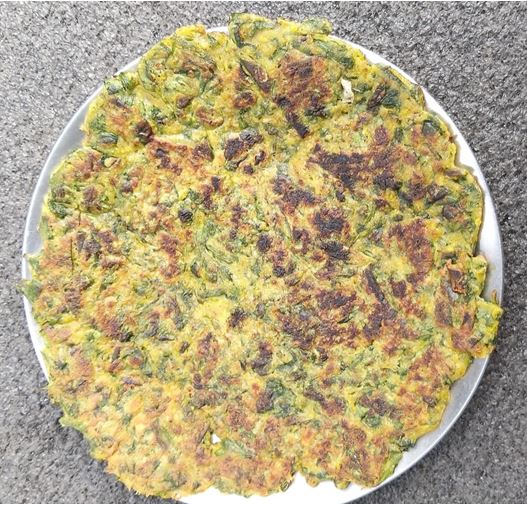 Medicinal Uses
Flowers along with branches and leaves are used medicinally in the treatment of paralysis. Crushed leaves and stems are applied to wounds infested with maggots. Flowers being rich in ascorbic acid are antioxidant in nature.
Leaves are chewed to clean the tongue and decoction is used for gargles.
Other uses:
Peenyan is grown in gardens as an ornamental plant for its rich yellow flowers.
A yellow dye is obtained from flowers which are used for dyeing clothes and making paints.
Peenyan in folk lore:
Peenyan is called piyoli in some parts of Uttarakhand and Nepal and there is a story in folk lore of that area about the origin of this plant. According to the story, Piyoli was a beautiful forest maiden who used to live in the forest of Himalayas. She was raised and brought up by the plants, animals and birds of the forest. One day a prince came to the forest for hunting. He lost his way in the forest and came upon Piyoli. Overwhelmed by her unspoiled beauty and natural charm, the hunter forgot his prey and immediately proposed her for marriage. Piyoli was a nature loving person, so she was reluctant to leave her home in the mountains. But the prince persuaded her with gifts and promise of a comfortable, luxurious life in his palace in the plains. She soon grew to love him very much and their wedding was celebrated with lavish ceremonies and feast. But Piyoli missed her forest friends so much that she fell ill and died. The prince buried her in her beloved forest. After some time, this plant came up with cheerful yellow flowers from the place where she was buried. These flowers are called piyoli in her memory.