Family: Cactaceae
Synonyms: Cactus indicus
Hindi name: Nagfani(नागफनी)
Common name: Prickly pear
Local name: Drabhad chhoonh (द्राभड़छूंह),kabuli(काबुलीछूंह).
Drabhad chhoonh is wild plant of Western Himalayas found in abundance upto an elevation of 1500 metres. It is a xerophytic plant. Drabhad chhoonh thrives best under conditions of drought and erratic rainfall as well as in poor soils subject to soil erosion. Some botanists like Roxburgh consider it to be a native of India. It is an invasive plant to some extent. Though mostly wild, but sometimes it is also planted by people on boundaries of fields.
The pads (called cladodes in botanical jargon) of drabhad chhoonh are edible and are prepared by people as a vegetable. However, this is not very common and is done only at the time of scarcity. But the vegetable made from drabhad chhoonh is quite tasty.
Drabhad chhoonh plant:
A succulent shrub 1-1.8 m high, stem and branches green, flat and looking very much like leaves.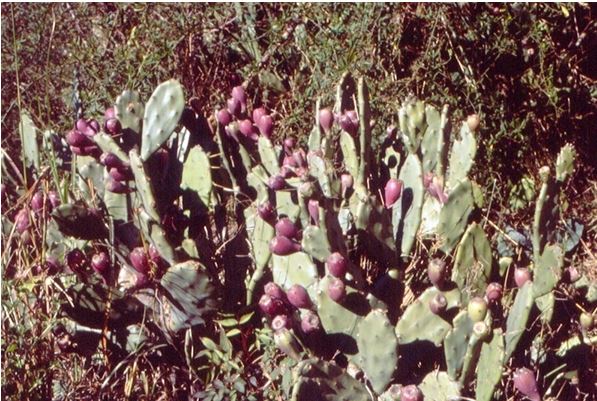 Plants ofdrabhad chhoonh
Leaves modified into spines, aggregating to form prickly aeroles.
Flowers complete hermaphrodite, 5-6 cm wide, yellow.
Fruits fleshy, almost berry like, pyriform, 6.1 cm long and 3.1 cm wide, 22 to 27 g, dark red, very mucilaginous, pulp deep purple.
Seeds flat to coma shaped, 4-5 mm in diameter.
Drabhad chhoonh can provide edible pads round the year. As fruits of this plant are edible which and can also be cooked as vegetable these need to be harvested sustainably on the basis of habitat rotation. Cactus can also be grown simply by sowing pads in ground as an ornamental plant in gardens or front yards for ensuring sustainable development.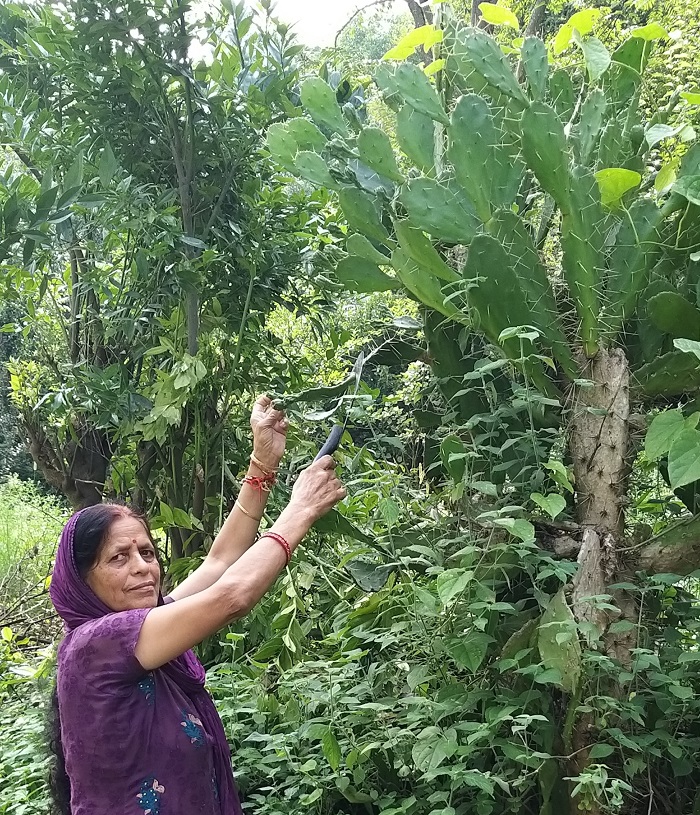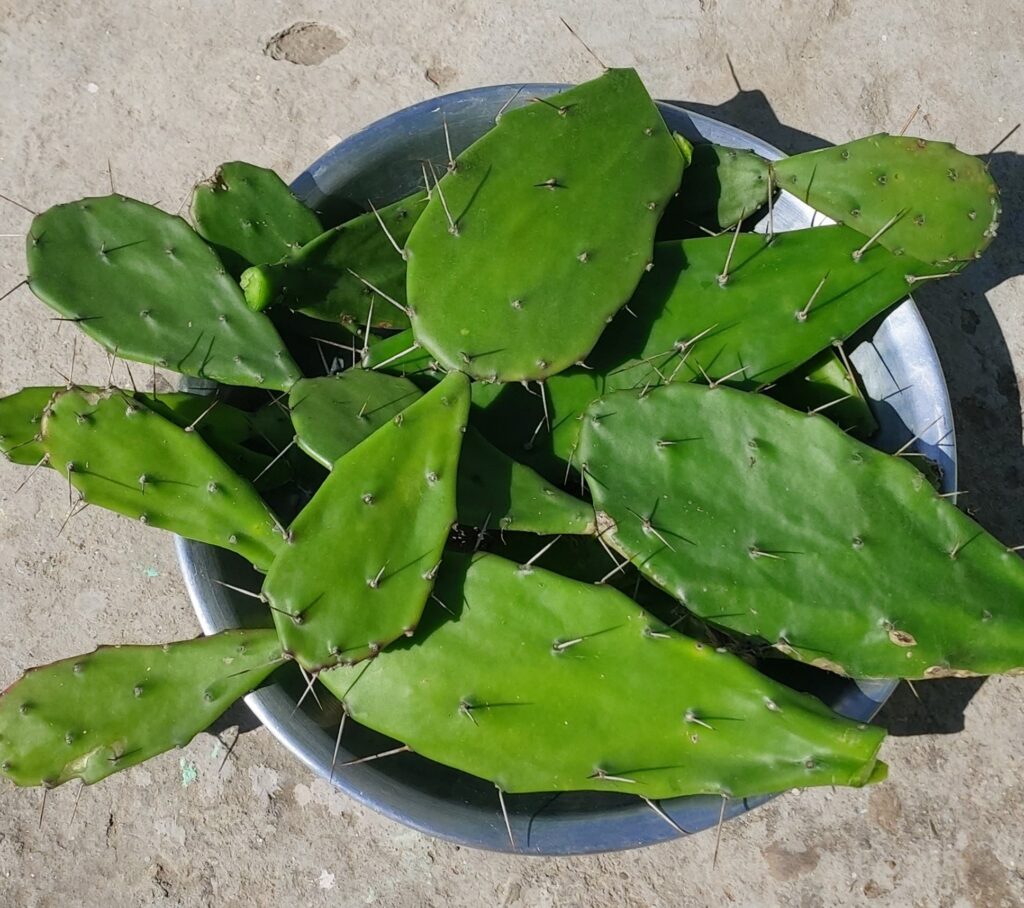 Edible uses:
The fruits are edible and eaten. These bear very fine bristles which might pierce into fingers. So care has to be taken about it. The bristles can be removed by rubbing the fruits with some wet piece of thick cloth.
The pads and green unripe fruits are made into vegetable. These can also be eaten raw or in a tossed salad. Only green immature and tender pads have to be selected.
Remove their bristles and spines, trim off the edges and dice the "meat" into half-inch squares or simply cut the food into green bean-sized strips. They will then be ready to be cooked into a vegetable.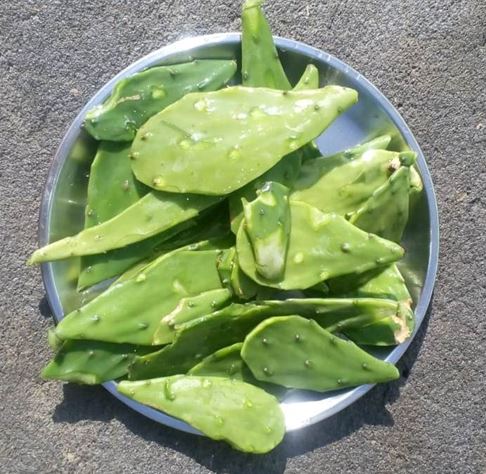 Tender pads of drabhad chhoonh
Drabhad chhoonh vegetable can be made by using the following recipe.
Ingredients:
Chopped and diced pads or fruits, 1 kg; chopped medium sized potatoes, 3-4; mustard oil, 3-4 table spoons; coriander powder, 1 table spoon; fenugreek powder, 1 tea spoon; cumin seeds, 1 table spoon; turmeric powder, 1 table spoon; red chillies, 2-4; medium sized chopped onion, 1; chopped garlic cloves, 4-5; green coriander leaves (chopped), half cup amount; ginger paste, 1/2 table spoon; tomato puree, 2 cup amount; branded garam masala,1 tea spoon; salt, according to taste.
Drabhad chhoonh pads chopped and cut for cooking
Method:
Heat mustard oil and add coriander powder, fenugreek powder, red chillies and cumin seed in sequence. Mix it well and then add paste of onion, garlic, ginger, turmeric powder and tomato puree. Sauté this mixture in slow flame for 5 minutes and add chopped pads and potatoes. Mix thoroughly. Cook for 15 to 20 minutes till these are soft. Add garam masala powder and chopped green coriander leaves before serving.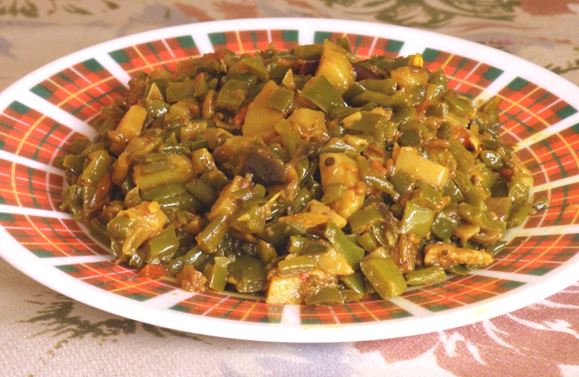 Finished vegetable of drabhad chhoonh ready to serve
Seek advice from a professional before using this plant medicinally.
Medicinal uses
The plant is bitter, hot; laxative, stomachic, carminative, anti pyretic " Vata", urinary complaints, tumours, ascites, loss of consciousness, piles inflammation, vesicular calculi, anemia, ulcers, enlargement of the spleen,- the leaves are very tasty, stomachic; cure inflammation, ascites, tumours, pains-The flowers cure bronchitis and asthma-The juice of the plant is heating; alexiteric; cure, ascites, tumours, leukoderma, syphilis.
The fruit is consider is a refrigerant and is said to be useful in gonorrhoea. A syrup of the fruit appear to increase the secretion of bile when given in teaspoon full dose 3 or 4 times a day and to control spasmodic cough and expectoration. The leaves mashed up and applied as poultice are to set to ally heat and inflammation. The hot leaf applied to boil hasten suppuration; the leaf made into a pulp is applied to the eyes in case of ophthalmia.
Other uses:
The fruits are edible and eaten too. These are, however, not as good toeat as those of Opuntiua Ficus-Indica which is cultivated for its fruits in arid countries like Isreal. An alcoholic drink is also prepared from the fruits.
          The roots of drabhad chhoonh are very bitter.  These are used to induce quick vomiting in case of persons bitten by poisonous snakes.