Family:Fabaceae
Synonyms: Flemingia vestita, Maughania vestita, M. procumbens
Common Name: Soh-Phlong
Local Name: Kujjee कुज्जी)
Kujjee is a herbaceous annual to perennial plant of Western Himalayas commonly seen growing on mountains slopes between an altitudinal range of 1700 to 3000m. It grows best in well drained sunny to partially shady habitat.Being the member of Fabaceae it has nodules in the roots for establishing symbiotic relationship with soil bacteria Rhizobium leguminosarum . These bacteria in association with roots help to fix atmospheric nitrogen. Which is utilized by plant itself and vegetation found nearby to Kujjee. Thus, .Kujjee is a good source of nitrogen. so can be grown along with main crops to enhance soil fertility. Kujjee propogate through seeds in natural habitat.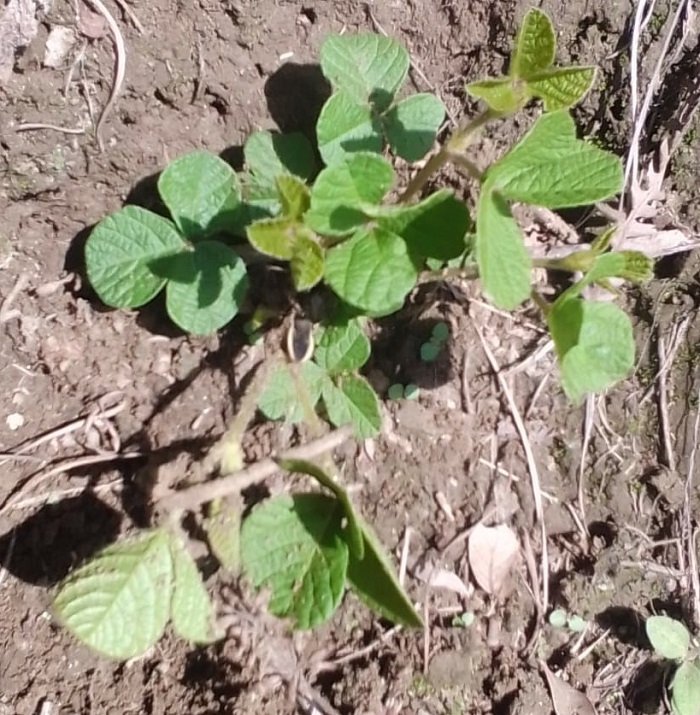 Kujjee bears very attractive and pleasant smelling flowers during the months of May-July.  As plants of kujjee are present in large numbers, so these get very easily noticed because of their attractive purple flowers on mountain slopes.  So this plant has been noticed and appreciated mostly by trekkers who are usually outsiders.  Kujjee has  soft, fleshy, tuberous root which  is sweet and juicy.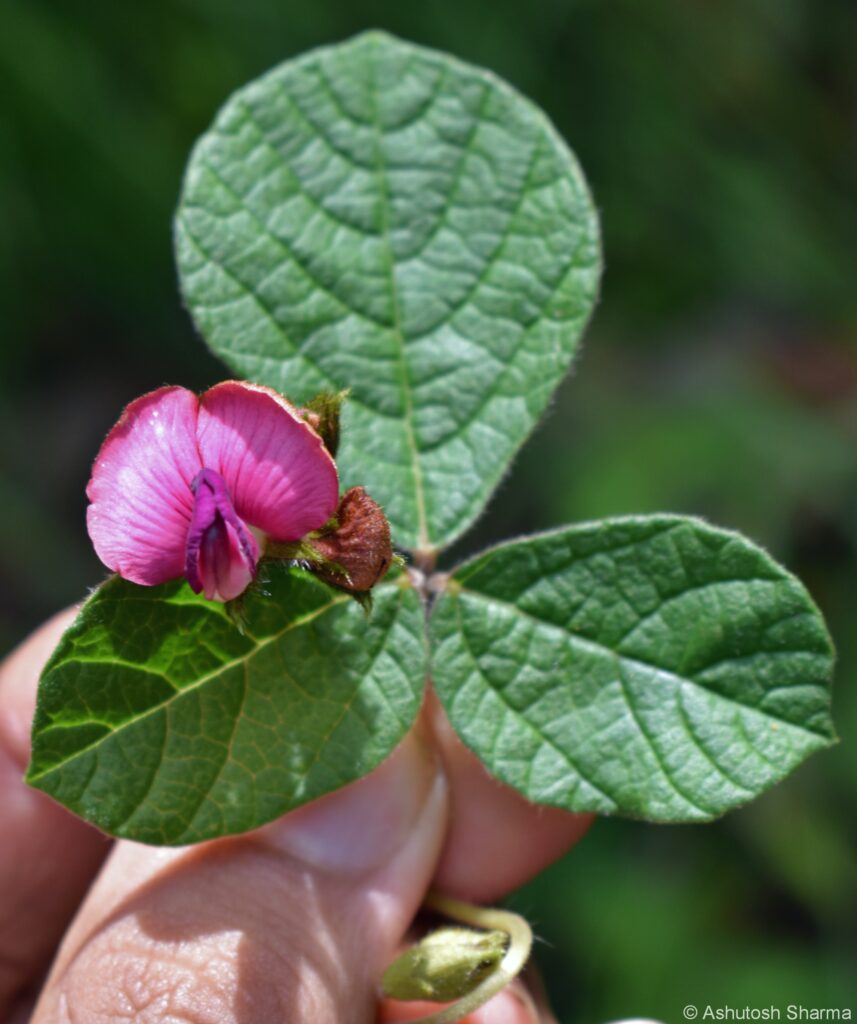 It is with an agreeable nut-like flavourcan be eaten both raw and cooked  Local people, especially the shepherds who stay out of their homes for months together along with their sheep flocks, dig out the tubers, clean and wash these and then prepare as a vegetable.  Sometimes, they just roast the tubers on burning fire and eat. So this also serves as a very good emergency food.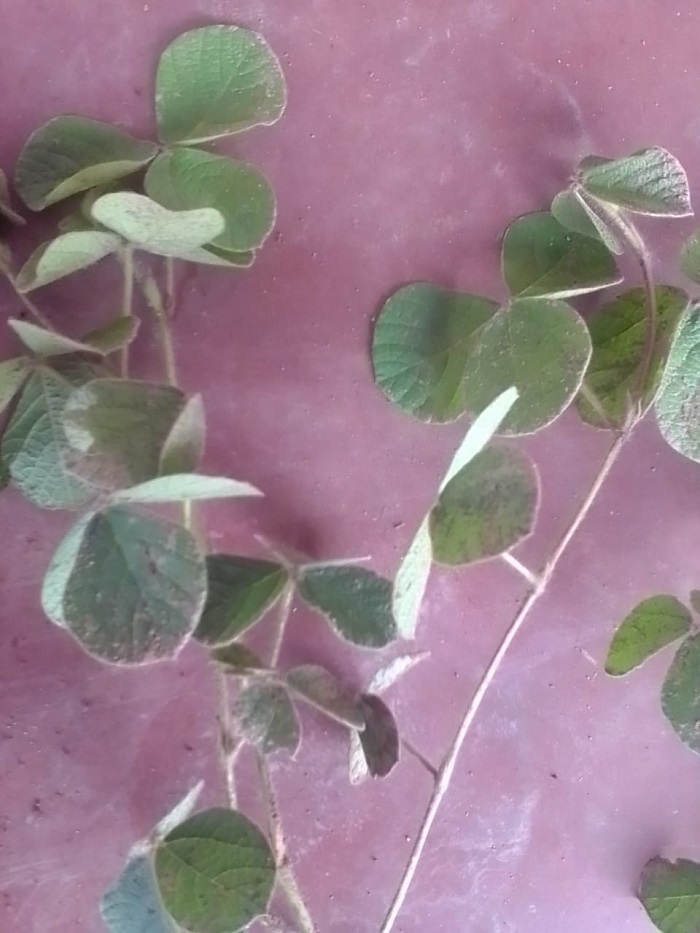 .Kujjeeis harvested from the wild for local personal use as a food and a medicine. This wild herb is cultivated and sold in local market in some Indian states (the hills of Assam and Meghalaya) 1,6. Thus, Kujjee has wider potential for use as a cultivated vegetable, so it need to brought under human cultivation in hills of Western Himalayas too.
Kujjee plant:
Trailing herbs upto 1 m long.
Branches covered with short, grey hairs.
Leaves digitately 3-foliolate; leaflets ovate-obovate, 1.2-5 * 1-4.5 cm, obtuse, cuspidate, long in 3-6 flowered racemose heads; peduncles overtopping the leaves.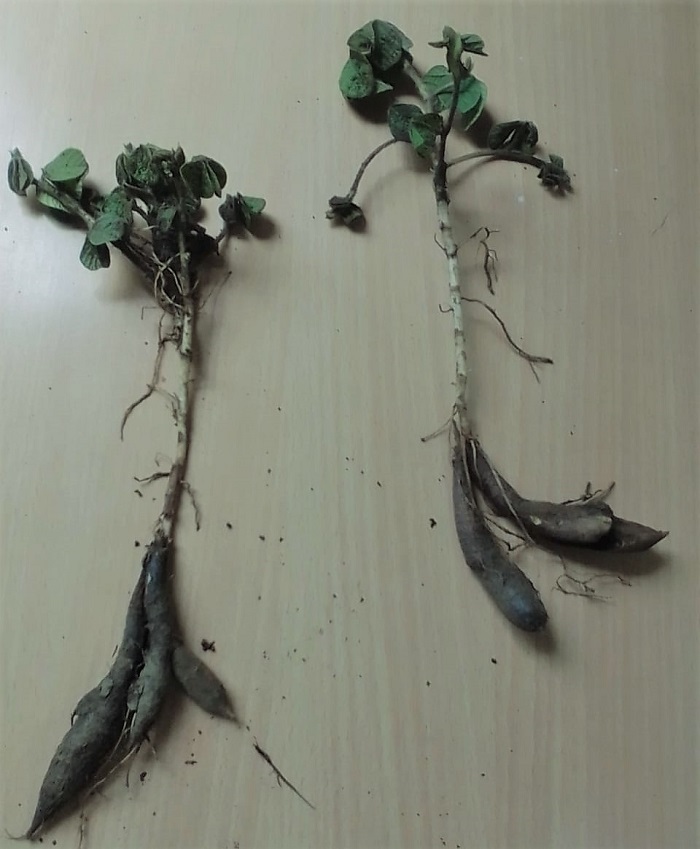 .
Flowers deep purple, very attractive and fragrant.Bracts oblong, roundish, cuspidate, silky-hairy.
Pods oblong, included, sub cylindrical, 1-seeded.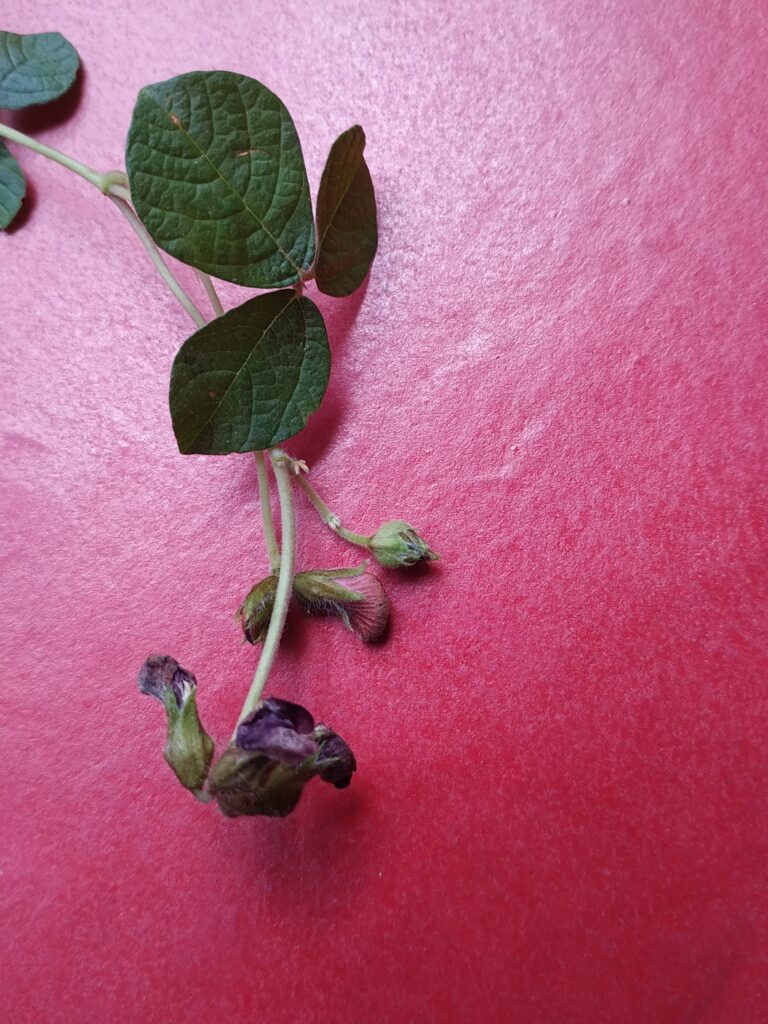 Kujjee is in flowering and fruiting from July-October. So to ensure its sustainable harvesting edible roots should be harvested by habitat rotation in winter season when flowering and fruiting is over.
Edible uses:
Tubers are edible and fondly eaten by villagers. These are cleaned, peeled to remove the outside skin, boiled and prepared like a vegetable. These tubers are also roasted in fire. The skin is then peeled off and is eaten with salt. These taste somewhat like potatoes. Kujjee tubers can also be stuffed like potatoes in kachauri, parantha.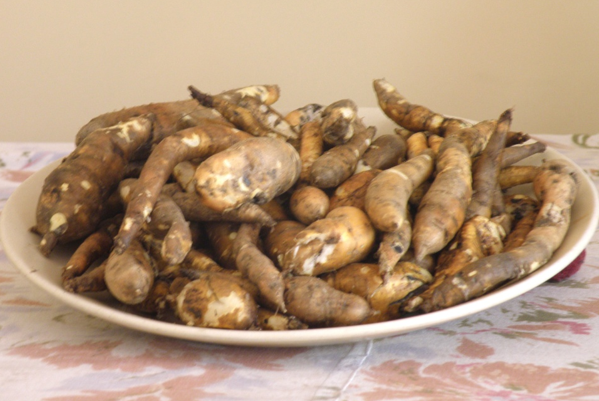 Vegetable of kujjee tubers can be prepared by following recipe.
Ingredients:
Kujjee tubers, 1 kg; mustard oil, 3-4 table spoons; coriander powder 1 table spoon; fenugreek powder, ½ table spoon; cumin seed, 1 tea spoon; turmeric powder, 1/2 table spoon; red chillies, 2-3; medium sized chopped onions, 2-4; garlic, 4-5 cloves; ginger paste, ½ table spoon; 1 cup amount chopped green coriander leaves and salt according to taste.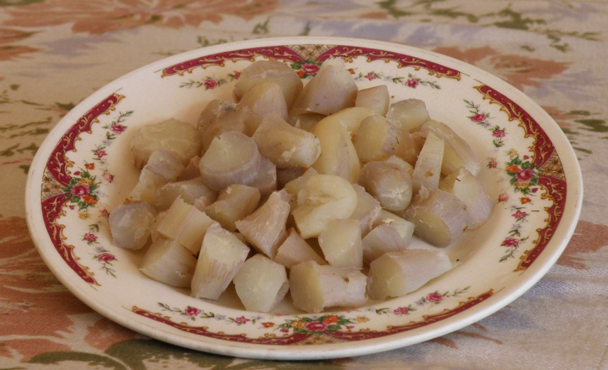 Method:
For preparing sabji, the tubers are first boiled and brown peel is taken off. Then these are cut into small pieces and fried in hot oil along with spice listed before in sequence, as is done with potatoes. Garnish with chopped coriander leaves and serve with chapatis.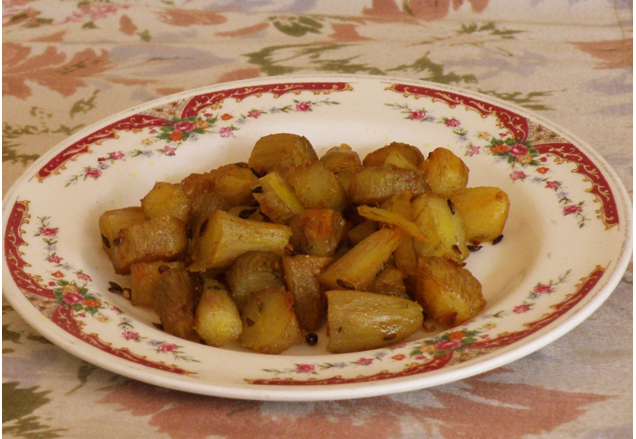 Ready to serve kujjee vegetable.
.
Kachuri:
Ingredient:
Kujjee tubers, 1 kg; wheat flour, 7-8 cup amount; yeast, 5-10 g; mustard oil, 1/2 liter; fenugreek powder, 1/2 table spoon; cumin seed, 1 tea spoon; turmeric powder, 1-3 table spoon; red chilies; 10-15; grated ginger , 250 g; , Chopped green coriander, tirmir (Zanthoxylum armatum), mint (Mentha piperita) and curry (Murraya koeingii) leaves, 2-3 cup amount and salt according to taste.
Method:
For preparing kachuri prepare dough of wheat, flour along with yeast. Allow to rest dough for 3-4 hour. Boil tardi tuber till these are soft. Mesh boiled tubers manually and add spices listed above. Mix well into fine paste. Roll dough already made into small disc or round breadspread and stuff it with paste . Give a deep fry to the stuffed disc in hot mustered oil and take them out. Repeat this for whole dough and paste, now kachuri is ready to serve.
Parantha:
Ingredients:
Kujjee tubers, 1 kg; wheat flour, 7-8 cup amount ; mustard oil, 1/2 liter; fenugreek powder, 1/2 table spoon; cumin seed, 1 tea spoon; turmeric powder, 1-3 table spoon; red chilies; 250 g; grated ginger , 250 g; ajwain (caraway seeds), 1 tea spoon; Chopped green coriander and curry (Murraya koeingii) leaves, 2-3 cup amount and salt according to taste.
Method:
Boiled tubers are meshed manually. Mix meshed tubers well with spices and make fine paste. This paste is now stuffed into the wheat flour dough and made into breadspread. Put oil on tawa (Flat fry pan) and cook both sides of stuffed breadspread by putting some oil. Repeat this process till whole paste and dough is over. Serve hot with pickle/butter/curd/chutney.
Food value:
It is rich in iron and phosphorous. Contains more than 3 times the protein content of cassava. The root is also used as a source of starch1.
Seek professional advice before treating this plant medicinally.
Medicinal Uses:
.A decoction of the tuber is used as a vermifuge 2. The outer skin of the tuber is used 3.
Four isoflavones (genistein, formononetin, pseudobaptigenin and daidzein) have been isolated from the outer tissues of the tuber 2.
Genistein (an isoflavone found in the root peel) is known to have a wide spectrum of biological activities – oestrogenic. activity being one of its most remarkable properties that might be useful for alleviating menopausal health concerns 4.
The tuber has been an indigenous vermifuge among the Khasis tribes, where raw tuber or the root peel is directly consumed for the treatment of soft-bodied intestinal worms.5
A Potential Future Food Crop:
Literature study shows that juicy tuber of kujjee is a highly priced food among the Garo , Khasi and Jaintia tribes of Meghalaya, India. Being organic and rich in food value its demand as foodstuff has increased so much in recent few years that people has started its cultivativation as a cash crop. Now it is regularly available in the local markets of these states 6. Cultivation of Kujjee as a food crop can also enrich field with nitrogen, so it is a good plant to be grown in mixed cropping. Reports shows that growing kujjee as a mixed crop was found to give better economic returns, mainly due to improved soil fertility with a net gain in nitrogen of up to 250 kg/ha/year 7.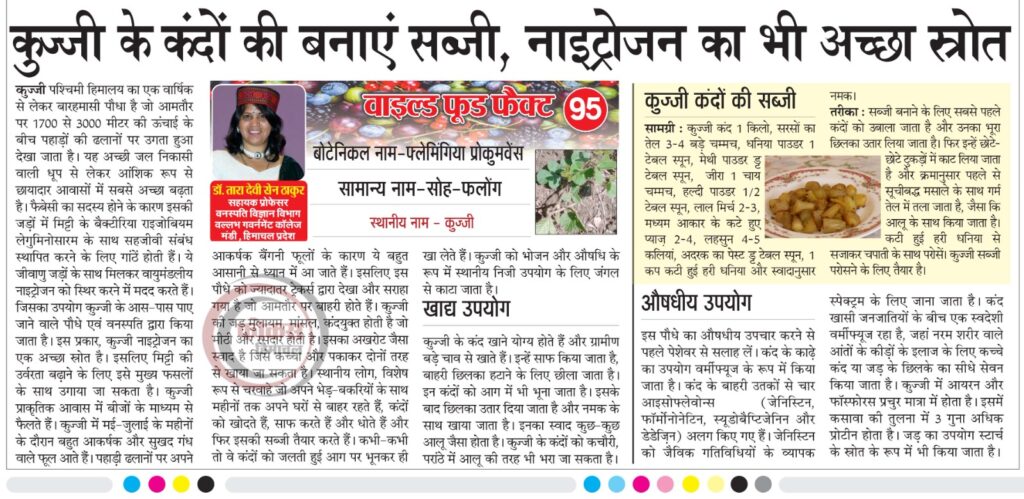 References:
Facciola, S. (1998). Cornocupia II. A Source Book of Edible Plants. Vista: Campong.
Gahlot, K., Lal, V. K., & Jha, S. (2011). Phytochemical and pharmacological potential of Flemingia Roxb. ex WT Aiton (Fabaceae). International Journal of Phytomedicine, 3(3), 294.
Shailajan, S., Kumaria, S., Pednekar, S., Menon, S., Choudhury, H., & Matani, A. (2016). Estrogenic potential of Flemingia vestita Benth Tubers in ovariectomized rat model. Pharmacognosy Journal, 8 (1
Van Valkenburg JL, Bunyapraphatsara N, eds. (2001). Plant Resources of South-East Asia No. 12(2): Medicinal and Poisonous Plants 2. Backhuys Publisher, Leiden, The Netherlands. pp. 267–270. ISBN 978-90-5782-099-1.
National Research Council (2002). Tropical Legumes: Resources for the Future. Books for Business/ The Minerva Group, Inc. pp. 37–38. ISBN 978-0894991929
Gangwar AK, Ramakrishnan PS (1989). "Cultivation and use of lesser-known plants of food value by tribals in north-east India". Agriculture, Ecosystems & Environment. 25 (2–3): 253–267. doi:10.1016/0167-8809(89)90056-X.