Family: Chenopodiaceae
Common name: Lamb's quarter, white goosefoot, wild spinach
Local name: Bathu (बाथू) ,Kadon (कड़ों)
Bathu is a fast-growing seasonal weed appearing during summer months. It is especially common at those places which are rich in organic matter e.g. in the vicinity of cowsheds and around manure pits. It occurs more frequently in the mid hill region ranging between 1200 to 1500 metres. It is NOT cultivated and is a purely a wild growing shrub. Its seeds are not used for food or any other purpose. It is only the leaves that are cooked and used as a vegetable.
There looks to be a lot of confusion in encyclopaedic books carrying information about edible plants. Two or three types of plants are described under the heading Chenopodium album. The bathu, what we are talking about here, is a small plant, 30 to 50 cm tall and there is a white covering on its growing tips and leaves at the end portion of a branch. It is probably due to this white covering that the name "white goosefoot" is also one of the names for this plant. This white covering is harmless. The leaves are tender and without any crude type of fibre.
Bathu plant:
A polymorphous, mealy-white, erect herb, usually 30-50 cm tall; stems rarely slender, angled and striped green.
Leaves rhomboid, deltoid or lanceolate, upper entire, lower toothed3-6 cm long;
Flowers in clusters in leaf axils.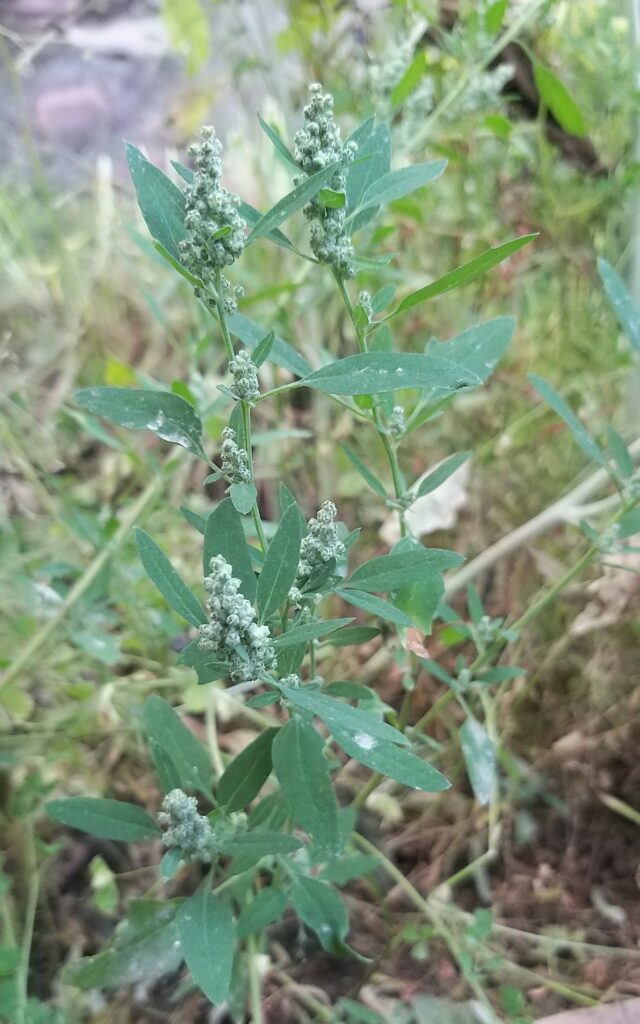 Edible uses:
It is the leaves and and tender terminals which are cooked for food. These are mostly prepared as saag (साग). These leaves along stem terminals also make a very tasty kacharoo (कचरू).

The water content of bathu leaves is much less than those of common cultivated leafy vegetables like mustard, spinach etc. so these cook relatively faster and also possess a different taste.
Preparing bathu saag:
Ingredients:
Chopped leaves and tender tips, 1 kg; mustard oil, 2 table spoons; coriander powder, 1 table spoon; fenugreek powder, ½ table spoon; cumin seeds, 1 tea spoon; turmeric powder, 1 table spoon; red chillies, 2-3; medium sized chopped onions, 2-4; garlic, 4-5 cloves; ginger paste ½ table spoon; boiled potatoes and salt, according to taste.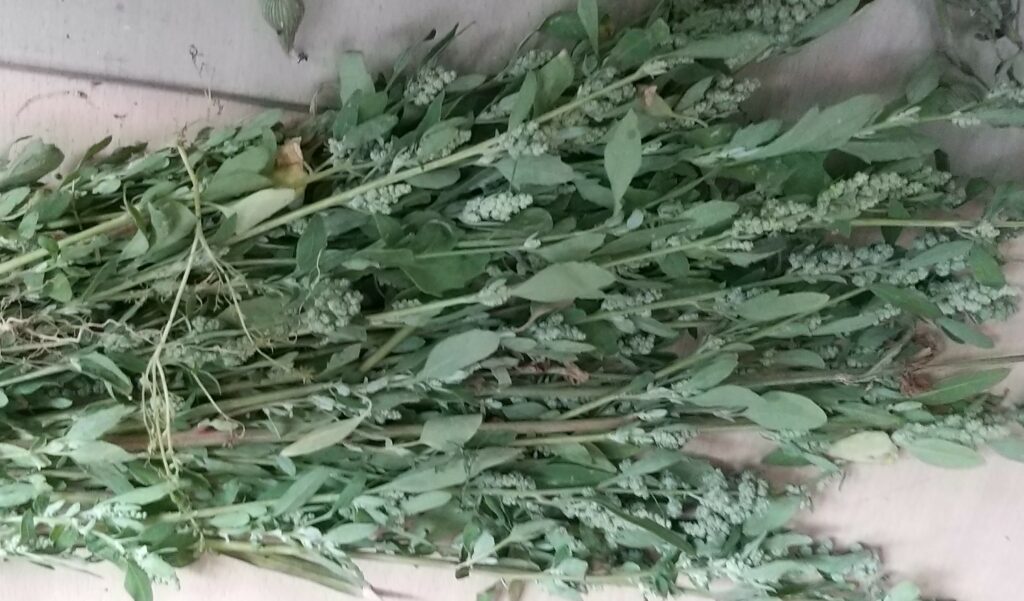 Method:
Boil chopped leaves and tips till they become soft. Mesh these with hand or in a mixer. Then sauté with hot mustard oil and the spices listed before in sequence. This sauted sag is then ready and can be served.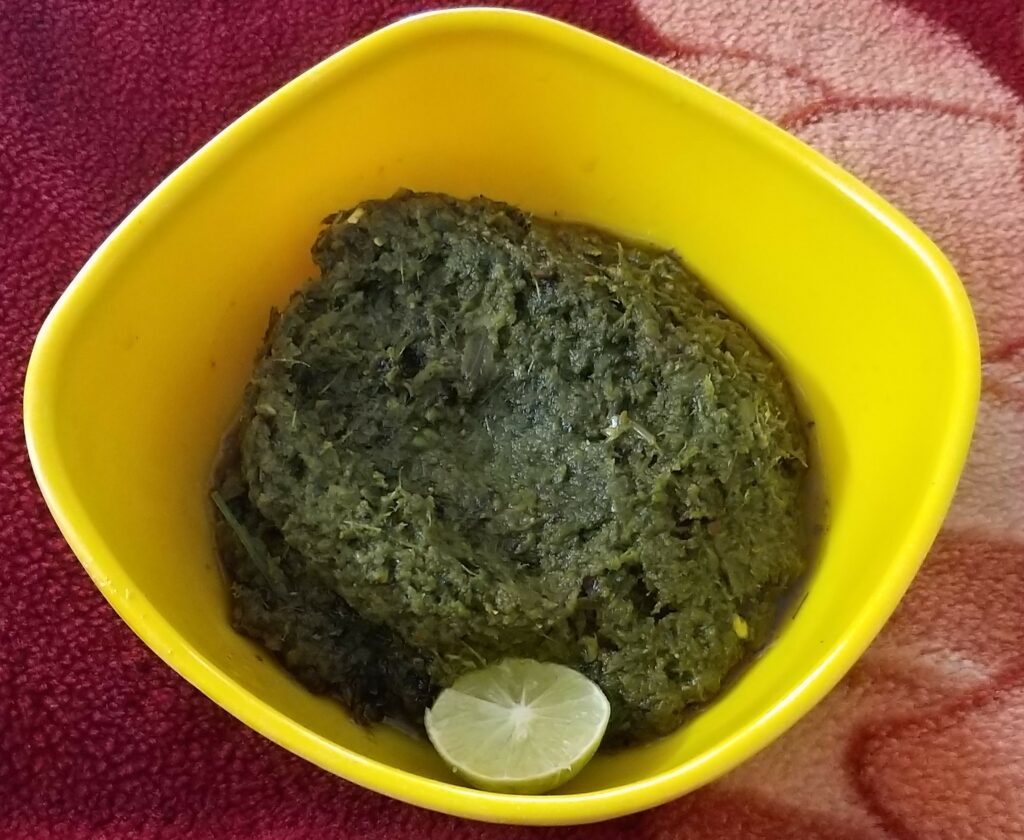 For making a kacharoo, the leaves are cut into thin pieces and mixed with some gram flour besan (बेसन) and then made into a semi solid lump. Salt and necessary spices are also added to it. This lump is then rolled flat and heated on a flat pan with some oil till it gets cooked. It usually takes 25-30 minutes. These can also be used as a snack with tea or drinks.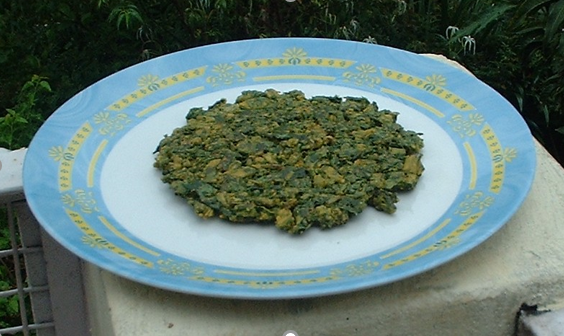 Food value:
Chemical analysis of bathu leaves revealed that 100 grams of these contained 84.6 g moisture, 3.7 g protein, 800 mg fibre and 2.6 g of different minerals1 .
Seek advice from a professional before using this plant medicinally.
Medicinal Uses:
Plant improve the appetite, oleaginous, anthelmintic, laxative, diuretic, aphrodisiae, tonic; useful in biliousness " vata" and " Kapha",abdominal pain, eye disease, throat troubles, piles, disease of the blood, the heart, the spleen.(Ayurveda)
The plant is used as a laxative. It is used in the form of pot herb in piles. The finely powdered leaves are used as a dusting powder about the external genitalia in children.
Bathu as a source of income:
Bathu is not cultivated. However, its plants grow in wild in large numbers. So in villages it is available free. Villagers gather young bathu plants during the season and bring them top towns for sale.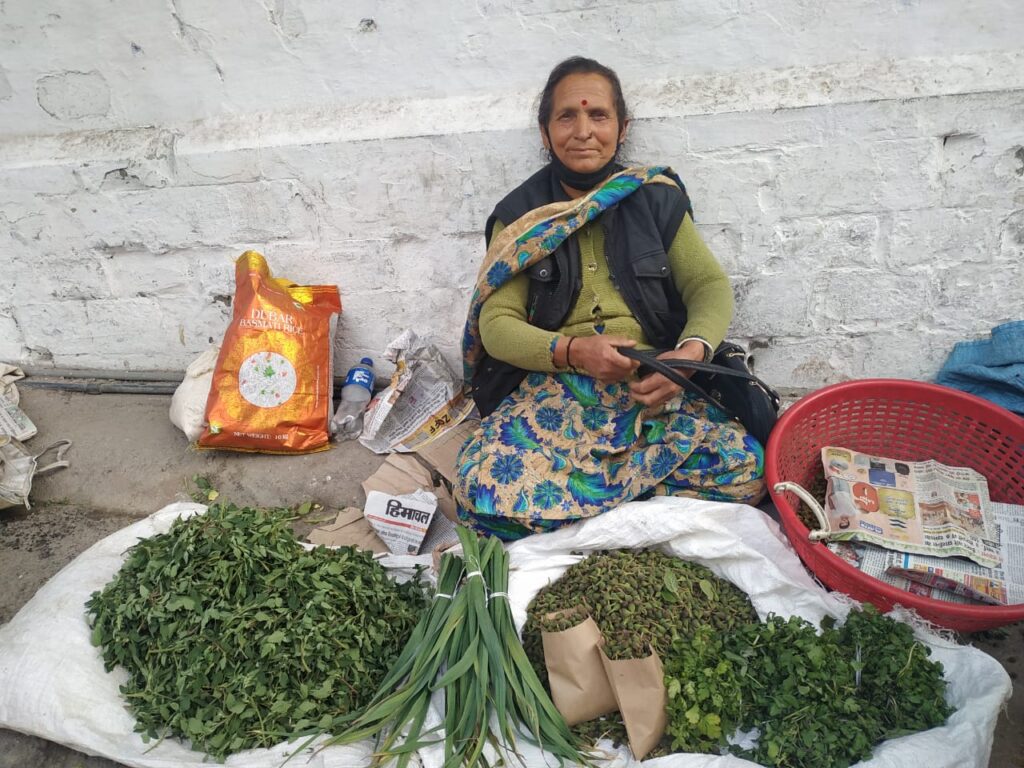 In most Himachal towns, there are special points of sale where wild fruits, wild growing vegetables and edible plants are offered for sale. Besides these, many ethnic food preparations are also sold at these points. So there is no problem of sale of such items.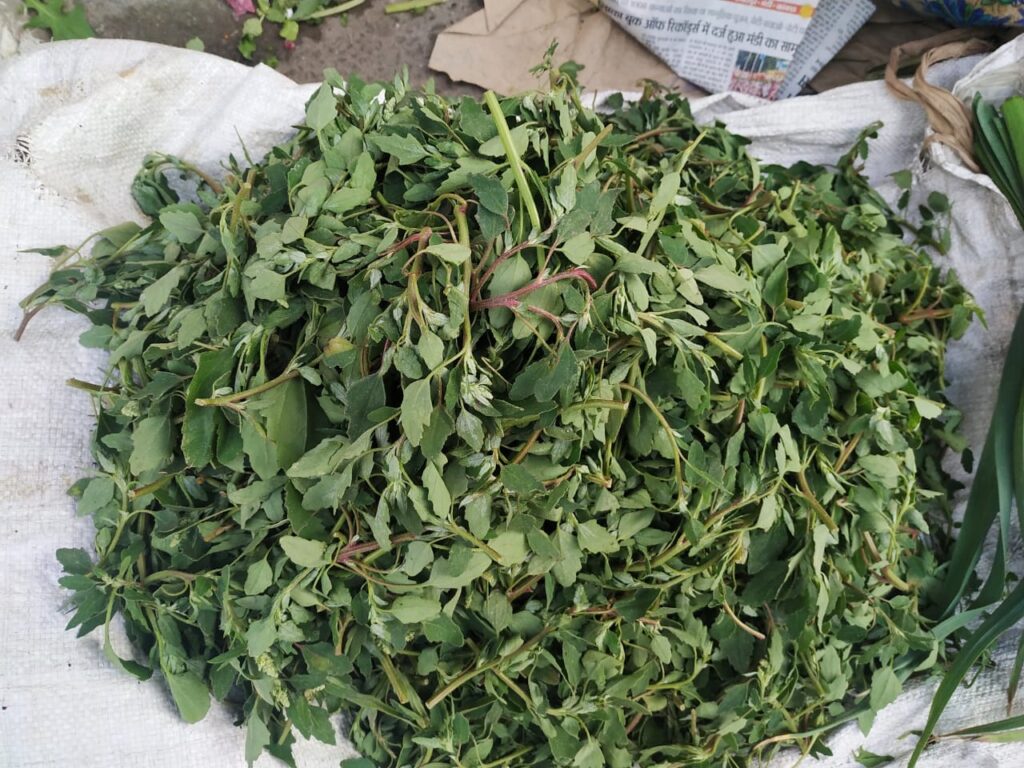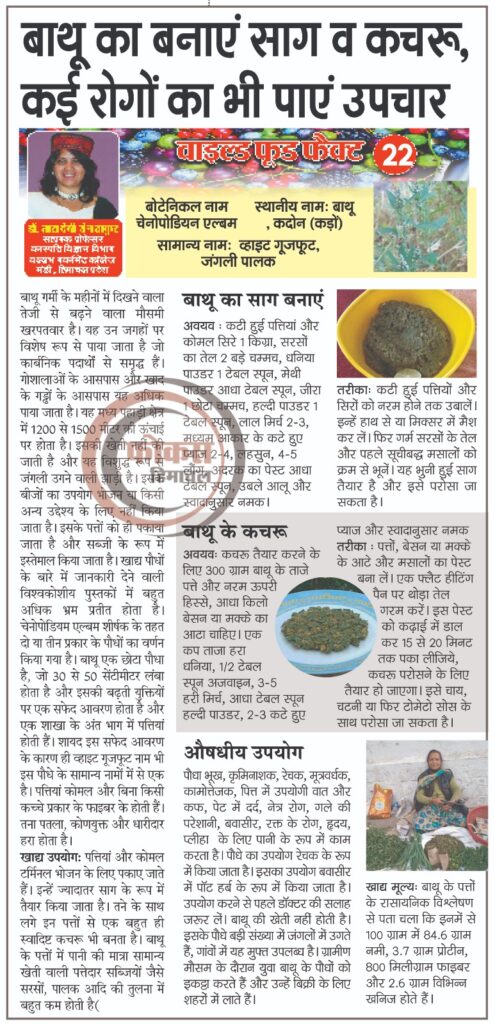 References:
Anonymous, (1994), The Wealth of India:Raw Materials, Vol. 111a, CSIR. New Delhi