Family: Urticaceae
English name: Stinging nettle
Local name: Koogas, (कूगस,बिच्छूबूटी)
Koogas Urtica parviflora is a quite widespread herbaceous perennial plant growing all over the hills up to 3700 meter. There are two other plant known by same local name viz. Urtica dioica and Girardiana heterophylla. All these three plants are considered as teacher of students as they have quite similar appearance and cause irritation , itching and inflammatory effect on body when touched. But it is Urtica dioica and Urtica parviflora which is eaten but both plant species are very similar and difficult to identify.Very close observation shows that U.dioica is tall, leaves with deep tooth and dioecious while Urtica parviflora is small in size having leaves with shallow tooth and is monocious. Contact with Urtica parviflora also causes irritation, but it is much less than the other two. This plant is mostly found growing at moist sites along streams, open forests and ditches, on mountain slopes, in woodland clearings, and in disturbed areas such as roadsides and old fields. Terminal shoots of Urtica parviflora are cooked as vegetable or soup.
Koogas plant:
A perennial herb, 25-50 cm tall.
Stems slender, simple or few branched.
Leaves broadly ovate or ovate-cordate, 2.5-8.5 × 2-7 cm, often membranous, 5-veined, lateral basal veins arcuate, reaching middle margin, secondary veins 2-4 each side; base rounded or shallowly cordate, margin doubly dentate, teeth increasing in size distally, apex acuminate.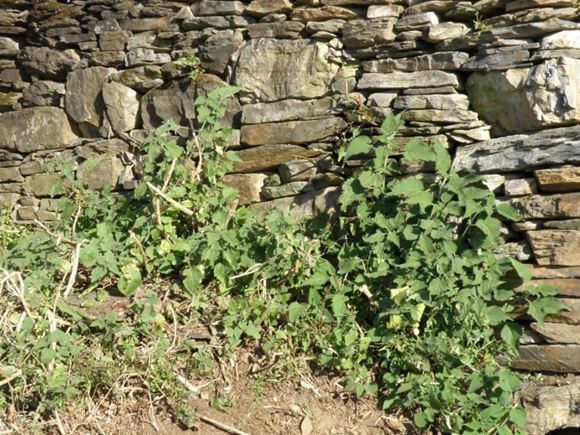 Koogas plants
Inflorescences unisexual; male inflorescences in distal axils, spicate, 4-7 cm; female ones in proximal axils, subspicate, slender, with a few short branches, or male flowers in middle axils, female flowers in proximal and distal axils, subequal to or shorter than petioles; male flowers sessile or short pedicellate, in bud about 1.3 mm; perianth lobes connate 1/2 of length, densely hirtellous, then glabrescent; female flowers: perianth lobes connate at base, unequal, dorsal-ventral lobes suborbicular, sparsely setulose, lateral lobes broadly obovate, about 2 times as short as dorsal ones.
Achene yellowish green, broadly ellipsoid-ovoid, slightly compressed, about 1 mm, smooth, invested by persistent perianth lobes.
Edible uses:
Koogas is eaten as a leafy vegetable and its taste is comparable to spinach but with a slightly greener and earthier flavour. As older leaves can be laxative, so relatively younger leaves and tender terminals are preferred for cooking. Most common preparation from koogas is saag. Sometimes chutneyis also prepared from the leaves.
Method of Kugas leaf harvest
People cover their hands with gloves or by wrapping cloth around hands while collecting the leaves. One can use tongs to pluck leaf safely from koogas plant The leaves lose their stinging property after the these are soaked in water. The stinging effect completely vanishes after cooking. Saag (cooked leaves) of koogas is a quite popular in the hills and is a seasonal delicacy.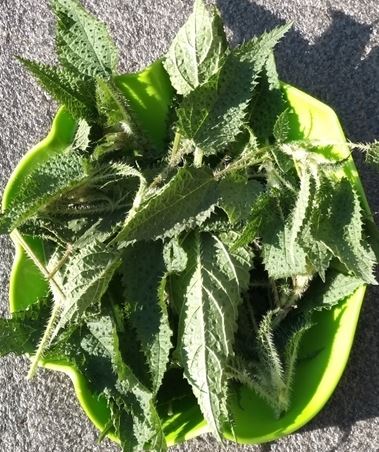 Harvested koogas Leaf
Koogas saag or lapsy:
Ingredients:
Young leaves and tender shoot tips, 1 kg; mustard oil, 2 table spoons; coriander powder 1 table spoon; fenugreek powder, ½ table spoon; cumin seed ¼ table spoon; turmeric powder, 1/4 table spoon; red chillies, 2-3; chopped onions 2-4; garlic, 4-5 cloves; ginger paste ½ table spoon maize or rice flour 5 table spoon and salt according to taste
.
Method:
Boil leaves and tender tips with or without rice or maize flour till they are soft. Then mesh these manually or in a mixer. Then sauté with hot mustard oil and the spices listed before in sequence. This sauted sag is then ready and can be served as such or can be mixed with 2 or 3 chopped onions and cooked again for 5 to 10 minutes before serving. When rice or maize flour is boiled along with tender leaf and sautéed with spices then recipe is called lapsyLapsyvery famous in hills and people living there are very found of this recipe in winter season along with roti prepared from maize or rice flour.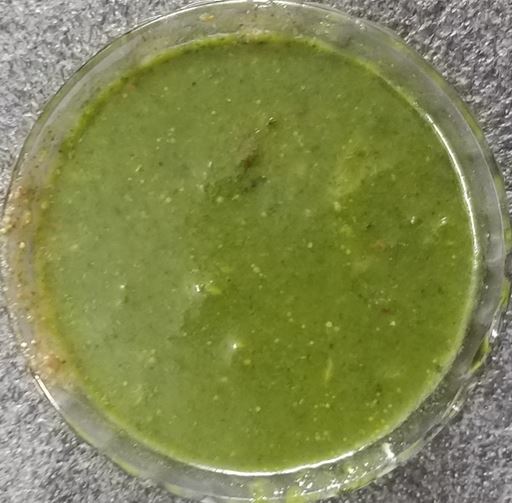 Lapsy prepared from tender terminals of koogas plant
To prepare chutney, take 100 gm chopped koogas leaves, 100 gm chopped mint leaves, 50 gm anardanaor amchoor, 5-6 green chillies, 20 gm coriander leaves, 2-3 onion, 1table spoon amount ginger. Grind all well in a mixer and add salt according to taste. Now chutney is ready to serve.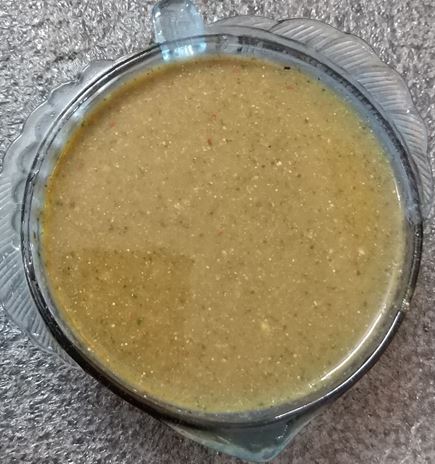 Chutney prepared from young leaf of koogas plant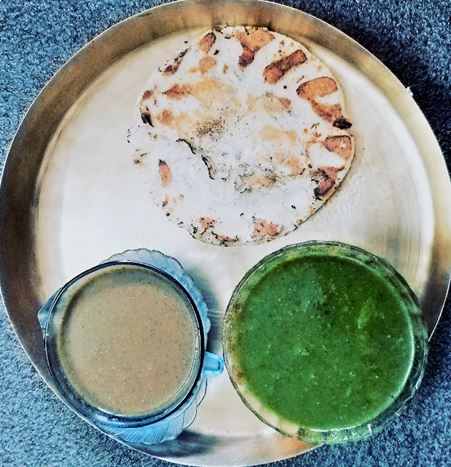 Ready to serve Laapsi and chutney of koogas
along with roti of rice flour
Seek advice from a professional before using this plant medicinally.
Medicinal Uses:
Koogas plant has many medicinal uses and used by villagers for treating several ailments. Roots are employed for the treatment of fractures and dislocations. Leaves and inflorescences are prescribed as tonic and as a cleaning agent after parturition. A decoction of this herb is given in fevers.
Other uses:
The stem of koogas plants yield a fibre which is used in making ropes.
Koogas plants are also sometimes fed to cattle.
It is believed in villages that plant is helpful in keeping evil esprit away.