Family: Boraginaceae
Synonyms: Cordia wallichii, Cordia myxa, Cordia latifolia,Cordia dichotoma Common name: Clammy Cherry, Sebesten plum
Local name: Lasura, (लसूडा),Lassora, Lessora, Lasora
Lassura is a quite widely distributed plant growing all over India. However, in western Himalayas its trees are seen growing upto an elevation of 1500 metres only. It is a very vigorous deciduous tree. It sheds its leaves at the end of winter and staying in leafless condition for a very brief period, hardly of 15-20 days. Nearly all lassura trees grow wild and that too scattered.
Two strains of lassura have been observed to grow in western Himalayas . One has relatively smaller fruits while the fruits in other type are slightly bigger. Other characteristics of the tree are same. The small fruited strain is more common.
Though lassura tree has many uses, but the most common usage is its fruit as a vegetable. Lassura vegetable is a seasonal delicacy. So lassura fruits, collected by villagers from wild growing trees, are offered for sale during the season. These fetch a good price and are a good source of income for villagers. Lassura trees start flowering at the end of April and continue till the end of May. The fruits start coming to the market in the beginning of July and continue till August end.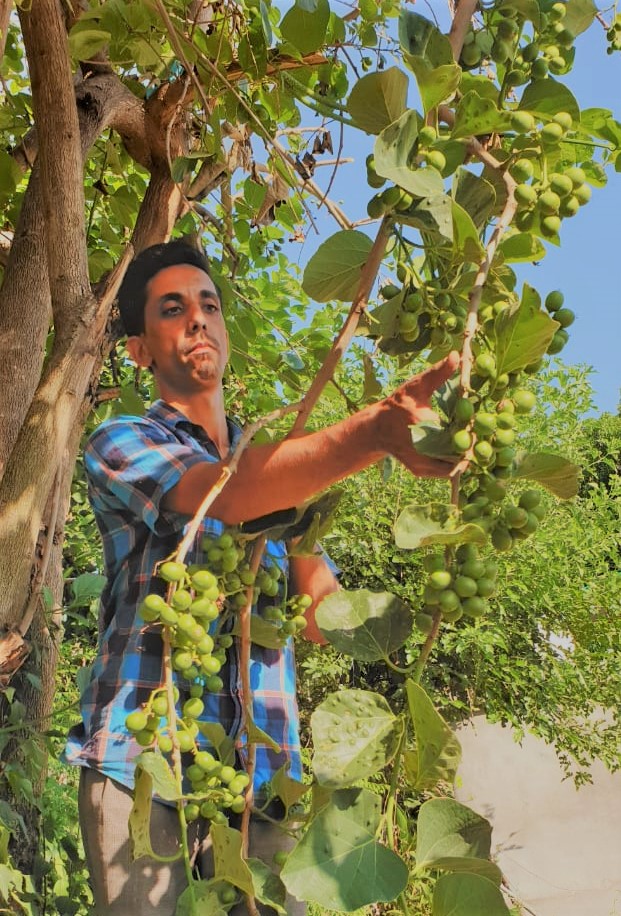 Besides fruits, newly emerged leaves, which are tender at that time, are used as a vegetable and a speciality preparation, PATRODU, is made from them. The tree also provides fodder and wood for fuel.
Lassura fruits get infested with some sort of fruit fly whose larvae make a hole in the endocarp and eat the seed. This infestation is almost hundred per cent. The larvae, however escape after making a hole in the seed and are not seen in the fruit. But the seed gets damaged and does not remain fit for sowing as it will not germinate. This is a big limitation in raising new trees of lassura.
Lassura plant:
A vigorous deciduous tree, upto 10.5 m high;trunkgirth of a full bearing tree being 75.5 cm, branchlets glabrous, wood soft, light grey, no heartwood.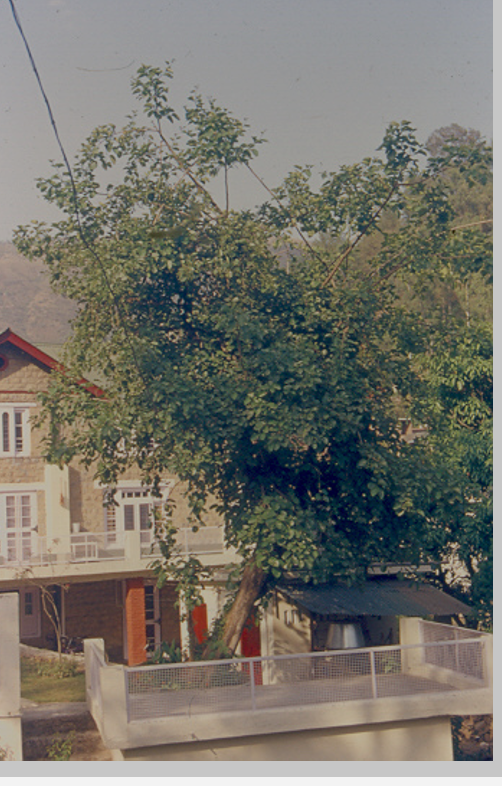 A tree of lassura
Leaves alternate, entire to slightly dentate and glabrous, but may be more or less rough when fully grown, shape, from elliptic-lanceolate to broad ovate, often with a rounded or cordate base; basal nerves 3, rarely 5, blade 3-6, petioles 2.5-5 cm long.
Flowers bisexual, complete, short-stalked, actinomorphic, white and glabrous, fully open flower 6 mm wide; inflorescence terminal or axillary cyme, almost resembling to a biparous cyme having 14 flowers per cluster; calyx cup-shaped; sepals about 4mm long, slightly dentate from top, light green in color and gamoseplous; corolla with four creamish white petals, 6mm long, polypetalous; androecium contains two stamens, each having a very small filament and epipetalous; gynoecium bifurcated, 4 mm long and having a globose shaped ovary at the base.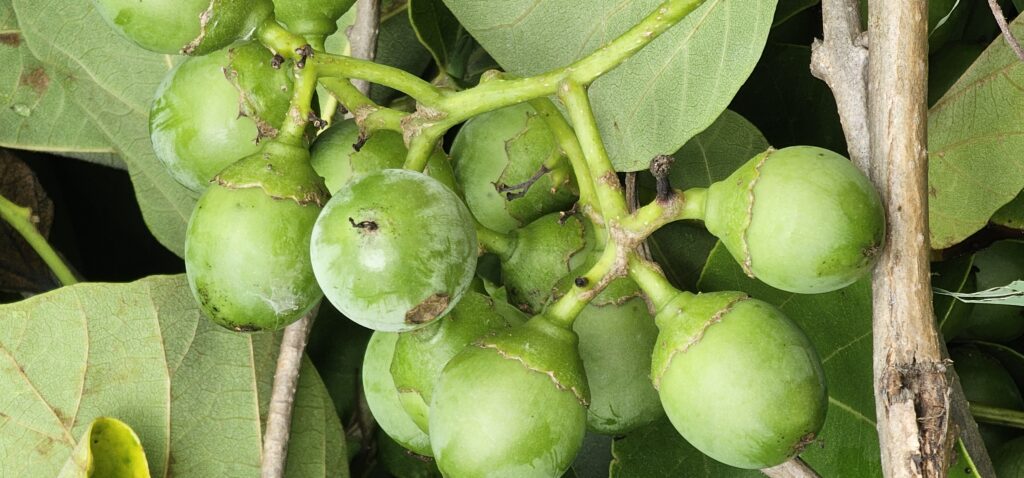 Fruit is drupe, 1.3-2.5 cm long, yellowish brownwhen ripe, pink or nearly black, shinning but minutely rugose, endocarp rugose, very hard, in a sweetish viscid, almost transparent pulp; epicarp thick, mesocarp mucilaginous, endocarp hard and stony.
Stone 8.5 × 7 mm, 298 microlitres in volume, 375 mg in weight; each stone containing two seeds, separated by a stony septum; seeds mildly sweet in taste
Edible uses:
The raw fruits are used as vegetable. This is done by splitting the fruit and taking the stone out. The fruits contain mucilage and are sticky. This makes their handling a bit inconvenient. To solve this problem, oil is rubbed on hands before handling the fruits.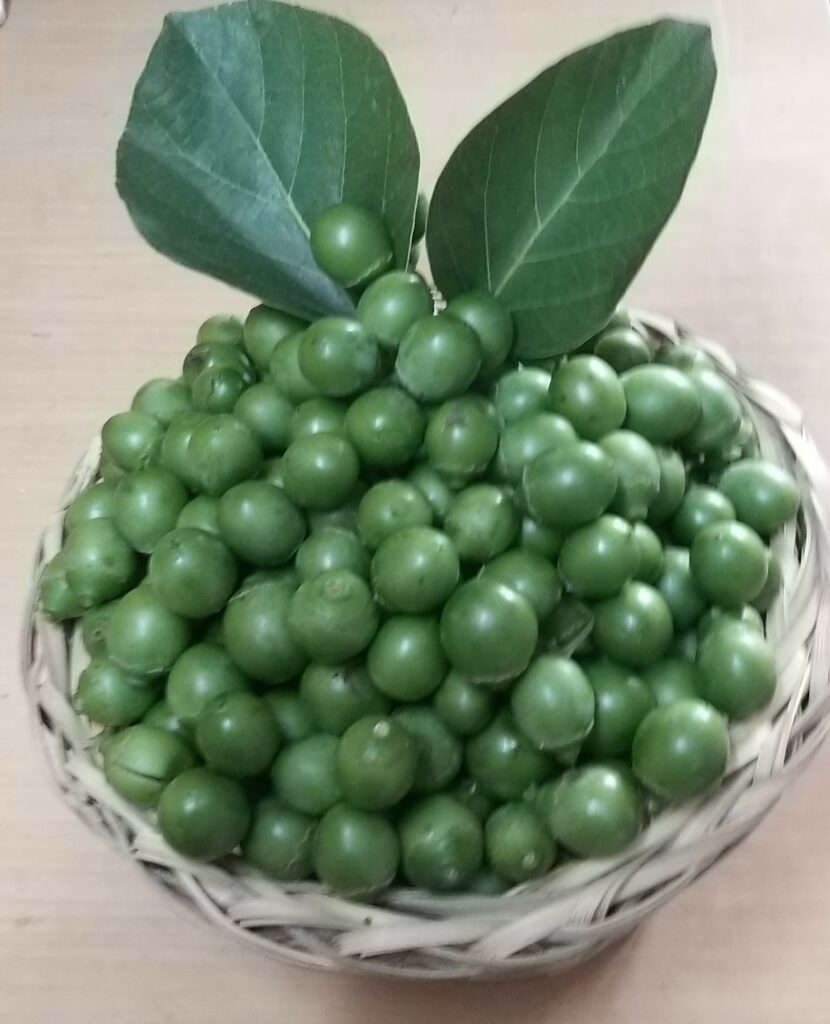 Preparing lassura vegetable:
Ingredients required:
Lassora fruits, split and deseeded, 1 kg; mustard oil, 2 table spoons; coriander powder, ½ table spoon; fenugreek powder,1/4 table spoon; cumin seed, 1 table spoon turmeric powder, 1 table spoon; red chillies, 2-4, chopped onion, 1; chopped garlic cloves, 4-5; tomato puree half cup, salt according to taste; 1 big table spoon anardana (Dried seeds of sour pomegranate) or amchoor dried mango powder.
Method:
Fruits are sauted in hot oil along with whole spices like coriander, cumin seeds, chillies, turmeric, onion, garlic and tomato puree etc in sequence. Then cook for 20 to 30 minutes till become soft. Finally add anardanaor amchoor. As the unripe fruits are highly mucilaginous and also taste alkaline, so addition of some souring agent improves the taste. Now it is ready to serve.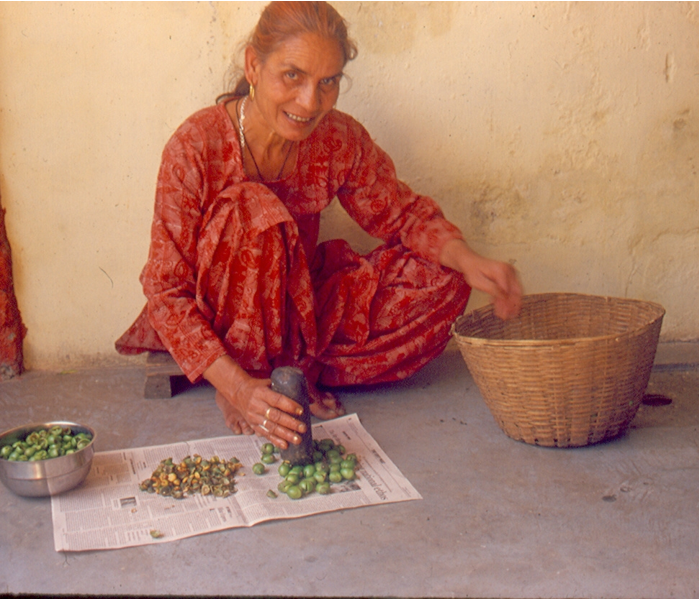 Fruits being deseeded for cooking as vegetable or pickle making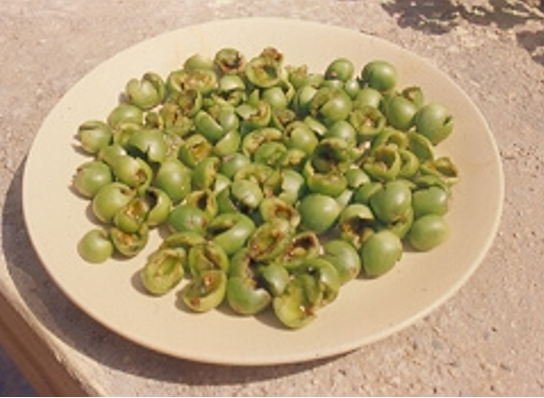 Deseeded fruits
Pickle :
Pickle is also prepared from unripe fruits. For preparing pickle, raw fruits are boiled and dried in sun before sauting with spices. Raw deseeded fruits can directly be sauted with spices if you want to preserve for long time, One table spoon mustard seeds are then added to make them sour.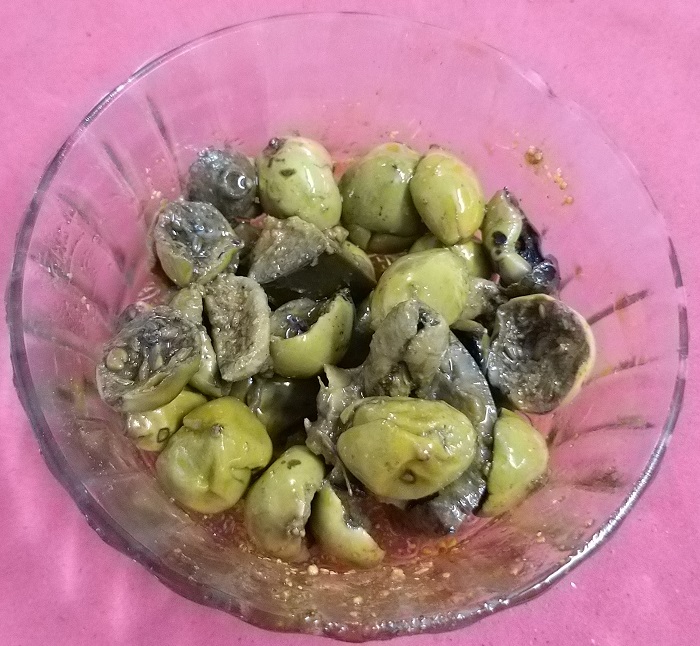 PATRODU :
The tender leaves of new spring growth are made into a roll called PATRODU in local dialect. Patrodu is used as snack or vegetable. Patrodus can be made like this:
The tender leaves of new spring growth are made into a roll called PATRODU in local dialect. It is used as a snack or vegetable.
Putting besan mixture on leaves for patrodu making
Ingedients:
15-20 newly emerged tender of lassura, 250 gm besan (black gramflour) or corn flour, 1 cup; fresh coriander leaves (chopped), 3-5 green chillies, ½; table spoon turmeric powder, 2-3 chopped onions, 1cup amount chopped leaves of herbbhavri(Ocimum bacillus)and salt according to taste.
Method:
Make a paste of spices and besan (or corn flour) by blending them together. Now take one lassura leaf and keeping its lower side upward apply this paste over it then cover this leaf with another leaf in reverse order and again put paste over it. Repeat this process for 4-6 leaves and fold side of the leaves inside and roll like bedding. Tie it with thread or wrap inside by large turmeric leaf to make it one piece. Take a big pan and add some water then put small sticks to make rack over the water. Place the folded leaves on rack and let it be steam cooked for 15 to 20 minutes. Take out the rolls and let it cool down. Then cut into small pieces. These pieces can be shallow fried or deep fried according to taste.
Serve as a snack with tea or use as vegetable.­­­­­­­­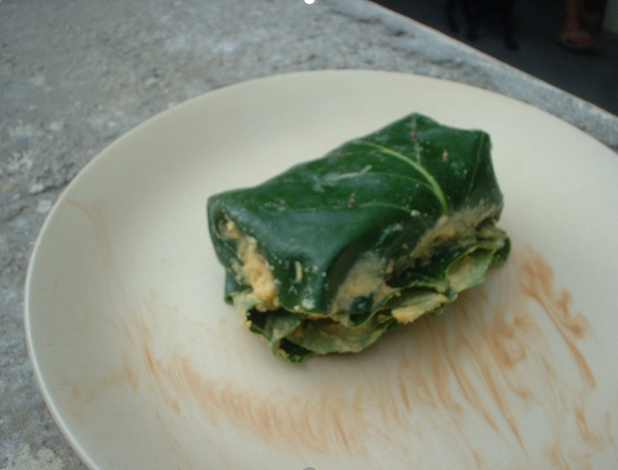 Patrodu ready for steam cooking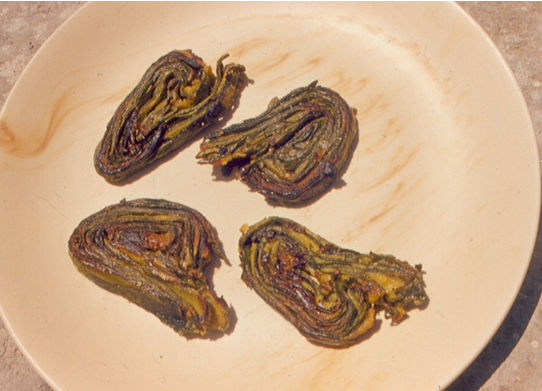 Ready to eat patrodu
Food Value:
Lassura fruit contains moisture, 75 g; acidity, 0.2 g; total sugars, 3.55 g; reducing sugars, 3.41 g; non-reducing sugars, 0.08 g, and pectin, 4.5 g; all per 100 g of the edible portion. The total soluble solids of the fruit pulp constitute 10.2 per cent.
The fresh fruit also contains, protein 2.06 g; ash, 2.132 g; phosphorus, 0.091 g; potassium, 1.066 g; calcium, 0.062 g; magnesium, 0.067 g; and iron 0.005 g per 100 g of the edible portion 1.
Seek advice from a professional before using this plant medicinally.
Medicinal Uses:
The fruit is sweetish; slightly cooling; anthelmintic, bechic; used as an expectorant and astringent; valuable in all diseases of lungs.
Lassura fruits can be used as an expectorant and are effective in treating the diseases of the lungs. In the raw condition, they contain a gum which can be used beneficially in gonorrhea.
The fruits are also useful in treating coughs, the diseases of the chest, and chronic fever. They lessen thirst and the scalding of the urine, remove pain from the joints and the burning of the throat and are also effective in treating the diseases of the spleen. The fruits are also used as a demulcent.
The juice of the bark, along with coconut oil, is given in gripes. The bark and also the unripe fruit are used as mild tonic.
The kernels are a good remedy in ring worm. The leaves are useful as an application to ulcers and in headache, every part of plant is recommended for the treatment of sneak bite and scorpion sting but every part is equally useful in antidotle treatment of either sneak bite or scorpion sting 2 .
Oher uses:
Tree is also a good source of fodder and fuel. Fodder is lopped during winter season. Twig or branches left after cattle feeding are dried and used as a fuel. Fruit mucilage can be used to prepare gum.
Lassora as a source of income:
Lassura is a seasonal delicacy and due to its medicinal value raw fruits are in great demand. Raw fruits are good source of earning for villagers, especially poor people. Villagers collect fruits and bring these for sale to adjoining market. These fruits easily fetch a price from 40 to 80 rupees a kg depending upon fruit quality. Villagers also sell fruits by visiting door to door in town. Village women are also preparing lassura pickle. They sell it in towns through self-help groups. It fetches a price from 180 to 250 Rs per Kg.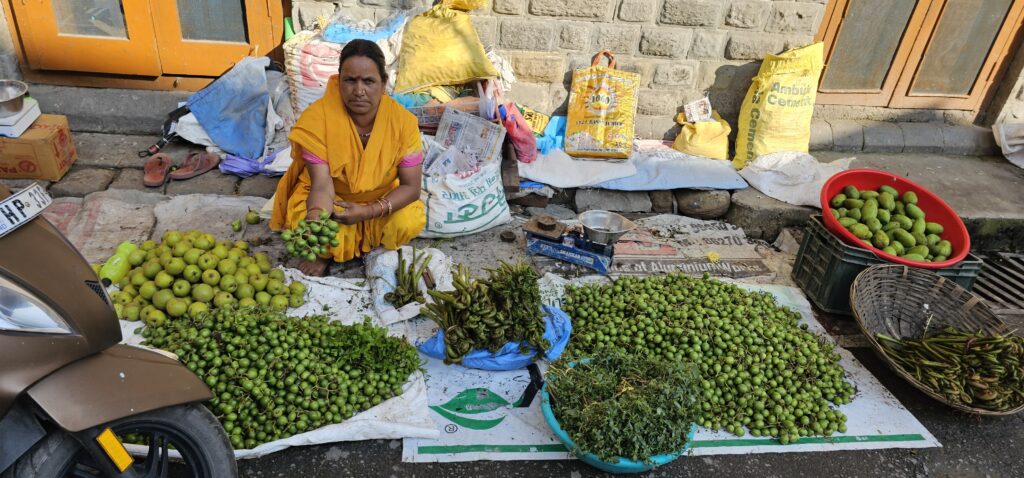 References:
1.Parmar, C. and M.K. Kaushal (1982), Wild Fruits of the Sub-Himalayan Region, Kalyani Publishers, Ludhiana.
.2.Kirtikar K.R. and B.D. Basu, (1935), Indian Medicinal Plants, Vols. I, II III and IV, Bishan Singh Mahendra Pal Singh, Dehradun.