Family: Moraceae
Synonym: Ficus glomerata, Covellia glomerata.
Common name: Cluster fig tree, Indian fig tree or goolar (gular) fig.
Local name: Umre ( ऊमरे).
Umre plant is an evergreen or deciduous tree. It is large in size, trunk deeply buttressed and often with an irregular canopy. Umre is commonly seen in open, deciduous forest, moist areas, beside rivers and streams. It is found up to an altitude of 1200 m in Western Himalayas. Plant prefers full sunlight to partial shade and succeeds well in most soils that are reasonably moist and well-drained.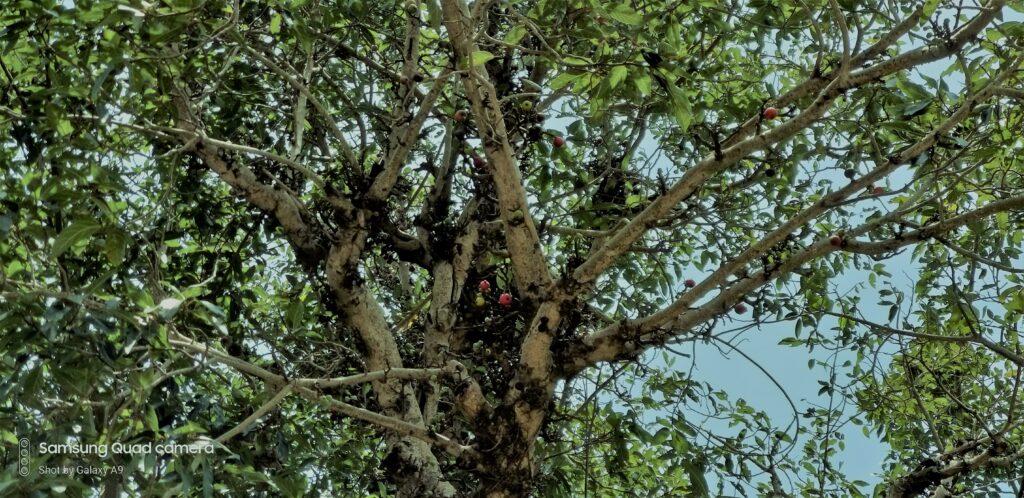 Umre is a multipurpose tree for the people of western Himalayas. It is cultivated sometime, for its multifarious uses which includes its uses as a food, fodder, fuel, spiritual, medicine and aesthetic value. Tree is grown as an ornamental tree in parks, large gardens and also cultivated in private land for its spiritual uses.
Umre fruits and young shoots are edible and eaten raw or cooked. Raw fruits are pickled and sold by members of various SHG in Himachal Pradesh, thus Umre is a good source of earning for poor people. Leaves are also cooked as a vegetable. Its wood is used for preparing low-quality items and as a fuel.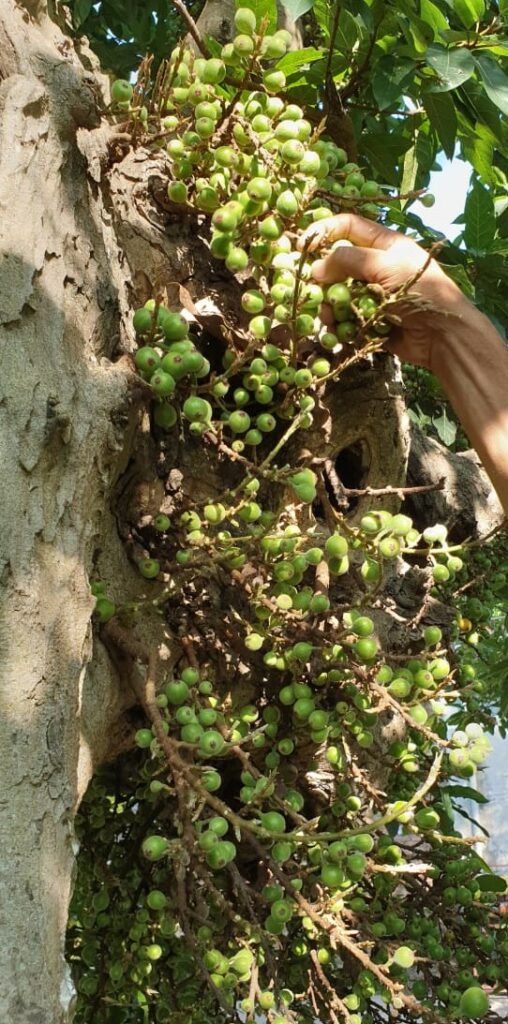 Umare Plant:
Large deciduous trees, to 25-30 m tall; bole buttressed can be 36 – 90cm in diameter; bark 8-10 mm thick, surface reddish-brown or yellowish-brown smooth, coarsely flaky, fibrous; blaze creamy pink; latex milky;
Tender shoots and twigs finely white hairy, soon glabrous; branchlets 1.5-3 mm thick, puberulous.
Leaves simple, alternate, petiolate 10-13 cm long, stipules 12-18 mm long, lanceolate, linear-lanceolate, pubescent, often persistent on young shoots; petiole10-50 mm long, slender, grooved above, becoming brown scurfy; lamina 6-15 x 3.5-6 cm, ovate, obovate, elliptic-oblong, elliptic-lanceolate, elliptic-ovate or oblong-ovate, base acute, obtuse or cuneate, apex narrowed, blunt or acute, margin entire, membranous, glabrous, blistered appearance on drying; 3-ribbed from base, 4-8 pairs, slender, pinnate, prominent beneath, intercostae reticulate, obscure.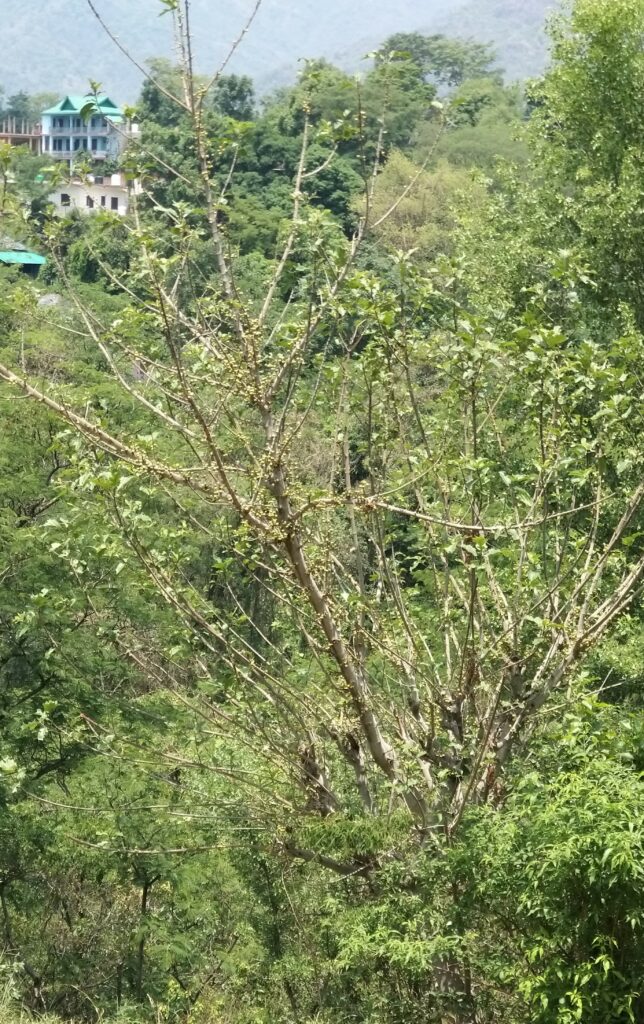 Flowers unisexual; inflorescence a syconia, on short or larger leafless branches or warty tubercles of trunk, subglobose to pyriform, smooth, often lenticellate-verrucose; peduncle 3-12 mm long, stout, orifice plane or slightly sunken, closed by 5-6 apical bracts; internal bristles none; basal bracts 3, 1-2 m long, ovate-triangular, obtuse, persistent; flowers of unisexual, 4 kinds; male flowers near the mouth of receptacles, in 2-3 rings, sessile, much compressed; tepals 3-4, dentate-lacerate, lobes jointed below, red, glabrous; stamens 2, exserted; filaments 1 mm, connate below; anthers oblong, parallel; female flowers sessile or very shortly stalked among gall flowers; tepals 3-4, dentate-lacerate, lobes jointed below, red, glabrous, ovary superior, sessile or sub stipitate, red spotted; style 2-3 mm long, glabrous, simple; stigma clavate; gall flowers long stalked; ovary dark red, rough; style short.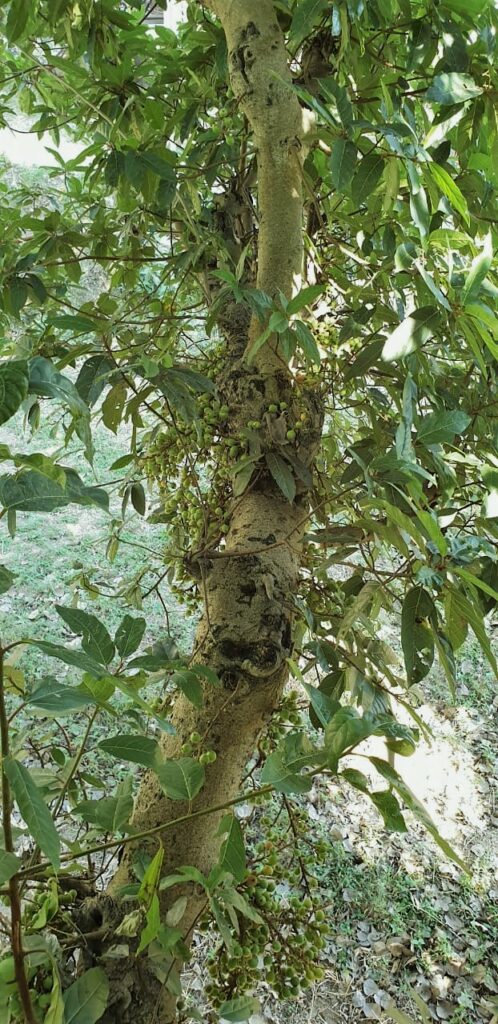 Figs subglobuse, 2.5 x 3.5 cm, red or orange, when ripe, in short thick, paniculate clusters, on the trunk and large branches, rarely axillary, peduncled. achene granulate.
Umare plant can provide edible fruits in April-July and tender leaves throughout the year.To ensure sustainable harvesting fruits should be harvested on rotation basis and some fruits should be left on parent plant for regeneration.
Edible uses:
As already stated, unripe fruits are pickled and cooked as a vegetable. The fruit can be dried and ground into a flour and can be eaten with sugar and milk. The Ripe fruits are sweet, but vapid in taste. Tender shoots and leaves can also be prepared as vegetable. The leaves of this plant are rich in flavonoids, triterpenoids (basically lanosterol), alkaloids, and tannins (Shiksharthi & Mittal, 2010). Therefore, leaves are eaten for its medicinal value.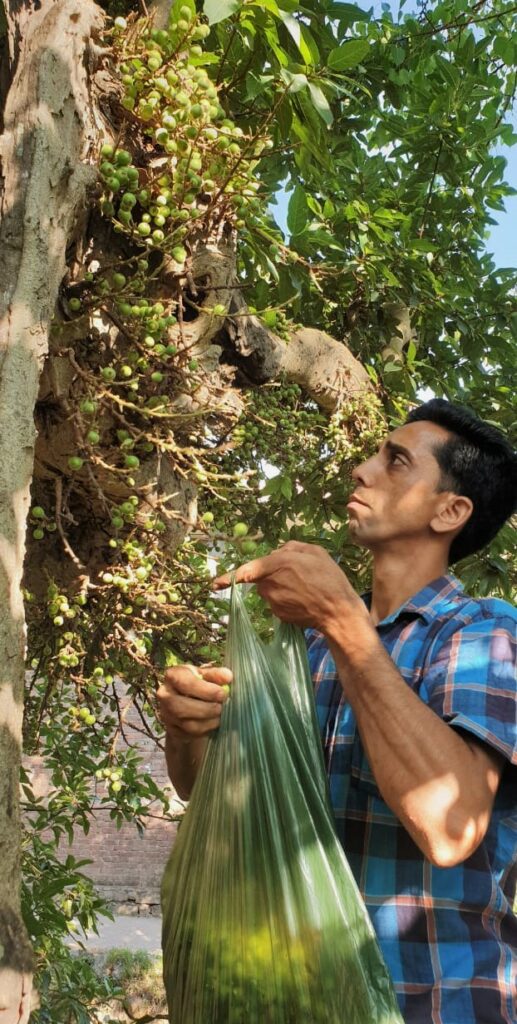 .
Preparing Umre Vegetable:
Ingredients:
Umre fruits cut into two pieces,1 kg; mustard oil, 3-4 table spoons; coriander powder, ½ table spoon; fenugreek powder,1 tea spoon; cumin seed, 1 table spoon; turmeric powder, 1 table spoon; medium sized red chilies, 2-4; medium sized chopped onion, 1; chopped garlic cloves, 4-5; tomato puree half cup; salt, according to taste.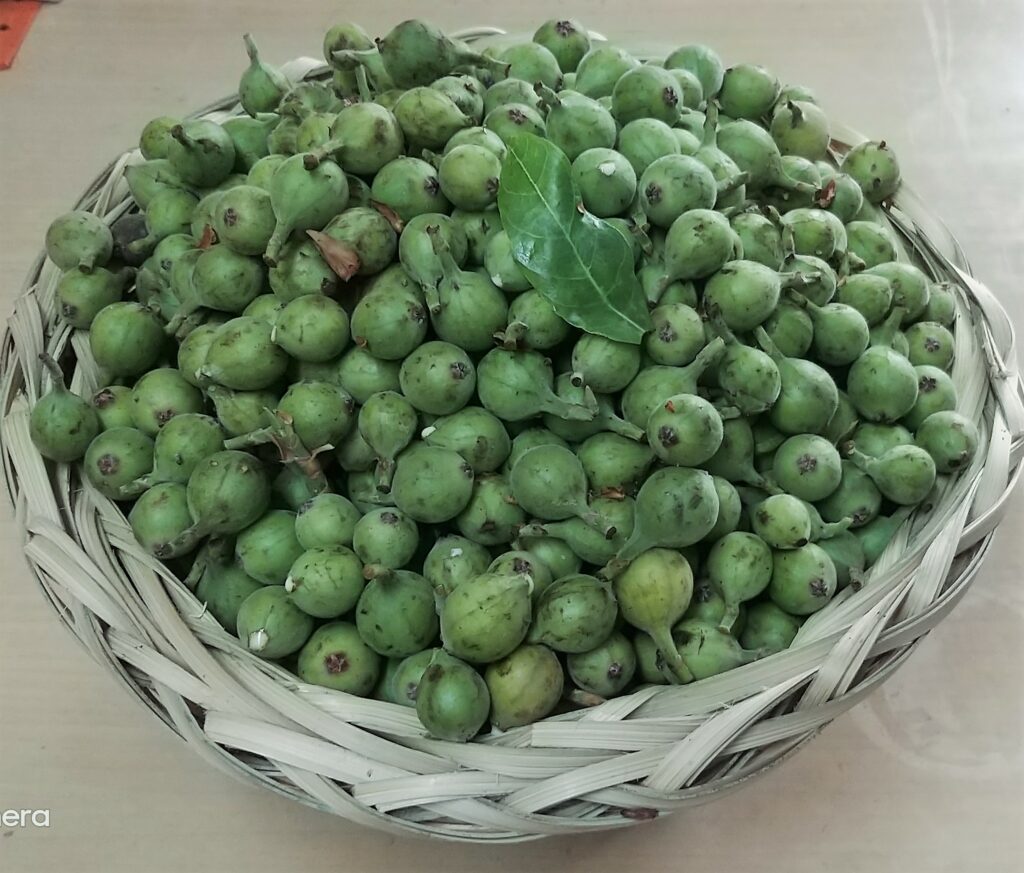 Method:
Boil raw fruits till they become soft. Let them cool. Then mesh fruits with hand and sauté in hot oil by adding spices mentioned before in the same sequence. Cook for 5 to 10 minutes and then the vegetable is ready to serve. It is usually served with chappatis.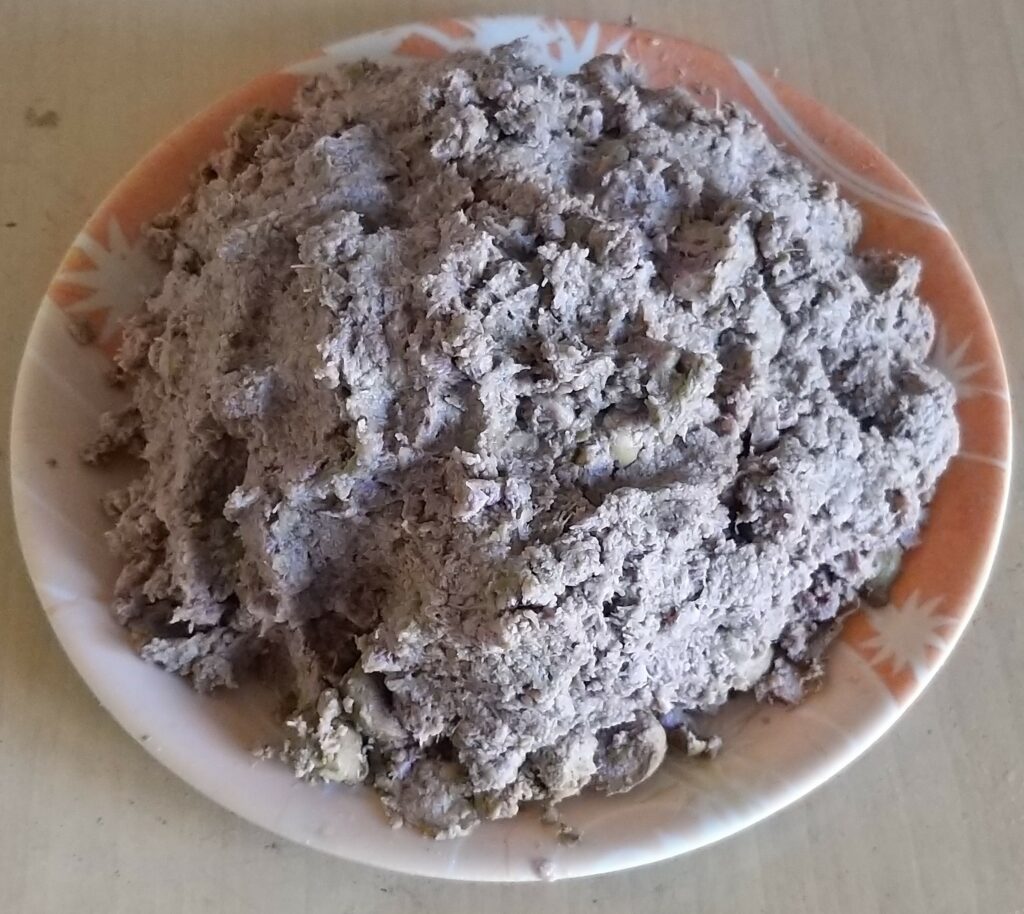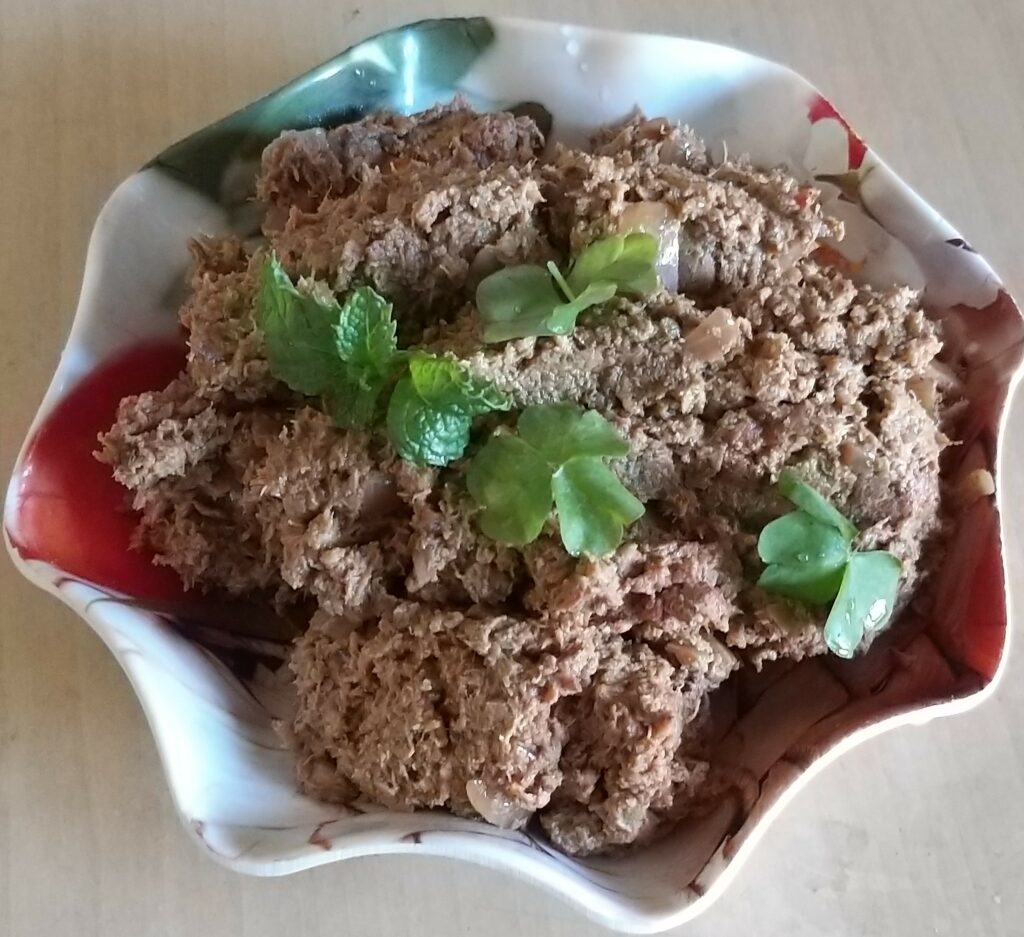 Fruits can also be prepared like vegetable curry. For this meshed fruit are sauted with spices in hot mustered oil and curd or butter milk is added to it after mixing with 2 table spoon of vasen (black gram flour). Cook for 10-15 minutes and add garam masala. Garnish with chopped coriander leaves and serve with rice or chappati.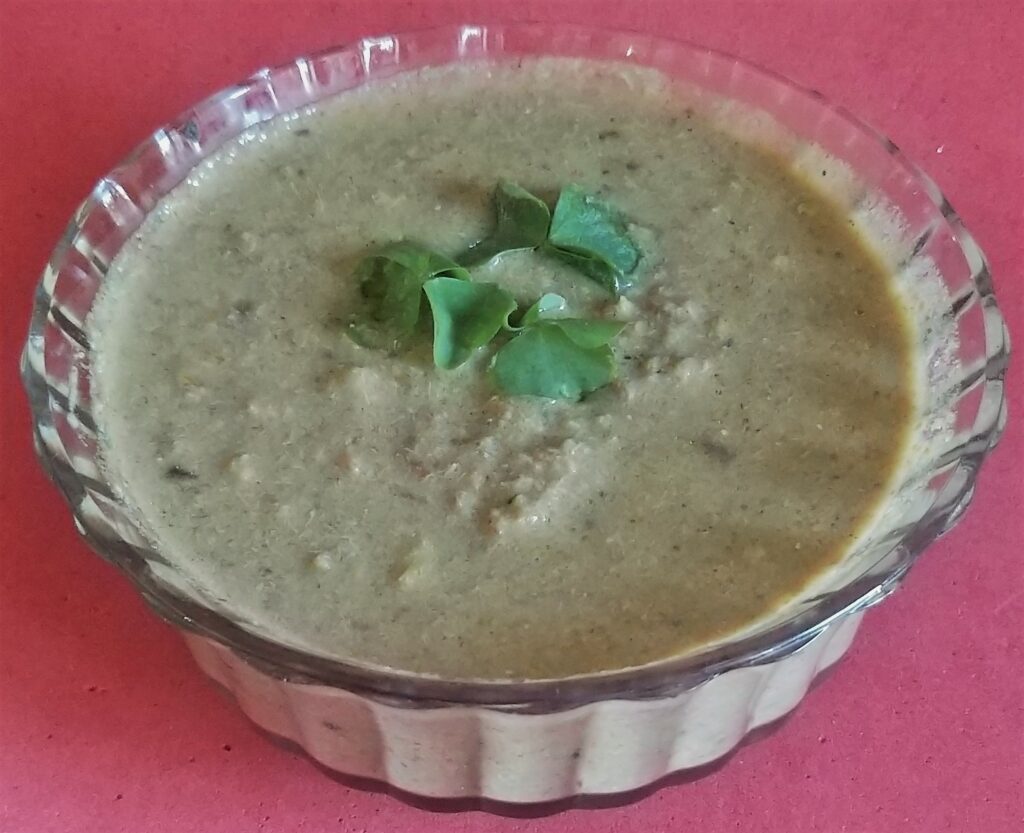 Parantha is a morning breakfast prepared served with curd/butter/pickle/chutney etc. It can be cooked with any greens/boiled potatoes/cheese or some wild boiled fruits like fig spp.
Ingredients:
Boiled umre fruits; 1/2 kg Oil or ghee. 8-10 table spoon; wheat flour, 4 cup amount; green chopped leaves (Mint/ curry leaves/ coriander etc ) chopped medium sized onion, 2-3, red or green chilies, 3-4, black pepper, ¼ tea spoon, black salt according to taste.
Method:
Mesh boiled umre fruits. Add to it chopped leaves and spices listed above. Mix well to make Fine paste. Now parantha dough is prepared by mixing wheat flour and water. Knead dough till it is soft, let it rest for sometime. Make small round balls of dough, stuff paste inside balls and roll to thin layered flat breads, Now in hot tawa smear some oil and place flatbread over it. Cook both sides by applying oil. Now parantha is ready to serve. Serve it hot with chutney/ tomato ketchup/ pickle / butter/ curd according to choice.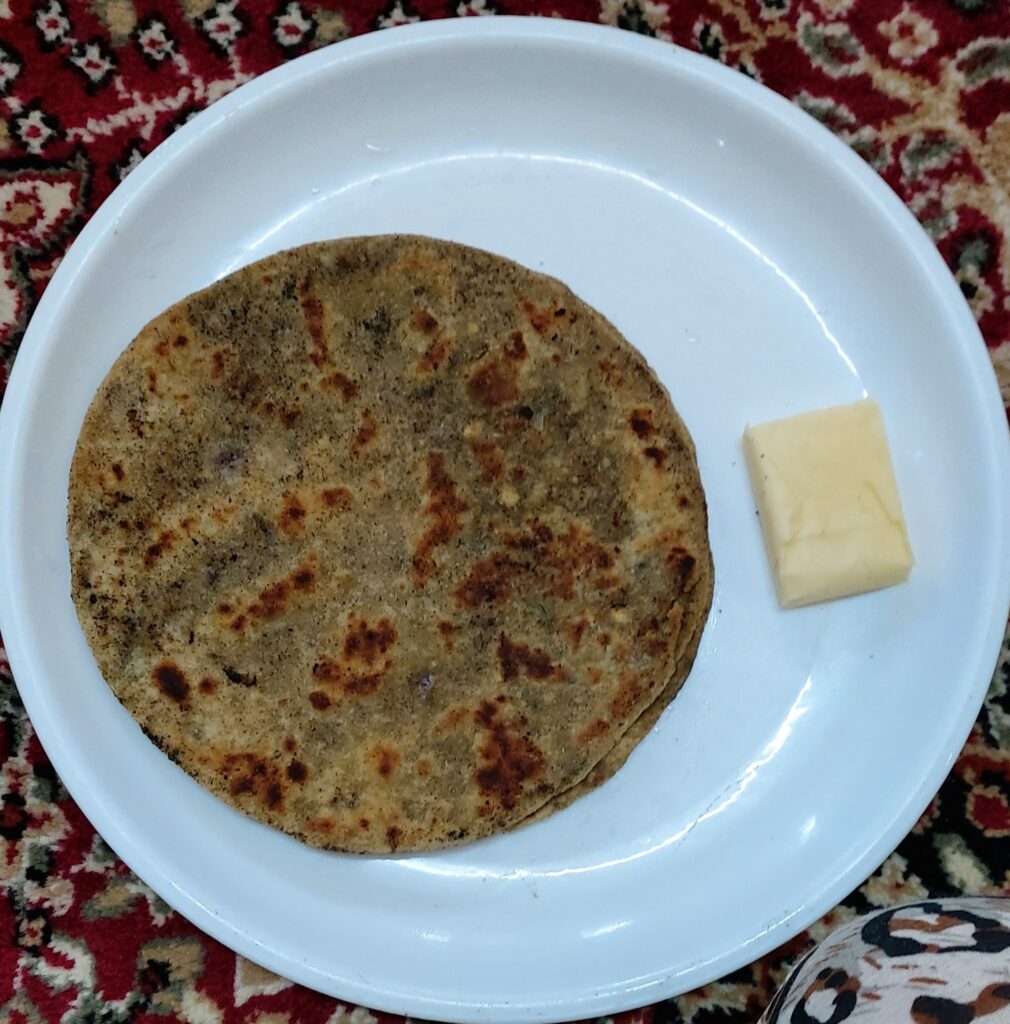 Kachuri:
Ingredient:
Boiled umre fruits, 1 kg; wheat flour, 7-8 cup amount; yeast, 5-10 g; mustard oil, 1/2 liter; fenugreek powder, 1/2 table spoon; cumin seed, 1 tea spoon; turmeric powder, 1-3 table spoon; red chilies; 10-15; grated ginger , 250 g; , Chopped green coriander, tirmir (Zanthoxylum armatum), mint (Mentha piperita) and curry (Murraya koeingii) leaves, 2-3 cup amount and salt according to taste.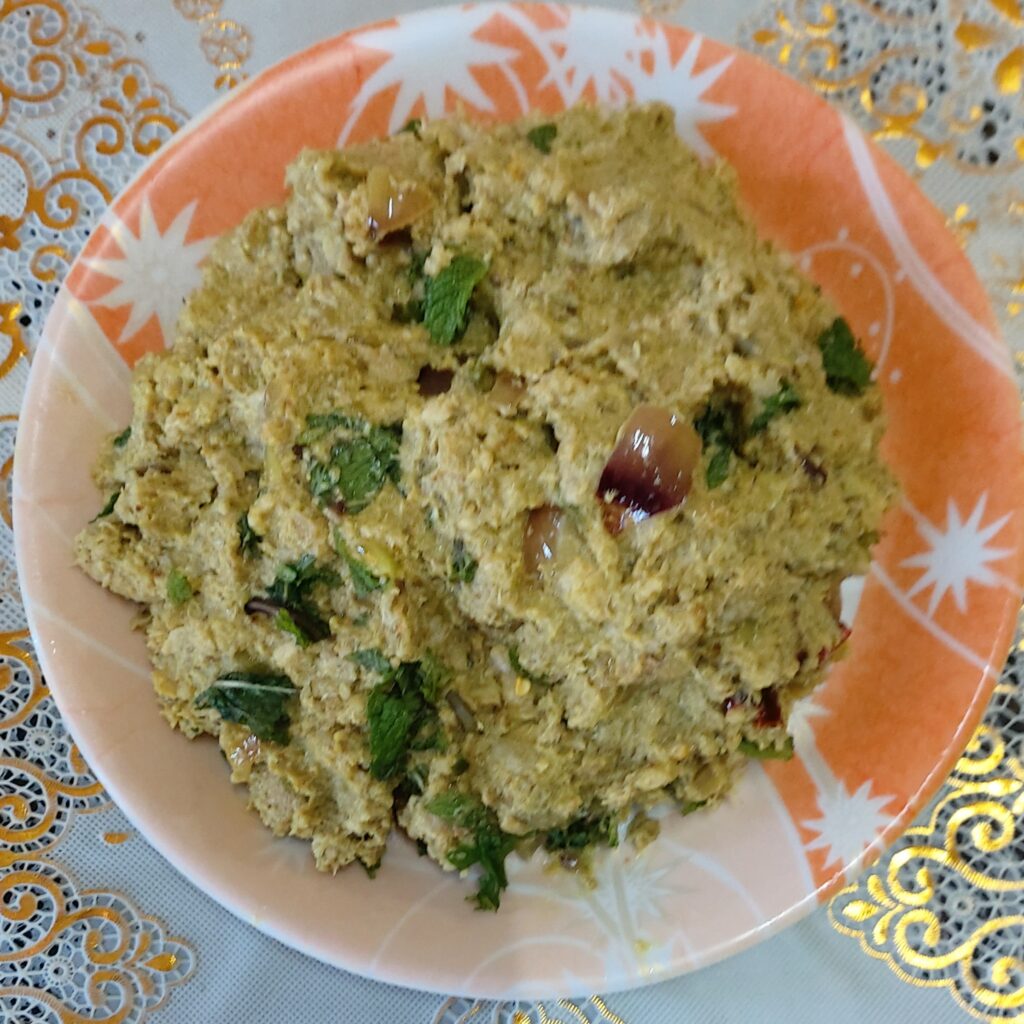 Method:
For preparing kachuri prepare dough of wheat, flour along with yeast. Allow it to rest for 3-4 hour. Boil boil till these are soft and mesh manually. Add spices listed above and mix well to make a fine paste. Roll dough already made into small disc or round breadspread and stuff it with paste. Give a deep fry to the stuffed disc in hot mustered oil and take them out. Repeat this for whole dough and paste, now kachuri is ready to serve. Serve hot with chutney/rayata/pickle/ desi ghee.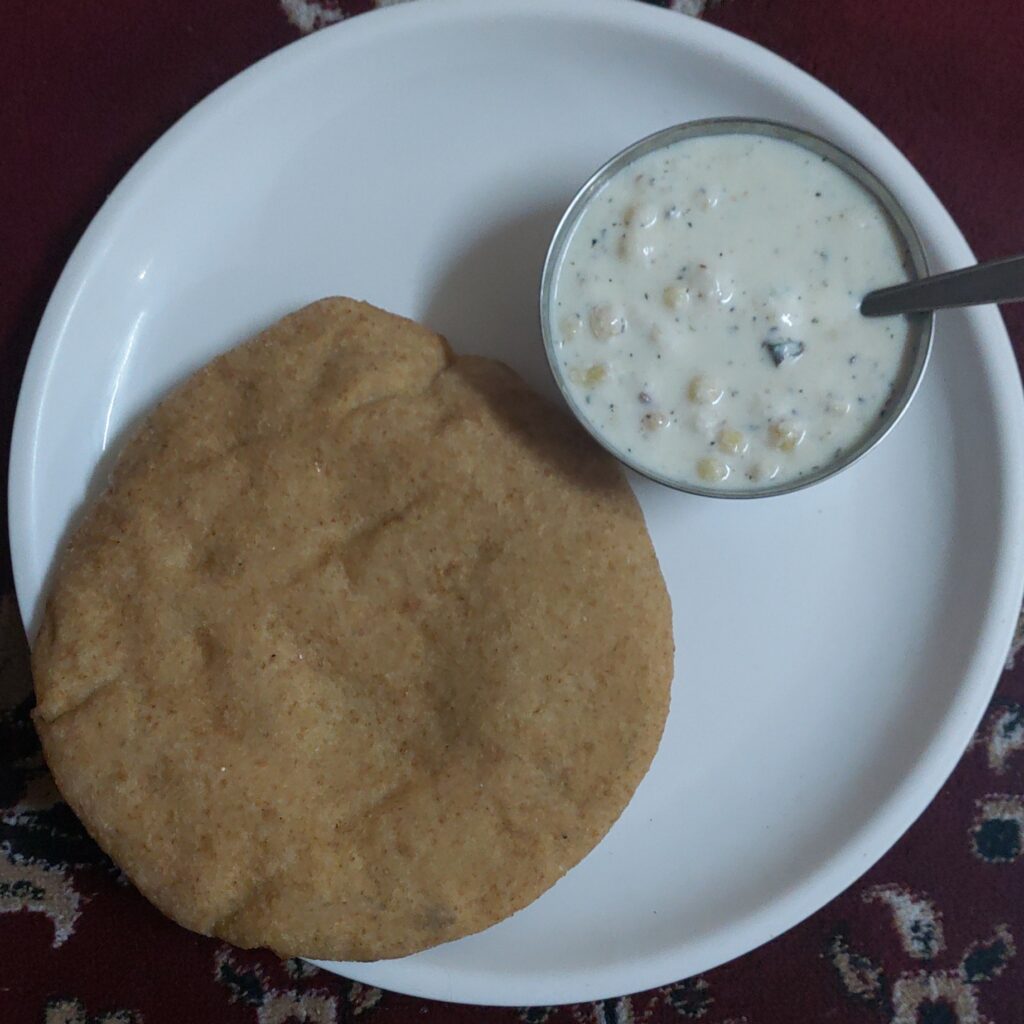 Preparing Pickle:
Pickle is also prepared from unripe fruits. For preparing pickle, chopped raw fruits are boiled and dried in sun. Dried fruits are then sauted in hot mustered oil with spices like fenugreek seed powder, turmeric powder, red chillies powder and salt acc.to taste. One to three table spoon mustard seeds or one cup amount citrus juice is then added to make pickle sour. Pickle is ready to eat after 25-30 days.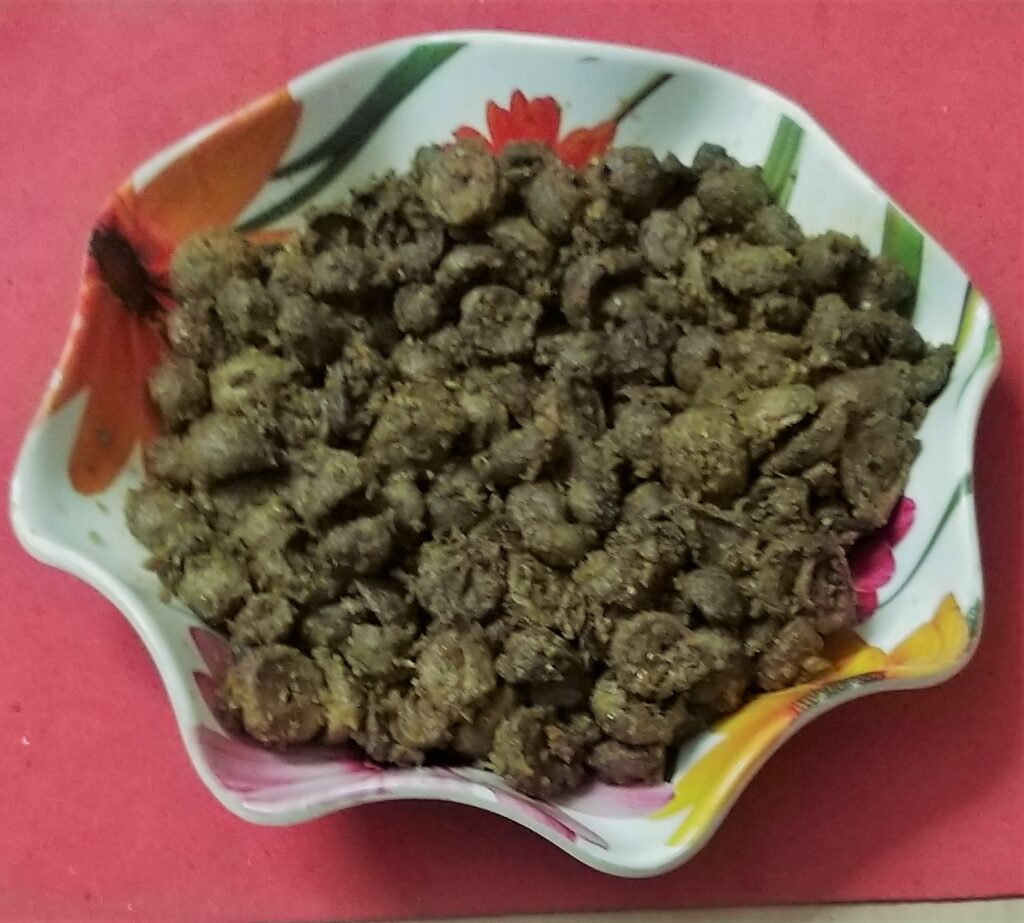 Spiritual Uses:
Umre is considered a sacred plant and its leaves and week branches are used in various sacred rites. Leaves are used to decorate "Ved" in marriage ceremony and worshipped along with leaves of Mango (Magnifier indica), Peepal (Ficus religiose), Bad (Ficus bengalensis)), Plakhre (Ficus lacor). Young branches are used in "Havana". Whole plant is supposed to keep evil spirit away, so many people cultivate this plant near to their home.
Seek advice from a professional before using this plant medicinally.
Medicinal Uses:
All the parts of Umre have medicinal value. It is basically used for its antidiuretic effect. The roots are popularly used for the treatment of hydrophobia, whereas, the bark has multiple actions. It is used as a galactagogue and is helpful in gynaecological disorders (Shiksharthi & Mittal, 2010).
The fruits are active against leprosy, menorrhagia, leucorrhoea, and blood disorders, burns, intestinal worms, dry cough, and urinary tract infections. Bronchitis, bowel syndrome, and piles are treated with its leaves, in the Unani System of Medicine. The leaf buds are effective against skin infection, and a decoction of the leaves is used in wound washing and healing. A decoction of the bark is given for the treatment of piles, ulcerative colitis, diarrhoea, and dysentery. It is also given in the treatment of diabetes and asthma. The latex is externally applied on wounds to decrease inflammation, pain, and promote its healing. It is used with sugar to reduce diarrhoea and dysentery, especially in children, and improves the sexual power in males. The roots of the plant are used in dysentery, pectoral complications, and diabetes, and also applied in inflammatory glandular enlargement, mumps and hydrophobia (Joseph & Raj, 2011).
Other Uses:
Leaves and tender branches of Umre are lopped for fodder. The leaves also provide a valuable mulch. Branches left after cattle feeding are dried and used as fuel. Wood of Umre is not durable, so beside fuel it is also used for preparing low-quality household items such as minor construction, cheap furniture, packing cases, mouldings, laundry tubs, fruit crates etc. Wood of Umre lasts well under water, hence used for well frames.
Whole plant is useful for slope, gully and river bank stabilization because it produces a deep and wide-spreading root system. Plant is also used as a rootstock for the common fig, Ficus carica. Umre plant latex is used in the oreparation of water-resistant paper and also as plasticizer for Hevea rubber.
Umre as a source of income:
Umre is also a good source of earning for poor people, specially women. Raw fruits are pickled and women sale it through the SHG fair. They can easily earn Rs 100 to 150 per 1/2kg of Umre pickle.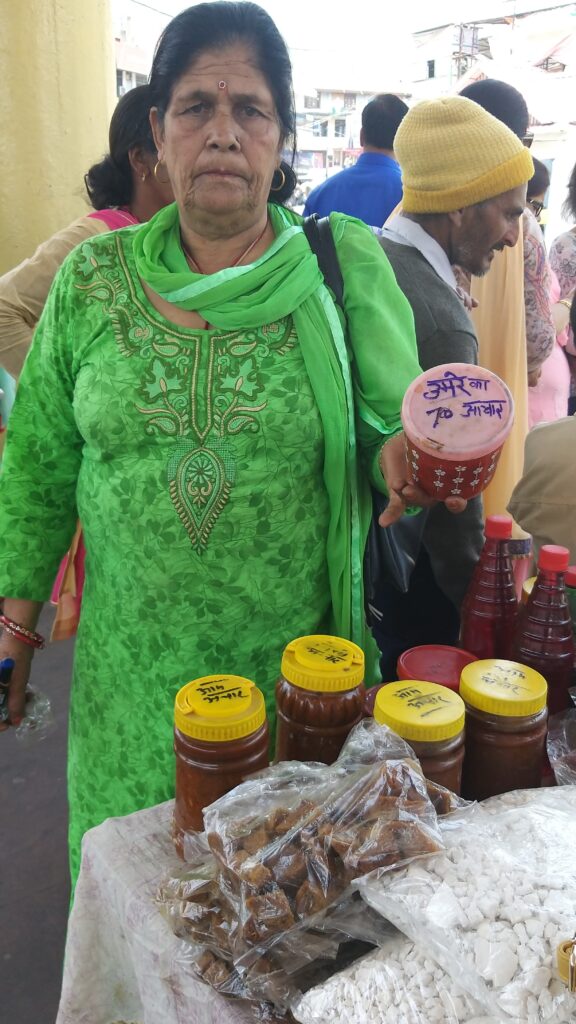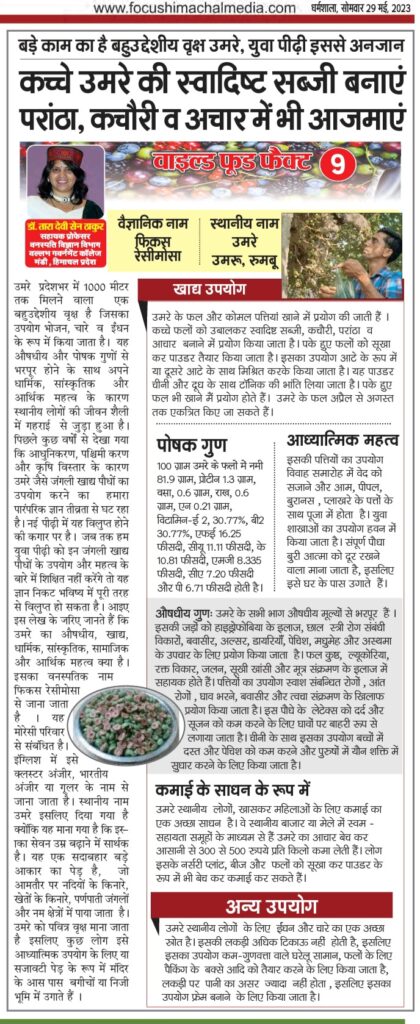 References:
Joseph B, Raj SJ. Phytopharmacological and phytochemical properties of three fi cus species-an overview. Int J Pharma Bio Sci 2010;1:246-53.
Shiksharthi AR, Mittal S. Ficus racemosa: Phytochemistry, traditional uses, and pharmacological properties: A review. Int J Adv Pharm Res 2011;4:6-15.