Family: Asteraceae/Compositae (Aster)
Synonym: Sonchus oleraceus, Sonchus ferox.
Common Names: Blue sow-thistle, prickly sow thistle, rough sow thistle, spiny sow thistle, spiny-leaved sow thistle.
Local Name: Bhursalae (भूरसाले).
Bhursalae is a herbaceous annual or occasionally biennial, disseminated by wind-dispersed seed. It is quite common in cultivated lands and field margins, waste places, grasslands, disturbed and neglected sites, roadsides, railroads, along lake shores and on mud. This plant prefers well drained sunny, slightly acid to alkaline soils. Bhursalae is considered a weed in Western Himalayas and found up to an altitude of 4000 m.
This plant with spiny leaves and yellow flowers shows resemblance with dandelion (Taraxacum officinale). Bhursalae is harvested from the wild for local use as a food and medicine.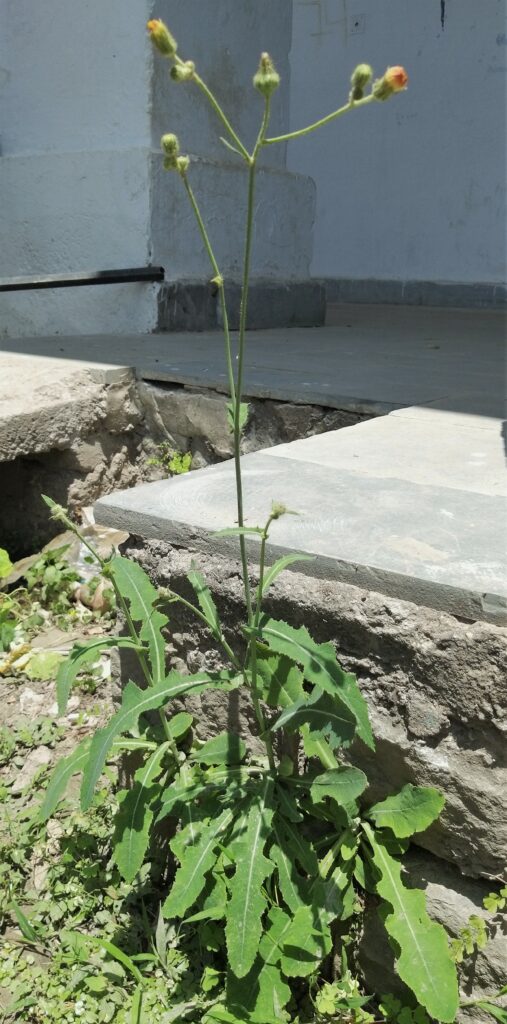 Edible leaves of bhursalae plant
Young tender shoots of bhursalae are edible. These are eaten raw or cooked as a vegetable. However, stems should be blemished and the bitter-tasting milky juice rinsed out before eating or cooking.
Bhursalae Plant:
Plant is an annual or biennial, milky herb, reaching a height of 200 cm.
Stem erect, 25 – 150 cm tall, branched at the inflorescence.
Leaves bluish-green, simple, lanceolate, with wavy and sometimes lobed margins, covered in weak marginal prickles. The base of the leaf surrounds the stem.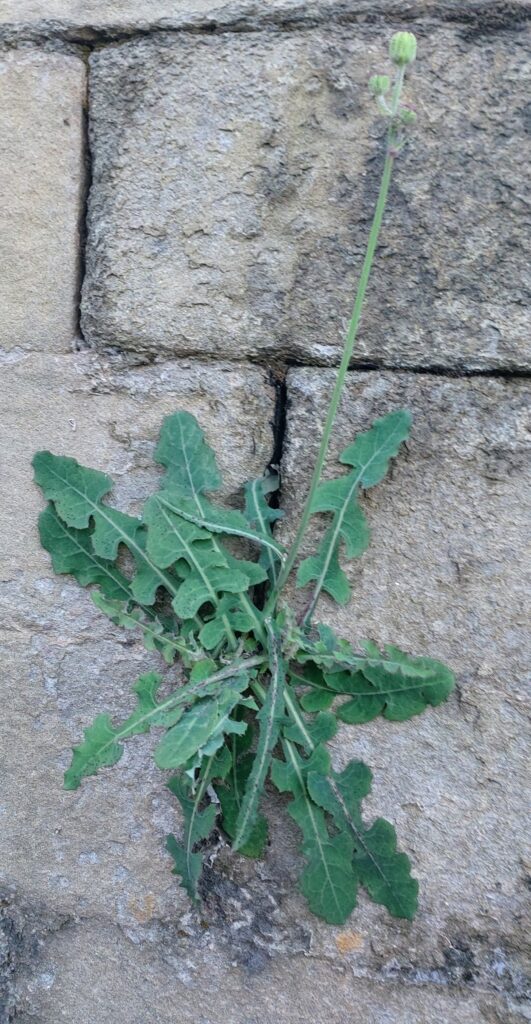 Flowers head several flat-topped, each with numerous yellow ray flowers but no disc flowers.
Fruit achene, compressed; pappus copious, white, 9 mm long.
Seeds, 3 mm long, 2 mm wide, are equipped with a small parachute of hairs, that can carry them over large distances in strong winds.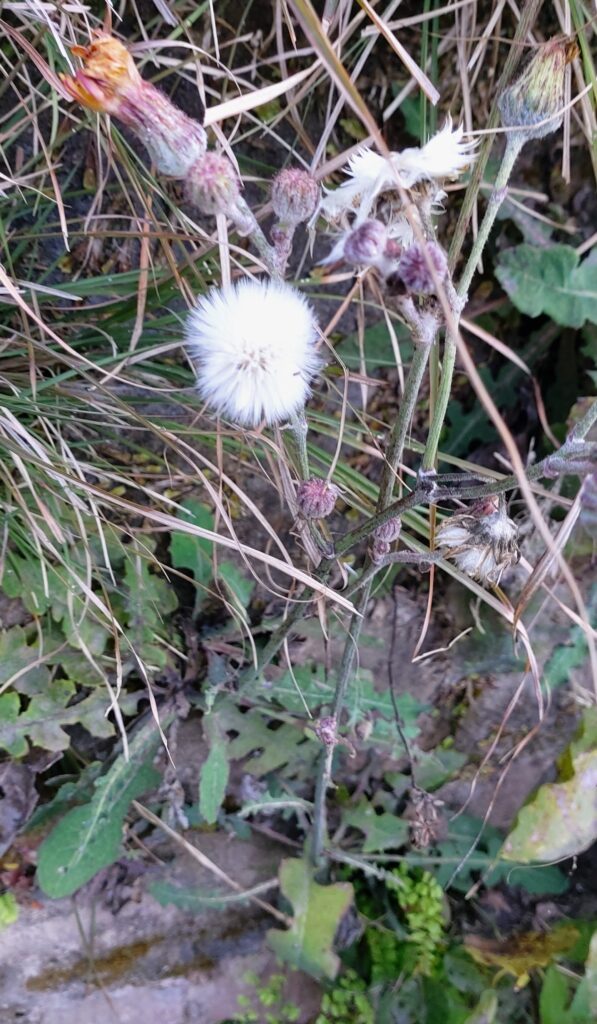 Bhursalae plant can provide edible leaves from spring to autumn season of the year.
Edible Uses: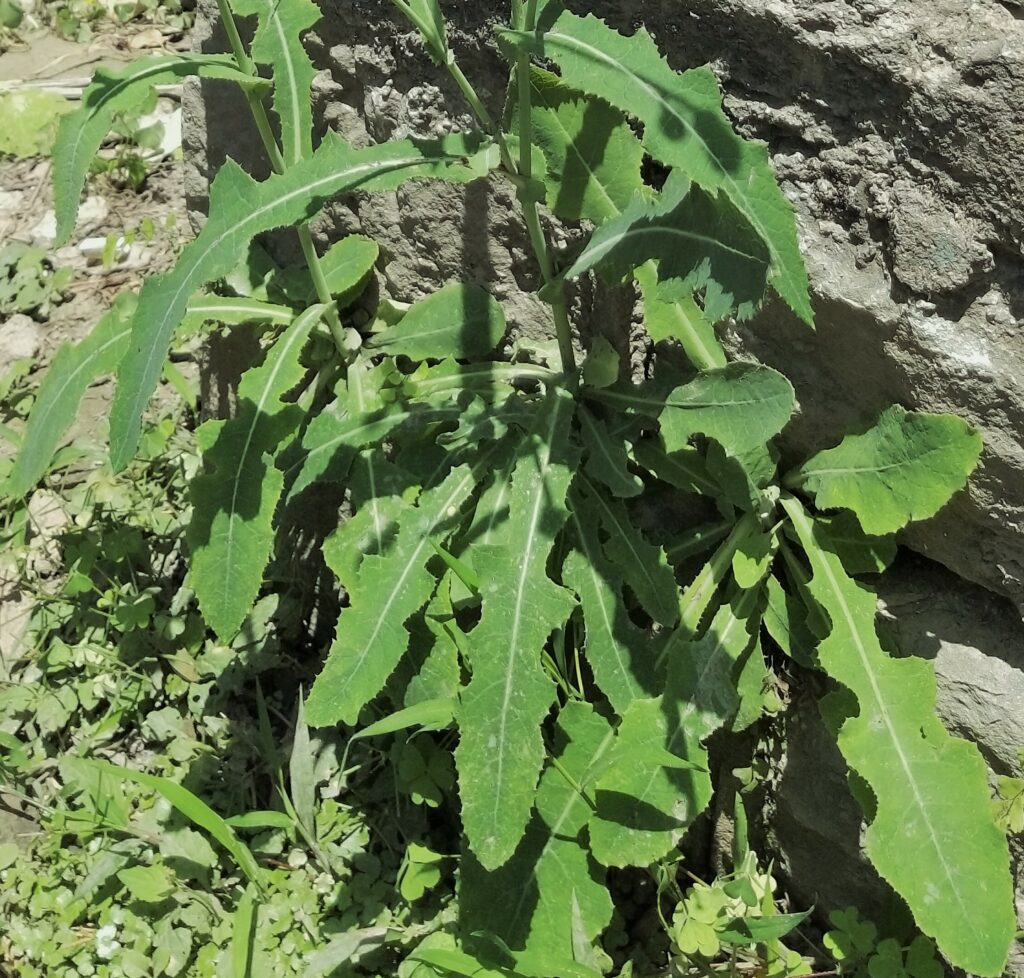 Tender young leaves and stem tops of bhursalae plant can be eaten raw or cooked. These young shoots are used as salad and the whole plant cooked as a vegetable like spinach. The young leaves have a mild agreeable flavor. It is recommended to remove bitter-tasting milky juice before cooking.
Bhursalae young shoot and mushroom vegetable:
Ingredients:
Chopped tender young shoots, 250 g; mushroom, 500 g; chopped medium sized potatoes,1 mustard oil, 3-4 table spoons; coriander powder, 1 table spoon; fenugreek powder, ½ table spoon; cumin seed, 1 tea spoon; turmeric powder, 1 table spoon; red sillies, 2-3; chopped medium sized onions 2-4; garlic, 4-5 cloves; ginger paste ½ table spoon, chopped tomato, 2-3; and salt, according to taste.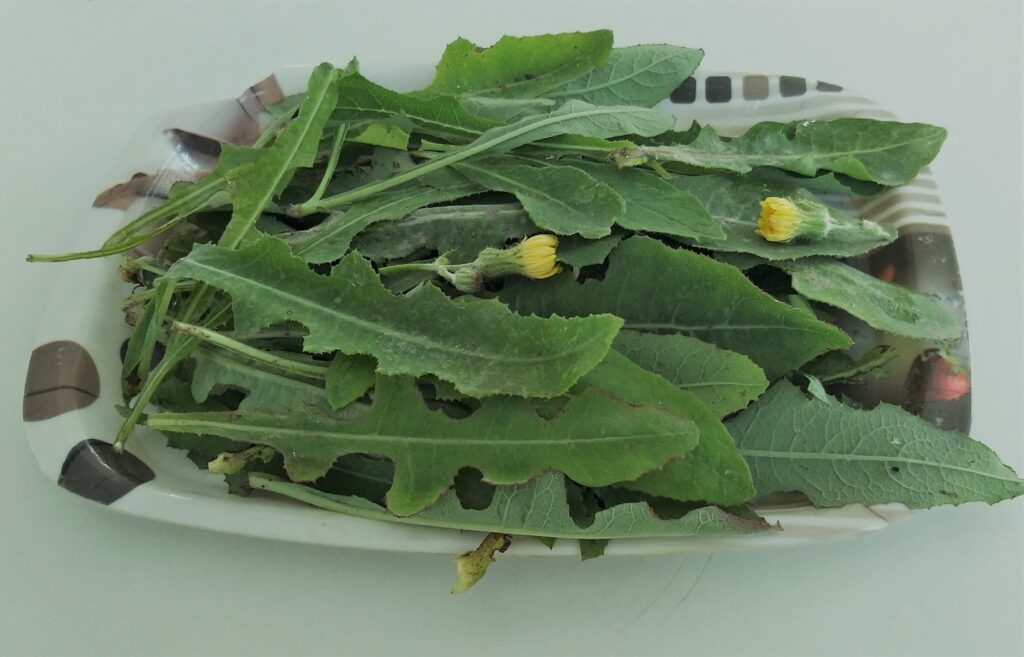 Method
Ground bhursalae leaves in a mixer grinder, Saute chopped mushroom, potato in hot mustard oil in a pan and then add ground bhursale leaves. Cook till mushroom and potato are soft garnish with chopped coriander leaves and garam masala. Then serve with chappatis or rice.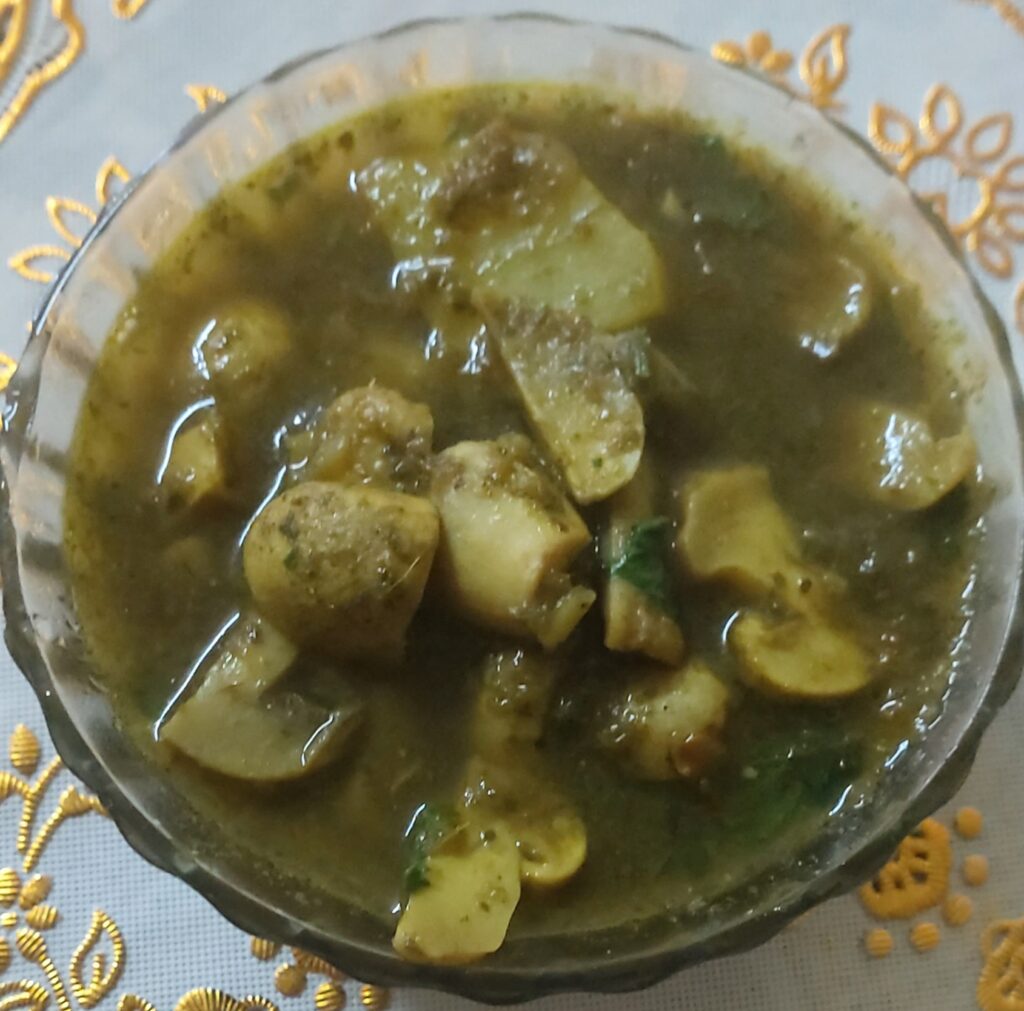 Bhursalae leaves Saag;
Ingredients:
Chopped tender leaves and tender shoot tips of bhursalae and other wild herbs Medicago polymorphia ,Rumex hastatus Chenopodiun album, Amaranthus viridis), 1 kg; mustard oil, 2 table spoons; coriander powder 1 table spoon; fenugreek powder, ½ table spoon; cumin seed ¼ table spoon; turmeric powder, 1/4 table spoon; red chillies, 2-3; chopped onions 2-4; garlic, 4-5 cloves; ginger paste ½ table spoon and salt according to taste.

Method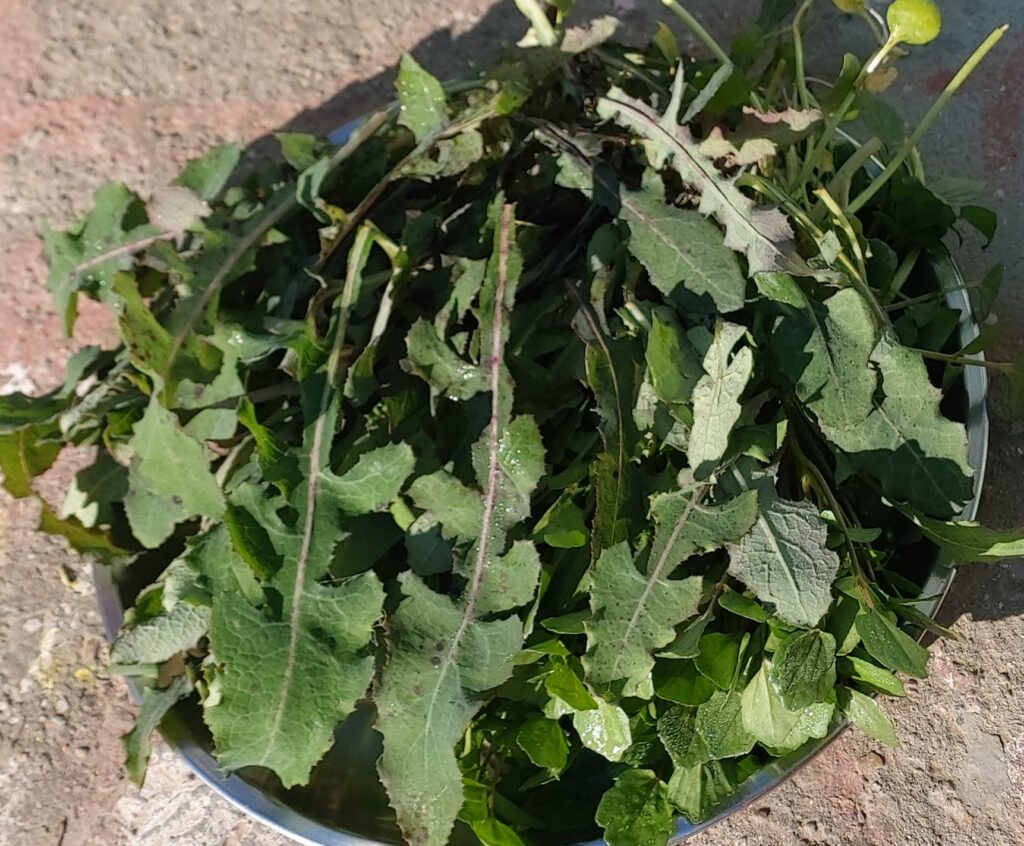 Boil chopped leaves till they become soft. Then mesh manually or in a mixer. Then sauté with hot mustard oil and the spices listed before in sequence.This sauted sag is then ready and can be served as such or can be mixed with 2 or 3 chopped onion or boiled potato and cooked for another 5 to 10 minutes before serving.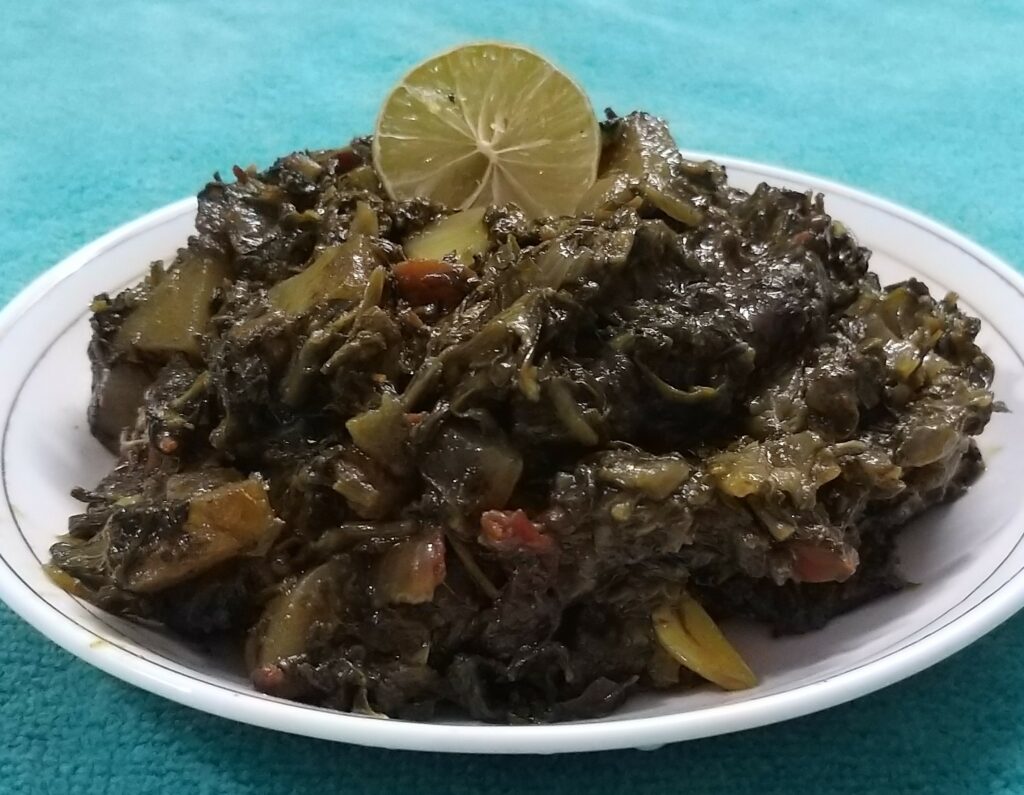 Chopped leaves can be sauted directly with chopped potatoes and spices listed above. Cook leaves and chopped potatoes pieces
till these are soft and serve with chapattis.
Finely chopped leaves of bhursalae can be used with curd by mixing salt or sugar according to taste. Leaves are bitter in taste so better to add sugar.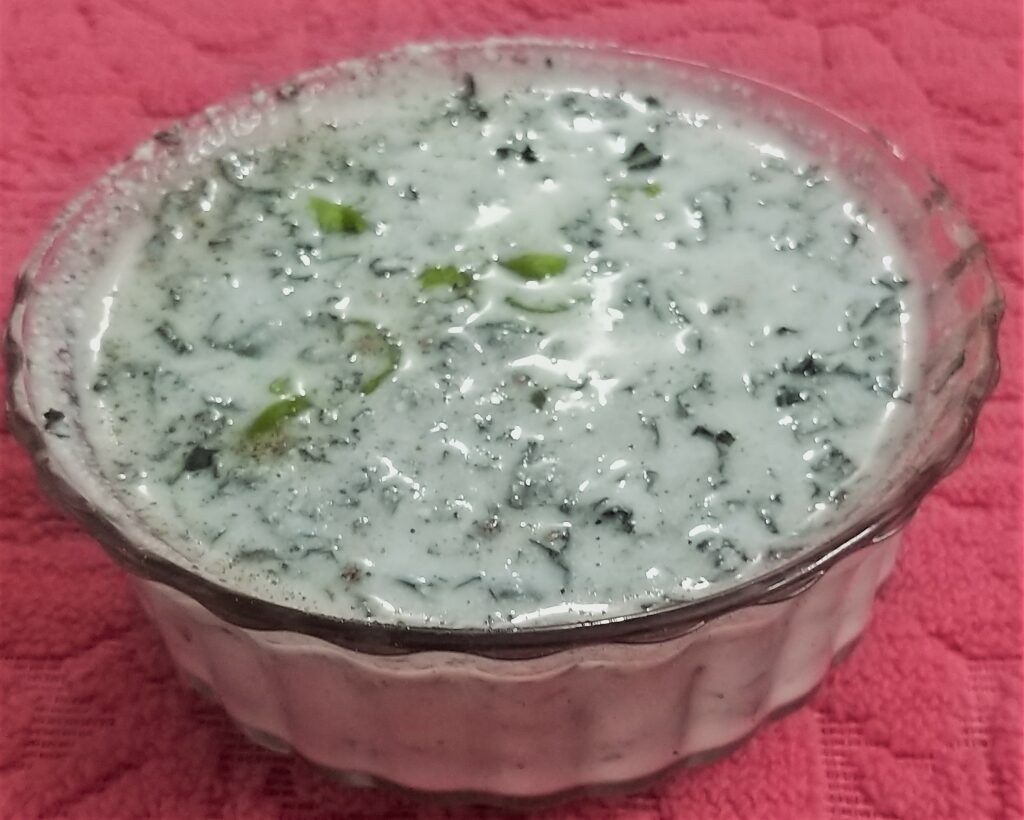 Seek advice from a professional before using this plant medicinally.
Medicinal Uses:
Powdered aerial plant parts are excellent remedy for headache and also applied as a poultice to wounds and boils. Bhursalae plant extract is applied to fresh injuries and latex in the plant has been used as a treatment on warts. Consuming a few leaves of bhursalae for 15-20 days daily removes haemmoroides.
Other Uses:
Bhursalae plant is used as forage for livestock.