Family:  Amaranthaceae
Synonyms:  Acistoma coccineum, Grislea punctate, Amaranthus caracasanus,Amaranthus diacanthus,Galliaria spinosa,Galliaria spitosa.
Common Name:  Spiny Amaranth, Spiny Pigweed, Prickly Amaranth or Thorny Amaranth,
Local Name: Kanta Chulayee (कांटा चौलाई), Badi chareli
Kanta chulayee is an erect, profusely branched annual herb of Western Himalayas. People harvest it from wild habitat for their local use as a source of food, forage and medicines. Plant is commonly seen growing along roadsides, waste places and in cultivated fields as a weed. It prefers a well-drained fertile soil in a sunny position, but grows best in a moist soil.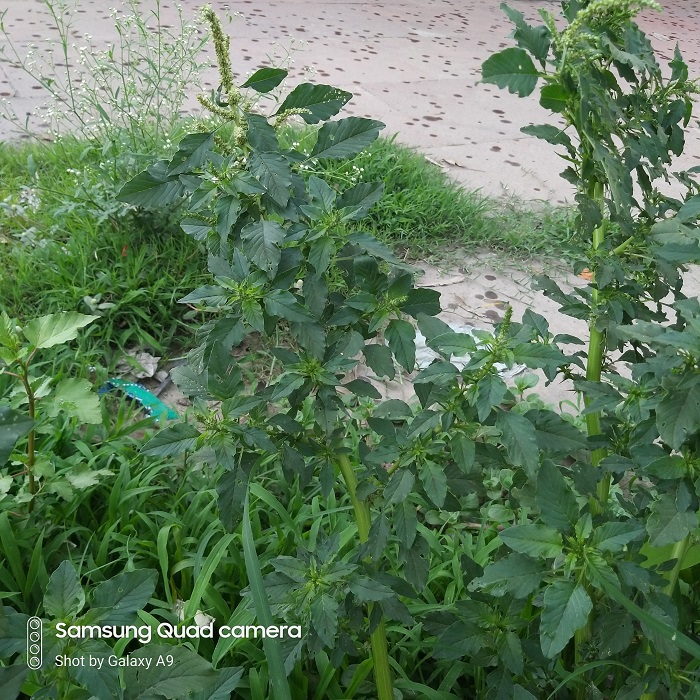 Kanta chulayee can tolerate fairly dry as well as quite wet soils, but not waterlogged, ones. Its leaves are sometimes sold as a vegetable in local markets during summer season when supply of other green is meager.
Botanical name Amaranthus of kanta chulayee is derived from the Greek word 'amarantos' . Where"Amar" means immortal or unfading and "anthos" means flower. Thus, Amaranthus refers to long lasting qualities of its flower, while spinous refers to spiny branches. Kanta Chulayee is native of Tropical America, but spread on most of continents as an introduced species.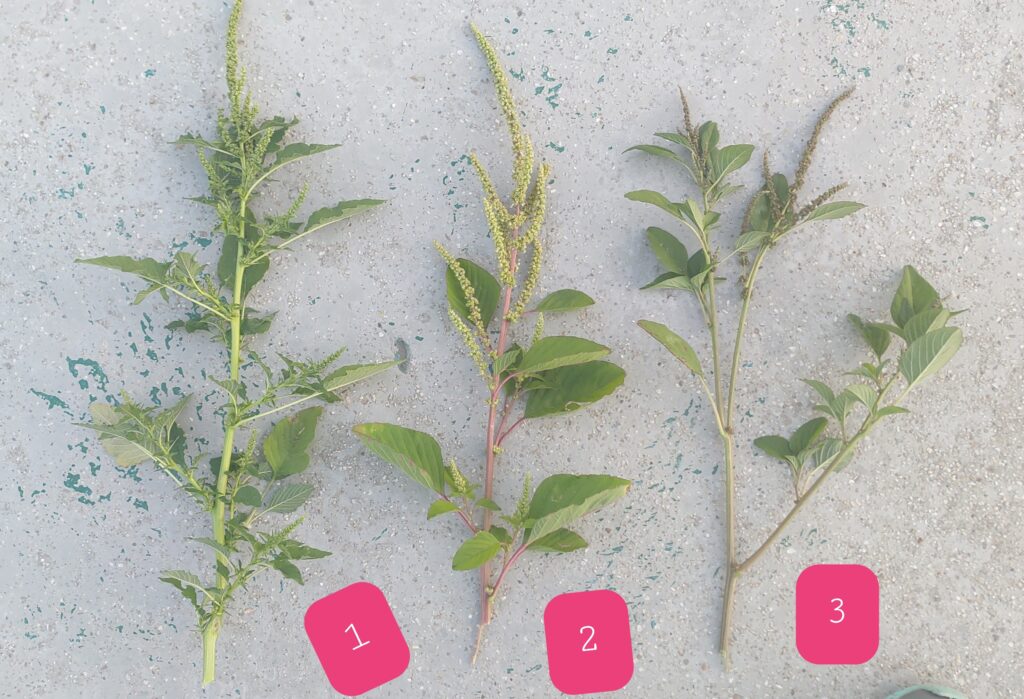 It is a very noxious weed in many parts of the world. Due to poor taste of edible parts and the spines Kanta Chulayee is only a famine vegetable and forage for local people, in spite of having high nutritional value of the leaves.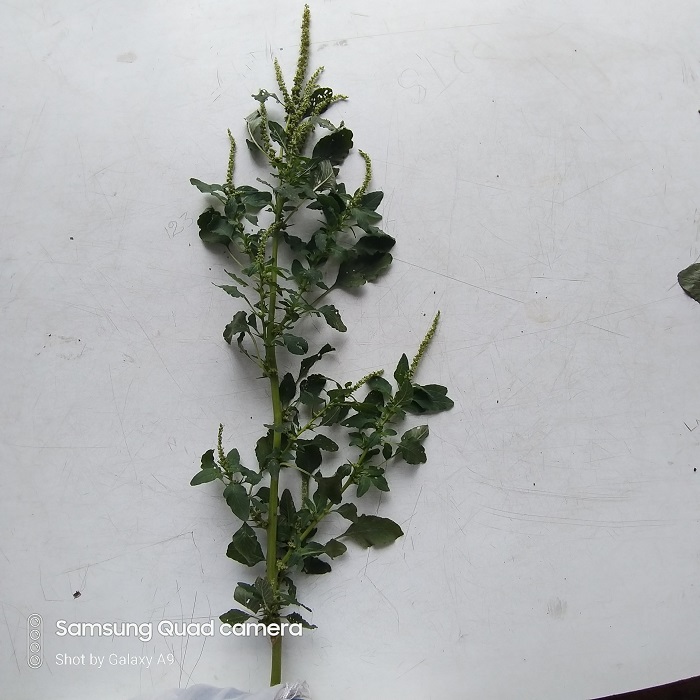 kanta Chulayee Plant:
Plant is erect or diffused, spinous herbs, profusely branched 30-90cm tall.
Branches grooved;30-150cm long; spines sharp, straight, axillary 1.2 cm long.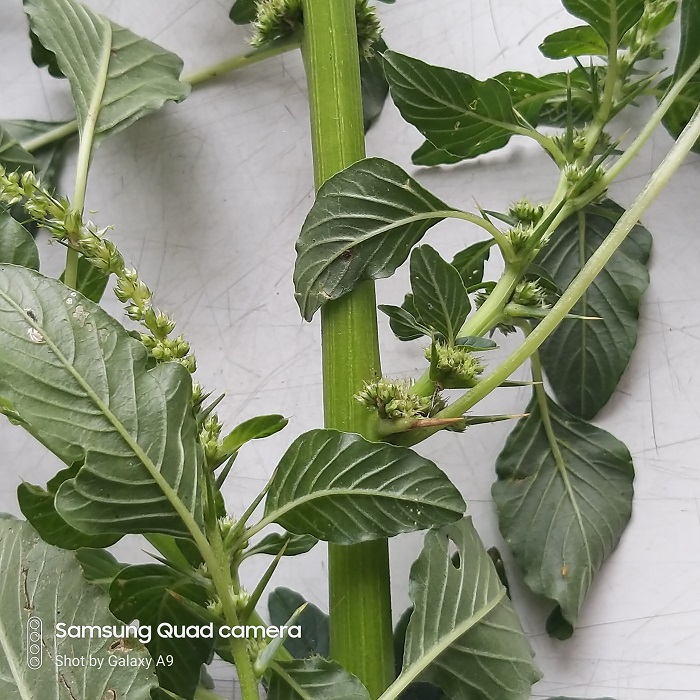 Leaves long -petioled,3-8 x 2-4 cm, ovate or elliptic-lanceolate, base attenuate, apex obtuse or subacute; petiole 4 cm long.
Flowers green, unisexual, in dense terminal panicled spikes or in axillary, sessile clusters upto 15cm long. Bracts and bracteoles minute, ovate-lanceolate. Male flowers: 1-2 mm across; tepals 5, calycine, unequal, ovate-lanceolate; stamens 5; anthers sagittate. Female flowers: 1-2 mm across; tepals 5, oblong, acute at apex; ovary 1-celled; ovules solitary; stigmas 2-3. Utricle .
Seeds minute, discoid, dark brown or black, shinning; 1 mm in diameter.
Kanta chulayee can provide edible leaves and seeds from summer end to pre winter season.
Edible Uses:
Tender shoots, Leaves and stems of kanta chulayee are cooked in the form of saag as a spinach. Spines present in plant are need to be removed If older leaves and stems are used for cooking. Plant has a bitter taste and is usually eaten in small quantities as a substitute when no other vegetables are available. Sometimes seed of Kanta Chulayee are also cooked as a whole and preferred for their high nutritional value,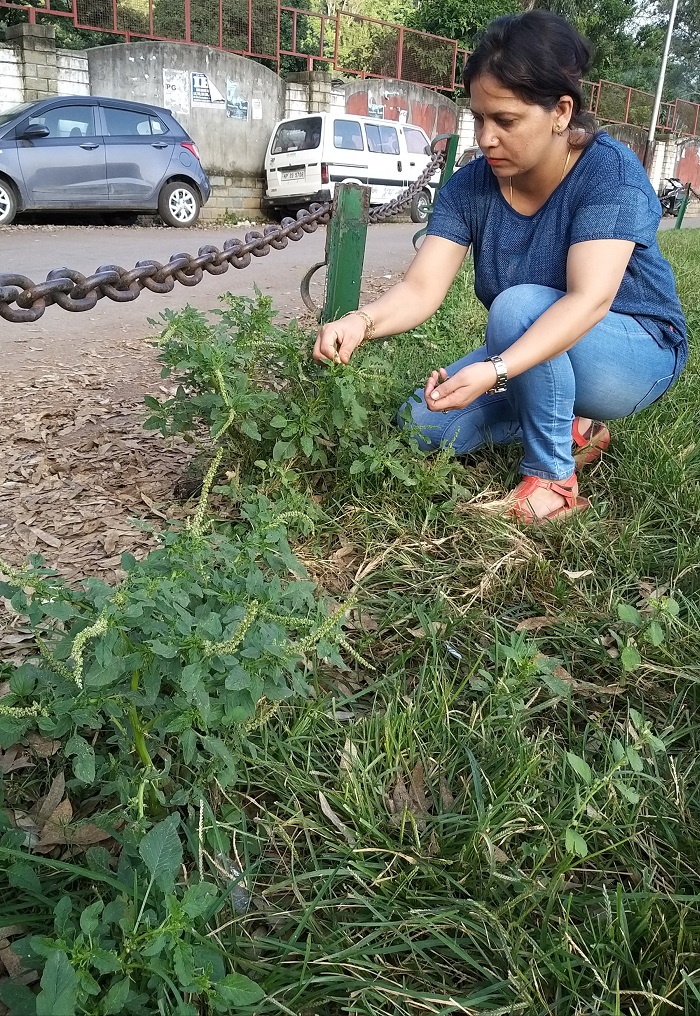 Kanta chulayee leafy Vegetable (saag):
Ingredients:
Tender shoot tips and leaves of kanta chulayee, 1 kg; mustard oil, 2 table spoons; coriander powder 1 table spoon; fenugreek powder, ½ table spoon; cumin seed ¼ table spoon; turmeric powder, 1/4 table spoon; red chillies, 2-3; chopped onions 2-4; garlic, 4-5 cloves; ginger paste ½ table spoon and salt according to taste.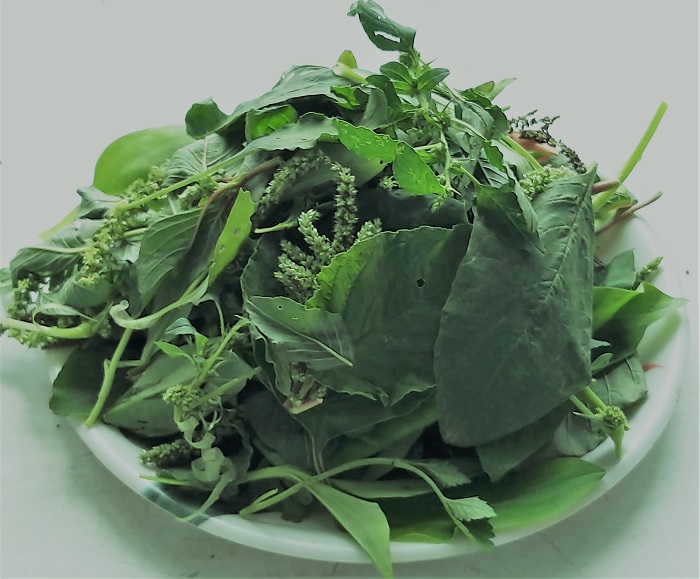 Method:
Boil chopped leaves they become soft. Then mesh manually or in a mixer. Then sauté with hot mustard oil and the spices listed before in sequence. This sauted saag is then ready and can be served as such or can be mixed with 2 or 3 chopped onion and cooked for another 5 to 10 minutes before serving.
Kanta chulayee Seeds Recipes:
Seeds of kanta chulayee are cooked as a whole in variety of way like Upmma,Rehdoo and kheer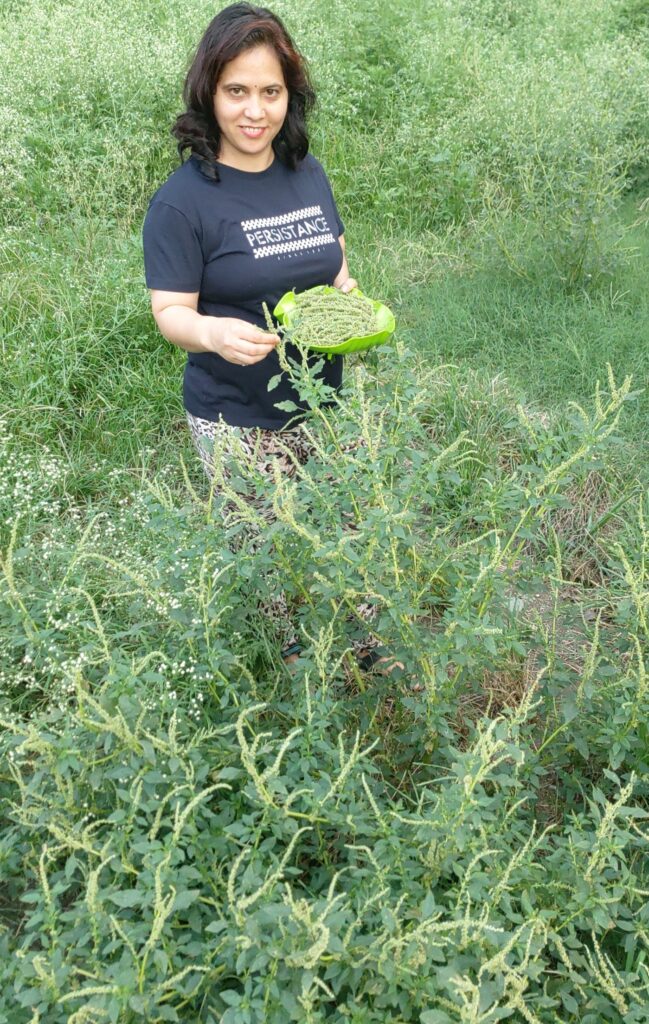 Upmma:
Ingredients:
Kanta chulayee whole seeds,1 kg; mustard oil, 2 table spoons; cumin seed ¼ table spoon; turmeric powder, 1/4 table spoon; red chillies, 2-3; chopped onions 2-4; chopped tomatoes 2-4; curry leaves (Murraya koenigii),50 g and salt according to taste.
Method:
Seeds of are first of all cooked like rice and then boiled seeds are sauted with spices like cumin seeds, turmeric powder, red chillies, curry leaves (Murraya koenigii) chopped onion, chopped tomatoes and salt. Now Upmma is ready to serve.
Rehdoo:
Recipe for nutritious Kanta chulayee masala oats
Ingredients:
Kanta chulayee whole seeds, ½ kg; rice/oats, 250 g; cumin seed ¼ table spoon; turmeric powder, 1/4 table spoon; red chillies, 2-3; curry leaves/mint leaves (Murraya koenigii), 50 g and salt according to taste.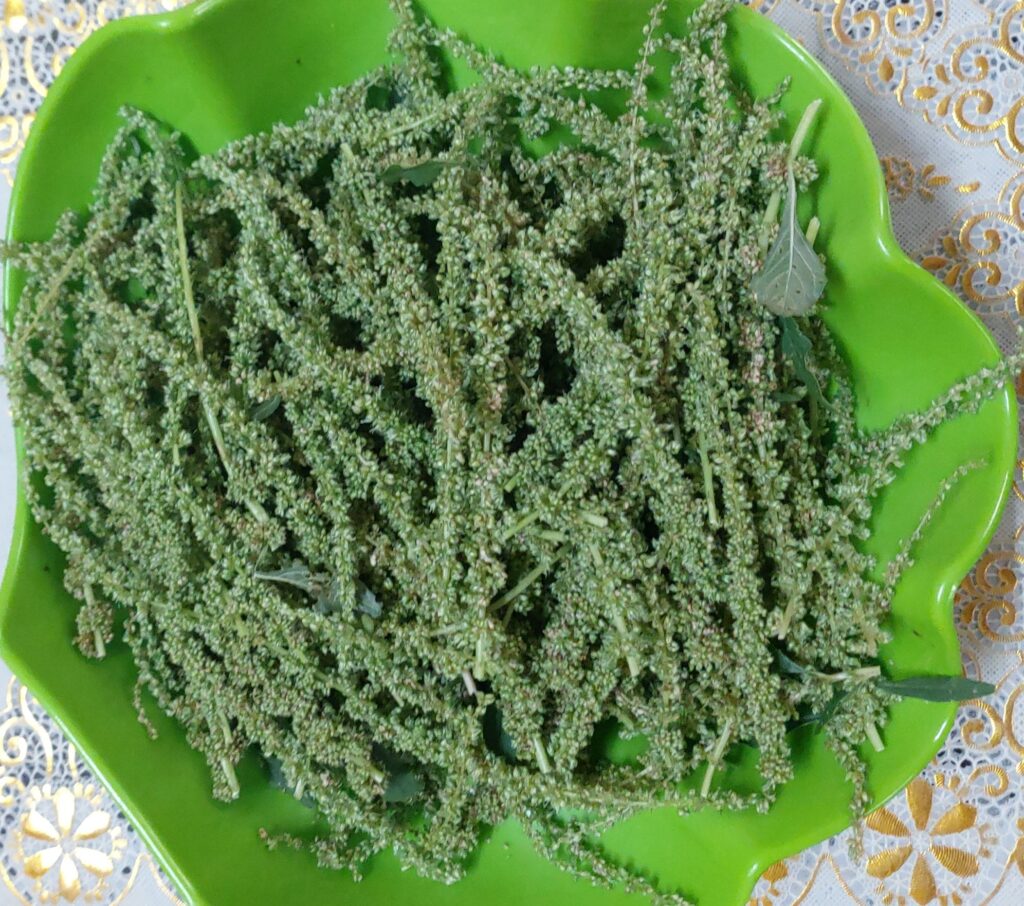 Method:
For preparing REHDOO a local dish seeds are cooked with butter milk and oats or rice after adding turmeric powder, salt and green chillies according to taste. Then cook seeds till they are soft and then serve after garnishing with chopped coriander leaves.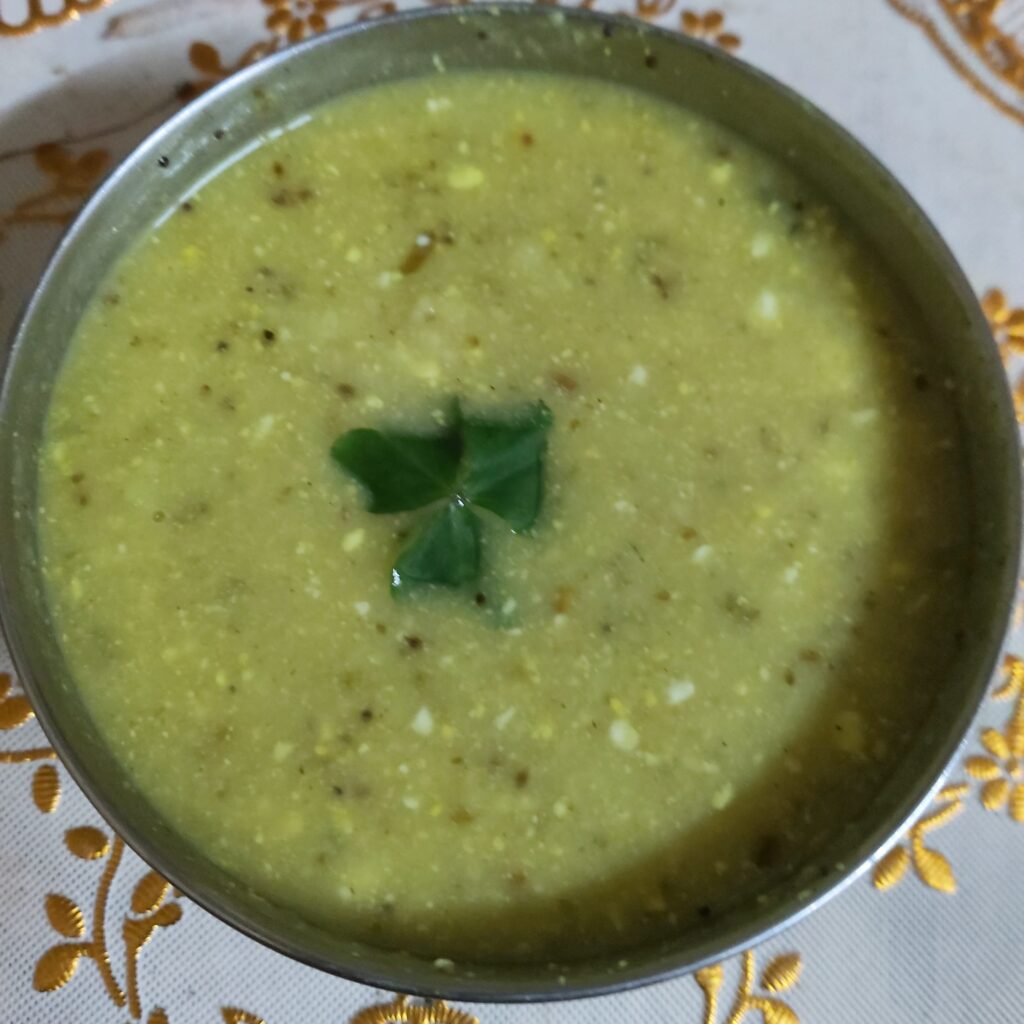 Kheer:
Ingredients:
Kanta chulayee whole seeds, ½ kg; rice/oats, milk, 1 liter; grated dry fruits, 50-100g; 250 g; sugar/ honey/natural sweetener according to taste.
Method:
For preparing KHEER cook whole kanta chualyee seeds with sugar/ honey/natural sweeter and rice/oats in milk till they are soft then garnish the recipe with grated dry fruits acc.to taste and serve. Recipe can be served during fast also.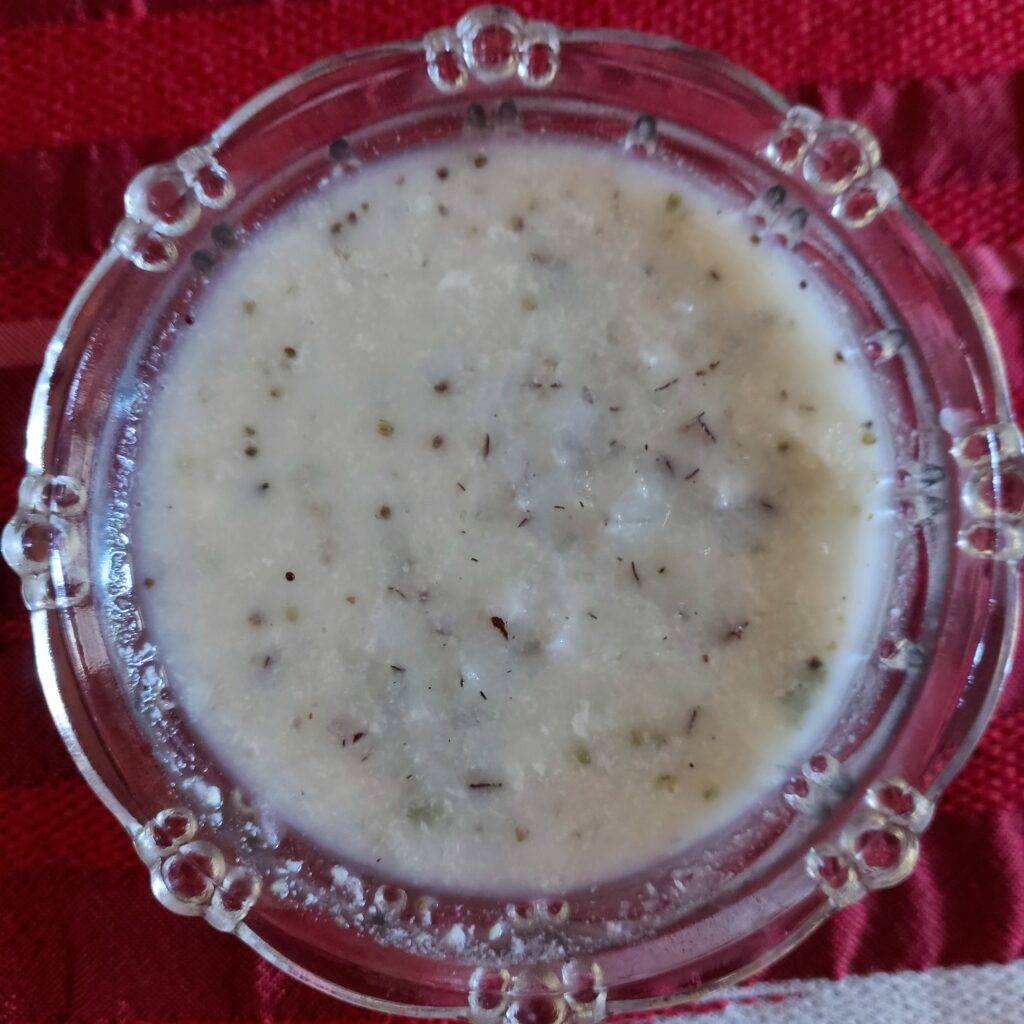 Food Value of Dried Leaves of kanta chulayee:
The dried leaves contain (per 100g) 267 – 276 calories, 20 – 34.4% protein, 2 – 4.5% fat, 45 – 54% carbohydrate, 9.8 – 10.4% fibre, 16.6 – 24% ash, 1795 – 5333mg calcium, 333 – 460mg phosphorus, 13.5 – 152.7mg iron, 13 – 37mg sodium, 337 – 3528mg potassium, 27.9 – 40.8mg beta-carotene equivalent, 0.06mg thiamine, 2.02mg riboflavin, 7.7 – 8.6mg niacin1.
Seek advice from a professional before using this plant medicinally.
Medicinal Value:
The seed is used as a poultice for broken bones. The plant is astringent, diaphoretic (Induce sweating), diuretic (Water pills), emollient (Quality of softening or soothing the skin), febrifuge ( Reduce fever) and galactogogue (Promote lactation). It is used internally in the treatment of internal bleeding, diarrhoea and excessive menstruation. It is also used in the treatment of snake bites. Externally, it is used to treat ulcerated mouths, vaginal discharges, nosebleeds and wounds. The plant can be used fresh or it can also be harvested when coming into flower and dried for later use. The root is emmenagogue and galactogogue. A paste of the root is used in the treatment of menorrhagia, gonorrhoea, eczema and colic. It helps to remove pus from boils2.
Other Uses:
Kanta chulayee is frequently used as a fodder in Western Himalayas and known to increase the yield of milch animal. Oil obtained from its seed can be employed in pharmaceutical and cosmetic industries
References:
1.Duke. J. A. and Ayensu. E. S. (1985); Medicinal Plants of China reference Publications, Inc. ISBN 0-917256-20-4
2. Bown. D.(1995): Encyclopaedia of Herbs and their Uses. Dorling Kindersley, London. ISBN 0-7513-020-31!