Family: Amaranthaceae Synonyms: Celosia japonica, Celosia stricta, Celosia plumose.
Common Name: Silver Cockscomb, White Cockscomb, Flamingo Feathers, Wheat Celosia.
Local Name: Choti phool (चोटी फूल), Bithu.
Choti phool is a annual herb. It is seen growing growing in arable lands, as a weed of cultivation, in harvested fields and wastelands up to an altitude of 1600 m in Western Himalayas. Plant is more common in hills as compare to plains. It is mainly grown as a ornamental plant in home yards and garden. Choti phool prefers a well-drained sandy loam soil but can also grows well on marshy soils.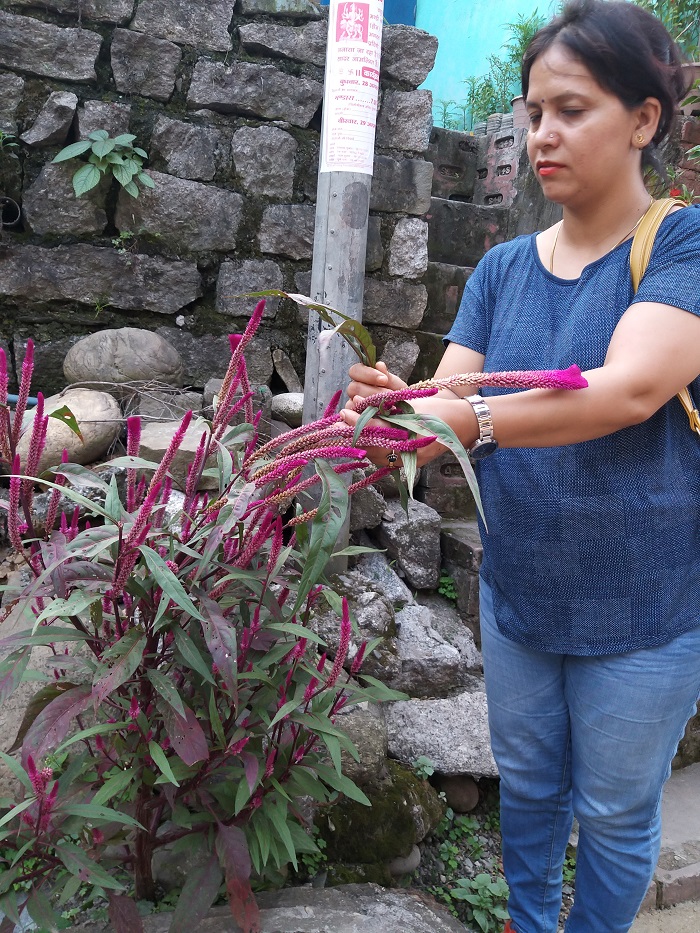 Young leaves and tender shoots of choti phool are edible and cooked as a vegetable. It can be stemmed to prepare soup by mixing tender shoots with other vegetable and spices. An edible oil can be extracted from its seeds. Choti phool is also planted by many people in their home yards as a ornamental plant.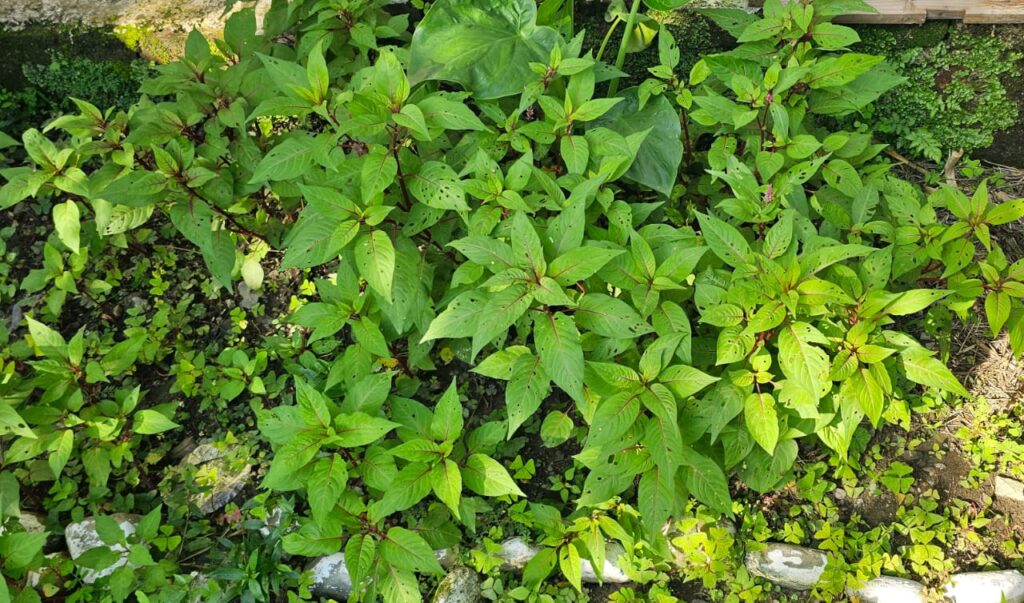 Choti phool Plant:
Plant is an erect, much-branched, annual herb, 1 to 2m tall.
Stem and branches strongly ridged and often sulcate, quite glabrous, branches ascending up to 25 per plant.
Leaves alternate, stalked or nearly sessile lanceolate-oblong to narrowly linear, acute to obtuse, shortly mucronate with the excurrent midrib, glabrous; lamina of the leaves from the centre of the main stem 2-15 x 0.1-3.2 cm, tapering below into an indistinctly demarcated, slender petiole; upper and branch leaves smaller, markedly reducing; leaf axils often with small-leaved sterile shoots.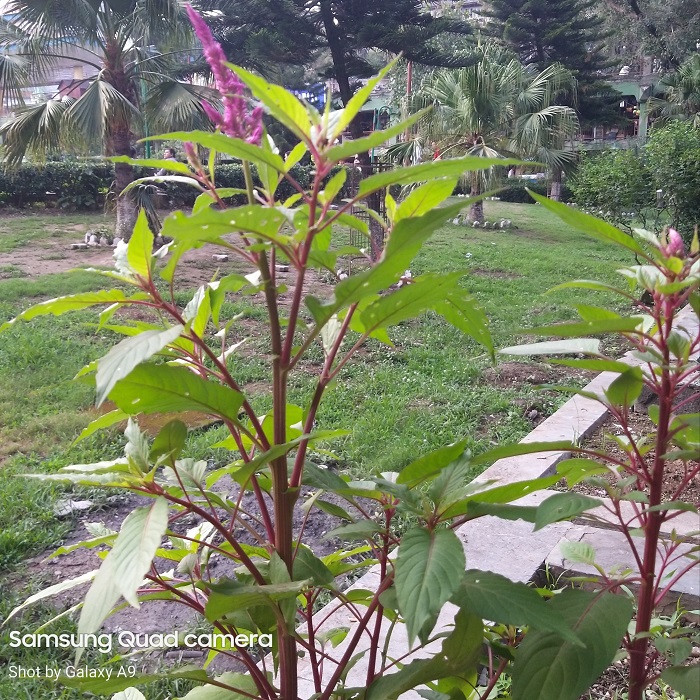 Inflorescence a dense many-flowered spike, 2.5-20 x 1.5-2.2 cm, silvery to pale- pink, conical at first but becoming cylindrical in full flower, terminal on the stem and branches, on a long, sulcate peduncle up to c. 20 cm long, which often lengthens during flowering. Bracts and bracteoles lanceolate or the lower deltoid, 3-5 mm, hyaline, more or less aristate with the excurrent midrib, persistent after the fall of the flower. Perianth segments 6-10 mm, narrowly elliptic-oblong, acute to rather blunt, shortly mucronate with the excurrent midrib, with 2-4 lateral nerves ascending more than halfway up each segment, margins widely hyaline. Filaments very delicate, free part sub equalling or exceeding the staminal sheath, sinuses rounded with no or very minute intermediate teeth; anthers and filaments creamy to magenta. Stigmas 2-3, very short, the filiform style 5-7 mm long; ovary 4-8-ovulate.
Fruit an ovoid to globose Capsule 3-4 mm, ovoid to almost globular, few seeded.
Seeds 1-1.5 mm, lenticular, black or brown, shining, testa very finely reticulate.
Choti phool can provide edible leaves from early rainy season to early winter season. Main edible part is leaves so no fear of extinction,however while using tender shoots terminals precaution is needed not to remove all of them of an particular area for ensuring sustainable harvesting.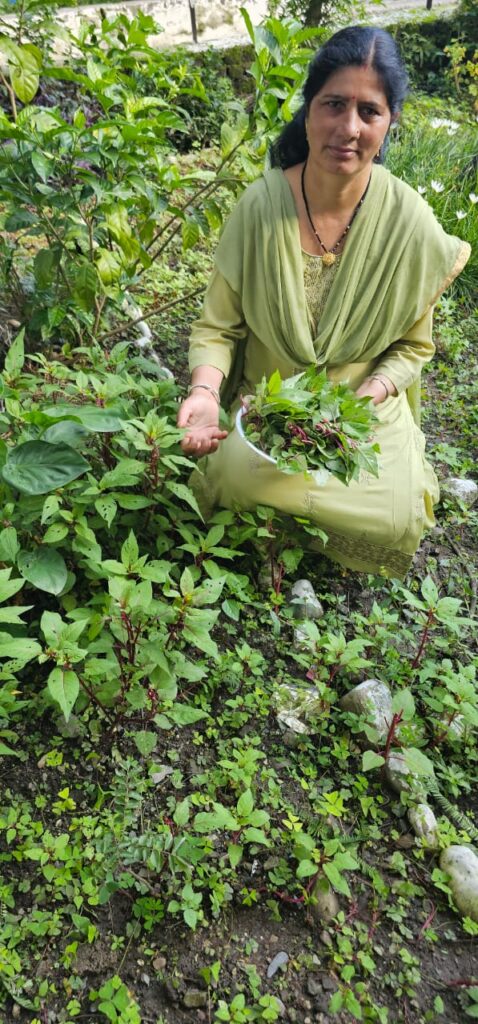 Edible Uses:
Edible leaves and tender shoot of choti phool are cooked as a leafy vegetable. Young leaves soften easily and retain a pleasant green colour when cooked so they should not be overcooked. The young inflorescences of choti phool are also sometimes eaten as a potherb. Soup can also be prepared by scalding young leaves and tender stem with other vegetables and spices acc.to one's preferences.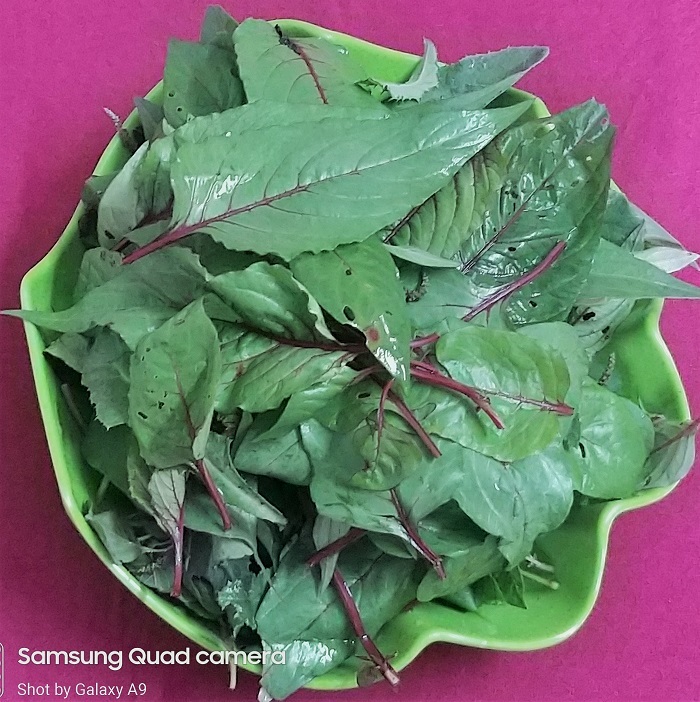 Leaves Vegetable Saag:
Leaves, young shoots and tender inflorescence are cooked with potato. as a leafy vegetable.
Chopped leave, young shoots and tender inflorescence, 1 kg; chopped medium sized potatoes,3-4 mustard oil, 3-4 table spoons; coriander powder, 1 table spoon; fenugreek powder, ½ table spoon; cumin seed, 1 tea spoon; turmeric powder, 1 table spoon; red chillies, 2-3; chopped medium sized onions 2-4; garlic, 4-5 cloves; ginger paste ½ table spoon, chopped tomato, 2-3; and salt, according to taste.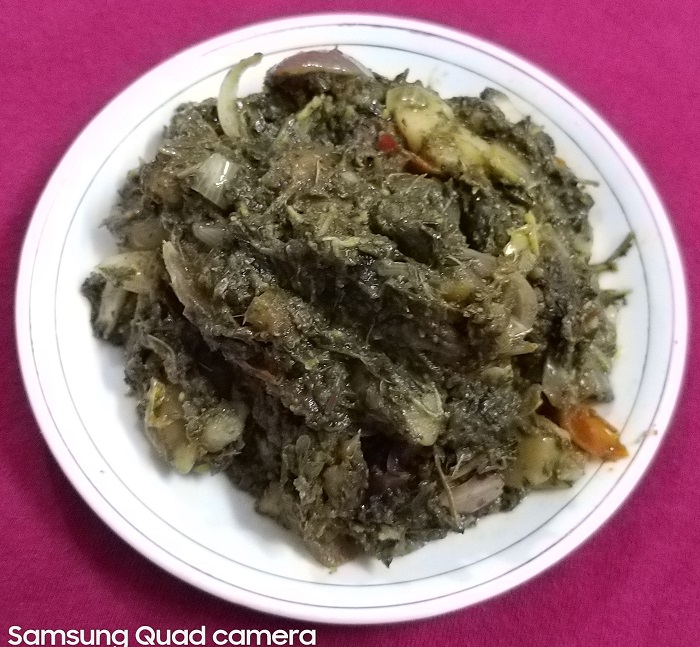 Method:
Put oil in a pan and sauté chopped leaves, stem or inflorescence with spices listed above in sequence with potatoes. Cook for 15 to 20 minutes and serve with chappatis.
Soup:
Ingredients:
Chopped leave, young shoots and tender inflorescence, 250g; vegetable acc. to preference, 250g; green chillies, mint leaves,10-15(chopped); corn flour, 1 spoon; black pepper powder,1/4 tea spoon, salt acc.to taste.
Method:
Boil chopped leaves, stem, inflorescence and vegetable in one litre water till they are soft, mesh these manually and sieve the extract in a container. Add to it mint leaves, corn flour, black pepper and salt, then boil for 5-10 minutes. Now soup is ready to serve.
Seek advice from a professional before using this plant medicinally.
Medicinal Uses:
Choti phool has healing properties its lowers and seed are astringent, haemostatic, ophthalmic, parasiticide and poultice. They are often used in the treatment of bloody stool, haemorrhoid bleeding, uterine bleeding, leucorrhoea, dysentery and diarrhoea. The seeds are bitter hypotensive and ophthalmic, also used in the treatment of diarrhoea, bloodshot eyes, blurring of vision, cataracts and hypertension, people with glaucoma should avoid their use because they dilates the pupils. The seeds are widely used in western Himalayas for the treatment of diabetes mellitus. The leaves are used in the treatment of inflammation, wounds and skin eruptions. The whole plant is useful as an antidote for snakebites. The roots are useful in the treatment of colic, gonorrhoea and eczema..
Other Uses:
Choti phool is grown as ornamental plant in many parts of Western Himalaya and people know more it as a ornamental plant as compare to wild edible plant.