Family; Euphorbiaceae
Common name; Wild poinsettia
Synonym: Euphorbia geniculate, Poinsettia heterophylla
Local name: Khabad dudhia ( खाबड़ दूधिया )
Khabad dudhia is a sparsely-branched, annual weed with copius latex. Plant is found upto an altitude of 1000 meter. Sometimes plant is also grown as an ornamental plant in different parts of Western Himalaya. All the parts of Khabad dudhia are good source of latex which is used in the preparation of arrow poison and fish poison. Plant is commonly seen growing as a weed in cultivated field, garden, disturbed places, waste land and along roadsides.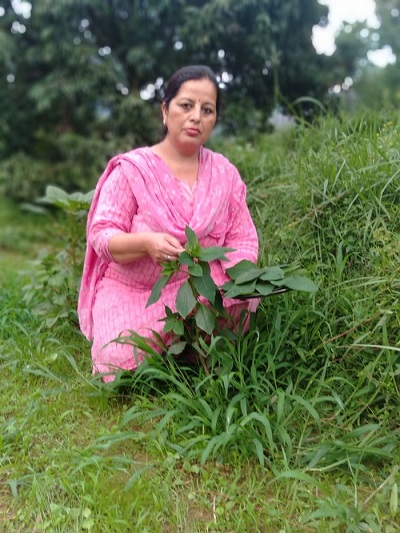 Khabad dudhia is harvested from the wild for local use as a food and medicine. All the parts of this plant are useful for local people. Ariel plant parts, root, leaves, seed and latex are used as a medicine while tender leaves are cooked as a leafy vegetable. The leaves of Khabad dudhia have been eaten in times of scarcity, but should be cooked along with leaves of other wild pot herb to lessen their laxative action, The leaves of this plant can be dried, powdered and kept for future use Khabad dudhia is native of Central and South America.
Khabad dudhia Plant:
Plant is erect,stout, annual herb, glabrous to pilose upto 1 to 3 m tall with bluish latex. stem fistular.
Leaves alternate below, opposite above, 4-12 x 0.3-7 cm, broadly ovate, elliptic, obovate, or panduriform, rarely linear, glabrous or pilose, margins entire to coarsely serrate, apex acute, short-acuminate, or short-cuspidate, base rounded to cuneate, green, sometimes floral leaves white or with splotches of purple at base, never red; petioles 1-4 cm long; stipules absent or minute and gland-like.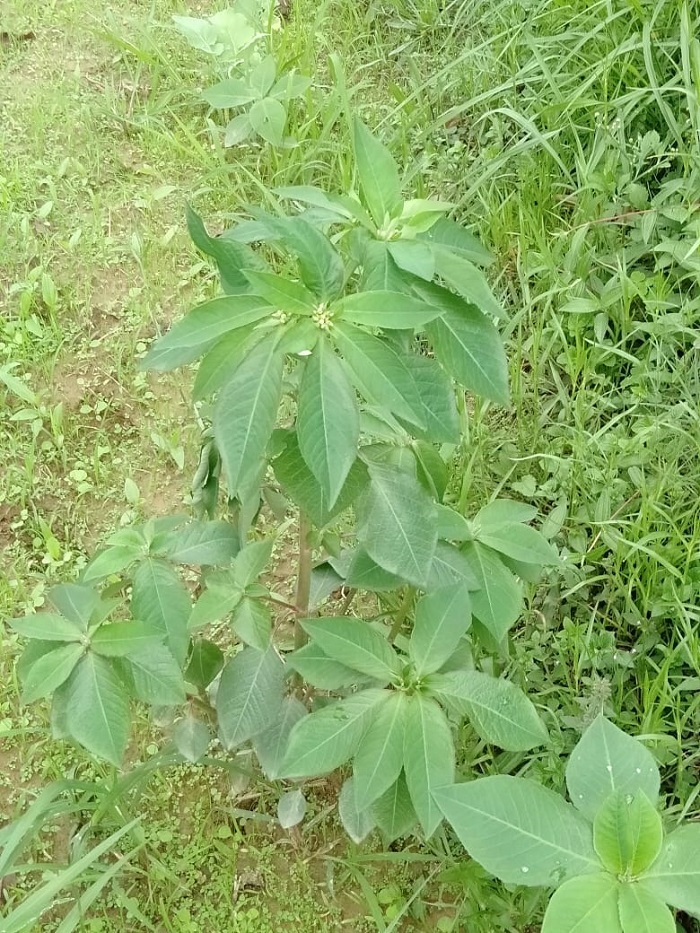 Cyathia in dense terminal cymes; involucre 2-2.5 mm high, glabrous, gland 1, cup-shaped with a circular opening, without an appendage; staminate flowers numerous.
Capsules sub globose, 3-4 mm long, glabrous; seeds dark brownish gray to black, sometimes mottled, truncate-ovoid, angled, 2-2.5 mm long, coarsely tuberculate, ecarunculate.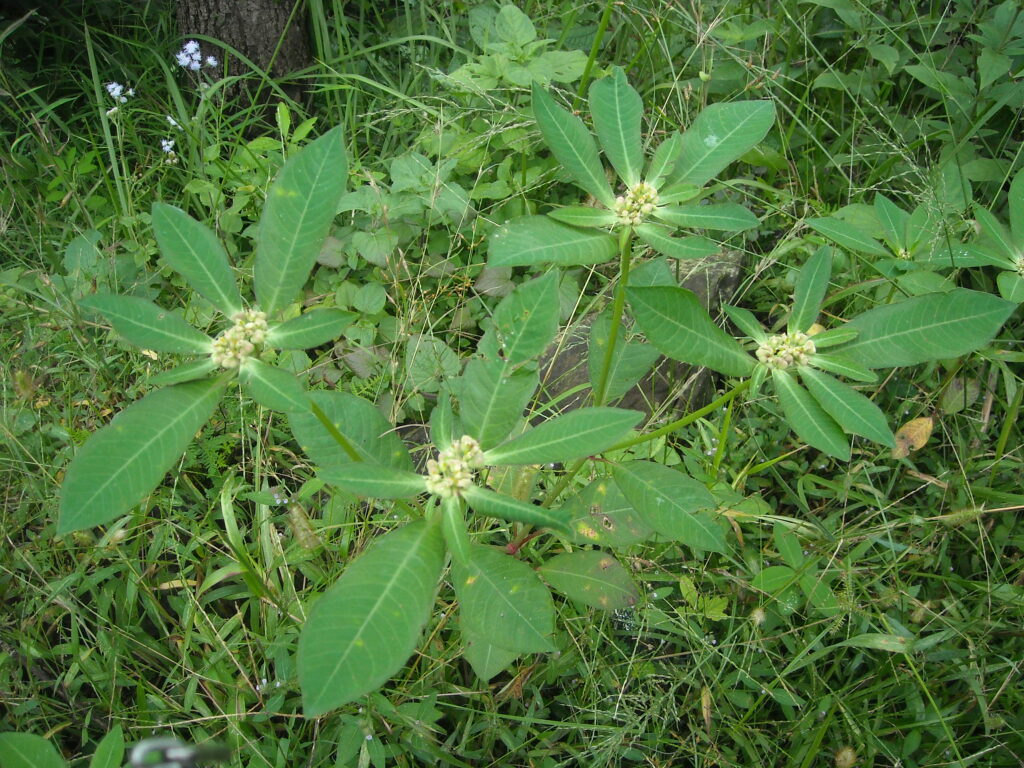 Khabad dudhia can best provide edible leaves during rainy season.
Edible Uses
Leaves of Khabad dudhia are edible and are eaten as a vegetable or famine food despite their laxative action.
Khabad dudhia leaves Saag;
Ingredients:
Chopped tender leaves and Khabad dudhia and other wild herbs solanum nigra, Rumex hastatus, Amaranthus viridis), 1 kg; mustard oil, 2 table spoons; coriander powder 1 table spoon; fenugreek powder, ½ table spoon; cumin seed ¼ table spoon; turmeric powder, 1/4 table spoon; red chillies, 2-3; chopped onions 2-4; garlic, 4-5 cloves; ginger paste ½ table spoon, medium sized potato ,2-3 and salt according to taste.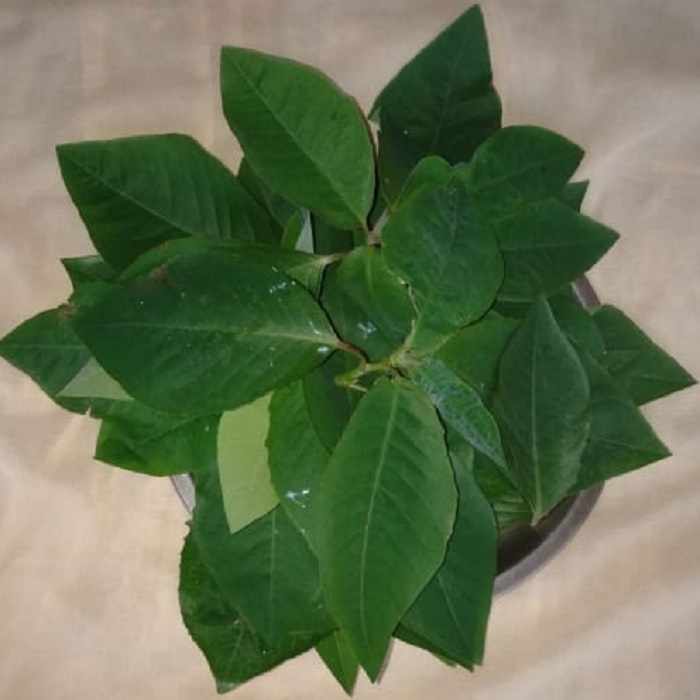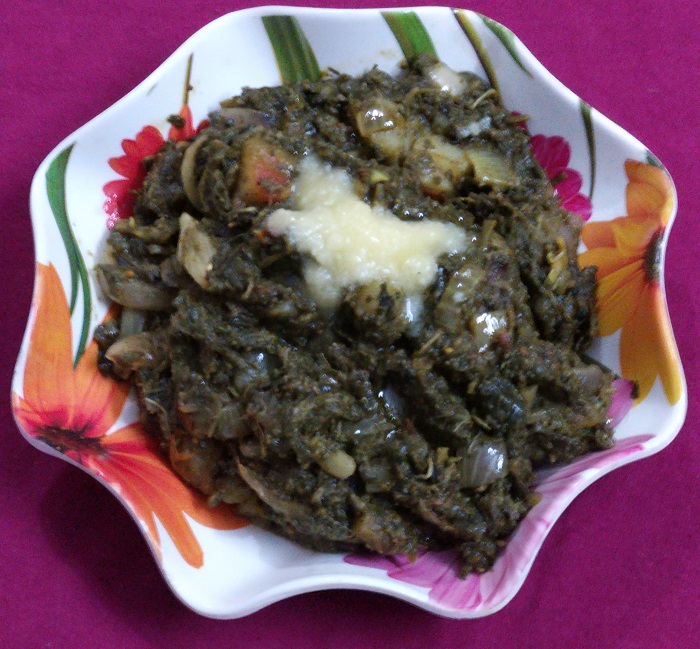 Seek advice from a professional before using this plant medicinally.
Medicinal Uses:
Decoction of aerial parts relieves constipation; 2 teaspoons once every morning for 5 days1. Paste of seeds and leaves useful against skin eruptions1. The latex and preparations of the leaves and root are applied to treat skin tumours2. The roots are cathartic, emetic and galactogogue2. They are used in small doses in the treatment of gonorrhoea and to increase milk production in breast-feeding women2. The latex is irritant to the skin and eyes and may be employed as a rubefacient and to remove warts and corns2.
Other Uses:
Khabad dudhia is frequently used as a fodder plant in Western Himalayas and it is given to milch cattle for enhancing milk production.
All parts of the Khabad dudhia contain latex: leaves 0.42%, stems 0.11%, roots 0.06% and whole plant up to 0.77%2. So, plant can be exploited to harvest rubber. A dye is also obtained from the red-coloured leaves2.
References:
1. Sood S.k. & Thakur Smriti (2004): Ethnobotany of Rewalsar Himalayas, ISBN:81-85622-10-8. Deep Publication