Family: Asteraceae
Synonyms: Bidens repens, Bidens acuta. Bidens orientalis, Bidens pumila
Common Name: Three-lobe beggartick, Three-part beggarticks, leafy-bracted beggar ticks or trifid bur-marigold
Local Name: Nikampusi (निकम्पुसी)
Nikampusi is an erect, much-branched annual weed of cultivated land, usually found growing up to an altitude of 1800 m in Western Himalayas. It can grow easily in moderately fertile, damp to wet soil in full sun. Plant succeed well in moist, open habitats such as watersides, ditches, swampy pastures,roadsides and maize or paddy field.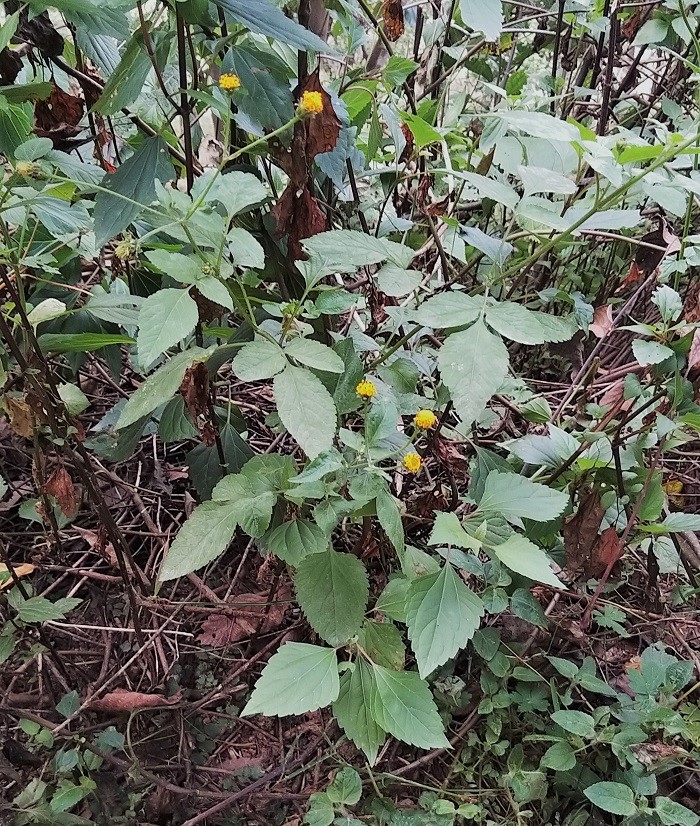 Nikampusi seed coats have reflexed prickles, usually small as compare to Bidens pilosa (Goomaru), which catch up to clothing of those who wander through along roads or wild pathways.animal fur etc, The capitulum of flowers smell like rosin or cedar when they are burn, so effective in repelling insects and flies.
Nikampusi is harvested from wild as it comes into flower for local use as food and medicine. Tender tops along with flowering head and young leaves are steamed and sauted into vegetable Saag along with other available wild potherbs of rainy season Ariel plant parts can be dried for later use.
Nikampusi Plant:
Plant is stout, erect, annual herbs, up to 1 m tall.
Leaves opposite, sessile or petiolate, elliptic to ovate or lanceolate, 4-8 cm long, simple or 3-5–lobed; lobes lanceolate, acuminate, serrate, terminal one longest, glabrous.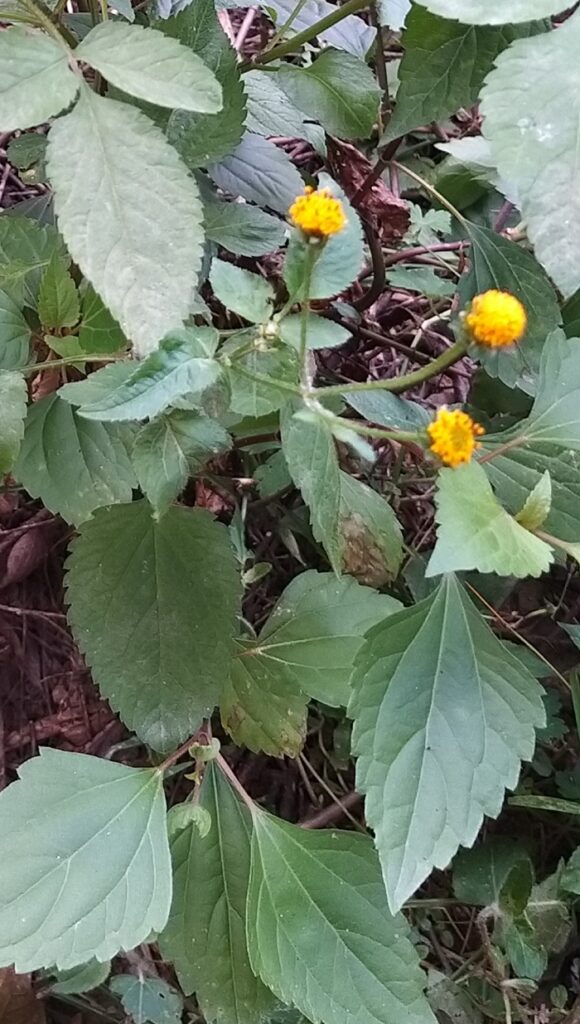 Heads pale yellow to orange, radiate or discoid, 2-2.5cm across, solitary or 2-3 on axillary or terminal peduncles. Outer involucral bracts leaf- like, longer than the flowers, tips dilated; inner ovate or elliptic- lanceolate, membranous. Ray florets absent, sometimes 1-5; disc florets many, tubular.
Achenes dark brown cuneate- liner, 5-8 mm long, compresses with sparsely retrorsely hispid margins.

Edible Uses:
Nikampusi small leaves and tender terminal are used as a vegetable.
Nikampusi Saag;
Chopped leaves and tender shoot tips of Nikampusi other available potherbs of rainy season, 1 kg; mustard oil, 2 table spoons; coriander powder 1 table spoon; fenugreek powder, ½ table spoon; cumin seed ¼ table spoon; turmeric powder, 1/4 table spoon; red chillies, 2-3; chopped onions 2-4; garlic, 4-5 cloves; ginger paste ½ table spoon and salt according to taste.
Boil chopped leaves they become soft. Then mesh manually or in a mixer. Then sauté with hot mustard oil and the spices listed before in sequence. This sauted saag is then ready and can be served as such or can be mixed with 2 or 3 chopped onion or boiled potato and cooked for another 5 to 10 minutes before serving.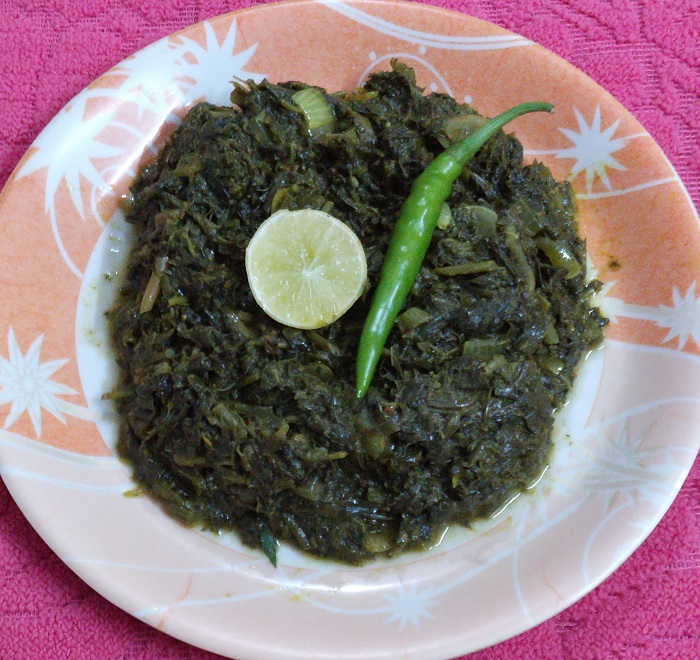 Medicinal:
Nikampusi is known to be used as an astringent, antiscorbutic, diuretic, diaphoretic, sedative and narcotic in Western Himalaya. Also used in dropsy, gout, haematuria, chronic and eczema. Seeds of nikampusi are used against stone of kidney and gall bladder. Nikampusi is little used as a medicine nowadays, but it was once esteemed for its styptic properties being used to quickly staunch blood flow, it was often used to treat uterine haemorrhage and conditions producing blood in the urine1.. The roots and seeds are used as an emmenagogue, expectorant. It is usually combined with a carminative herb such as ginger when used to treat digestive tract ailments, including chronic dysentery2.
Other Uses:
Nikampusi is used as fodder for milch cattle. Burning flowers are effective in repelling insects and flies. A black dye is also extracted from this plant which is used as a hair dye, Yellow flowers of this plant can be exploited to yield dye.
References:
1.Chopra, R.N., Nayar, S.L. & Chopra, I.C (1956). Glossary of Indian Medicinal Plants. CSIR, New Delhi.
2, Chevallier. A. (1986); The Encyclopedia of Medicinal Plants. Dorling Kindersley. London, ISBN, 9-780751-303148.