Family: Rosaceae
Synonyms: Amygdalus mira. Persica mira.
Common Name: Smoothpit Peach. smooth stone peach, smooth-pit peach, Tibetan peach,
Local Name: Chulli (चुल्ली), Behmi, Behimi or Tirul
Chulli is commonly seen growing at slopes in mixed forests, mountain valleys. open hillsides, ravines, woodland, garden sunny, edge and in dappled shady places in hills of Western Himalayas.. It is usually found growing wild in the forests of dry temperate region upto an altitude of 4,000 meters Chulli grows best in sun or partial shade, but well-drained moisture-retentive loamy soil, though it fruits better in a sunny position.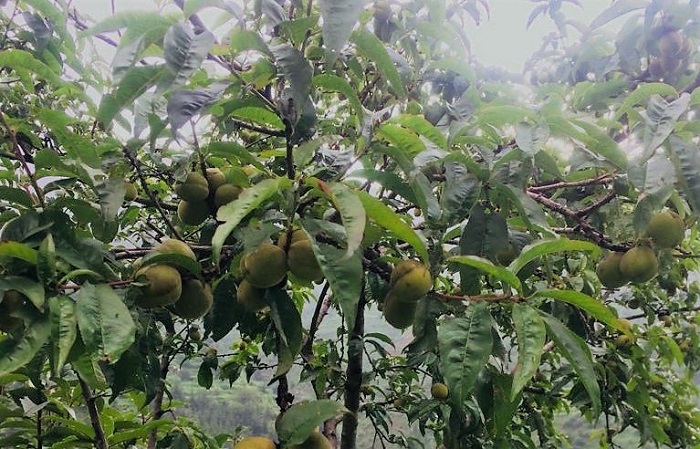 Inhabitants of Western Himalayas harvest edible fruits from wild habitat for their local personal and commercial uses. They also cultivate this tree sometime in their garden or homeyards for its fruits and seed oil. This oil is used as a cooking oil or hair oil. Inhabitants eat edible fruits both raw or cooked.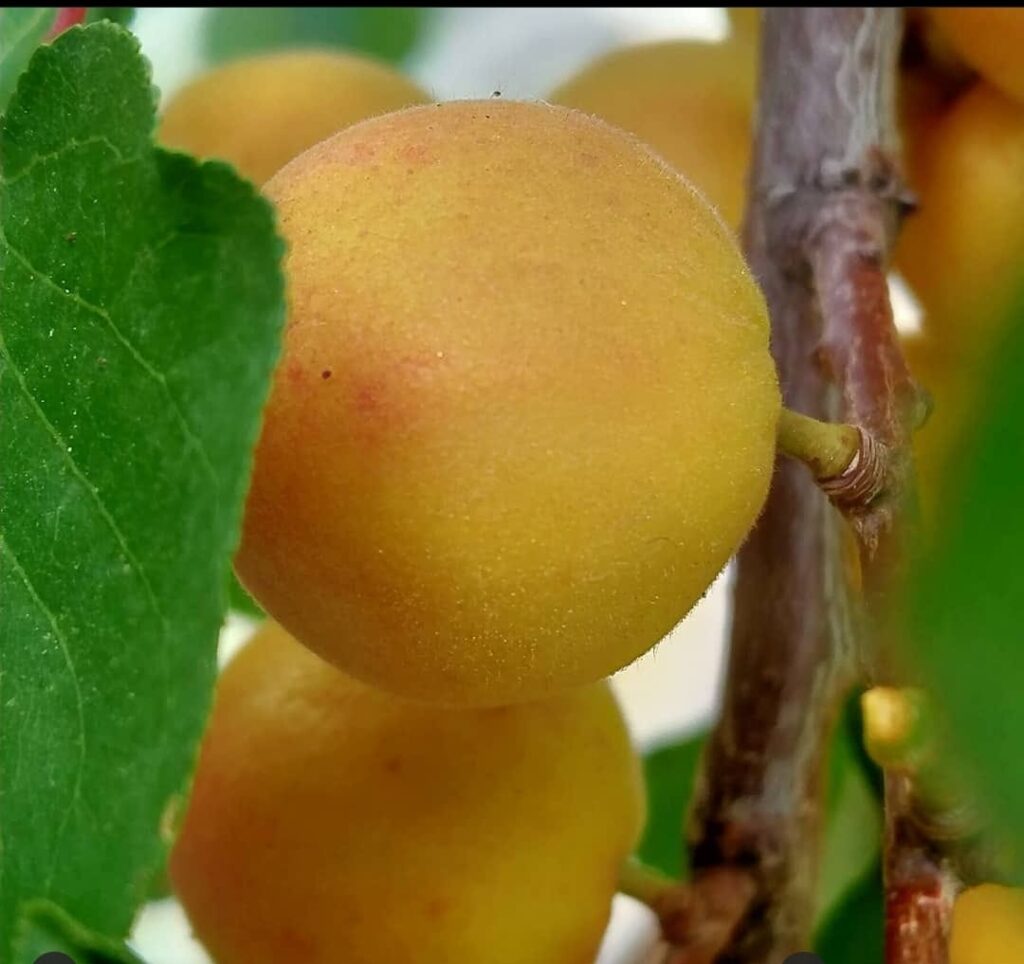 Fruits have a bitter flavour in spite of that these are taken both raw when ripe and cooked mostly in the form of pickle. A local alcoholic drink is also prepared by some tribes ( Kinnauri tribes ) from ripe chulli fruits for their local personal uses. Chulli tree are also used as a best rootstock for grafting almonds and for dwarfing peach trees, they are also resistant to powdery mildew.
Chilli Plant:
Plant is a small deciduous tree growing to 3- 10, m tall, trunks 16 cm in diameter.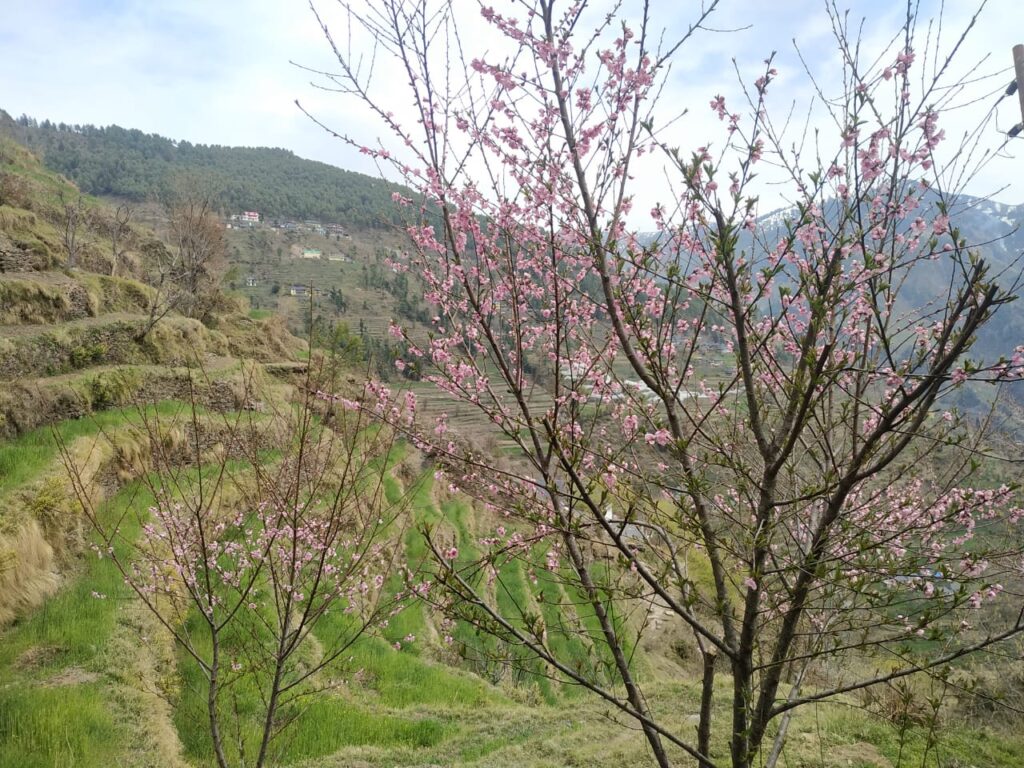 The leaves are lanceolate, 5–10 cm long and 1.2–4 cm wide.
The flowers are pinkish white.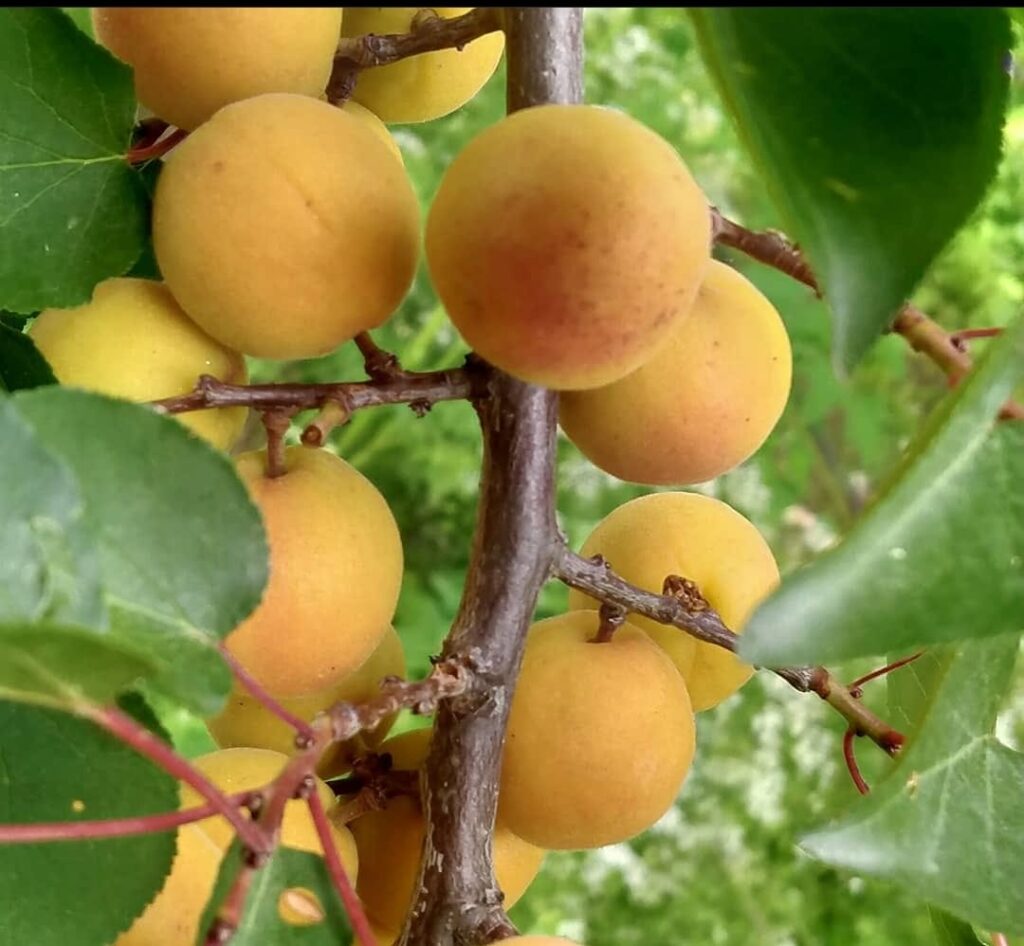 The fruit is about 3cm in diameter, ovoid fruit has white flesh.
Seed one large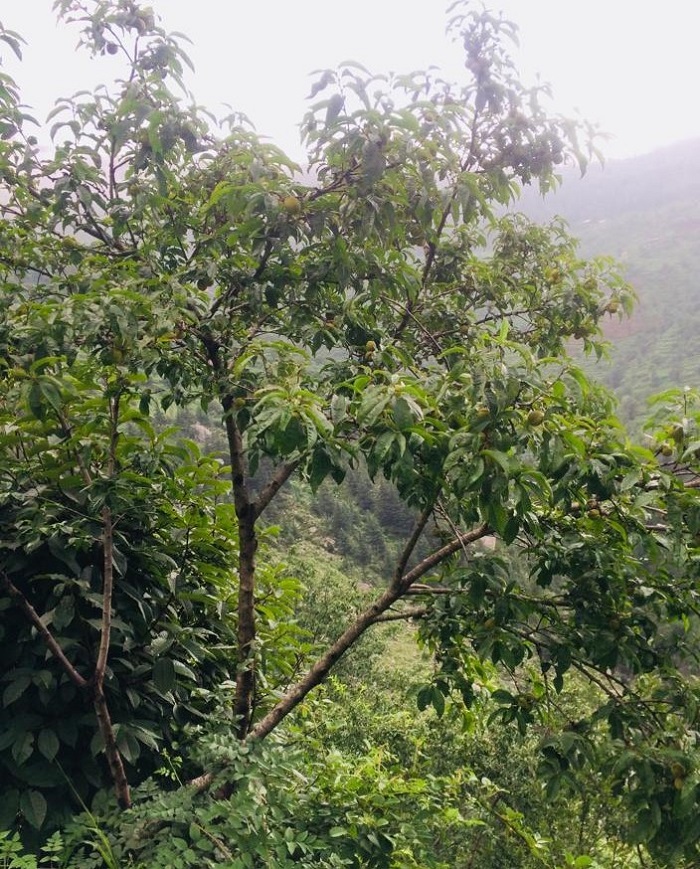 Fruits of Chulli can be harvested from rainy to autumn season of the year. Being the means of regenertaion they should be harvested by habitat rotations for ensuring their regeneration and sustainability.
Edible Uses:
Fruits of chulli are edible both raw or cooked. Fruits are pickled and are also marketed. Seed oil is used for cooking. Fruits, though a bit sour but eaten and sometimes kernels are also added in sweet dishes as a substitute for almond. These are also sun dried and used later on for making a hard alcoholic liquor that is quite popular with locals. Oil is also extracted from seed, it is used for cooking as well as hair oil. Seed paste of chulli is an excellent addition to chutneys, soup and other traditional dishes of hilly area .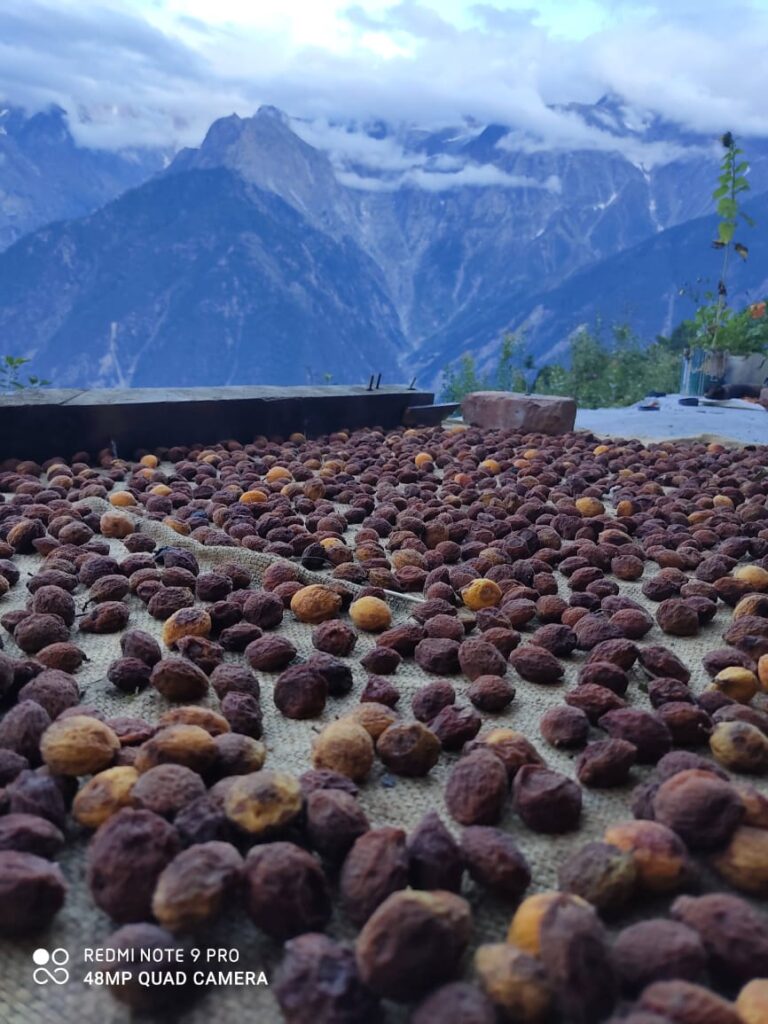 Dried fruits for oil extraction.
Chulli Pickle:
Ingredients:
Raw chulli fruits, 1 kg; mustard oil, 7-8 table spoons; coriander powder, ½ table spoon; fenugreek powder,1/4 table spoon; cumin seed, 1 table spoon turmeric powder, 1 table spoon; red chillies, 10-12. mustard seeds, 1 table spoon, salt acc.to taste.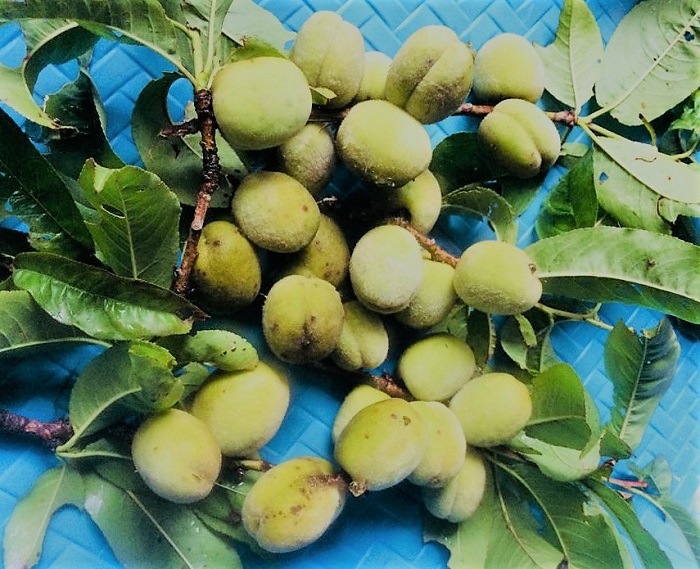 Method:
Dip unripe fruits in boiling water for ten minutes. Completely dry fruits in full sunlight for full day. Put mustered oil in a pan and saute sun dried fruits with spices. One table spoon mustard seeds are then added to make them sour.
Local alcoholic drink from chulli:
Ingredients:
Jaggery, 1kg; ripe chulli fruits, 1kg; cinnamon, yeast,2 tablespoon; cloves and cardamom to taste
Method:
..
Take ripe chulli fruits and wash properly.Mesh the fruits completely and then add cinnamon sticks, cloves, cardamom and leave it for 12hrs. Boil 1kg sugar in 1lit. water and wait till it cools down. Now take a bowl, add to it cooled sugar solution; 2 spoon of yeast and leave it for 30 min. After fermentation of the solution start distillation and collect thealcohol in a ceramic jar.
.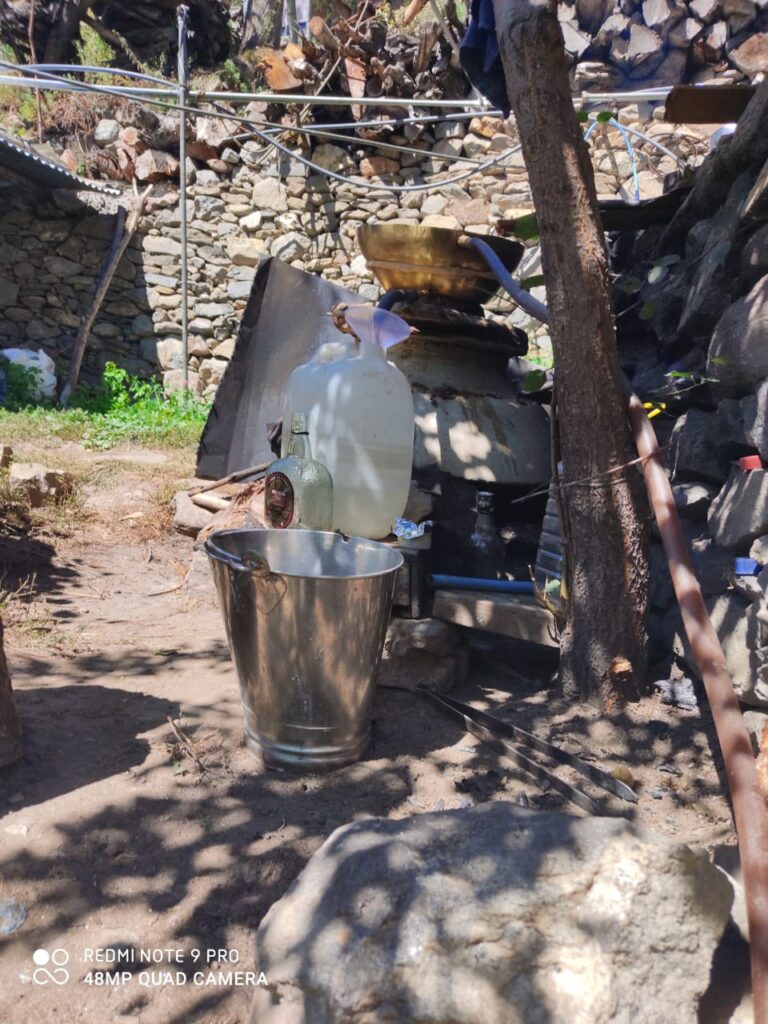 Local set-up for alcohol distilation
Seek advice from a professional before using this plant medicinally
Medicinal Uses:
A massage of chuilli seed oil is recommended for patients suffering from disorders of joints. The plant contains amygdalin and prunasin substances which break down in water to form hydrocyanic acid (cyanide or pruccic acid). In small amounts this exceedingly poisonous compound stimulates respiration, improves digestion and gives a sense of wellbeing (Bown. D.1995).
Other Uses:
The wood used as timber and for making agricultural implements. Chilli tree are used as a best rootstock for grafting almonds and for dwarfing peach trees,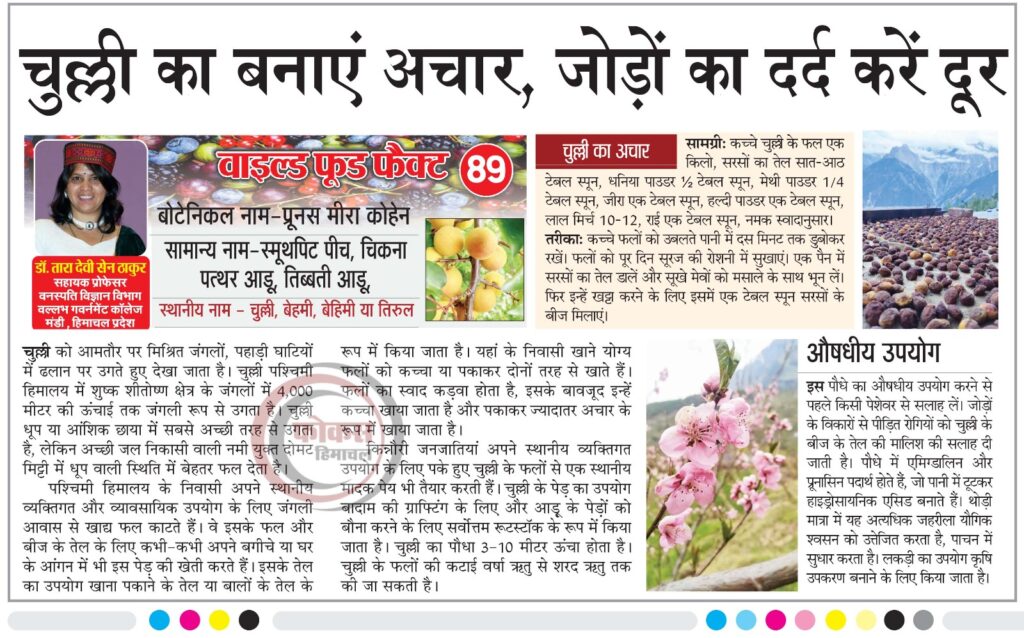 References:
Bown. D. (1995): Encyclopaedia of Herbs and their Uses. Dorling Kindersley, London. ISBN,0-7513-020-31.
,