Family: Russulaceae
Synonym: Agaricus exsuccus, Agaricus vellereus. Agaricus piperatus
Common Name: Milk-white brittlegill. Milk-white Russula.
Local Name: Matcho(मटेचो)
Matcho is amycorrhizal fungus, growing solitary, scattered and sometimes gregariously on terrestrial habitat in coniferous forest. It is one of the largest mushrooms in the genus Russula. It is mostly seen growing at high altitude and matcho described here is collected at an elevation of 2600 meter from Mandi distt, of Himachal Pradesh.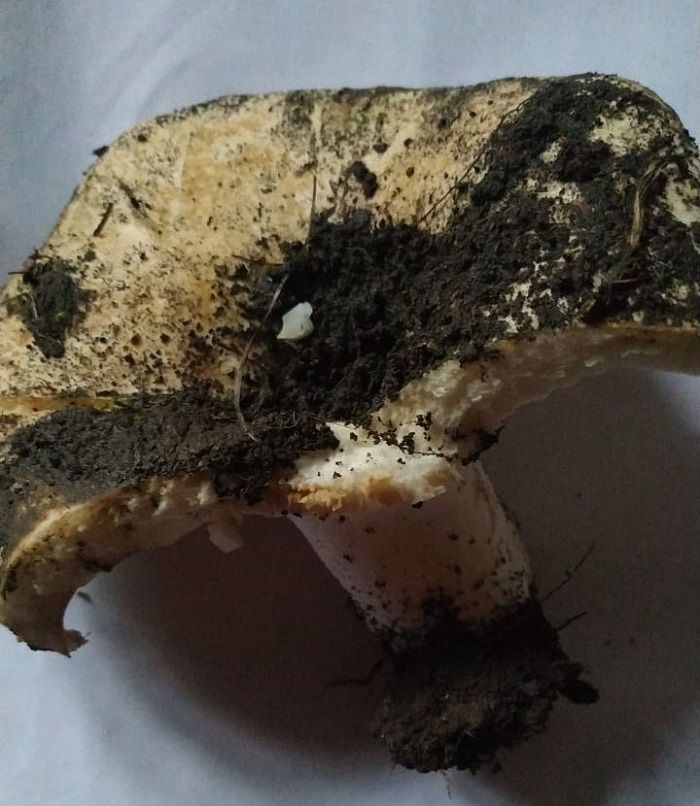 Matcho is white in colour with brownish cap markings and small robust stipe. Fruiting bodies of matcho seem detest to leave the soil, so are often found half buried.. As mushroom usually grows under pine trees. it is found emerging from the earth by pushing up pine needles, turf or leaf litter, as a result, cap often trap the surrounding leaf debris and soil on their rough surfaces causing the large off-white cap badly marked and often blemished.
People of hills in Western Himalayas harvest matcho from wild habitat for their local use as a vegetable. Inspite of its poor and unpleasant taste, people are very fond of matcho, because it grows at high altitude and mostly in forest so far form reach of local people.
Matcho Plant:
Cap: 10-20 cm in diameter, initially when young it is convex with a central depression or infundibuliform and an enrolled margin, later broadly convex with a central depression, mostly contains leaf debris on the upper surfaces. the margin remaining somewhat enrolled, dry, smooth, sometimes becoming cracked in age, white to whitish or creamy at first developing brownish discolorations and the skin not peeling easily.
Hymenophore: Gills, decurrent, crowded, often forked are attached to the stipe or running down it slightly, crowded or close, white at first, later creamy to pale yellow, sometimes spotting and discolouring brownish especially near the juncture with the stipe.
Stipe: Firm, white, short and stout, measuring 2–8 cm tall and up to 4 cm thick, sturdy and solid, more or less equal, dry, smooth, whitish, sometimes discolouring and bruising brownish.
Flesh: Thick, brittle, white but sometimes discolouring brownish.
Spore: Ovoid, warty.
Print: White to buff.
Matcho is harvested from wild from end of rainy season to early autumn.
Edible uses:
Matcho is used as vegetable and also pickled. In villages where people collect this mushroom from forests. These are mostly cooked in combination with potatoes and can be eaten along with rice.
Ingredients required:
Freshly harvested matcho, 1 kg; medium sized potato; 2-4, mustard oil, 3-4 table spoons; coriander powder, 1 table spoon; fenugreek powder, 1 tea­­­­­­­­ spoon; cumin seed, 1 table spoon turmeric powder, 1 table spoon; red chillies, 2-4; medium sized ground onion, 2-3; ground garlic cloves, 4-5; tomato puree 2 cup, cream, 3-5 table spoon, green coriander leaves(chopped), 1/2 cup amount; branded garam masala,1/2 table spoon amount; salt, according to taste.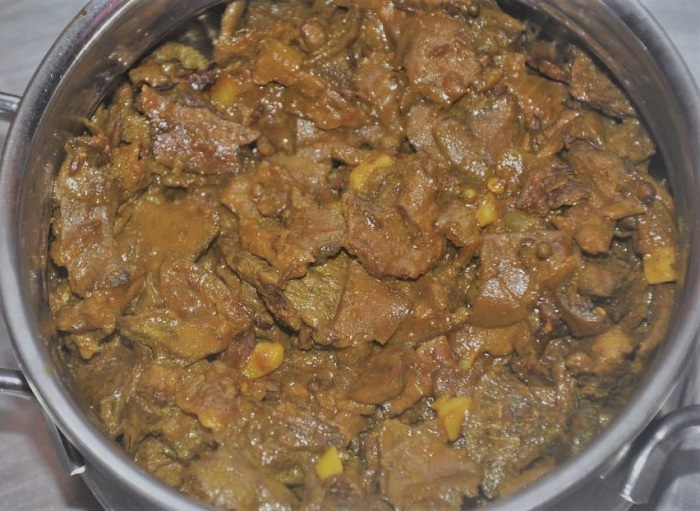 Method:
Matcho pieces and chopped potato are sauted in hot oil along with spices listed above like coriander, cumin seeds, chillies, turmeric, onion and garlic paste, tomato puree and cream in sequence. Cook for 20 to 30 minutes till become soft. Garnish recipe with chopped green coriander leaves and garam masala before serving.