Family: Solanaceae
Synonym(s): Solanum surattense Solanum.armatum  Solanum.xanthocarpum
Common name(s): kantakari, Surrattense nightshade
Local name: Chhoti Kateri (छोटी  कटेरी),, Choti- kanadyai
Chhoti kateri is an erect or creeping herbaceous perennial plant, occasionally found in waste places, roadsides, degraded forest, open space, wet places, moist soil, damp area and in watersheds, up to an altitude of 1000 meter in Western Himalayas,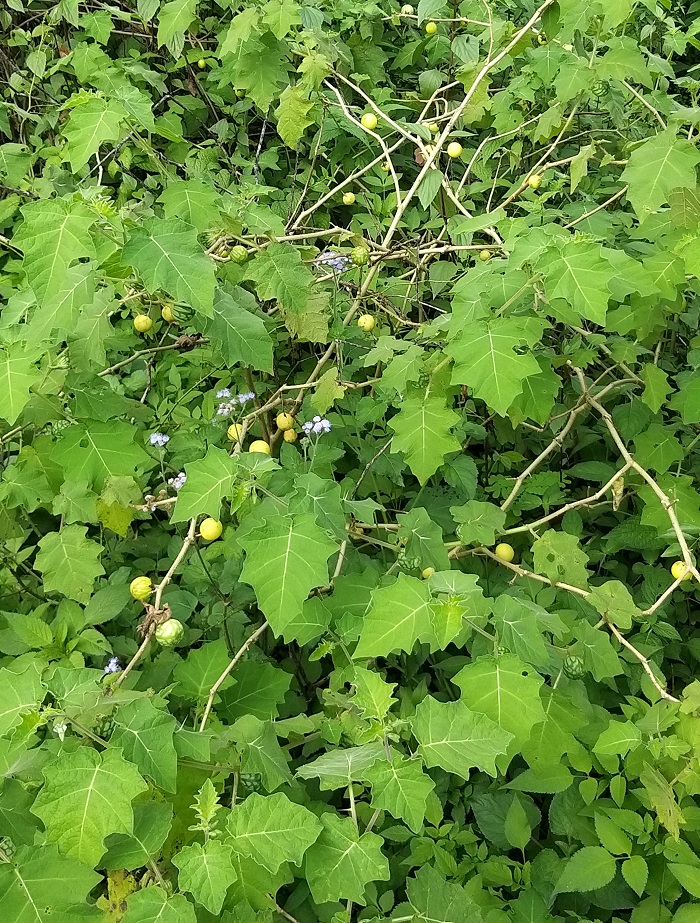 Leaves, fruits and seeds of plant are all edible. Young leaves are cooked as green. Fruits are cooked but very few people use fruits as a vegetable due to unpleasant taste, they only cook fruit as vegetable to harness its medicinal properties, specially to balance vitiated conditions of vata and kapha . Fruits need to be harvest when young and unripe if they ripe their seed become hard and then unfit for cooking. People harvest chhoti kateri from the wild for their local use as a food and medicine.
Chhoti Kateri Plant:
Plant is prostate or decumbent, much branched, annual or perennial herbs, it can grow 50 – 70cm tall, copiously armed with sturdy yellow, needle-like prickles 5 – 20mm long
Leaves ovate- oblong or elliptic, 5-10cm long, sinuate or pinnately lobed, prickly on leaves on nerves.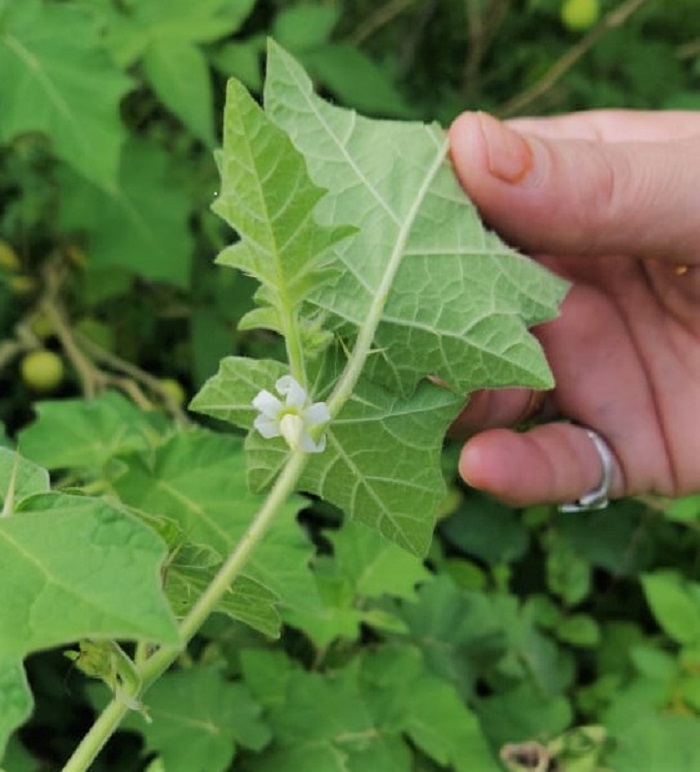 Flowers bluish- purple, 2-2.5 cm across, few, in extra- axillary cymes. Calyx prickly. Corolla stellately pubescent outsides; tube very short; lobes deltoid, acute.
Berries globose, 1.2-1.8 cm across, yellow, often, often boltched with green.
Edible fruits can be harvested from late rainy season to autumn and edible leaves throughout the year.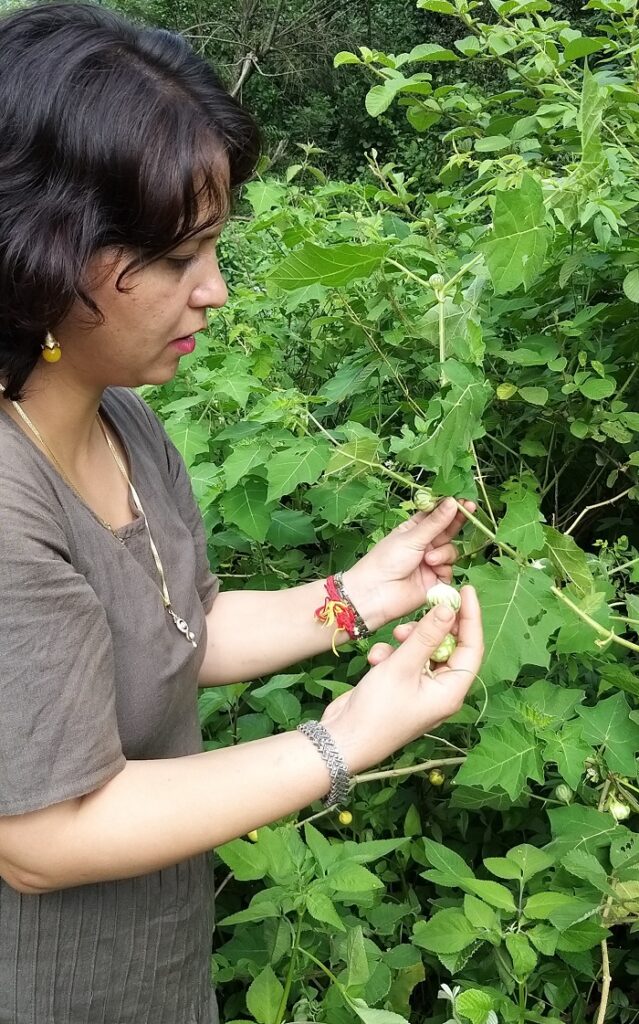 Fruits of Chhoti kateri are bitter with unpleasant taste, so better to eat them for their medicinal use only or people who are found of wild edibles and love to try new recipes can try.
Edible Uses:
Plant leaves are cooked as a vegetable along with potatoes. Fruits are slightly bitter in flavor,so better to cook as a vegetable curry and cook when immature because when ripen their seed become tough.
Vegetable:
Ingredients:
Raw fruits / leaves, 250 g; chopped medium sized potato raw/boiled,3-4; mustard oil, 3-4 table spoons; coriander powder, 1 table spoon; fenugreek powder, 1/2 table spoon; cumin seed , 1 tea spoon.; turmeric powder, 1 table spoon; red chillies, 2-3; medium sized chopped onion, 1-garlic cloves, 4-5; ginger paste, 1 table spoon; ; chopped tomato.2-3; curd, 1/2 kg; garam masala, 1 table spoon; chopped coriander leaves, ½ cup; and salt according to taste.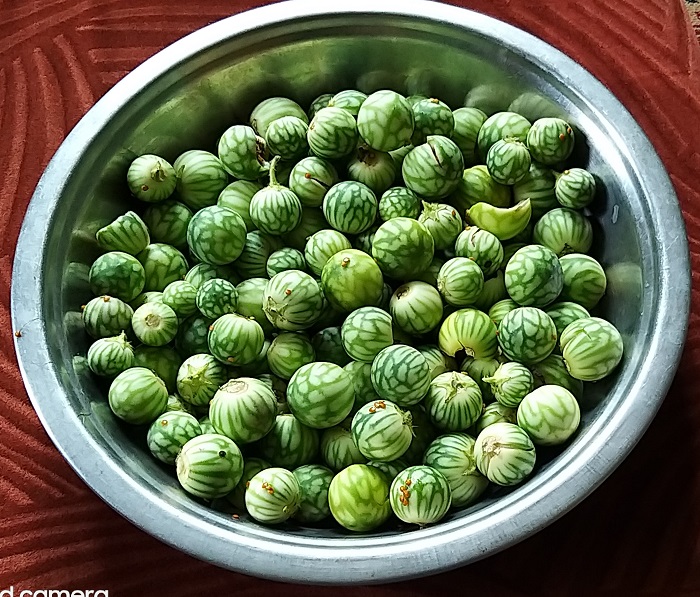 Method:
For preparing fruits vegetable, heat mustered oil in a pan and saute chopped fruits and potato with spices listed above in a sequence. Cook till they are soft then add curd to it cook for another 5-10 minutes, garnish with chopped coriander leaves and serve.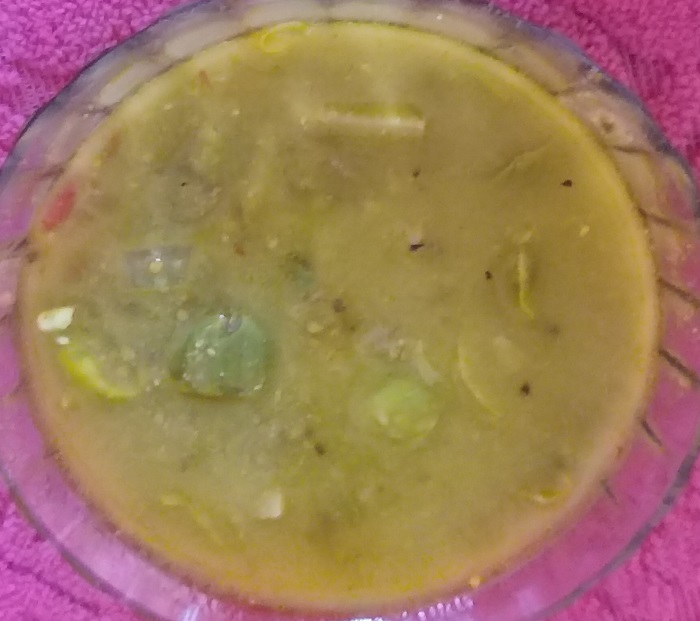 For preparing leaves vegetable steam chopped tender leaves terminals along with other available greens of rainy season. Mesh them manually or in a mixer and then saute with spices alone or with boiled potato. Cook for 5-10 minutes and serve.
Seek advice from a professional before using this plant medicinally
Medicinal Uses;
The plant is bitter, acrid, thermogenic, anthelmintic, anti-inflammatory, anodyne, digestive carminative, appetizer, stomachnic, depurative, sudorific, expectorant, laxative, stimulant, diuretic, rejuvenanting, emmenagogue and aphrodisiac. It is useful in vitiated conditions of vata and kapha, helminthiasis, dental caries, inflammation, arthralgia, flatulence, colic, constipation, dyspepsia, anorexia, leprosy, skin diseases, hypertension, rheumatoid fever, cough, asthma bronchitis, hiccough, strangury, urolithiasis, amenorrhoea, dysmenorrhea, lumbago, haemorrhoids, cardic disorders, rhinopathy, epilepsy and catarrh1.
Seeds eaten, powdered stem and fruits used for checking fever and chest infections (1 teaspoon twice a day till relief 2 . The roots constitute one of the Dashmool of Ayurveda 3
Other Uses:
Plant is used as a live fence by inhabitants due to presence of prickles. The fruits can be harvested for commercial extraction of solasodine, which is used in the synthesis of hormones.
Reference:
Purohit SS, Sharma AK, Prajapati ND, Kumar T. A handbook of medicinal plants: a complete source book. Edition. 2009;2:352-3.
Sood SK. Thakur S (2004) ; Ethnobotany of Rewalsar Himalaya. Deep Publications;
Singh, P.B. (1918); Flora of the Mandi District Himachal Pradesh North West Himalaya Bishen Singh Mahendra Pal Singh, Dehradun.ISBN: 9788121109628.