Family: Rutaceae
Synonymy: Bergera koenigii
Common Name: Curry Leaf
Local name: Gandhelu (गंधेलू), Mitha neem, Gandhla, Gandhela
Gandhelu is a small evergreen shrub or tree with pungent foliage. Gandhelu is very easily growing plant commonly seen growing up to an altitude of 1500 m above the sea level. It grows best in full sun but also succeed well in most soils and generally prefers a fertile, humus-rich, moisture-retentive but well-drained light soil.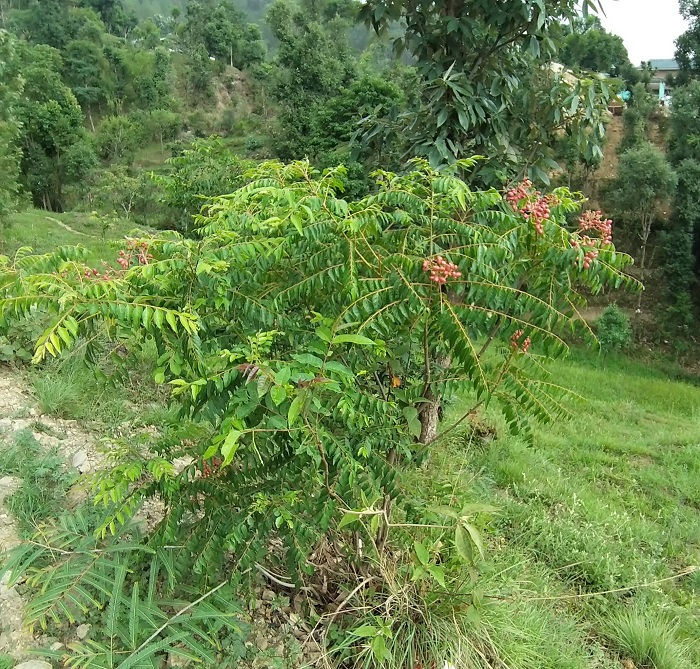 Leaves and fruits of Gandhelu are edible. Leaves are eaten raw or cooked. Fruits are eaten when they are ripe. Gandhelu is harvested from the wild for local use as a food and medicine in Western Himalayas, Sometimes it is also cultivated for its edible leaves, fruits and for harnessing its medicinal values in the gardens and homewards. Gandhelu can be used as a hedge and as an ornamental shrub . Its leaves are often sold in local market.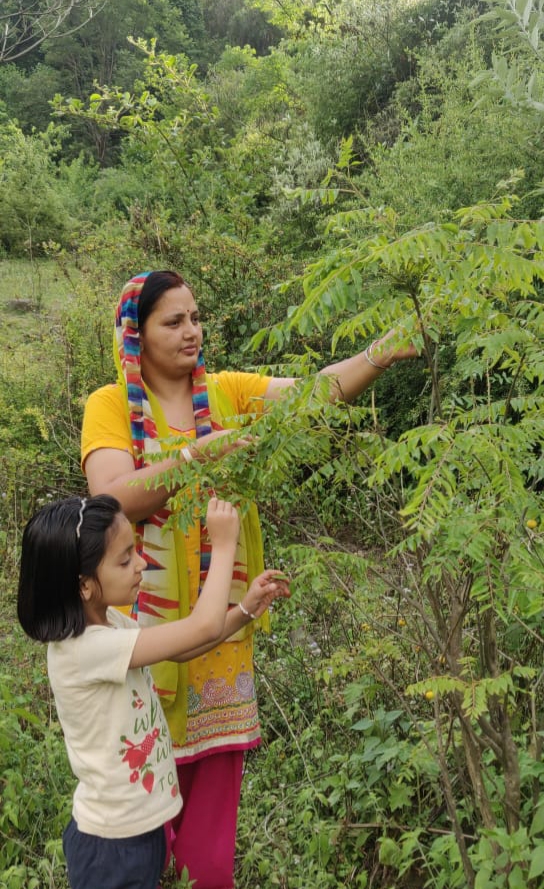 The pungent, aromatic leaves of Gandhelu are used in cooking, they are common ingredient of curries, chutneys, sambar, soups, pickles etc. Leaves are used as a flavoring agent in these preparations and impart a very good flavor to the preparations. This is the reason that Gandhelu leaves are commonly known as Curry Leaf. The leaves retain their characteristic flavor and aroma even after drying.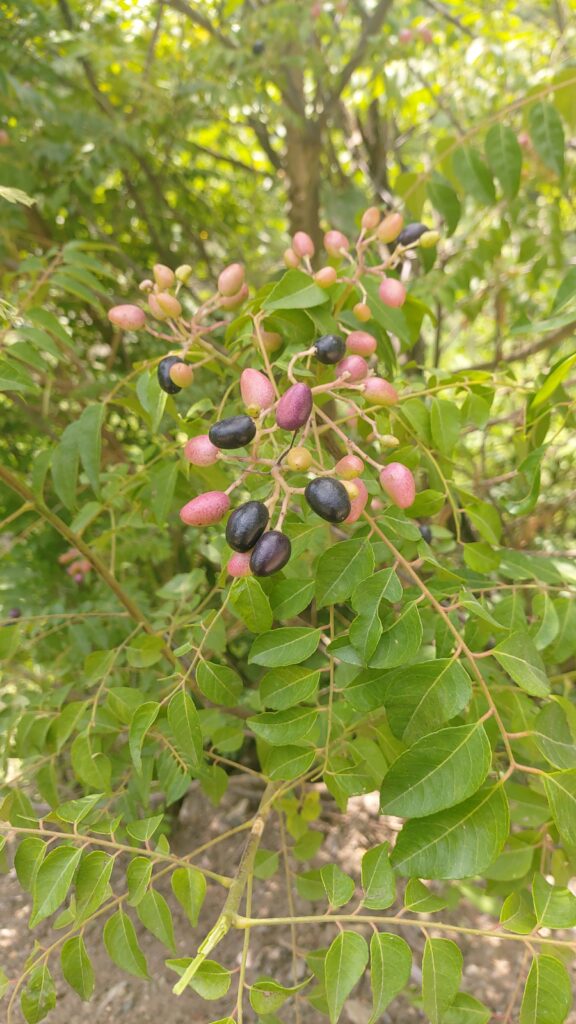 The shiny-black fruits of Gandhelu are very nutritious, they are liked both by children and adults and known to have many medicinal properties.
Almost every part of Gandhelu has a strong characteristic odour. The people of the plains, particularly of southern India, use the leaves of this plant as a spice in different curry preparations.
Gandhelu leaves can be dried for later use, these dried leaves are also sold by members of various Self Help Groups in market
Gandhelu Plant:
Plant is small spreading evergreen shrub or small tree, 2 to 2.5 metres high; the main stem, dark green to brownish, with numerous dots on it; its bark can be peeled off longitudinally, exposing the white wood underneath; the girth of the main stem is 16 cm.
Leaves, exstipulate, bipinnately compound, 30 cm long, each bearing 24 leaflets, having reticulate venation; leaflets, lanceolate, 4.9 cm long, 1.8 cm broad, having 0.5-cm-long petiole.
Flowers, bisexual, white, funnel-shaped, sweetly scented, stalked, complete, ebracteate, regular, actinomorphic, pentamerous, hypogynous, the average diameter of a fully opened flower being 1.12 cm; inflorescence, a terminal cyme, each bearing 60 to 90 flowers; calyx, 5-lobed, persistent, inferior, green; corolla, white, polypetalous, inferior, with 5 petals, lanceolate; length, 5 mm; androecium, polyandrous, inferior, with 10 stamens, dorsifixed, arranged into circles of five each; smaller stamens, 4 mm. long whereas the longer ones, 5 to 6 mm; gynoecium, 5 to 6 mm long; stigma, bright, sticky; style, short; ovary, superior.
Fruits, round to oblong, 1.4 to 1.6 cm long, 1 to 1.2 cm in diameter; weight, 880 mg; volume, 895 microlitres; fully ripe fruits, black with a very shining surface; pulp, Wistaria blue 640/2; the number of fruits per cluster varying from 32 to 80.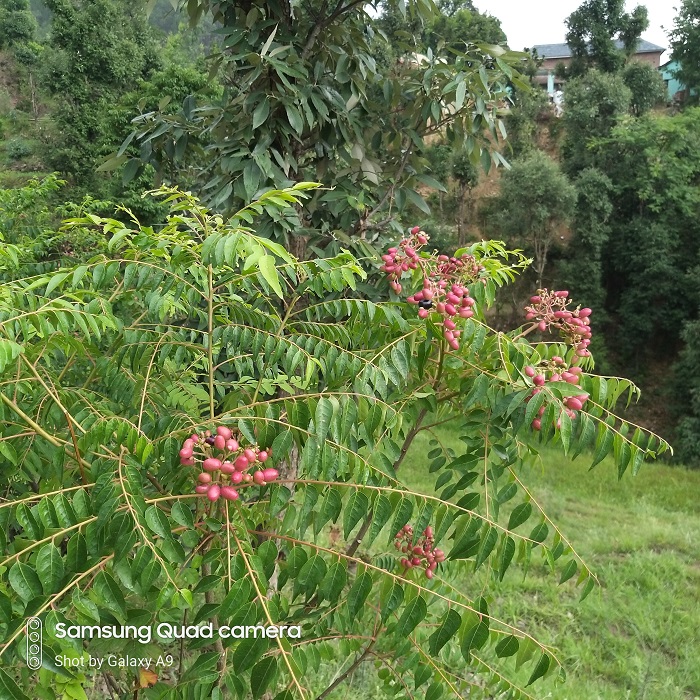 Seed, one in each fruit, 11 mm long, 8 mm in diameter, colour spinach green 0960/3; weight, 445 mg; volume, 460 microlitres 1.
Edible Uses: showing
Tender leaves are eaten raw by local people to harness its medicinal properties, these are also dried, ground into powder and used as a spice to flavour different vegetable curries. Raw leaves are ingredient of curries, sambar and chutneys as follow.
Video showing use of leaves as a food supplement
Sambar:
It is a popular South Indian dish made with lentil, mix vegetable, tamarinds, spices, Gandhelu (curry ) leaves and other herbs. Recipe is not only healthy and nutritious but also tastes delicious, as it is good source of protein, vitamins, minerals and antioxidant. It can be served with idli, dosa, vada, plain rice or with chapattis.
Ingredient:
Lentils (Arahar dal plus moong dal), chopped vegetable according to taste ( Carrot, beans, ladies finger, pumpkin or some wild seed pods like Senna tora, Lotus corniculatus etc) 250 g; tamarinds, 1 cup amount; Gandhelu leaves, 200 g chopped medium sized onion, 2, red or green chilies, 3-4, ajwain ( carom seeds), ¼ tea spoon, turmeric powder, 1/4 table spoon; black pepper, ¼ tea spoon, mint and coriander leaves,1/2 cup amount; salt according to taste.
Method:
Boil chopped vegetable and steam cook lentils till these become soft. Mesh manually or in a mixer. In hot mustard oil saute meshed vegetable and lentils with curry leaves and spices listed above. Add to it tamarinds and cook for five to 10 minutes. Add garam masala and garnish with chopped coriander or mint leaves and serve.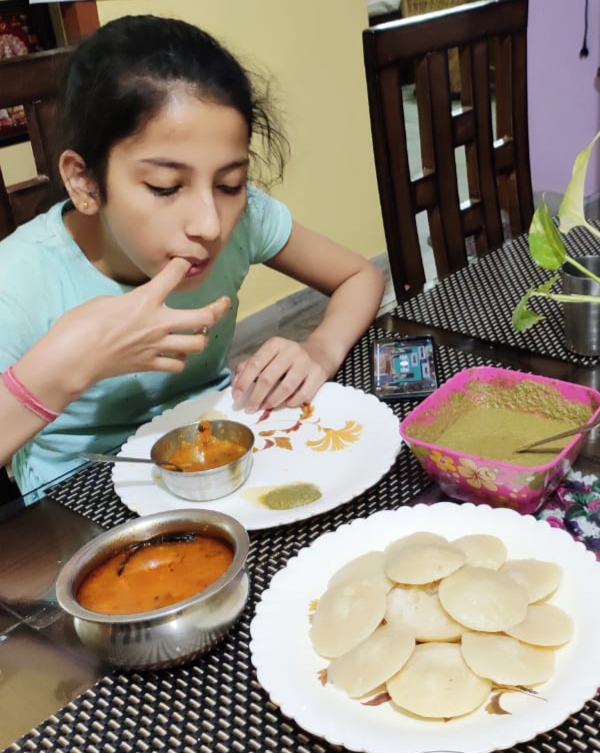 Vegetable curry:
Ingredients required:
Gandhelu leaves (Murraya koenigii), 100 g; mustard oil, 5-6 table spoons; coriander powder, 1 table spoon; fenugreek powder,1 tea spoon; cumin seed, 1 table spoon; turmeric powder, 1; table spoon. red chilies, 2-4; medium sized chopped onion, 1; chopped garlic cloves, 4-5; green coriander leaves (chopped), half cup amount; ginger paste, 1/2 table spoon; curd or butter milk, 1 kg; besan, 4-5 table spoon; branded garam masala,1 tea spoon; salt, according to taste.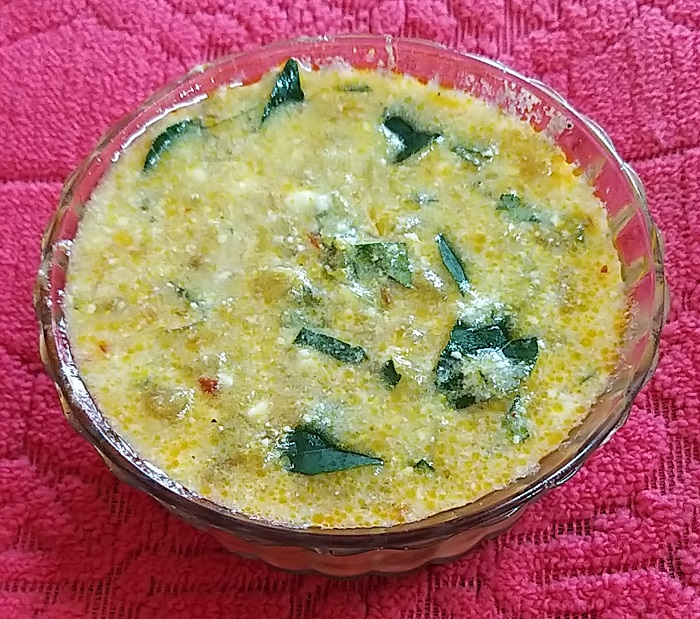 Method:
For preparing curry mix well ½ kg butter milk or curd and saute it with spices in hot mustered oil listed above in sequence along with Gandhelu leaves. Cook till it boils and garnish with Garam masala and coriander leaves.
Chutney:
Ingredients:
Fresh mint (poodina) leaves, 200 gm; fresh Gandhelu leaves, 100gm; tirmire leaves, 50 gm: anardana, 100 gm; red chillies, 5-8; medium sized chopped onions, 2-3; tomatoes ,2-3; apple, 1-2 and salt, according to taste.
Method:
For preparing chutney, grind all the ingredients in a mixer except salt. Take out this mixture in a deep container then add salt. Now chutney is ready to serve.
Jam:
Ingredients:
Ripe gandhelu fruits,1 kg; sugar, 500 g; salt, 1tea spoon; lemon juice, 4-5 tea spoon.
Method:
Put ripe gandhelu fruits and one tea spoon salt in water for 20 minutes. Transfer fruits into pan and boil till they are soft. Pinch these soft fruits to remove its pulp and segregate seeds from pulp. Remove seeds with the help of spoon and then boil them in low flame with sugar for two minutes. Keep stirring in slow flame till sugar dissolve completely and jam become dense. Now mix it well with lemon juice and let it cool down.  Now jam is ready to serve. Jam should be used fresh and can be preserved for 10 to 15 days.
Food value of edible ripe fruits of Gandhelu.
The major part of the fruit is occupied by the seed and the edible portion is only 49.4 per cent of the whole fruit. The fruits are very sweet and are eaten fresh. They have a characteristic odour which make them slightly unpleasant. The overall fruit quality is fair1..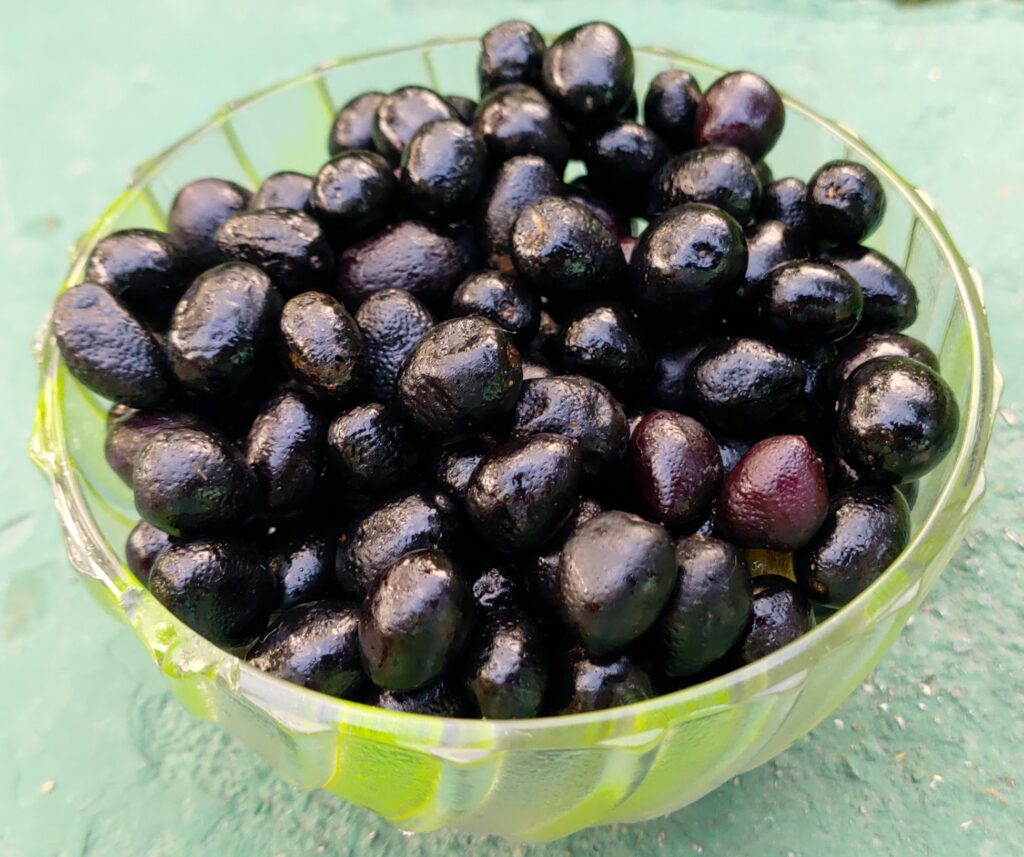 Pulp of fruits contain 64.9 per cent moisture. The content of total soluble solids of the fruit juice is 16.8 per cent. The pulp contains 9.76 per cent total sugars, 9.58 per cent reducing sugars, 0.17 percent non-reducing sugars and almost a negligible amount of tannin and acidity. The vitamin C content of the fruit, which is 13.35 mg per 100 g of the pulp, is better than that of many fruits studied during the course of the present investigation 1.
The mineral content of the edible portion of the fruit, as represented by its ash, is 2.162 per cent. Similarly, 100 g of the edible portion of the fruit contains, protein, 1.97 g; phosphorus, 0.082 g, potassium, 0.811 g, calcium, 0.166 g; magnesium, 0.216 g; and iron, 0.007 g1. .
Nutrient Value of Leaves:
100 g of leaves contains; energy,108 Kcal; protein, 6.1 gm; fiber, 6.4 gm; fat, 1.0 gm; P, 57 mg; Ca, 830 mg; Cu,0.1 mg; Fe, 0.930 mg; Mg, 44 mg; Zn, 0.20 mg; Mn, 0.150 mg; Chromium, 0.006 mg; Thiamine, 0.080 mg; Carotene, 7560 µg; Riboflavin, 0.210 mg; Niacin, 2.300 mg; Vitamin . C, 4 mg; Folic Acid (Free), 23.5 µg; Folic Acid (Total),93.900 µg.
Medicinal properties
The leaves, the bark and the roots of Gandhelu can be used as a tonic and a stomachic. Leaves are effective in treating anxiety & depression. The bark and the roots are used as a stimulant by the physicians. They are also used externally to cure eruptions and the bites of poisonous animals. The green leaves are stated to be eaten raw for curing dysentery, and the infusion of the washed leaves stops vomiting 3,4.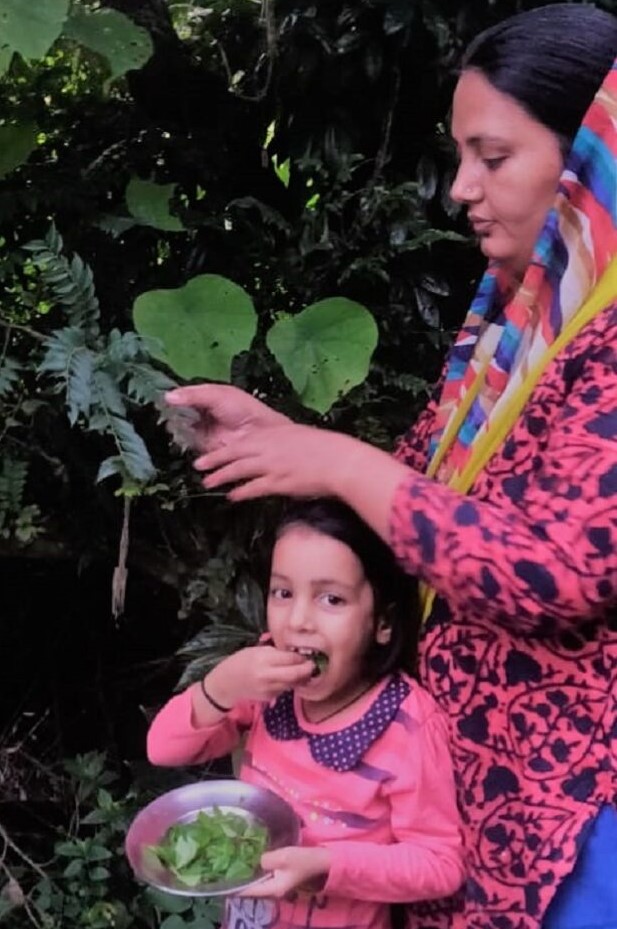 Plant is also known to cure labor pain, rheumatism and used as tonic5. A strong odiferous oil occur the leaves and the seeds of Gandhelu exhibiting a strong antibacterial and anti fungal activity 6. A significant reduction in fasting blood sugar and postprandial blood sugar was observed by feeding (12 gm) leaves powder to Non Insulin Dependent Diabetes Mellitus patients (NIDDM)7.
Chemical constituents in plant:
The major aroma constituents in the oil are b- caryophyllene, b- gurjunene, b- elemene, and b- phellandrene. An alkaloid, murrayacinine, is also found in this plant 1,2 ..
Other Uses:
The branches of Gandhelu very popular for cleaning the teeth as datoon and are said to strengthen the gums and the teeth.Compound leaves present in this plant is quite ornamental, so it is also used as a hedge and as an ornamental shrub. Local people believed that this plant keep ghost and snake away, so they prefer to cultivate it around their home . The leaves are thought to be a hair tonic in India, where it is believed that they can prevent the hair graying 8.
Gandhelu a source of income:
Women in Western Himalayas dry Gandhelu leaves and sell through Self Help Group. A small packing of 100 g earn 30 to 50 Rs for them.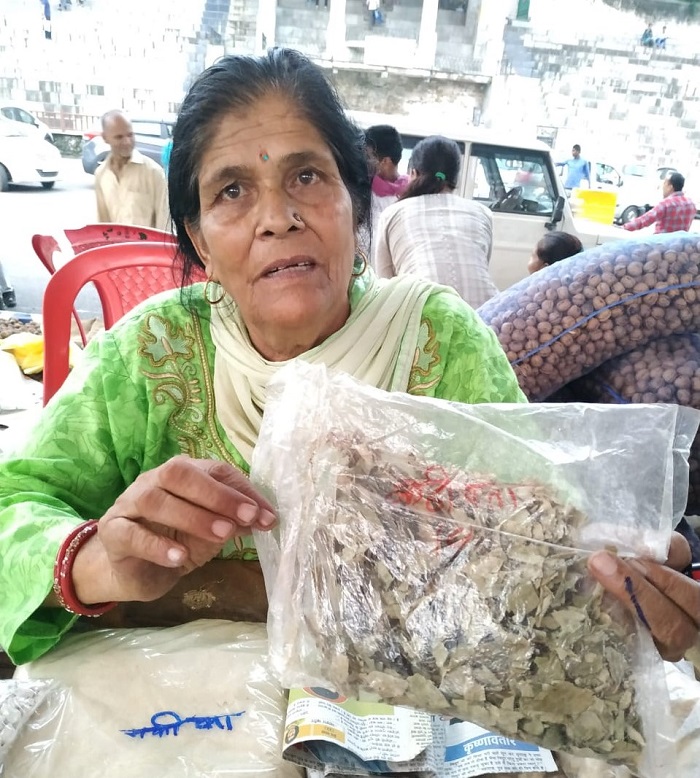 References:
1.Parmar, C. and M.K. Kaushal (1982), Wild Fruits of the Sub-Himalayan Region, Kalyani Publishers, Ludhiana.
2 Purohit SS, Sharma AK, Prajapati ND, Kumar T. (2009); A handbook of medicinal plants: a complete source book. Edition.;2:352-3.
3.Watt G. (1891). A dictionary of the economic products of India. Periodical Experts.
4.Kirtikar & Basu, (1935); Indian Medicinal Plants, Vol. III, Bishan Singh Mahedra Pal Singh, Dehradun.
5.Chopra, R.N., Nayar, S.L. & Chopra, I.C (1956). Glossary of Indian Medicinal Plants. CSIR, New Delhi Watt G. A dictionary of the economic products of India. Periodical Experts; 1891.
6.Nigam SS, Purohit RM. Chemical examination of the essential oil derived from the leaves of Murraya koenigii (Linn.) Spreng. Indian curry leaf). Perfum Ess Oil Rec. 1961;11:152-55.
7. Khan Beena A, Abraham Annie, Leelamma S.(1995) ; Hypoglycemic Action Of Murraya koenigii And Brassica juncea: Mechanism Of Action, Indian J. Biochem. Biophys., 32(2):106-108.
8. Bown. D. (1995): Encyclopaedia of Herbs and their Uses. Dorling Kindersley, London. ISBN,0-7513-020-31.
9.https://www.diarystore.com/health-and-beauty/.