Family:  Juglandaceae
Synonyms: Juglans arguta, Regia maxima, Pterocarya japonica, Juglans sinensis, Juglans intermedia.
Common name:Walnut
Local name: Khod (खोड), Akhrot
Khod is a large deciduous tree found in forests of the Western Himalayas. It is generally seen growing in subtropical thorn to moist forests and in moist ravines up to an altitude of 1000 to 3000 meters. Khod succeed well in moist, organically rich, well-drained soils in full sun and is intolerant of shade. Khod nuts are harvested from the wild habitat for local use as a food, medicine and source of materials. Tree is also cultivated in and around villages, down to 1000m.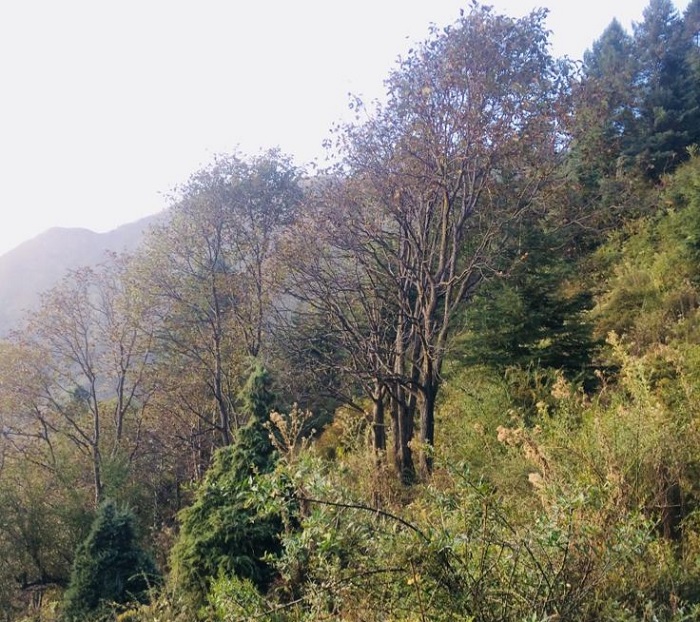 The seed of Khod can be eaten raw or used in making cakes, sweets, SIDDU, CHUTNEY, KACHOURI or ice creams. They can also be grounded into a paste and used as a flavoring agent in variety of dishes.
Khod nuts are considered sacred and worshipped in a very famous local festival SAIR which is celebrated during pre-winter season in many parts of Western Himalayas. During this festival people worship and exchange nuts among family members and relatives. People of hills harvest khod nuts from wild habitat and bring them to plains for sale. Nuts are heavily sold in local market during this festival and are good source of earning for inhabitants of high altitude. Khod wood is also valued by local people for its durability and they use it to prepare preparing high quality furniture and Deities for worshiping out of it,
Khod Plant:
Large, monoecious, deciduous tree, to 35 m tall.
Leaves imparipinnate, 15-37 cm long. Leaflets 5-9 (-13), the terminal largest, variable, from elliptic to oblong- lanceolate, usually entire, glabrous or pubescent along the nerves beneath, the lateral leaflets opposite or subopposite, sessile or subsessile.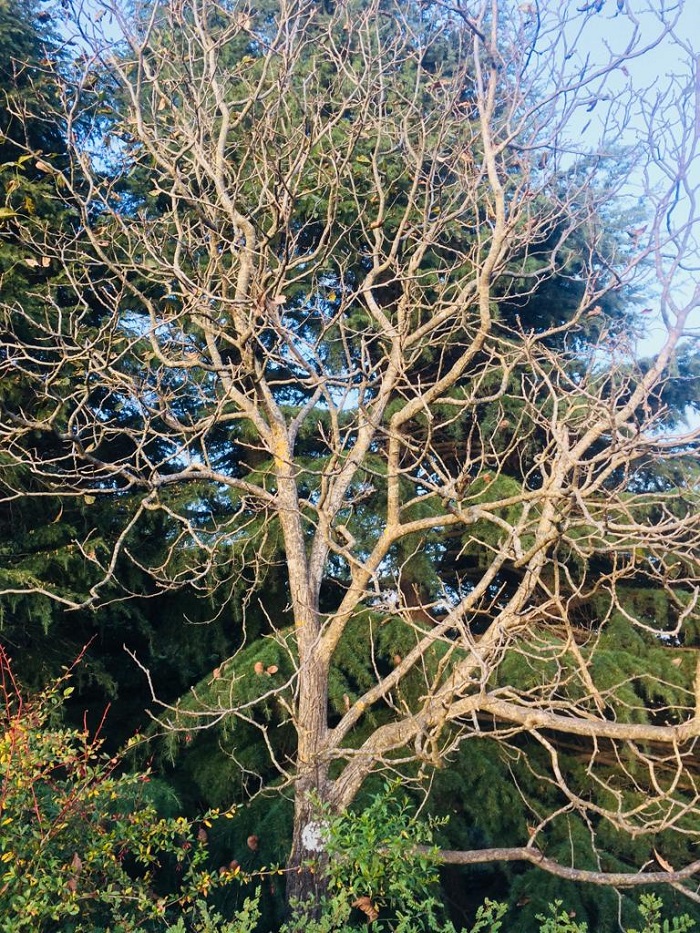 Male spike lateral on the shoots of previous year. Female flowers 1-3, sessile, in short, terminal spikes.
Fruits ovoid, 5 cm long, green.
Nuts ribbed, thick- shelled, 2-valved; cotyledons corrugated, oily.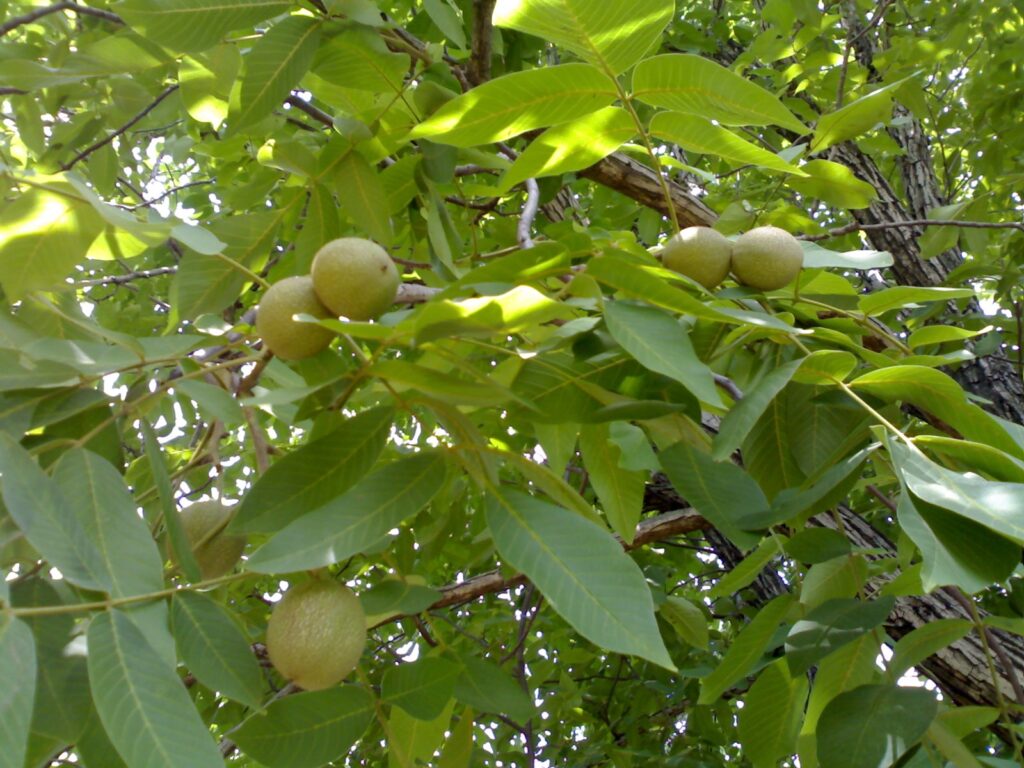 Khod can provide edible nuts from mid September to mid November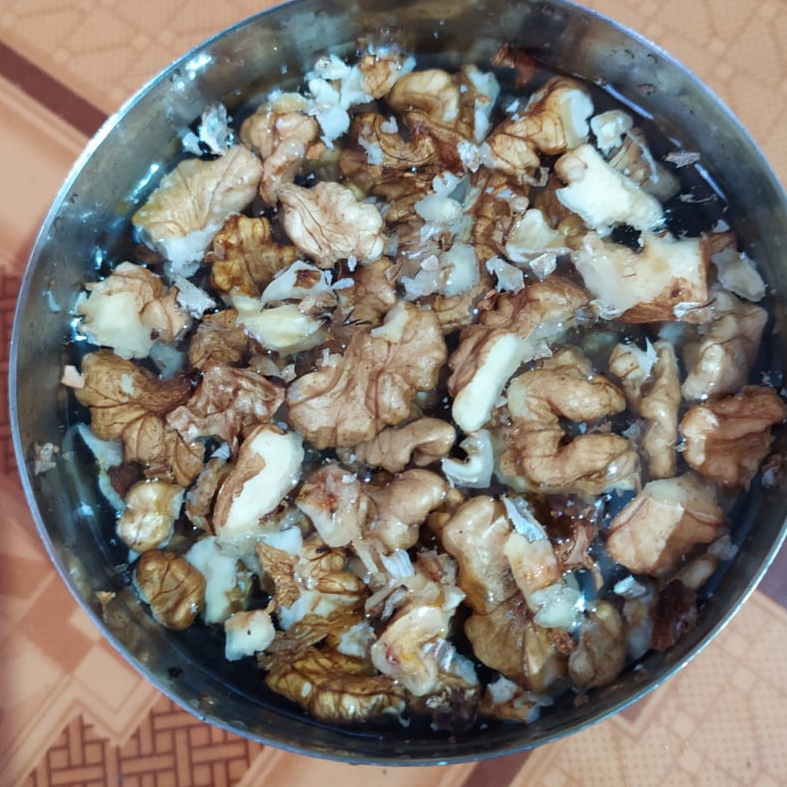 Edible uses:
The Khod seeds are edible both raw and cooked. They are used in making cakes, sweets, SIDDU, CHUTNEY, KACHOURI or ice creams. Seeds can also be grounded into a paste or used as a flavoring agent or garnishing agent in variety of dishes.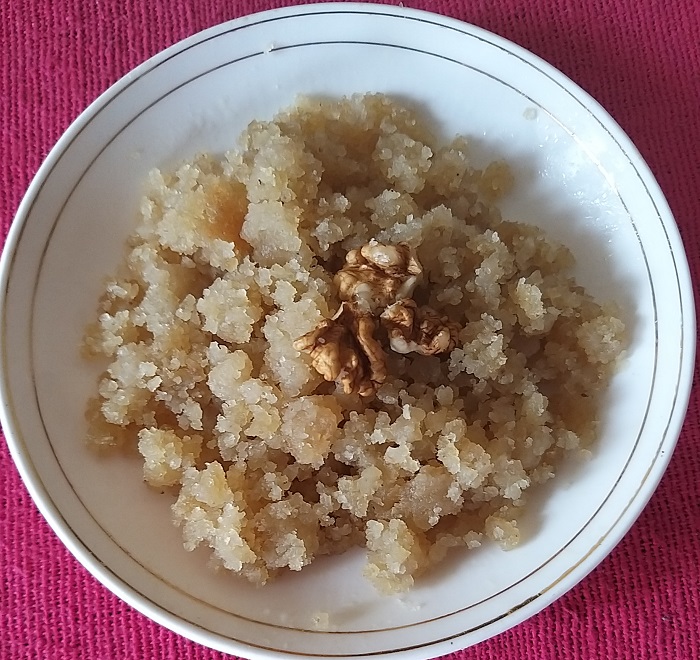 SIDDU of Khod Seed:
SIDDU is a healthy delicious steam cooked dish of upper region of Western Himalayas
Ingredient:
Wheat flour, 3 cup amount; khod seed, ½ cup amount; yeast ½ tea spoon; medium sized onion, 1-3, medium sized boiled potato, 2-3; coriander powder, 1 table spoon; red or green chilies, 4-5; chopped green coriander leaves, ½ cup amount,turmeric powder 1/2 tea spoon, clarified butter(Desi ghee), 1-2 table spoon and salt according to taste.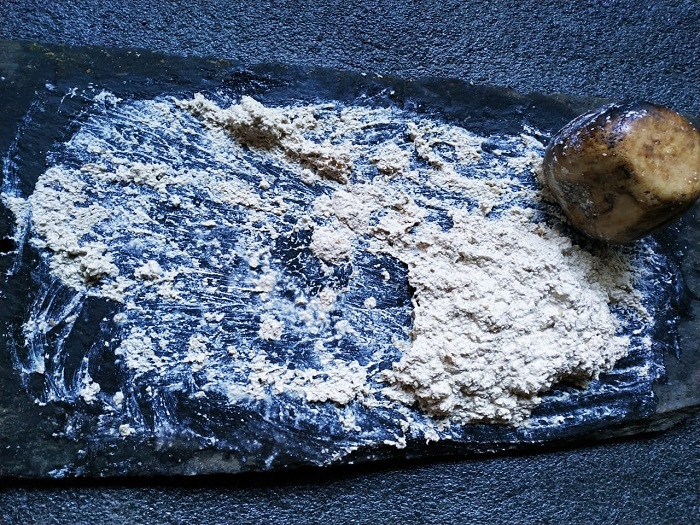 Method:
Dip yeast in half cup of water for 3-5 minutes. Add it to wheat flour along with one cup of warm water and then make its dough. Keep this dough for 3-4 hour and if weather is cool then cover dough with warm cloth. Dip khod seed in water for 3 hour and grind these dipped khod seed along with onion, meshed potatoes, coriander and chilies into paste for stuffing SIDDU.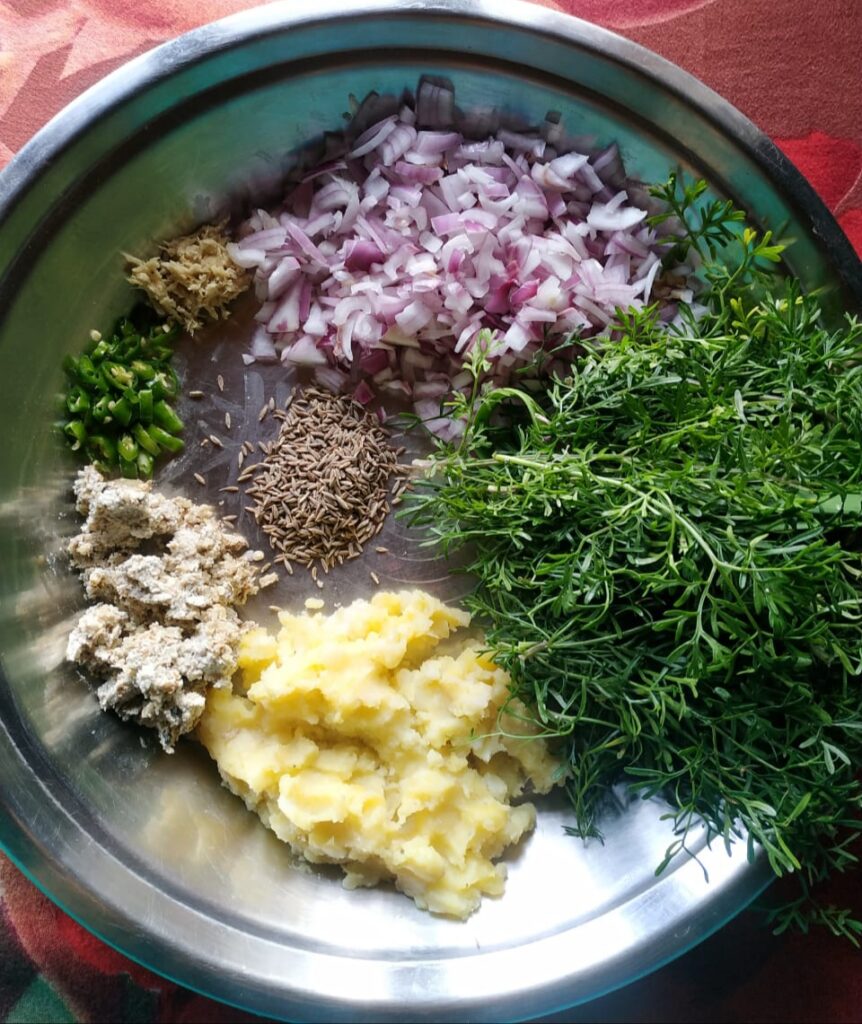 Add to it turmeric powder and salt acc.to taste. Some people residing in hills add turmeric powder to the Desi Ghee, warm it on slow flame and mix with paste for better taste.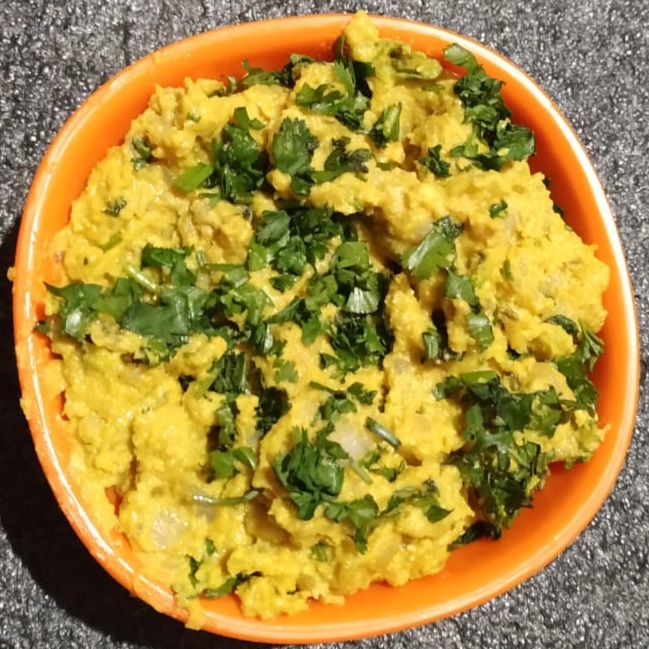 Make a thick chapatti of dough and stuff it with khod seed paste. Now fold this chapatti and twist from side to prepare SIDDU. Place all SIDDU prepared like this in a plate and apply thin film of oil over them. Now place water inside SIDDU maker and let it boil. Now place SIDDU in all the partition of SIDDU maker. Keep a cotton cloth over uppermost partition of SIDDU maker to avoid steam drops on the SIDDU. Steam all the SIDDU inside SIDDU maker for 20 to 25 minutes. Now SIDDU are ready to serve. They can be served with tomato catch up, chutney , pickle or Desi ghee.
Chutney of Khod Seed:
Chopped mint leaves, 100 gm; anardana or amchoor, 50 gm; khod seed, 20-50g; 5-6 green chilies, 20 gm coriander leaves, onion, 2-3; ginger, 1 table spoon amount and salt according to taste.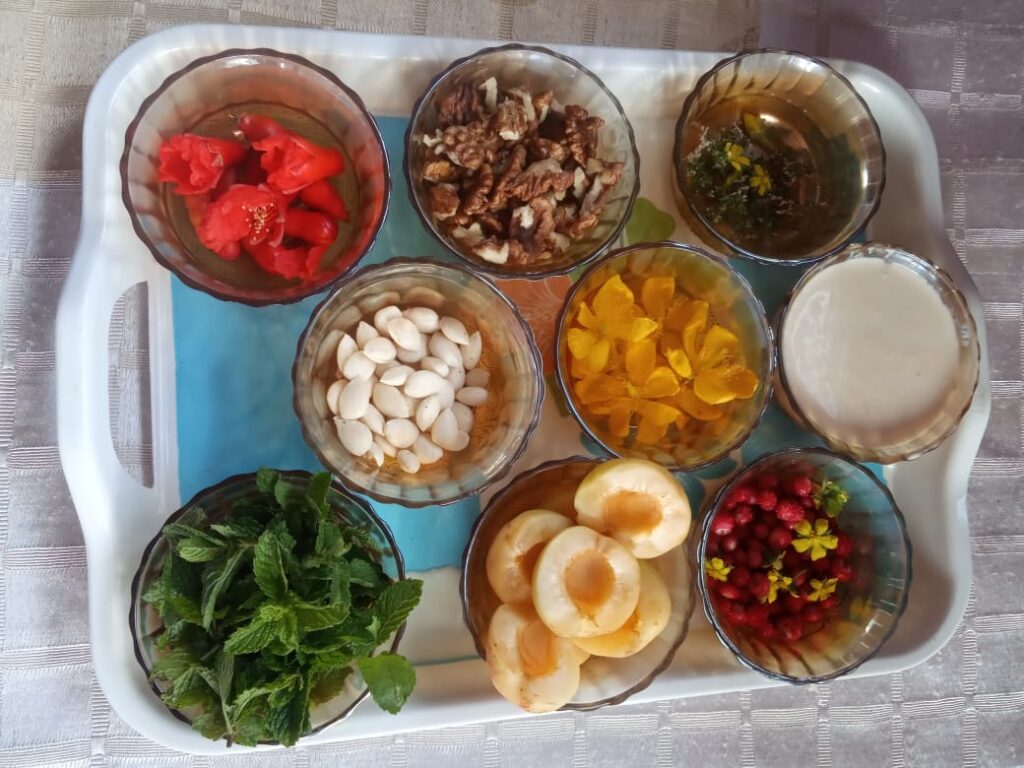 Method:
To prepare chutney, grind all the ingredient well in a mixer and add salt according to taste. Now chutney is ready to serve.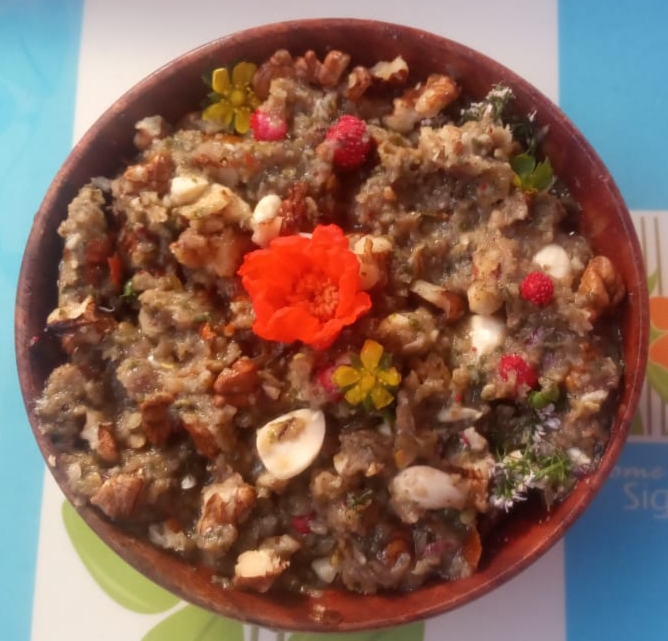 Food Value:
Per 100 g, the seed is reported to contain 647–657 calories, 2.5–4.2 g H2O, 13.7–18.2 g protein, 63.6–67.2 g fat, 12.6–15.8 g total carbohydrate, 1.6–2.1 g fiber, 1.7–2.0 g ash, 92–106 mg Ca, 326–380 mg P, 3.0–3.3 mg Fe, 2–3 mg Na, 450–536 mg K, 0.50 g -carotene equivalent, 0.27–0.50 mg thiamine, 0.08–0.51 mg riboflavin, 0.7–3.0 mg niacin, and 0–5 mg ascorbic acid 1.
Harvesting of Nuts:
Nuts are harvested from wild from mid-September to mid- November. Under favorable conditions, the husks of khod nuts get crack, open and adhere temporarily to twigs, allowing khod nuts to fall on the ground. To ensure their availability fo SAIR festival people shake the khod trees with long poles or a boom shaker. Picked nuts are washed if dirty, and spread out in cemented flour. Nuts should not be exposed to full sun for entire day, because too fast drying will cause nut shell to crack and open up.
Seek advice from a professional before using this plant medicinally.
Medicinal Uses:
Leaves are astringent, tonic and anthelmintic. The leaves bark and fruit rind are widely used to clean teeth by locals of Western Himalayas. These are antiscorbutic and detergent, are useful in herpes, eczema, scrofula and syphilis2. The fruits are sweet, emollient, thermogenic, aphrodisiac, tonic and carminatives2. They are useful as alternant in rheumatism. The expressed oil of the fruits is considered useful against tapeworm and is used to strengthen and lubricate the muscles2. The kernels are said to posses' aphrodisiac properties and are recommended in colic and dysentery2.
Chemical consistuents
A globulin, juglansin, has been isolated from the edible kernel, the nitrogen distribution of the globulin is as follows; basic N, 5.41; non-basic N, 11.51; humin N, 0.15; and amide N 1.78. The globulin contains and tryptophane 2.
Religious Value:
Khod nuts are sacred for the local people. They used to worship nuts in various rites. In local SAIR festival nuts are mainly worshiped along with other sacred plants of rainy or pre winter season. On this vary day nuts are heavily exchanged by young ones to elder members of family and relatives . wood is also used by car painter to prepare regional deities for placing inside temple or home for worshiping.
Other Uses:
Bark, leaves and fruit rind of the khod tree are used as a tooth cleaner. They can be used fresh or dried for later use. Khod wood is an excellent source of timber and used to prepare high quality furniture. Sometimes it is also used as a fuel.
A yellow dye is obtained from the green husks 3. The rind of unripe fruits is a good source of tannin 4.A brown dye is obtained from the leaves and mature husks3. The dye is often used as a coloring and tonic for dark hair 5. A drying oil is obtained from the seed. It is used in soap making, paints, etc. It is not very stable and quickly goes rancid 6.
The dried fruit rind is used to paint doors, window frames etc. 7.
The leaves contain juglone, this has been shown to have pesticidal and herbicidal properties 8. The crushed leaves are an insect repellent 6.

Source of Income:
Khod nuts are good source of earning for locals residing in hills. They collect nuts from wild and also cultivate high yielding, better quality khod verities for harvesting nuts for this purpose and for their personal use. Depending upon khod nuts quality, they can be sold at the cost of Rs 200 to 800 par kg in local market. High quality nuts can be traded nationally or internationally.

References:
1.Purohit SS, Sharma AK, Prajapati ND, Kumar T. A handbook of medicinal plants: a complete source book. Edition. 2009;2:352-3.
2. C.S.I.R. (Council of Scientific and Industrial Research).(1948–1976); The wealth of India. 11 vols. New Delhi.
3. Rosengarten. jnr. F.(1984); The Book of Edible Nuts. Walker & Co. Publication.
4. Gupta. B. L. (1945); Forest Flora of Chakrata, Dehra Dun and Saharanpur.
5. Bown. D. (1995): Encyclopedia of Herbs and their Uses. Dorling Kindersley, London. ISBN,0-7513-020-31.
6. Uphof. J. C. Th (1959); Dictionary of Economic Plants. Weinheim, publication
7. Singh. Dr. G. and Kachroo. Prof. Dr. P (1976); Forest Flora of Srinagar. Bishen Singh Mahendra Pal Singh, publication.
8.Duke. J. A. and Ayensu. E. S. (1985); Medicinal Plants of China reference Publications, Inc. ISBN 0-917256-20-4
,