Family: Saxifragaceae
Synonyms: Bergenia ligulata cliata, Bergenia thysanodes, Saxifraga ciliata, Saxifraga thysanodes.
Common Name: Frilly bergenia, Hairy bergenia, Winter begonia
Local Name: Middu patta (मिड्डू पत्ता), Sabhli kpach.Siddu patta,
Middu patta is a perennial herb of shady moist areas of temperate region . It is commonly seen growing on moist rocky and other shady moist places in forest, roadsides, alpine meadows, pathways and under large trees upto an altitude of 3000-4200 m in Western Himalayas. Plant succeed well in partial shady to full shady habitat.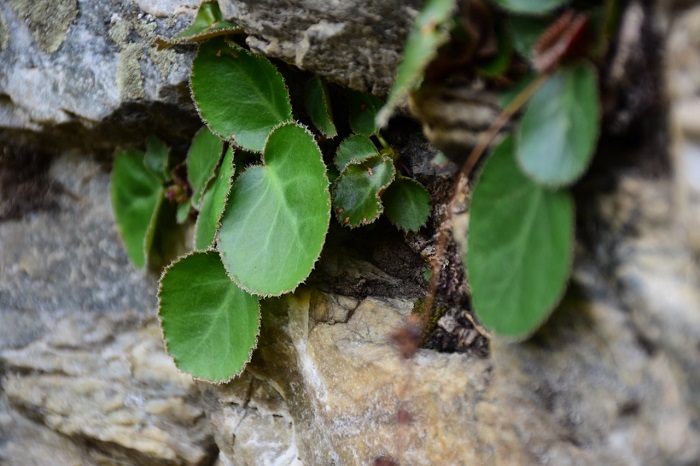 Flowers of middu patta are edible, they are cooked to prepare a local dish KACHRU which is eaten as a snack and also boiled and pickled to preserve flowers for off season.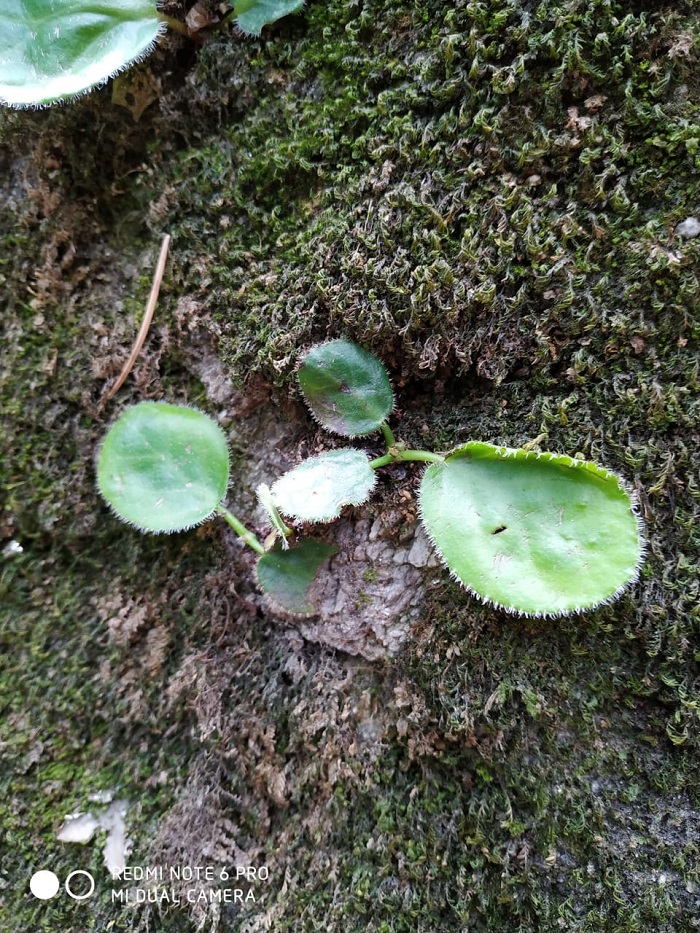 Leaves of this plant are utilized by old people in past to prepare SIDDU a local traditional dish of hills. So plant is also known as SIDDU KA PATTA in local dialect.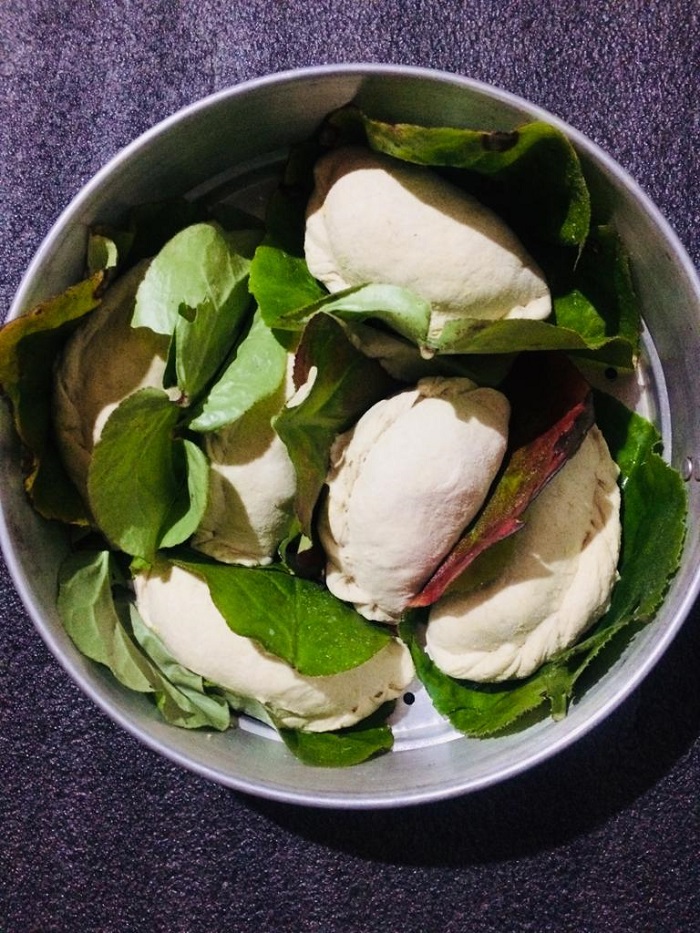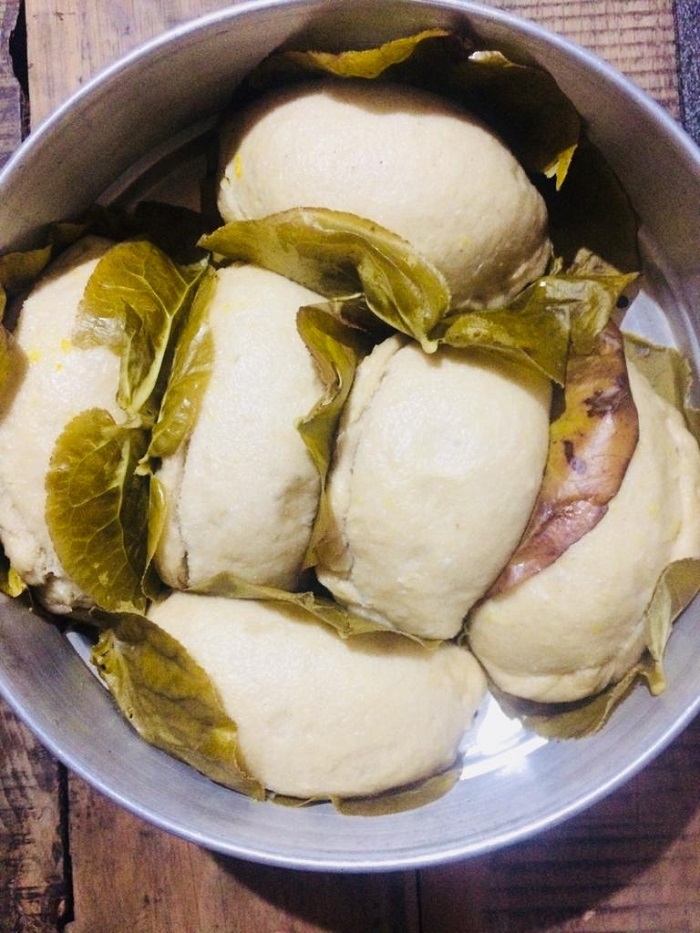 According to local people of Western Himalaya middu patta is a miracle herb, because plant parts especially leaves and rhizome are used to cure number of ailments like leucorrhea, kidney stone, diarrhea, fever, cough and gastrointestinal problems etc. Plant is harvested from wild habitat as a source of food and medicine. Sometime it is also grown for its aesthetic beauty as an ornamental plant and also sold in market.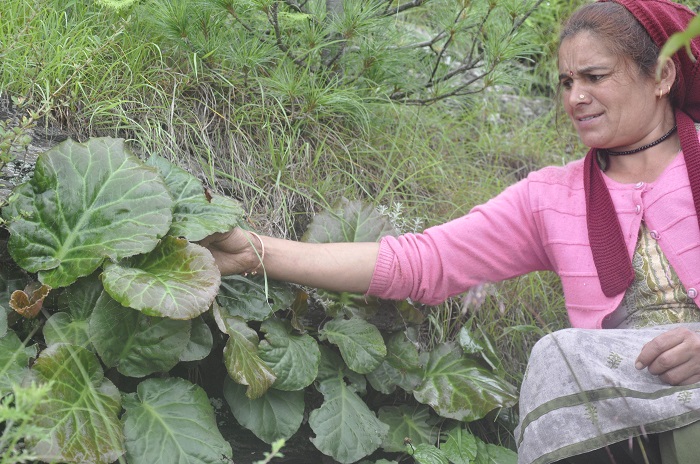 Middu patta Plant:
Plant is perennial herb having 25 cm long stem. arising from a rhizomatous rootstock.
Leaves are ovate rounded, sessile or with short stalk, amplexicaule, sparsely glandular- ciliate 5-15 cm at flowering, but enlarging to 30 cm or more and turning bright red in autumn, forming a rosette of leaves 20 – 35cm long. Margins are fringed with long bristle-like hairs.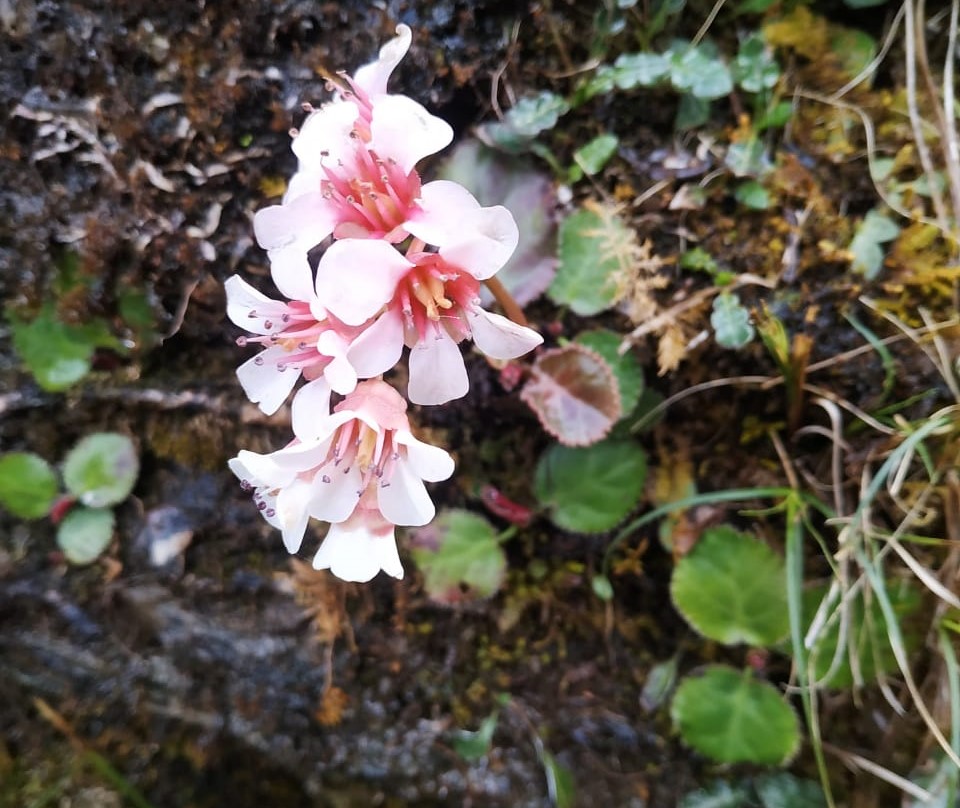 Flowers white, pink or purple, borne in a spreading or dense cluster, in terminals corymbs; prdicels glandular- hairy, 1.5-2.5 cm long, with blunt sepals. Sepals cup is hairless, glandular on the margins. with 5 petals; petals, 5-7 mm long; oblong or oval, styles long.
capsules globose.
Middu patta can provide edible flowers from spring end to start of rainy season.
Edible Uses:
Flowers are edible and cooked into pickle and a local dish KACHRU.
Pickle:
Ingredients:
Flowers,1 kg; mustard oil,1/2 litre; coriander powder, ½ table spoon; fenugreek powder,4-6 table spoon; cumin seed, 3-5 table spoon; turmeric powder, 1-3 table spoon; red chilies powder, 4-5 table spoon; salt, according to taste.
Method:
For preparing pickle, flowers are dipped in boiled water for 5 minutes and dry in sunlight. Saute sundried flowers in hot mustered oil with spices like fenugreek seed powder, turmeric powder, red chillies powder and salt acc.to taste. Add one table spoon mustard seeds to make them sour. Put these sauted flowers in a ceramic jar and place jar in full sunlight. Pickle is ready to eat after 10-15 days.
KACHRU:
Ingredients:
For preparing 1/2 kg flower Kachru ingredients one will need 1/2 kg besan (black gram flour) or corn flour,1 cup fresh coriander leaves (chopped), 3-5 green chillies, ½ table spoon turmeric powder, 2-3 medium sized chopped onions and salt according to taste.
Method:
Mix flower petals, besan and other spices well to make paste. Heat some oil on a flat cooking pan and spread paste on it. Heat for 15-20 minutes occasionally turning it to other side and kachru will be ready. Serve hot with tomato sauce or some other ketchup.
Seek professional advice before using this plant medicinally.
Medicinal Uses:
Local people use rhizome of this plant to treat leucorrhea, for this chopped rhizome pieces are dipped in water over night and seived. This water is then taken in morning hours. Decoction of leaves and rhizome is used to treat cough and cold. Dried rhizome powder is used to cure a number of ailments like kidney stone, wounds and cuts, fever and eye disease etc.
Urinary calculi, chronic ulcers and wounds, diarrhea 1. In Ayurvedic practice, pashanabheda, as its name suggests, is used as a litholytic agent for urinary calculi. It is widely used in the treatment of dysuria and renal failure, cystitis and crystal Luria1. Its anti- inflammatory property finds a use in the treatment of abscesses and cutaneous infections. It is also used in the treatment of dysentery and diarrhea1.
Chemical constituents:
The rhizomes of B. ciliata yield bergenin, beta- sitosterol and gallolylated leucoanthocyanidin-4- glucoside 1.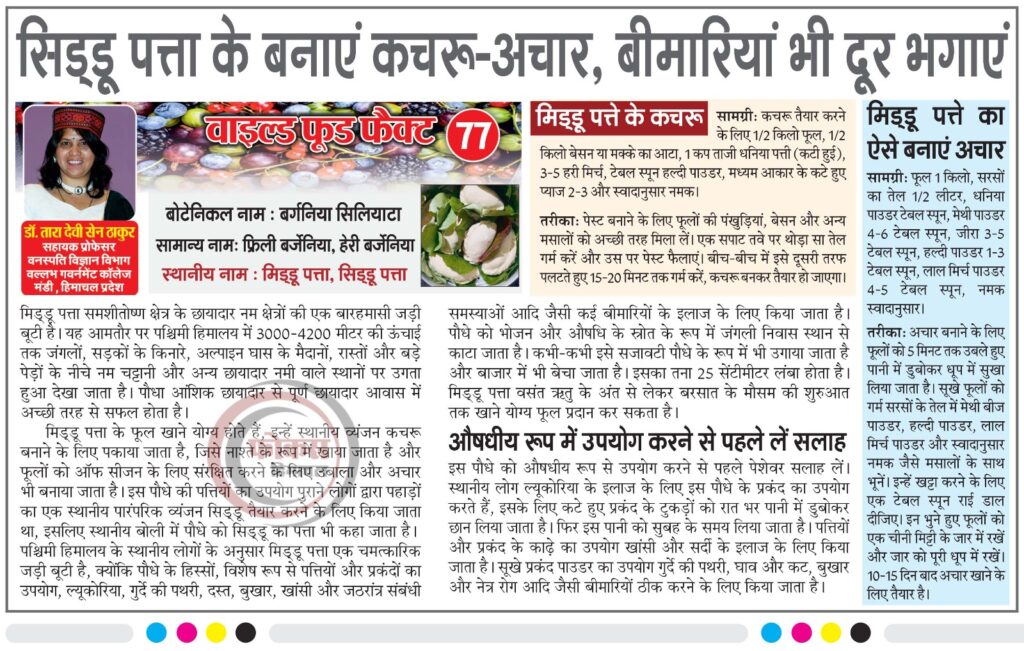 Other Uses:
Plant is grown in nursery as a ornamental plant and also sold in market. Green foliage are also used in decoration and other floral arrangements. It is also a good cover crop in gardens and orchard. Rhizome is used as a soap by local people of hills.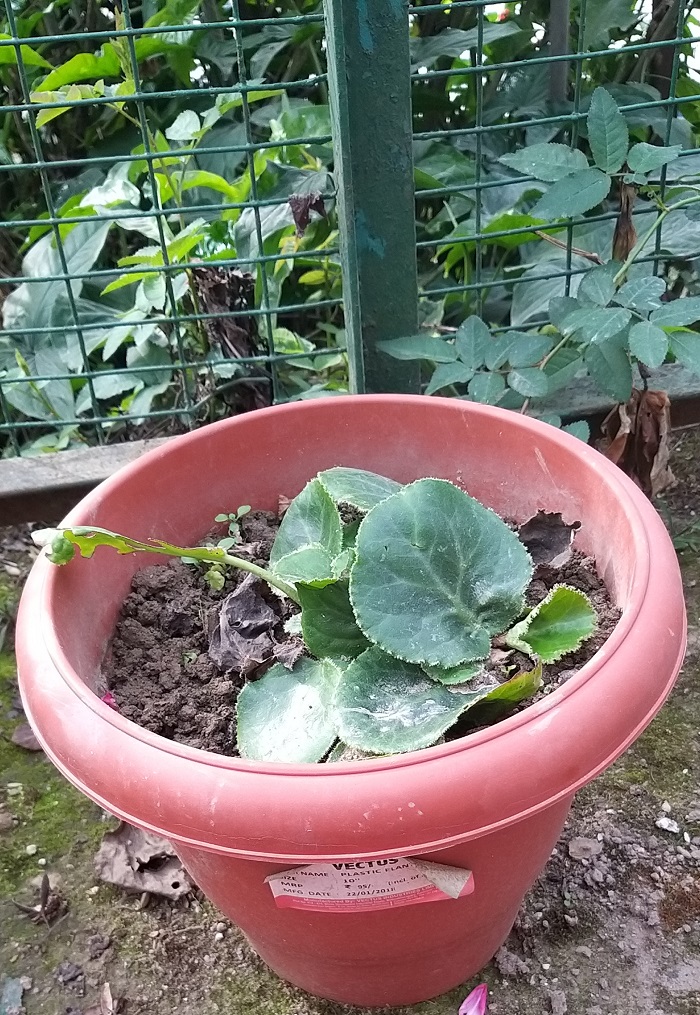 References:
1. Purohit SS, Sharma AK, Prajapati ND, Kumar T. (2009); A handbook of medicinal plants: a complete source book. 2:352-3.