Family: Rosaceae
Synonyms: Rosa setipoda, Rosa. alpina macrophylla,
Common Name: Wild Rose, Himalayan Rose, Big Hip Rose.
Local Name: Jangali gulab (जंगली गुलाव), Ban Gulab, Gulabri.
Jangali gulab is a perennial, deciduous shrub of elegant growth and foliage. It is frequently seen as forest undergrowth in humus-rich soils. Plant is found in and around forests and shrubberies up to an altitude of 2000 to 3500 m in Western Himalaya.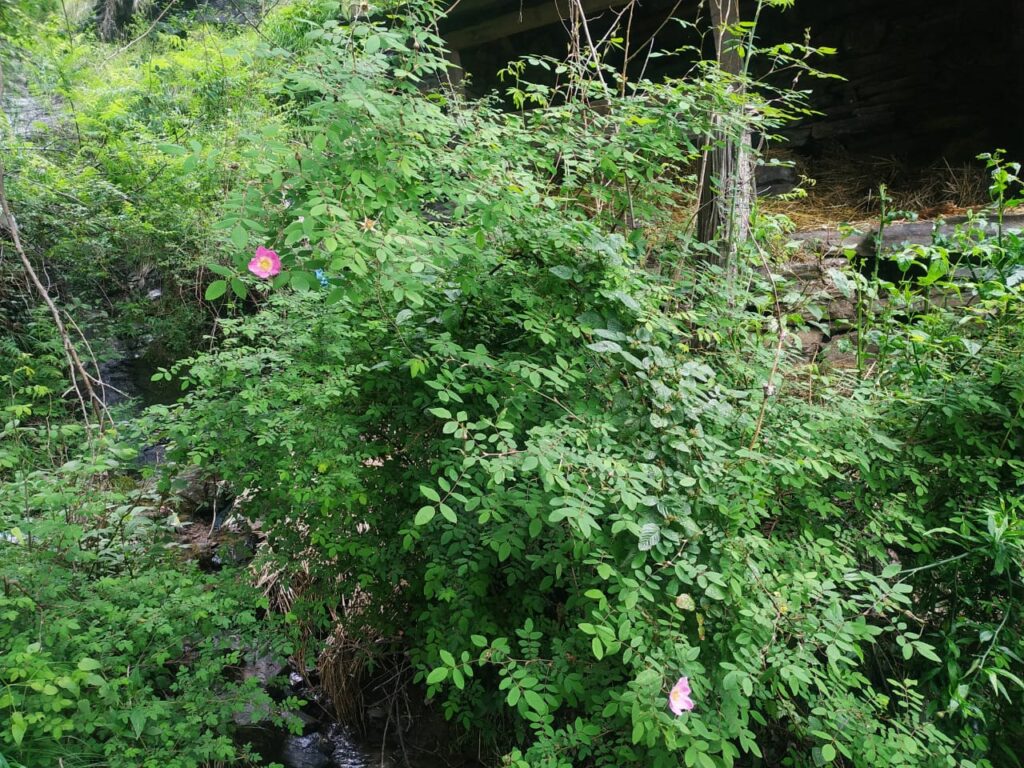 Jangali gulab is a graceful shrub with large leaves and exuberant growth, so provably the species name macrophylla was given to this species of genus Rosa.
Fruit, flower and seed of jangali gulab are edible. Fruit pulp is eaten both raw and cooked. Flowers are cooked into gulkand, sherbet and KACHRU etc. KACHRU is a local traditional dish, which is eaten as a snack with tea. Raw flower petals are used to garnish various food preparation like cake and sweets. Seeds are dried and ground into flour.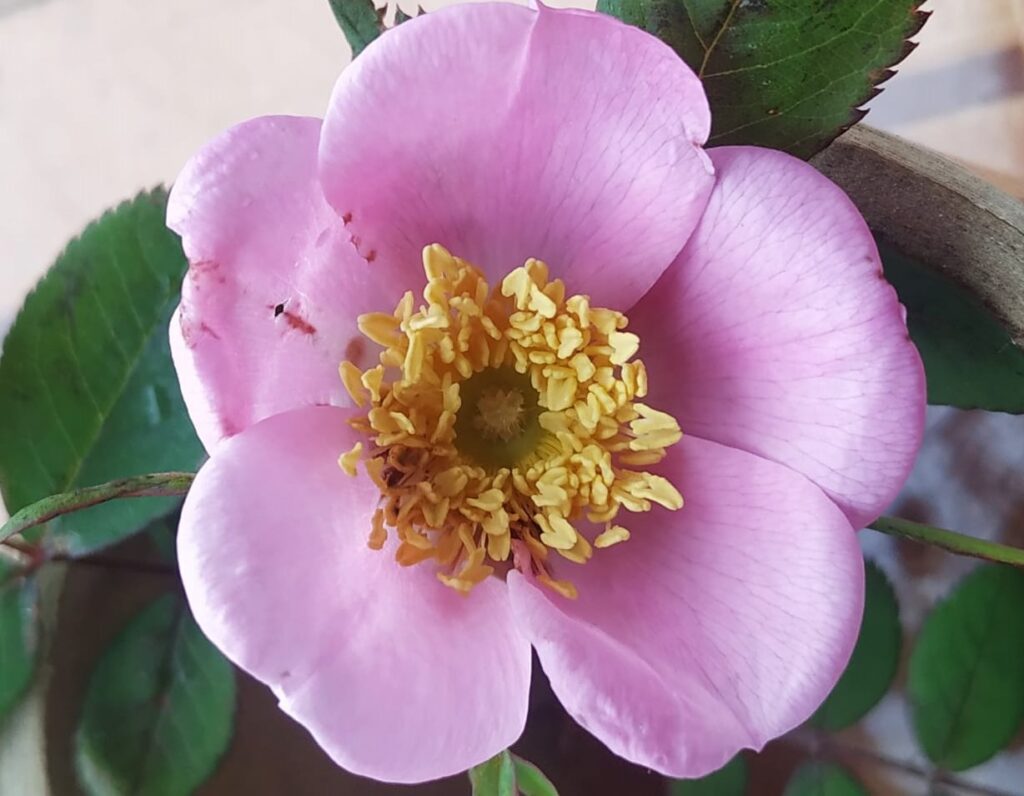 Seed flour is mixed with wheat flour and cooked in variety of ways to harness its medicinal value. A layer of hairs is present around the seeds just beneath the fruit pulp, if these hairs are not removed before consuming, they can cause irritation to the mouth and digestive tract. So, a special care is needed before using fruits as a food. Edible plant parts of jangli gulab are mainly consumed to harness their rich nutrient and medicinal value.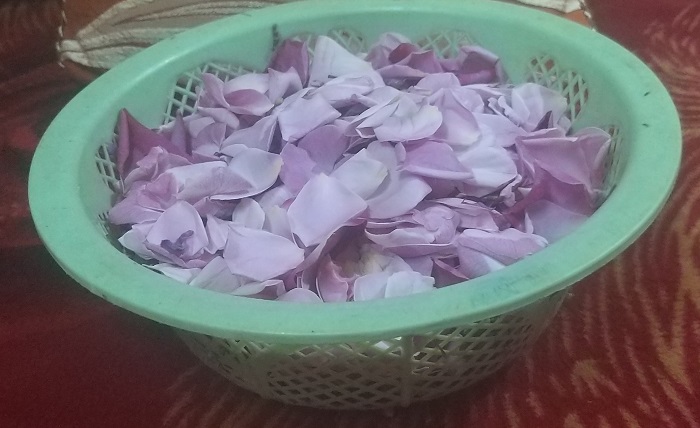 Jangali gulab is harvested from wild habitat as a source of food and medicine. People sometime cultivate this plant as a ornamental hedge or live fence to demarcate their boundary. This is helpful for them to harvest plant as a source of food and medicine in one hand and other hand this help them to exclude livestock and stay animals from their private land.
Jangali gulab Plant:
Plant is erect, prickly or smooth, deciduous shrubs, prickles when present, straight or slightly curved with broad bases, up to 4 m tall.
Leaves 5-12 cm long; leaflets 7-11, elliptic, serrate, usually grey- pubescent beneath, gradually smaller from the terminal downwards; stipules and flower stalks more or less glandular.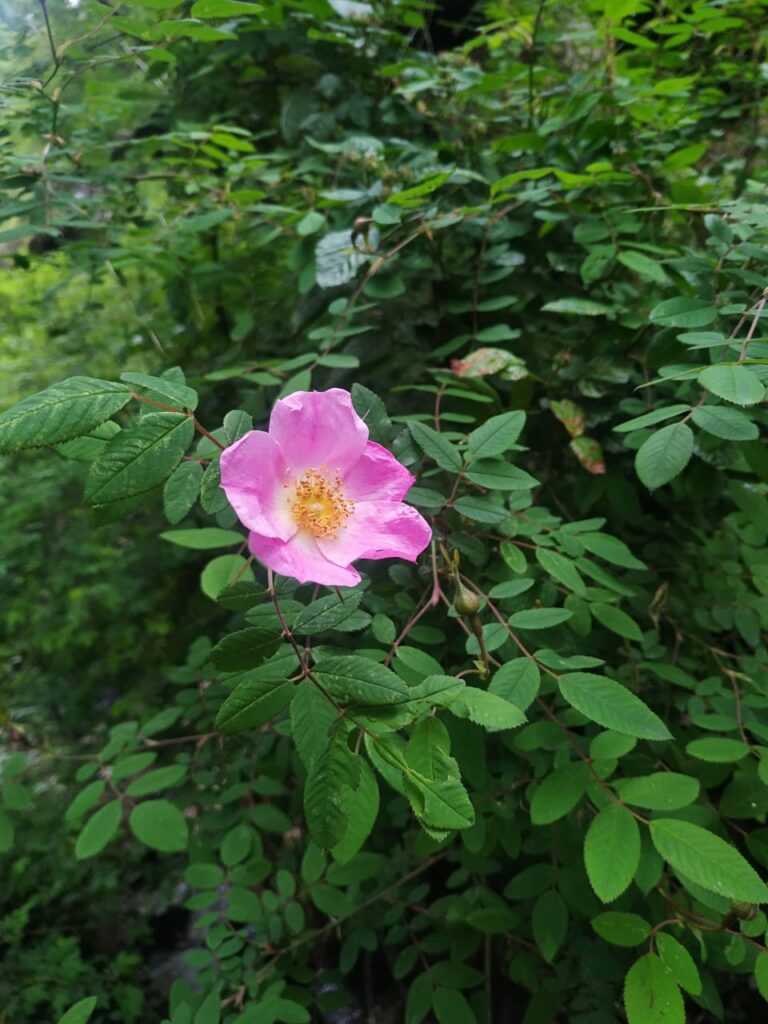 Flowers pink-red, 2-3.5 cm across, solitary or in few- flowered corymbs. Petals 5.
Fruits red, ovoid, glandular hairy, 3-5 cm long, with persistent calyx-lobes.
Jangli gulab can best provide flowers and fruits from month of June to August. To ensure sustainable harvesting flower and fruits should be collected on habitat rotation basis.All the floral parts should not be removed from same plant.
Edible Uses:
Fruit pulp of jangli gulab can be eaten raw and cooked into jam or jellies. Dried fruit hips are ground into powder and can be used as a tea leaves substitute to prepare tea. Seeds are also dried and powdered into flour, which can be used in a variety of ways in many traditional dishes. It can be mixed with wheat/rice/maize flour and made into CHAPPATI or ROTTI. Mixed wheat flour and ground seed powder are cooked to prepare sweet dish HALWA. Flowers petals are eaten raw or cooked in a variety of ways. In raw form these are dried and used to garnish various culinary preparation, especially sweets.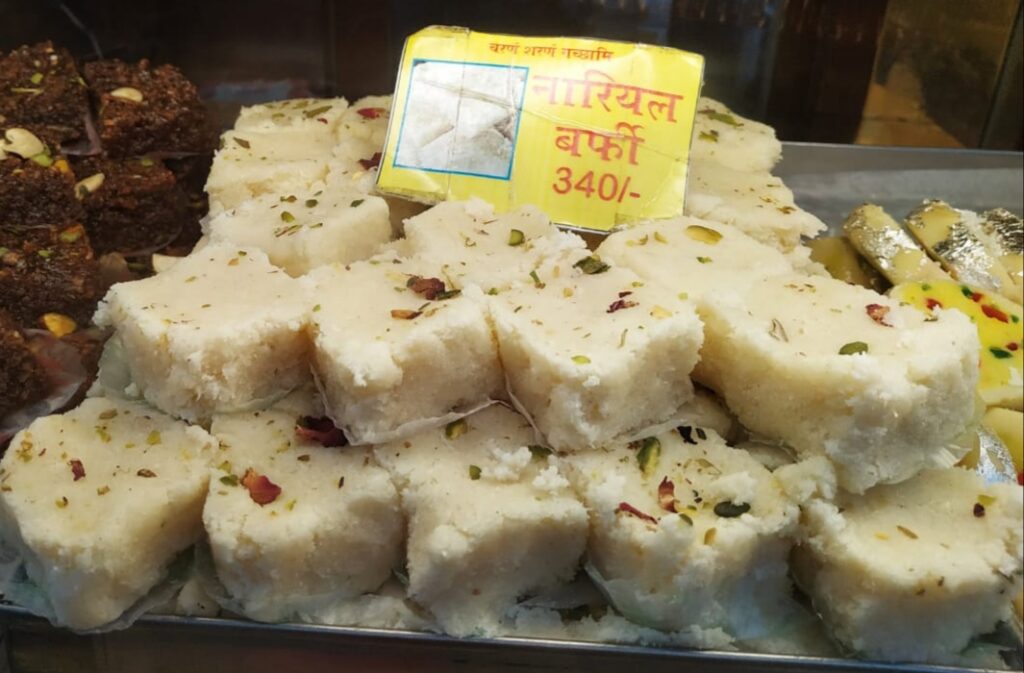 Petals are cooked into gulkand, KACHRU , a traditional dish used as a snack and sherbet, a summer refreshing drink.
Fruit/ Flower Jam:
Ingredients:
Jangli gulab fruits pulp / petals,1 kg; sugar, 500 g; fennel powder, 1 tea spoon; cardamom powder,1 tea spoon, honey or lemon juice 4-5 table spoon.
Method:
Fruit Jam:
Boil fruit hip pulp of jangli gulab in water till they are soft and let them cool down. Mesh them in a mixer grinder and transfer into a saucepan, Add to it sugar, fennel powder, cardamom powder and lemon juice. Keep stirring this mixture in slow flame till sugar completely melt and absorb. Stop heating when preparation become viscous. Now let it cool down and put it into a ceramic jar. This gulkand can be used from six month to one year.
Flower Petal Jam:
Take flower petal, sugar, fennel powder, cardamom powder in a container and mix them all well. Add to it honey so that gulkand remain soft. Transfer this to a ceramic jar and place in full sunlight for 5-6 days or make paste of this mixture by grinding in a pestle motor then put in jar. Sugar will melt and get absorb. Now jangli gulab petal gulkand is ready to serve.
Jangli gulab sherbet or refreshing summer drink:
Flower petals are cooked to extract sherbet and boiled petal left behind can be further used to prepare gulkand as a by-product.
Ingredients:
Jangli gulab flower petals,1 kg; sugar, 2 kg; fennel powder, 1 tea spoon; cardamom powder,1 tea spoon. lemon juice, 2-3 table spoon, emulsion of any flavor.
Method:
Boil finely ringed flower petal in water along with sugar till sugar melt and absorb completely. Keep stirring it in slow flame for 15 to 20 minutes till it become viscous.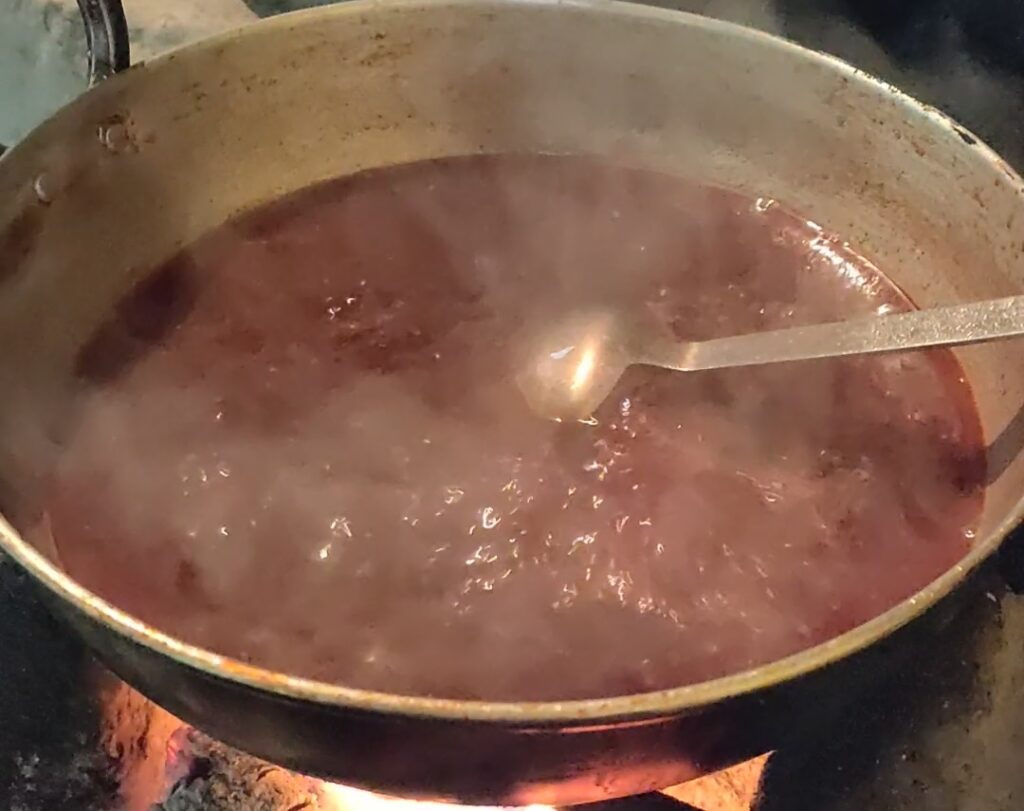 Now sieve it in a large container and let it cool down. For having better flavor and color, one can mix to it emulsion of any flavor.
After mixing it well place sherbet in glass bottles. This sherbet can be used for one year by diluting it with water in summer as a cool refreshing drink.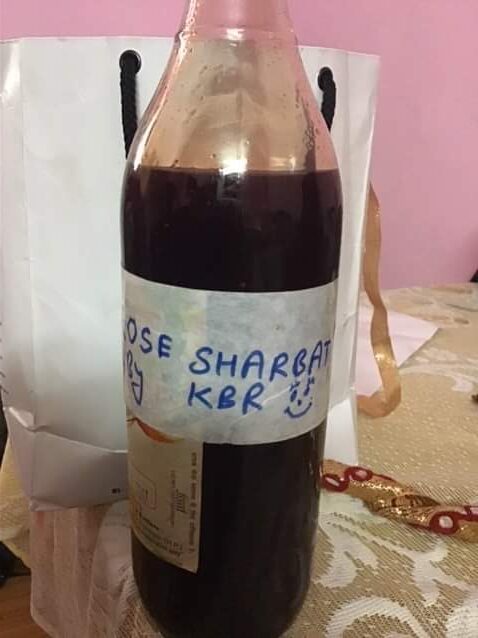 Boiled flower petal left can further be cooked into gulkand. For this add 4-5 table spoon sugar, fennel and cardamom powder in a saucepan. Keep stirring in slow flame for 8-12 minutes and add lemon juice, mix it well then let it cool down. Transfer gulkand to ceramic jar and serve.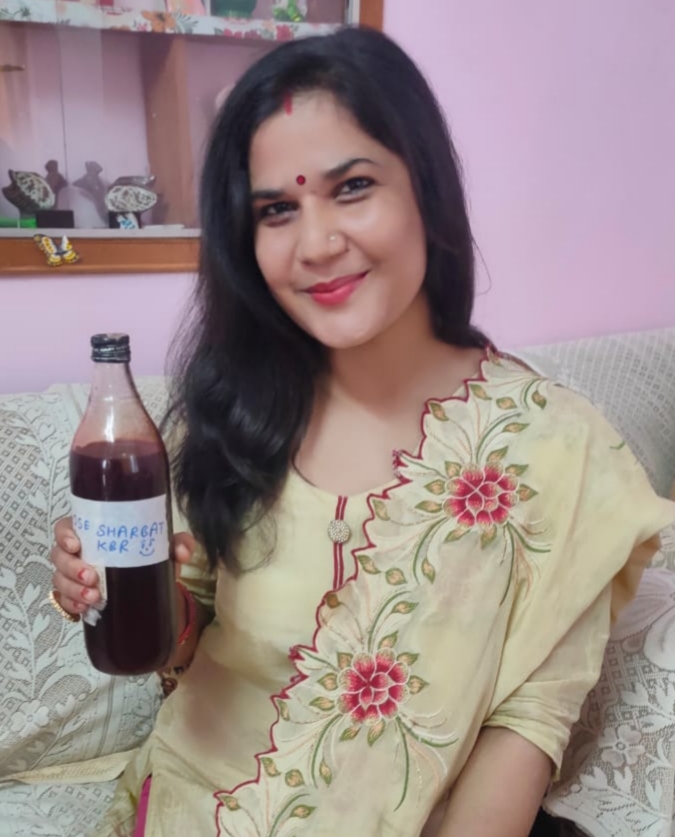 Jangli gulab Flower KACHRU:
Ingredients:
Jangali gulab basen chilla (Kachru) recipe.
For preparing 1/2 kg flower Kachru ingredients one will need 1/2 kg besan (black gram flour) or corn flour,1 cup fresh coriander leaves (chopped), 3-5 green chillies, ½ table spoon turmeric powder, 2-3 medium sized chopped onions and salt according to taste.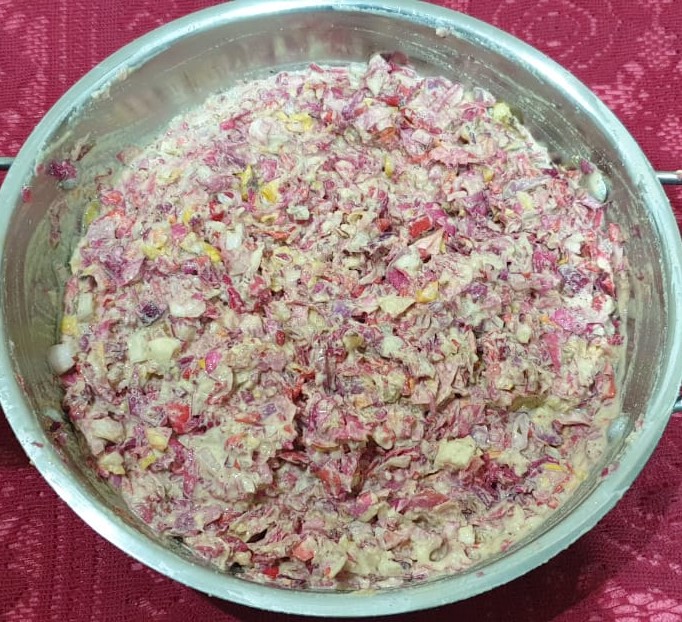 Method:
Mix flower petals, besan and other spices well to make paste. Heat some oil on a flat cooking pan and spread paste on it. Heat for 15-20 minutes occasionally turning it to other side and kachru will be ready. Serve hot with tomato sauce or some other ketchup.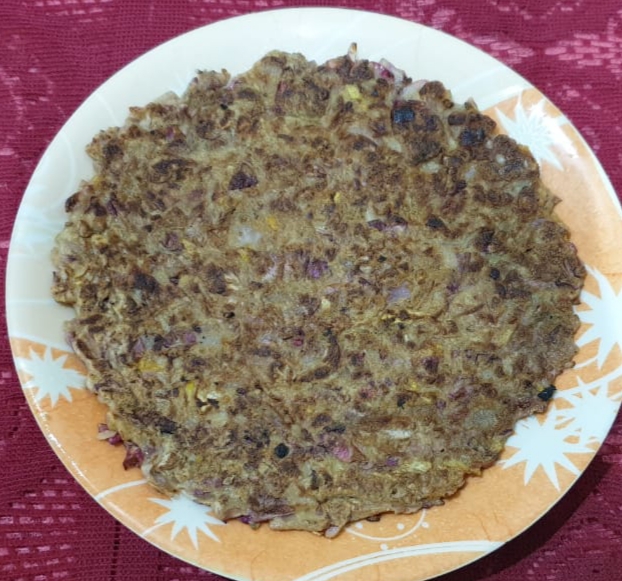 Seek professional advice before using this plant medicinally.
Medicinal uses:
Like other species of genus Rosa, jangli gulab is considered by locals as a rich source of vitamins and minerals, especially in vitamins A, C and E. So, people use flower petal decoction to cure cough and cold 1. They use roots for wound heeling, apply leaf paste to treat swelling and chew petals for strengthening the gums. Fruit pulp is eaten to enhance eyesight.
Other Uses:
Flowers are used to worship God. Plant is grown as a live fence to demarcate boundary and as a beautiful hedge to keep livestock and other stay animal away. Flower are also used in perfume industry as a good source of oil and rose water.

Reference:
1.Rani, S., Rana, J. C., & Rana, P. K. (2013). Ethnomedicinal plants of Chamba district, Himachal Pradesh, India. Journal of Medicinal Plants Research, 7(42), 3147-