Family: Myrtaceae
Synonyms: Syzygium jambolanum, Eugenia cumini,Eugenia jambolana,Jambolifera sinensis. Myrtus cumini.
Common Name: Indian Blackberry, Jambolan, Jaman, Java Plum, Black Plum.
Local Name: Jaamun (जामुन), Jamni, Jambu.
Jaamun is an evergreen, fast-growing, medium to large sized tree of Western Himalayas. It is highly valued for its edible fruits. Jaamun is commonly seen growing around borders of agricultural fields, margins of hills, roadsides, wastelands, semi-evergreen forests, near human dwellings and in ravines up to an altitude of 1200 m.
Jamun plant is originally from Indonesia and India 5. Acc. to Indian mythology the Indian subcontinent is an island, 'situated in the centre of the world', called Jambudweep. Because of a majority of Jaamun (black berry) trees here, this island was named as Jambudweep5.
Jaamun is a multipurpose tree for the locals of Western Himalaya as it is a source of food, fodder, fuel, medicine,dye,tennin and wood for them. Fruits of jaamun are edible and eaten both raw or cooked. Fruits are used to make jams, sherbet, jellies, juice, vinegar etc. These are often sold in the local market and highly valued for their medicinal properties. Fruits, bark, seed and leaves of jaamun are medicinal. Its powdered seed are used to control diabetes.
Leaves are given to livestock as a fodder and highly preferred due to their nutritive value. Wood is very hard and generally used for making agricultural tools, household items,fuel and other construction material .
Local people harvest jamun from wild habitat for their local use of food, fodder, medicine and material. Sometime it is also cultivated by locals and forest department to harness its multifarious uses.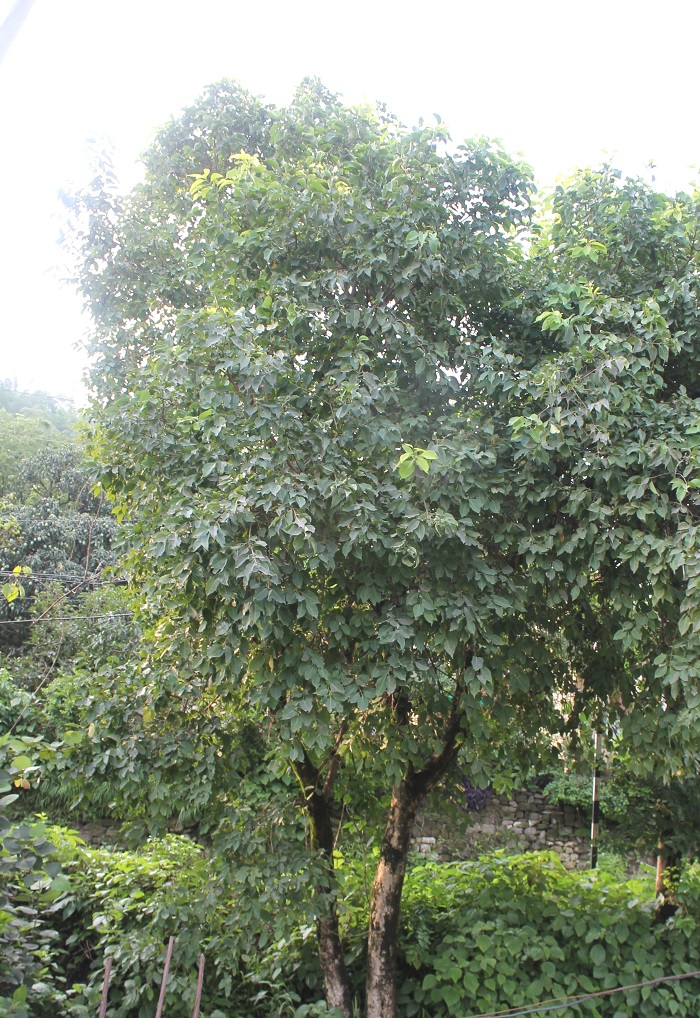 Jaamun Plant:
Plant is evergreen medium to large sized trees, upto 25 m tall; bark light-grey.
Leaves are opposite, lanceolate, elliptic- oblong or broadly ovate- elliptic, 7-14 cm, entire, usually long- pointed, pellucid- punctate.
Flowers are 4- merous, greenish-white, fragrant, 6-8 mm long (incl. stamens), nearly sessile, crowded in small, rounded clusters, terminal on the branches of lateral, 5-10 cm long panicles.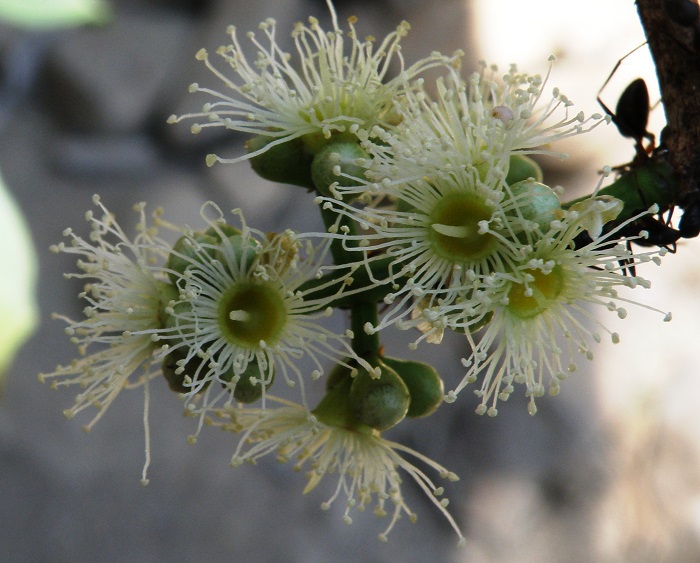 Fruits ovoid or ablong to ovoid- oblong, dark purple to black, sweet, acrid and succulents.
Seed is 1, sour, tonic, and cooling.
Jaamun can best provide edible fruits from summer end to rainy season. Being multipurpose tree for locals and for ensuring sustainable development tree should be widely planted in and around community area, wild habitat surrounding villages and in forests. Along with providing food, medicine, wood,fuel and fodder, this plant will also be helpful to keep monkeys away from cultivated land.
Edible Uses:
Ripe fruits of jaamun are eaten raw, cooked as a jam, jellies and also made into sherbet, jellies, juice, vinegar etc. Ripe fruits are used to garnish cakes in bakery and other recipes in restaurant.
Jaamun Jam:
Ingredients:
Jaamun,1 kg; sugar, 500 g; salt, 1tea spoon; lemon juice, 4-5 tea spoon.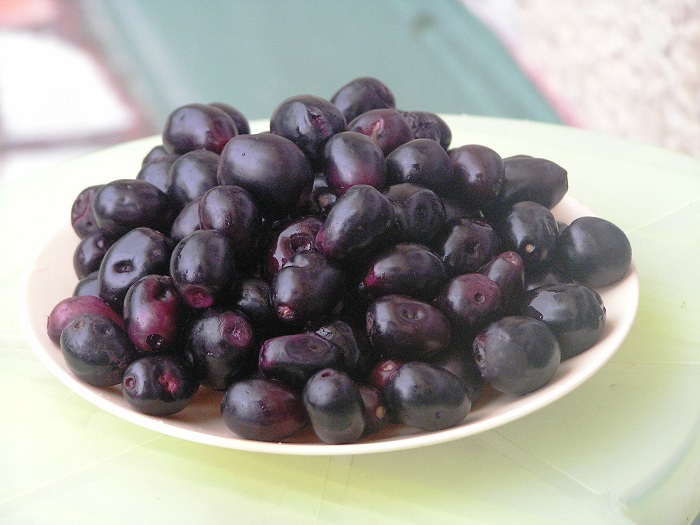 Method:
Put jaamun and one tea spoon salt in water for 20 minutes. Transfer jamun into pan and boil till they are soft. Pinch these soft jaamun to remove its pulp and segregate seeds from pulp. Remove seeds with the help of spoon and then boil them in low flame with sugar for two minutes. Keep stirring in slow flame till sugar dissolve completely and jam become dense. Now mix it well with lemon juice and let it cool down. Now jam is ready to serve. Jam should be used fresh and can be preserved for 10 to 15 days.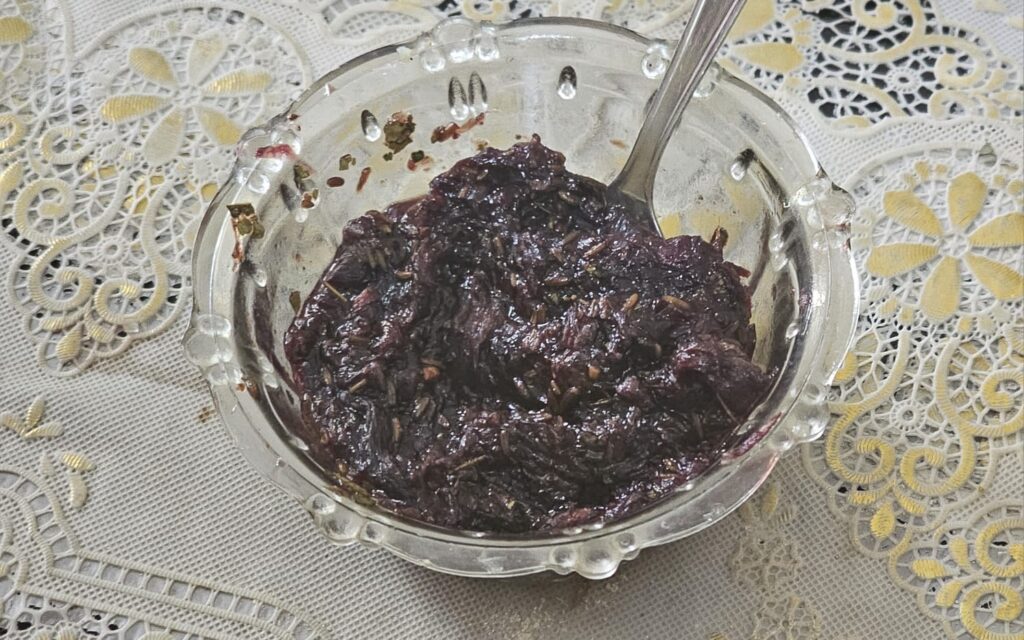 Jaamun vinegar:
Ingredients:
Jaamun, 1 kg; salt, 1-2 table spoon.
Method:
Rinse jaamun in water and dry completely so that no moisture is left. Now add salt to these and place in full sunlight. Jamun fruits vinegar will start draining out and within two days whole vinegar will be extracted. Put this in glass bottle and place bottle in sunlight for 4-5 days.. Now vinegar is ready to use for six months to one year.
Nutritional Value:
Energy 251 kcal; water 84.75 gm; fat 0.23gm; sodium 28mg; potassium 55 mg; carbohydrate 14 gm; dietary fibres 0.6 gm; sugar 57 gm; protein 0.995 gm; thiamine 0.01 mg; vitamin C 11.85 mg; vitamin B6 0.03 mg; calcium 11.65 mg; iron 1.41mg; magnesium 35 mg; phosphorus 15.6 mg & sodium 26.2 mg per 100 gms of the fruit pulp 1.
Seek professional advice before using this plant medicinally.
Medicinal uses:
Local people use jamun fruits, seed and bark to treat diabetes. The leaves are antibacterial and are used for strengthening the teeth and gums2. The tender leaves are used in diabetes, diarrhea2. Powered leaves prescribed for headache; 1 tablespoon twice daily with cow milk 3. Branches of tree are used as toothbrush by locals to clean their teeth. Decoction of bark is good for removing kidney stones; 3 tablespoons thrice a day for 15-20 days 3. The bark is astringent, sweet, sour, acrid, refrigerant, carminative, diuretic, digestive, anthelmintic, febrifuge, constipating, curing fever and dermatopathy 2. Fruits have some of the highest levels of natural folic acid and recommended for pregnant women 4.
Chemical constituents:
Seeds contain glycoside jambolin, ellagic acid, tannin, gallic acid, chlorophyll, fatty acid, starch, resin sugar and traces of oil. Flowers give acetyl oleanolic acid two other triterpenoids, ellagic acid, isoquercitrin, quercetin, kaempferol and myricetin 2.
Spiritual Uses:
Local people in some parts of Western Himalaya consider this plant sacred and grow it around temples.
Other Uses:
Leaves are used as a fodder and given to milch cattle due to their high nutrient value. Acc. to locals leaves are good to increase milk yield. Dried branches left after cattle feed are used as fuel in villages. Wood of jaamun is used as a timber, to prepare agricultural tools, household items and other construction material.. Plant is also cultivated sometimes as hedge, windbreaker and shade provider in garden or private land.
Jaamun bark is used in tanning and also yields a brown dye that has been used in colouring and preserving fishnets6.
Source of income:
Jaamun fruits and seed are good source of income for local people. Fruits are sold in local market at the cost of Rs 100 to 400 per kg. Seeds are collected, dried and powdered. This powder is then sold at the cost of 700 Rs per kg.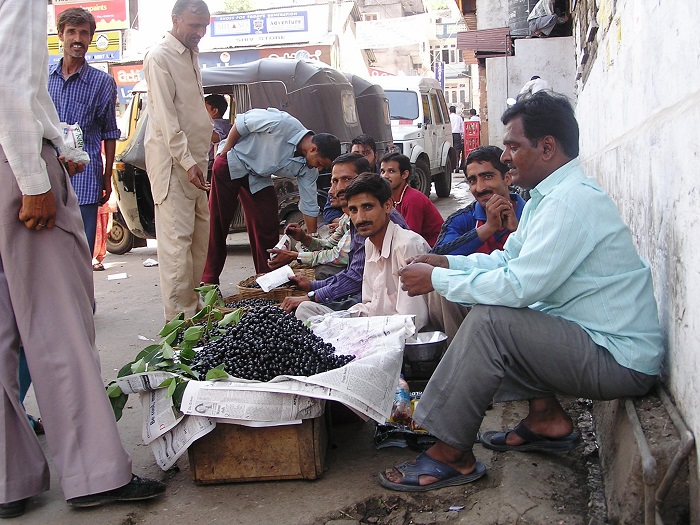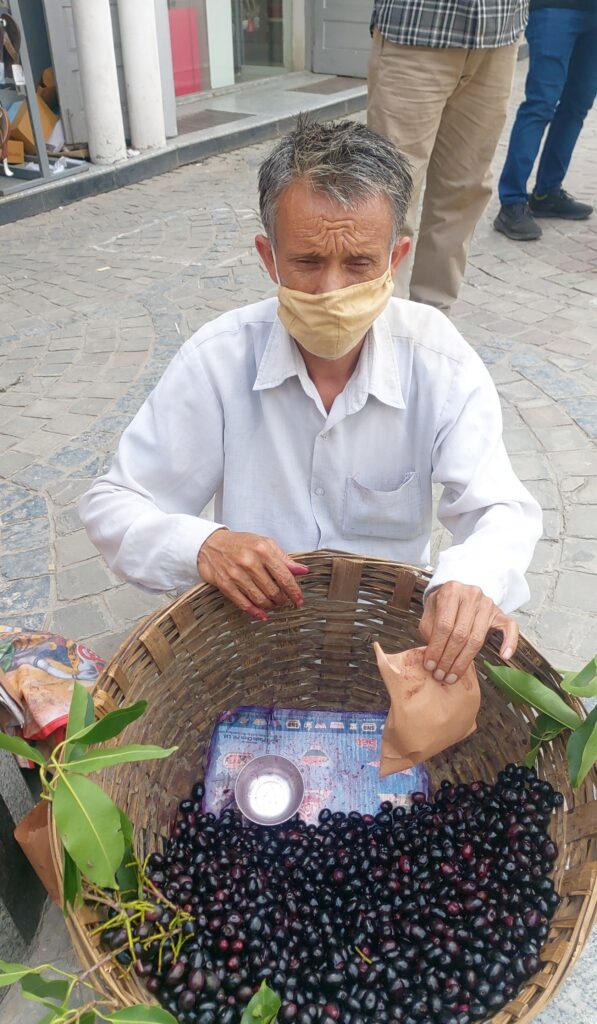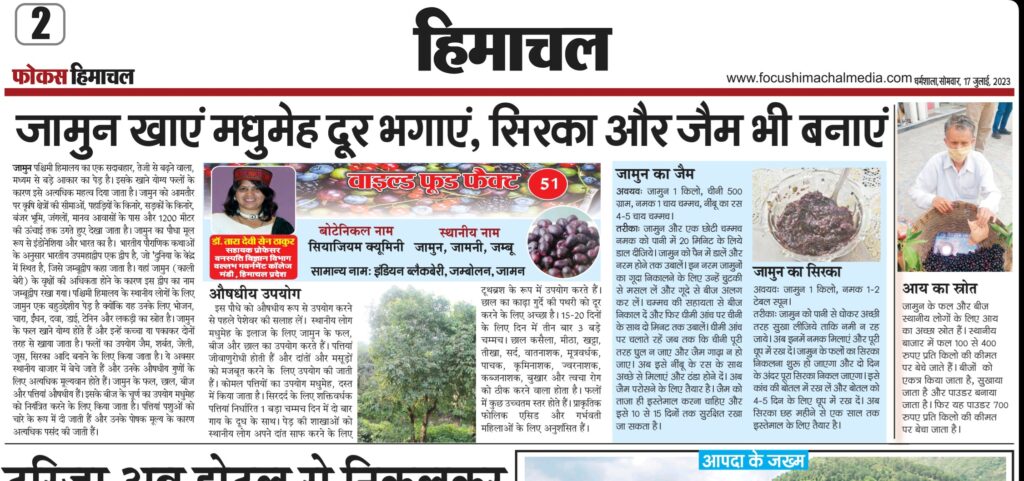 References:
1. Komor, P. & Devi, O.S. (2016); Edible bioresources & livelihoods. Assam State Biodiversity Board, Guwahati.
2. Purohit SS, Sharma AK, Prajapati ND, Kumar T. (2009); A handbook of medicinal plants: a complete source book. 2:352-3.
3. Sood SK, Thakur S (2004). Ethnobotany of Rewalsar Himalaya. Deep publication.
4. Kavitha, A., N. Deepthi, R. Ganesan, S. C. Gladwin Joseph (2012);. Common Dryland Trees of Karnataka: Bilingual Field Guide. Ashoka Trust for Research in Ecology and the Environment, 2084.
5. http://www.flowersofindia.net.
6. http://www.worldagroforestry.org/