Family: Apiaceae
Synonyms: Angelica nuristanica
Common name: Smooth Angelica
Local name: Chora (चोरा), Dhantra, Chorak, Choru, Smooth.
Chora is an aromatic, perennial herb found growing in temperate region of Western Himalaya. Occasionally it is seen growing amongst scrub in humus-rich soils on shady moist slopes between an altitudinal zone of 2500 to 3000m.
Roots and seeds of chora are aromatic and used as a condiment and spice in hills. It is also used as a flavoring agent in various food items. Oil is extracted from dried roots of chora and used by locals people for massage.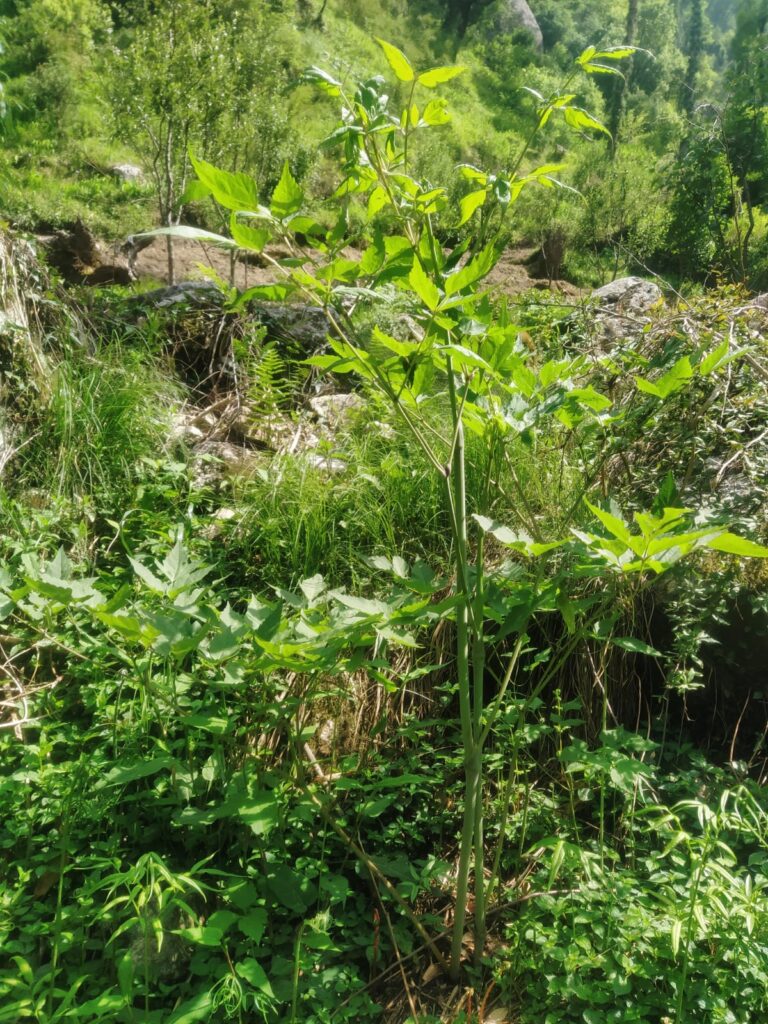 Chora is collected by inhabitants of Western Himalaya from wild habitat as a source of food and medicine for their personal use as well as for selling. It is known to have high market and medicinal value and is sold at local and national level. People usually uproot whole plant while collecting chora from its natural habitat and this unsustainable practice of collection has placed chora in a list of critically endangered plants of the Himalayas.
Due to high market demand and high rate of unsustainable exploitation natural population of this valuable plant species is declining day by day at alarming rate as a result it is classified as 'Endangered plant' in the IUCN Red List of Threatened Species (2013) 1.So species need to be preserved and both in-situ as well as ex-situ conservation should be promoted .
Chora Plant:
Plant is glabrous, tall, erect, perennial herbs.
Root are thick, long-conic.
Stem is fistular, 1-3 m tall.
Leaves are large, 1-3 pinnate; leaflets often in three, sometimes reduced to 1, ovate or lanceolate, entire or lobed, irregularly and sharply toothed, glaucous beneath, leaf base sheathing, broad, inflated. Involucre of 5, long, linear bracts. Rays 20 or more. Involucel of 6-10, linear bracteoles.
Flowers are white or purple, in compound umbels. Calyx-teeth none, petals 5, obovate, emarginated. Stamens 5.
Fruits are glabrous, flattened, oblong, 12- 6 mm, dorsal and intermediate ridges thick, not winged, lateral ridges expanded into wings.
Edible roots of chora can be harvested round the year and seeds from summer end to pre-winters. Chora is facing a high rate of overexploitation due to its high market demand and unsustainable practice of harvesting. Further edible parts of chora are roots and seeds which are the utmost requirement for survival and regeneration, This necessitates sustainable harvesting and growing this plant species in largescale with participation of local people and forest department, which can help to fulfil the increasing demand of chora on one hand and conserving the plant species on the other.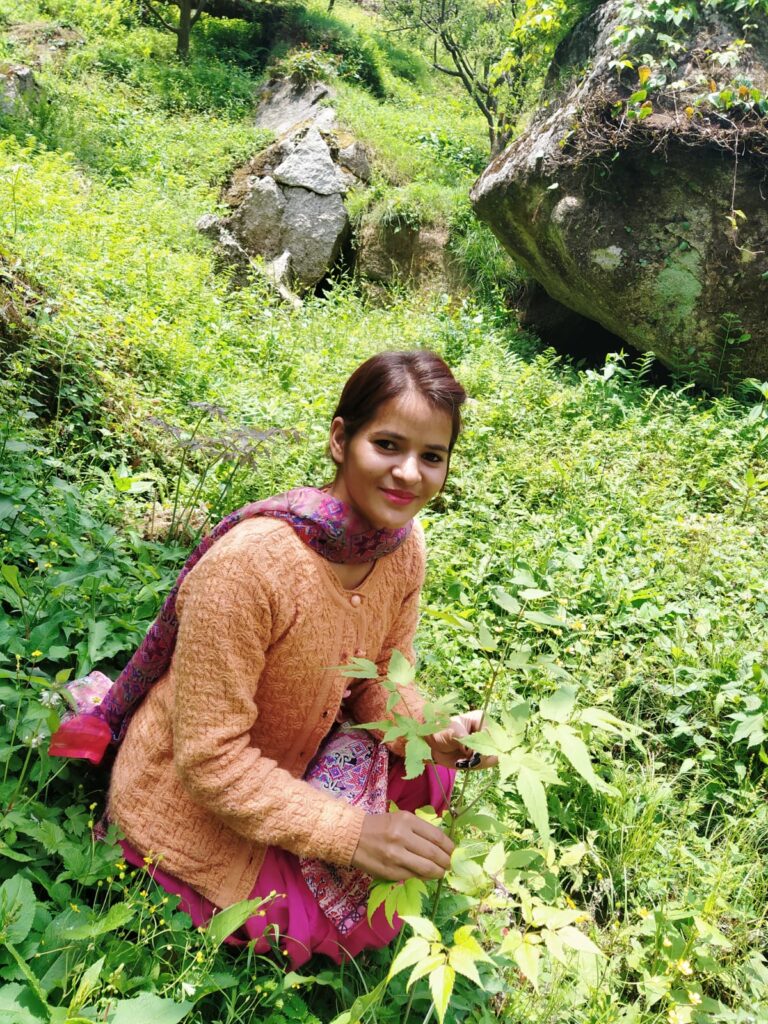 Edible Uses:
Seeds and roots of chora are aromatic and used as a flavoring agent, condiment or spice in various food items. For this roots and seeds are dried and ground into powder. Local people utilize its root for preparation of local alcoholic drink for personal medicinal use, The roots are also used in the preparation of gin and the liqueurs known as bitters 2.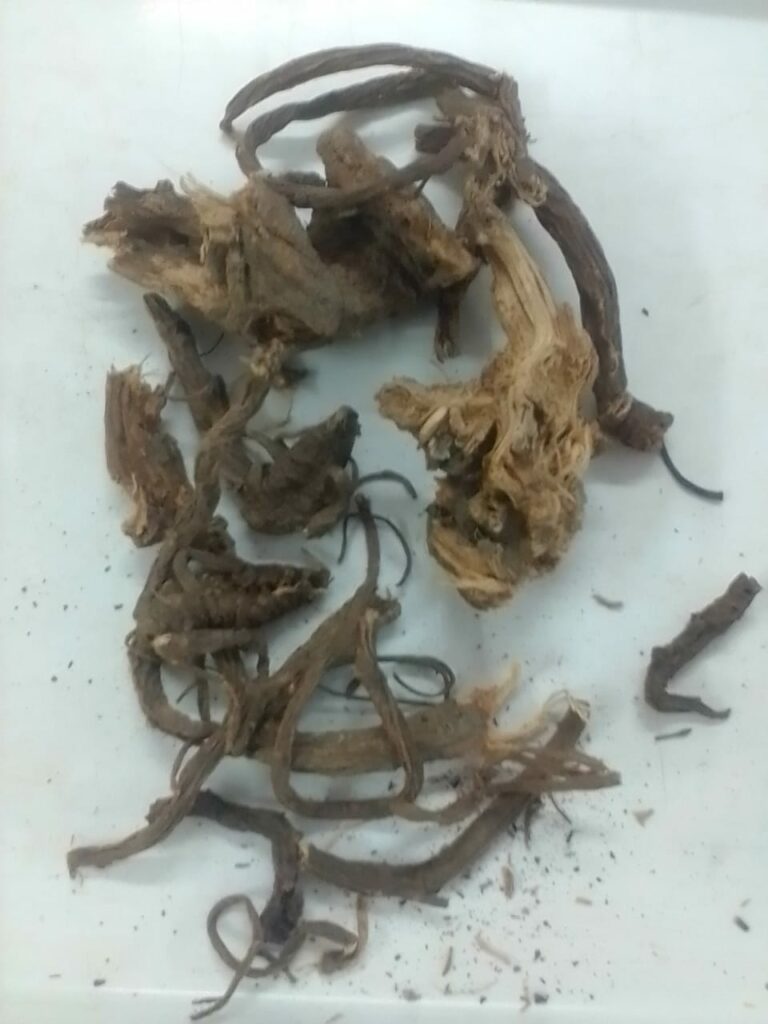 Preparing local chora alcoholic drink:
For preparing local alcoholic beverage, roots are crushed in pestle and mortar, mixed with jaggery and yeast, then placed inside a airtight container for fermentation. After 7-15 days depending upon season and weather condition this fermented product is ready for distillation. Distillation is usually performed in a special traditional setup made up of two container or vessel plus outlet for distillate collection. Bottom vessel is meant for fermented mixture and top vessel or covering for vapour collection. Covering vessel is usually sealed with dough to avoid any leakage of vapour. Distillate (alcoholic drink) is collected in glass bottles through outlet. Some local people in temperate parts of Western Himalayas prepare this alcoholic drink for their personal medicinal use only.
Seek professional advice before treating this plant medicinally.
Medicinal Uses:
The roots are pungent, aromatic, stomachic, tonic, stimulant, carminative, diphoretic, and diuretic2. It increases appetite and combined with tonic, it is given in typhoid conditions, bronchitis, flatulence, colic and pain in the stomach2. Roots also used in obstinate constipation and biliousness 2.
Chemical constituents:
The roots yield a pale to brownish yellow essential oil. The oil contains lactones, sesquiter-penes, d – alpha – pinene, selinene, d – alpha – cadinene, and umbelliprenin and terpene alcohols. It has not yet been commercially exploited. The petroleum ether extract of the fruit contains latonic constituents 2.
Other Uses
The dried roots contain about 1.3% essential oil 3.
Source of Income:
Dried chora roots are good source of income for local people. Dried root powder is sold at the price of Rs 500/kg in local market.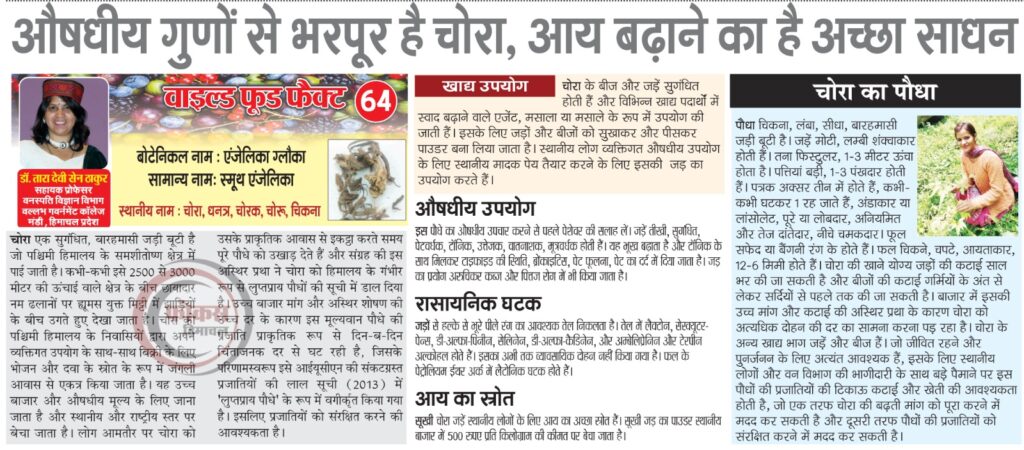 References:
Bown. D. (1995): Encyclopaedia of Herbs and their Uses. Dorling Kindersley, London. ISBN,0-7513-020-31.
Purohit SS, Sharma AK, Prajapati ND,Kumar T. (2209), A handbook of medicinal plants: a complete source book.2:352-3.
Chopra,R.N., Nayar,S.L.& Chopra,l.C (1956). Glossary of Indian Medicinal Plants. CSIR ,New Delhi.