Family: Berberidaceae
Synonymous: Berberis bussmul, Berberis ceratophylla, Berberis chitria, Berberis coccinea, Berberis coerulescens, Berberis elegans, Berberis gracilis, Berberis gracillima, Berberis serratifolia,
Common Name: Indian Barberry, Tree Turmeric, Chitra
Local Name: Kashmale (कशमले)
Kashmale is a spiny shrub commonly seen growing in open forests, hillsides, roadsides, pathways and shrubberies at elevation from 1800-2800 m in Western Himalayas. It can tolerate extreme winters and usually grow best in moist shady to sunny habitat.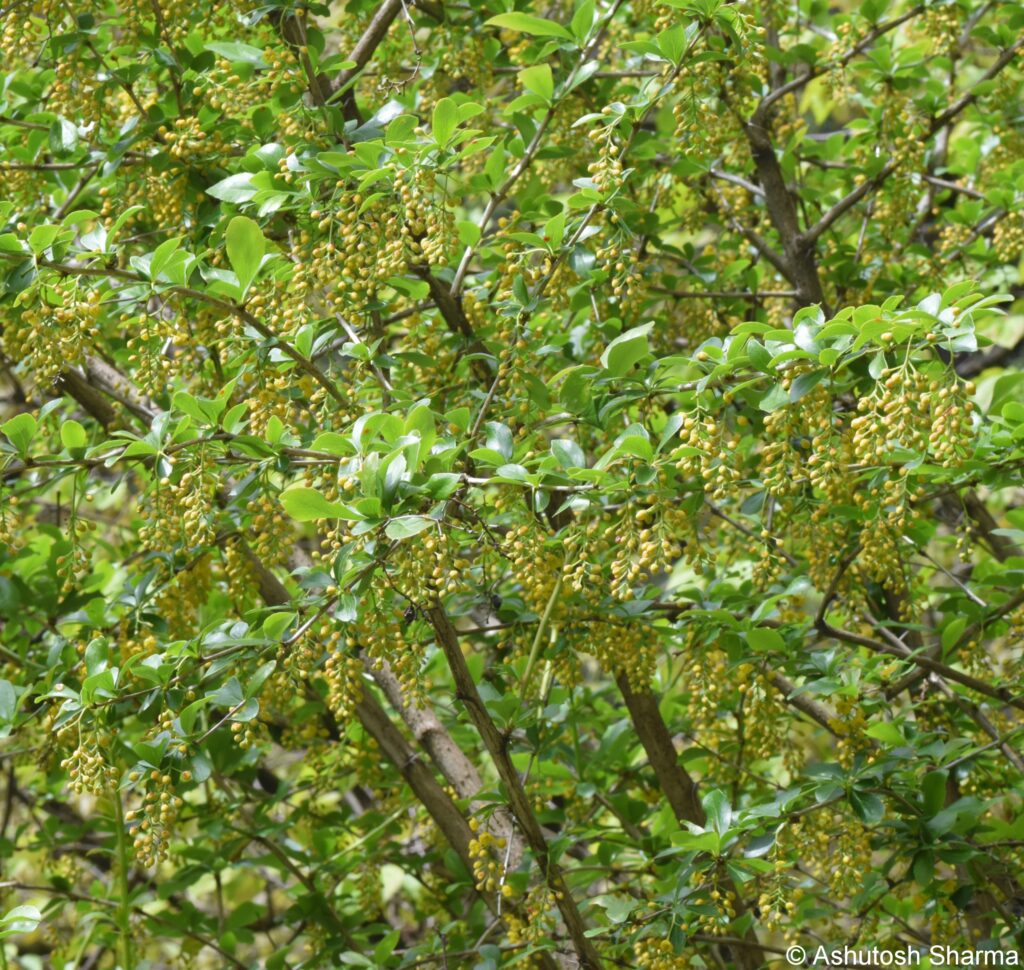 Fruits, flowers and flower buds of kashmale are edible, fruits mostly preferred by children. They eat ripe fruits during their play. Fruits are also dried for later period and normally used like raisins. Fruit is well-flavoured and has a sweet taste with a blend of acid, though there is a slight bitterness caused by the seeds 1. Flower and buds are used to prepare sauce, 'rayata' 'chutney' and 'kachru' by locals of Western Himalaya.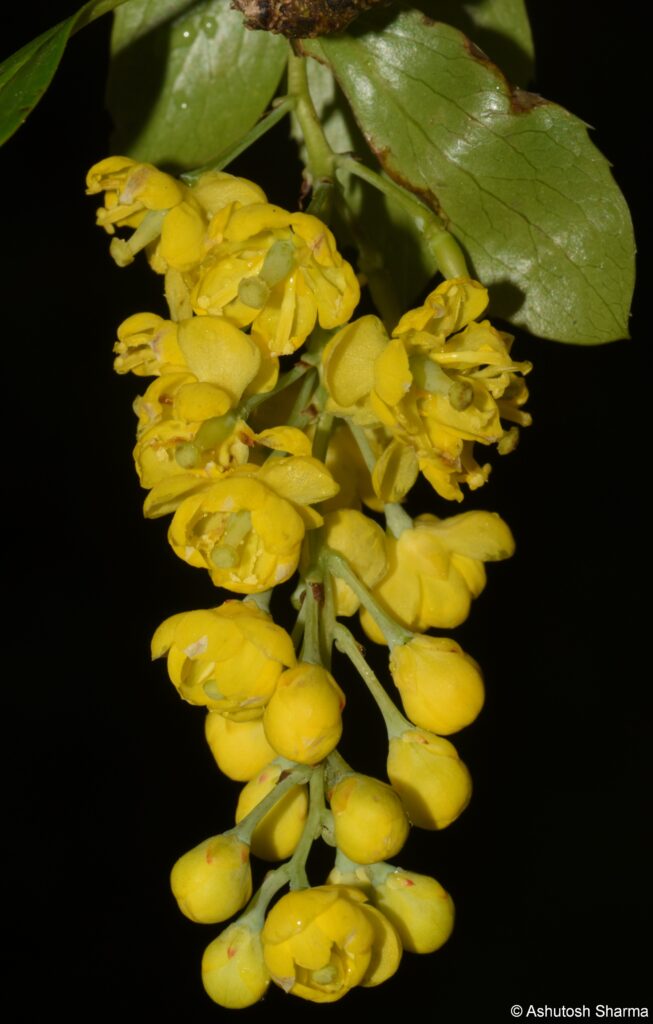 Kashmale leaves are grazed by sheep and goats, its leaves are one of favourite fodder for these domestic animals in hills. Dried plant wood is used as fuel and branches are used to make basket and 'kilta' (Wooden container for caring luggage in hills). Roots and its dried extract (Rasaut Rasanjan) are used in Ayurvedic and unani medicines 2. The alkaloid berberine and its salts are used in modern medicines2
Local people harvest this plant from wild habitat as a source of food, fuel, medicine and material. Kashmale can be grown as an ornamental plant for its beautiful yellow flowers in gardens, and can be used as a live fence to demarcate boundaries.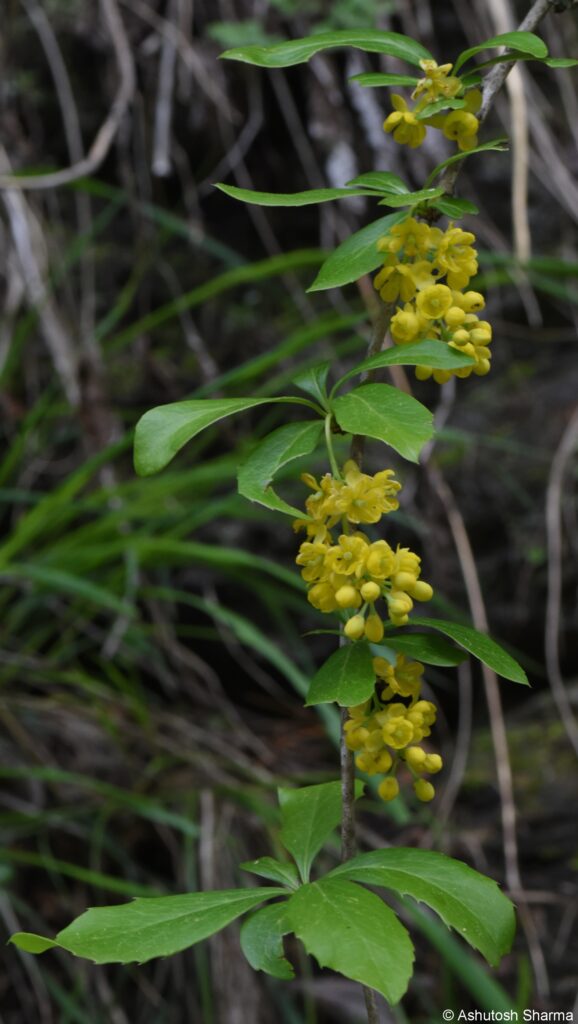 Fruits, root bark and wood of kashmale are sold in local and national market widely.
Description:
Plant is an erect large, spiny, evergreen to deciduous shrub that branches freely from the base and grows up to 3 m high.
Stem woody with bark, bark appears yellow to brown from the outside and deep yellow from the inside. It is covered with three-branched thorns, which are modified leaves, and can be removed by hand in longitudinal strips.
Leaves are shortly petioled, 3-6 cm long, obovate or elliptic, obovate, sub sessile and cuneate at base, mucronate at apex, entire or few- spinous along margins, glossy-green.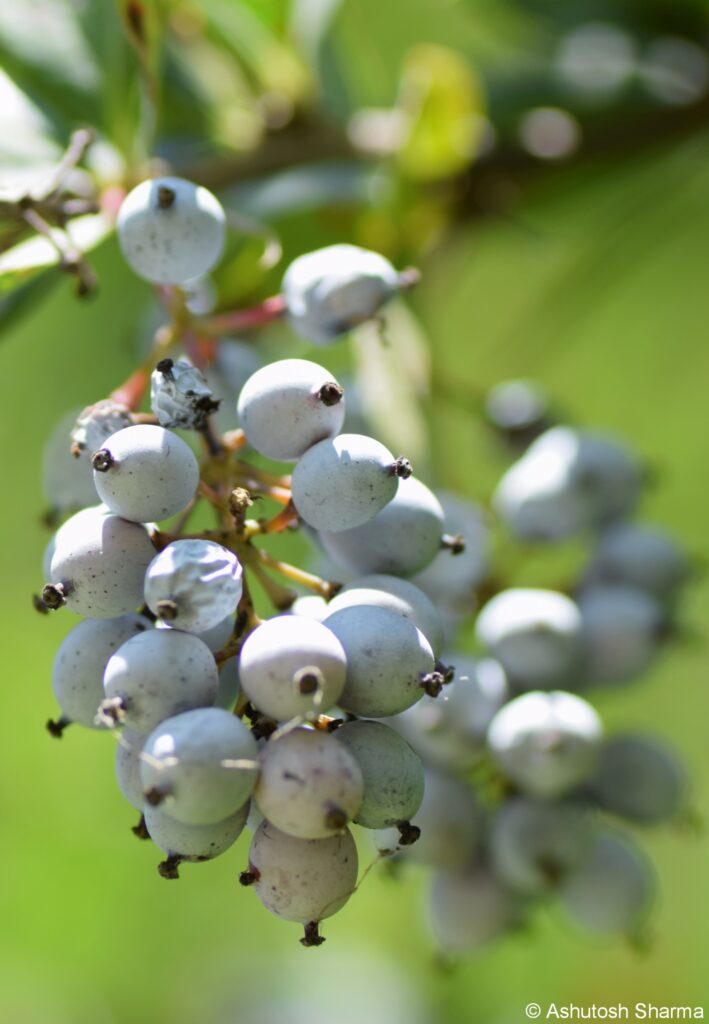 Flowers are yellow, usually in 5-6 cm long racemes; pedicles 5-10 mm long. Sepals 6, petal likes. Stamens 6. Ovules 3-5.
Fruits are Berries ovoid to oblong- ovoid, bright red, slightly pruinose blue; style distinct, ca 1 mm long.
Edible flowers and fruits of this plant can be best harvested from summer to pre-winter season of the year. To promote sustainable harvesting these should be collected on habitat rotation basis.
Edible Uses:
Kashmale fruits are edible both raw or cooked. Ripe fruits are added to desserts. Flower and flower buds are used in chutney, kachru, rayata and sauces.
Kasmale fruits desserts:
Ingredients:
Kashmale fruits and other chopped fruits acc. to taste,1/2kg; curd, 1kg; sweetener like honey/ sugar/ condensed milk, 1-3 tea spoon; cardamom powder,1/4 tea spoon; black salt according to taste.
Method:
Take curd in a bowl. Add to it sweetener according to choice and stir well. Add cardamom powder, black salt, Kashmale fruits and other chopped fruits according to preference. Mix well and serve.
Sauces:
Kashmale flower buds, 250 g; Tomatoes, 1/2kg; Brown sugar, 3-5 tea spoon; Red chilies, powder 1 tea spoon; Vinegar, 3 table spoon, black salt, ¼ tea spoon.
Method:
Boil tomatoes in low flame till they are soft. Grind tomatoes along with kasmale flower buds in a mixer and strain in a container. In a hot pan cook ground tomato and flower bud puree in low flame for 3-5 minutes. Add to it red chilies powder, black salt, brown sugar and vinegar. Cook for another 10 to 15 minutes. Let it cool down and place in a ceramic container.
Chutney:
Ingredients:
To prepare chutney, take 100 gm Kashmale flower buds, 100 gm chopped mint leaves, 50 gm anardana or amchoor, 5-6 green chillies, 20 gm coriander leaves/ curry leaves, 2-3 onion, 1table spoon amount ginger.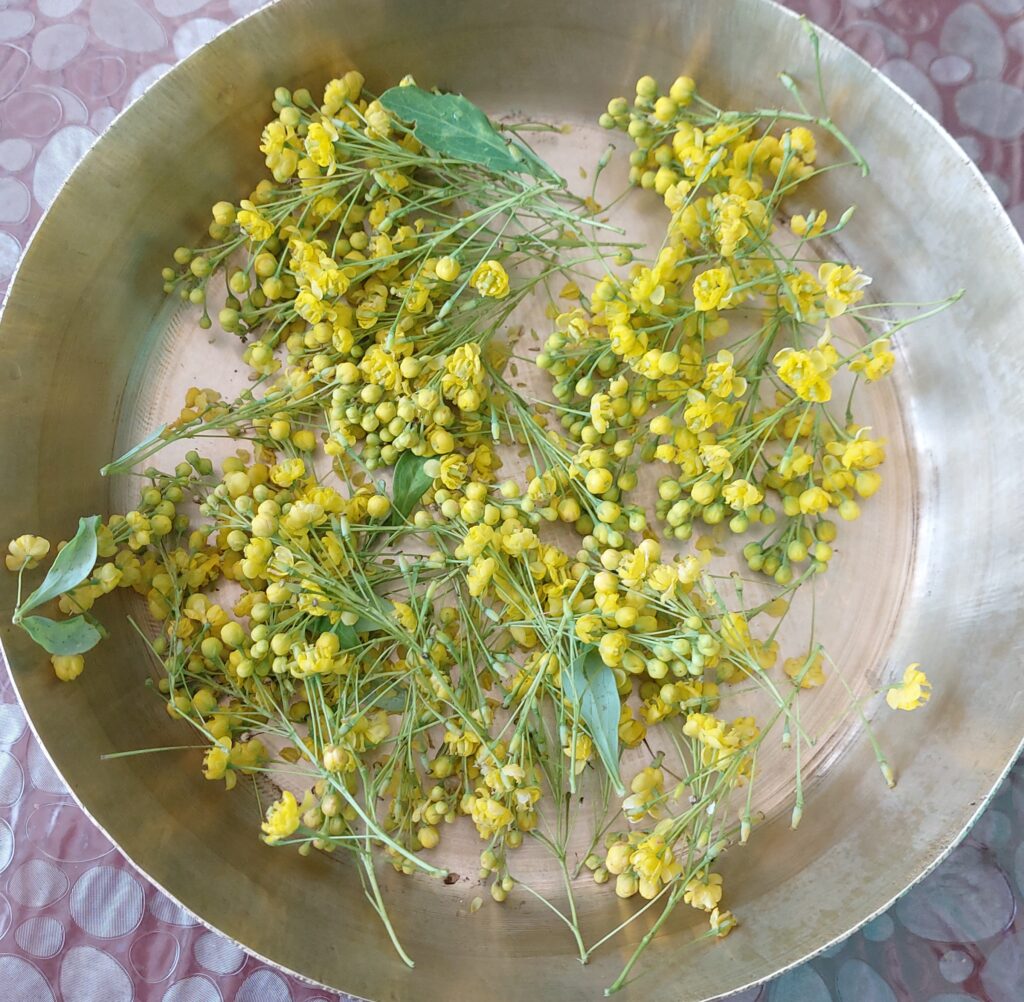 Method:
Grind well all above ingredients in a mixer grinder and add salt according to taste. Now chutney is ready to serve.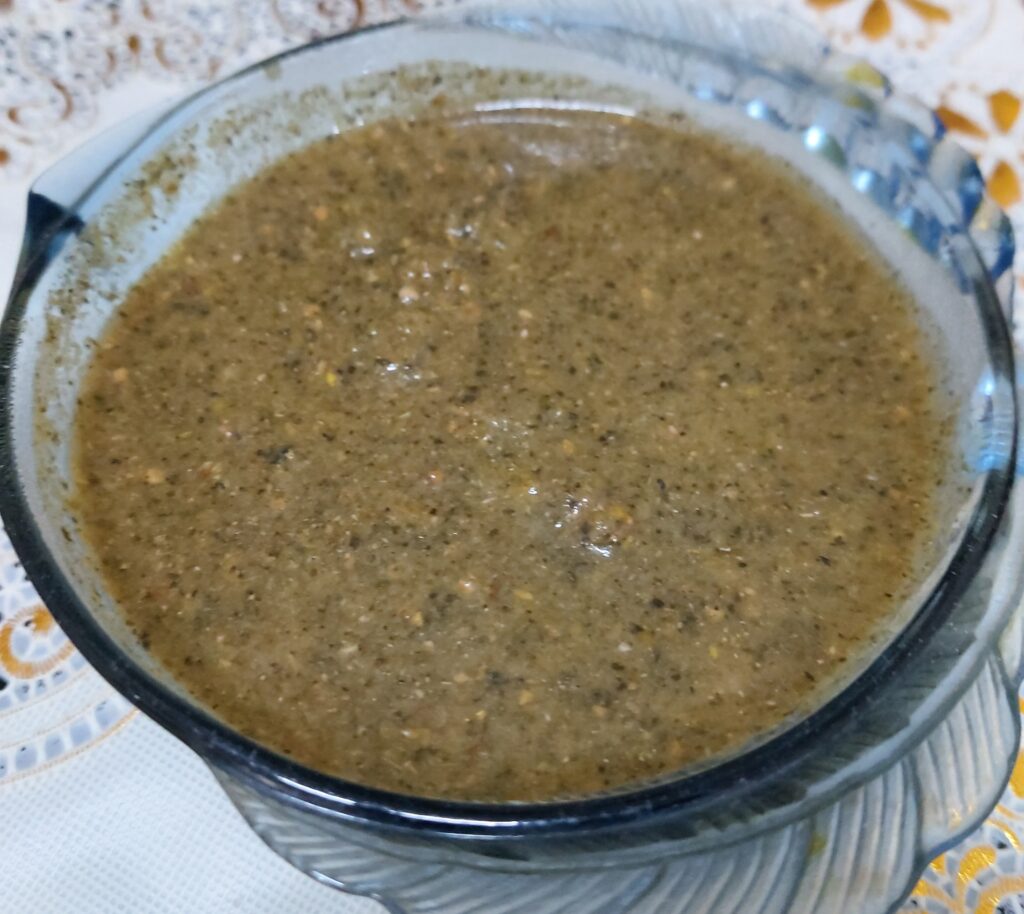 'Kachru':
Ingredients:
For preparing 1/2 kg flower Kachru ingredients one will need 250g besan (black gramflour) or corn flour,1 cup fresh coriander leaves (chopped), 3-5 green chillies, ½ table spoon turmeric powder, 1/2 table spoon caraway, 2-3 medium sized chopped onions and salt according to taste.
Method;
Make a paste of flowers with besan or corn flour and mixing it with spices. Heat some oil on a flat cooking pan and spread paste on it. Heat for 15-20 minutes occasionally turning it to other side and kachru will be ready. Serve hot with tomato sauce or some other ketchup.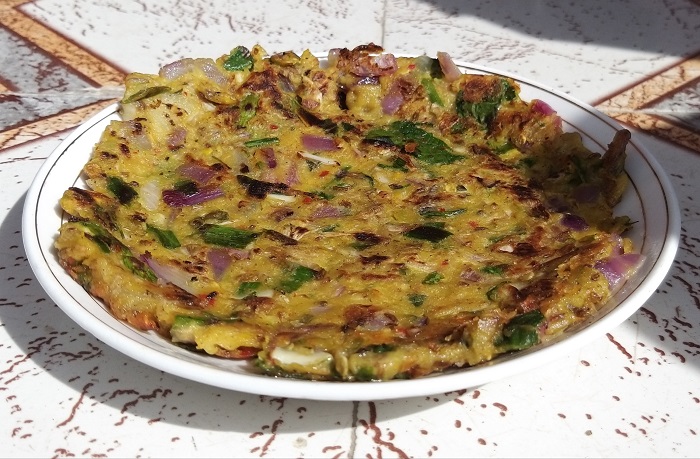 Rayata of Kashmale flowers and flower buds:
Ingredients:
1/2 kg fresh flower and flower buds, 1 Kg curd, 1 cup fresh coriander leaves (chopped), 3-5 green chilies, a pinch of black pepper powder, 1 table spoon rai powder, 2-3 medium sized chopped onions and salt according to taste.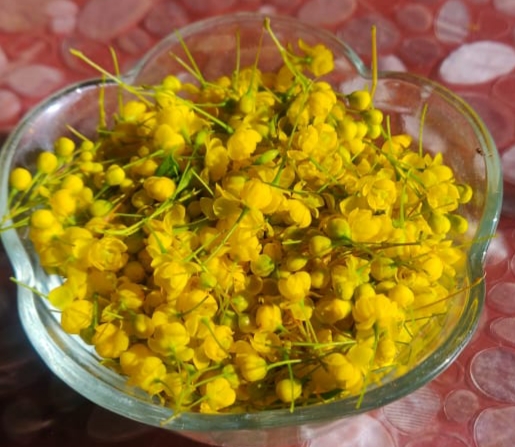 Method:
Either boil and squeeze flowers and buds or add these raw in to curd with ingredients listed above. Mix well and serve.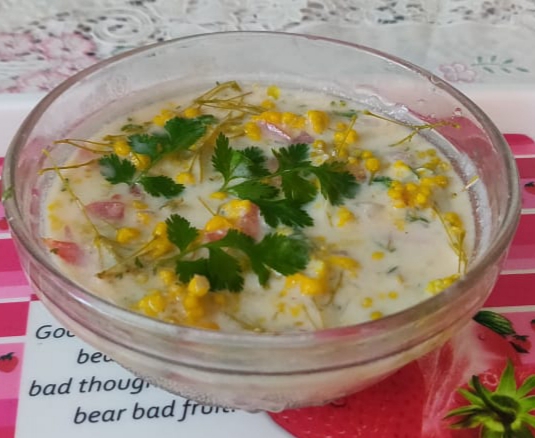 Nutrient Analysis:
Fresh kashmale fruits per 100 g grams contains about 2.3% protein, 12% sugars, 2% ash, 0.6% tannin, 0.4% pectin 1. There is 4.6mg vitamin C per 100ml of fruit juice 1.
Seek advice from a professional before treating this plant medicinally.
Medicinal Uses:
Kashmale is used in ayurvedic medicines from very long time. Ground flower paste is given to young ones to prevent diarrhea during baby teething by local people.The plant is used traditionally in inflammation, wound healing, skin disease, diarrhea, jaundice and infection of eyes. A very valuable ayurvedic preparation 'Rashut' is prepared by this plant1,3,4. The dried stem, root bark and wood are alterative, antiperiodic, diaphoretic, laxative, ophthalmic and tonic (bitter) 1,5. An infusion is used in the treatment of malaria, eye complaints, skin diseases, menorrhagia, diarrhea and jaundice 5.
The alkaloid berberine, which is universally present in the roots and stems of Berberis species, has marked antibacterial effects. Since it is not appreciably absorbed by the body, it is used orally in the treatment of various enteric infections, especially bacterial dysentery 6. It should not be used in combination with Glycyrrhiza species (Liquorice) because this nullifies the effects of the berberine 6. Berberine has also shown antitumour activity 6.
Other Uses:
Plant is a good source of fuel, fodder and dye for local people. Leaves are grazed by sheep and goats. Dried wood is used as a fuel. Branches are used for making basket, ' kilta' or walking stick. Plant is an important source of dyestuff and tannin, it is perhaps one of the best tannin dyes available in India 1. Kashmale can be grown as an ornamental plant in garden for its beautiful yellow flowers and as a spiny hedge to demarcate boundaries and exclude livestock from cultivated land.
Source of Income:
Kashmale is a good source of income for the locals of Western Himalaya as root, bark, fruits and extract of this plant all are known to have high market value and sold both in local market and nationally. Ripe fruits are sold at the price of Rs 150 to 200 /250 g. and root bark is sold at the price of Rs 350/kg
Some Commercial Available Product Of Kashmale Are: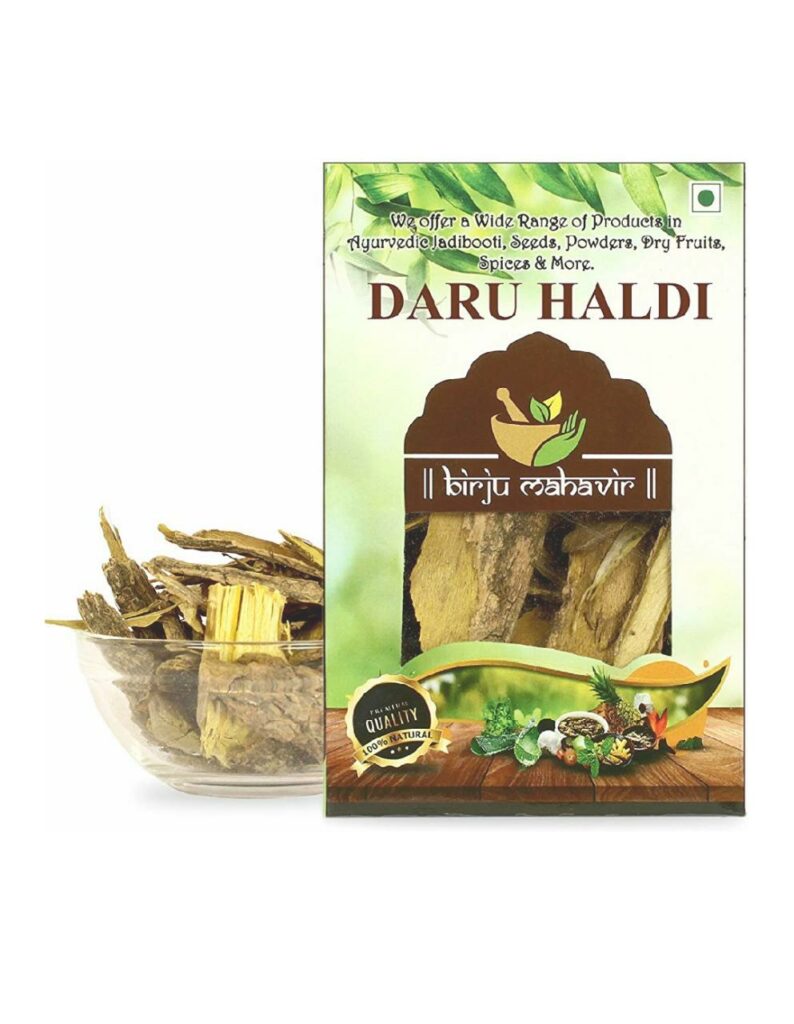 ---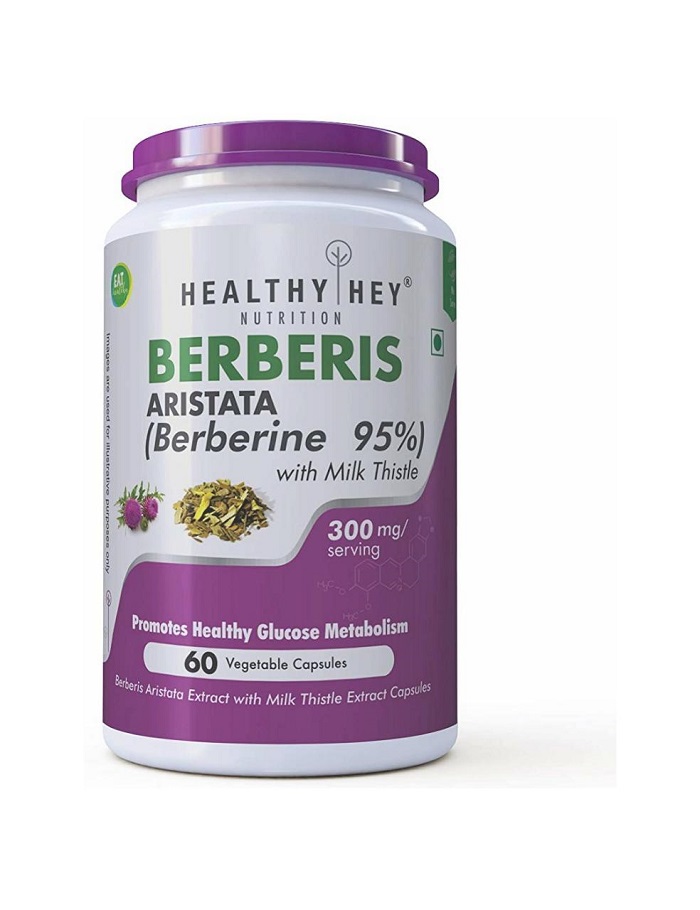 ---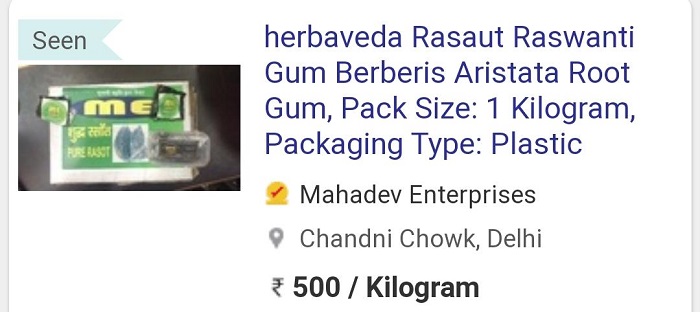 ---
References:
Parmar. C. and Kaushal. M.K. (1982) Wild Fruits of the Sub-Himalayan Region. Kalyani Publishers. New Delhi.
Singh PB,(2018);Flora of Mandi District Himachal Pradesh; North West Himalayas.
Kurian Alice and sankar M. Ashe. Ed. Prof. KV Peter. Medicinal plant horticulture sciences. Series foreword by Pushpangandan, New India publishing agency, New Delhi, 2007; (2):299-300.
Rashmi, Rajasekaran A, Pant Jagdish. The genus berberis Linn: a review. Pharmacognosy review 2008 Jul-dec; 2(4):368-385.
Chopra, R.N.,Nayar.S,L.,& Chopra, L.C.(1956); Glossary of Indian Medicinal Plants.CSIR,New Delhi.