Family: Apocynaceae
Synonyms: Antura edulis,Jasminonerium ovatum, Carissa obovate, Carissa pilosa, Carissa opaca, Carissa ovata, Carissa hirsute, Carissa macrophylla.Carissa diffusa
Common Name:   Wild Karanda
Local Name: Garnae (गरने), Kharanu. Khirni
Garnae is a perennial spiny, evergreen shrub or small tree found in dry deciduous forest. It is frequently seen growing in thickets, roadsides, pathways, disturbed areas, open slopes and along field boundaries in scrub jungle, up to an altitude of 1500 m in Western Himalayas. Garnae requires a well-drained soil and prefers a deep, fertile soil.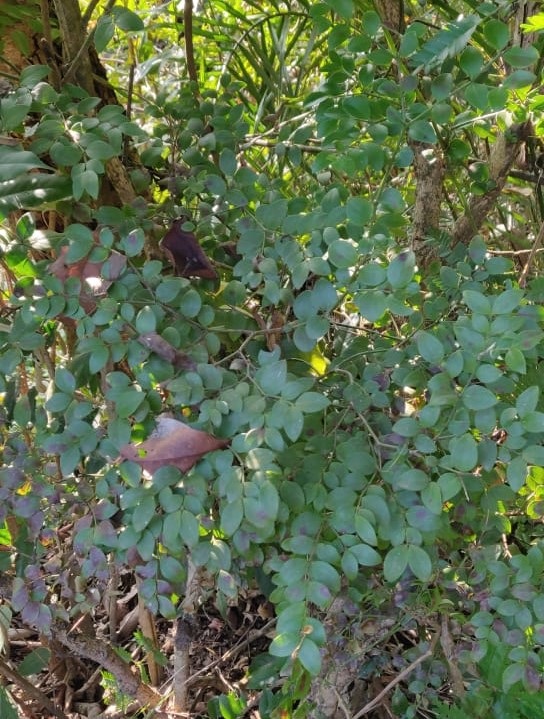 Ripe fruits of garnae are edible and very sweet and pleasant in taste. Fruits are eaten both as raw or cooked in jams. Fruits are also fermented to prepare vinegar. Tender shoot terminals are eaten raw by local people of Western Himalayas.
Leaves are grazed by sheep and goats as fodder. Dried plant is used as fuel. Gargle of stem decoction cures mouth ulcers 1. Leaf paste used to cure boils with pus. Local people harvest garnae from wild habitat for local use as source of fuel, food, fodder and medicine for their personal use.
Garane Plants:
Plant is perennial, evergreen, erect thorny, shrubs, up to 3.5 m high with spreading armed branches.
Wood is very hard; bark, light brown to green, spines 2-5 cm long.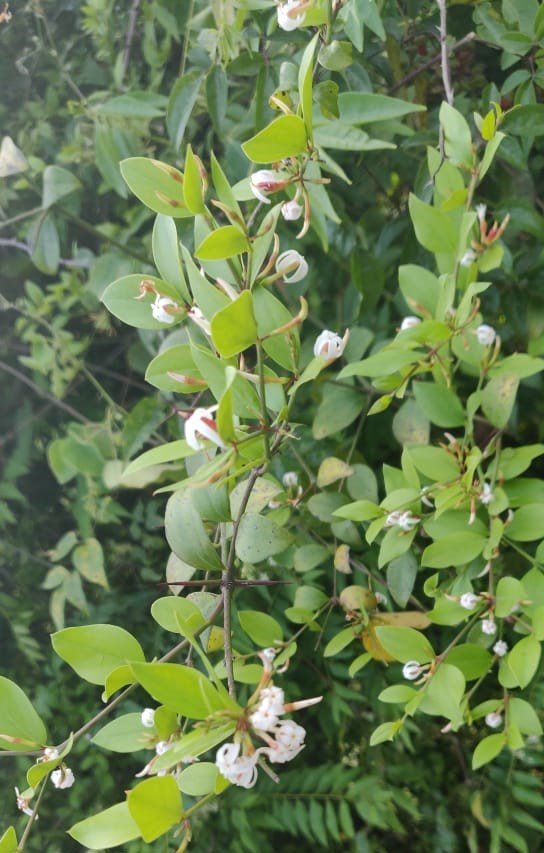 Leaves opposite, 1-3.5 cm long, elliptic- ovate or suborbicular, usually acute at ends, mucronate, bright green above, paler beneath.
Flowers are white, often, tinged with pink, sweet scanted, few, in corymbose cymes, at the tip of forks of the branches. Corolla tube cylindrical, 1-1.5 cm long; lobes elliptic- lanceolate.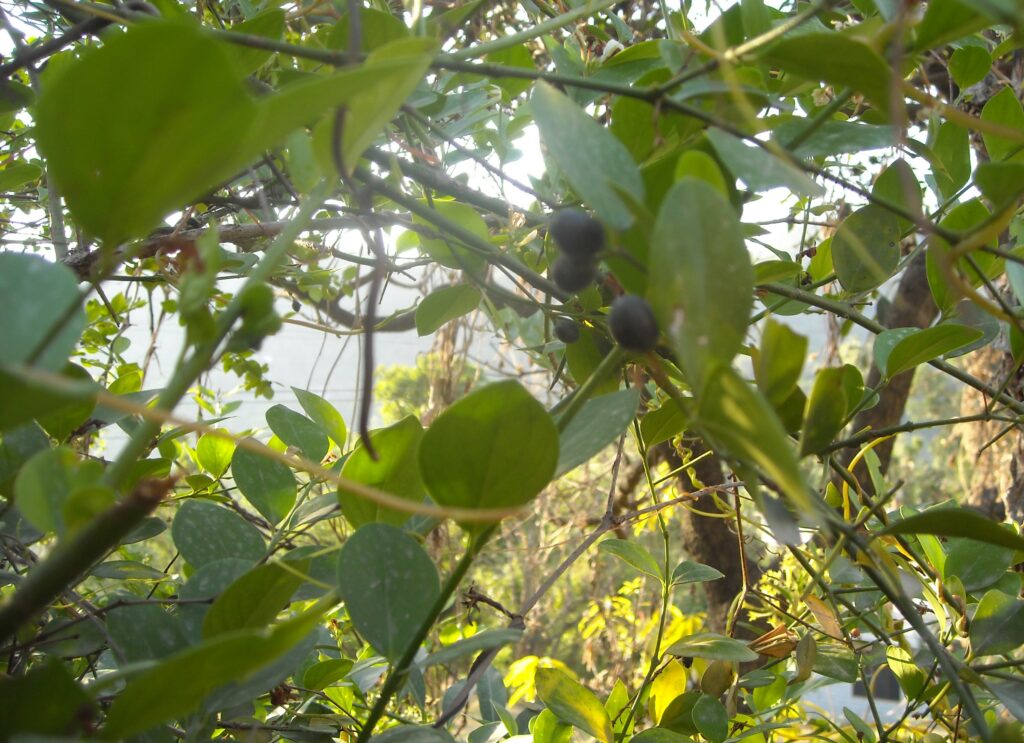 Fruits berries globose, 7-8 mm long, dull dark-purple and juicy at maturity.
Seeds 2.
Garane can best provide edible shoot terminals in spring season and edible fruits from summer end to pre-winters. As plant is very frequent in mid-hill zone of Western Himalayas, so there is no fear of extinction, but sustainable harvesting should be encouraged to ensure sustainable development.
Edible Uses:
Garane fruits and tender shoot terminals are eaten raw. Fruits are also cooked to prepare jam and used to prepare home made vinegar as follow.
Garane Jam:
Ingredients:
Garane,1/2 kg; sugar, 250 g; salt, 1/2 tea spoon; lemon juice, 2-3 tea spoon.
Method:
Put Garane fruits with one tea spoon salt in water for 20 minutes. Transfer fruits into pan and boil till they are soft. When cool down mesh manually and then boil them in low flame with sugar for two minutes. Keep stirring in low flame till sugar dissolve completely and jam become dense. Now mix it well with lemon juice and let it cool down. Now jam is ready to serve. Jam should be used fresh and can be preserved for 10 to 15 days.
Garane vinegar:
Garane, 1/2 g; salt, 1 table spoon.
Ingredients:
Rinse fruits in water and dry completely so that no moisture is left. Now add salt to these and place in full sunlight. Garane fruits vinegar will start draining out and within two days whole vinegar will be extracted. Put this in glass bottle and place bottle in sunlight for 4-5 days.. Now vinegar is ready to use for six months to one year.
Nutrient Analysis ( Fresh fruits/100 kg on percentage basis):
Energy, 237.3±0.002 Kcal /100 g; Protein, 3.5±0.1; Carbohydrate, 55.8±0.36 ; Lipid, 0.018±0.001; Ash, 4.6±0.30; Moisture, 30.8±0.05; Crude Fiber, 4.5±0.3 2 .
Seek professional advice before treating this plant medicinally.
.
Medicinal Uses:
Known in India for constipation, cough dysentery, fever, and edible fruits. Also used in veterinary ailments 3,4. They are often added to the food of a sick person as an appetizer 5 .
The roots are anthelmintic, stomachic and antiscorbutic, and are useful in stomach disorders, intestinal worms, scabies and pruritus 6. The unripe fruit is sour,astringent, bitter thermogenic, constipating, anaphrodisiac, appetizer and antipyretic, and is useful in vitiated conditions of pitta and kapha, hyperdipsia, diarrhea, anorexia, and intermittent fevers6. The ripe fruit is sweet cooling, appetiser and antiscorbutic, and is useful in anorexia, vitiated conditions of pitta and vata, burning sensation, skin diseases, scabies and pruritus 6.
Chemical Constituents:
Contain carissone, carindone, carinol and four crystalline substances, viz. A. B; a cardioactive and Beta- sitosterol 6 .
Other Uses:
Plant is grazed by grazing sheep and goats. Dried plant parts are used as a fuel in full winters. Plant can also be grown as a live fence around agricultural land to exclude live stocks and demarcate foundries. The roots are put into water-gourds to impart an agreeable taste to the water, and they are sometimes added to soups and stews for the same purpose, or to disguise a strong smell of other food that is cooking 5,7. A piece of the root is sometimes fixed into a hut-roof as a snake-repellent 5. A paste of the pounded roots serves as a fly repellent 7. The fruits are a source of tannins, and have been used in dyeing 7.The white or yellow wood is hard, smooth and useful for fashioning spoons, combs, household utensils and miscellaneous products of turnery 7 .
References:
Sood SK, Thakur S.( 2004): Ethnobotany of Rewalsar Himalaya. Deep Publications.
Jain, A. K., & Farrokhnia, F. (1991). Unsupervised texture segmentation using Gabor filters. Pattern recognition, 24(12), 1167-1186.
Pal, S. K., & King, R. (1981). Image enhancement using smoothing with fuzzy sets. IEEE TRANS. SYS., MAN, AND CYBER., 11(7), 494-500.
Anand, S. P., & Deborah, S. (2016). Enumeration of wild edible fruits from Boda hills and Kolli hills. Int J Appl Biol Pharm Technol, 7, 96-102.
Burkil. H. M (1985 – 2004) The Useful Plants of West Tropical Africa. Publisher Royal Botanic Gardens; Kew.
Purohit SS, Sharma AK, Prajapati ND, Kumar T. (2009); A handbook of medicinal plants: a complete source book. 2:352-3.