Family: Amaranthaceae
Synonyms: Digera arvensis, Digera alternifolia, Desmochaeta alternifolia, Achyranthes muricate, Achyranthes alternifolia
Common name: False amaranth
Local Name: Latmahuria (लतमहूरीया)
Latmahuria is an annual herb, growing to 20-70 cm tall as a common weed. It can be seen growing wild in moist places, waste areas, disturbed sites and as a weed in fields up to an altitude of 1000 m in Western Himalayas.
 Plant is used as a pot herb and young leaves and tender shoots terminals of this plant are cooked as a leafy vegetable. Latmahuria is generally considered as a famine food and cooked as vegetable when no other vegetable is available.
Plant is also used as fodder and medicine. Local people harvest it from wild habitat as a source of food, fodder and medicine for their personal use.
Latmahuria Plant:
Plant is annual, erect-ascending, slender herbs, with spreading branches, up to 50 cm high.
Stem simple or branched from the base, nearly hairless.
Leaves are ovate or elliptic- lanceolate, alternately arranged, 3-7.5 to 2-4 cm, obtuse, entire, glabrescent, base truncate; petioles 1-3 cm long.
Flowers are pink or rose, in lax, axillary or terminal, thyrsiform spikes; bracts ovate, oblong, acute. Flowers ternate. 2 outer reduced to scales; fertile flowers with 5, sub equal, pink tapels. Stamens 5, free.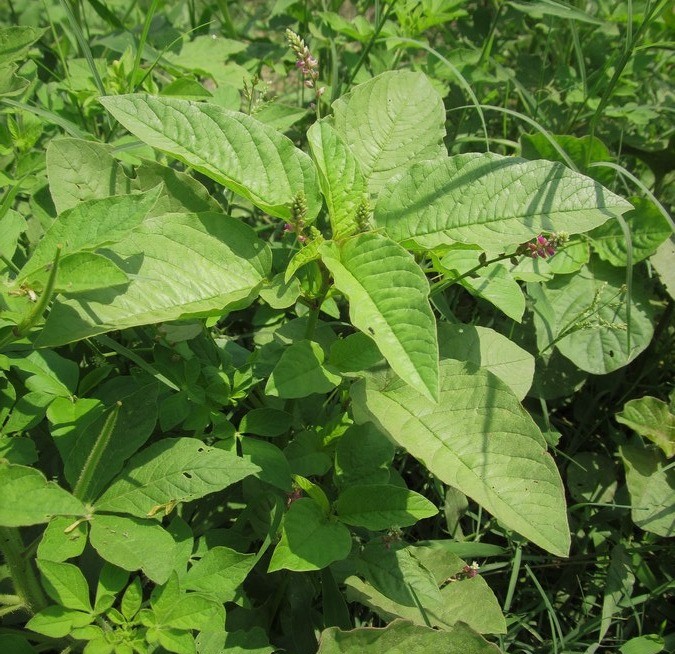 Fruits are indehiscent compressed, muricate nutlets. 2-2.5 mm, bluntly ribbed along each side, surmounted by a thick rim.
Edible leaves of latmahuria are best collected for cooking from spring end to pre-winter season of the year.
Edible Uses:
Plant is edible,  its leaves and tender terminals including spike are cooked into a leafy vegetable saag by the locals of Western Himalayas. Saag of latmahuria is normally eaten during summer season when nothing else is available . It is cooked as under.
Leafy Vegetable Saag:
Ingredients:
Chopped leaves and tender shoot tips of latmahuria, 1 kg; mustard oil, 2 table spoons; coriander powder 1 table spoon; fenugreek powder, ½ table spoon; cumin seed ¼ table spoon; turmeric powder, 1/4 table spoon; red chilies, 2-3; chopped onions 2-4; garlic, 4-5 cloves; ginger paste ½ table spoon and salt according to taste.
Boil chopped leaves till they become soft and mesh manually or in a mixer. Then sauté with hot mustard oil and the spices listed before in sequence. This sauted saag is then ready and can be served as such or can be mixed with 2 or 3 chopped onion or boiled potato and cooked for another 5 to 10 minutes before serving.
Nutrient Analysis: (g/100g)
Edible portion, 56; Ash, 3.54; Moisture, 83.8; Protein, 4.3; Mineral & vitamin (mg/100g) Calcium, 506; Potassium, 604; Magnesium,232; Phosphorus, 63, Iron,17.72; Zinc, 0.57, Copper, 0.16; Chromium, 0.243; Manganese, 0.23. content Ascorbic acid, 49; Thymine, 0.10, Total-Carotene ,17.93; Β-carotene, 3.36 1,2.
Seek professional advice before treating this plant medicinally.
Medicinal Uses:
It is popularly known for herbal remedy for various ailments. In Ayurveda this herb is considered as cooling, astringent of bowels and also used as a laxative3. The scientific basis for its medicinal use especially for boiled root infusion given to mother after child birth to increase lactation purpose is to be evaluated 4. Decoction of leaves gives once in a day for kidney stone treatment5,6. The flower, seeds and extract of this plant used in biliousness are used to treat urinary discharges4,7.
Chemical constituents:
The primary metabolites like carbohydrates, proteins, lipids, phenols, chlorophylls, amino acids etc. of this plant in different solvent extracts have been investigated 8,9. The plant contains α- and β- spina sterol 10. Analysis of various fractions of the plant indicated the presence of flavonoids, alkaloids, terpenoids, saponins, coumarins, tannins, cardiac glycosides and anthraquinones. Hyperoxides flavonoids have been identified in hexane extract of this plant31.
Other Uses:
It is used as fodder plant. It is commonly grazed as forage by sheep and goats. The flowers are rich in nectar which is sometimes sucked by children in Kenya12.
References:
1. Seshadri, S., & Nambiar, V. S. (2003). Kanjero (Digera arvensis) and drumstick leaves (Moringa oleifera): nutrient profile and potential for human consumption. World review of nutrition and dietetics, 91, 41-59.
2. Gupta, S., Lakshmi, A. J., Manjunath, M. N., & Prakash, J. (2005). Analysis of nutrient and antinutrient content of underutilized green leafy vegetables. LWT-Food Science and Technology, 38(4), 339-345.
3. Parrota JA, (2001); Healing plants of Pennninsular india, CABI publishing, CAB international Newyork, USA, 56.
4. Rajasab, A. H., & Isaq, M. (2004). Documentation of folk knowledge on edible wild plants of North Karnataka.
5. Aggarwal, S., Gupta, V., & Narayan, R. (2012). Ecological study of wild medicinal plants in a dry tropical peri-urban region of Uttar Pradesh in India. International Journal of Medicinal and Aromatic Plants, 2, 246-253.
6. Sharma, N., Tanwer, B. S., & Vijayvergia, R. (2011). Study of medicinal plants in Aravali regions of Rajasthan for treatment of kidney stone and urinary tract troubles. International Journal of PharmTech Research, 3(1), 110-113.
7. Khare, C. P. (2008). Indian medicinal plants: an illustrated dictionary. Springer Science & Business Media.
8. Sharma, N., Tanwer, B. S., & Vijayvergia, R. (2011). Study of primary metabolites and antimicrobial activities of Digera muricata (L.) Mart. J. Chem. Pharm. Res, 3(2), 424-431.
9. Mathad, P., & Mety, S. S. (2010). Phytochemical and Antimicrobial Activity of Digera Muricata (L.) Mart. Journal of Chemistry, 7(1), 275-280.
10. Umar, A., Kaur, R., & Arora, S. (2010). Free radical scavenging potential of some Indian medicinal plants. Journal of Medicinal Plants Research, 4(19), 2034-2042.
11. Khan, M. R., Khan, G. N., & Ahmed, D. (2011). Evaluation of antioxidant and fertility effects of Digera muricata in male rats. African Journal of Pharmacy and Pharmacology, 5(6), 688-699.
12. Maundu, M. P., Ngugi, W. G., & Kabuye, H. S. C. (1999). Traditional food plants of Kenya. National Museums of Kenya.