Family Lamiaceae
Synonyms: Origanum floridum,Thymus origanum
Common Names:  Wild Marjoran, Oregano
Local Name: Bantulsi (बन तुलसी)
Bantulsi is an erect, perennial herbs of Western Himalayas. It is very commonly seen growing in open forest lands, dry grassy area, scrub and waysides upto an altitude of 1000-3000 m. Plant grows easily in average, dry to medium moisture, well-drained soils in full sun. Bantulsi is sometimes also cultivated as mass in herb gardens, border fronts, cottage gardens or rock gardens. Plant is also effective as an edger or groundcover in pots, window boxes, and containers.
Leaves of bantulsi are edible and eaten both raw or cooked. These are used as a potherb and flavouring agent in various culinary preparations. Leaves with good flavor can be clipped fresh as needed or dried for later use. Most common preparation from fresh leaves of bantulsi is chutney in Western Himalaya. Best leaf flavour in bantulsi is noticed just prior to bloom period that starts from mid spring and ends in summers. It is harvested from the wild habitat for local use as a food, medicine and source of materials. Bantulsi cultivars with attractive foliage are used as ornamentals.
Bantulsi Plant:
Plant is an erect, branched, hairy, perennial herbs, 30-90 cm tall.
Leaves, oppositely arranged, broadly ovate, obtuse, entire, sparsely hairy,1-4 cm long and 0.5-2.5 cm wide. The edges of the leaves are smooth or very shallowly toothed, and the leaf tips vary from pointed to blunt.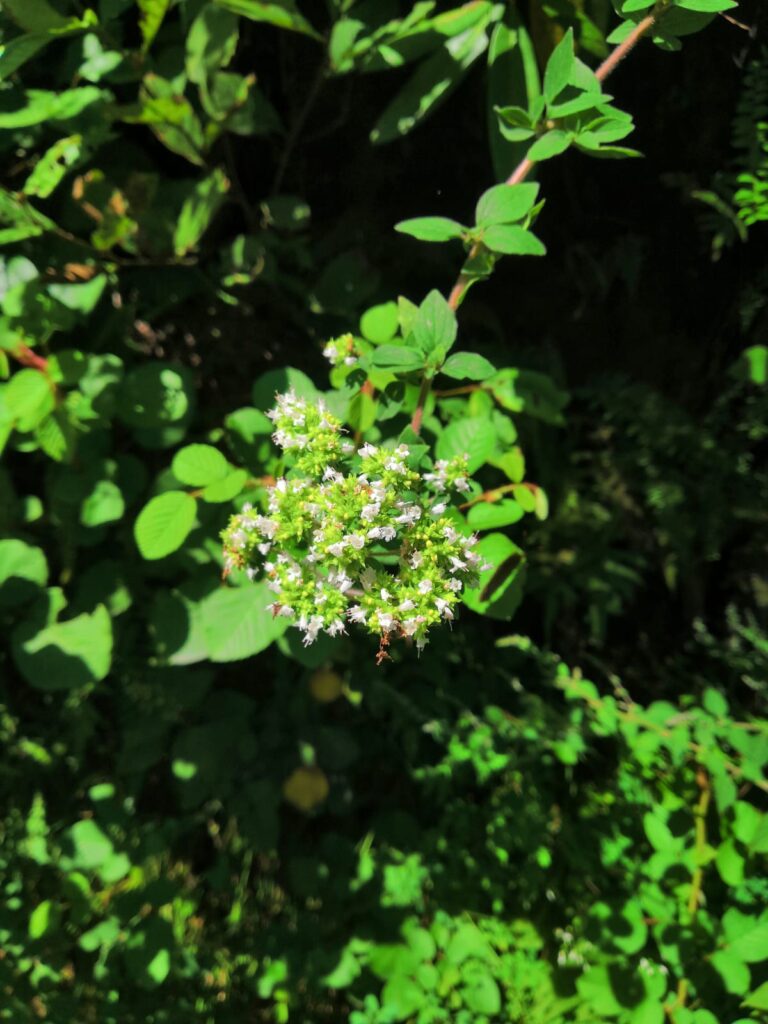 Flowers are white or pale purple, polygamous, crowded in numerous, 4- sided spikes, clustered or panicled terminally, bracts large, imbricate, green or purplish, lanceolate or ovate. Calyx bell-shaped, glandular-hairy, usually 5-toothed, enlarged in fruits. Corolla 5-8 mm long, pink or white; tube exserted from the calyx, 2- lipped; upper lip notched, lower spreading, 3- lobed.
Nutlets are small, subglobose, brown.
Bantulsi edible leaves are available round the year, but these can be best harvested before full bloom in plant from spring to summer season for good aroma. For ensuring sustainable development, cultivation and sustainable harvesting of this plant need to be encouraged among inhabitant.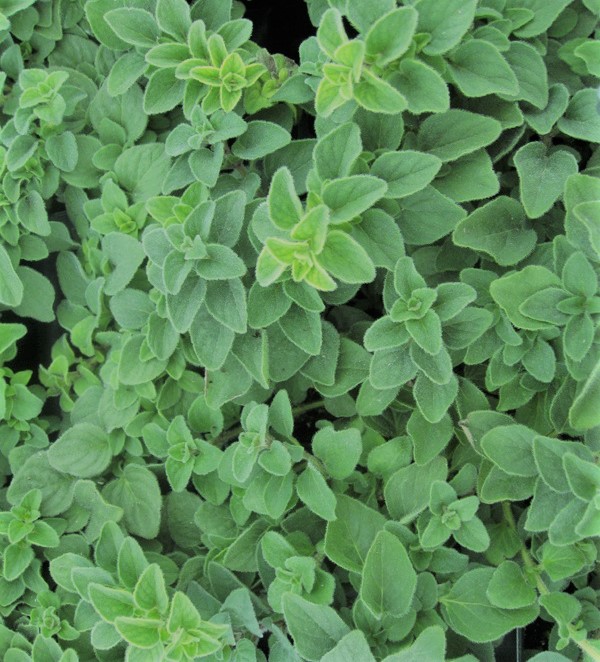 Edible Uses:
Plant is used as potherb and its fresh leaves are mixed with other wild herb to make vegetable.Leaves are used as flavouring agent in various culinary preparation mainly in chutney, Kachru, parantha etc, Fresh or dried leaves are also used to make tea. Leaves are known to have aroma and flavour before bloom and plant is in flowering during summers. So, these are dried and preserved.
Bantulsi chutney:
Fresh or dry bantulsi leaves, 250 g; fresh mint (poodina), curry leaves, coriander leaves, 150 gm; anardana, 100 gm; red chillies, 5-8; medium sized chopped onions, 1-2; sugar.1 tea spoon and salt, according to taste.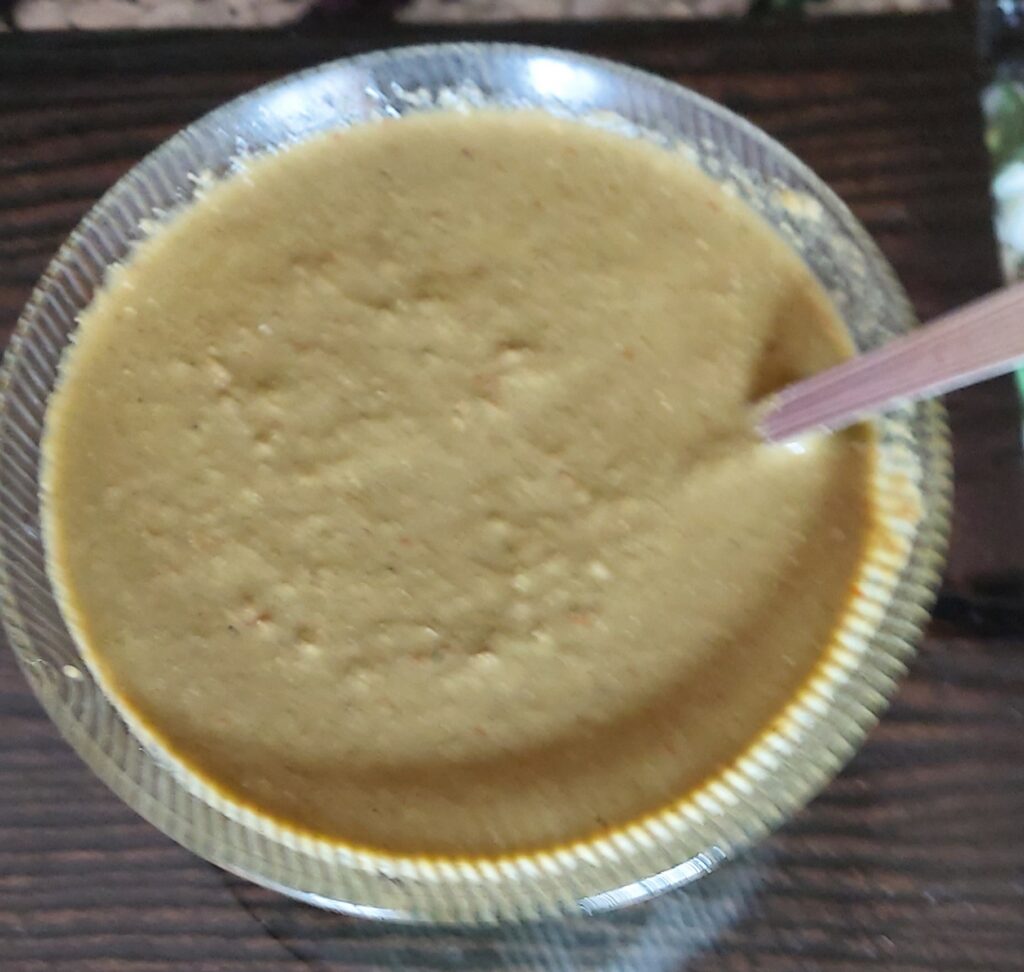 Method:
Chutney is normally prepared from fresh leaves in summer but can also be prepared from dried during winters. For preparing chutney, grind all the ingredients in a mixer except salt. Take out this mixture in a bowl and add salt. Now bantulsi chutney is ready to serve.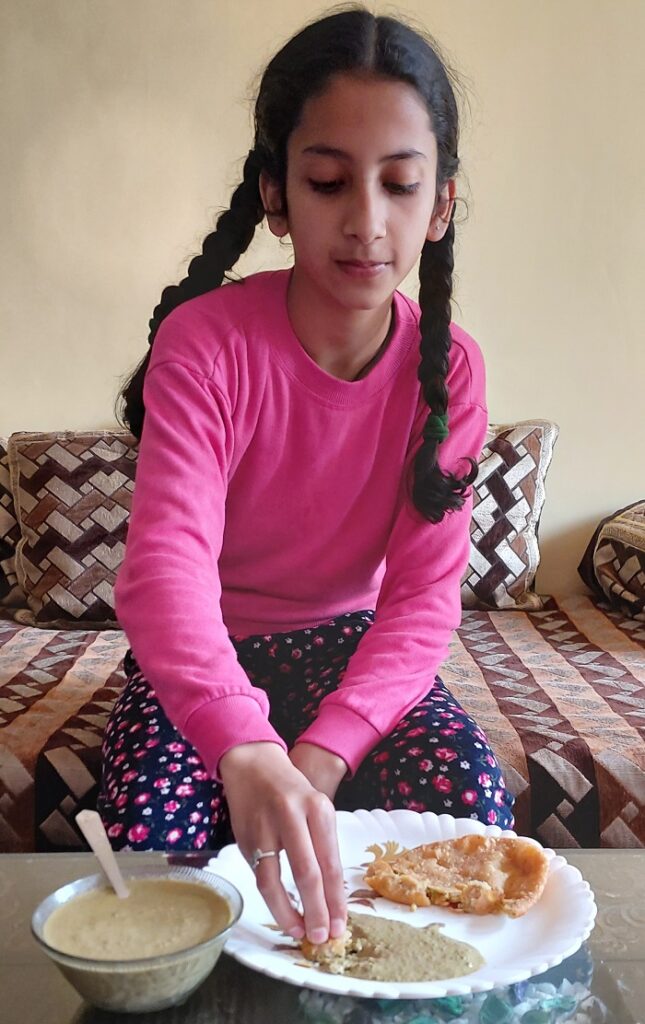 Kachru:
For preparing a kachru, ingredients required are 1kg fresh leaves, 1/2 kg besan (black gram powder) or corn flour. 1 cup amount fresh coriander leaves,1/2 table spoon ajwain, 3-5 green chillies, ½ table spoon turmeric powder, 2-3 chopped onions and salt according to taste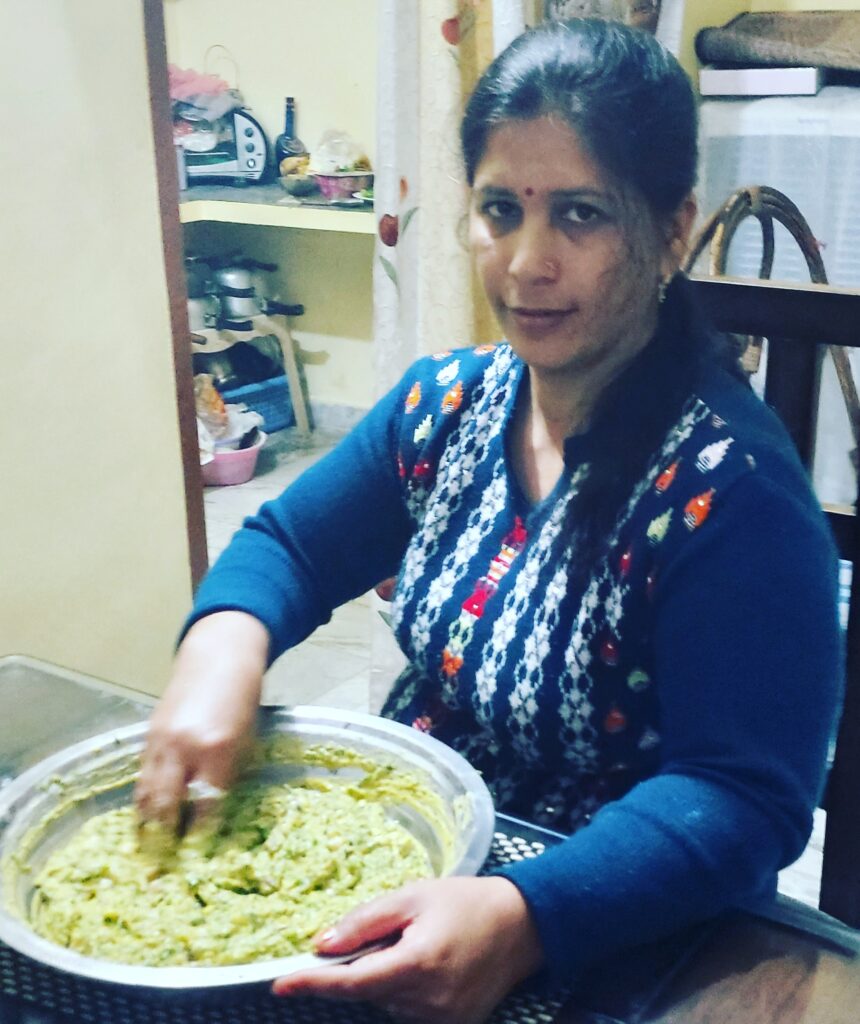 Method:
Make a paste of leaves, besan or corn flour and spices.Heat some oil on a flat heating pan. Put this paste over a pan and cook for 15 to 20 minutes then kachru will be ready to serve.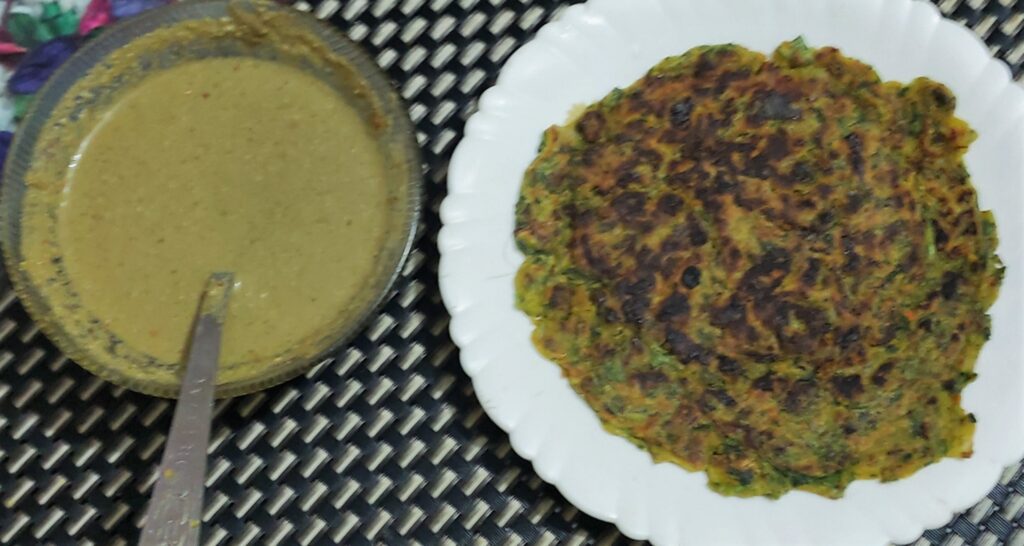 Bantulsi Tea (Masala Tea):
It is one of the most popular hot beverages in Western Himalayas and is a widely accepted social drink for all types of meetings and gatherings. Tea can be prepared with milk or milk powder and tea powders. The key ingredients for milk 'Masala Tea are cardamom, cinnamon, clove and leaves of bantulsi.
Ingredient:
Milk, 2 cups; ginger piece,1/2″; cardamom,1; clove,1; tea powder (chai patti), 2 teaspoons; water, 1/4 cup; sugar, 3 teaspoons. Cinnamon leave/ bark powder,1/4 teaspoon; bantulsi leaves, 6-8.
Method:
Boil water in a saucepan. Crush cardamom, ginger and clove using mortar and pestle or grinder to a medium coarse powder. Add this to boiling water, also add Cinnamon powder, bantulsi leaves, sugar and tea powder. Boil it for 3-4 minutes on medium flame. Add milk to it and boil it over medium flame for 6-7 minutes or until bubble starts to rise. strain tea in cups and serve.
Nutrient Analysis:
Food value of bantulsi dried leaves per100 g is Energy, 265 Kcal; Carbohydrates, 68.92 g; Protein, 9 g; Total Fat, 4.28 g; Dietary Fiber, 42.5 g; Folates, 237 µg;Niacin, 4.640 mg; Pantothenic acid, 0.921 mg; Pyridoxine, 1.044 mg; Riboflavin, 0.528 mg, Thiamin, 0.177 mg; Vitamin-A, 1701 IU; Vitamin C, 2.3 mg; Vitamin E, 18.26 mg, Vitamin-K, 621.7 µg; Sodium, 25 mg; Potassium, 1260 mg; Calcium, 1597 mg; Copper, 0.633 mg; Iron, 36.80 mg; Magnesium, 270 mg; Manganese,4.990 mg; Zinc, 2.69 mg; Carotene-ß, 1007 µg 1.
Seek professional advice before treating this plant medicinally.
Medicinal Uses:
Warm infusion of herb is given to promote- menstrual flow when suppressed by cold 2.
Plant is useful to settle flatulence and stimulates the flow of bile. Strongly antiseptic, it may be taken to treat respiratory conditions such as coughs, tonsillitis, bronchitis and asthma 3. Volatile oil obtained from plant is aromatic, stimulant, rubifacient and tonic; useful in colic, diarrhoea, hysteria, rheumatism and toothache 2. The diluted oil can applied to toothache or painful joints 3. Locally, the tablet made from leaves is administered orally in bone fractures 4. The paste of the leaves is applied in fire burns, eczematous skin, boils, cuts and wounds4.
Chemical constituents:
Wild marjoram contains a volatile oil, tannins, resin, sterols and flavonoids. Both carvacrol and thymol are antibacterial and antifungal.
Other Uses:
Plant can be grown as good soil cover and ornamental plant in gardens. Plant can be grown in cultivated land as a pest repellent. Local people of Western Himalaya use dried leaves of bantulsi as insect and pest repellent in food grain storage.Oil is used in baths, healing wounds and stimulants and growth of hair and has been extensively used in the cosmetic and soap industry 4.
The essential oil has also been used to kill lice, though some caution is advised since it can cause skin irritations 5. A red or purple dye is obtained from the flowering tops 6.
References:
1. https://www.nutrition-and-you.com/oregano.html.
2. Singh PB. (2018). Flora of Mandi district. Himachal Pradesh: North West Himalaya.
3. Purohit SS, Sharma AK, Prajapati ND, Kumar T. (2009); A handbook of medicinal plants: a complete source book. 2:352-3.
4. Chauhan, N. S. (1999). Medicinal and aromatic plants of Himachal Pradesh. Indus publishing.
5. Bown. D. (1995): Encyclopaedia of Herbs and their Uses. Dorling Kindersley, London. ISBN,0-7513-020-31.
6. Polunin, O. (1969). Flowers of Europe. A field guide.