Family: Asteraceae
Synonyms: Tagetes glandulifera, Tagetes glandulosa
Common Name: Wild marigold, Muster-John-Henry
Local Name: Jangali- genda (जंगली गेंदा). Ujadae
Jangali- genda is an erect strongly aromatic, annual herb growing wild up to an altitude of 3000 m in Western Himalayas. It is very common in moist and dry slopes along roadsides, in wastelands, gardens, orchards and vine yards. Plant grows best in well-drained moderately fertile soil in a sunny position. So it is considered as a problematic weed of pastures and cultivated land.

Jangali- genda is used in preparing a flavoring beverage, and medicinal tea. Above ground plant parts are dried and used as an aromatic condiment. Plant yields an essential oil called as "Tagetes Oil". This oil is used frequently used in food industry for flavoring ice cream, baked goods, soft drinks, desserts, candy, puddings, etc. Oil is also used heavily in perfume industry. As the entire above-ground parts of jangali- genda are considered edible , harvesting of these plant parts for use as a beverage or condiment is usually done manually by cutting the main stem at ground level.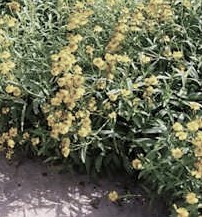 Jangali- genda is known for a wide range of medicinal uses. Plant decoction is widely used as a remedy for the common cold, respiratory and digestive system complaints by local people. Jangali- genda is harvested from wild habitat by inhabitants of Western Himalayas for personal use of food, fodder and medicine. It is usually harvested for fresh use and also dried to be used in off season.
Local People especially farmers has also started cultivating this plant as a commercial crop, due to high price of oil extracted from this plant. According to Singh et al. (2006) 1, about 3 t of high quality oil is being produced annually from the state of Himachal Pradesh (India) alone priced at Rs.1935-2160 per kg. Thus Jangali- genda cultivation can be a good source of earning for local people of Western Himalayas. For oil extraction it is harvested during flowering stage. Plant is also grown in the gardens as an insect repellent.
Jangali- genda Plant:
Plant is strongly scented, branched, annual herb, up to 1.5 m tall.
Leaves are pinnate, 7-15 cm long; leaflets linear- lanceolate, sharply serrate, 2-4.5 cm long, conspicuously gland –dotted, glabrous; midrib prominent beneath.
Heads numerous, small, light yellow, in crowded cymes, at the end of branches, 0.3-0.5 cm across. Involucral bracts united, forming a cylindrical tube with 5 rounded free lobes. Ray florets 3-4, 2-3 toothed; disc florets tubular, 5-toothed.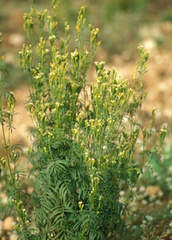 Achenes angular, flattened, black, 6-7 mm long, densely hairy. Pappus scales 5, unequal, with one much longer than others.
Jangali- genda can best harvested in full bloom in pre -winter season of the year,
Edible Uses:
Above ground parts of jangali- genda are edible and utilized both in fresh or dried. Dried plant is used as condiment and a flavoring agent for various food preparation. Cold and hot beverage is prepared from its ariel parts. As whole plant is aromatic oil extracted from this plant is used to flavor different food items in food industry.
Preparing jangali- genda beverage:
Ingredients:
Dried above ground parts of jangali- genda, 250 g; Sugar/honey. 1-2 table spoon, Water, i/2 liter
Method:
Steep dried jangali- genda in hot water for 3 to 5 min. Add to it sugar/honey and stir well. Strain and serve hot. For making cold drink let it cool down and serve.
Seek professional advice before treating this plant medicinally.
Medicinal Uses:
Folk uses jangali- genda as medicine for treating cough, cold, respiratory and digestive complaints. In India it is used as an aperient, aromatic, diaphoretic, diuretic and insect repellent, and for killing maggots in wounds2,3. The oil obtained from the herb, has synergistic activity and shows positive juvenile hormone activity4. The ethanolic extracts of the entire herb show anti-viral activity against ranikhet –disease virus 4. The roots show nematocidal activity and hence, the plant is grown in the tobacco fields4. The plant has strong larvicidal effect and is also a slow repellent4. It is suspected of poisoning cows and taints milk and butter4. The juice of the herb causes diaphoretic4.
Chemical constituents:
Aromadendrenem tagetone, phenylethyl alcohol, ocimens, salicyladehyde, phenylacetaldehyde, eudesmol, linalylacetate, limonene, linalool and an un-identified carbonyl compound have been isolated from the plant 4.
Other Uses:
Beside using oil in food and perfume industry, oil and dried plant parts are also used as insect repellent in home or storage houses. Dried plants are also spread over cultivated land to retain moisture.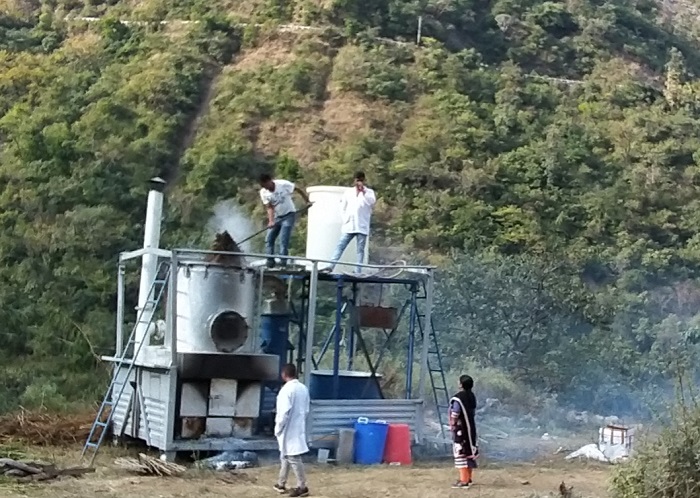 Source of income:
Oil distilled from the leaves and flowering stems of jangali- genda "Tagetes Oil." is in great demand due to its use in food and perfume industry. Commercially this oil is sold at very high price, so local people can start cultivating this wild plant as a cash crop. Government can assist farmers by setting small- or large-scale oil distillation units.
Commercial value of Jangali- genda oil::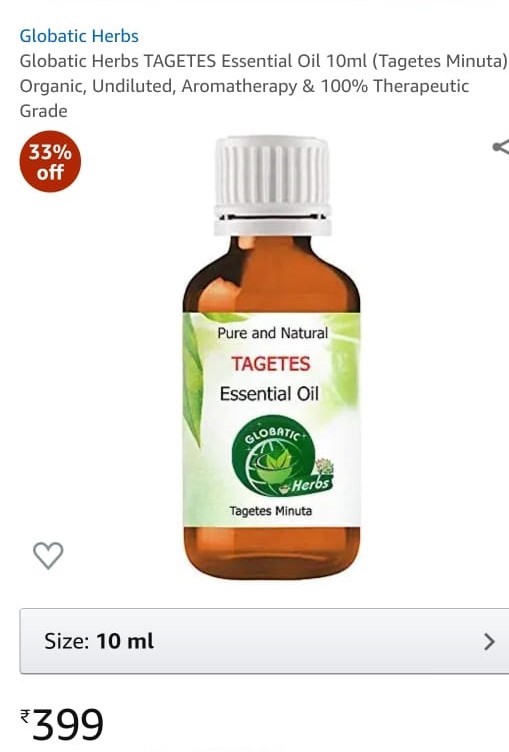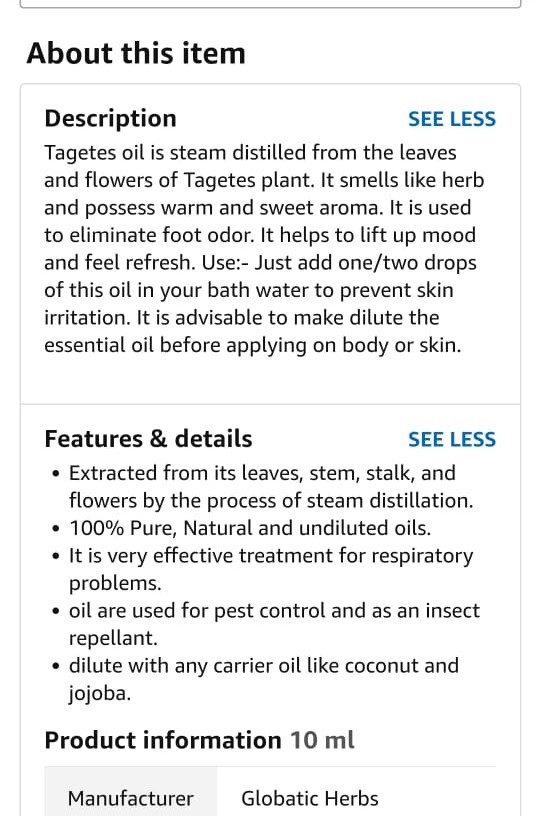 References:
Singh S, Singh S, Babu GDK, Kaul VK, Ahuja PS. (2006); Techno-economic feasibility of wild marigold (Tagetes minuta) oil production in Himachal Pradesh. Journal of Non-Timber Forest Products. ;13(4):267-271.
Ambasta, S. S. (1986). The useful plants of India (p. 650). CSIR, New Delhi, India: Publications & Information Directorate.
Baruah, P., & Sarma, G. C. (1987). Studies on the medicinal uses of plants by the Northeast tribes-III. J Econ Tax Bot, 11, 71-76.
Purohit SS, Sharma AK, Prajapati ND, Kumar T. (2009); A handbook of medicinal plants: a complete source book. 2:352-3.