Family: Violaceae
Synonymous:Viola celebica,Viola pogonantha,Viola serpens.
Common Name: Smooth-Leaf White Violet
Local Name: Banfsa (बनफसा)
Banfsa is a well-known herbaceous perennial plant of Western Himalayas. It is commonly seen growing along pathways, hill slopes, edges of field, grasslands and alpine woods between an altitude of 900 to 3000 m. in shady moist habitat.Banfsa succeed best in well drained shady moist habitat.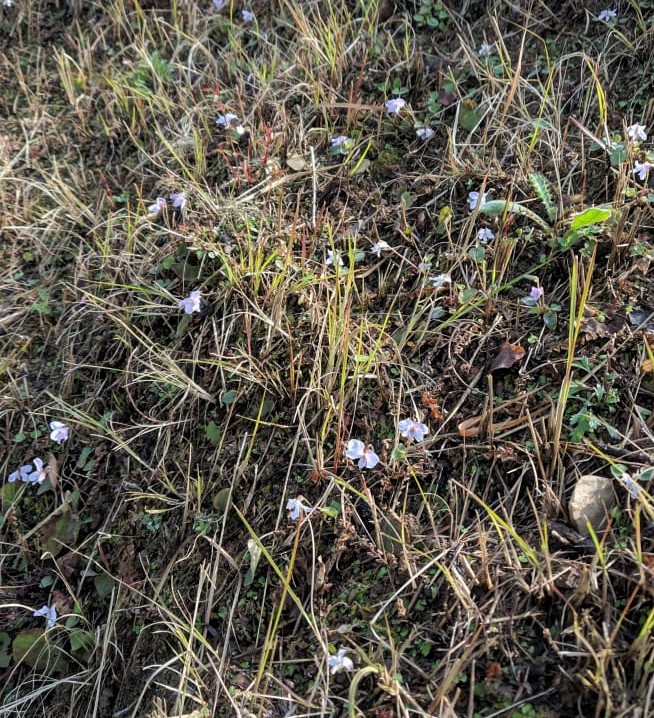 Flowers, flowers buds and leaves of banfsa are edible both fresh and cooked. People generally use this in tea to cure cough and cold. Flowers of this plant are also dried to ensure its availability in off period. Dried flower, stem and leaves decoction is given to young ones and children to cure cough, cold and chest infection. Local people know this plant more as medicinal herb then a wild food plant. Infect they sometime cook it along with other green or food items to harness its medicinal value.
Dried plants of banfsa are easy source of income for children and women. They collect this plant from wild habitat for their personal use of food and medicine and dry for selling in local market. Children collect this plant in vacation period, from month of March to April when they are free from their examination.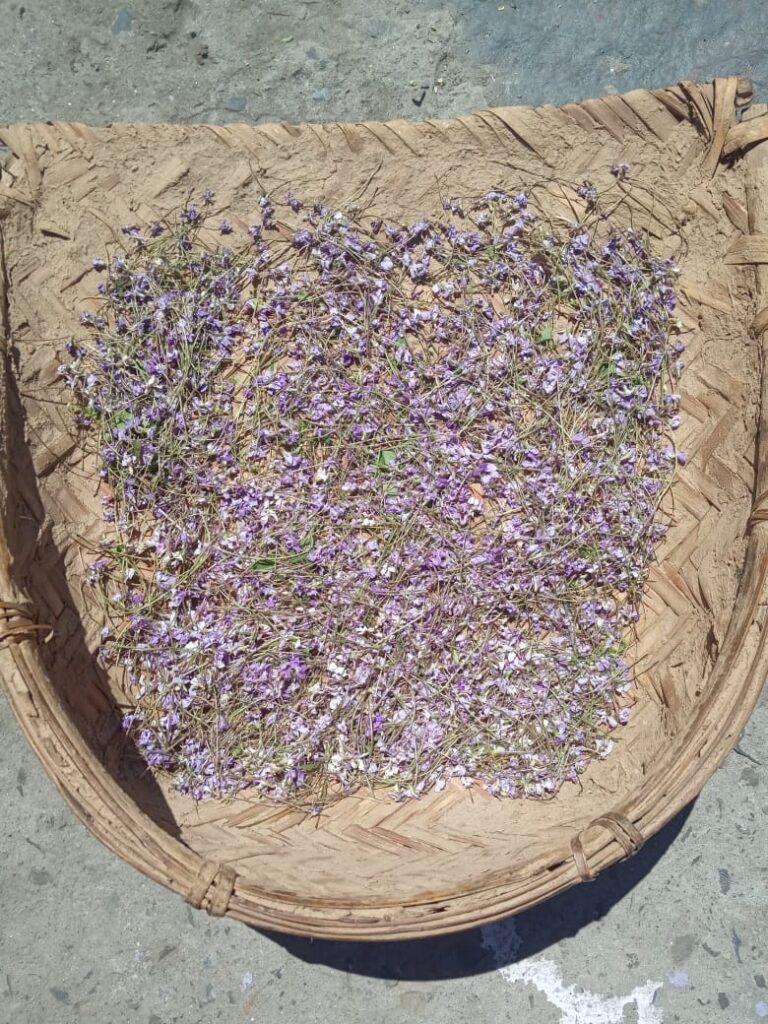 Banfsa plant:
Plant is sparsely hairy, green, herbaceous perennial producing a rosette of leaves and prostrate stems up to 100cm.
Stems is short, distinct, often producing runners at nodes.
Leaves are ovate- triangular, cordate, acute, crenate-serrate; stipules entire or toothed.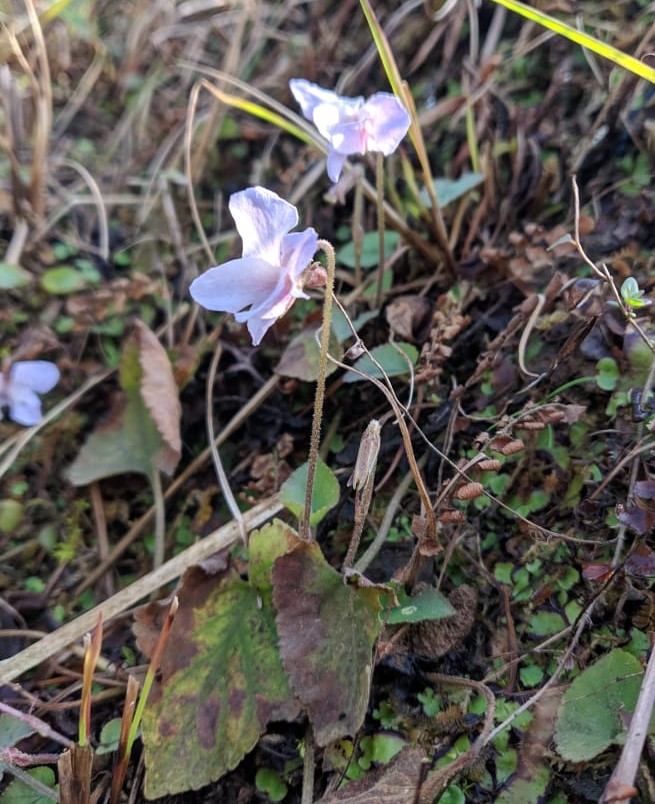 Flowers are white to lilac blue. Stigma 3- lobed, produced laterally in a hooked beak.
Banfsa can best provide edible flowers from pre spring to mid summer period of the year.
Edible Uses:
Young leaves, flower buds and flowers are eaten both raw or cooked. Flowers fresh or dried are used in tea especially in winter to avoid cough and cold. Young leaves and flowers are also used as an ingredient for 'Kachru' along with other greens.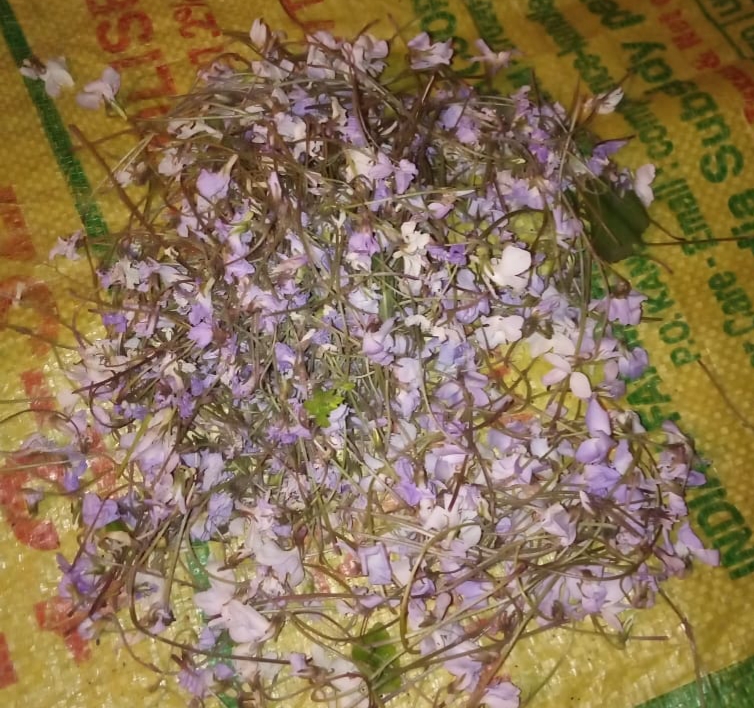 Banfsa Tea (Masala Tea):
It is one of the most popular hot beverages in Western Himalayas and is a widely used drink in winters to avoid cough and cold. Tea can be prepared with milk or milk powder and other various types of tea powders. The key ingredients for this Masala tea are milk, cardamom, banfsa fresh or dried flowers.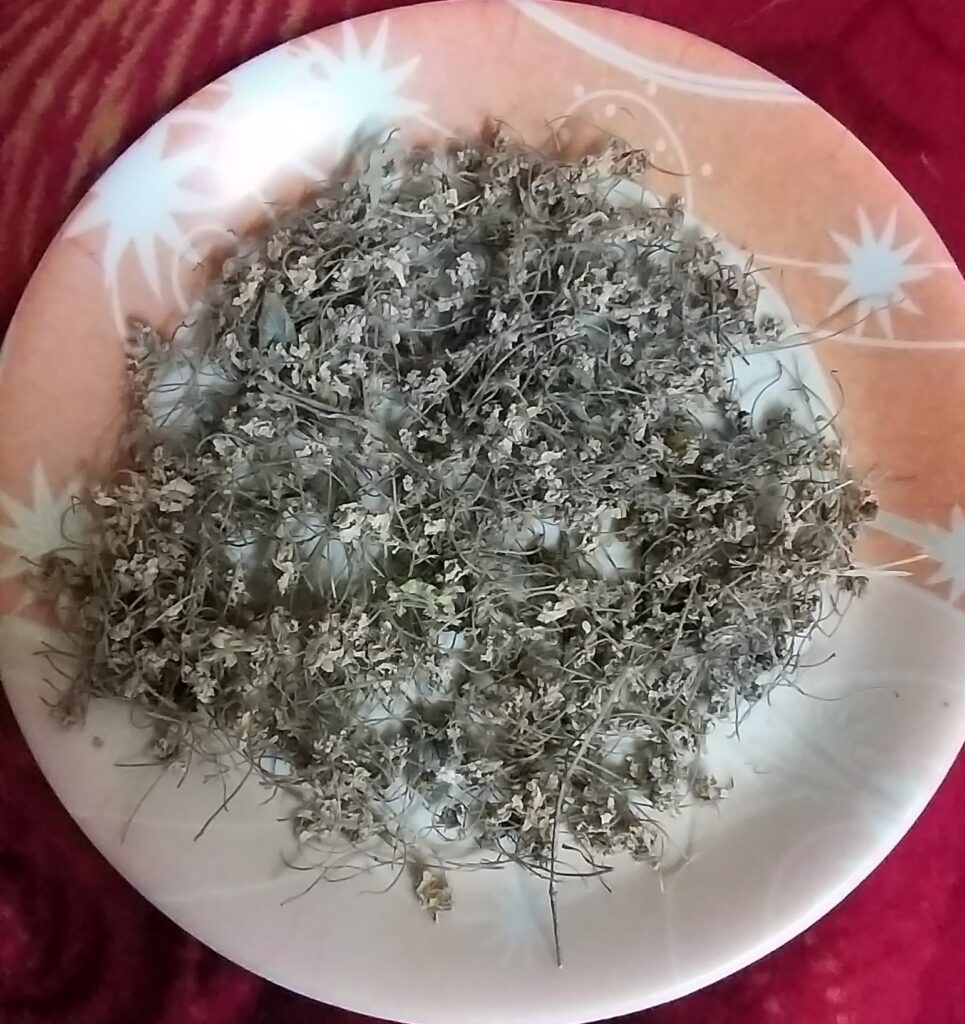 Ingredient:
Milk, 2 cups; ginger piece,1/2″; cardamom,1; tea powder (chai patti), 2 teaspoons; water, 1/4 cup; sugar, 3 teaspoons. banfsa flowers, 10 g.
Method:
Boil water in a saucepan, crush cardamom and ginger using mortar and pestle or grinder to a medium coarse powder, Add this to boiling water along with banfsa flowers, sugar and tea powder. Boil it for 3-4 minutes on medium flame. Add milk to it and boil it over medium flame for 6-7 minutes or until bubble starts to rise. strain tea in cups and serve.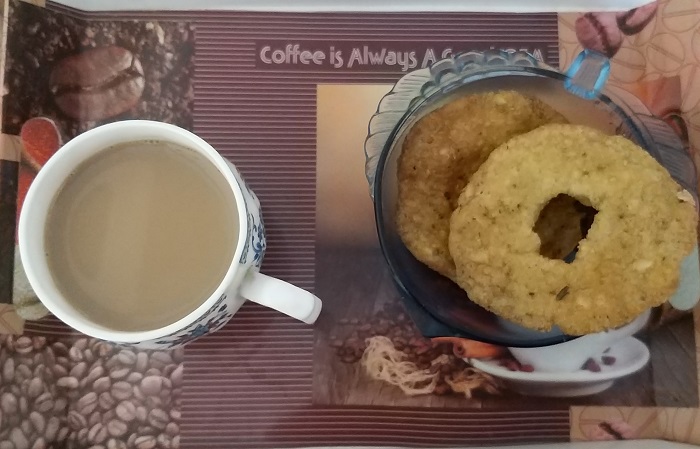 Kachru:
Ingredients:
Flowers and young leaves of banfsa, 250g; Besan (black gram powder) or corn flour, 1/2 kg; Chopped fresh coriander and curry leaves,1-2 cup amount; ajwain, 1/2 table spoon ; green chillies, 3-5 ; turmeric powder, ½ table spoon; chopped onions, 2-3 and salt according to taste.
Method:
Make a paste of flower petals, besan or corn flour and spices. Heat some oil on a flat heating pan. Put this paste over a pan and cook for 15 to 20 minutes then kachru will be ready. Serve hot with tomato catch-up.
Seek professional advice before treating this plant medicinally
Medicinal uses:
Decoction of leaves, stem and flowers is widely used by local people to cures cough, cold and chest infection. Decoction of root is good for vaginal discharge 1. Recorded in India as an antipyretic, diaphoretic, demulcent, emetic, emollient, febrifuge and purgative, and for biliousness, and lung diseases 2,3. Whole plant is useful in asthma, bleeding piles, cancer of the throat, constipation, headache and skin diseases. Male into syrup, it is given in infantile disorders 4. Expectorant, diuretic, used in fever, and bronchial disorders 5.
Chemical constituents:
Roots contains glucosides methyl salicylate; yields an alkaloid, voiline; a glycosides, vilosa quercitrin, which is probably identical with rutin and a saponin. Roots contain saponin and an alkaloid. Roots, leaves and blossmos contains methyl- salicylate in the form of a glucoside 4.
Source of Income:
Banfsa is an excellent source of income for the inhabitants of Western Himalayas. Women and children are directly involved in collection and marketing of it. They collect and dry flowers in full sun and then sold these in local market. Market price of dried banfsa flowers is Rs 25,000/kg.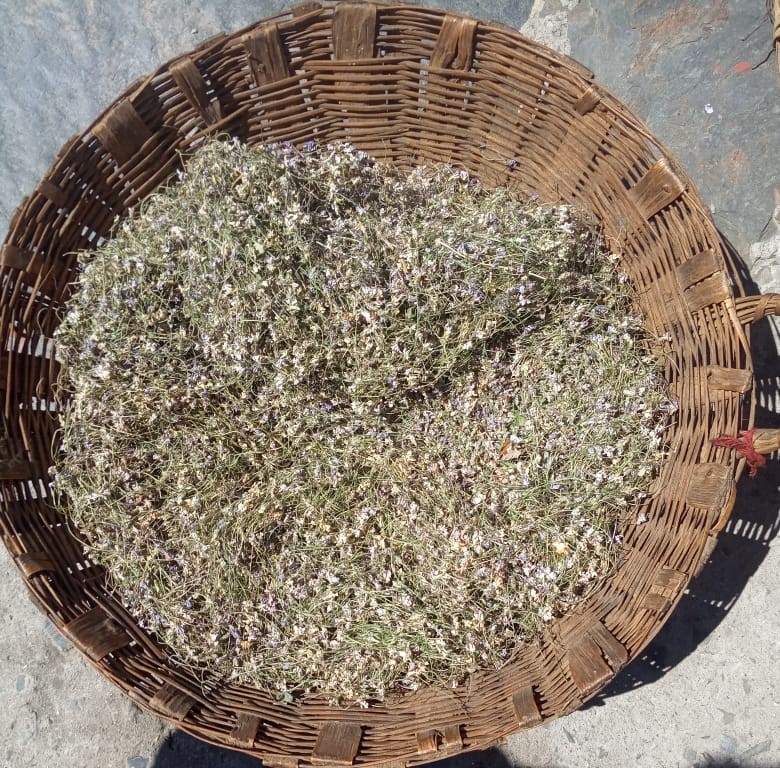 References:
1. Sood SK, Thakur S. (2004): Ethnobotany of Rewalsar Himalaya. Deep Publications.
2. Kapoor, G. P., & Nautiyal, A. (1981). Polynomial approximation of an entire function of slow growth. Journal of Approximation Theory, 32(1), 64-75.
3.Mehta, A. B., Shah, A. C., Joshi, L. G., Kale, A. K., & Vora, D. D. (1971). Clinical features and plasma acetylcholinesterase activity in poisoning with insecticidal organophosphorous compounds. The Journal of the Association of Physicians of India, 19(2), 181.
4. Purohit SS, Sharma AK, Prajapati ND, Kumar T. (2009); A handbook of medicinal plants: a complete source book. 2:352-3.
5.. Singh PB. (2018). Flora of Mandi district. Himachal Pradesh: North West Himalaya.