Family: Elaeagnaceae
Synonyms: Elaeagnus convexolepidota, Elaeagnus coreana, Elaeagnus crispa, Elaeagnus crocea, Elaeagnus fragrans, Elaeagnus ghuwacen, Elaeagnus higoensis, Elaeagnus longipes crispa, Elaeagnus obovata, Elaeagnus padifolia, Elaeagnus parvifolia, Elaeagnus praematura, Elaeagnus salicifolia, Elaeagnus thunbergii coreana, Elaeagnus thunbergii oblongifolia.
Common Name: Autumn Olive
Local Name: Ghayain (घयाईं)
Ghayain is a thorny shrubs or small tree growing wild, in the forests of Western Himalayas at an altitudes ranging from 1,000 to 3,000 metres. It is commonly seen growing in dry and exposed places on the hills, in thickets and thin woods in the lowland. Ghayain succeeds best in most of soils that are well-drained and sunny in position.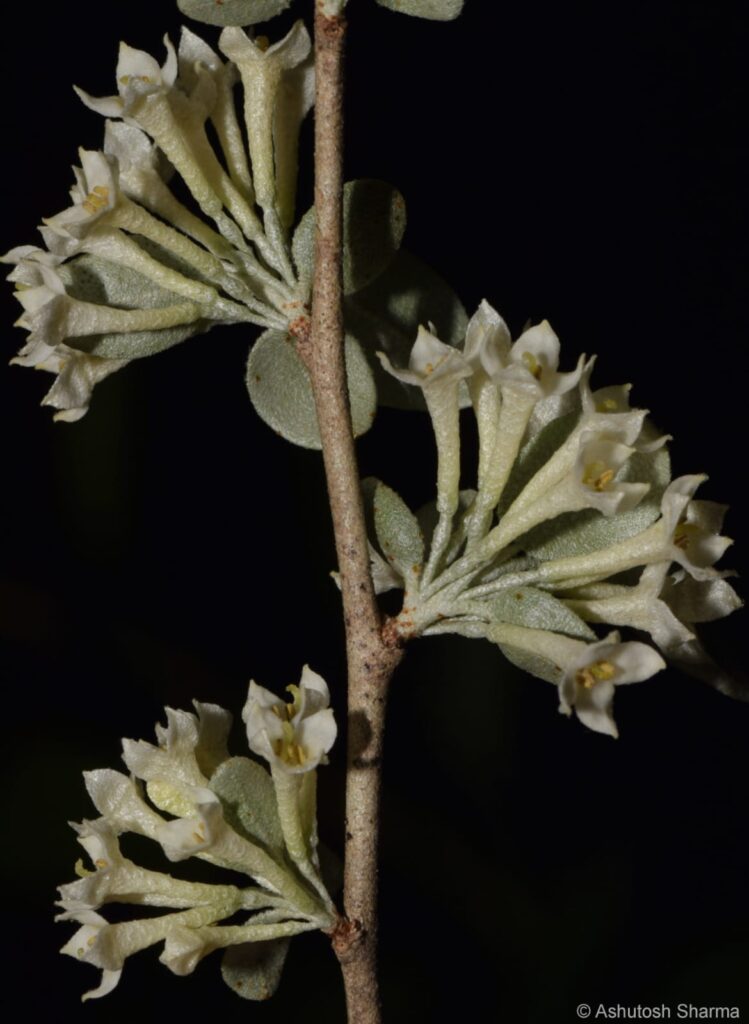 Ripe fruits of ghayain are edible and eaten both raw or cooked. They are used in making jams, desserts and curries. Ghayain fruits are rich source of protein. They have a remarkable keeping quality and can be stored up to 15 days at room temperature 1.
Except fruits Ghayain wood is used as fuel and its leaves are eaten by sheep and goats. It is generally harvested from the wild by the inhabitants of Western Himalayas for their local use of fuel, fodder, food and medicine. Ghayain is a very attractive plant because of its silvery foliage and fragrant flowers so, it is sometime grown on boundaries as a shelter hedge for its edible fruit and beauty.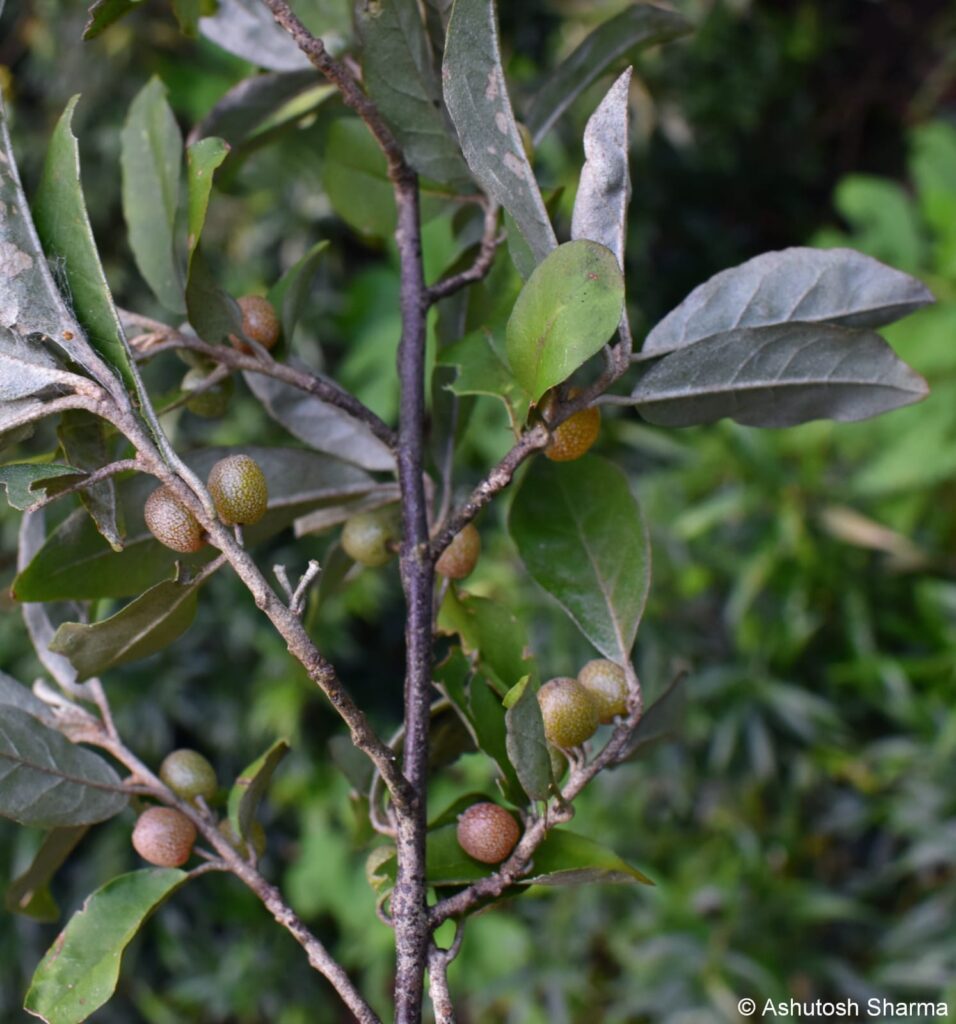 Ghayain Plant:
Ghayain is a deciduous, thorny shrubs or small tree up to 3.5-meter-tall, bearing a bunch of flowers and a cluster of leaves
Shoots and young branches covered with silky scales.
Leaves are alternate, shorty- petioled, oblong- elliptic, acute or obtuse, 2.5- 7.5 cm long, glabrous or pubescent above, silvery- scaly beneath.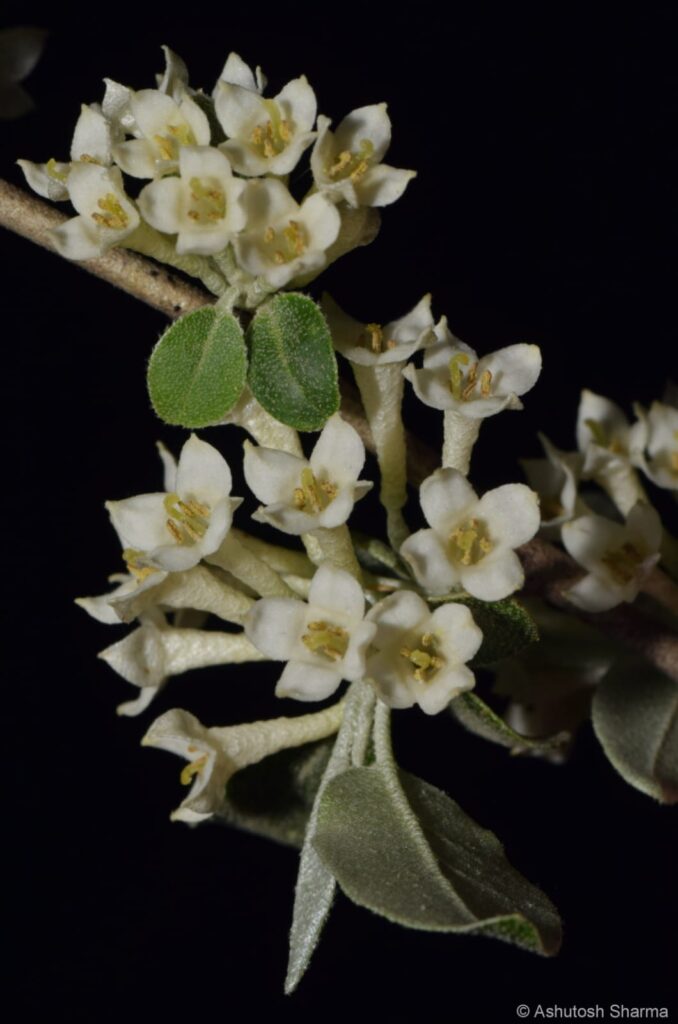 Flowers are yellowish- white, fragrant, shortly stalked arranged in axillary clusters. Perianth- tube 8- 10 mm long, silvery- scale outside, white or pale yellow inside; lobes 4, ovate, acute. Stamens are 4 slightly exserted.
Fruits are ovoid, 7mm long, succulent, covered with silvery- scales, red when ripe; endocarp bony, bibbed.
Seeds are 7-8 mm in length, 2 to 3 mm in diameter, saffron yellow 7/2, 26 mg in weight.
Ghayain fruits are best harvested in summer season. As edible plant parts are fruits which are important for regeneration, so need to be harvested sustainably like rotation of habitat, keeping some plant on parent plant and cultivating plant for its edible fruits.
Edible Uses:
Ghayain fruits are very good in taste, so are liked by all especially children. Fruit are eaten both raw or cooked. Seed are also eaten raw or cooked. Ripe fruits are cooked as jam, desserts and half ripened one are used in making curries.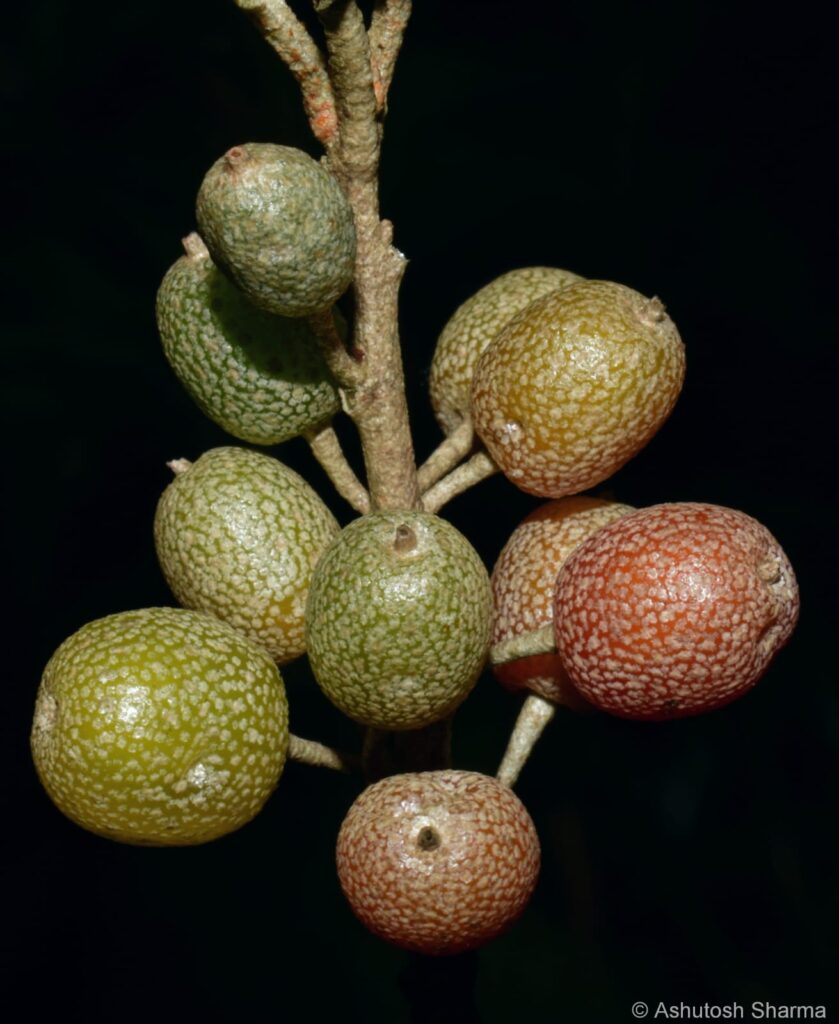 Jam:
Ingredients:
Ghayain fruits,1 kg; sugar, 500 g; salt, 1tea spoon; lemon juice, 4-5 tea spoon.
Method:
Put fruits and one tea spoon salt in water for 20 minutes. Transfer these into pan and boil till they are soft. Pinch to remove pulp and segregate seeds from pulp. Remove seeds with the help of spoon and then boil pulp in low flame with sugar for two minutes. Keep stirring in slow flame till sugar dissolve completely and jam become dense. Now mix it well with lemon juice and let it cool down. Now jam is ready to serve. Jam should be used fresh and can be preserved for 10 to 15 days.
Ripe fruits desserts:
Ingredients:
Ghayain ripe fruits and other chopped fruits acc. to taste,1/2kg; curd, 1kg; sweetener like honey/ sugar/ condensed milk, 1-3 tea spoon; cardamom powder,1/4 tea spoon; black salt according to taste.
Method:
Take curd in a bowl. Add to it sweetener according to choose and stir well. Add cardamom powder, black salt, Ghayain fruits and other chopped fruits according to preference. Mix well and serve.
Vegetable Curries:
Ingredients required:
Freshly harvested fruits, 500 g; curd, ½ kg, medium sized potato; 2-4, mustard oil, 3-4 table spoons; coriander powder, 1 table spoon; fenugreek powder, 1 tea­­­­­­­­ spoon; cumin seed, 1 table spoon turmeric powder, 1 table spoon; red chilies, 2-4; medium sized ground onion, 2-3; ground garlic cloves, 4-5; green coriander leaves (chopped), 1/2 cup amount; branded garam masala,1/2 table spoon amount; salt, according to taste.
Method:
Ghayain are sauted in hot oil along with spices listed above like coriander, cumin seeds, chilies, turmeric, onion and garlic paste in sequence. Cook for 8 -10 minutes till become soft. Add curd and cook for another 5-8 minutes Garnish recipe with chopped green coriander leaves and garam masala then serve with ri.
Nutrient value of Ghayain fruit:
One 100 g of fruit contains 69.4 g of moisture, 14.5 g of total soluble solids, 1.51 g of acids, 8.34 g of total sugars, 8.13 g of reducing sugars, 0.23 g of non-reducing sugars, and 12.04 mg of vitamin C 1.
The total mineral content of the fruit, as represented by its ash, is 1.045 per cent. The fruit is rich in protein, which is 4.47 per cent. The percentage contents of some of the mineral elements, viz. phosphorus, potassium, calcium, magnesium and iron, are 0.054, 0.346, 0.049, 0.033 and 0.007 in this order 1.
Seek professional advice before treating this plant medicinally.
Medicinal uses:
Dry powered leaves and fruits helpful in checking diarrhoea; 2 teaspoons twice daily for 3-4 days 2.The flowers are astringent, cardiac and stimulant 3. They are used in the treatment of coughs and pulmonary infections 4. The seeds are used as a stimulant in the treatment of coughs 3.4. The expressed oil from the seeds is used in the treatment of pulmonary affections 3. The unripe fruit is astringent and is eaten in the treatment of bloody dysentery5.
Other Uses
Ghayain wood is a good fuel and leaves are excellent fodder for sheep and goats. Due to its attractive silvery foliage, fragrant flowers and edible fruits it is grown as a garden plant or hedge by many locals.  The plant is grown in walnut orchards, where its nitrogen-fixing properties help to enrich the soil 6. The plant's extensive root system and ability to tolerate poor soils and strong winds, makes it an excellent plant for stabilizing sandy soils and general erosion control 6.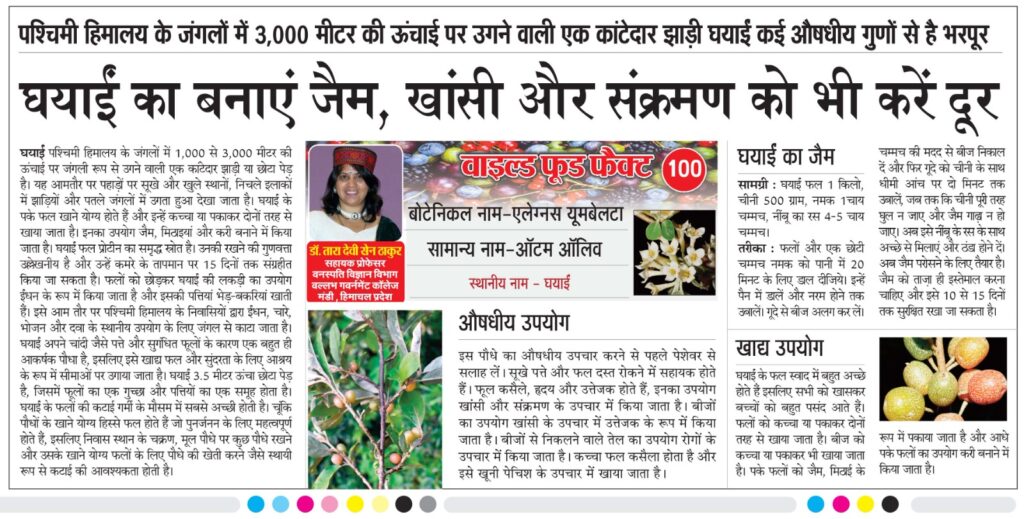 References:
1 Parmar. C. and Kaushal. M.K. (1982) Wild Fruits of the Sub-Himalayan Region. Kalyani Publishers. New Delhi.
Sood SK, Thakur S. (2004): Ethnobotany of Rewalsar Himalaya. Deep Publications.
Chopra, R.N., Nayar, S.L. & Chopra, I.C (1956). Glossary of Indian Medicinal Plants. CSIR, New Delhi
Pallab Kar; Priyankar Dey; Arvind Kumar Misra; Tapas Kumar (2016):Phytometabolomic fingerprinting of selected actinorhizal fruits popularly consumed in North-East India. Symbiosis Publication ISBN;DOI 10.1007/s1319
Manandhar. N. P.(2002); Plants and People of Nepal. Publication; Timber Press.